Istanbul has the privilege of being the major city that connects both Europe and Asia, and it's also the most populated city in Europe. This beautiful city of Istanbul is home to rich cultural monuments that bring history to life, and many other historical, modern, and post-modern attractions and things to do. Get to know this iconic city by hitting up our favorite things to do in Istanbul.
---
Pro Tip: If you are planning a holiday to Istanbul, definitely bookmark this article! This way you can easily return to this page to explore the best things to do here while planning ahead.
The 19 Best Things To Do, See, and Explore in Istanbul
Istanbul is a diverse city that's full of adventures to discover. You can find something interesting and fun to do at any time of the day! For instance, you can climb the Galata Tower, shop at the Grand Bazaar, indulge in drinks at Kadıköy Bar street, and on and on.
We've worked to put together the ultimate Istanbul guide with these top things to do in Istanbul from seeing the most incredible mosques to trying delicious street food. You'll have trouble choosing among all the places on this list as you decide how to get the most out of your experience in Istanbul.
While visiting the places on this list, you can also encounter new areas to explore since Istanbul is a huge city. However, we'll provide plenty of tips about the surrounding area in addition to the specific destination, so keep your notes handy. Here are the top things to do in Istanbul!
19) Taste True Istanbul Street Food At Kızılkayalar Taksim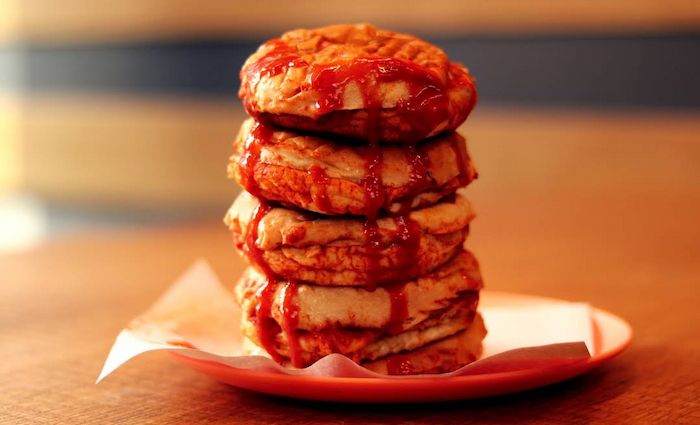 Since the 1980s, Kızılkayalar has been a local and tourist favourite in the heart of Istanbul's Taksim Square. Loved by children and elderly, this place is treasured for many reasons. However, one particular reason strikes the most which is Kızılkayalar's speciality: the Islak Hamburger (Wet Hamburger). The Islak Hamburger is one of the most famous Istanbul street foods. It's made out of a special tomato sauce bun and the burger is prepared in a griddle.
The best and authentic place (out of numerous places) to try Islak Hamburger is here. Eating this hamburger after a few drinks is highly recommended, because this tasty hamburger soaks up all your troubles. Of course, there are plenty of other delicious selections to eat from toasts and sandwiches to Turkish doner.
This restaurant has a few franchises across Istanbul, but this is the original store in an iconic location (and the busiest). Also, they're open weekdays 7am – 5am and weekends 7am – 6am, so whether you're an early bird or a night owl, you can come here and treat yourself.
Address: Katip Mustafa Çelebi, Sıraseviler St, Beyoğlu, Istanbul
18) Take a Tour of the Princes' Islands Beauty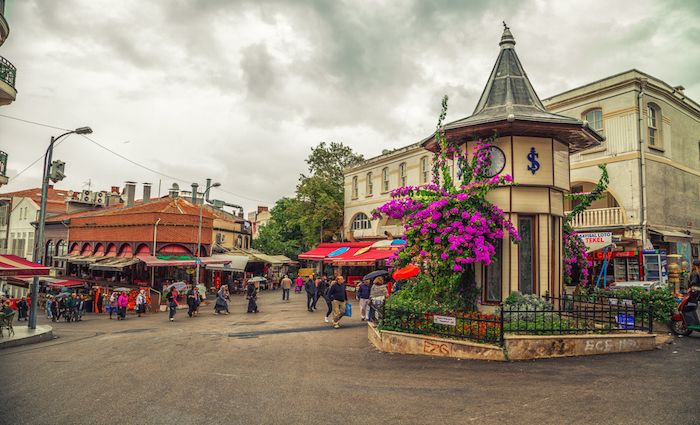 Princes' Islands is comprised of nine islands, however the biggest and most attractive island is Büyükada. There is only one sensible and cost-effective way to travel here, which is by ferry.
Depending on where you are, there are a few ports with ferries to Büyükada: Kadıköy, Eminönü, Bostancı, Kabataş, and Beşiktaş. But for the best experience, book a full tour with a guide who will ferry you around the islands and take you to see the best spots on land.
There are plenty of fun things to do here, however there are a few special things to do. For example, you'll want to indulge with Turkish ice cream, ride a bike, see the colourful mansions, and swim and play on the beach. You'll have to manage your time carefully, because time flies in Büyükada!
Also, there are historical places to tour and visit such as churches, mansions, and more. The Aya Yorgi Church is highly recommended, because when you go you can light a candle and say your blessings.
Address: Büyükada, Adalar, Istanbul
17) Meet Fellow Footballers In The European Beşiktaş Market Zone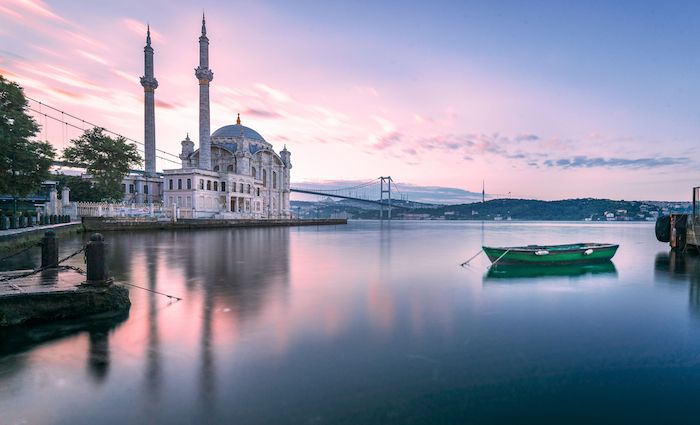 The Beşiktaş Çarşı is home to one of the most famous, global football team in Turkey: Beşiktaş. As a result, this market zone is filled with local football fans and sports memorabilia that you can purchase too. This district is where the heart of Beşiktaş flows
What makes this particular market zone worth visiting is its location and centrality in the European side of Istanbul. You can get here easily using buses, taxis, minibuses, ferries, and so on. (Using taxis isn't strongly suggested in Istanbul due to the higher cost.) As a bonus, if you come here by ferry from the Asian side, you'll be treated to a magnificent view of the Ortaköy Mosque pictured above on the water's edge.
Above all, when you're here you can enjoy local stores, restaurants, Turkish custard shops, cafes, and more, many of which are photoworthy. In short, if you love shopping, then get to know the Istanbul culture here and meet locals in the Beşiktaş Market Zone. The people here have lots of Turkish hospitality and kindness. They also share food with you as a gift!
Address: Sinanpaşa, Mumcu Bakkal St, Beşiktaş, Istanbul
16) Stay in One of the Most Historic Hotels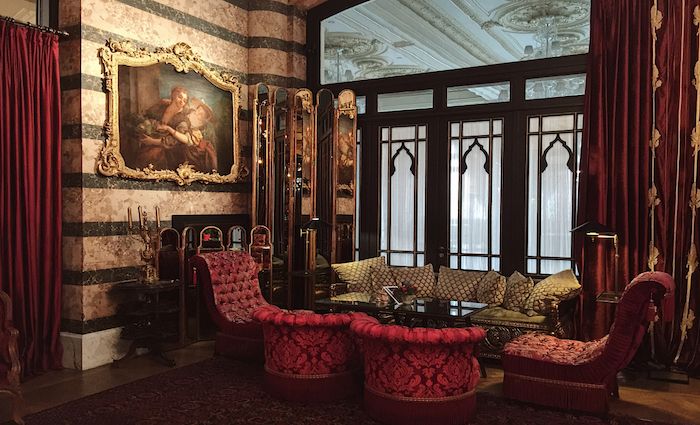 If you seek a hotel with an historical ambiance and a luxurious, elegant touch, the 127-year-old Pera Palace Hotel is the right selection. This classy 5-star hotel is truly suggested as the best place to stay since it incorporates Istanbul's history with Turkish neo-classical design. This magnificent old beauty literally survived the fall of the Ottoman Empire and thrived as the New Turkish Empire rose.
The Pera Palace Hotel strongly standouts from other hotels, not only in the Beyoğlu region, but also in Istanbul. One specific reason is that this hotel shares Istanbul's symbol of connecting Asia and Europe. Those intentions carried through the carefully-selected decor in hotels rooms, common areas, and attractions like the Atatürk Museum Room and the Agatha Christie King Room.
The Pera Palace Hotel also has a perfect central location, particularly if you're arriving from the Atatürk International Airport. The hotel is really close to major attractions such as: Taksim Square, Istiklal Street, and the Pera Museum which are also places on this list of things to do in Istanbul.
15) Treat Yourself To A Turkish Bath at Cağaloğlu Hamam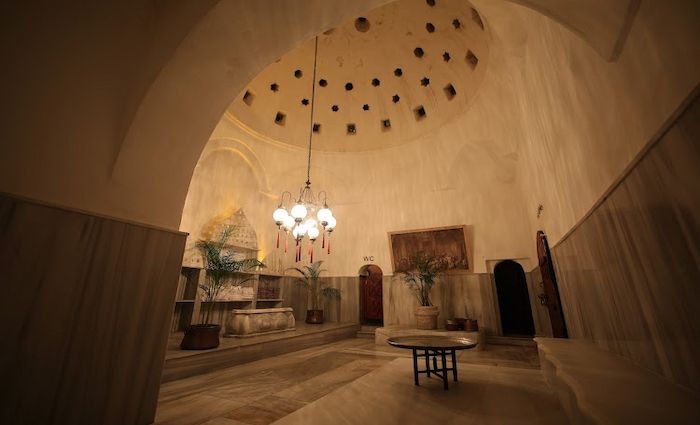 Turkish baths have a global reputation for being relaxing, healthy, and cleansing, and there are several located in Istanbul. Coming to Istanbul and not trying the Turkish bath experience would be a miss.
There are several fundamental reasons why Turkish baths are so popular in Turkey; however, one major reason is its historical heritage. Turkish baths date back to the Ottoman Empire and carries the roots of cleanliness in Islam. Therefore, many locals and tourists cherish the Turkish bath experience and go when they can.
Cağaloğlu Hamam is our favorite place where to check out the Turkish baths. Cağaloğlu Hamam offers various Turkish bath experiences that combine modern Turkish culture and the Ottoman past. For example, you can choose the Bridal Bath, the Istanbul Dream, the Ottoman Luxury Service, and more.
The prices for the Turkish bath treat ranges from 50 Euros to 300 Euros depending on the service you choose. It's highly encouraged to make a reservation beforehand to ensure availability and time.
Address: Alemdar, Prof. Kazım İsmail Gürkan St, Fatih, Istanbul
14) Discover Local and Historical Art at The Pera Museum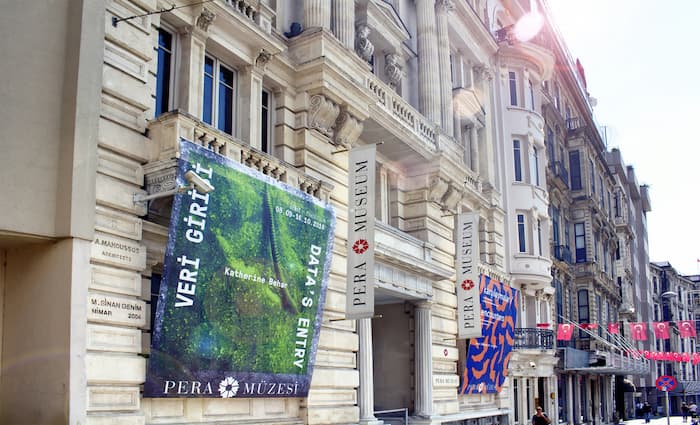 The Pera Museum is a cultural and historical gem of Istanbul. Pera is perfect to explore whether with family, friends, or by yourself. There are a wide range of treasures to uncover here, but, the top can be listed as the Orientalist Paintings, Anatolian Weights and Treasures, and Kütahya Tiles and Ceramics.
This incredible museum also cooperates with national and international artists to display an exhibition which shows the diversity of Istanbul. Pera Museum, recognised globally, gives the opportunity for locals and tourists to unite under one bridge to enjoy art. All of the Pera's exhibitions are supported by catalogues, books, and audio-visual events.
Additionally, Pera offers an amazing adventure to explore with Pera Film, which is composed of diverse film and video art screenings. Like the museum itself, the film portion is also fun and informative to engage in.
You can easily locate this museum by car, subway, or bus because it is located in the heart of Beyoğlu district. Don't forget to visit the gift shop available at the museum to find interesting and lovely souvenirs.
Address: Asmalı Mescit, Meşrutiyet St, Beyoğlu, Istanbul
Hours: Tuesday – Saturday, 10AM – 7PM; Friday, 10AM – 10PM; Sunday, 12PM – 6PM
Admission Fee: Adult 25 Turkish lira, Child 10 Turkish lira, and on Wednesdays admission is free for students to the museum and film sections
13) Grab Drinks At Kadıköy Barlar Street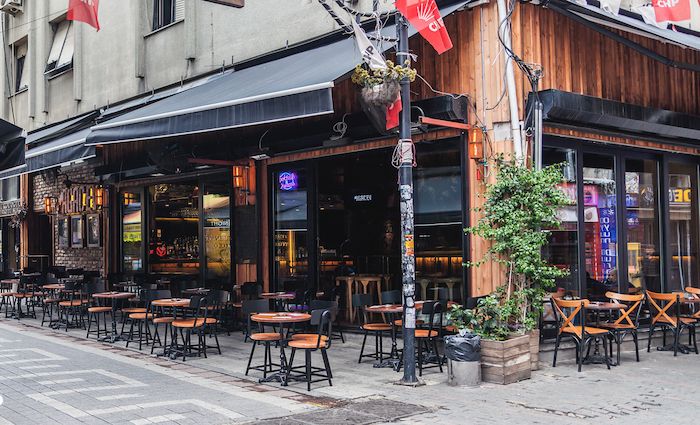 There are many places to enjoy a local spirit in Istanbul, but my favourite is Kadıköy Barlar Street. One reason I love Kadıköy Barlar Street is because it is centrally located on the Asian side of Istanbul in Caferağa.This side of Barlar Street embraces an unorthodox atmosphere. For instance, there are many pubs, tattoo shops, and bars which give a more free and wild sensation than some areas..
This fun, interesting, and busy street is the right place to have drinks, because I'm sure you'll find a place that's your jam. There are many alternatives from rock pubs to metal bars and from jazz bars to local Turkish taverns.
Above all, if you plan on having a drink, and you want to try a Turkish classic, I truly recommend Efes, Bomonti, or Turkish Raki. If you want to taste beer that is brewed in Istanbul then 3 Kafadar beers should be your top pick. This street also offers various street food options to soak up some of your drinks. I love trying the rice, mussels, or kokoreç, which are delicious, staple Istanbul street food.
Address: Kadife St, Caferağa, Kadıköy, Istanbul
12) Get Romantic at The Galata Tower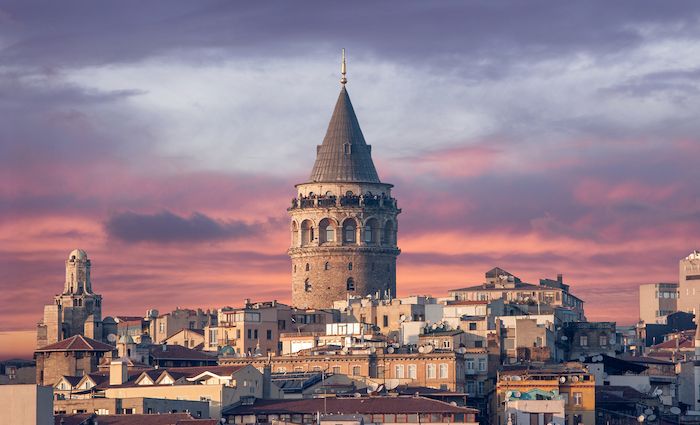 The Galata Tower is a top local and tourist attraction for a wide range of people in Istanbul, and it's open daily from 8:30 am to 12 am. The Galata Tower largely represents the long and strong history of Istanbul and Turkey, dating back to the 14th century. In fact, this tower is still used as a symbol to represent the city in newspapers, advertisements, books, and more, due its beauty and historical importance.
The Galata Tower is very romantic and definitely a place to go with someone special. There is even a famous legendary love story in Turkey based on the Galata Tower.
Although first constructed as a watchtower against invaders, the Galata Tower now serves as a museum and main attraction. It also offers tourists a precious opportunity to see a 360-degree view of Istanbul. And if you're unsure about climbing to the top, don't worry, there are elevators present in the tower for your convenience. If you have time you should enjoy delicious Turkish food at the Galata Tower's café or restaurant.
To get the most out of your trip to Galata Tower, you can always purchase a guided tour with your ticket and learn all about its important history.
Address: Bereketzade, Galata Kulesi, Beyoğlu, Istanbul
Admission Fee: 100 TRY
11) Indulge (or Lose) Your Senses At The Spice Bazaar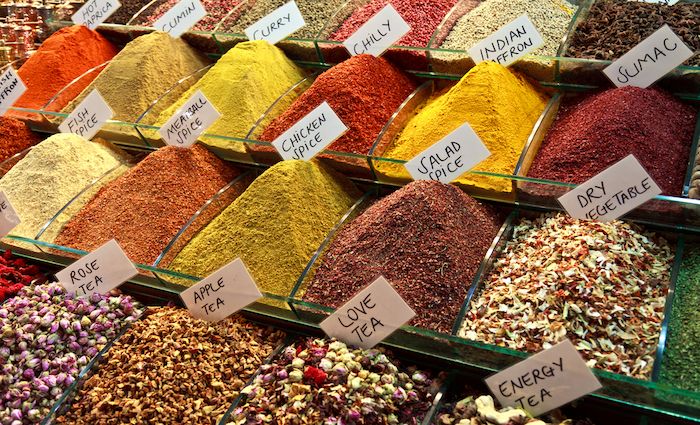 Firstly, you should have at least two hours to spend in The Spice Bazaar. One reason is that the Spice Bazaar is huge, and the second is because you will get lost looking and exploring the various spices. There are not only spices available, but also tea, coffee, sweets, dried fruits, nuts, and on and on.
The Spice Bazaar's colourful existence has been present since 1664, continually sharing the historical heritage of Turkey. As a result, the Spice Bazaar is one of the oldest bazaars in Istanbul.
The Bazaar is located perfectly in the central part of Fatih, which is on the European side of Istanbul, so it's easily accessible by bus, tram, etc. Moreover, there are tours available for The Spice Bazaar. Most people enjoy exploring without a guide because if you know how to bargain and look forward to exploring then you're good to go, but if not then they're a helpful way to experience this massive bazaar.
Address: Rüstem Paşa, Erzak Ambarı St, Fatih, Istanbul
10) See The World's Most Valuable Chinese & Japanese Porcelain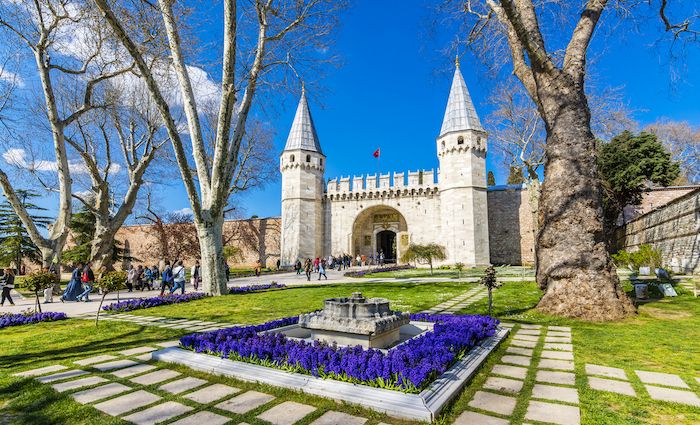 Located in Fatih (the European side), Istanbul, and initially built in 1460, this museum is marvellous to visit. The Topkapi Palace is also a UNESCO World Heritage Site which ensures a strong historical presence. As a result, this palace is both educational to see and dazzles you with its mystique atmosphere.
When you visit the palace, you can recognise and encounter many aspects of the Ottoman Empire. For instance, the tiles and the harem in the palace date back to the Ottoman Empire period. After the founding of Turkey, the palace was transformed into a museum in 1924. This museum ultimately became the first museum of the Republic of Turkey.
Also, this cultural sanctuary has crucial collections to explore from the Imperial Treasury to portraits of Sultans and other paintings. I highly recommend when you come here you should visit the Chinese and Japanese porcelain collection. This museum holds the most valuable collection of Chinese and Japanese porcelain in the world.
You can also have a fun and relaxing time at the garden, the museum's gift shop, and café. Don't forget to take photos here, because you'll want to remember the fine architecture here.
Address: Cankurtaran, Fatih, Istanbul
Admission Fee: Topkapi Palace Price: 200 TRY (excluding The Harem) and The Harem Price: 100 TRY
9) Walk and Shop At Iconic Istiklal Street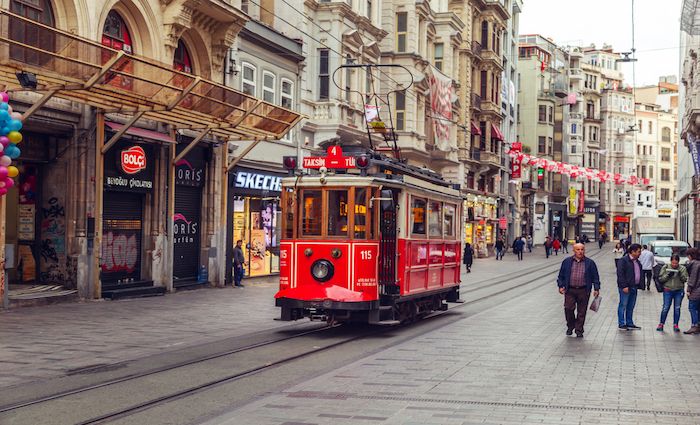 Do you love shopping, walking, feeling free, and independent at the same time? In that case, Istiklal Street, also known as the Independence Avenue, is certainly the place to be! Istiklal has been declared by Istanbul's locals and many tourists as the busiest street in the city.
In the same vein as Istanbul itself, Istiklal can be defined as the center where lights never dim. The location of Istiklal makes it a jewel for millions of visitors per day. The Street is enormous and connects many iconic attractions such as: Taksim Square, Galatasaray Square, and The Galata Tower.
This colourful street houses local stores, famous stores, cinemas, cafes, pubs, nightclubs, restaurants, art galleries, and on and on. Above all, without riding a bright and nostalgic red trolley, your tour of the Istiklal Street wouldn't be complete. This tram is located in Taksim and travels to the Tunnel Nostalgia Tramway.
Address: Istiklal St, Beyoğlu, Istanbul
8) Feast Yourself At Karaköy Güllüoğlu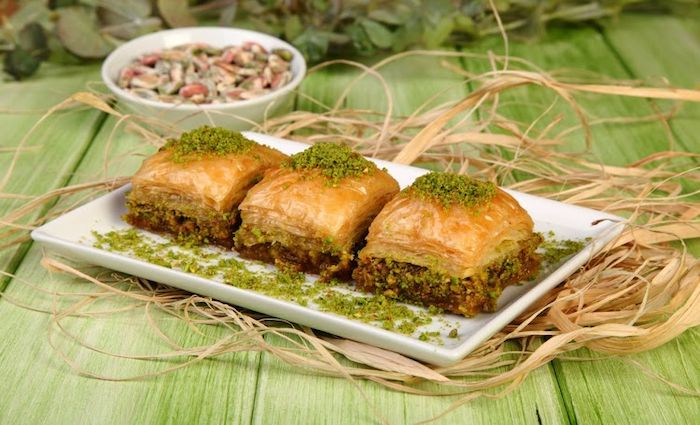 When people usually picture Turkish deserts the first thing that comes to mind is: Baklava. The delicious, crispy layers of dough filled with pistachios, walnuts, or hazelnuts and the juicy syrup melting with each bite—delicious. After picturing this description, you would understand my mouth-watering experience with baklava.
You shouldn't eat baklava at any old place, because baklava is a special sensation that should be savoured only at an authentic bakery. As a result, I recommend Karaköy Güllüoğlu as one of the best in the business and a master at baklava. With many fresh selections to pick from, this store offers a wide variety of baklava. For example, you can indulge in baklava with pistachio, assorted baklava, baklava with walnut, and many more choices.
Additionally, the prices for eating baklava at Karaköy Güllüoğlu are really reasonable and not pricey at all. This tasty store sells other local Turkish food such as: borek types, ice-cream, and tea.
Address: Kemankeş St, Katlı Otopark Altı, Karaköy, Beyoğlu Istanbul
7) Get the Best View of the Haydarpaşa Train Station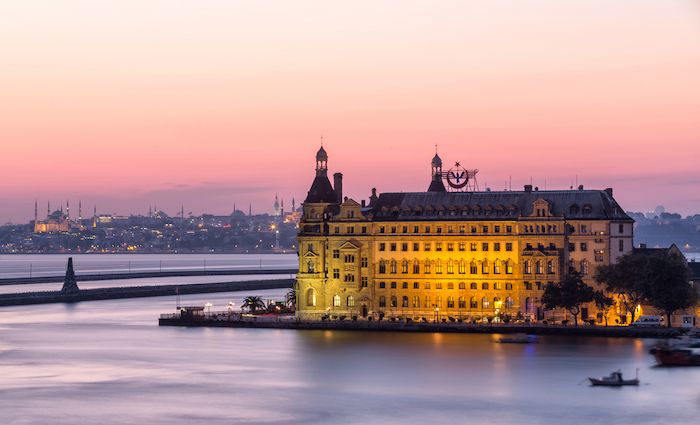 Riding the Kadıköy Ferry for the first time is an unforgettable experience. The ferry was colourful, interesting, and intriguing with musicians playing amazing tunes, Turkish food available to eat, and friendly people everywhere.
On the other hand, it would be unfair to forget about the exterior of the ferry. The top of the ferry was beautiful, too. You could breathe the fresh air, listen to the seagulls, take amazing photos, and much more.
However, while on the Kadıköy Ferry one specific attraction will grab your attention: The Haydarpaşa Train Station. The best way to view this magnificent structure is while sitting on top of the ferry. This view is worth the ride and time!
It is important to mention that The Haydarpaşa Train Station has been closed for a while for construction. So, the perfect way to view this place is by ferry.
Address: Rasimpaşa, Kadıköy, Istanbul
6) See the Maiden's Tower at Sunset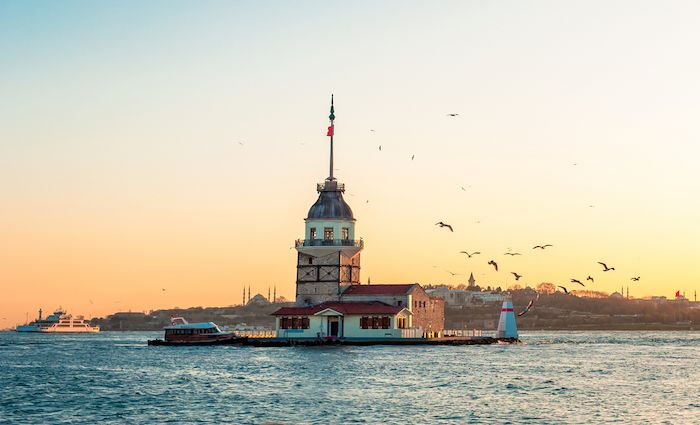 The Üsküdar Coast is dreamy anytime of the day or year. For example, in the morning it's majestic to see the sun shining and hear the beautiful birds chirping. Then at night, the setting sun is a must-see here with the city's lights shining in the background.
This coastline is an important attraction for many locals and tourists. You can enjoy Turkish tea, talking with locals, and eating at a café. However, one of the most striking and fascinating features of this coast is definitely the view of the Maiden's Tower.
The Maiden's Tower is both a popular and historical landmark for Istanbul. It has been also featured in international and national popular culture from films to TV shows to advertisements. The Tower is charming to view and there are many legends surrounding it, mostly romantic legends.
If you want to see the Maiden's Tower up close, just book a boat ride and enjoy the cafe here. The menu prices are middle range, but with the view you get, it is certainly worth it. This little trip to this romantic tower easily makes it on our list of top things to do in Istanbul.
Address: Aziz Mahmut Hüdayi, Üsküdar Harem Sahil Yolu, Üsküdar, Istanbul
5) Get Your Haggle On At The Grand Bazaar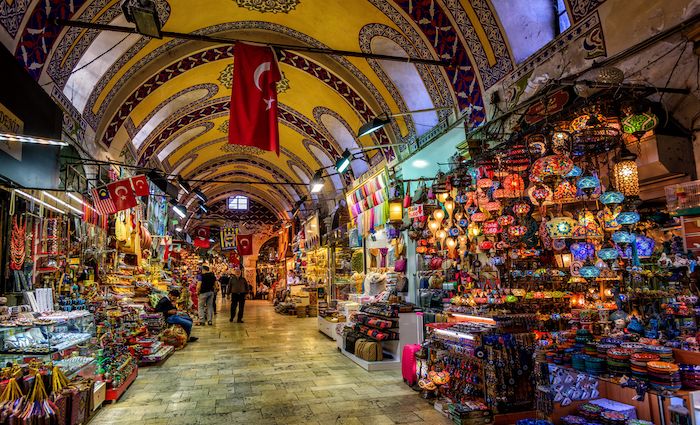 The Grand Bazaar like its name is enormous, busy, and full of things to do. As a result, you should at least save three to four hours to spend time here. The Grand Bazaar welcomes people around the world for many years and is a local favourite to shop at too.
The entrance to The Grand Bazaar is free and the hours are from 8:30 am to 7 pm daily. Frankly, I recommend coming here early before the Bazaar gets busy and full. Also, a tip if you arrive early you have a higher chance to get a good bargain with products!
Most importantly, there are many shops to pick from and amazing things to explore. You can find almost everything here. For instance, there are silk scarves, ceramics, carpets, rugs, spices, Turkish coffee, Turkish delights, and more.
To sum up, you should explore and shop at one of the largest and oldest markets in the world.
Address: Beyazıt, Kalpakçılar St, Fatih, Istanbul
4) Wander The Beylerbeyi Palace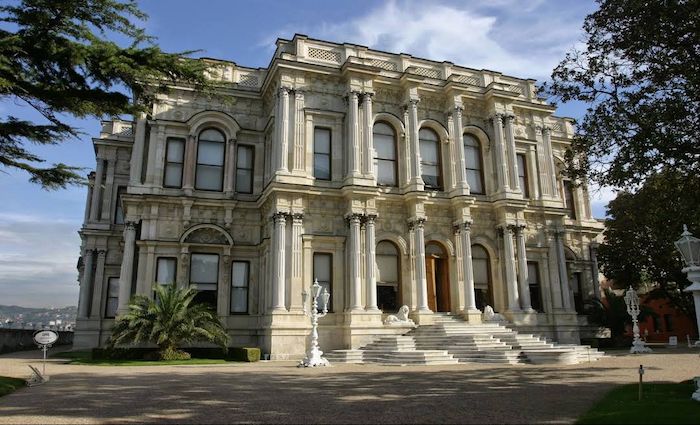 Commissioned by the 32nd Ottoman Sultan Abdülaziz, this palace holds a special place in Ottoman and Turkish history. Its historical importance lies in the fact that it was summer residence for the Ottoman Dynasty. It also combines both western design and classical Ottoman structures.
The Beylerbeyi Palace currently serves as a museum with numerous sections open to visitors. The areas visitors can see are the mabeyn, the harem, the sea pavilions, and the barn stables. Additionally, you should wander in the luscious, magnificent gardens that house the Beylerbeyi Palace. The Beylerbeyi Palace Gardens overlook the Bosphorus Strait too, which is mesmerising to watch as modern traffic moves through this strategic waterway.
It is easy to reach this palace though it's located in the central Üsküdar part of the Asian side of Istanbul. Since it's a major attraction, it's easy to reach the palace by minibus, ferry, boat, metro, and more. If you're already in Üsküdar, you can take the yellow minibuses here directly.
Address: Beylerbeyi, Beylerbeyi Kavşağı, Üsküdar, Istanbul
Admission Fee: 60 TRY
3) Get Lost In The Blue Mosque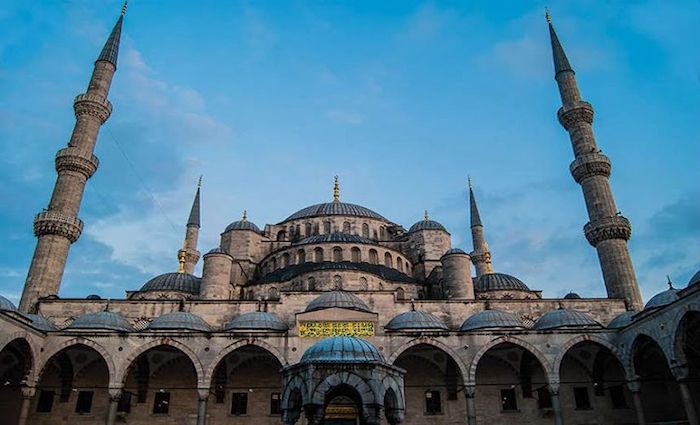 I love that it's free to enter this marvellous mosque where you can get lost in its grandeur both literally and figuratively. The general color theme of the mosque is unique blue tiles—hence its nickname. It's official name is Sultan Ahmed Mosque. Treasured by both locals and tourists, this mosque is open to visitors and functions as a mosque with scheduled prayers, too.
Above all, this mosque symbolises Turkey's Ottoman heritage and wealth. This symbolic essence is evident in the design and structure of the mosque, for example, there is elegant stained glass windows and fine marble all around the mosque. You'll need extra space on your phone for all the pictures and videos you'll take here!
The Blue Mosque has six minarets, which makes it distinct skyline in Istanbul as well. The whole mosque is mysteriously magical and worth visiting, especially to embrace the true Istanbul culture.
In the same vein as the Hagia Sophia, you should follow certain dress codes: women should cover their hair, and everyone must take off their shoes. Please also be considerate and quiet while in the mosque and take only photos that don't require flashes.
Address: Sultan Ahmet, Atmeydanı St, Fatih, Istanbul
2) Snap Pics of Every Gate at The European-Style Dolmabahçe Palace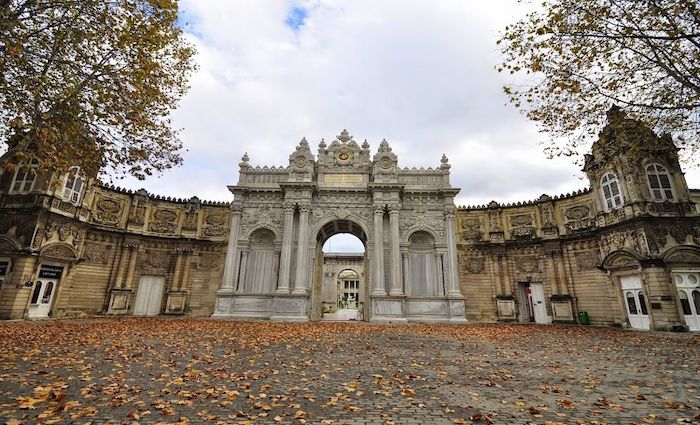 Istanbul's first European-style palace was built with gold, which makes this palace stunning to look at. Its design intertwines neoclassical features, western-inspired structure, and nuances of Ottoman architecture, so the palace feels like an art canvas.
There are many things to explore and uncover, for instance, you can ponder the gardens, walk the Medhal Hall, and pay respect to Atatürk's room. I also recommend seeing the magnificent stained glass windows, which you'll fall in love with and want to take many photos of. You'll also be intrigued by how many unique gates there are, such as, the gate of the treasury, gate of the sultan, and so on.
Moreover, guided tours are available for visitors mainly in English but other languages are available too. Consequently, if you want to engage in the history and cultural enactments of this palace, a tour is a great option..
Address: Vişnezade, Dolmabahçe St, Beşiktaş, Istanbul
Admission Fee: Dolmabahçe Palace Price: 120 TRY (excluding The Harem) and The Harem Price: 90 TRY
1) See the Sultan Tombs at The Hagia Sophia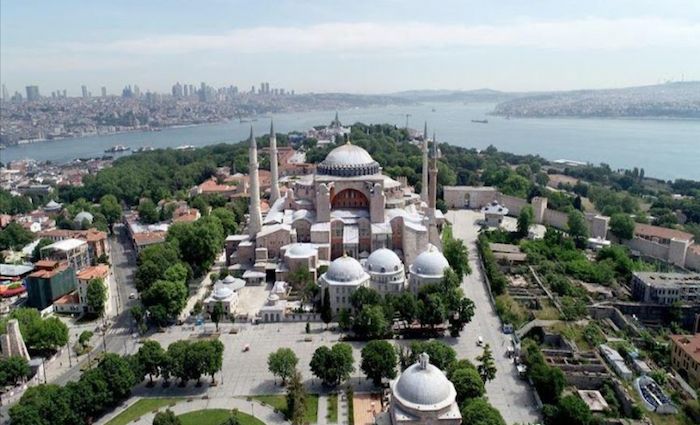 The Hagia Sophia is certainly an important wonder and historical gem of Istanbul and the world. First built as a church during the Roman Empire then rebuilt and converted to a mosque during the Ottoman Empire, this amazing structure has withstood it all.
This place is worth exploring as a major historical and cultural symbol of Turkey. There are indeed many beautiful features here within its exterior, interior, and surroundings. The dome and minarets provide one of the recognizable features in Istanbul's skyline.
If you want to learn about this amazing structure, a guided tour is the best way to learn the correct information. They'll guide you through all the marvellous parts of the Hagia Sophia, such as the dome, mosaics, sultan tombs, and minarets.
Additionally, because the Hagia Sophia currently operates as a mosque, you will need to remove your shoes before accessing the mosques carpets. It is also recommended to wear a head covering for women due to the mosque's regulations. On Fridays they hold their prayer worship, so the mosque is always temporarily closed. Otherwise, it is free to visit.