If you're headed to NYC you are literally headed to food heaven or hell based on how you look at it. I like to think it's food heaven because the food is delicious, but it could also be food hell if you think about how much basically unhealthy food you'll eat in the time you are there. Here are the top foods you MUST try in NYC.
---
Why Should I Know? I grew up and currently live about two hours from NYC, but that doesn't make me an expert. I also lived there for a while but that was in 2013 so I am definitely out of touch. So, I asked two of my long time foodie friends from the area for some recommendations and they came threw big. I went to NYC for 48 hours and ate more food than any human should ever eat and came up with this list. True story, I didn't eat for two and a half days after my trip.
13. Sabrett Street Hot Dog
Not sure where you are from, but in America we sure love hotdogs! What's not to like? They're freaking delicious!
That is why we recommend New York's (self-proclaimed) most famous hotdog; a Sabrett Hotdog. You'll see an umbrella on any hotdog stand peddling Sabrett's so don't worry.
Nervous about what goes into a Sabrett hotdog? Well, much fewer ingredients than you'd imagine and nothing crazy, it's mostly your normal items like Beef, salt, and spices. They are wrapped in sheep's intestines, but that has been the practice for any type of sausage for centuries. It tastes good, makes better use of the animal, and in Europe, they have laws stating you can ONLY wrap meat in natural casings like intestines.
We think Sabrett is the best street dog, but there are some non-street options too. Check out Gray's Papaya or Criff Dogs if you're looking for a heart attack.
Check Out Our Top New York City Tours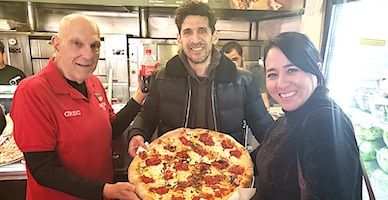 Top Rated Tour
Greenwich Village "Locals" Food Tour in New York City
Head on a culinary journey through the heart of Manhattan. For centuries, New York has been a melting pot of cultures. Explore the wonderful dishes this melting pot has cooked up with your friendly expert guide. From Pizza and Bagels, to modern twists on classic European desserts, enjoy some of New York's best street foods and restaurants.





Starting at €84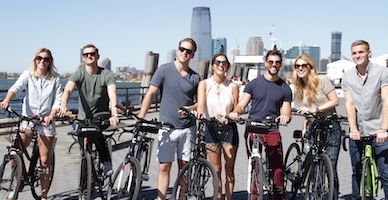 Likely to Sell Out
New York in a Half Day Tour by Electric Bike
With your local engaging guide, head through the avenues of Manhattan on your electric bike. Meet at the top of Central Park and ride through the green oasis surrounded by skyscrapers. Visit Times Square, Broadway, and more as you see the best of New York City. Bike Rental Included.





Starting at €87
12. Halal Street Food @ "Rafaqis"
First of all, what is Halal food? In Arabic, the word "Halal" means "permitted" in reference to a specific dietary standard that Muslims are required to follow as part of their belief system.
What is permitted? There are a lot of things that we won't get into here, but basically, Halal food is permitted foods that are processed (cleaned, chopped, cooked, and stored) using cleanliness standards defined under Islamic law.
What is Halal food to everyone who is not Islamic? It's freaking delicious middle eastern food and the perfect quick & decently priced lunch in NYC and other major cities. Rafaqis is an amazing food truck that serves amazing Halal food which was brought to my attention by a former team member from our Rome office who now lives in NYC.
What do you get? If you have no dietary restrictions, go for the half chicken half lamb "combo" with lots and lots of white sauce. You're welcome.
11. Tacos
When Tacos started in the US they were these typical Old El Paso (sorry old el paso – we still think you're cool) paper packet mix tacos you make at home with ground beef. But, ground beef is lame and tacos are not lame hence, authentic Mexican Tacos eventually persevered and now you can get them in all major cities.
What is authentic? First, you gotta start with the small corn soft tortilla. Flour tortillas were used a little bit in Northern Mexico, but corn is the predominant crop and IMO they taste much better.
From there, you'll normally see pork (carinitas), chicken, beef (Barbacoa), or seafood proteins, but rarely ground. They slow cook the meats until they taste so amazing that you'll eat until you are uncomfortable.
NYC has a few AMAZING spots which I recommend for casual tacos.
10. Drink a Manhattan
A Manhattan is a Rye drink with angostura and sweet vermouth served up traditionally with a cherry or orange peel. They're delicious and powerful so get ready for a fun night. Where should you get yours?
For spectacular views check out Harriet's Rooftop & Lounge in Brooklyn.
If yuo want a really cool "Aristocrat" setting try The Bar Room at the Beekman Hotel. The Bar Rooms is so cool it actually makes it tough to decide between it and a rooftop bar overlooking Manhattan.
9. American Coffee
New York is full of places to get coffee as the city seemingly runs on this "petroleum" for humans. You can get it anywhere and definitely grab an iconic blue and white Greek coffee cup for a photo, but when you're done get fantastic cup at one of these two places.
The Mud Truck is a big orange food truck that serves delicious coffee and you can find the trucks all over.
If not, La Colombe, which is native to my Philadelphia, makes some of the best Java in NYC.
8. Oysters @ Jeffery's Grocery
Jeffery's Grocery is a tiny little institution of American East Coast cuisine. Burgers, Sandwiches, and then tons of shellfish. I mean TONS of shellfish.
If you grew up along the NE coast of the US like did you likely grew up eating oysters, clams, lobster, shrimp, and then eating your leftovers again in a bowl of chowder!
If your interest is peaked, Jeffery's Grocery has got what you need!
7. Pork Bow Bun
When I was seven years old my Uncle Steve brought me to NYC and we ate Pork Bow Buns. At that point, I don't think I had ever been anywhere other than Philly and immediately realized there was a lot more to discover in the world.
Now, when I go to NYC I aways visit a Chinese Bakery and get my self steamed pork Bow Buns. So good and great memories! Where?
Xi'an Famous Foods is the spot. They have locations across NYC, but its more authentic in China Town!
6. Doughnuts
Doughnuts may be the only thing more American than hotdogs (I am sure its possible both were invented abroad, ha!). Home Simpson may have made them famous in wherever he lives, but the best ones arguably in NYC & LA.
In NYC, hit up "Dough" Doughnuts near Union Square (14 west 19th Street). They are simply amazing and the best part is they are good for you! Well, maybe just good for your soul.
5. Red Velvet Cake
What is red velvet cake? Basically, chocolate cake with vinegar in it and cream cheese mixed into the icing. It doesn't sound like an ingenious invention because it was likely an accident, but you'll thank whoever figured this one out because it is delicious!
In NYC it is commonly eaten in cupcake form, but all the same. Here is where to get yours!
4. Kossar's Bialy
A Bialy is a time honored NYC tradition and nobody is better than Kossar's Bialy which has been in LES (Lower East Side) since 1936.
They specialize in "old world" Jewish specialties which are beloved by New Yorkers all around. A Bialy is not a bagel and if they had the means, Bialy would get offended for even saying something like that. Bagels are boiled, but Bialy are simply baked AND have delicious onions in the center.
Bialy are a breakfast food and there is nothing like onions to start off your day!
367 Grand St Lower East Side
3. Ess-a-Bagel
Bagels are one of the most delicious breakfast foods that exist and NYC is the place to get them. A Jewish specialty that are unparalleled outside the NE United States and arguably outside of NYC.
Where do you go? Ess-a-Bagel has my vote!
2. Dumplings @ Joe Shanghai or Nom Wah Tea Parlor
You literally cannot visit NYC without going to China Town. It gets bigger every year and the food is delicious. When there, you have to have some dumplings.
If you are looking for just dumplings, Vanessa's Dumpling House is a great choice. They have a few locations including China Town and Financial District.
If you want something less casual, you should try Joe Shanghai or Nom Wah Tea Parlor both of which are pretty famous and delicious.
1. Katz Deli Pastrami Sammi
Nothing screams "New York City" like a Pastrami on Rye and Katz' Deli is the place to get it. According to their website, Katz opened in 1888, but Katz was not in the game yet. It was opened by two brothers from Iceland and named "Iceland Brothers" and was a delicatessen. In 1910 the Iceland Bros were bought out and it has been Katz Deli ever since.
In 1917 the Deli moved across the street to its current location where it has remained ever since. It is a Jewish specialty store famous for its Pastrami sandwich on rye bread.
They pick their pastrami on their own which is what makes it the best in the world. Go on, pay $20 for a sandwich and decide for yourself! I recommend splitting it with a friend.
Check Out Our Top New York City Tours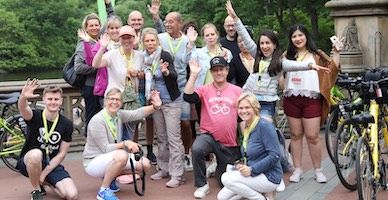 Top Rated Tour
New York's Central Park Bike Tour in a Small Group
Spanning nearly 10 miles with a border of skyscrapers lining the entire perimeter, Central Park is an oasis inside New York's concrete jungle. With your licensed guide, hop on a bike, snap on your helmet and get ready for a journey through the avenues, bridges, and parkways of Central Park. See the famous statues and fountains along with hidden gems only a local expert knows. The best way to Central Park is by bike, join us for an amazing experience.





Starting at $48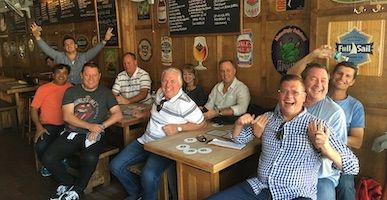 Likely to Sell Out
Hell's Kitchen "Locals" Food Tour in New York City
Join your local foodie guide on a journey Hell's Kitchen. Formally a rough neighborhood, the area has developed into one of the city's great quarters through the influence of artists and immigrants. In a small group, visit our favorite hidden gems of an area where foods from around the world are present.





Starting at $99