Headed to Dublin and want to explore some of its stunning nearby attractions but not sure where to start? Not to worry, our local guide has put together a list of bucket-list attractions in and near Dublin sure to give you a taste of what makes the Emerald Isle special.
---
Pro Tip: If you're planning a trip to Dublin, consider bookmarking our dedicated Dublin page, with articles on The Cliffs of Moher, Giant's Causeway, Titanic, and more!
Top 7 Bucket List Attractions In And Near Dublin
There are tons of activities to do in Dublin and the surrounding areas, but when it comes to attractions, there are just a handful of brilliant ones. In this list, I'll give my two cents for what I believe to be Ireland's most stunning landscapes and natural formations. These attractions also include man-made places like the eerily haunted Hell Fire Club.
Most of these whereabouts are accessible by taxi or bus, otherwise, you can organize a car rental at the airport, or in the city. Each section mentioned below will give you directions via any mode of transport you choose. Alongside these attractions, I also recommend flicking through our detailed guides for Dublin. They offer tips for the best hotel accommodation available, with the inclusion of Dublin activities and local cuisines to try:
7. Blessington Lakes/ Poulaphouca Reservoir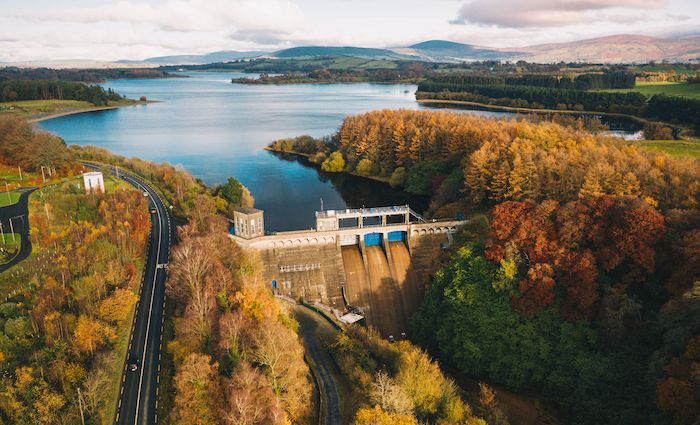 Blessington, Wicklow | 45 Minutes From Dublin | Lake Views & Hiking Trails
The lakes at Blessington are 5,000 acres of water on the foothills of county Wicklow. In terms of attracting visitors, Blessington is admired for its breathtaking waterfront views, low-hanging clouds, and misty mountain ranges. One of the most famous lakes is called the Poulaphouca. Most people don't know that Poulaphouca is actually the reservoir for Dublin's water supply. In the area, you'll also find Poulaphouca House and gardens, as well as the Poulaphouca waterfall and dam.
The name "Poulaphouca" (pronounced "poola-fookah") derives from the Irish mythological creature "The Púca," which brings both good luck and bad. A fitting name, seeing as the reservoir gives us water, yet dries up at the first signs of drought (see; Ireland's "hosepipe ban" every summer). Furthermore, on low water levels, you can see a lost underwater village and church steeple peeking out of the water.
The general Blessington area is well worth a visit for the fact it's one of Wicklow's top natural attractions. Moreover, the Blessington Greenway offers great hiking and cycling trails along the lakes and around the mountainside. If you've got a car rental, it's also not far from Glendalough, Lough Tay, Enniskerry village (where the Disney movie Maleficent was filmed), or the Powerscourt House, waterfall, and gardens.
Why This Trip Is Cool:
Breathtaking views of Blessington Lakes and Poulaphouca reservoir.
You can see a lost underwater village and church steeple, on low water levels, at the Poulaphouca reservoir.
Blessington Greenway has fantastic cycling and hiking trails in the area – mostly on the flat.
Excellent selfie opportunities.
A really pensive and serene part of the world.
Only a 45-50 minute drive from Dublin city.
It's a free activity.
How To Get There:
The quickest way to get from Dublin to Blessington is to taxi which costs €50 – €65 and takes 28 min. There's also the direct '65 bus' departing from South Richmond St. stop 1016 in Portobello, which arrives at Blessington, stop 4027. Services depart hourly and operate every day. The journey takes approximately 57 min. If driving, you want to start on O'Connell Street in Dublin city and make your way to the N81, on the straight, until you hit Blessington village.
What To Do When You're There:
Grab lunch at The Avon hotel, which has great lake views and often has a bunch of food trucks on their astroturf.
Rent a bicycle at The Avon and cycle through The Blessington Greenway.
Head over to see the towering Poulaphouca waterfall and dam.
Check out the lost underwater village at the Poulaphouca dam.
Drive another 20 minutes to the picturesque Enniskerry village in the valley.
Take another drive to see Glendalough lake and the nearby Lough Tay, which is owned by the Guinness family.
6. Have A Day At The Races, At The Curragh, In County Kildare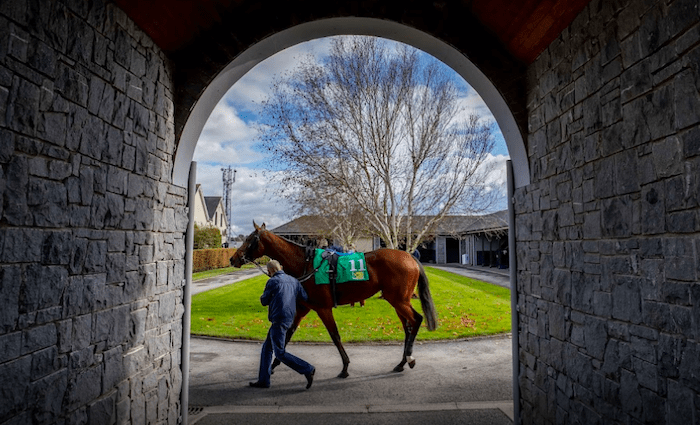 Newbridge, Kildare | 1 Hour From Dublin | Horse Racing
A huge part of Irish culture is "luck," and this manifests in many ways – to include horse racing at The Curragh Racecourse! There are tons of quality racecourses around Ireland that offer VIP boxes to observe the races, but if you want something near Dublin, The Curragh is one of the heavy hitters.
The lush racecourse spans over 5,000 acres in the heart of Kildare. You can make a real day of it by first popping into Newbridge Silverware in Kildare village, before donning your binoculars and heading over to The Curragh for the afternoon. You'll have to plan in advance in accordance to the races that are taking place during your visit. If you get lucky, you can experience huge championship festivals, such as the Dubai Duty Free Irish Derby Festival, Juddmonte Irish Oaks, The August Festival of Racing, or the Longines Irish Champions Weekend.
Why This Trip Is Cool:
You are taking part in modern Irish culture and celebrations.
The chance to dress up (competitions held for best dressed with prizes given).
Can splurge on a VIP box with champagne, amazing views, and five star treatment.
A perfect mix of leisurely and adrenaline fuelled entertainment.
The chance to win big!
How To Get There:
The Curragh racecourse is located in County Kildare, on the edge of The Curragh plains, approximately an hour outside of Dublin (50 km). The Racecourse is situated close to the M7 Motorway (Dublin/Limerick), which connects to the M8 (Dublin/Cork) and M9(Dublin/Waterford) motorways.
What To Do When You're There:
Visit Kildare village for shopping.
Head into Newbridge Silverware to pick up some beautiful local souvenirs (bespoke cutlery and silverware).
Place your bets at the bedding stands in The Curragh!
Sit back, drink, eat, and have fun while watching the horses have fun!
5. Visit Newgrange (An Ancient Celtic Tomb Passage) In County Meath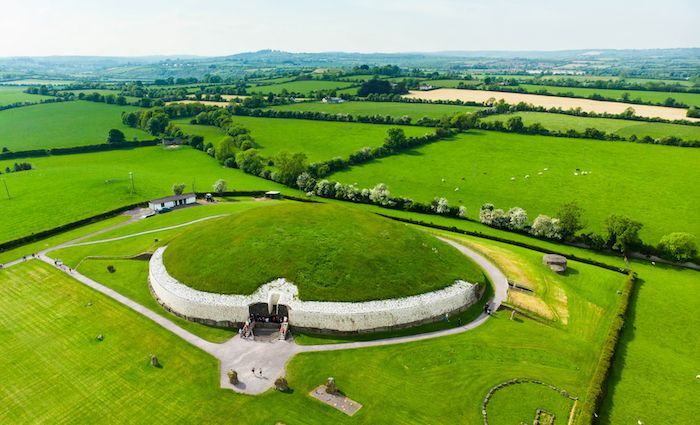 Donore, Meath | 1 Hour From Dublin | Ancient Irish History
Newgrange is a neolithic passage tomb that lies on the World Heritage Site of Brú na Bóinne. It's Ireland's richest archaeological landscape that wraps around the River Boyne in County Meath. Brú na Bóinne comprises three ancient Celtic ceremonial structures, known as; Knowth, Dowth, and Newgrange (the main one). They were built in one around 5,200 years ago by farmers, and are now some of the most important ancient sites in the world. The Newgrange tombs are the largest assortment of Stone Age structures in western Europe. Older than the pyramids!
As mentioned, Newgrange is the passage tomb with the most amount of things to do. You can observe Celtic art on kerbstones around the exterior, like carvings of Celtic knots and triskeles. The most remarkable thing about Newgrange, however, is the Summer and Winter solstices. On the longest day and the shortest day of the year (21st June and 21st December), sunlight moves through the passage and lines up at an exact point in the tomb. If you're into all things ancient, spiritual, and the underworld – this is the day trip for you!
Why This Trip Is Cool:
Can spend time around these UNESCO Stone Age structures, which are rich in heritage and history.
Can observe celtic art and ancient carvings in stone.
Architectural fans can observe how these vernacular structures were built.
Spiritual (or even just superstitious folk) can head here to cast wishes, spells, or simply pray to the celtic gods!
If you head on either 21st June or 21st December, you will experience the Summer and Winter solstices.
An activity for those who prefer inward thinking rather than extroverted entertainment.
How To Get There:
Monday to Friday coach pick-up location and times: 9.30 am from The Mespil Hotel (on Mespil Road), 9.40 am from the Shelbourne Hotel (at St. Stephen's Green), and 10 am from AIB Bank (37-38 O'Connell Street Upper). Return to the city center at approximately 4.30 pm.
Saturday & Sunday coach pick-up location and times: 7.30 am from The Mespil Hotel, 8.00 am from The Shelbourne Hotel, and 8.15 am AIB Bank. Return to the city center at approximately 3.15 pm. All transport is covered, but you will need to cover your own lunch.
What To Do When You're There:
Check in at the Newgrange Visitor center.
Have a stroll around the Boyne River.
Visit Knowth passage tomb.
Visit Dowth passage tomb.
Finish your visit with Newgrange passage tomb.
4. Killiney Hill and Celebrity Houses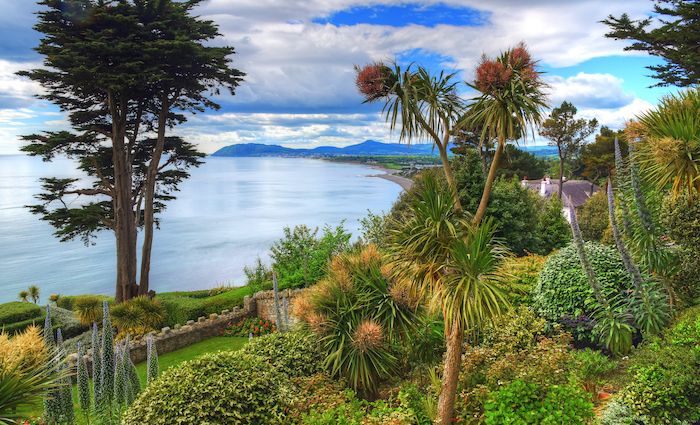 Dalkey, Dublin | 40 Minutes From Dublin City | Celebrity Homes & Beach Activities
The reason for recommending Killiney Hill is because you would be hard-pressed to find a more beautiful seaside attraction in Dublin. It's a place that visitors wouldn't travel too often, but if you love to kayak, hike, or swim, it gives you good reason to go. People often take dips down at the Vico Baths or Killiney beach, before strolling up to the summit of Killiney Hill for sunset. After that, visitors like to return downhill to gander at some of the most pricey and sought-after houses in Ireland. This area is considered the Irish equivalent to the gated, celebrity communities you see in Beverly Hills.
To give more insight into who resides in the hills (the "hills" – in this instance – being Killiney hill), you have the celebrity homes of Bono, Enya, and even Matt Damon. He got stranded in Killiney when filming The Last Duel during the first lockdown. After snooping around, you can pop down to Dalkey village to have dinner at one of the many fabulous restaurants.
Why This Trip Is Cool:
Swimming, kayaking, hiking, walking, and plenty of outdoor activities to do in Killiney bay.
Hiking to the summit of Killiney Hill to see over the bay, and also to see the church ruins.
Can do sunset rock climbing at Scalpwilliam in Killiney.
Multimillion dollar homes to sightsee as you walk around Killiney hill.
Being within walking distance of a cute little village called Dalkey.
How To Get There:
Irish Rail operates a train from Grand Canal Dock to Dalkey every 20 minutes. Tickets cost €6 – €8 and the journey takes 24 min. Alternatively, Dublin Bus operates a bus from Haddington Road (stop 412) to Churchview Road (stop 3214) every 20 minutes. Tickets cost €3 – €4 and the journey takes 42 min. Nitelink also services this route twice daily during off-peak hours. If you're driving, you'll want to head out Stillorgan's way, going through Glenageary village, before landing at Killiney.
What To Do When You're There:
Walking around the celebrity houses on Killiney Hill.
Going to the summit of Killiney Hill and Scalpwilliam.
Looking over Sorrento and Dillan's Park.
Walking along the sands of Killiney beach.
Going to The Vico Baths (for a dip).
Having dinner in Dalkey village (perhaps Ouzos restaurant, or DeVilles). Though, there are plenty of great restaurants in the area.
3. Phoenix Park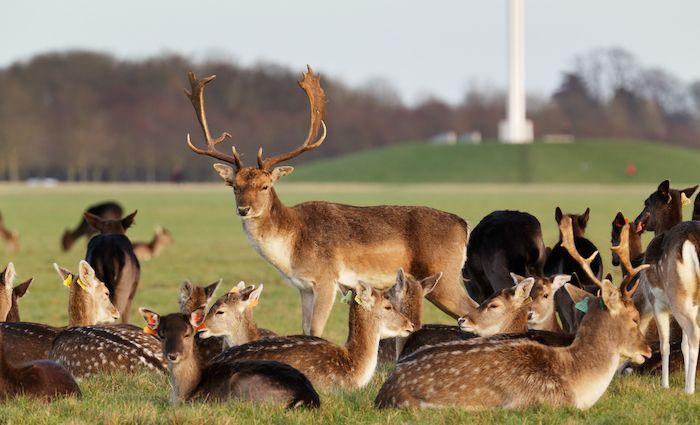 Phoenix Park, Dublin | 5 Minutes From Dublin City | Park Views: Walk, Cycle, Jog, Hangout
Our Phoenix Park is the largest public park in Europe. It's known as the place where "Dublin goes to breathe." True, given that the foliage, wildlife, and forestry is abundant in the area. Some of the highlights at Phoenix Park are Dublin zoo, which has a special light display around this time of year. The president of Ireland also lives in Phoenix Park – in "Aras an Uachtarain" – which translates as "The White House." You can visit the president's home every Saturday through guided house tours. These tours can be booked on the official Aras and Uachtarain websites.
Aside from the Dublin zoo and the president's house, there's also a huge herd of wild deer that roam the park daily. They're very used to strangers and you can get some fantastic photo opportunities (just make sure not to get too close to them, or feed them). At the entrance of Phoenix Park, you can rent bicycles and cycle all 1,752 acres of parkland. This, in my experience, is the best way to experience Phoenix Park. There are also lots of grassy areas to lie down and eat a picnic, but the best sitting spot is found at The Wellington Monument, which is a phallic-looking thing. It looks like it belongs in Victor's Way sculpture park.
All in all, this is one of the largest attractions to visit in Dublin. I recommend going at the crack of dawn before anybody else arrives. This allows you to walk with the deer in the dewy fields, on the morning mist! To make sure you don't miss it, the seasonal sunrise times are: Summer 5 am. Spring 6 am. Autumn 7 am. Winter 8.15 am.
Why This Trip Is Cool:
You can rent a bicycle around Phoenix park at the entrance gate.
There's herds of wild deer roaming around the park land.
The president of Ireland lives in Phoenix park.
Dublin Zoo is located in Phoenix park.
Largest public park in Europe.
How To Get There:
Phoenix Park is located in Dublin city, so you can walk the quays for 30-40 minutes as far as The Guinness Storehouse. At that point, you'll turn right at Heuston Train Station, before walking uphill towards the opening gate of Phoenix Park. If you'd rather take a bus, the 39a goes from Wellington Quay to Prussia Street, with a five-minute walk, thereafter.
What To Do When You're There:
See the wild deer.
Visit Aras an Uachtarain.
Check out Dublin zoo.
Dunluce castle.
Game of Thrones Hedges.
2. Hell Fire Club In The Dublin Mountains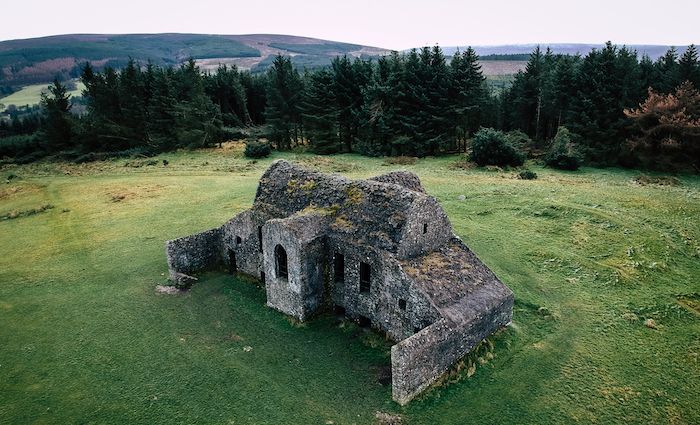 Glencullen, Dublin | 45 Minutes From Dublin City | Haunted Ruin, Hiking & Mountain Views
The Hell Fire Club is a haunted ruin and former gentlemen's club, where "the devil playing cards" story is said to have originated. The old ruin sits on top of The Dublin Mountains and requires a bit of a trek to the summit. Once you get there though, you'll have 360-degree views over Dublin city and the bay, including surrounding fields of native flora and fauna. Honestly, The Hellfire club has the oddest and freakiest energy. Walking inside the ruin, you'll feel a heaviness in the air. It's dark inside the building, which spans upstairs, and is a very jarring experience! I reckon that could be down to all the human sacrifices that were once held at The Hell Fire Club back in Ireland's Pagan days…
Overall, The Hell Fire Club is for people who don't mind a 20-minute, uphill hike and are cool with "haunted" buildings.
Why This Trip Is Cool:
Mesmerising views of Dublin city and bay.
Pumping serotonin by hiking uphill for a short burst of time.
Excellent selfie opportunities.
Getting the chance to see a haunted and historic ruin.
How To Get There:
To get to the Hell Fire Club: take the 14 Dublin bus and after 20 min, get off at the Dundrum Luas stop. You'll then get the 161 bus beside the Luas stop and after 22 minutes you'll get off at the last stop called Rockbrook. It's another 20 min by foot (uphill) to the peak of the Hellfire Club from there.
The 14 bus runs frequently all week & weekend, but please bare in mind that the 161 bus operates very infrequently from Mon-Fri (and not at all on weekends). The 161 weekday schedule from Dundrum Luas Stop to Rockbrook: 10:00, 11:00, 15:00, 16:40. And from Rockbrook to Dundrum: 10:30, 10:50, 16:10, 17:25. You can double check all this information by typing "161 Dublin bus" into Google. Many people find this public transport a headache and just take a taxi from Portobello for €30. You could cut this cost minimally by taking a taxi from the Dundrum Luas stop instead.
What To Do When You're There:
Walk around The Hell Fire Club ruins and take in the views.
Go to Jonnie Foxes pub nearby for a night of drinking and hooley dancing.
The Blue light pub is also a popular destination in the area. Very local.
Getting to know Enniscorthy town.
1. Do A Half Day Trip To Glendalough In County Wicklow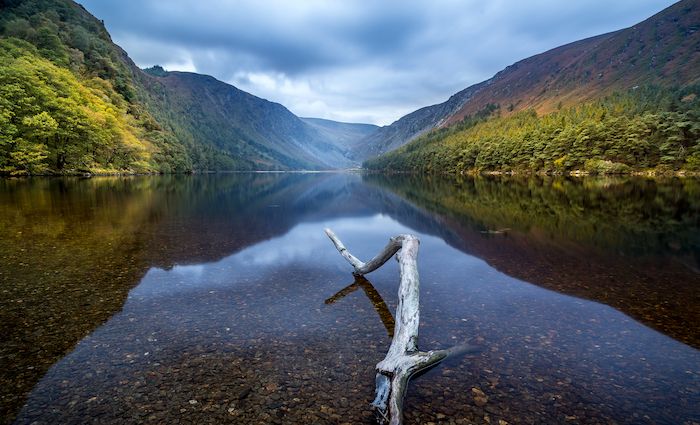 Glendalough, Wicklow | 1 hour From Dublin | Lake Views & Hiking Trails
Glendalough is a series of idyllic brooks, lakes, and valleys in county Wicklow. Moreover, it's just a stone's throw from Dublin city. The bio-reserve is favored with film location scouts for its Utopian looking landscape, in fact, iconic movies like 'Braveheart' and 'PS. I Love You' were previously shot in Glendalough. You can book a half-day tour with "Paddywagon," which will take you by coach from Dublin (the driver is also the tour guide). The first stopping point is at the entrance of Glendalough, where you'll see the ruins of St Kevin's monastery. You can use this time to walk around the graveyard and admire all the Celtic headstones. You'll then get an hour and a half to walk through the forest trail to the lakes.
Afterward, you get a chance to pop through and see Lough Tay, which was originally bought as a private lake for the Guinness family. Ironically, the water in this lake is pitch-black like Guinness. The driver lets you off the bus again at this point, and you get a few minutes at the edge of the mountaintop to peer over Lough Tay. I wholeheartedly recommend this experience if you are a nature lover who likes the stillness of a lake, or the lush greenery of Ireland.
Why This Trip Is Cool:
Still and eerie vibes at the upper lake at Glendalough.
Water like glass at the Glendalough lakes.
Peaceful and easy hiking trails that are on the flat.
A totally unaffected and unspoilt area in Ireland.
Having a local Irish tour guide to help you with any queries you may have.
Checking out the old, moss laden, celtic headstones and ruins at St. Kevin's monastery.
Driving through the narrow, steep cliff road to the black waters of Lough Tay (owned by Guinness family).
Getting photo opportunities on the mountain face of Lough Tay.
How To Get There:
Pick-up point and times:
8 am or 1 pm from Paddy's Palace on Lower Gardiner Street, Dublin 1.
8.10 am or 1.40 pm from "Discover Ireland" office on O'Connell Street, Dublin 1.
8.15 am or 1.45 pm from The Molly Malone statue on Suffolk Street, Dublin 2.
What To Do When You're There:
Hiking and walking through Glendalough upper and lower lakes.
Visiting the ruins of St. Kevin's monastery.
Selfies at the summit of Lough Tay.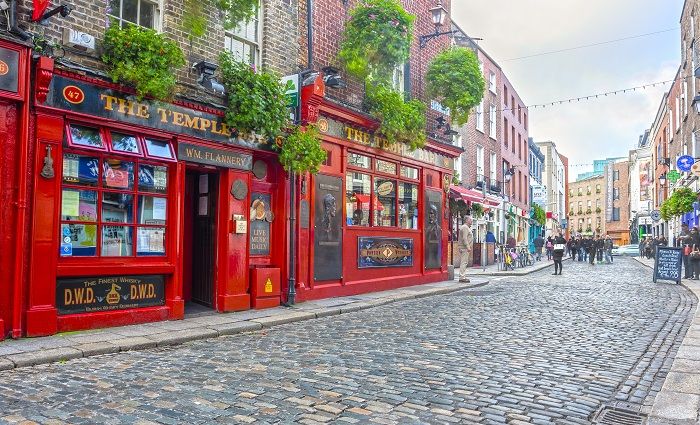 Find the best places to stay
Where To Stay in Dublin
Deciding where to stay in this historical city of Dublin, Ireland is easy with our local's guide to the best hotels and neighborhoods. From Portobello to the Dublin Docklands, you'll love your stay here!