Bordeaux is one of France's most popular destinations, renowned for its wine and history. Read on to discover why Bordeaux should be on your list of top cities to visit while in France!
---
The Top 16 Things To Do In Bordeaux, France
Located in southwestern France, it's possible to get to Bordeaux from Paris in a little over two hours by train. While Bordeaux is most famous for its wine culture, the actual city of Bordeaux is one of the top cities to visit in France, filled with history and plenty of interesting things to see. If you're craving the full experience, we recommend about three days to visit Bordeaux – two to spend touring the city, and one to spend exploring some vineyards!
Pro Travel Tip: Looking to enjoy the best food in Paris? We recommend joining our Le Marais Food Tour and enjoy all of the local delicacies, including falafel, oysters and champagne
16. Explore La Cité du Vin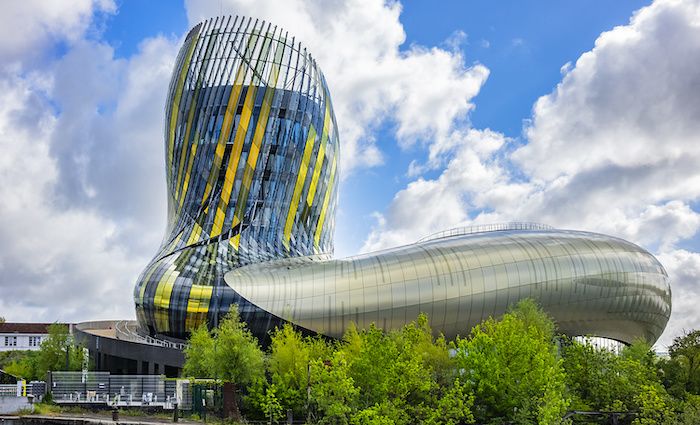 The Cité du Vin might just be one of the best museums built for wine lovers. Founded in 2016, it's a fairly recent addition to the city of Bordeaux, but has quickly become one of its top sites. As both a museum and exhibition center, it provides an immersive, fun and educational tour through the world of wine, from 6,000 BC to today.
The museum is incredibly interactive, and includes exhibits and displays about the history of wine, grape types, different vineyards, interviews with sommeliers discussing wine pairings, and more. At the end of your tour you can even enjoy a glass of wine with a scenic view of Bordeaux.
The Cité du Vin shouldn't replace a trip to a vineyard while in Bordeaux, but it certainly provides an entertaining way for wine lovers to learn more about their favorite drink. It won't be too hard to find the museum – the curved aluminium and glass building is a great example of modern architecture, and also one of the only such buildings in the city.
Address: 134 Quai de Bacalan
15. St Michel Brocante and Marche Capucins on Sunday
In Bordeaux on a Sunday and looking for something to do before the wine starts flowing? There is a flea market, St Michel Brocante, with lots of antiques and treasures to find which is particularly attractive to non-European visitors! Don't forget to get a mint tea from one of the lively Moroccan shops that surround the square!
On the same morning you can head to Marche Capucins which is the largest covered market in Bordeaux.
Address: Place St-Michel – Place Canteloup and Meynard | Marche Capucins
14. See Place de la Bourse and Miroir d'eau
This majestic royal square is one of the most recognizable sites in Bordeaux. Built in the 1700's, it was originally the Stock Exchange Hall and is now Bordeaux's Chamber of Commerce and Industry. Set along the Garonne River, this square definitely merits a picture or two.
Directly in front of Place de la Bourse is the Miroir d'eau, or Water Mirror, an enormous rectangle which is now the world's largest reflecting pool. The view is stunning both during the day and at night. If it's a hot day, you'll see lots of people walking through the mist that spurts up every 15 minutes. Feel free to join them!
Address: Place de la Bourse
13. Check out the Grosse Cloche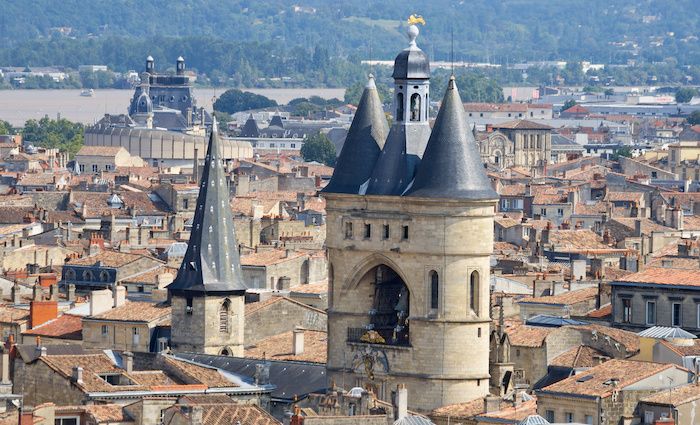 This is one of the interesting sights to see in Bordeaux which might be missed if you don't know you should be looking for it. The Grosse Cloche, literally meaning the Big Bell, is one of the oldest belfries in France. Weighing over 8 tons, it hangs in one of the few remaining gates from when Bordeaux used to be a fortified city before the 18th century.
The gateway where the bell is hung had a defensive function and also served as a prison. Its open for visits for those who want to see the strange dungeons inside! If you just want to admire the bell from the outside, we recommend checking out the bell at night.
Address: 45 Rue Saint-James
12. Coffee at l'Alchimiste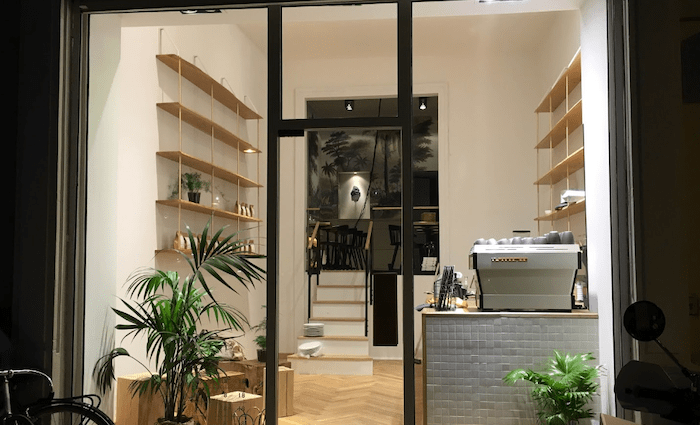 L'Alchimiste translates to The Alchemist which means, "a person who transforms or creates something through a seemingly magical process," according to Oxford. Is coffee anything other than magical? Imagine any other brown mud that you think about drinking before going to bed each night and search for before your eyes are fully opened? Maybe that's just me!
L'Alchimiste roasts their own coffee and is a local favorite amongst the inhabitants of Bordeaux. Be sure to walk in "tired" and leave with a renewed vigor for life!
Address: 12 Rue de la Vieille Tour
11. Climb Tour Pey-Berland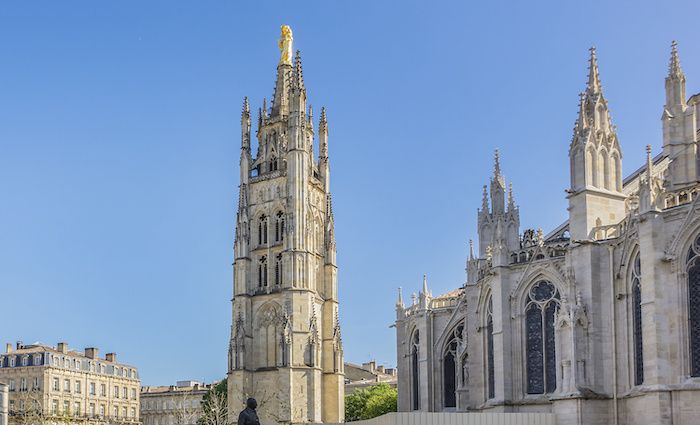 Up for a challenge? Then you may want to think about climbing the Pey-Berland Bell Tower. There are 229 steps to get to the top, but we promise the view is worth it.
While at first glance this bell tower might seem a bit bizarrely placed, there's a good reason for it. It's located right next door to the Saint-André Cathedral, but is completely separate from it. That's because this bell tower was built in the 15th century to provide the cathedral with a large bell without threatening the structure of the cathedral itself.
Climbing the tower will allow you to meet bells Marie, Clémence and Marguerite, alongside the tenor bell Ferdinand-André, installed in 1869 and currently the fourth largest bell in France. All of these bells are still active today. Once at the top, you'll have a magnificent 360-degree view of Bordeaux from 165 feet (50 meters) up in the air.
Address: Place Pey Berland
10. Stroll along les quais
Once an unsightly, industrialized part of the city, today Bordeaux's quais have been transformed into the perfect place for a stroll. As you walk along the quais, you'll have the Garonne River on one side and beautiful 18th century buildings on the other. Small parks and gardens line parts of the walkway, and you'll find many people taking a walk, riding bikes, and even shopping at a few stores that line the far end of the quais.
If you happen to be in Bordeaux on a Sunday, don't miss the fabulous market along the quais. More than 60 stands participate in this market, many of them featuring local Bordeaux food specialties. Make sure to go in the morning or early afternoon so you don't miss out on the food (it closes around 3 pm) – it's so good that they will run out!
Address: 40-41 Quai des Chartrons
9. Palais Gallien
The Roman Empire was vast and left their mark on seemingly every corner of Europe. That leaves the question, was Bordeaux chosen by the French or the Romans?
Regardless, you can see the remains of what was once a beautiful amphitheater in Bordeaux still standing today. Just like the Colosseum it is right in the middle of town!
Address: 126 Rue du Dr Albert Barraud
8. Take a Day Trip to Saint-Émilion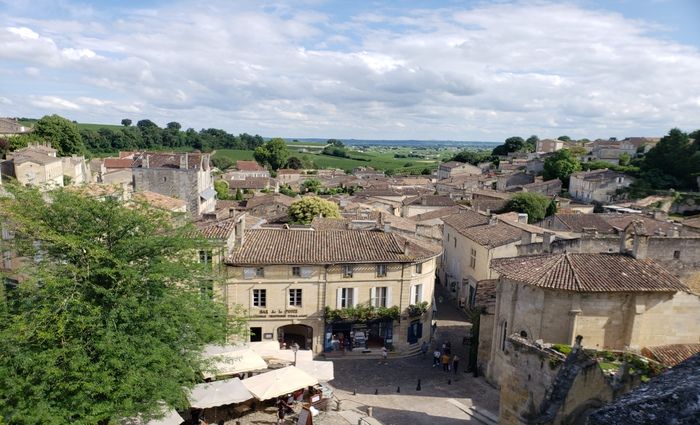 A little over half an hour drive from Bordeaux lies the charming village of Saint-Émilion. Saint-Émilion is one of the largest wine producing regions in Bordeaux and is by far one of the most well known, if not the most well known, region in the area. This is truly a picture-perfect town, named a World Heritage Site by UNESCO.
Besides it's picturesque views, Saint-Émilion has a surprising amount of things to see given its small size, including underground quarries, plenty of wine tasting and cafés. We recommend visiting the bell tower of the monolithic church, which will take you 196 stairs up to an incredible view of the whole town and region.
Of course, we also recommend visiting vineyards both in Saint-Émilion, and also in the nearby area if you're able to. Renting a car for a day trip is a great way to explore the region, but there are also plenty of day trip tours that will pick you up and drop you off in Bordeaux so you don't have to worry about the logistics. Wines from this region are red wines, primarily made with Merlot and Cabernet Franc.
Address: Saint-Émilion, France

7. Eat a canelé at La toque cuivrée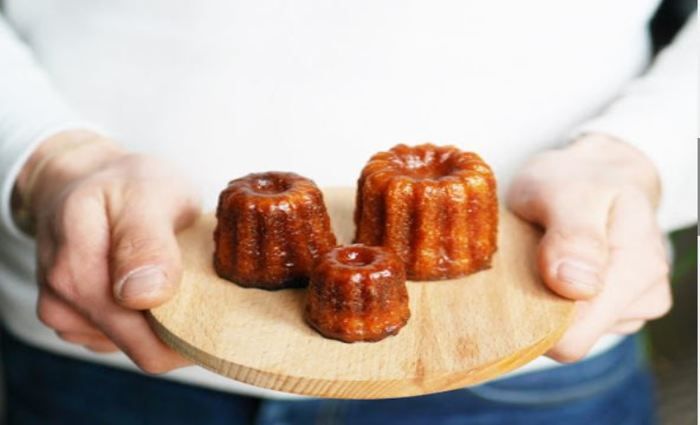 A visit to Bordeaux is not complete without the quintessential sweet treat – the canelé! What is it? A small pastry flavored with rum and vanilla, with a soft and tender custard center and a dark, thick caramelized crust. There's nothing else quite like it, so you'll have to taste it for yourself.
According to cookbooks, the canelé could date back to anywhere between the 15th and 18th centuries. Most history books agree that the pastry originated in various convents around the winemaking regions of Bordeaux. In 1985, a group of 88 pastry chefs came together to protect and cement the canelé recipe and standard of the cakes and make them the property of Bordeaux. These chefs took an oath to uphold this standard and use a secret recipe, which is literally kept in a vault.
Now that you know the canelé's special connection to Bordeaux, we recommend picking one up at La toque cuivrée, which has a few locations in the city center, including one on Rue Sainte-Catherine. They come in three very affordable sizes (the largest size is 70 cents). Now you have no excuse!
Address: 82-84 Rue Sainte-Catherine
6. Tour Cathédrale Saint-André
The first writing mentioning a cathedral in Bordeaux dates all the way back to 814. Of course, this cathedral has had a little work done since then – it was rebuilt in the Gothic style from the 12th to the 16th centuries.
While perhaps not quite as impressive as some of the cathedrals you might find in Paris, Saint-André definitely deserves a stop. Inside, you'll find high vaulted ceilings and beautiful stained glass wonders. Its also played an important role in French history, notably serving as the place where Eleanor of Aquitaine and Louis VII, future King of France, were married in 1137.
Address: Place Pey Berland
5. Take a Break in the Jardin Public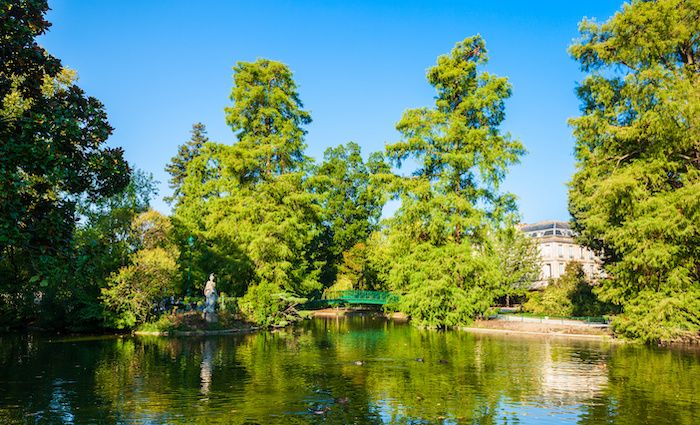 The Jardin Public has been the park at the heart of Bordeaux since its creation in 1746. Spanning 27 acres (11 hectares), the area is a fantastic place to unwind after touring the city. Townhouses, a Natural History Museum, a small botanical garden and even a café line the Jardin Public.
Trust us when we say this isn't your everyday park. There's even a local saying that Bordeaux's soul might be found in the garden! If you want to see Bordeaux like a local, you need to stop here.
Address: Cours de Verdun
4. Rue Sainte-Catherine
If shopping is your thing, head to Rue Sainte-Catherine. This street, measuring nearly a mile long (1.2km), holds the record as the longest shopping street in Europe! Since 1977, it's been reserved for pedestrians only, with no cars allowed.
Shops along the street vary from big department stores, like the famous Galeries Lafayette, to privately owned boutiques. At times, especially on Saturdays, this street can become incredibly crowded. If you like to shop in a more peaceful environment, it's best to head there early.
Address: Rue Sainte-Catherine
3. Musée d'Aquitaine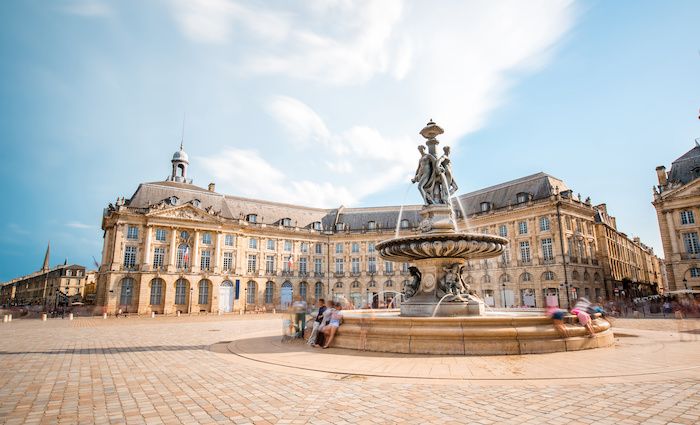 This museum showcases the history of Bordeaux and the local region from prehistory to the twentieth century. A wide variety of artwork and historical artifacts awaits, from paintings to sculptures to ancient tools and masks. The museum boasts over 1.3 million pieces! If you enjoy exploring museums, this is a must-see while in Bordeaux.

Admission: 5€, free for under 18s
Hours: Tues – Sun 11AM – 6PM
Address: 20 cours Pasteur
2. Girondins Monument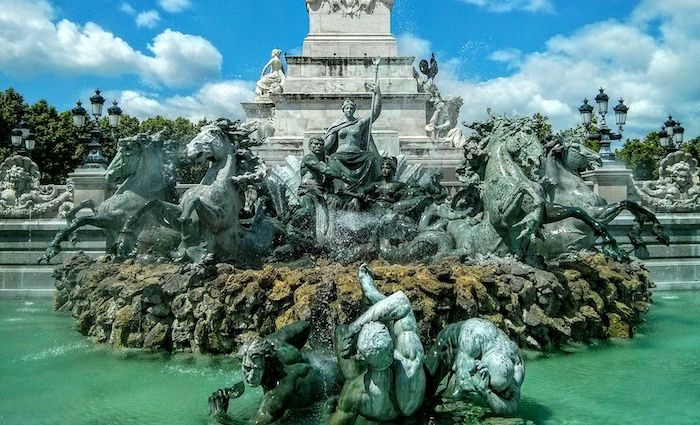 Set inside the Place des Quinconces, a nearly 30 acre square which is the largest in Europe, you'll find the Monument aux Girondins. The monument is made of bronze fountains and a column with a statue of liberty breaking its chains on top. The Girondins were a political faction during the French Revolution, and the monument stands as a tribute to them. The monument is very impressive in person, and definitely worth a stop.
The Place des Quinconces is a bit outside the hustle and bustle of the city, while still being very centrally located. This is a great place to rest your feet or get a breath of fresh air while visiting Bordeaux.
Address: 2792 Place des Quinconces
1. Visit Cap Ferret Beach and Village Ostréicole l'Herbe!
Cap Ferret is a beautiful beach village about an hour away from Bordeaux and a total must-visit says local French-American resident of Bordeaux Allison. Why? The beaches are really nice and you can stop in Village Ostréicole or "Oyster Village" to sample some of the world's best oysters.
I recommend Le Ponton which is a super cool patio with great views and amazing oysters. Hopefully, you'll see me there soon!
Address: 29 Av. de l'Herbe, 33950 Lège-Cap-Ferret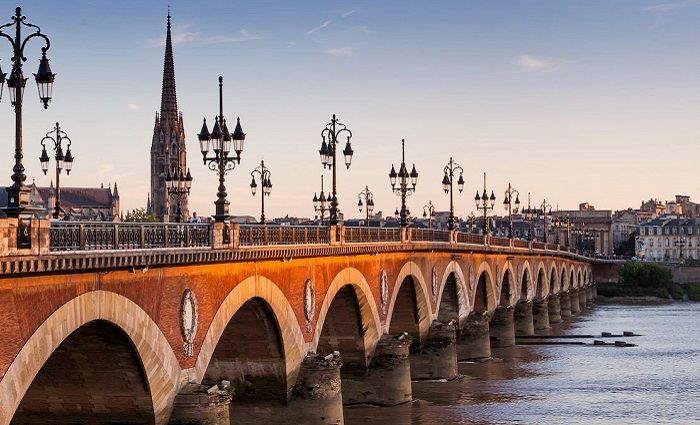 Find the best places to stay
Where to Stay in Bordeaux
A great hotel at a great price has become the norm in this internet era. Our article explains what areas are the best in Bordeaux so you can get a great deal on the perfect location!