It's worth going to Sicily for just the food alone. Like the rest of Italy, the cuisine here is regional, using local seasonal ingredients. I've compiled a list of my favorite and The Best Restaurants in Sicily in 2023 that I love eating at, so you can enjoy the food scene in this fascinating region of Italy.
---
Pro Tip: Planning what to do on your trip to Sicily? Bookmark this post in your browser so you can easily find it when you're in the city. Check out our Free Guide to Sicily for more planning resources, our Top Sicily Tours for a memorable trip, and Top Foods to Try in Sicily.
The Best Restaurants in Sicily
Sicilian cuisine is an irresistible journey that transports taste buds to the biggest island in the Mediterranean. Nestled at the crossroads of history and culture, Sicily is a culinary landscape that blends flavors, colors, and aromas. From the sun-soaked coasts to the rustic historic villages, Sicily boasts a rich tapestry of dishes that reflect its diverse influences, including Greek, Arab, Spanish, and Norman.
As you prepare for an adventure through Sicily, indulge in a delightful array of dishes that pay homage to tradition while embracing modern creativity. To truly savor the essence of Sicilian authenticity, savor iconic eats like arancini, pasta alla Norma, and cannoli. Seafood lovers will consider Sicily paradise as it is fresh in many restaurants.
Dive deeper into the Sicilian culture by tasting local dishes like Busiate (pasta) al Sarde (with Sardines), Pesto Trapanese, and my personal favorite, Pasta Bottarga (fresh pasta with grated cured fish roe and pistachios). Each bite encapsulates the island's storied past, vibrant present, and the unwavering passion locals infuse into their culinary creations.
I Cucci
€€ | Elevated Sicilian | Outside Seating | Palermo
Situated on the historic Piazza Bologni under the shadows of the statue of Charles V is one of the best dining experiences you can have in Palermo. The Red awning and motif are a nod to the owner's Albanian heritage since "Cucci" comes from the Albanian word "Kuqe," which means red.
The cuisine served at this "Bistroranted" is elevated Sicilian, created by the young, energetic chef. You can try traditional pasta but also anything with prawns. Their seafood prep here is outstanding for a big city restaurant. I Cucci is so hip they even serve Bologni Gin, also made in Sicily. The I Cucci team should be proud that this is one of The Best Restaurants in Sicily in 2023
Head across Piazza Bologni to sample fresh cornetto from their bakery in the morning. They also make the best cannoli in the world, which you can order in their restaurant.
Address: Piazza Bologni
Arte e Tradizione
€ | Pizza Napolitana | Pasta | Palermo
Sicilian pizza, affectionately known as Sfincione, is a delicious creation that captures the essence of Sicily's rich gastronomic heritage. This hearty and indulgent square-shaped pizza boasts a thick, pillowy crust that perfectly balances chewiness and crunchiness. Topped with simple and purposeful flavors, Sfincione showcases the island's love affair with tomatoes, onions, anchovies, and a generous scattering of Sicilian pecorino cheese. What sets Sfincione apart is its exquisite blend of textures and its emphasis on the art of simplicity. Sfincione is the inspiration for an NYC or American-style "Sicilian Pizza."
Sfincione is sold in bakeries and is very inexpensive. Neopiltan pizza is a different story. You come to Arte e Tradizione to take a break from Sfincione to try the king of all pizza, the Neopolitan style. The Sicilian owners of this restaurant loved it so much that they studied traditional Neapolitan pizza making to bring it to Palermo.
You can order traditional Neopolitan flavors or go for their avant-garde creations that are more like a work of art. Either way, you can't go wrong. If you love pizza as much as I do, you will be happy at Arte e Tradizione.
Address:Via Santa Teresa, 2,
---
Not ready to book a tour? Check out our Free Guide to Sicily
TINCHITE' Taverna & Putia
€ | Traditional Sicilian | Taverna | | Cefalù
Nestled on one of the pedestrian-only lanes of historic Cefalu, TINCHITE' Taverna has been my go-to restaurant for years. It's a casual place, but the food is so consistently delicious that there is always a queue. Book a table or arrive early. I usually see 5 – 6 tables get turned away when eating.
They serve all the classics, but I recommend the classic Sicilian dish of Pasta Bottarga (pictured above). It's fresh pasta, shaved cured fish roe, topped with pistachios.
Prices are reasonable, and their house wine comes in the ubiquitous half-liter or liter portions.
Address: Via XXV Novembre, 37
Bottega Tivitti
€€ | Italian & Sicilian | On the Beach | Cefalù
I'm usually weary of seaside locations like this because they tend to be overpriced, and the food typically isn't great. Bottega Tivitti is the opposite, and the service is also attentive.
It isn't cheap by Sicilian standards because many restaurants have reasonable prices in Sicily. Especially compared to the rest of Italy.
You will not be disappointed if you order pasta or any of their Seafood selections.
Bottega Tivitti is ideal for a night out with friends, a date night, or a sunset dinner.
Address: Lungomare Giuseppe Giardina, 7
Kisté – Easy Gourmet
€€€ | Contemporary Sicilian | Michelin | Taormina
Taormina is the playground for the rich and famous. High-end boutiques and luxury brands line the streets, and an air of sophistication permeates the small streets. So, it's no surprise you will find Michelin-rated restaurants and hotels in this town.
Kisté: Easy Gourmet is a Michelin-rated restaurant in Taormina but without fuss. The restaurant is in a 15th-century building with an excellent terrace for a romantic vibe. The white table linens and minimalist decor complete the modern look.
The food is Sicilian with a modern twist. Still, it's simple without being complicated. I recommend Kisté – Easy Gourmet because their modern take on Sicilian classics doesn't take away from the core Sicilian values of simple cooking with fresh ingredients.
Address: Via S. Maria de Greci, 2
Ristorante Al Duomo
€€€ | Sicilian | Outside Terrace | Taormina
In the city's main square, Piazza del Duomo, across the street from the fortress-like Cathedral, Ristorante Al Duomo checks all the boxes for a great meal.
Eating al fresco, or in the open air, is done regularly in Sicily. Their small terrace looks over Piazza del Duomo, setting the stage for a lovely evening.
All of the Sicilian classics are on the menu. Seafood starters like Pulpo all Greco (Greek-style octopus with potatoes) are a must-try. I like to order the Pesto Trapanese (Pasta with basil, almonds, garlic, cherry tomatoes, pecorino, and parmesan) for pasta. Also, meat lovers will love that they have Polpette alla Siciliana (Sicilian veal and pork meatballs).
Address: Vico degli Ebrei, Taormina
Lounge Beach Scala dei Turchi
€€ | Pasta & Seafood | Beach Club & Restaurant | Scala dei Turchi
Lounge Beach is at the foot of the natural wonder known as the Turkish Stairs (Scala dei Turchi) on the coast near Agrigento. You can book a bed and umbrella to enjoy a day of sunshine on their deck just meters from the water. The all-white club has a chic vibe and a youthful energy.
Lounge Beach also serves delicious food, and there is no better place to enjoy lunch after visiting The Valley of The Temples in Agrigento.
They offer a variety of seafood starters which I always enjoy. Also, they have a seasonal special pasta they offer. Most recently, it was a basil pasta with a smoked burrata sauce topped with pistachios. This dish was so good I could have liked the plate.
Their wine list and cocktails are on point too.

Address: SP68, Realmonte AG,
---
Not ready to book a tour? Check out our Free Guide to Sicily
Trattoria La Foglia
€ | Artsy | Casual | Ortigia Island, Syracuse
Ortigia is the small island where the Greek settlement of Syracuse was founded in the 8th century BC. Today, it is a gelato-laced dream with its small charming lanes, Greek ruins, and creamy Baroque Duomo.
Trattoria La Foglia is like stepping into a quirky aunt's house. The interior of the restaurant is somehow rustic and eclectic. If that's not your scene, they also have tables outside on the quiet lane of the restaurant on Ortigia Island.
The food here is delicious, and I challenge anyone to serve me better Pasta Alla Norma. The dish typically consists of sautéed or fried eggplant cubes and a tomato-based sauce that often includes garlic, onions, and basil. Then you make it snow with ricotta salata (salty ricotta cheese).
They also have beautiful salads (pictured above) that you can order to tell your mom you are eating your veggies.
Address:Via Capodieci, 29
Cortile Verga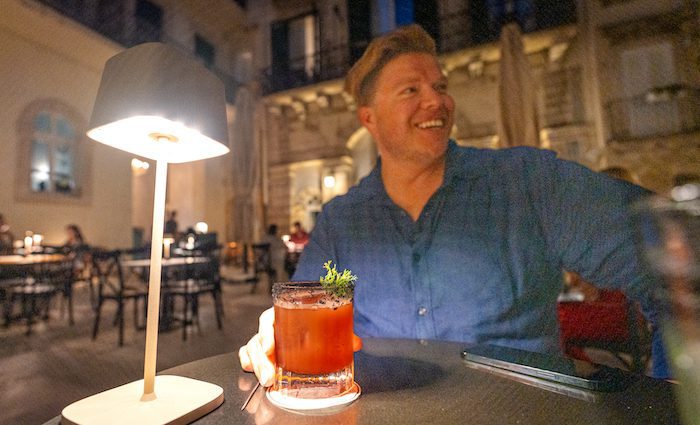 €€ | Cocktails | Apericena | Ortigia Island, Syracuse
Cortile Verga is a premiere cocktail bar in a 16th-century palazzo courtyard. The understated chic vibe and excellent mixology skills make this my favorite place for cocktails in Sicily.
But, you may be wondering why this cocktail bar is in a restaurant. Well, their food is also good. It's so good that if you aren't that hungry, you will stay longer than you intended once you start your aperitivo.
Later on, before you know it, Aperitivo turns into Apericeno as you will undoubtedly order more small plates.
Also, you can either begin or end an evening at Cortile Verga. If you share the evening with someone, they will surely be impressed when you bring them here.
Address: Via della Maestranza, 33,
---