Mt. Vesuvius is one of the largest volcanoes in Europe. Its claim to fame is the eruption in 79 AD that destroyed Pompeii and the surrounding ancient cities of the Roman Empire. Visiting Mt. Vesuvius can be a bit challenging, but not to worry. We got you covered. Read on to find out all you need to know about how to see Mt. Vesuvius.
---
Brandon's Travel Tips:
Consider bookmarking this article into a " Pompeii or Mt. Vesuvius" folder in your browser. This way you can circle back to it while planning your trip. Whether you are in Naples or taking a day trip from Rome to Mt. Vesuvius, take a look at these articles below for your trip and check out our Pompeii and Mt. Vesuvius day trip from Rome and let us do all the heavy lifting.
What This Article Covers
Mt. Vesuvius Overview
Mt. Vesuvius Facts
Hours, Ticket Prices, and RSVP
Mt. Vesuvius Tour Options
How Long to Budget for Your Visit
History of Mt. Vesuvius
5 Things You Have to See
Where to Eat Nearby
Getting to Mt Vesuvius
Mt. Vesuvius Overview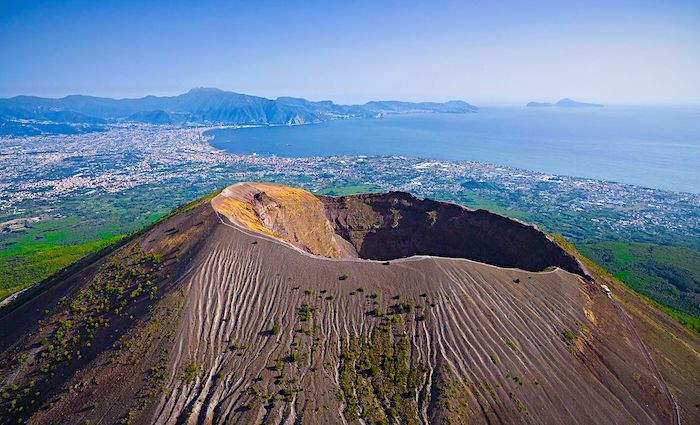 Located in the Gulf of Pompeii, Mount Vesuvius is a stratovolcano most famous for its eruption in A.D. 79, which destroyed the cities of Pompeii and Herculaneum.
In the last 17,000 years, the volcano has had eight major eruptions. The eruption in A.D. 79 killed more than 16,000 people, spewing lava and ash over the local towns.
Why is Mount Vesuvius famous? Though the A.D. 79 eruption killed tens of thousands of people, the towns it destroyed can still be uncovered today in remarkable detail. Though it was thousands of years ago, the eruption's volcanic ash was able to cover up bodies and artifacts during the disaster, acting as a shield of sorts.
Ironically, the thing that led to the death of so many is what keeps their stories alive today. When you visit Pompeii, you can see bodies, faces, clothing, and other artifacts preserved from the day of Mount Vesuvius's tragic eruption. Keep reading below on how to see Mt. Vesuvius.
Mount Vesuvius Facts
Where is Mount Vesuvius? Campania, Italy
How tall is Mount Vesuvius? 4,203 feet tall
When was Mount Vesuvius's last eruption? March 1944
Is Mount Vesuvius active? Yes. Read on to learn more.
Hours and Ticket Prices
How to see Mt. Vesuvius? Why of course you enter the Vesuvius National park. There is a flat admission fee and then you can stay inside as long as you want. Since the volcano is quite big, you can take your time and see the site at your own pace.
Mt. Vesuvius Hours:
(Jan, Feb, Nov., Dec.) 9 AM – 3 PM
(March, Oct.) 9 AM- 4 PM
( April, May, June, Sept.) 9 AM- 5 PM
( July, August) 9 AM- 6 PM
Admission: 10€ | 8€ for under 25 years old with valid ID
Mt. Vesuvius Tour Options
We are a tour company, so we always recommend giving tours, not only to keep our lights on but also because we believe it is by far the best way on how to see Mt. Vesuvius. You can definitely DIY Mt. Vesuvius, but you will definitely get much more out of your time with a local, expert guide. Check out some options: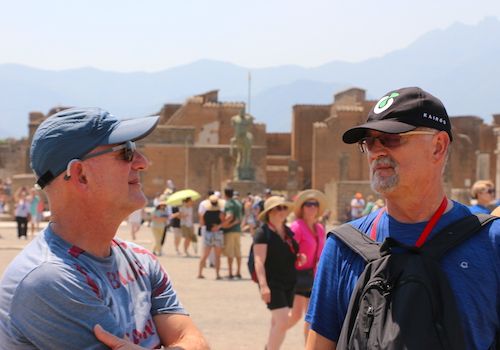 Pompeii & Mt. Vesuvius Day Trip: From Rome
Have you ever walked through the ruins of an ancient city then climbed up the volcano that destroyed it in the first place? Probably not. That's why we offer the experience of a lifetime with our Day Trip from Rome to Pompeii and Mount Vesuvius.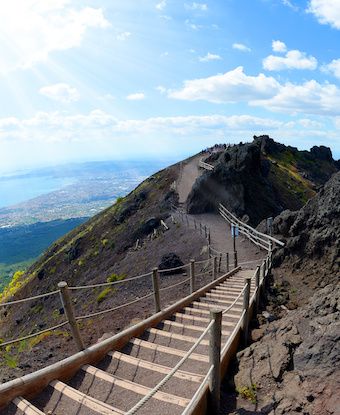 Pompeii & Mt. Vesuvius Day Trip: From Amalfi Coast
Staying in the Amalfi Coast? Don't feel like doing the heavy lifting to organize transportation and a tour? We got you covered. We offer this private tour to give you an experience that you can take at your own pace.
How Long to Budget for Your Visit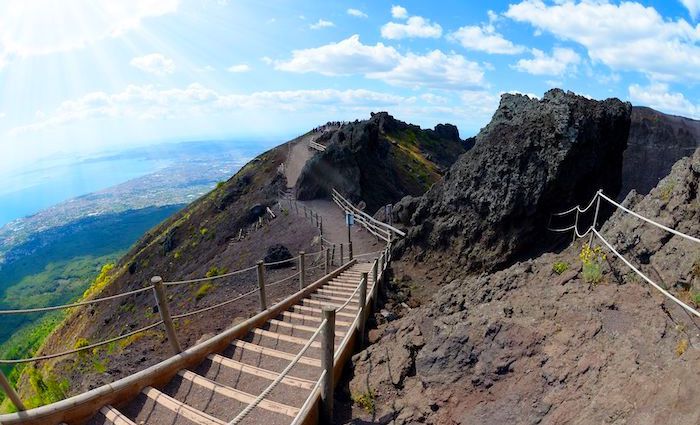 Short Answer: 2 hours
As you can imagine, visiting a volcano might not be the quickest thing to do. It is literally a mountain that you climb up. The National park offers 9 different paths that you can take to get to the top with some being quicker than others. Therefore I recommend that you budget a minimum of 2-3 hours to get to the crater. You can also take your time and spend the entire day up there. They are broken down into the following:
Circular nature trails ( Numbers 1, 2, 3, 4, 5 and 8)
Panoramic Path ( Number 6)
Agricultural Path ( Number 7)
Educational Path ( Number 9)
History of Mt. Vesuvius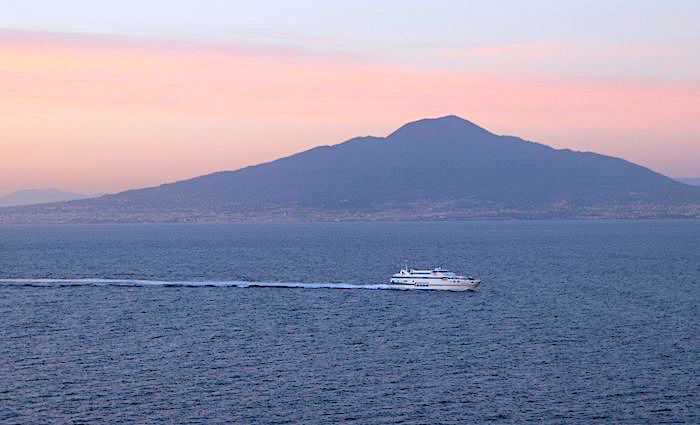 Origins
Mount Vesuvius formed due to the collision of the Eurasian and African tectonic plates, roughly around 25,000 years ago. Though several eruptions occurred prior to 79 AD, this eruption is widely considered one of the most catastrophic volcanic eruptions of all time.
In 62 AD, a powerful earthquake destroyed a great deal of the Bay of Naples area, Pompeii included. Much of that destruction was not even repaired, come the 79 AD eruptions.
The Most Famous Eruption of All Time
The events of the 79 AD eruptions are famously recounted by Pliny the Younger in two letters written to another historian named Tacitus. Combined with geological evidence, much of the information we have now about Mount Vesuvius and its 79 AD eruptions is thanks to Pliny the Younger, the only surviving eyewitness account of these events.
In the letters, Pliny the Younger describes the last days of Pliny the Elder, his uncle. As Pliny the Younger writes, Pliny the Elder noticed early volcanic activity occurring across the Bay of Naples and organized a rescue mission. He describes how his uncle died due to a mass of sulfurous gas.
One of the best Mount Vesuvius facts: the term "Plinian eruption" comes from the account of Pliny the Younger. These eruptions created a column of volcanic ash and gasses that can rise miles into the earth's atmosphere and into the stratosphere. These eruptions are also widely known as "Vesuvian eruptions."
Mount Vesuvius Subsequent Eruptions
Geologists believe there were three significant Mount Vesuvius eruptions prior to the one in A.D. 79, most famously one in 1800 B.C., which engulfed a number of Bronze Age settlements. Until about 1631, geologists and historians believe the volcano erupted about a dozen times, with varying severity.
In 1631, however, the volcano entered a period of frequent volcanic activity. From 1631 to the end of the nineteenth century, Mount Vesuvius erupted fifteen times, most violently in 1872. The most recent eruption occurred in 1944.
Could Mount Vesuvius Erupt Again?
Yes, Mount Vesuvius is considered an active volcano. It very well could erupt again. Mount Vesuvius sits on top of an extremely deep layer of magma that goes 154 miles into the earth.
So, the next Mount Vesuvius eruption will happen, and it won't be pretty. Geologists think that the volcano is overdue for an eruption.
Luckily, the Vesuvius Observatory is constantly monitoring the volcano's seismic activity. So, if it were to happen again, the local communities would have more warning and would have enough time to evacuate.
Top Things to See At/Near Mt. Vesuvius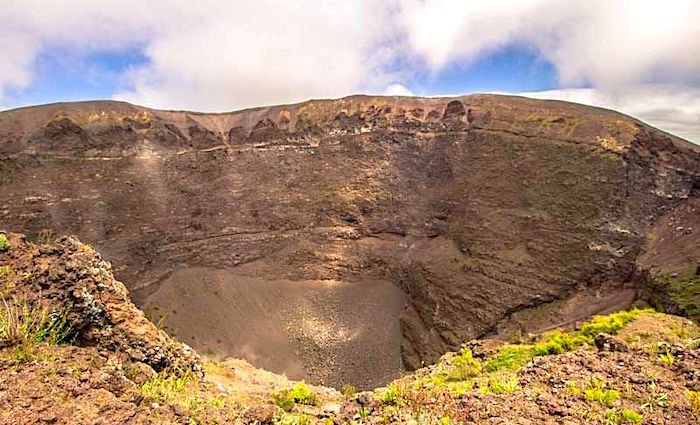 If you go to Mt. Vesuvius, chances are you will want to climb the volcano. There are many other sites in this area that were affected directly or indirectly by the volcano itself. Below are some sites to visit when you are in the area.
The Crater
This is usually what most people are striving to arrive at. It is quite a walk, but the trails ( see above) leading up are not that intensive. The fastest way up is to take trail number 5 " il gran cono". This trail starts at 1,000 meters which means you will have another 130 meters to head up to the top.
There is definitely something powerful about climbing up a volcano. If you have already visited Pompeii at this point and seen the destruction it caused you will remain even more in awe of what havoc nature can produce.
Pompeii
Considered to be the most famous city in the world that was destroyed, if you were not planning on visiting, then I would like to almost beg you to reconsider. This is not because I am a history nerd ( I am), but by visiting Pompeii you will see literally an entire city that was uncovered.
Pompeii was a booming port city in the Ancient Roman Empire. The fate of all that changed on August 24th, 79 AD when the volcano Mt. Vesuvius erupted and shot a 10-mile high mushroom cloud of ash and pumice into the stratosphere. Those who were not killed by the missiles of pumice coming down or the lava were wiped out by the toxic gases that took over the area, essentially suffocating everyone.
When Vesuvius erupted, the volcanic ash and mud shielded the city's artifacts from destruction and preserved a ton of history. To this day, you can still see some of the bodies, clothes, and even places of business that have been preserved from the eruption. Ironically, this disastrous day for the Romans has created for the modern man an intimate look into what life was like in an Ancient Roman city.
Definitely check out our small group tours of Pompeii from Rome, Amalfi Coast and directly from Pompeii.
Herculaneum
Herculaneum is the little, lesser-known sister to Pompeii. Many people I speak with thought that Vesuvius only destroyed one city, Pompeii. Actually the volcano blast destroyed multiple cities. This little town was discovered by accident in 1709. Today it is listed together with Pompeii as a UNESCO world heritage site.
Simiiar to Pompeii, the ash and lava completely covered over the entire city and as a result, preserved everything from houses, to ornaments to people for posterity. One interesting point here is Villa dei Papiri which was uncovred in the 1990s where they found ancient papyri that preserve the texts of Greek philologists of the time.
If you decide to visit Herculaneum you will find smaller crowds and I would say a bit more of an intimate experience.
Boscoreale
This town is located at the foot of Mt. Vesuvius and to the north of Pompeii. During the Roman Empire there were many villas and farms due to the rich, volcanic soil. When you visit, there are two main sites to visit: The antiquarium and Villa Regina.
The antiquarium was set up in 1991 and is located next to the archeological site of Villa Regina. The exhibitions there mainly focus on what life was like in the countryside that surrounded Mt. Vesuvius. During the excavations in the area, the discoveries were brought back to this museum to showcase.
The Villa Regina is a building. that was preserved by the ash and today gives us a solid idea of what villas looked like back in Ancient times. Even thought there isn't much left, the remaining structure gives us a solid representation.
Mediaval Village Casamale
In Italian it is called, " Borgo Mediavale di Casamale". This is basically the historical center of the town Somma Vesuviana which is only medieval village within the perimeter of the Vesuvius National Park.
The wall which protects this little village was built in 1467 by Ferrante I of Aragon. The village was isolated from the surrounding area by two riverbeds which still exist today. This little village is known for the festival of oil lamps which takes place every four years. If you come and visit you will be taken back in time when life was simpler.
Where to Eat Nearby
Inside of the park area itself, there are no restaurants. You will find however snack bars by the entrance of the park and also along the trails, so you can find something to eat if need be. There are also multiple picnic areas to stop along the way, so you can easily bring some food with you and eat it while enjoying the amazing scenery.
Cantina del Vesuvio €€- At the foothills of the volcano you will find this 30-acre vineyard creating great organic wines. They also serve lunch that includes traditional pasta dishes and meat dishes.
Ristorante Kona €€- This restaurant is located in Herculaneum which was completely destroyed by the eruption like Pompeii. Serving up great dishes for lunch and dinner, try and go around sunset for amazing views of the Bay of Naples.
Cantina Aragona €€- This restaurant is located in Somma Vesuviana and has something for everyone. I highly recommend their fish, but they also have a great pizza.
Villa Giovanna Pizzeria E Ristorante €€- This pizzeria is only around 2 miles from the park and has a great pizza. Remember that you are now in Naples country so you will be eating the pizza napolitano which is thick crusted pizza and is delicious!
Getting to Mt Vesuvius
Getting to Mt. Vesuvius without a car is a bit tricky, since there is not much around the area. However, I have written below the best ways to get there by car and by transport:
From Rome:
By Train:
The high-speed train from Rome to Naples runs every 20 minutes. You can take the train from Roma Termini station to Napoli Centrale in just over an hour. Book on Trenitalia or through Italo. They are two competing train companies. I prefer Italo.
From Stazione Centrale – Piazza Garibaldi, take one of the Circumvesuviana trains bound for Sorrento or Poggiomarino – via Pompei (for train times and ticket prices, visit www.eavsrl.it) and get to Ercolano Scavi station, from which taxis and private shuttles depart for the Vesuvius. Alternatively, from Stazione Centrale – Piazza Garibaldi take one of the Circumvesuviana trains bound for Sorrento or Poggiomarino – via Pompei and get off at Pompei – Villa dei Misteri train station, from which you can hop on one of the local EAV buses bound for the Vesuvius.
By Car:
For you brave souls that will drive in Italy you first you will take the A1 direction to Naples. At the Ercolano exit, take via Bosco Catena and continue onto via G. Semmola and then onto via S. Vito. At the roundabout, take the second exit towards Contrada Osservatorio and continue onto the SP144 up to the car park located 800 metres above sea level (20 min, 9.8 km).
To get from the car park at 800 meters to the car park at 1,000 meters (entrance of the nature trail n°5 "The great Cono of Vesuvius"), you have two options:-
On foot, along the SP144 for about 30 minutes (1.8 km)-
With the shuttle service managed by the Municipality of Herculaneum at a cost of € 1.00 each way (about 4 min)
From Amalfi Coast:
By Train:
You will need to arrive in Sorrento and from there you grab the Circumvesuviana towards Naples train station. You get off at Pompei – Villa dei Misteri station and take one of the local EAV buses. The bus connection from Pompeii to Vesuvius is provided by EAV local services. Check out their bus times page for more information.
By Car:
Follow the same steps as above coming from Rome