Zakynthos is one of the biggest islands in Greece. That is to say, there are numerous attractions to see during your summer holidays. Apart from the turquoise sea water, you will have the chance to live amazing experiences. Top things to do in Zakynthos await you!
---
Pro Tip: Bookmarks are the key to organizing a great trip. So, bookmark this post in a "Greece" folder in your browser. This way you can circle back to it while you are traveling.
Top 11 Things To Do In Zakynthos
When we think of Zakynthos, turquoise crystal-clear water, Shipwreck, Caretta-Caretta, and nightlife come to our mind. However, there are even more things to do and to see at this wonderful destination. In the list below, we gathered the best things that you can do when you visit Zakynthos.
You can also check the "Where To Stay In Zakynthos" article to get an idea of the best places to stay at Zakynthos.
11. Nightlife At Laganas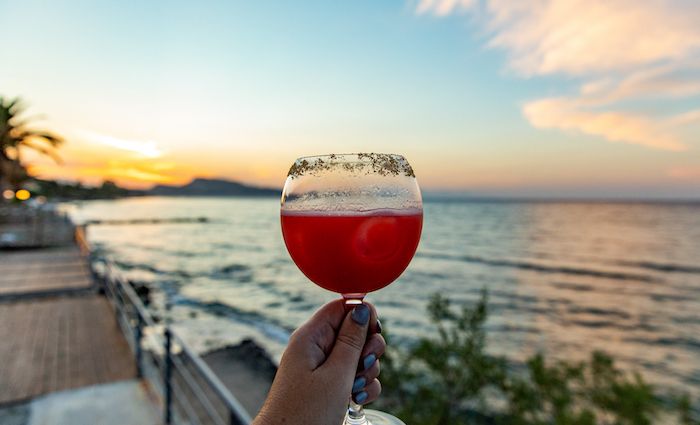 First of all, Laganas village is famous for the Caretta-Caretta turtles, as here there is the beach where the turtles leave their eggs every summer. However, Laganas is also really popular for its intense nightlife. It is an amazing fact that although you are on a Greek island, in this place you will certainly feel like you were at one of the best cosmopolitan English places.
That is to say, you are going to enjoy the nightlife, the breezy cocktails, shots, and dancing until the morning. So, if you decide to live this unique nightlife experience in Laganas, choose the Cherrybay Zante Nightclub where every day is a different one. For example, different thematic parties are organized every day while you may have the chance to listen to popular DJs.
10. Water Village
Water Village is a village offering different types of water sports. For example, you may want to try the "Thrill Tower", the "Jungle Adventure" or even the "Lazy River". Further, you can enjoy some activities out of the water, such as the "Go-Kart" activity.
The Water Village is the ideal choice to spend a day of your holidays, especially if you travel to Zakynthos with your family. There are different activities for all the age range. In other words, even if your child is still a little baby, then you can choose the Baby Pool for your little one. Most important, in Water Village, there are also shops and restaurants as well as cafes in order to spend the whole day without worrying about anything.
9. Church Of St. Dionysios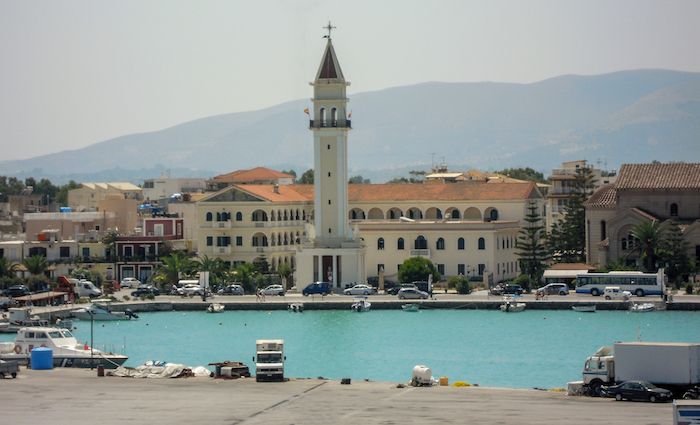 Church of St. Dionysios is a must-visit attraction in the town of Zakynthos. It is the largest church in the city and began construction in 1925. Its size and beauty are reminiscent of a cathedral. If you visit it, you will certainly be amazed by the impressive wood-carved iconostasis, marble columns, large chandeliers, numerous Hagiographies, incense scents, and stained glass windows.
The church is located close to the port of Zakynthos and the tower-like bell tower is reminiscent of that of St. Mark in Venice. Further, after visiting St. Dionysios Church, it is a great idea to relax at Cafe Central and try the most delicious brunch.
8. Staying At A Luxury Hotel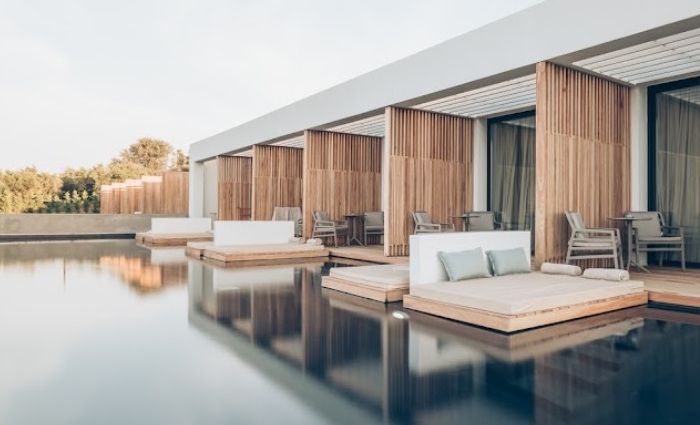 In Zakynthos, there are numerous luxury hotels. That is to say, you won't just stay at a hotel but you will have the best holiday experience in Greece. Moreover, you can find different types of hotels either in the town or in villages next to the sea, with great restaurants and amazing pool bars.
Above all, staying at a luxury hotel offers you a lot of amenities. For example, you can choose Lesante Blu Exclusive Beach Resort. To clarify, in this hotel you will have the chance to try different dishes at the three different hotel's restaurants. You will certainly love the American breakfast, the Greek and Mediterranean lunch, and also the gourmet and traditional Greek cuisine at dinner.
Check out my article on Where to Stay in Zakynthos for more recommendations!
7. Porto Limnionas Beach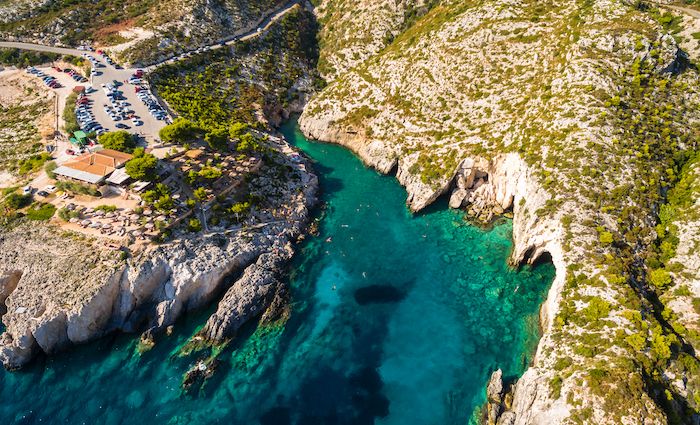 Porto Limnionas is occult and rocky beach. You will certainly love the crystal clear water. In Porto Limnionas you will also find a small cave to go into. That is to say, one of the best things to do in Zakynthos is snorkeling in Porto Limnionas. The mythical scenery is fantastic here with trees all around that make the water seem to be green.
Moreover, have in mind that you will have to be careful when going down to Porto Limnionas. Don't be hurry and choose to wear a pair of sports shoes to approach the seaside as it is a rocky enough place. Moreover, you can choose to relax at the sunbeds on the upper side. The landscape here is magical and impressive and the sea clear and deep. You will certainly have fun!
6. Bohali Castle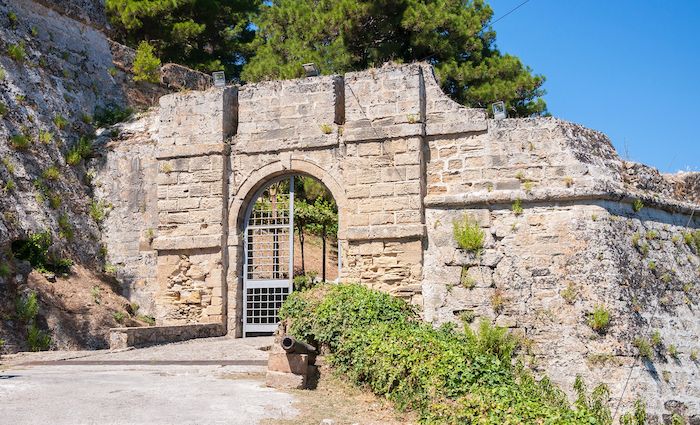 Bohali is a little and beautiful village at the top of the cape at the back of the city of Zakynthos. You can visit it either in the daytime or at night. To clarify, if you visit Bohali in the morning or in the afternoon, you will be able to visit the Medival Venetian Castle which is located there.
On the other hand, if you choose to visit it at night, you will surely admire the view of Zakynthos town. In Bohali, there are several bars that you will certainly love. So, don't forget to spend a night of your holidays relaxing at Bohali. A great choice is certainly Movida Sky Bar Restaurant where you will enjoy a glass of cocktail listening to jazz and chill music.
5. Greek Tasting Experience
In Zakynthos, you will easily find several restaurants to enjoy Greek dishes. Most of these restaurants offer a variety of traditional dishes, many of them in a gourmet way. So, you will certainly enjoy not only some more all-time classic dishes, such as Greek salad and souvlaki but also new food combinations.
For example, in Bassia Seafood Restaurant, you will live a totally different tasting experience. Chefs use local and fresh ingredients in order to make the most unforgettable dishes. For example, a really tasty choice is the sea bass fillet dish cooked with fresh fish and other local products. So, choose your favorite dish and enjoy the view of the sea.
4. Sunset at Keri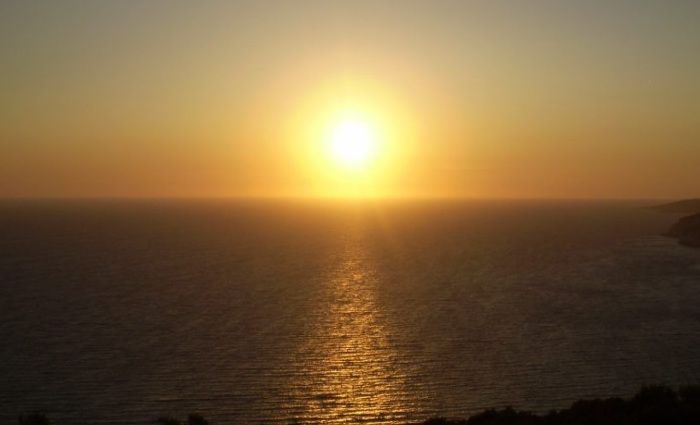 Keri is a region in southern Zakynthos. It is really popular for its amazing sunset. Moreover, in Keri, you can also enjoy the day at the beach with pebbles and crystal clear seawater. Above all, it is the ideal option for a one-day trip. Visiting Keri is certainly one of the top things to do in Zakynthos!
So, if you choose to drive to Keri, get ready to stay there until the sun goes down. You will certainly be amazed by the colors that the sky gets. Moreover, what you need to know is that there is also a lake in the region where you can also go swimming. Finally, in Keri, you will find several taverns to have a traditional dinner. My favorite one is Keri Lighthouse Restaurant as apart from traditional dishes it offers a wonderful view.
3. Blue Caves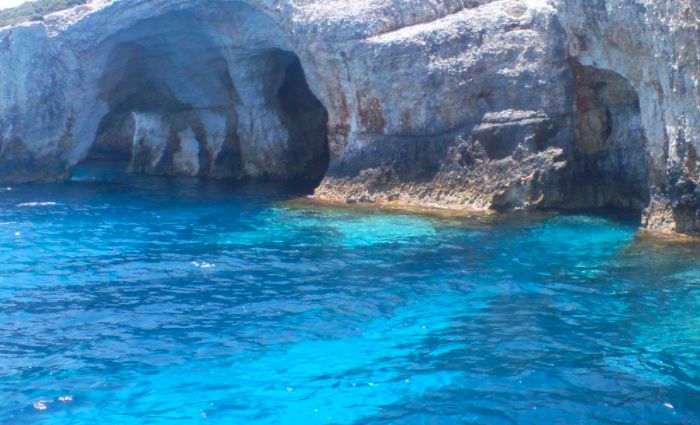 Blue Caves are certainly one of the most popular natural attractions in Zakynthos. They are located on the northern side of the island. Moreover, in order to see them, you must take a boat. Fortunately, there are many locals that offer a drive there.
Above all, the scenery is magical. Boats almost get into the caves. Further, if you desire, you can dive into the seawater and swim deeper into the caves. This experience is certainly unique. However, I have to warn you that the water is really cold! However, don't hesitate to organize this unforgettable trip with Cavo Grosso Travel which is located in Zakynthos' town.
2. Caretta-Caretta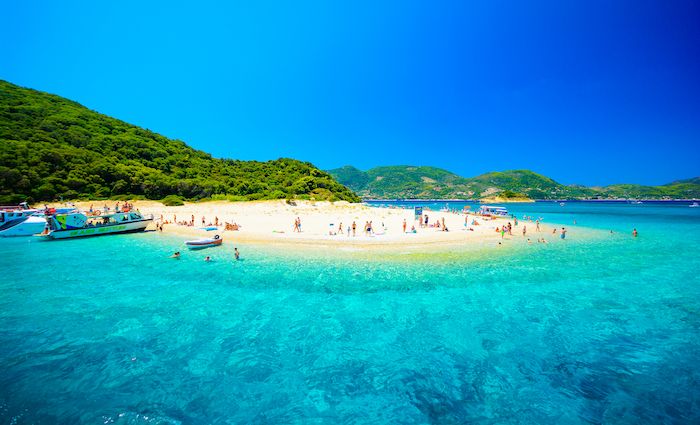 Zakynthos is really famous for Caretta-Caretta turtles. All visitors certainly wish to see some turtles up close. Every year, during summer, Caretta-Caretta leaves its eggs in Laganas Bay. There is also a protected water park in Marathonisi – a small island in Laganas Bay – where you can see the turtles. Of course, you can go there by boat.
Above all, seeing the Caretta-Caretta turtles will be a unique experience for both children and adults. So, if you have enough time, remember to organize a trip to Marathonisi. Besides, in Laganas, there are numerous offices that organize such trips. So, you can organize a turtle spotting trip at Explore Zakynthos agency to meet the Caretta-Caretta.
1. Shipwreck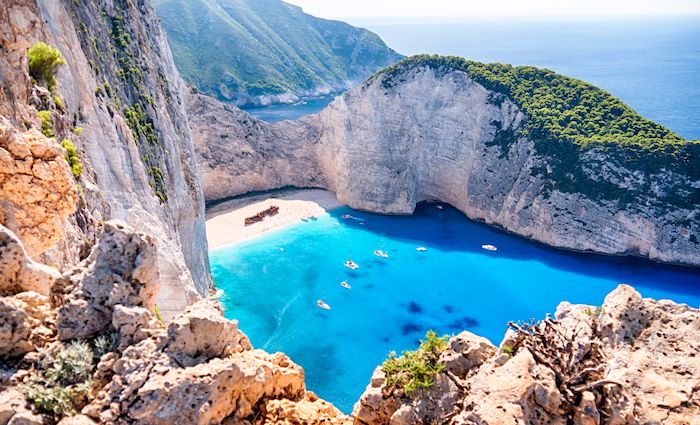 Above all, when you visit Zakynthos, Shipwreck is the No1 attraction to visit. You can see the Shipwreck either from up above or visiting the beach by boat. Of course, if you choose to see it from up above, the view is really breathtaking. But visiting the beach gives you the chance, not only to see the Shipwreck up close but also to swim in the turquoise sea water.
Moreover, having a boat trip is really fantastic. You will certainly enjoy this ride. However, it is better to choose a day with mild weather. That is to say, when the weather is windy, the trip is tiring enough. Again, if you want to organize such a trip, you can find several offices that carry out daily trips to the Shipwreck beach all over the island, such as the Best Of Zante agency.
Location Of Shipwreck Beach View