Spain has so much to offer you might want to visit several cities on your trip. If that's your plan, having an itinerary will be important. A city like Granada is small enough to see the best of it in a short space of time. But what if you only have one day? Don't worry, using my local knowledge, I've put together the ultimate plan to take the guesswork out of how to see Granada in a day.
---
Pro Tip: Planning what to do on your trip to Granada? Bookmark this post in your browser so you can easily find it when you're in the city. Check out our Granada guide for more planning resources, our top Granada tours for a memorable trip, and how to visit the Alhambra.
The Perfect Granada In a Day Itinerary
Seeing a city in a day is not an easy task, especially if it's new to you. That's why we always recommend a longer trip. But if you only have 24 hours, you can still have a wonderful experience if you know where to go. And any time in Granada is better than no time at all!
If you have more than a day in the city, you could definitely adapt this itinerary for a longer trip. As it is, it's certainly going to make for an action-packed day with a fair amount of walking. Also, it's designed to ensure you get a real sense of the city.
Naturally, it includes a visit to the Alhambra fortress, which will take up a few hours of the afternoon. As well as some more of the city's most memorable landmarks.
You'll also get a taste of Granada's thriving food scene where tapas dishes are the order of the day. So, if you are feeling energetic, you'll nail this in one day. Here is your Granada in a Day Itinerary.
Not ready to book a tour? Check out our Granada Guide for more resources.
Arrive in Granada
Granada has its own airport, which is well-served nationally and internationally. There's also a train station with good connections to Malaga and Madrid. Taxis are reasonable, so you can get from the airport to the city center for around €25.
However, bus travel is much cheaper and gets you there for around €3. Once in the city, you can get a bus almost anywhere within the city limits for a little over €1 a ride. For trains to Granada, check out the Renfe website. For buses, head to the Alsa website.
There are plenty of stops on this itinerary where you'll want to linger and savor the moment. With that in mind, try to arrive in Granada as early as possible. Ideally, 8:30 am would be a good time to start your Granada in a day tour. Let's get started!
Address: Granada Train Station
Eat Churros for Breakfast at Café Futbol
25-minute walk from Granada Train Station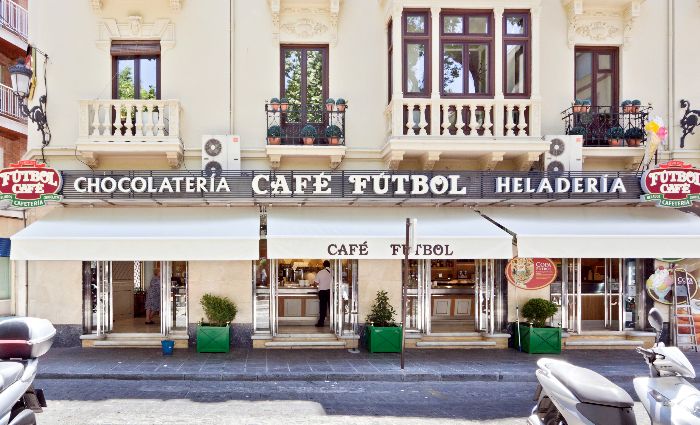 Start the day early with a delicious Spanish tradition. Churros are long sticks of dough you dip in a hot chocolate sauce. The Spanish eat them throughout the day but they are a popular breakfast snack all over the country.
Café Futbol is a legendary spot to eat churros in Granada. There's a huge terrace, which they cover and heat in the winter months. So, head here first thing, start the day like a local, and fuel up for an action-packed day of sightseeing in Granada.
Depending on your start time, you could skip the 25-minute walk from the train station and take a taxi to the café. More time to eat churros!
Address: Pl. de Mariana Pineda, 6
Step Back in Time at the Corral de Carbon
5-minute walk from Café Futbol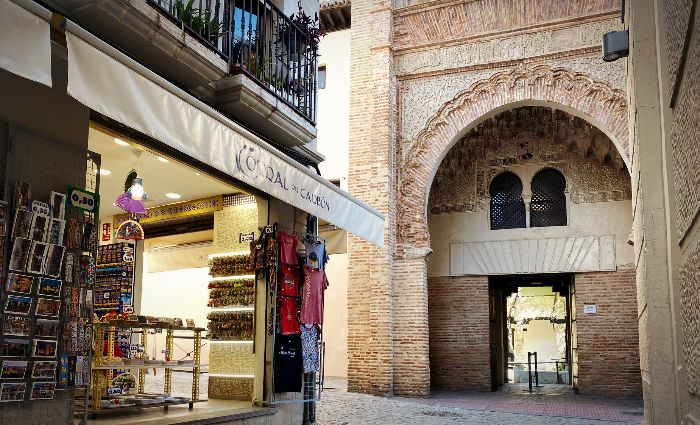 From Café Futbol take the five-minute walk to the Corral de Carbon. Go via Calle Navas, one of Granada's famous tapas streets. And through the Plaza del Carmen where the town hall sits. At the entrance of this 14th-century Nasrid marketplace, an ornate archway greets you. So, be sure to look up and admire the intricate architecture.
The name translates to "coal yard" and refers to the site's origins as a trading site for coal and other items. Travelers slept in rooms surrounding the central courtyard. While the main building also acted as an inn. Today, it's the headquarters of the Granada City Orchestra and it hosts live shows, including flamenco and classical performances.
Address: C. Mariana Pineda, 21 | Hours: 10 am – 8 pm
Shop for Souvenirs at the Alcaicería Market
1-minute walk from Corral del Carbon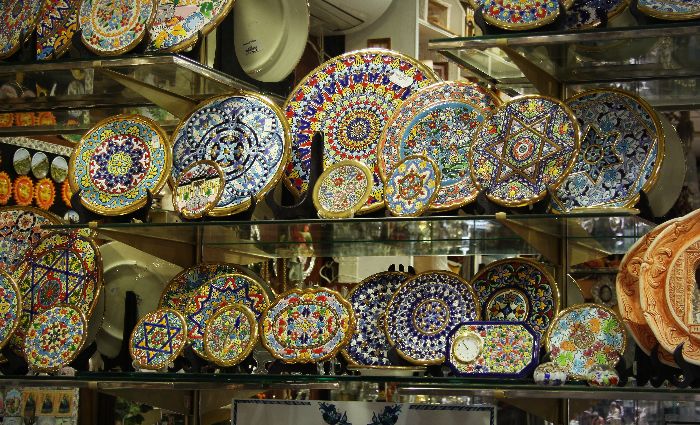 From a market no longer in use to one that is lively and bustling, take a minute's walk from the Corral del Carbon to the Alcaicería. It's an Arab-style bazaar featuring market stalls and shops. The site dates to the Muslim era and was once a hub for the silk trade. At its peak in the 16th century, there were over 200 shops.
A fire in a match shop in 1843 spread across the market, destroying the infrastructure. Afterward, city chiefs rebuilt it in a neo-Arabic style. Today, the Alcaicería is a tourist hotspot and stands in the shadows of the cathedral. You can buy many souvenirs including local Fajalauza ceramics. This Granada pottery craft dates to the 16th century.
Address: C. Alcaiceria
Visit Granada Cathedral and Royal Chapel
1-minute walk from Alcaiceria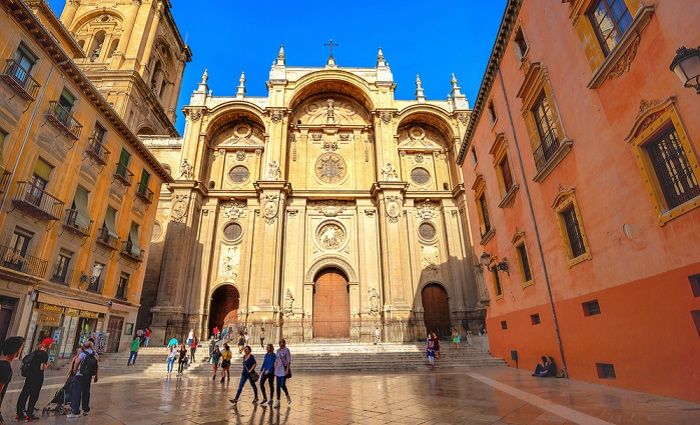 The cathedral towers over the market. So, you only need to walk a few yards to get there. Walk around the building and spot the different architectural styles that spanned its construction.
Or, pay €5 to explore the stunning interior featuring the main chapel and decorative altars. The cathedral stands on the site of the city's former grand mosque. Nearby buildings once housed the first Christian university and the 14th-century Islamic Madrasa.
Also, part of the construction is the Royal Chapel. This is the resting place of Spanish monarchs Queen Isabella I and King Ferdinand. The chapel also costs €5 to enter. Although, combined tickets are available that give access to five city monuments in total.
Address: C. Gran Vía de Colón, 5 | Hours: Mon to Sat 10 am – 6:15 pm | Admission: €5
Have Lunch at Provincias
4-minute walk from the cathedral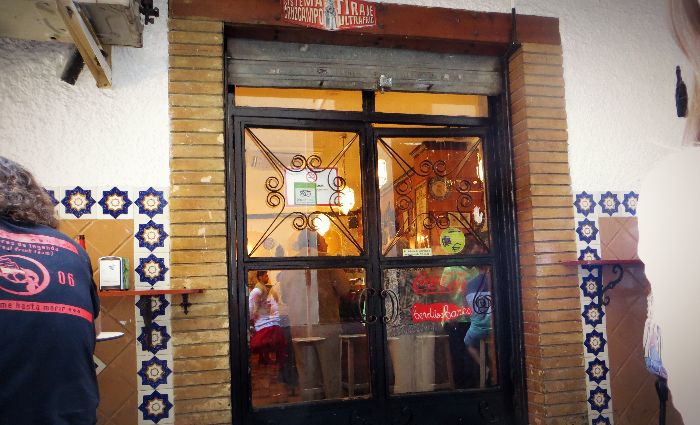 You'll be ready for some lunch about now. So, head to Provincias restaurant on Calle Provincias. It's a four-minute walk from the cathedral door but hidden down a back street and very unassuming. So, it's easy to miss. If you want to eat like a local, this is the place to go. People have been eating here for nearly 80 years.
There's a full menu of tapas and larger portions, featuring typical Spanish dishes. Get there early, before the 2 pm rush, and grab a table. You're in for great food, great service, and great value with no pretensions. This is the real deal. For the adventurous foodie, see the top foods to try in Granada before you order. Get ready, you're heading to the Alhambra next!
Address: C. Provincias, 4 | Hours: Tues – Sat 12:30 – 11:30 pm
Take the Local's Shortcut Walk to the Alhambra
15-minute walk from Las Provincias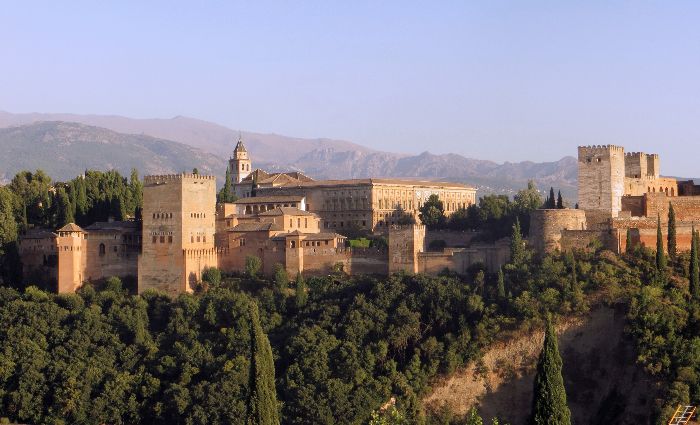 Most tourists grab a bus or taxi to the Alhambra, which can be time-consuming. But the locals just take a shortcut through the city. You can walk briskly from Las Provincias to the Alhambra's Gate of Justice in 15 minutes.
Walk up Cuesta de Gomérez and pass through the Gate of the Pomegranates into the Alhambra Forest. The sudden change of scenery will take your breath away. This is where locals walk their dogs, jog, cycle, and find shade from the hot summer sun. Follow the hill until you see the signposts.
If you have a ticket, head to the main entrance of the Alhambra. The complex is large, so we recommend reading the top things to see at the Alhambra so you don't miss anything. Definitely, check out our Alhambra tours with an expert guide for a memorable experience.
Plan to spend up to 3 hours at the Alhambra exploring. There's a lot to see. Highlights in the Alhambra include the Palace of the Comares, the Hall of the Abencerrajes, and the Generalife, among others.
If you don't have a ticket, there's plenty you can see for free. Head to the Gate of Justice where the hand of Fatima symbol greets you and enter the fortress. From there, you can explore the grounds and the Palace of King Charles. And enjoy views across the valley to the Albaicin and Sacromonte neighborhoods.
Address: C. Real de la Alhambra, s/n | Hours: 8:30 am –8 pm | Admission: From €5
Not ready to book a tour? Find out how to visit the Alhambra.
Stroll Along Paseo de los Tristes
20-minute walk from the Alhambra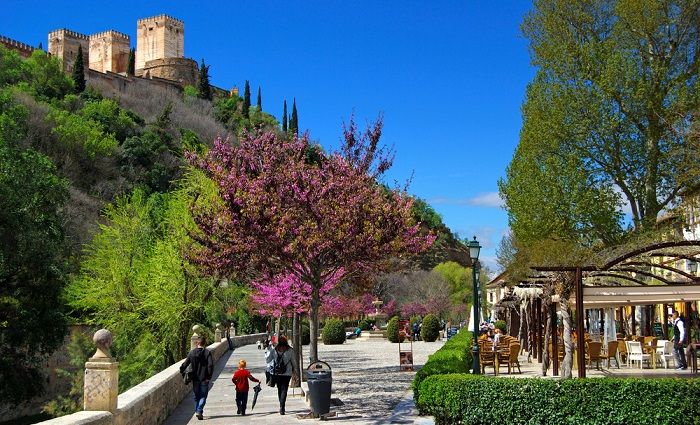 Once you've explored the Alhambra, head back down the hill into the city and turn right at Plaza Nueva. From here, follow the River Darro to Paseo de los Tristes. You'll walk past stone footbridges, Moorish architecture, churches, convents, and palaces—all against the backdrop of the Alhambra looming on the hill above.
If you're thirsty, there are a host of cafés and bars along the way to get refreshments. But don't stay for too long—there's more to see as you make your way toward dinner time.
Address: Paseo de los Tristes
Get the Perfect Photo at the Mirador of Saint Nicholas
10-minute walk from Paseo de los Tristes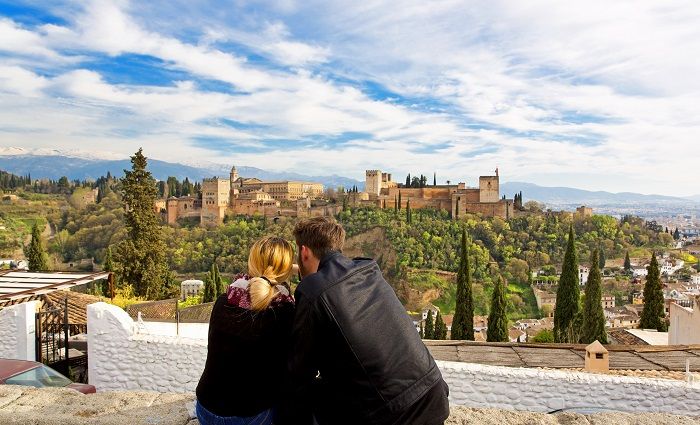 There are many viewpoints in the old Moorish neighborhood of the Albaicin. However, the Mirador of Saint Nicholas is by far the most popular. You'll see why when you get there. This viewpoint is a 10-minute walk from Paseo de los Tristes and Sacromonte.
There, you'll find the best views of the Alhambra in the city. It's stunning and one of the most romantic spots in Europe. This spot is spacious but it gets very busy in summer.
There's usually live flamenco and street artists performing, adding to the romantic atmosphere. And there's a stone wall where you can sit and get the perfect photo. For a different perspective, head to the top of the tower of the restored 16th-century church next door.
Address: Plaza Mirador de San Nicolás, 2
Discover the Albaicin
3-minute walk from Mirador de San Nicolas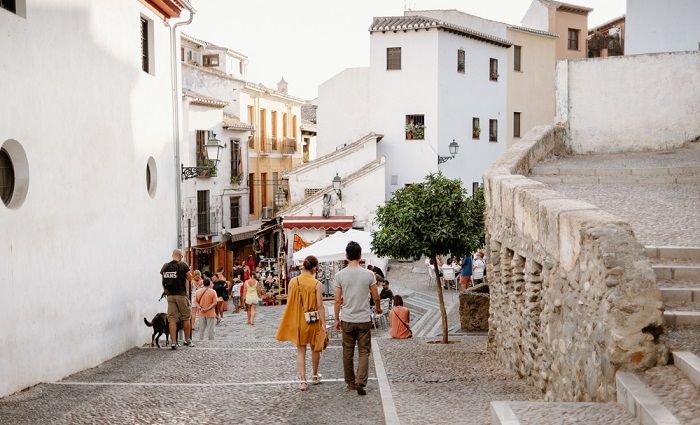 The old Moorish neighborhood is full of surprises at every turn. And it's the perfect place to explore at your leisure. But as we are short on time, I recommend heading to the Cuesta de San Gregorio.
Then, follow the hill down to Plaza San Gregorio. There are plenty of photo opportunities along the way. Once there, you'll find Arabic tea shops, restaurants, and market stalls. With evening setting in, you might want to eat here. But be warned, the next stop is an incredible seafood restaurant for dinner.
Address: Cuesta de San Gregorio
Enter Seafood Heaven at La Esquinita de Javi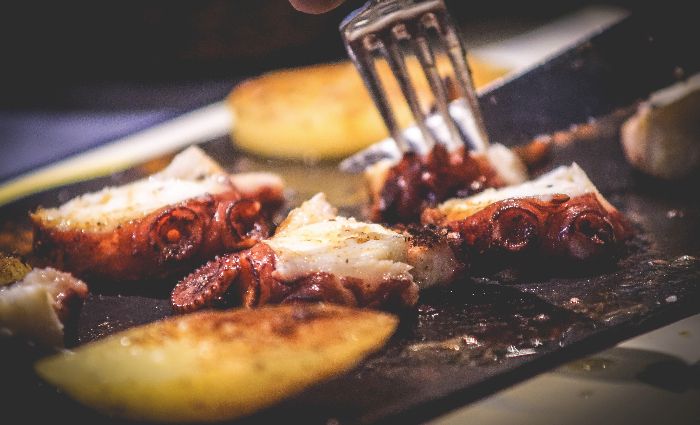 Granada is an hour from the port of Motril where fresh seafood arrives daily. To sample the delights of the Mediterranean, head to La Esquinita de Javi. It's right next door to Café Futbol where we began our tour this morning. In fact, it's so popular there are two restaurants 100 meters apart.
You'll need to get there early to get a table or make a reservation as you walk past in the morning. Again, this is a favorite with the locals and the atmosphere is buzzing. The idea is to order dishes to share, but you'll also get a small tapa with every drink, as is the custom in Granada.
The seafood is the star here, but there are meat and veggie options too. It's the perfect place to relax and look back on your day in Granada. For more dining options, see the best restaurants in Granada. Raise a glass and cheers to a wonderful day in Granada!
Address: Pl. de Mariana Pineda, 1 | Pl. del Campillo Bajo, 1
Feel the Passion of Flamenco in Sacromonte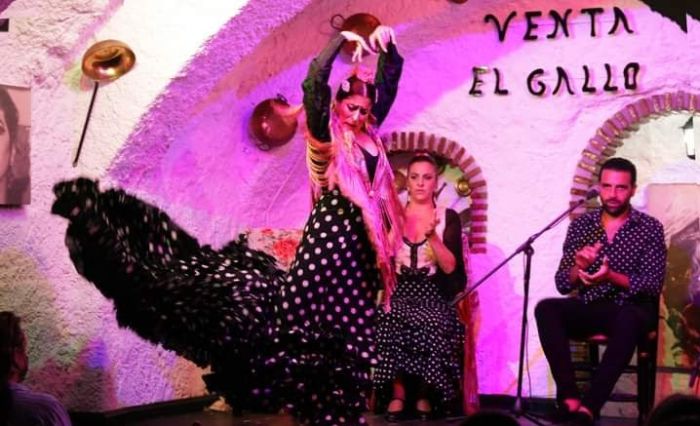 Granada is one Spain's flamenco hotspots. So, why not end your evening in traditional style with a flamenco show? Grab a taxi and head to the neighborhood of Sacromonte. This idyllic place features hundreds of cave houses that date to the 16th century. The area was the traditional home of the city's gitanos (gypsies), Muslims, and other marginalized communities following the reconquest.
There you'll find many flamenco venues including Venta El Gallo. This family-run venue occupies an enviable position with views of the Alhambra, and offers intimate shows every evening. Performances last about a hour and prices start at €20 per person. If you arrive late, there are other venues with live music playing until the early hours. There's now better way to end a day in Granada!
Address: Barranco de los Negros, 5, Sacromonte | Hours: 6 pm – Midnight | Admission: From €20
Not ready to book a tour? Check out our Granada Guide for more resources.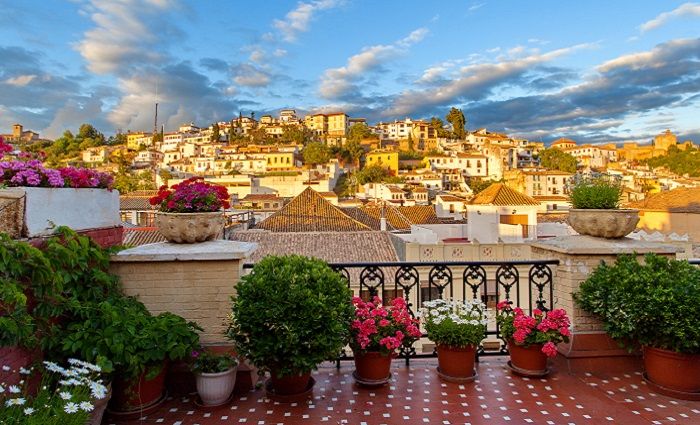 Find the best places to stay
Where To Stay in Granada
Granada, Spain, is worth visiting to see the massive Alhambra. Find out where our local experts recommend staying in this ancient city. You'll find great hotel deals that will make your stay memorable.