Are you someone who wants to be in a rugged Irish landscape, while being only a stone's throw from the capital city of Dublin? Well, ask and you shall receive, for this guide gives you nothing but the best countryside hotels near Dublin.
---
Pro Tip: It's easier to organize your trip when you have all your resources in one place. Bookmark this post along with our Dublin Guide with more planning resources, our exciting Dublin tours for a memorable trip, and the top things to do in Dublin.
The Top 12 Countryside Hotels near Dublin
Why book a stay in the center of Dublin when you could choose to stay at a serene hotel in the Irish countryside? Ok, maybe because you want to be in the tourist area, but why not stay in a luxury countryside hotel with spas, emerald views, and even golf courses?
I recommend staying in three charming towns that neighbor Dublin. These towns—well, counties—are called Wicklow, Kildare, and Meath. All three of them fall within the commuter belt, which means they're no further than a 45-minute drive from Dublin city.
Each locale has something different in terms of landscape and attractions, so use the lists below to decide which area suits you best. Below these attractions in each county are twelve amazing countryside hotels near Dublin. All of them are based in the aforementioned counties of Wicklow, Kildare, and Meath.
Wicklow
Powerscourt Gardens and Waterfall
Lough Tay and Lough Dan
The Sugar Loaf Mountain
Glendalough
Djouce and Lugnaquilla hiking trails
2k Alpacas
Clara Lara funpark
Greenan Maze
Glenroe Farm
Victor's Way
Bray-Greystones cliff walk
Kildare
Kildare Village
The Curragh Races
Wallaby Woods Donadea
Mondello Motor Racing Circuit
Newbridge Silverware & Museum of Style Icons
Clonfert Pet Farm
Kildare Maze
Meath
Newgrange Stone Age Passage Tomb
Knowth, Dowth, and Brú na Bóinne Passage Tombs
The Hill of Tara (ancient ceremonial burial site)
Trim Castle
Tayto Park
Causey Farm
Our Partnership with Booking.com. If you like our content, please book by clicking on our Booking.com links. The price is the same for you and we get a small commission that helps support our helpful blog content. We've partnered with Booking.com because they have the most options, great prices, and a solid loyalty program.
Tankardstown House (Meath)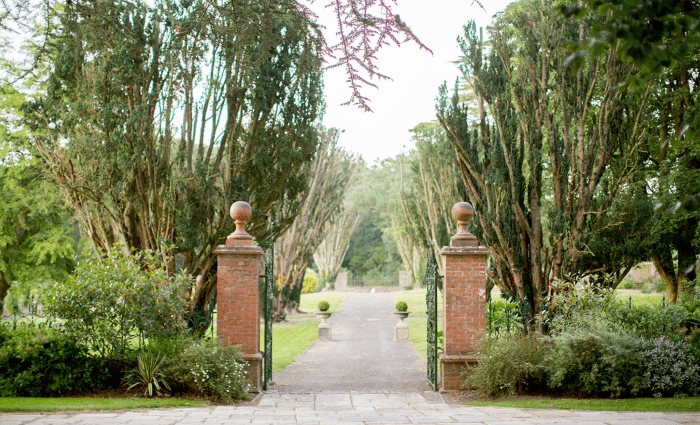 €€€€ | 5 Star Hotel | Georgian Guesthouse | Courtyard & Gardens
Tankardstown House is an hour's drive from Dublin and lies upon the River Boyne in county Meath. Furthermore, it's just a five minute drive for concert goers to Slane castle. This Georgian guesthouse boasts a mix of rococo and regency style interiors; some bedrooms have delicate floral wallpaper, some bathrooms have ornate golden lavatories.
You can stay in the main house or in surrounding courtyard cottages. Be sure to visit nearby Newgrange to see Stone Age tombs!
Tinakilly Country House Hotel (Wicklow)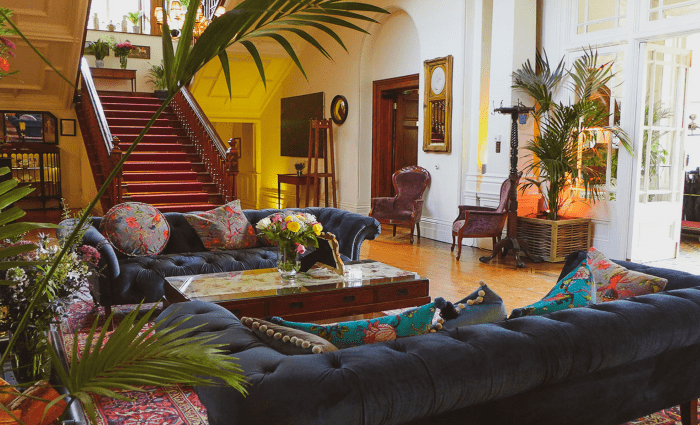 €€€ | 4 Star | Victorian Mansion | Views of the Irish sea
Enjoy a stay with impeccable views over the Irish Sea while you sip a delicious Irish coffee. After waking up refreshed, wander some of the 7 acres of private gardens, or sit by the fire with a book and cup of tea.
The stunning Brittas Bay is just 17 minutes by car, Mount Usher Gardens and Wicklow Golf Club are under 10 minutes, and Glendalough is a 27 minute drive. I would wholeheartedly suggest this hotel for older couples who adore period architecture, lush greenery, and Atlantic sea views.
The Johnstown Estate (Meath)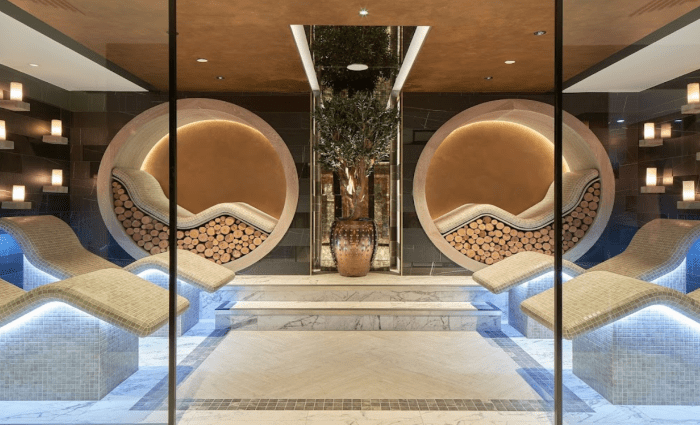 €€€ | 4 Star | Hotel, Pool & Spa | Chic & Contemporary
The Johnstown estate is the perfect hotel for golfers and luxury travelers. It spans over a hundred acres of meadows and golfing terrain (five championship courses to be exact). Not into golfing like your partner is? You might enjoy the horseback riding, bicycles, or a day in the spa massaging your troubles away
Johnstown can only be described as contemporary meets 19th century colonial. You have bathrooms with free standing bathtubs, powder blue guestrooms, vases with white hydrangeas, and a liberal amount of chandeliers. Make sure you book one of their renovated rooms.
Powerscourt Hotel (Wicklow)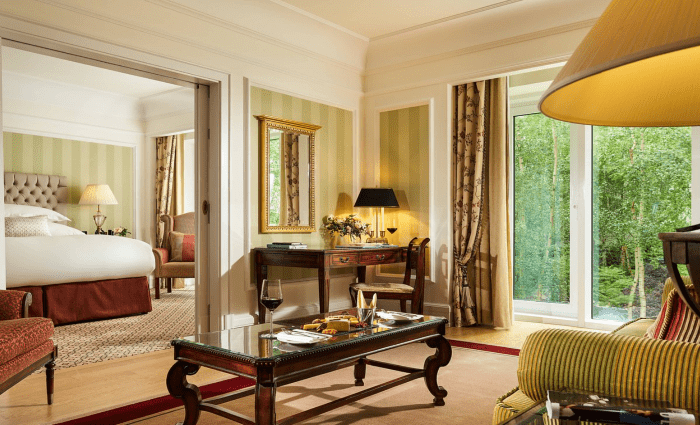 €€€€+ | 5 Star | Luxury Resort & Spa | Golf Courses
Powerscourt hotel is an estate in county Wicklow, which is a 30-minute drive from Dublin city. The Palladian and baroque features are fit for royalty, which was the intention back in 1730, when the first viscount, Richard Wingfield, commissioned the structure. The hotel is more of a grand mansion, really. A stay in such quarters will grant you access to the Swarovski crystal-lit pool, rainforest showers, marble baths, and so on. Is this real life?
You'll also find two golf courses and a selection of restaurants, plus a view of Sugar Loaf Mountain. It's the perfect place to stay before heading off to other parts of Ireland like Wicklow or Gelndalough.
Abhainn Rí Farmhouse (Wicklow)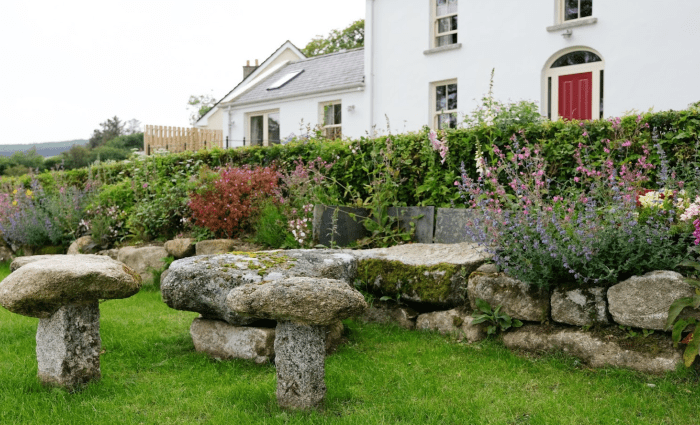 €€ | 5 Star | Bed and Breakfast | Farmhouse with Animals | Views of Blessington Lake
If you want a local stay in a traditional Irish farmhouse, don't miss this spot. The name translates from Irish as "Kings River," which is exactly what flows past this five star B&B. The guesthouse and cottages are situated in the Wicklow mountains, but there's 100 acres of land at Abhainn Rí, with farmyard animals such as roosters, sheep, dogs, and horses.
Abhainn Rí has been in the family for five generations, so they do hospitality right. This is the perfect stay for couples and solo travelers who want to get to know Irish hospitality. And with all the hiking nearby, active travelers will also love staying here after their hearty Irish breakfast powers them for the day.
Carton House (Kildare)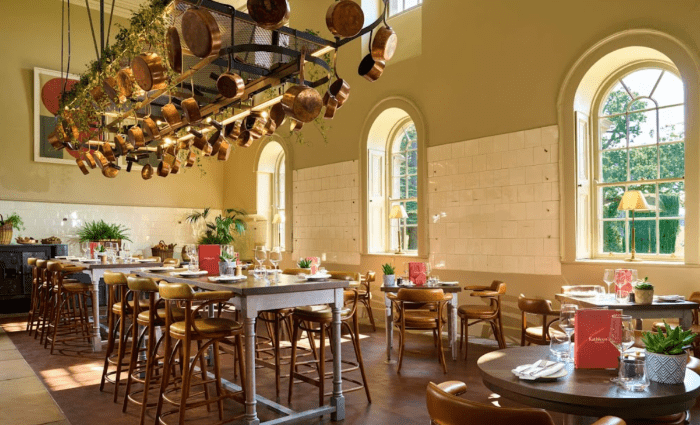 €€€€ | 5 Star | Golf Course, Resort & Spa | Palladian Grand Mansion
Carton House is a golfer's haven in county Kildare. The Palladian mansion has two outstanding golf courses on its grounds. Guests who've swung a few rounds, can dine in one the hotel's three restaurants afterwards.
Not a golfer? Then enjoy world-class spa facilities and an indoor swimming pool. Meanwhile, the overall decor remains "ornate rococo" and English country house. The Carton House would ultimately suit sporting couples who want comfort and splendor.
Cliff at Lyons (Kildare)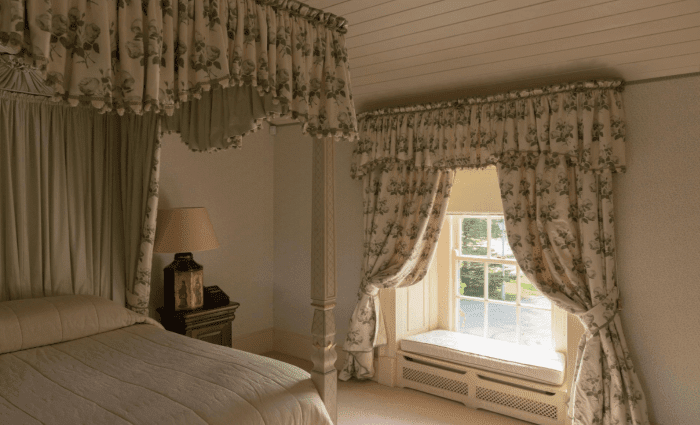 €€€€+ | 4 Star | Luxury Guesthouse | Country meets Contemporary | Restaurants, Cafe & Spa
Fancy a stay at a former flour mill with guest mews? Don't worry, it's totally renovated with country charm straight out of Beatrix Potter books. The first Lord of Cloncurry, Nicholas Lawless, built the main house back in the Georgian era, circa 1797.
These days, the guesthouse is especially praised for their two restaurants. One of them is a two-Michelin starred place, known as Aimsir, meaning "weather" in Irish. Guests with time to spare should try their delectable, 18-course tasting menu after cycling on the grounds, fishing, or floating on a barge.
There's also an outdoor spa with a sauna and hot tub. Overall, this is the ultimate destination for couples who need time away to reconnect with each other.
Tulfarris Hotel and Golf Resort (Wicklow)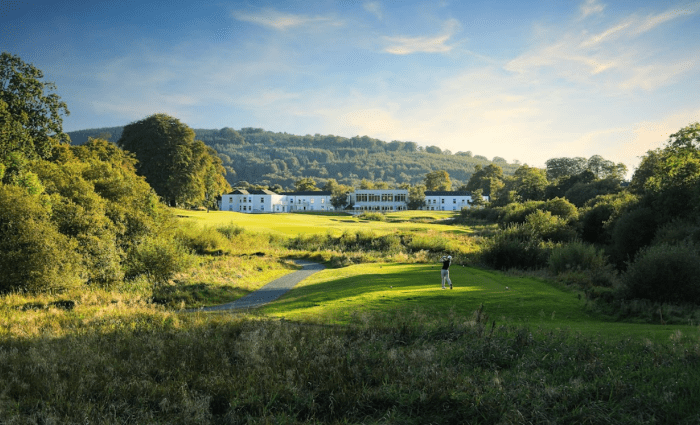 €€€ | 4 Star | Manor House & Golf Resort | Views of Blessington Lakes
Tulfarris is a 18th Century manor house that rises above when it comes to location. The hotel and golf resort is set directly upon the Blessington Lakes and overlooks the Wicklow Mountains. If you want extra space, be sure to book a suite that comes with a kitchenette.
Travelers who love dreamy settings for hotels with uncomplicated luxury will love staying here. It has an impeccable golf course that has a few holes on small peninsulas on the lake. Keeps things challenging!
Killashee Hotel (Kildare)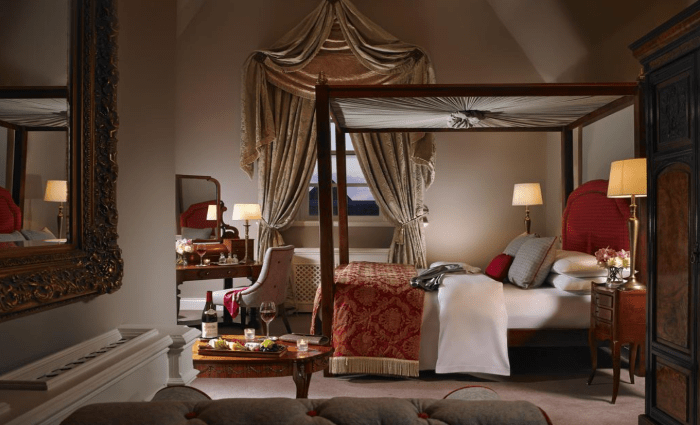 €€€ | 4 Star | Victorian Manor House | Gym, Pool & Spa
You'll feel like you stepped back in time at Killashee in county Kildare. It's a Georgian-turned-Victorian hotel and spa with acres of private farmland, including a ring fort from The Iron Age and the ruins of another nearby castle. Inside you'll be charmed by chandeliers, spiral staircases, and wainscoting on the walls, with a modern, moody color scheme.
Facilities wise, guests can enjoy a sumptuous afternoon tea from the restaurant, or else cool their jets at health center's indoor pool and Jacuzzi. I reckon Killashee works well for travelers who appreciate top-class service and the old world styles.
Clone Country House (Wicklow)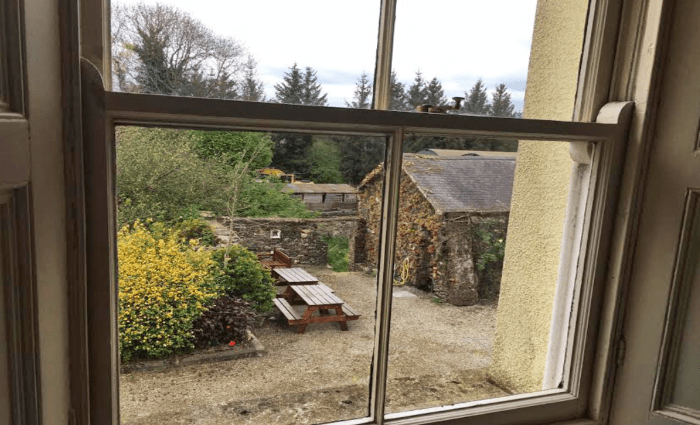 €€ | 4 Star | 1650s Country House | Hiking Trails
The owners of Clone House, Jeff and Svetlana, are revered for their 5-star hospitality and upkeep on their heritage farm. The vibe is eclectic-boho-farmhouse-chic. You'll find Persian rugs, indoor palm trees, velvet armchairs. Some rooms are a little more updated than others, but remain charming rather than dowdy.
Concerning the location of Clone House, it's a 26 minute drive to Clara Lara funpark, 34 minutes to Glendalough, and 40 minutes to Victor's Way. The latter, of which, is an erotic, Indian sculpture park. Clone Country House suits people who want to experience a more rustic stay at a family-run farm. Highly recommend!
Kilkea Castle (Kildare)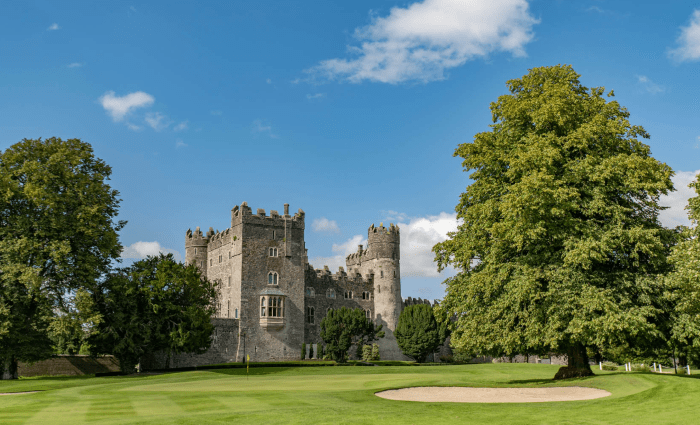 €€€ | 4 Star | Historic Castle | Hotel, Golf Resort & Spa | Archery & Horse Riding
How about a stay in a castle? Isn't that every tourists' dream when they come to Ireland? Well, Kilkea Castle dates back to the Anglo-Norman epoch—1180 AD, to be precise!
Unchanged since then are the 180 acres of woodland and gardens, with a new addition of a superb 18-hole golf course. Or you can try your hand at archery, horse-riding, clay pigeon shooting, falconry, tennis, or fishing.
Travelers might really appreciate that there are even wheelchair-accessible rooms. The hotel also boasts a large spa with a thermal suite and a hydrotherapy pool. If you need a lift to Dublin, the hotel offers a shuttle for a small fee. All-in-all, staying at this castle is a great idea if you're traveling with family or a group of friends looking for a unique place to stay and lots of activities.
The K Club (Kildare)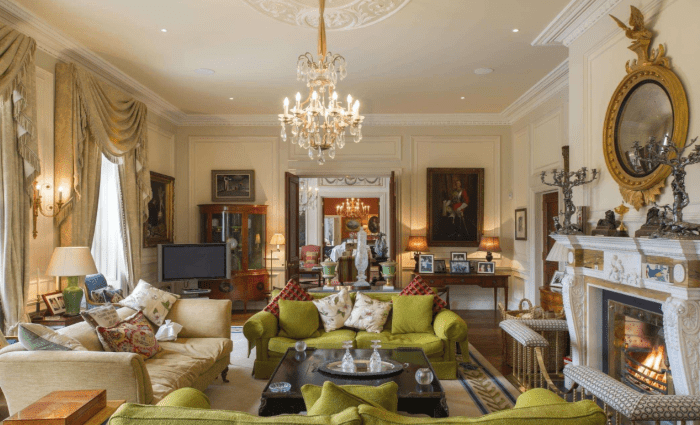 €€€€ | 5 Star | Luxury Golf Resort & Spa | Historic Estate | County Kildare
Are you an Arnold Palmer fan? The K Club's golf course was designed by iconic American golfer, Arnold Palmer, and the grounds have hosted The European Open. Guests also have access to horse riding, clay pigeon shooting, falconry, tennis, archery, and fishing.
Alternatively, you can take a breather in the K spa, which has an indoor swimming pool, hot tubs, a gym, and an onsite beauty parlor. Parents will also be glad to know there's a playground and a kid's club, which makes this a family friendly spot just 40 minutes from Dublin.
---