One of the finest gems of the Tuscan countryside, San Gimignano remains an attractive destination to anyone looking for the finest views, history, and (of course) food. Here is our list of the best restaurants in San Gimignano, so let's check 'em out!
---
The Top 10 Places To Eat in San Gimignano
LINFA
€€ – €€€ | Traditional Ambience | Tuscan
Sitting at one of the circular light birch tables and looking around at the playful, modern decor, it's easy to feel at home at LINFA. The exposed brickwork and beautiful greenery pair excellently with the authentic Tuscan cuisine packed into the menu. You'll definitely want to stop by here for lunch!
The menu here is full of variety and plenty of options. There's really no way to go wrong! We had the Foie Gras, as well as the Spaghetti with Burro Affumicato. It was clear from the first bite that the chefs here have put centuries of history, technique and tradition into every dish. Paired with the chef's recommendation of wine, it's a summery meal any time of the year.
Address: P.za Sant'Agostino 19/A
Hours: Tuesday-Sunday: 12:30–2PM, 7:30–9:30PM
Le Vecchie Mura
€€ | Beautiful Views | Elegant
Offering possibly the best view of any of the restaurants in San Gimignano, Le Vecchie Mura is what people think of when they think of fine dining in the Italian countryside. The garden-inspired decor keeps the white tablecloths and silver cutlery from ever feeling stuffy or pretentious. It's an elegant and refined experience that never loses touch with its family roots.
We began our meal with the Ham and Melon appetizer, a sweet and sour dish that was the perfect thing to get our taste buds ready for the meal ahead. After a first course of homemade short pastas with cherry tomatoes and burrata, we weren't sure if we could make it to the second. Yet the enticing smell of the Peposo beef stew we ordered was enough to get us over the finish line. We recommend both of these dishes, as well as any daily special recommended by the chefs.
Address: Via Piandornella, 15
Hours: Monday: 6–10PM, Tuesday: Closed, Wednesday-Friday: 6–10PM, Saturday-Sunday: 12:15–2:30PM, 6–10PM
Tours of Chianti and Florence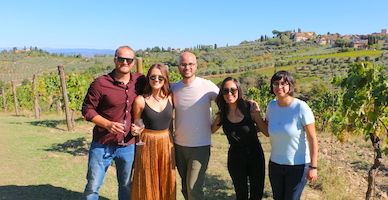 Top-Rated Experience
Chianti Day Trip from Florence with Vineyard Lunch
Want to have an epic experience in Tuscany? Remove the guesswork and the hassle of transportation by joining us on a day trip to Chianti from Florence. You'll enjoy time in the enchanting cities of Siena and San Gimignano with lunch and wine tastings too. Make your Tuscany day trip one to remember!





See Prices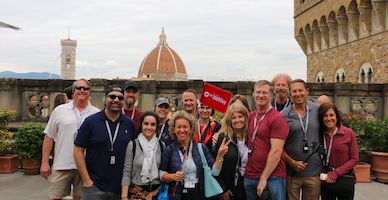 Best-Selling Tour
Florence in a Day Combo Tour with David & Uffizi
This tour is your best value in Florence. See Michelangelo's David statue in the Accademia Gallery with a licensed guide before exploring the Uffizi Gallery. You'll also have plenty of time to see the outside of the Florence Cathedral, Baptistry Doors, Ponte Vecchio, and more. All your skip-the-line admissions are included along with an English-speaking guide.





See Prices
Ristorante San Martino 26
€€ | Tucked Away | Experimental
Compared to other restaurants in San Gimignano, this one is certainly one of the more experimental. You might not necessarily guess this from the decor, which includes many of the design elements you'll see around town: brick archways, white tablecloths, darkwood chairs, and brilliantly lit candelabras. Yet one glance at the menu and you'll soon realize you're somewhere very different.
Just for the sake of variety, order the sashimi. That might sound crazy after a day of Tuscan classics, but the locally sourced salmon, cucumber, chives and citrus dressing are a welcome departure from the familiar. Of course, you're welcomed back to Tuscany with the main course options. Here we recommend the Gnocco dumplings in roast sauce, served with a side of mussels and courgette flowers. Along with a second course of Pigeon with Cherry and Curry, you'll have ventured far afield of the expected (and be thankful for the detour.)
Address: Via S. Martino, 26
Hours: Monday-Sunday: 12–2PM, 7–10PM, Thursday: Closed
Perucà
€€ | Cozy Atmosphere | Traditional Tuscan
Looking at the stone-facade and creeping ivy that mark the exterior of this San Gimignano favorite, it's easy to see the history in every stone. As you sit beneath the domed brick ceiling at one of the few tucked away tables, you'll likely feel that you're being treated to something special, something that's been passed down for generations. Turns out, you're exactly right.
The family recipes on offer here are special in their authenticity and deeply sourced tradition. We recommend the house risotto as a light appetizer, tossed with Cinta Senese ham, courgette flowers and seasonal truffle flakes. It's a great opening for your meal, without being too heavy. For your main course, you'll want to keep it to a local favorite. We recommend the Wild Boar "Made the Old Way", meaning it has been marinated in red wine and spices overnight to a tender, juicy and flavorful finish.
Address: Via Capassi, 16
Hours: Sunday-Monday: 12–2:30PM, 7–9:30PM, Thursday: Closed
RiccaPizza
€ | Pizza | Limited Seating
Clearly many of the restaurants in San Gimignano are of the sit-down variety, but for the traveler on-the-go you can't go wrong with a reliable pizza spot. Inside of this tiny pizza shop, there isn't tons of room to sit due to the huge brick oven, but this is the kind of pizza best enjoyed on your feet. So walk up to the counter, muster up your best Italian, and pick your slices.
There's a really great variety of fresh, locally-sourced toppings, and there's certainly a temptation to overdue it. Yet if you're looking for a balanced pizza that's full of flavor, we recommend the Bianca Asparagi E Pancetta. It has a hearty mix of asparagus, bacon and fresh tomatoes that go beautifully together. Washed down with an ice cold cola and you'll be refueled and ready to explore the city.
Address: Via S. Giovanni, 94
Hours: Monday-Sunday: 5–9:30PM
Azienda Agricola Palagetto
€€€ | Winery | Family-Owned
No visit to the Tuscan countryside would be complete without a visit to a local winery, and Azienda Agricola Palagetto is our favorite in the area. Passed down for three generations, this winery has seen the vast historical changes that have occurred in Italy over the years and still brings the deeply rooted traditions that have remained the same in all that time.
Wine tastings here are also incredibly affordable for the quality on display. For only €18.00 per person, they offer an hour long, four wine tasting complete with an experienced sommelier to walk you through your journey. To be fair, however, we were left wanting more after this and opted to continue our tasting with the "Wild Tasting". This included a tasting of their house reds with a pairing of rich Cinta Senese cured meats. Looking out at the rolling Tuscan hills, criss-crossed with vineyards and the grapes upon them, only one word comes to mind: Paradise.
Address: Via Racciano, 10
Hours: Monday-Sunday, 12:30–9PM
Cum Quibus Ristorante
€€€ | Romantic | Authentic
If LINFA is an airy and naturally lit spot for lunch, then Cum Quibus is its dinnertime twin. Candlelit chandeliers and brick passageways beckon diners to a time before the hustle and bustle of modern life. The locally sourced artwork is a delight to the eyes, matched only by the contents of your meal.
The best Tuscan food comes from the best ingredients, and there are few restaurants in San Gimignano that take this as seriously as Cum Quibus. We recommend the caught fish of the day, caught the very morning of your meal and served with a side of marinated zucchini and salmoriglio sauce. It's a centerpiece meal of any Tuscan experience, and can only be beat by the Stuffed Rabbit and Olives only a few lines down the menu.
Address: Via S. Martino, 17
Hours: Sunday-Monday, 12:30–2PM, 7:30–9:30PM
La Mandragola
€€ | Views of the Town | Homestyle
La Mandragola takes outdoor dining to a whole new level with its gravel-paved and generously canopied patio. The views include many of the famous Medieval castles that are so popular in San Gimignano. It's where we would go if we could bring you personally to any spot for lunch. It's just a great feeling being here.
Like many of the best restaurants in San Gimignano, La Mandragola keeps the distance short between the source of the ingredients and your plate. After starting with a cocktail of aperol spritz, we recommend an appetizer of Veal with Tuna sauce, and shrimps in burrata. These are simple dishes, but the buttery, melt-in-your-mouth taste speaks to the quality of ingredients used. For your entree, you can't go wrong with the Crispy Suckling Pig Belly or the Guinea Fowl Leg with liver. Both are absolutely great!
Address: Via Diacceto, 23
Hours: Monday-Sunday: 12:15–3PM, 7–10PM
Most Popular Florence Tours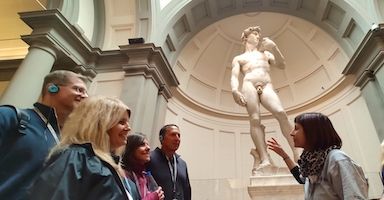 Best-Selling Tour
Florence Walking Tour with Statue of David
Michelangelo is considered the greatest Renaissance artist and the David statue is widely known as his masterpiece. Join our English-speaking guide as you skip the line at the Accademia Gallery to see David. Then venture out to see the center of Florence including the Duomo (outside), Baptistry Doors, leather market, and Ponte Vecchio. Admissions included.





See Prices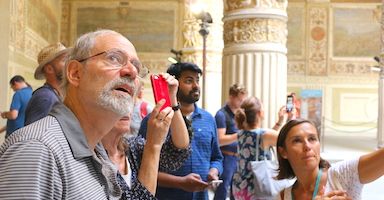 Top-Rated Tour
Skip the Line Uffizi Gallery Tour
The Uffizi Gallery is the most-visited museum in Florence for good reason. Join our licensed, English-speaking Uffizi guide for a journey through the Medician Renaissance. Learn all the stories behind the very art that brought our world out of the darkness as you look upon pieces like the Birth of Venus. All admissions included.





See Prices
Dulcisinfundo
€€ | Hidden Gem | Cured Meats
One is reminded of the cavernous catacombs of Rome as you step beneath the brick archways leading into this local favorite. The cozy tables and tucked-away seating arrangements speak to the family-centric approach the chefs here take to their authentic Tuscan cuisine. It's an intimate, friendly environment, perfect for lunch or dinner.
Dulcisinfundo takes great pride in the herbs and olive oil used in all of their dishes, which are made in the small farm tucked behind this restaurant. This pride and authenticity can be felt (better yet, tasted) in dishes like the Pappardelle with Wild Boar Sauce or the Pork Fillet with Vinsanto-glazed chicory. You won't be disappointed. And definitely make sure to get the special selection of Tuscan sheep cheeses, served with honey and homemade jams!
Address: Via Degli Innocenti, 21
Hours: Monday-Sunday: 12:30–2:30PM, 7:15–9:30PM, Wednesday: Closed
Bristot
€€ | Desserts | Family-Owned
A lovely spot to end your day, this dessert shop on Via di Fugnano is the cherry on top of any Tuscan culinary trip. Since 1957, the Settefonti family has been making delicious cakes, cookies and other sweets inside of the bustling kitchen at Bristot. As you walk up to the counter, you'll be greeted by the sweet scents of baking cookies and homemade jams. Try not to swoon!
Who knows when you'll be in Tuscany again, so make sure to get as much as you can on your visit to Bristot. Everything here is delicious, from the chocolate dipped shortcrust pastries to the almond cookies baked around a cherry jam core. We recommend grabbing whatever looks good to you, and in large (and we mean large) quantities.
Address Via di Fugnano, 20
Hours: Monday-Friday: 8AM–1PM, 3–6PM


We hope you take a little time away from enjoying the beautiful sights and historic architecture to enjoy these fantastic restaurants in San Gimignano. Enjoy!