If you are planning to spend your summer holidays in cosmopolitan Mykonos, then you are lucky enough to be spending your time on one of the most beautiful and luxurious islands in Greece. Here, it is really easy to find many incredible places to eat. So, let's discover the best restaurants in Mykonos in the guide below.
---
The Top Restaurants and Places To Eat In Mykonos
Mykonos is a cosmopolitan destination in Greece where you can discover many high-end restaurants to enjoy your lunch and dinner. Expect many of these restaurants to be a bit more expensive. However, you will certainly enjoy the quality of the dishes and, in most cases, you will have the opportunity to spend your time in beautiful places with a magical views.
Restaurants offering traditional gourmet dishes are really easy to find here. How about trying the traditional souvlaki? If you are not up to trying a different style of cuisine, however, there are always places serving international dishes you know and love.
Below, you will find a list of the best restaurants in Mykonos offering a wide variety of dishes in every price range.
Nice n Easy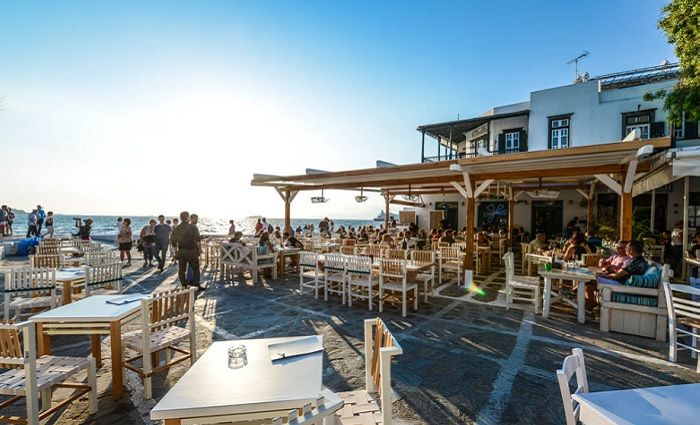 €€ | Mediterranean Cuisine | Sea Front
Nice n Easy is an award-winning restaurant where you can explore Mediterranean cuisine. There are a variety of fish and meat dishes, salads, and even traditional gyros. The most difficult part will be deciding what to choose either for your lunch or dinner.
Above all, the restaurant is located in the most popular spot in Mykonos: Little Venice. Here, you will enjoy your meal on the seafront with a great view of Little Venice to the one side and the windmills to the other.
Address: Little Venice
Kiki's Tavern
€€ | Traditional Cuisine | Sea View
Kiki's Tavern is a great option, especially if you have spent the morning at the beach in the sun. This is a beautiful space with an amazing sea view. It is a fantastic opportunity to relax and enjoy a good meal with a cold beer or glass of Greek ouzo.
The tavern offers traditional Greek cuisine. So, it is a great place to try some Greek dishes, especially fresh fish. What's better than some fish and a fresh salad on your summer holidays in Mykonos?
Address: Agios Sostis village
Kalosta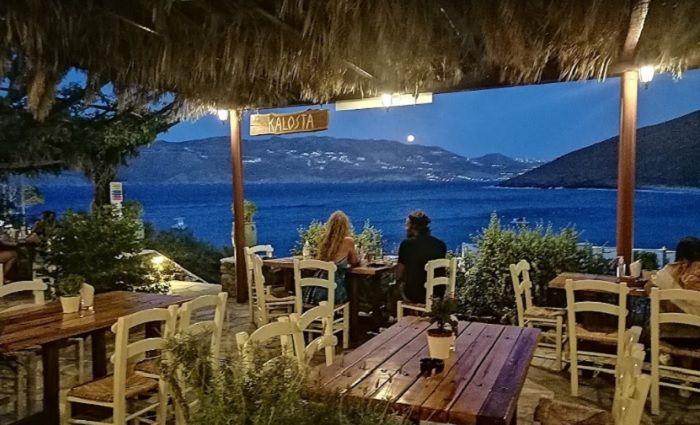 €€ | Fresh Seafood | Sea View
Kalosta restaurant opens every year in May and is a good choice, especially for fish and seafood lovers. There are a variety of dishes, and it is often difficult to decide what to order. In any case, don't forget to ask for some white wine or ouzo to accompany your meal.
Apart from the delicious, fresh, and homemade dishes that Kalosta restaurant serves, the place is really wonderful. It is located in Panormos village in an amazing spot—get ready to enjoy delicious food with a breathtaking sea view.
Address: Panormos village
Alemagou Restaurant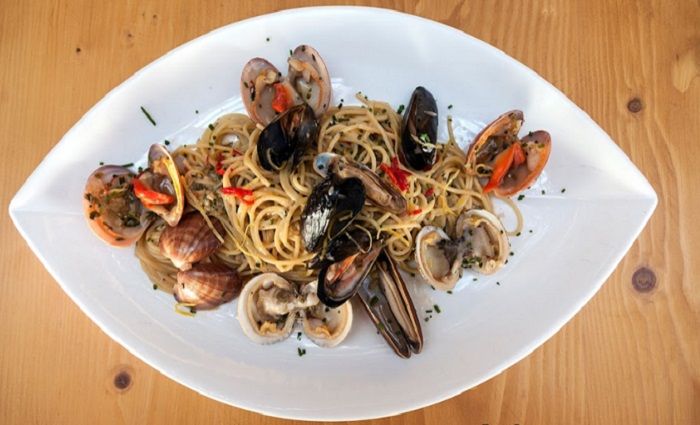 €€€ | Gourmet Dishes | Bohemian Atmosphere
Is there a better way to spend your day than at a place like Alemagou Restaurant? Here, you can arrive in the morning and enjoy an iced coffee before going swimming. Alemagou Restaurant also provides sunbeds and umbrellas on the beach right in front of the restaurant.
At noon, why not try a gourmet Mediterranean-style lunch. It is a unique opportunity to taste the flavours of Mediterranean cuisine cooked in a more creative way. At night, enjoy some breezy cocktails and relax.
Address: Ftelia Beach
L' Aragosta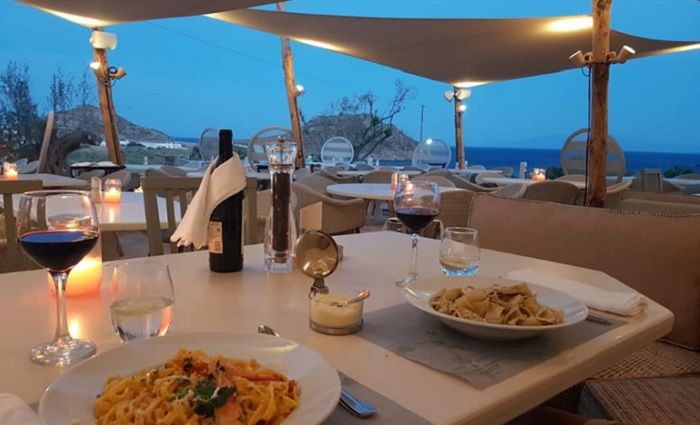 €€ | Italian Cuisine | Exceptional Sea View
Do you feel like tasting some Italian dishes? L' Aragosta restaurant is one of my favorite places to eat. The restaurant serves a variety of Italian dishes, from pasta to delicious pizzas. A great pasta option is the spaghetti with seafood.
L' Arragosta restaurant also has a wonderful atmosphere, day and night. Here, you can relax with a glass of one of the many quality wines and admire the amazing view of the Aegean Sea.
Address: Kalafati village
Yialo Yialo Restaurant
€€ | Traditional Yet Modern Cuisine | Beach Front
You will certainly admire the modern cuisine of Yialo Yialo Restaurant. In this restaurant, you will have the chance to taste traditional Greek dishes or Mediterranean dishes cooked with a modern and creative twist.
Best of all, the restaurant is located on the cosmopolitan Platis Gialos beach. So, it is a great opportunity to spend some time with your feet in the sand, sunbathing, and swimming in the crystal clear sea before enjoying your meal.
Address: Platis Gialos beach
Lucky Fish
€€€ | Seafood | In The Heart of Mykonos Town
Apart from amazing beaches, Mykonos has a really beautiful town with small white buildings and paved alleys. In this spot on the island, you will discover the Lucky Fish Restaurant. What's wonderful about this restaurant is precisely the fact that it is located in this picturesque part of the town.
As the name suggests, at Lucky Fish you are really lucky to be able to enjoy their delicious fresh seafood dishes. It will come as no surprise that seafood is their speciality, but of course, you will also find other options: their meat dishes are very tasty as well.
Address: Nikou Kalogera, 6, Mykonos Town
Nusr-et Mykonos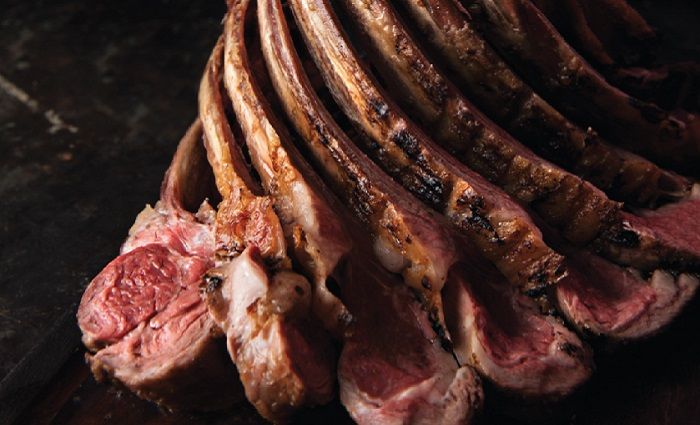 €€€€ | Steak House | Gourmet Dishes
If you are craving gourmet steak dinner, Nusr-et is certainly an amazing option. It is one of the best restaurants in Mykonos and offers quality meat dishes cooked with fresh produce by experienced chefs. Don't hesitate to ask the waiters to help you make your choice.
This restaurant is also located in Mykonos town, so it is easily accessible. Even if you do need to drive to Nusr-et Restaurant, there is a dedicated guest parking area. Above all, the atmosphere of the restaurant is relaxing, and the staff is friendly and very helpful.
Address: Pyllakiou, Mykonos Town
Remezzo Restaurant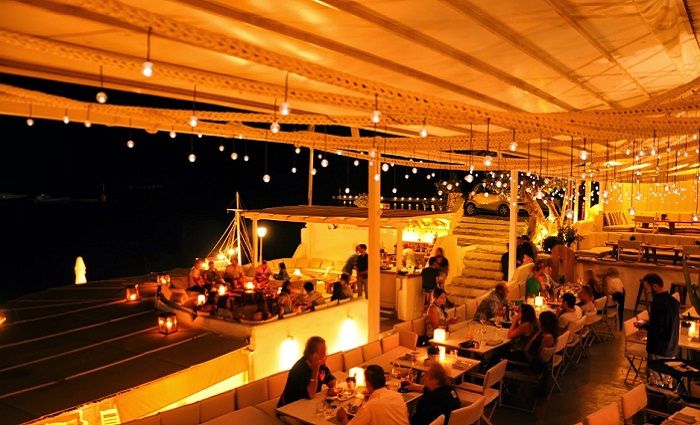 €€€€ | Gourmet Dishes | Sea Front
Remezzo Restaurant is certainly a luxury restaurant worth a visit. The menu is full of quality gourmet dishes. It is unbelievable how they make cooking an art at the same time. Here, there are a wide variety of dishes, so it is easy to choose one of your favorites.
One more reason why Remezzo Restaurant is one of the best restaurants in Mykonos: it is located in a wonderful spot in Mykonos Town. It is right on the seafront, so you will have a gorgeous sea view.
Address: Polykandrioti, Mykonos Town
Buddha Bar Beach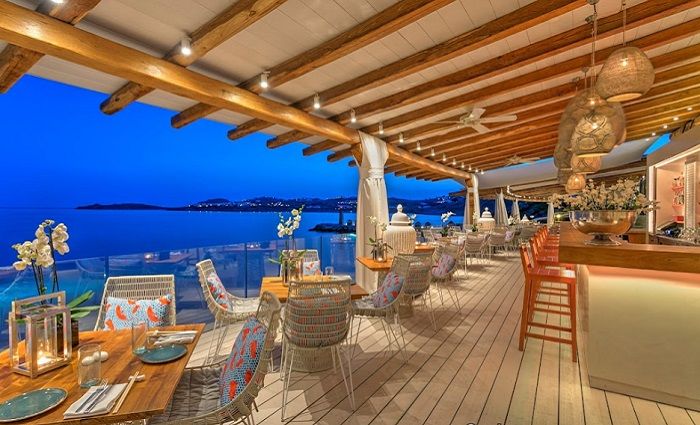 €€€€ | Seafood and Asian Cuisine | Exotic Atmosphere
During your holidays in Mykonos, you will certainly feel free and relaxed. More so, if you choose to have a meal at the Buddha Bar Beach restaurant. This is an amazing place with exotic decor. Located in Ornos Bay, it also has a beautiful view of the sea.
So, if you decide to have lunch or dinner here, you need to know that the restaurant not only offers great quality seafood dishes but Asian cuisine also. It is a great opportunity to try something different. At night, it is the perfect spot to sip breezy cocktails.
Address: Ornos Bay
Beefbar Mykonos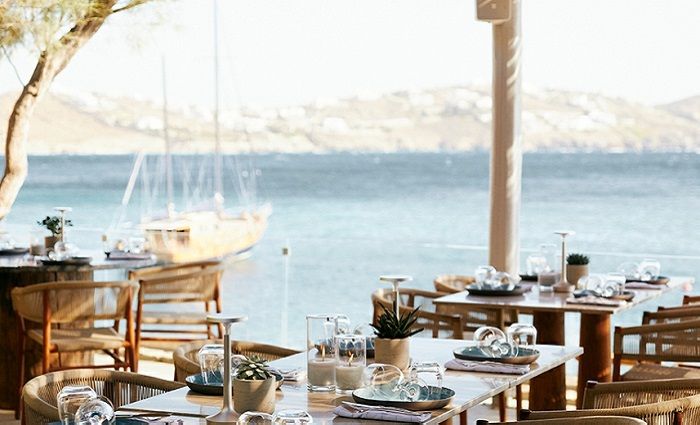 €€€€ | Fresh and Local Products | Sea Front
Beefbar Mykonos is, without a doubt, one of the best restaurants in Mykonos. While here, don't miss the opportunity to try dishes cooked with fresh local products. It is contemporary and creative Mediterranean cuisine combined with a breathtaking location.
This restaurant has a lot going for it, from a wonderful sea view to a stylish and luxurious atmosphere that feels familiar at the same time. The highlight, however, is the DJ that plays great music while you enjoy your meal!
Address: Agios Ioannis Diakoftis village
As Mykonos is a cosmopolitan destination, there are numerous restaurant options. These are just some of the best restaurants—you will certainly discover many more. So, what you need to do is to book a room in your favorite place in Mykonos and spend some time exploring not only the island's beauty but also many incredible restaurants.