Madrid is an amazing city full of food, culture, and energy which makes it an ideal destination to visit! That said, with so many options how will you decide where to eat in the capital city? I have been living in Madrid for almost a decade and know the city top to bottom. I've created this list of the best restaurants in Madrid to take the guesswork out of your planning process!
---
---
Pro Travel Tip: Going to eat more than one meal in Madrid? Consider bookmarking this page in your browser so you can circle back to it at your next meal!
---
The Best Places To Eat in Madrid, Spain
Madrid is a beautiful destination, but the ups and downs of its streets may be challenging. Even the most prepared travelers need to refuel after a day of touring and visiting museums. So, where to eat if you are near the Royal Palace or the Prado and Reina Sofia museums?
Your local friend is here to help! Check out our top ten tapas bars and restaurants in Madrid close to these attractions. From ready-to-go snacks to elegant Michelin-starred dinners, this will be a memorable culinary journey.
---
Mercado de San Miguel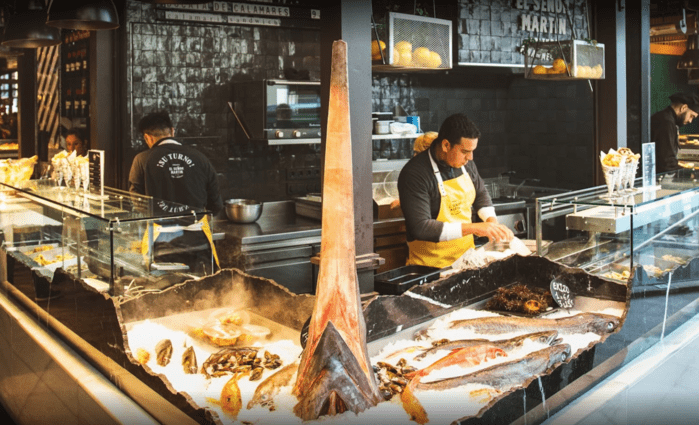 €€ | Spanish Tapas | Fun Market Experience
The Mercado is very touristic, but it's a lot of fun. The building is an old market that now hosts a food court. Each stand has products from a different region and a common dining area.
Best thing: if you are traveling with family and friends, no more arguing about what to eat! You can taste everything: Spanish ham, fresh oysters, pintxos, and tortillas.
Address: Plaza de San Miguel

---
La Taberna de El Pimiento Verde
€€-€€€ | Basque & Northern Spain Cuisine | Indoor & Outdoor
Just 5 minutes away from the Royal Palace, this Basque restaurant reinvents typical tavern food. Their menu references northern Spanish cuisine with a touch of Madrilenian products.
The artichokes and the monkfish will blow your mind. And if you are willing to try new things, ask for a bottle of Txakoli. This basque white wine must be poured into the glass from a certain height to boost its aromas and nuances.
Address: Calle del Conde de Miranda, 4

---
---
Corral de la Morería
€€€ | Dinner & Flamenco Show | 1 Michelin Star
Flamenco in Madrid? I know; it sounds out of context. But Corral de la Morería is the first Flamenco tablao ever awarded with a Michelin star.
They have two diner areas. One is close to the stage, where you can enjoy dinner or drinks. The other is a private 4-table restaurant with a menu by chef Dani Garcia.
Address: Calle de la Morería, 17
---
Botín
€€€ | Traditional Spanish & Roasted Meat | Indoor & Outdoor
Are you a passionate reader? Maybe you have read about Botín, quoted by Hemingway amongst other authors. And according to the Guinness World Records, it is also the oldest restaurant in the world.
So, if you want to feel like the characters of The Sun Also Rises, free your hedonistic spirit and order the roasted suckling pig and a bottle of Rioja wine.
Address: Calle Cuchilleros, 17
---
La Perejila
€-€€ | Southern Spain tapas | Great mood, informal lunch
La Perejila is a charming tapas restaurant in Madrid's famous neighborhood La Latina. Here, you can enjoy the food and the spirit of southern Spain. Its music and decoration will carry you to Andalusia in the blink of an eye.
It has tiny tables, and it is usually jam-packed during weekends. Try their famous vermouth and the delicious meatballs if you find a spot. Iconic!
Address: Calle de la Cava Baja, 25
---
La Ideal
€ | Traditional Street Food | Indoor Seating or Take Away
Wanna grab something quick and get going? The squid sandwich is the traditional Madrilenian bite on the go that you must try.
You will find lots of places that prepare it close to Plaza Mayor. La Ideal is one of the most famous (and my friends' favorite) places to eat.
They also have sandwiches with ham, bacon, and tortilla. If you prefer tapas, try the patatas bravas, sausages, and anchovies in vinegar. Delicious!
PS: If there is a long waiting line or the place is too crowded, La Campana (next door) is also a great option.
Address: Calle de Botoneras, 4
---
---
Casa González
€€ | Delicatessen | Great Tasting & Informal Mood
The Barrio de Las Letras quarter is the best place for eating or taking a walk on a sunny day. This bohemian area of Madrid across Paseo del Prado is full of bars and small restaurants.
Casa González is a delicatessen and wine shop founded in 1931. It is one of my top places in Madrid for a gourmet lunch with the best cheese, wine, and cuttings.
Address: Calle León,12
---
Vinoteca Moratín
€€-€€€ | Wine & Bistrot | Michelin's Bib Gourmands
One of my top restaurants in Madrid for dinner is Moratín, also in Barrio de Las Letras. It is a cozy restaurant with just a few tables and great food: perfect for couples or small groups.
My must-try food is the leek confit with Romesco sauce. Yum! But I suggest taking their recommendations and pairing each dish (or half dish) with the most suitable wine.
Address: Calle de Moratín, 36
---
La Revoltosa Prado
€€ | Tapas, Hamburgers & Cocktails | Cool Atmosphere
La Revoltosa Prado is a fantastic tavern to stop by near the Prado museum. Cat-inspired decoration – madrileños call themselves "cats" – and live music makes La Revoltosa the perfect place to end the day. They have two restaurants in Madrid – the other one is in Plaza del Rey (Chueca).
La Revoltosa Prado serves burgers, sandwiches, and Spanish tapas. It is also an excellent choice for a cocktail, with or without alcohol.
Address: Calle del Prado, 4
---
Deessa (Mandarin Oriental Ritz Hotel)
€€€€ | 1 Michelin Star | Dress Code | Ages 12 and Up
Deessa is a new entry in the Michelin 2022 star-awarded restaurants in Madrid. It is a top place for an exclusive lunch or dinner near the Prado. Of course, you must be traveling with something smart-casual to wear as this truly is an upscale restaurant.
They offer a signature menu with chef Dacosta's dishes and a contemporary menu that will leave you wanting more.
Address: Plaza de la Lealtad, 5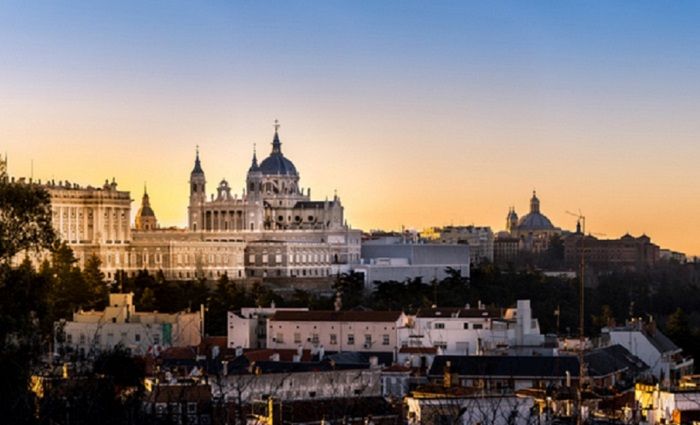 Find the best places to stay
Where to Stay in Madrid
Madrid is a vast city with many areas to stay in, including beyond the downtown area. Choose a hotel near the top things you want to see in this beautiful old city.