Central Park is the heartbeat of New York City. With more than 42 million visitors each year, it is one of the more central landmarks on the island of Manhattan and near to other iconic sites including the MoMA, St. Patrick's Cathedral, Lincoln Center, Rockefeller Center, and others. If you're planning a trip to New York City, there are plenty of reasons to stay in one of the best hotels near Central Park. Read on for some top-notch hotel recommendations in the area.
---
New York City's Best Hotels Near Central Park
Heading to New York City and looking for a central place to stay near a lively green space? Look no further. Here are the best hotels near Central Park in Manhattan, the perfect place to base your stay and explore the park and city landmarks.
Our Partnership with Booking.com. If you like our content, please book by clicking on our Booking.com links. The price is the same for you and we get a small commission that helps support our blog. We've partnered with Booking.com because they have the most options, great prices, and a solid loyalty program. Just about every hotel is on Booking.com so our recommendations are not incentivized.
Baccarat Hotel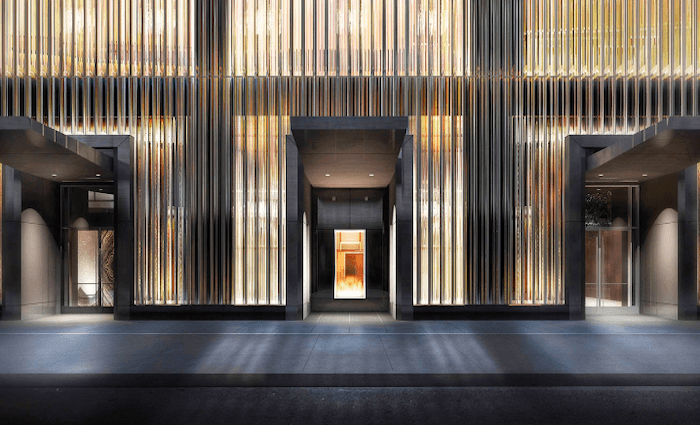 $$$$ | 5 Star | Indoor Pool | Exquisite Rooms | Central Location
This Midtown hotel, owned by the French crystal company and less than 10 blocks from Central Park, is all about opulence. The decor is sleek and contemporary with plenty of crystal accents throughout to ensure one of the most luxurious experiences. The indoor pool is a tranquil place to start or end your day, and the checkerboard bottom is a nice aesthetic touch.
If you stay at this hotel with a pool, you're not far from the Rockefeller Center or Central Park. Its prime location is just one reason why this is easily one of the best hotels with pools in NYC. Additional amenities include a La Mer spa, an expansive bar, an afternoon tea service, and all-day dining options in the grand salon.
The Plaza Hotel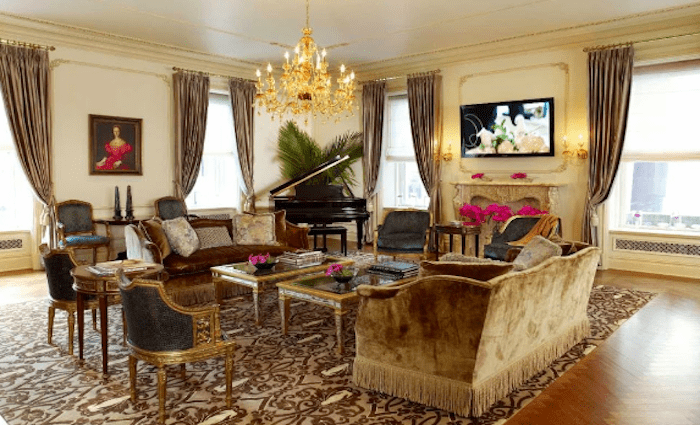 $$$$ | 5 Star | Iconic | Central Location | Opulent Rooms
The Plaza is iconic for a reason. With cameos in "Home Alone," "Sex and the City," and Katy Thompson's "Eloise," this hotel is a New York City landmark unto itself. Though it has also been partially converted into condos, you can still stay at the Plaza, and it's just steps from the southern entrance of Central Park.
Beyond the opulent rooms and attentive service, there are plenty of other things to enjoy within the hotel, such as a lavish afternoon tea, a Guerlain spa, and a full food court in the basement. They provide childcare and even allow dogs, so all travelers can enjoy their stay to the fullest.
Le Méridien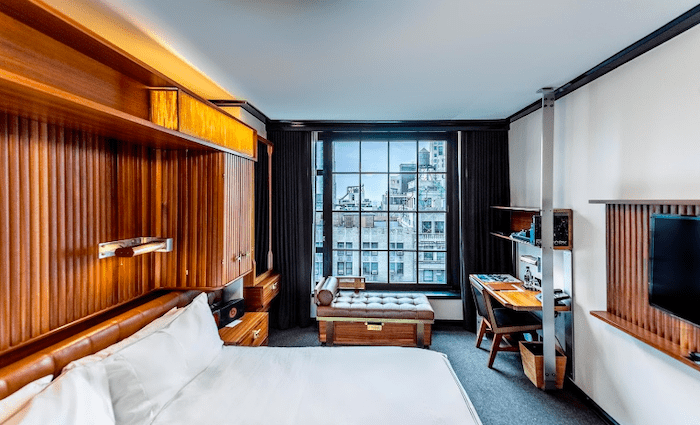 $$$ | 4 Star | Rooftop Bar | Amazing Views
Just two blocks south of Central Park, Le Méridien brings a sleek and modern touch to the Midtown hotel scene. It is within walking distance of many major attractions, including MoMa, St. Patrick's Cathedral, and Rockefeller Center.
There are also several dining options including the on-site restaurant, Kingside, and the rooftop bar, The Roof, which is a particular highlight. Visitors can enjoy cocktails and small meals while enjoying sweeping views of Manhattan and, even better, the entire expanse of Central Park. While less palatial than some of the older hotels in the area, Le Méridien offers a high-end experience with a more casual edge.
The Pierre, A Taj Hotel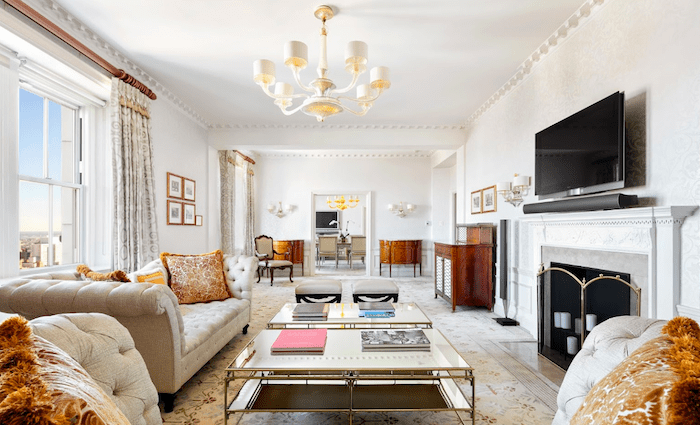 $$$$$ | 5 Star | Luxury | Historic Hotel | Incomparable Service
The Pierre is another one of those iconic NYC landmark hotels just steps from Central Park's east side. Since the 1930s, it has been promising guests a gold-plated stay. Here, white-glove service is taken to the next level. The staff are consummate professionals who will treat you as if you're the only guest in the entire hotel.
Beyond the hotel experience itself, one of The Pierre's more famous amenities is the afternoon tea, which is a must during your stay. Think petit fours and clotted cream worthy of a queen. The other on-site dining options are just as luxurious, including the restaurants Perrine and the Rotunda—famed for its decorative murals.
The Empire Hotel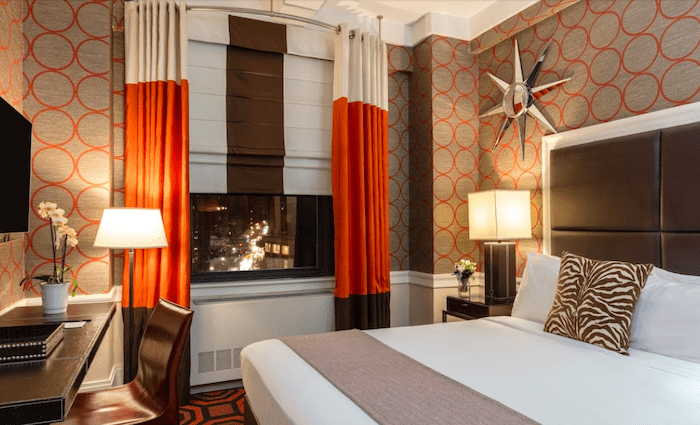 $$ | 4 Star | Amazing Rooftop | Great Location
The Empire Hotel is a staple of the west side. It is across the street from the famed Lincoln Center campus and is often a favored pre or post-show spot for drinks and a bite to eat. The public spaces evoke a bold, art deco feel, and the rooms are warm and bright.
The biggest draw here is the rooftop. Guests can enjoy dinner, drinks, or a quick amuse-bouche while taking in the views of the Lincoln Center and the expanse of the west side. The Empire is a great place for those looking for an upscale hotel at a reasonable price. While other in-house amenities are scant, the location—just steps from Columbus Circle and the southwest entrance to Central Park—and the rooms make it an excellent option.
Park Lane Hotel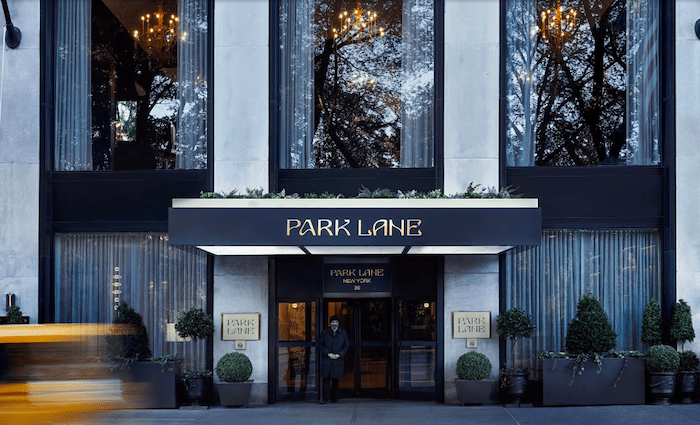 $$$$ | 4 Star | Sleek Decor | Iconic Bar
The Park Lane Hotel overlooks the southern end of Central Park and is a stone's throw from the entrance. The rooms offer simple luxury with a sleek, modern twist and great views of the park.
While there are some areas that could do with a touch-up, the bar and restaurant are both worth a visit. The Park Room serves three meals a day all week, and Harry's, the New York version of the iconic Venice institution, is an atmospheric place to grab a drink. A step below some of the other nearby places like the Plaza and Pierre, the Park Lane delivers a high-end stay at a slightly lower price.
The Whitby Hotel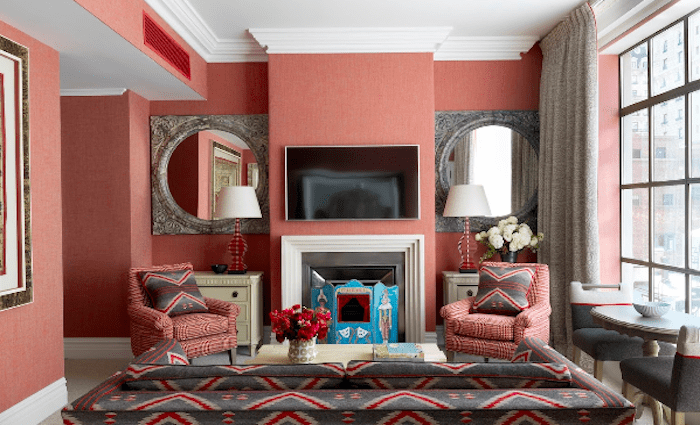 $$$$ | 5 Star | In-House Movie Theater | Chic Decor
The Whitby is an interior designer's dream. The decor is unlike any other hotel in the area, and it captures city luxury with a countryside twist. Every room is different, and you are guaranteed some of the most comfortable beds in Midtown with a riot of colorful fabrics and art.
Beyond the rooms, The Whitby is a short walk to Central Park and located near plenty of other must-see sites. While they don't have an on-site pool or spa, they do have a movie theater that hosts Sunday screenings, a gorgeous afternoon tea in the sun-drenched Orangery bar, and a modern fitness facility. If you want to stay in a place that feels less like a sterile hotel and more like a quirky home, this is a great option.
Sonder Chambers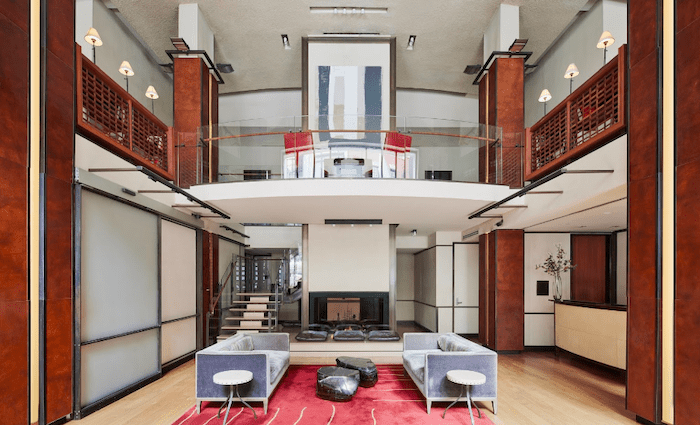 $$ | 4 Star | Amazing Dining Options | Trendy
In an area that can often be crazy expensive, the Sonder Chambers Hotel is an upscale establishment without the sky-high prices. The rooms are sleek and modern, and amenities include a fitness center and in-room spa treatments.
While the staff can be hands-off, it is not difficult to find someone to ask for help when needed. Beyond the rooms and staff, the on-site dining options are pretty hard to beat. Celebrity chef David Chang has brought in his famed Milk Bar and also had a hand in Ma Peche, the hotel's uber-trendy French-Vietnamese restaurant.
The Mandarin Oriental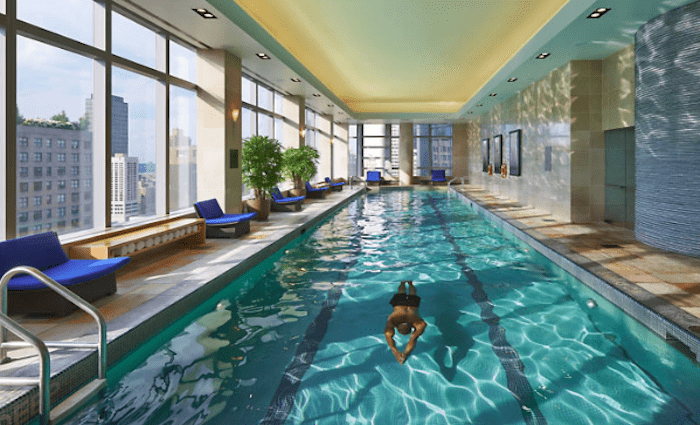 $$$$$ | 5 Star | Indoor Lap Pool | Amazing Location
Whether you're in Paris, London, or Shanghai, the Mandarin Oriental is the height of luxury. In New York City, the hotel is located in the heart of things at Columbus Circle—steps from the park—and its 75-foot lap pool offers million-dollar views of the city skyline. Almost unbeatable value from one of the best hotels with pools in NYC!
Prices here can reach into the several-thousand-dollar-a-night range depending on what type of room you're looking for. But if money is no object, then you already know that staying at this luxury NYC hotel with a pool will include unparalleled service, beautiful surroundings, and a lavish experience. You'll enjoy any experience here whether you're hitting the gym, the spa, or the in-house restaurant MO Lounge.
The Peninsula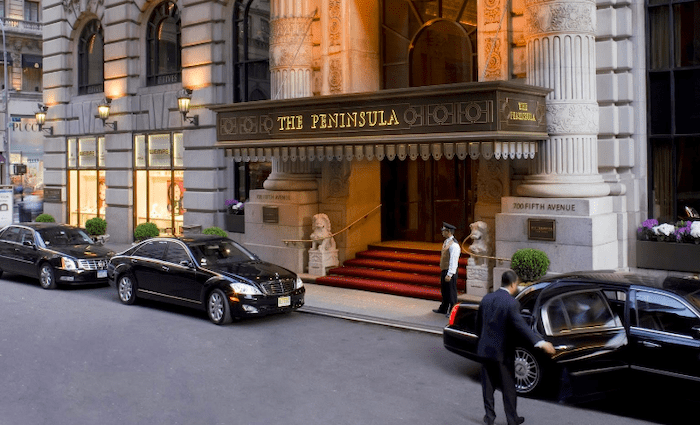 $$$$ | 5 Star | Indoor Pool | Luxe Spa | Tranquil Neutrals
The Peninsula has cornered the market on classic New York sophistication. With a Fifth Avenue address, this high-end hotel delivers on many levels. Rooms and suites are spacious and elegantly decorated, and the larger suites have oversized soaking tubs.
You'll appreciate several fine-dining options, which include a rooftop terrace, a lounge, a bar, and a restaurant that delivers great food and drinks paired with excellent service. Treat yourself to a massage, get a haircut, or take a yoga class, all without leaving the premises. The pool is also an added bonus. It's big enough to swim laps, and the views aren't half bad either.
Hôtel Plaza Athénée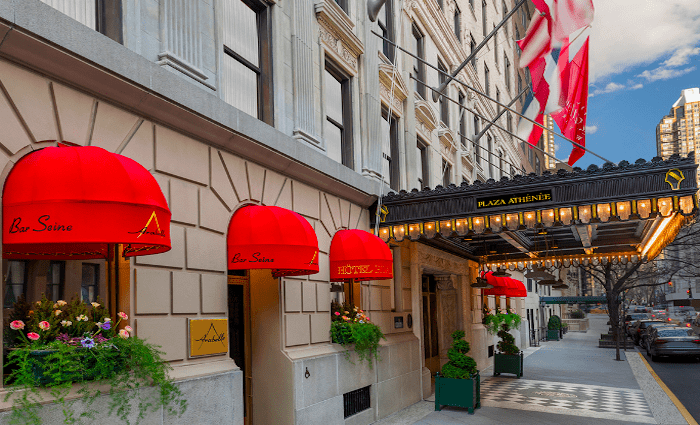 $$$$$ | 5 Star | Old School Glamour
The Plaza Athénée is one of those places that makes you feel as if you're staying in a home away from home—and an exceptional home at that. The hotel has a Parisian vibe and is simultaneously understated and the height of glamour. Located on a side street a few blocks from the east side of Central Park, this hotel is a short walk to plenty of the must-see sights.
Though the hotel is steeped in history and has an 18th-century inspired design aesthetic, it is also equipped with modern amenities. The fitness center and spa are top-of-the-line, and they offer a business center, conference rooms, and even a tennis court. Be sure to check out Bar Seine—a bar with a leather-covered floor.
Please note: this grand old hotel had to be on our list, but they are currently closed. Their website states they hope to reopen soon. Check back for updates!