Heading to London with your kids and want to find a hotel that will make the stay enjoyable? You're in the right place. I've traveled to London with children and have been through it all and there are certain features you're going to want. To help you find the perfect place to stay, I've curated this list of the best family-friendly hotels and apartments in London for a fun trip.
---
Pro Tip: Planning what to do on your trip to London? Bookmark this post in your browser so you can easily find it when you're in the city. Check out our guide to London for more planning resources, our top London tours for a memorable trip, and how to see London in a day.
Our 10 Favorite Family-Friendly London Hotels
For me, family-friendly doesn't mean that they have a little sticker on their site that says "we love kids!" It means that you, as a parent, will be able to relax at the hotel because it is accommodating to kids, and there are lots of amenities or activities to keep them entertained.
I look for a few things when selecting a great hotel or rental property when traveling with my kids. First is space for kids to move around. That could be a rooftop, courtyard, or nearby park. I also like larger rooms so you don't feel cramped. They may just have larger rooms or they are on the cheaper side so you can upgrade your room.
A pool is also a big bonus, but you can't find great pools in every city. Traffic is a big concern for me so I avoid properties on high-traffic streets. I break that rule occasionally if the hotel is also close to a peaceful park or pedestrian area to run around.
A big tip when traveling with kids is not to overwhelm them with sightseeing if they are 7 and under. Plan 3-hour activities that are less ambitious before returning to a place where they can play. You can even sightsee for longer than that if you plug in an hour-long playground break.
Our Partnership with Booking.com. If you like our content, please book by clicking on our Booking.com links. The price is the same for you and we get a small commission that helps support our helpful blog content. We've partnered with Booking.com because they have the most options, great prices, and a solid loyalty program.
The Hoxton Holborn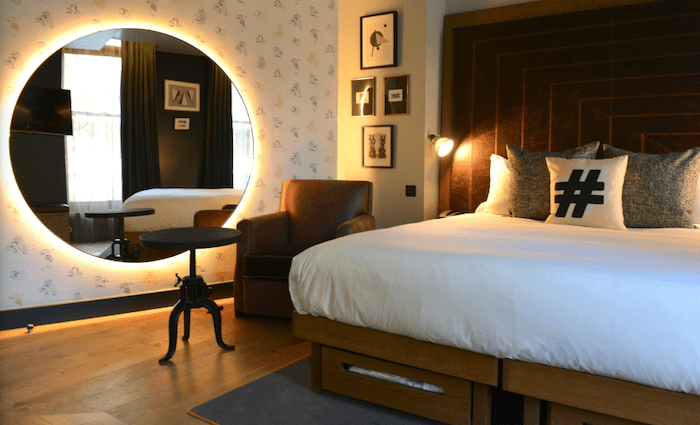 €€ | 4 Star | Holborn | British Museum | Modern
A visually appealing modern hotel in downtown London that will work with a budget without sacrificing style. This is a great option for romantic couples who want to stay on budget but have a great ambiance.
At the same time, this hotel is priced great for business trips or family vacations. All-in-all a great choice in central London! I recommend a typology upgrade to get some extra space. The first link goes to the hotel described here, but I have linked to another London location of the same hotel group in Shoreditch.
Location, photos, and booking (Holborn) | Location, photos, and booking (Shoreditch)
Not ready to book a tour? Find out if London tours are worth it.
Number Sixteen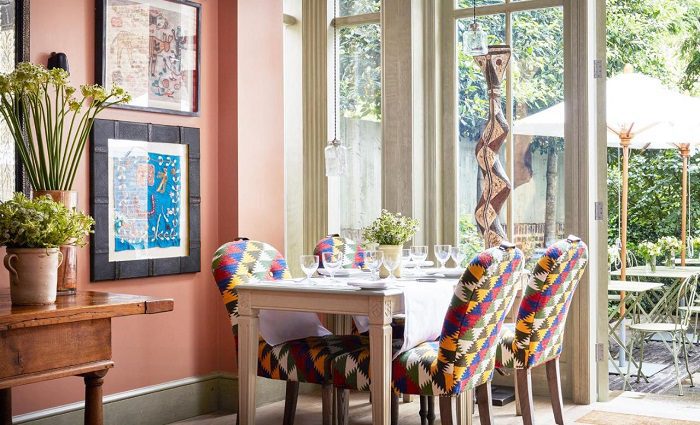 €€€€ | 5 Star | Kensington | Design Hotel | Great Courtyard | Family Friendly
If you don't know Kensington, it is one of the poshest neighborhoods in London if not the world. Number Sixteen is a quaint hotel with unique rooms and comforting colors. Each room has its own character full of rich design and excellent use of colors and prints.
They also have a magical courtyard that will make you feel like you are at a retreat in the countryside. This is a great pick for anyone looking for a small but great hotel in a fantastic area.
Melia White House Hotel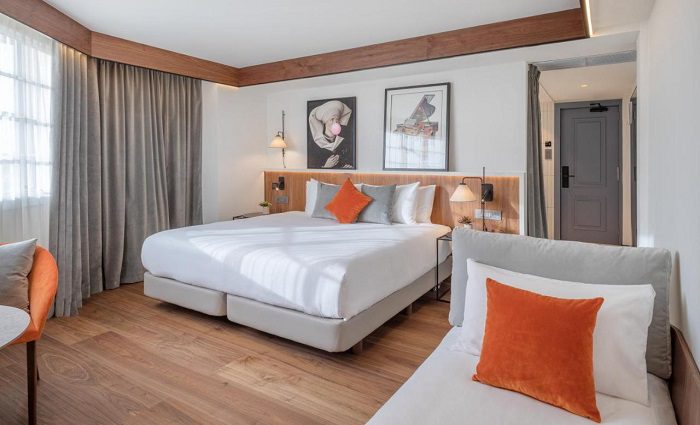 €€€ | 4 Star | Regent's Park | London Zoo | Family Friendly
The location of the Melia White House Hotel is ideal if you're traveling with your kids. It's a quick 7-minute walk to Regent's Park, a huge green space with a lake, cafés and restaurants, and loads of things to do including the Marylebone Green Playground, an open-air theater, and—best of all—London Zoo.
All within walking distance are two tube stations (4 minutes), Madame Tussaud's (11 minutes), and the British Museum (20 minutes). The hotel offers guests spacious family rooms, an airport shuttle service, and a delicious breakfast. It's a great place to base yourself for family fun in London.
The Kensington Hotel
€€€€ | 5 Star | Kensington | Modern and Refined | Family Friendly
The Kensington Hotel is a beautifully decorated property in Kensington which is an ideal place to stay in London. The hotel is well-kept and very luxurious. It is a boutique property which means you'll find fewer people there.
While they don't position themselves as a family hotel, there are many integrated touches that make this good for families. They have rooms with three beds and add small touches, like a stuffed animal, to make children comfortable. It's a great choice.
NYX Hotel London Holborn by Leonardo Hotels
€€ | Holborn | Bold Decor | Fun Vibe | Indoor Pool | Family Friendly
This hotel has a lot going for it. It's located just around the corner from the British Museum and London's oldest square, Bloomsbury Square Garden. There are plenty of green spaces and restaurants nearby and the Holborn tube station is a quick 4-minute walk away.
The decor is bold, colorful, and fun. Various room types are available and families can enjoy a 37-square-meter deluxe room with two king-size beds. There's also an indoor pool, a spa, a restaurant, and a rooftop bar/lounge area with great views of London.
The location, interesting and vibrant decor, amenities, and comfortable rooms make this a fantastic choice for families looking to enjoy London in a cool setting close to the action.
Royal Garden Hotel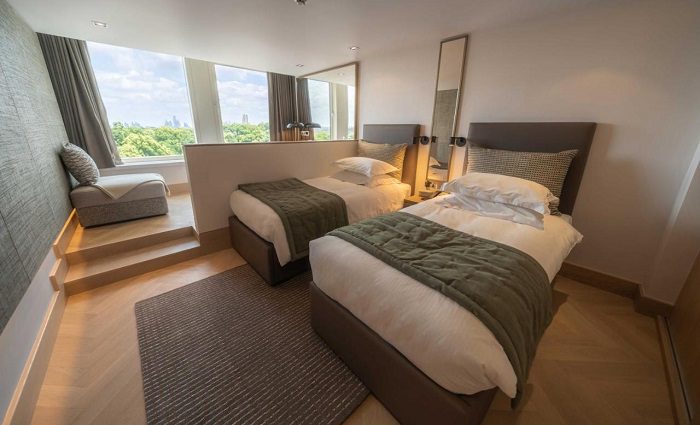 €€€ | 5 Star | Kensington Gardens | Family Friendly
The Royal Garden Hotel overlooks Kensington Gardens. With all the amenities you'd expect from a 5-star hotel (including babysitting services and great restaurants), you'll enjoy comfortable rooms and a great location in one of London's most desirable areas.
You'll be just off Kensington High St. with plenty of restaurants and great shopping. The Natural History Museum is a 15-minute walk away and Buckingham Palace is a 45-minute walk through London's best parks, including Kensington Gardens, Hyde Park, and St. James' Park.
Not ready to book a tour? Check out our best London tours to take and why.
Park Plaza Westminster Bridge London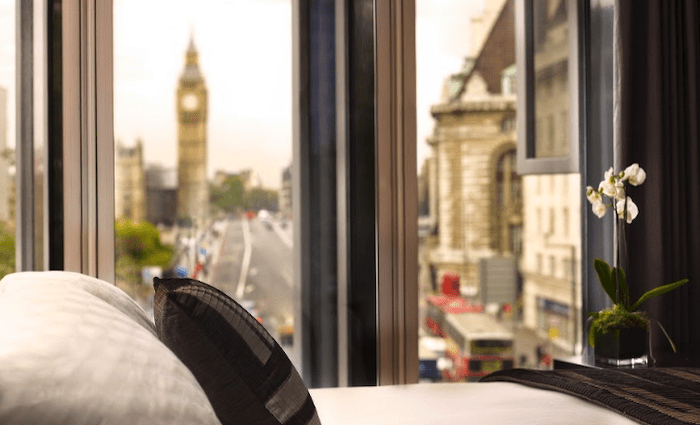 €€ | 4 Star | Westminster Bridge | Modern | Indoor Pool
Park Plaza is an extraordinarily well-priced hotel by all the main attractions in London that is really quite nice. You'll enjoy modern finishes, clean and spacious rooms, and many amenities like an indoor pool.
For me, it's family-friendly due to the great location, nearby green spaces and pedestrian areas, and the price is great so you could upgrade the room to get some more space. Kids also love the idea of a pool when on vacation!
Cheval Three Quays at The Tower of London
€€€€ | 5 Star | Hotel Apartments | Tower of London | Family Friendly
If you're looking for a more home-away-from-home vibe with a touch of luxury and killer views of the Thames and Tower Bridge, check in to Cheval Three Quays.
Take your pick from the various two-bedroom family apartments with views of either the tower or the river. You'll have a fully equipped kitchen and a washing machine, plus the perks of hotel service.
The hotel is located in the heart of one of London's most historic areas. Right next to the Tower of London and a 4-minute walk from the Tower Hill tube station, you'll be in the thick of things but with a private space to return to after sightseeing.
London Marriott Hotel County Hall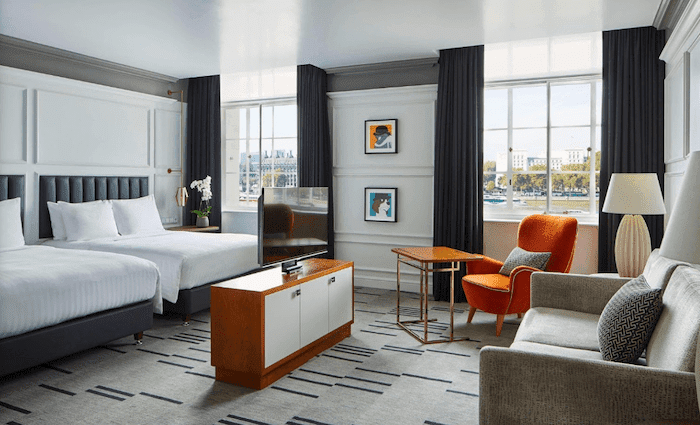 5 Star | €€€ | Waterfront | London Eye | Spacious and Comfortable | Indoor Pool
The London Marriott is a spacious and large 5-star hotel practically attached to the London Eye. The rooms can be quite spacious and there is an indoor pool which makes it great for kids. You are also near pedestrian areas and some parks which is ideal!
Leonardo Royal London St. Paul's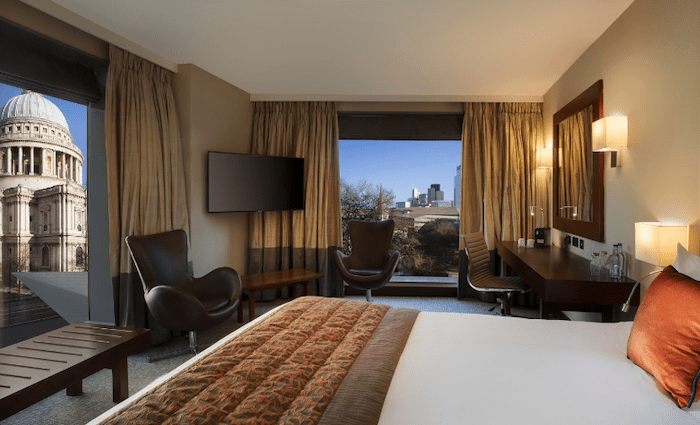 €€ | 4 Star | St. Paul's Cathedral | Indoor Pool | Great Amenities
The Leonardo Royal London Hotel at St. Paul's is an excellent choice for all types of travelers. The hotel is full of great amenities like an indoor pool, a few restaurants, and great views.
The rooms are updated and contemporary with large windows which makes them romantic. It is also priced well so you can upgrade to a better room if you have kids with you or just to have some more space with your romantic partner. Excellent choice!