The Pacific Northwest is a beloved outdoor gem for travelers, even during ski season. Granted, riding the mountains in Washington is nothing like skiing in California, Colorado, or Utah, but with a little perseverance, you can find some great terrain. And of course, you'll need a place to rest after working out on the skis. We've put together a great list of where to stay in Washington for your next ski trip to ride the Pacific Northwest mountains.
---
Best Ski Resorts in Washington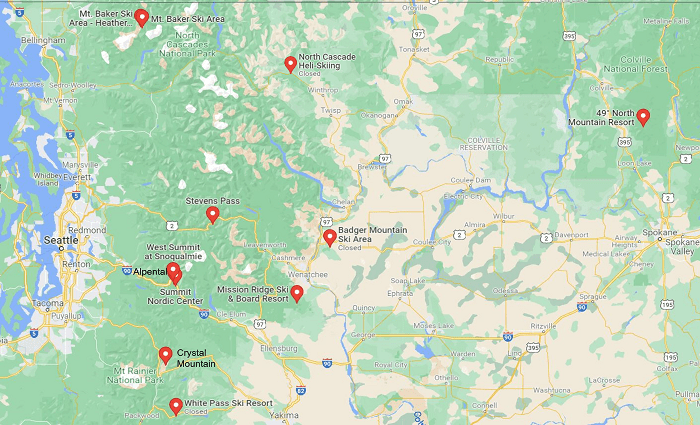 You can see from this map above that the ski resorts in Washington are spread out quite a bit, and many of them are not particularly close to major cities. Nevertheless, some of these resorts have great skiing terrain and iconic views of Mt. Ranier. The most popular is probably Mt. Baker, which is located near the Canadian border, about 2.75 hours from Seattle. But it's also worth checking out Crystal Mountain, Mission Ridge, and White Pass.
Some Washington ski resorts have challenging terrain and icy conditions due to the unpredictable weather, so beginners will need to make sure they choose a resort suited for their level. On the other hand, backcountry skiers will enjoy the challenge of finding new steeps to challenge themselves in the North Cascades.
It's important to note two things: you won't find magical mountain towns at the base of any of these ski areas, and some of them are known for having cement rather than snow to ski on. But that doesn't stop locals from taking advantage of every ski season! Let's dive into our favorite ski resorts and where to stay in Washington when you visit your Pacific Northwest friends for some skiing.
Our Partnership with Booking.com, Expedia.com, and Vrbo.com. If you like our content, please book by clicking on our Booking.com links. The price is the same for you, and we get a small commission that helps support our blog. We've partnered with these sites because they have the most options, great prices, and a solid loyalty program. Just about every hotel is on Booking so our recommendations are not incentivized.
Mt. Baker Ski Area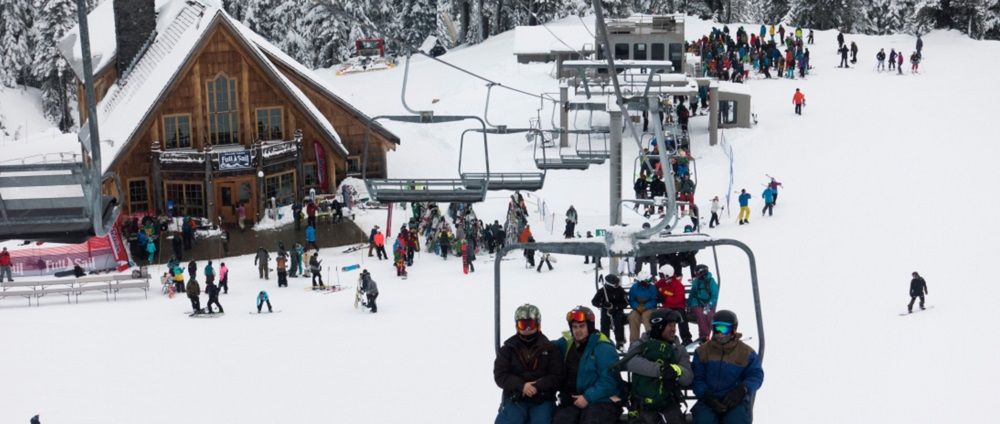 Nestled 2.75 hours north of Seattle, Mt. Baker is known for its incredibly deep snowfall (averages 663 inches), majestically large trees, and overall family feel. The highest elevation is only 5,000 feet, so you won't feel strong high-altitude effects like you do at some other resorts. There are 1,000 skiable acres here with a 1,500-foot vertical drop.
It's a great place for skiers of all ages to try their hand (or feet) at skiing and snowboarding. Most importantly, this resort is located near the Canadian border and along the North Cascades National Park. That means you'll have memorable views everywhere you look.
Your best bet for where to stay in Washington near Mt. Baker is to book at hotel in Bellingham or a rental in Deming. It's about 90 minutes from Bellingham to Mt. Baker.
Best Restaurants near Mt. Baker:
The Heliotrope
North Fork Brewery
Rifugio's Country Italian Cuisine
Keenan's at the Pier
Black Sheep Bellingham
Övn Wood Fired Pizza
Best Ski Hotels in Washington – Mt. Baker:
Heliotrope Hotel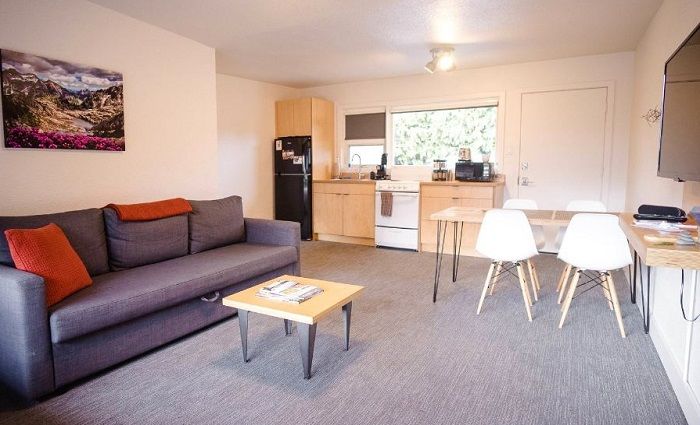 $+ | 2 Star | Updated Vintage Motel | Suite Options | Community Vibes
The Heliotrope Hotel is all about helping people connect and get back into nature. It's delightfully designed to blend into the natural surroundings. You'll find several room options, plenty of natural light, and at least a mini fridge or more in each room. Enjoy the company of other skiers at the firepit in the evenings.
Snowline Cabin #48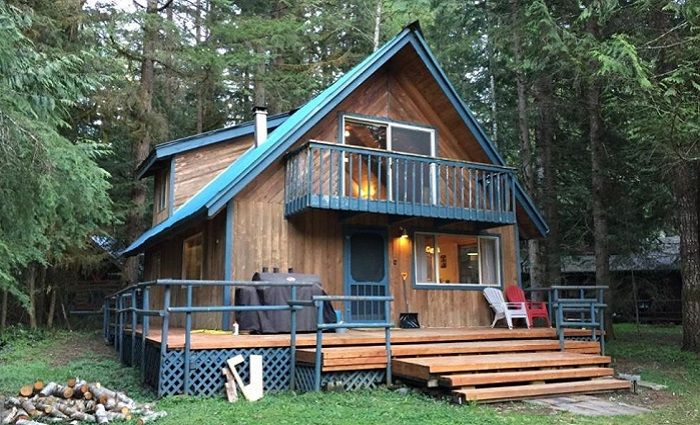 $$$$ | Highly Rated Cabin | Close to Mt. Baker | Great for Family/Friends
With few lodging options close to Mt. Baker, this cabin in Deming is perfectly located to help you get on the mountain faster. It's located halfway between Bellingham and Mt. Baker, which makes the mountain commute easier. This house sleeps at least 5 people, so the nightly rate can be as low as $125 per person! There are three bedrooms, a full kitchen, washer/dryer, and barbecue on the patio.
Chrysalis Inn & Spa Bellingham, Curio Collection by Hilton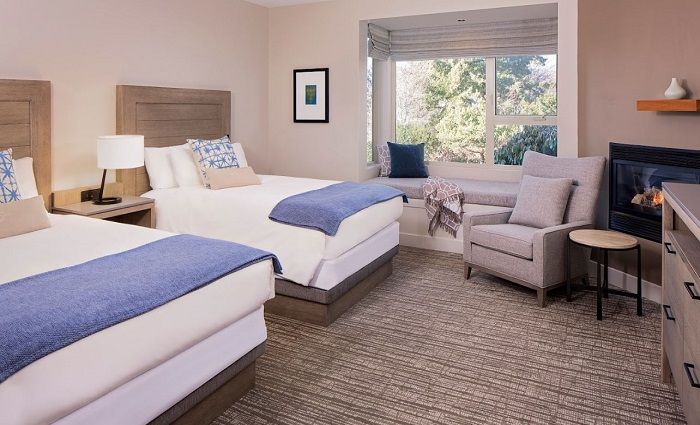 $$ | 3 Star | Lakeside Views | Dreamy Location | Relaxing Vibes
If you prefer to stay in style, opt for the Chrysalis. It's a wonderful inn with a spa. (Book your appointment early as openings can fill up fast!) This hotel is right on Bellingham Bay with the boardwalk almost on the property. Every room has a fireplace, and if you find the nearby train too noisy, they provide complimentary ear plugs for a restful sleep.
Hotel Leo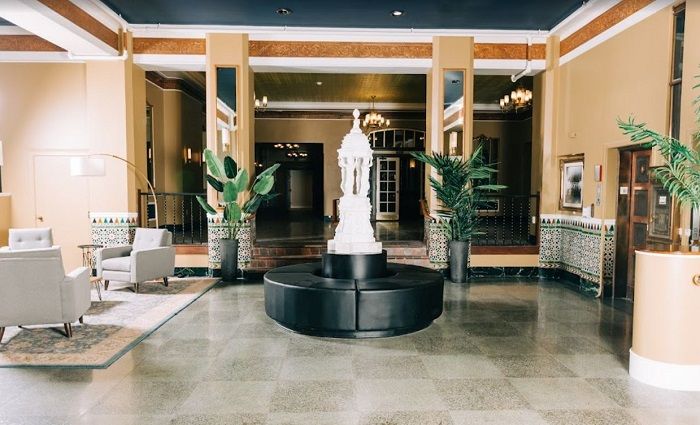 $$ | 3 Star | Historic Building | Contemporary Rooms | Downtown Location
Hotel Leo offers guest rooms in the south wing and apartments in the tower, with open common spaces for everyone. It's a great way to meet locals and enjoy an 1883 historic old beauty in downtown Bellingham. The rooms are ultra-contemporary and have mini kitchenettes for convenience.
Fairhaven Village Inn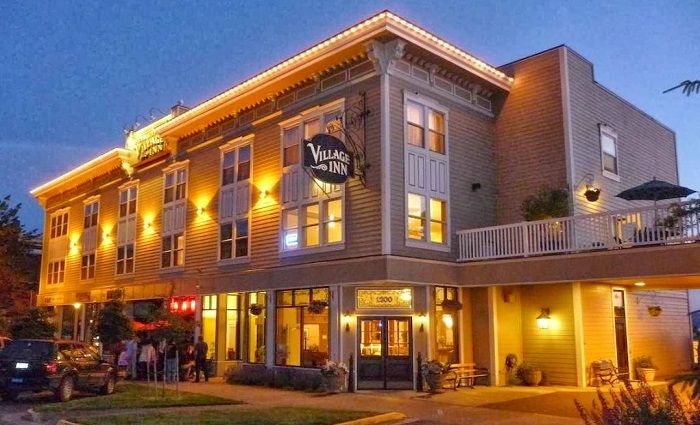 $$ | 3 Star | Bed & Breakfast | Historic District | Charmingly Cozy
We can't forget this charming B&B in the historic district where you'll find great restaurants and local boutiques. This lovely inn has a fireplace in every room and a delicious continental breakfast. The owners have thoughtfully included gluten-free options if needed. You'll enjoy your evenings here after skiing at Mt. Baker.
Crystal Mountain Resort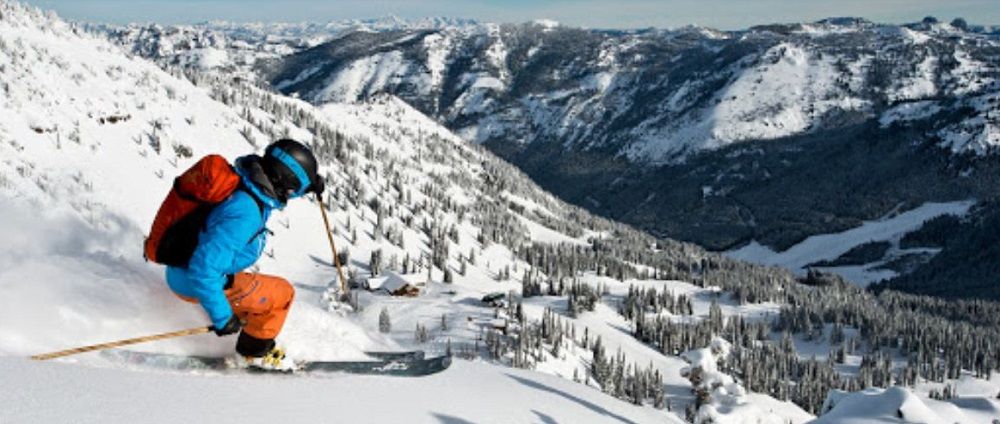 Crystal Mountain Resort might be the busiest of all the Washington ski resorts, and as with any ski resort in Washington, getting here can be a challenge. However, this location has some incredible views of Mt. Ranier when weather permits. This resort is located about two hours from the Seattle/Tacoma airport, which is about as long as it would take to get to Breckenridge from the Denver airport. But driving through snow-covered Pacific Northwest mountains makes for a gorgeous ride.
With over 2,600 skiable acres, Crystal Mountain Resort is the largest ski resort in Washington State. They have 85 ski runs, but they don't all open early in the season as it's dependent on weather. There are 11 lifts and an eight-person gondola to get to the top of the mountain, but since it's one of the largest resorts, lines can get super long on weekends.
They do have a little shopping and plenty of rentals available if needed. And if you want to try something new, try out their snowshoe trails. Most visitors stay in Enumclaw, which is about 75 minutes away. You can even take the free mountain shuttle (reservations required) from the expo center in town!
Best Restaurants Near Crystal Mountain:
Crystal Mountain Top Restaurant
Naches Tavern (in Greenwater)
Griffin and Wells Cafe (in Enumclaw)
Kettle
Pho Real
Cascadia Pizza Co.
Best Ski Hotels in Washington – Crystal Mountain:
Crystal Mountain Hotels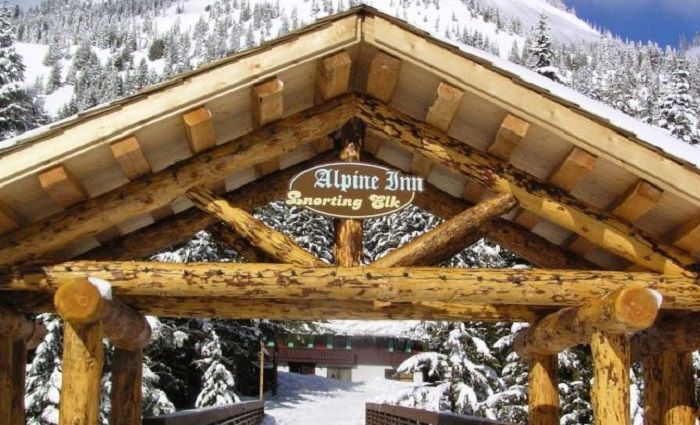 $$ | 3 Star | Includes Three Properties | Convenient Base Location
Crystal Mountain happens to have three small lodging options: Alpine Inn, Quicksilver Lodge, and the Village Inn. These can book quickly, but they make it much easier to get to the ski lifts earlier. Alpine Inn is more Bavarian style (lots of room options for families), the Village Inn is more contemporary (pet friendly), and the Quicksilver Lodge is more traditional.
Guesthouse Inn Enumclaw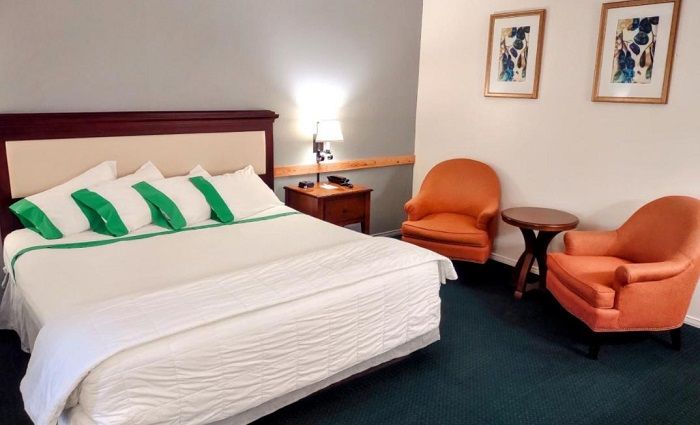 $+ | 2 Star | Recently Updated | Downtown Location | Pet Friendly
If you're looking for a great budget option, then the Guesthouse Inn in Enumclaw is the place to stay. The rooms have been updated in the past few years, and the service is now known to be much more attentive. Breakfast is included, and many skiers enjoy this budget-friendly option as a place to stay in Washington for skiing.
Valley Green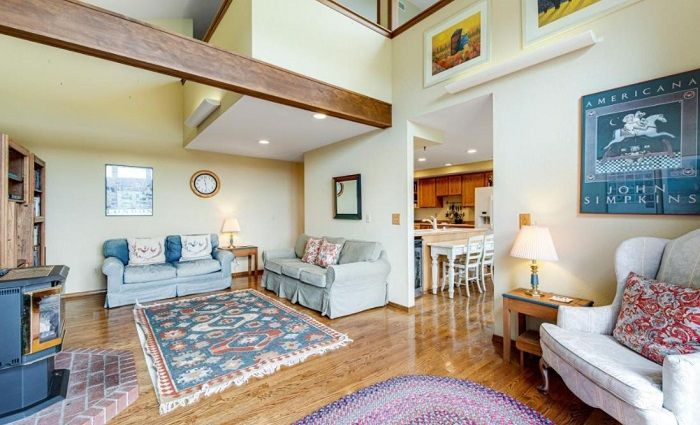 $$$ | Home Rental | Spacious Living Areas | Sleeps Up to 12
Renting guest houses is popular in Washington, which is why we've included this awesome house rental that's located in Enumclaw. It has four bedrooms and three bathrooms and can sleep up to 12 people. You'll especially love the patio-length hot tub, multiple living spaces, and extra large refrigerator.
Fairfield by Marriott Tacoma Puyallup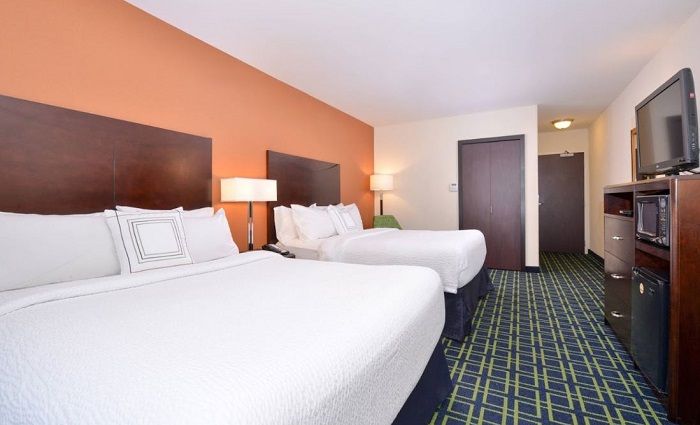 $$ | 3 Star | Modern Hotel | Indoor Pool | Netflix Included
If you can't find an available room closer to Crystal Mountain, then opt to stay in Puyallup, which is the closest major city (about 90 minutes to the resort). This Fairfield Inn has an indoor pool and hot tub, continental breakfast, and Netflix available in every room. Oh, and a mini fridge and microwave. That's a lot of amenities at a great price!
Looking for more great skiing destinations? Check out our list of the best hotels at Lake Tahoe, Breckenridge, and Park City.
Mission Ridge Ski & Board Resort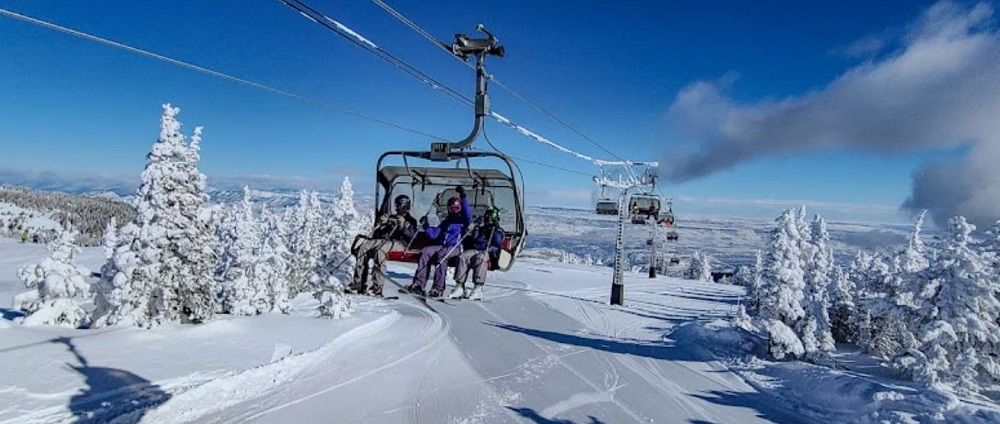 If you're up for a longer drive, head over to Mission Ridge Ski & Board Resort. This ski resort is located just over three hours from Seattle. That extra distance means it's not as busy as most of the other ski resorts in the region. There are a few cities where you can find some lodging nearby, such as Wenatchee and Leavenworth. Wenatchee has more hotel options than some small towns near the other ski resorts, which is helpful.
So, why ski here? Few lines, 2,000 skiable acres, and a new high-speed, enclosed chairlift. The east side of the mountain has the best snow and there are significantly more sunny days than other ski resorts up here. That also means the snow is more powdery rather than the wet cement/ice you can sometimes end up with at other resorts. Enjoy 36 runs and a 2,250 vertical drop up here.
Take note that this is a resort better suited for intermediate to advanced skiers since only 10 percent of the runs are made for beginners. Let's look at where to stay in Washington when you want to ride at Mission Ridge.
Best Restaurants near Mission Ridge:
Caribbean Fast Food
Wild Huckleberry
Taco Loco
Om Cooking
Visconti's Italian Restaurant
Best Ski Hotels in Washington – Mission Ridge:
Whispering Ridge Retreat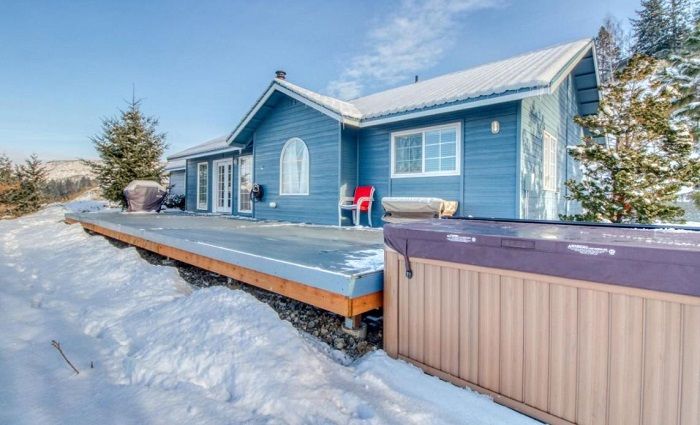 $$ | House Rental | Hot Tub | Closest to Mountain
This house rental is a perfect option if you enjoy less busy vacation vibes. With three bedrooms and two bathrooms, this house sleeps up to six people. You'll have a kitchen, washing machine, hot tub, and barbecue at your disposal here. Best of all, it's located just 25 minutes from Mission Ridge resort, which is why it's a top option on our list of where to stay in Washington for skiing.
Residence Inn by Marriott Wenatchee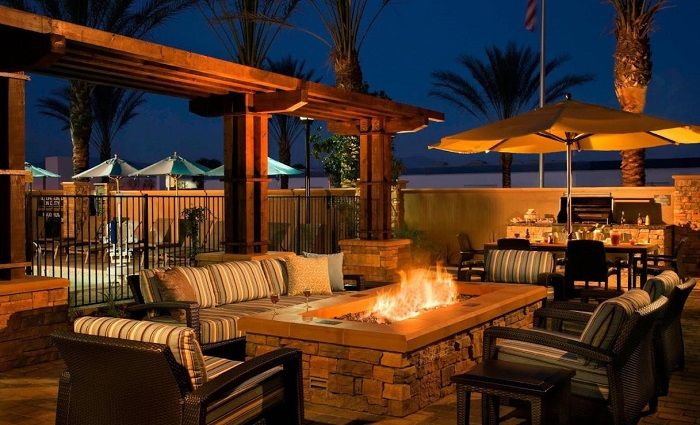 $$ | 3 Star | Riverfront Location | Studios and Suites | Free Grocery Delivery
This Residence Inn takes chain hotels up a notch. It's located right on the Columbia River, which makes a picturesque setting. You'll have access to free breakfast, an indoor pool, on-site dining, and free grocery deliveries if needed. You might also love an evening on the patio at the fire pit.
Sleep Inn & Suites Wenatchee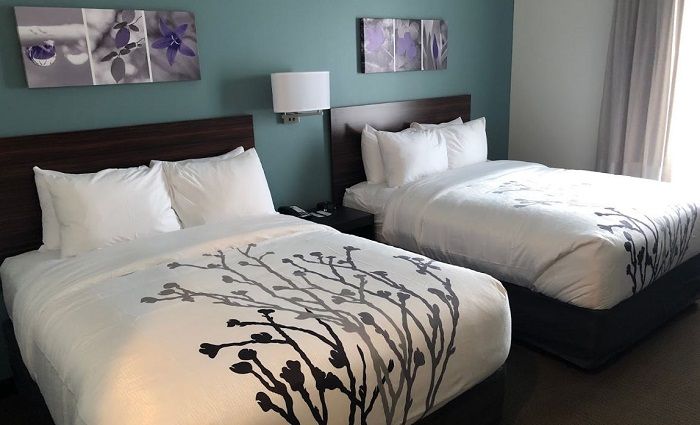 $+ | 2.5 star | New Hotel | Comfortable Beds | Coffee/Hot Chocolate in Lobby
This new hotel is a great option for a few nights' stay when skiing at Mission Ridge. They offer breakfast, laundry machines, an indoor pool and hot tub, as well as hot coffee and hot chocolate in the lobby. You're only 30 minutes from the ski resort when you stay here.
Warm Springs Inn & Winery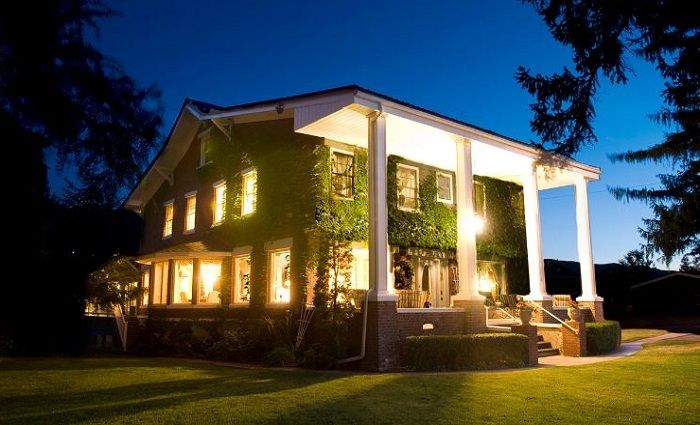 $$$ | 3 Star | Luxe B&B | Incredible Food/Wine | Intimate Vibes
A winery inn might not be your first thought for a ski hotel, but it might become your favorite destination ski hotel in Washington State. This luxe B&B offers a hot country breakfast with locally sourced ingredients. The rooms are spacious and elegant, as is the entire property. Note that children under 12 are not allowed. It's a perfect location for couples, and it's only 40 minutes from Mission Ridge.
White Pass Ski Area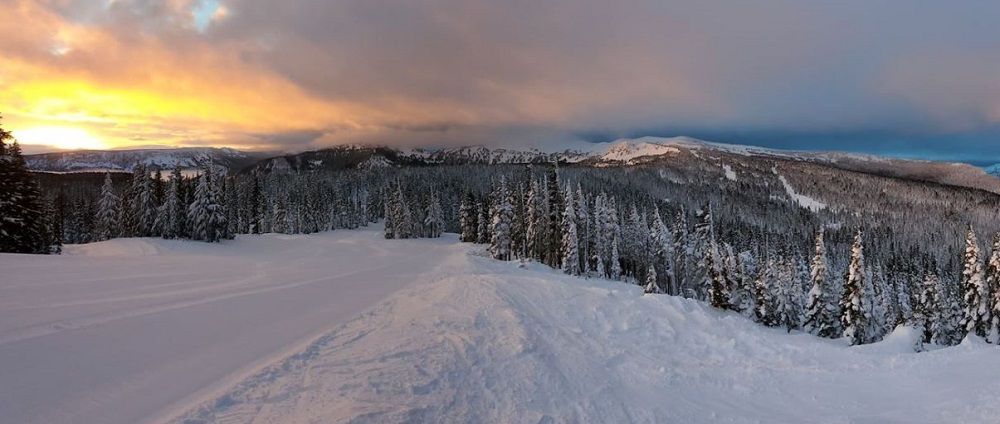 White Pass is another noteworthy ski resort that locals love (and hate to advertise!). Located about 2 hours west of Yakima, you get more stunning views of Mt. Ranier at this exclusive little ski area. The other major city nearby is Puyallup, which is about 2.5 hours northwest of White Pass (or 3 hours from the Seattle airport).
Roads from both of these cities can experience winter closures, so be sure to plan ahead and have a backup plan. (White Pass is great about making sure unused tickets are available another day when closed due to road conditions.) Otherwise, Packwood is the nearest small town (20-30 minutes away) where you'll find a few hotels, motels, or even rentals to stay at.
White Pass is a smaller resort that's great for beginners who will appreciate the friendly staff who love to teach people how to navigate the slopes. There are 1,500 acres of skiable terrain here, a couple of lifts and rope tows, a small terrain park, and lots of fun winter festivals throughout the season.
You'll also find an impressive number of cross-country skiing trails, which is another fun winter activity to try. This ski resort also gets a little drier snow compared to the resorts closer to Seattle, which means the skiing is awesome here.
Best Restaurants Near White Pass:
White Pass Taqueria & Taproom
Cliff Droppers
Packwood Brewing Co.
Best Ski Hotels in Washington – White Pass:
Cowlitz River Lodge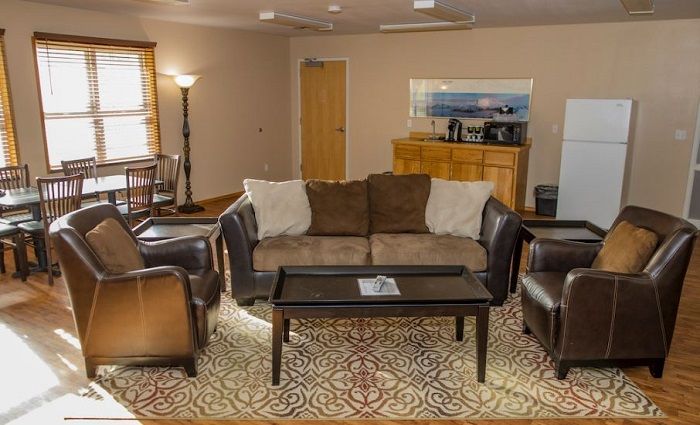 $$ | 2 Star | Spacious Suites | Basic Decor | Breakfast Included
If you're traveling with a group, this hotel offers huge suites with up to four queen beds around a spacious living area and mini kitchen. Every room has a sitting area, mini fridge, and microwave, which makes it especially convenient. This isn't the most exciting-looking hotel, but it's a solid choice in a small town.
Packwood Lodge & Cabins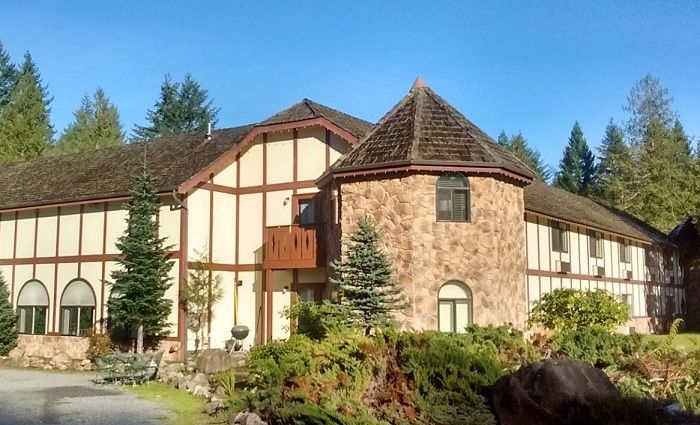 $$ | 3 Star | Tudor Style | Rooms and Suites | Cabins Available
This is another great choice for small families who need a little extra room with a kitchen or even a small cabin for extra privacy. Every room has at least a mini fridge and microwave, and there's a restaurant on-site for added convenience. This property is sure to surprise you with how cozy it is.
Crest Trail Lodge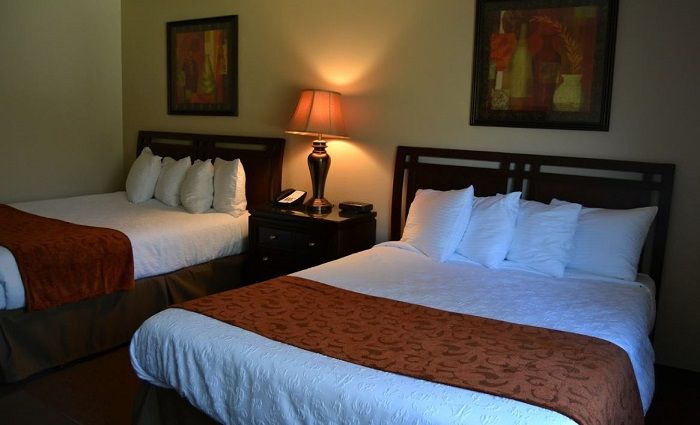 $$ | 3 Star | Evening Cocktails | Free Breakfast | Basic Accommodations
The Crest Trail Lodge is another great option in Packwood for skiing at White Pass. Each room has a microwave and mini fridge, and the hotel offers a continental breakfast plus evening cocktails from 6 to 9 pm. It's a nice perk after a long day of skiing or snowboarding.
Packwood Ski & Vacation Getaway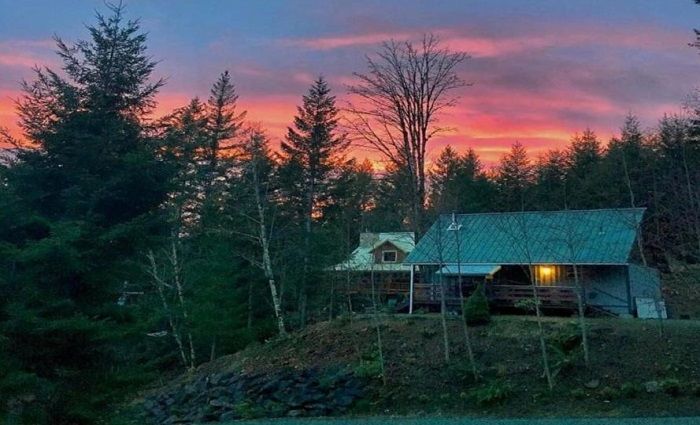 $$ | House Rental | Sleeps up to 6 | Cozy Getaway
If you love renting houses on vacation, then check out this cozy little mountain cabin. There's lots of seating in each room, three bedrooms, one bathroom, a fun spiral staircase, and a barbecue on the patio. You might also enjoy getting to know the neighbors nearby, though the property feels almost secluded.
Other Ski Resorts
There are a few other Washington ski resorts that we should mention, though they aren't the top destinations due to less-than-awesome snow conditions, crowds, or locations. As we mentioned before, Washington has some great skiing—if you can find it—which means it's a great place to ski when you're planning to visit friends up here.
North Cascade Heli-Skiing
For the more adventurous and experienced skiers and snowboarders, then booking some heli-skiing at North Cascades Heli-Skiing is an absolute must. It's a long five-hour drive from Seattle simply because you have to drive around much of the North Cascade mountains when SR 20 is closed in the winter. But riding these steeps and bowls is absolutely breathtaking, so you'll want to spend several days here. Think: Warren Miller videos.
There are a whopping 300,000 acres of terrain that includes bowls, chutes, and couloirs that start above the tree lines and end in gorgeous evergreen forests. You can even opt to book a full Yurt experience for three or four days. Otherwise you can stay in Winthrop, WA. If you're itching for backcountry skiing, then Washington is a great place to go.
Stevens Pass
The Stevens Pass Ski Resort is a popular, small, 1,125-acre ski resort that is quite crowded most of the time, but it offers some of the better skiing conditions than other nearby resorts like Snoqualmie. The crowded conditions are due to it being owned by Vail Resorts since it's included in the popular Epic Pass.
Despite this ownership, there aren't many ski accommodations nearby, so your best bet is to stay in Leavenworth, which is about 40 minutes east. The resort itself is located 2 hours northeast of Seattle. Here are recommendations for the best places to stay near Stevens Pass:
Snoqualmie/Alpental
There are actually four ski resorts tucked into this little corner of the Pacific Northwest. They're also the closest resorts to Seattle—about an hour east of the city. With the purchase of a lift ticket at The Summit, you can opt to ski at Summit West, Summit Central, Summit East, or Alpental, which is on the other side of the highway.
It's important to note that Alpental is best for experienced skiers as the snow is not always the best, and there is a lot of steep terrain. Experienced locals enjoy this mountain after recent snowfall. The convenience of one pass for every resort location is helpful for skiers who want to maximize their trip. You can opt to stay in Seattle/Bellevue or Cle Elum.
49° North Mountain Resort
If you're heading for the Spokane area, then you'll want to check out the 49° North Mountain Resort. It's about 60 miles (or 80 minutes) north of Spokane. You can opt to stay in the little town of Chewelah, but you'll probably prefer staying in Spokane where there are more accommodations and food options.
It's a great resort with 2,300 skiable acres and 50 ski runs. Best of all, they enjoy having fun at this resort, which is why they offer lots of activities and events throughout the ski season. 49° resort is part of the Indy Pass, so if you've already purchased that season pass, then head on over here to enjoy a new ski hill.