Forbes recently declared Portofino the fifth most expensive spot in the world to moor a yacht. Coming in at an eyewatering $3350 a night! Well, if you don't own a yacht, don't worry, there are plenty of great hotels and apartments that come in way under three grand a night. I spoke with our local experts, and together we compiled our recommendations on where to stay in Portofino.
---
Pro Tip: Planning your trip to Cinque Terre? It's easier to organize your trip when you have all your resources in one place. Bookmark this post along with our Italy Guide for more resources and our top Cinque Terre tours for a memorable trip.
---
Our Partnership with Booking.com. If you like our content, please book by clicking our Booking.com links. The price is the same for you, and we get a small commission that helps support our blog. We've partnered with Booking.com because they have the most options, great prices, and a solid loyalty program. Almost every hotel is on Booking, so our recommendations are genuine.
The Best Hotels in Portofino at a Glance
---
Check out our free guide to Italy
---
Why Stay in Portofino?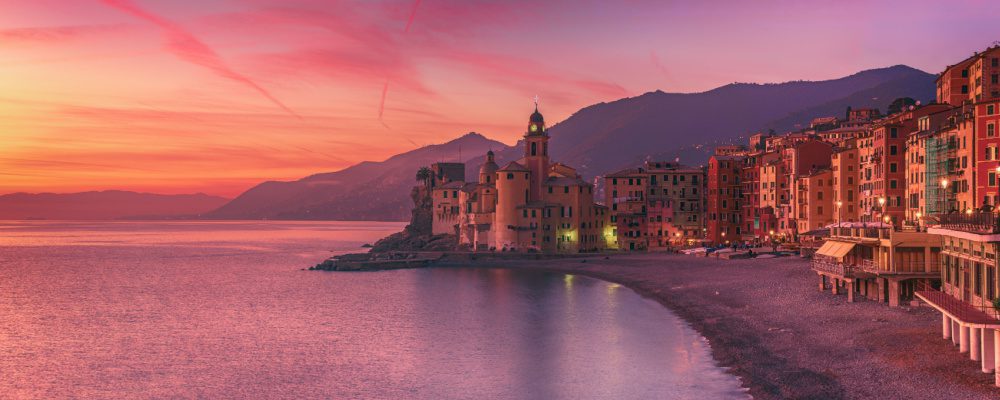 ---
The verdantly green peninsula of Portofino rises out of the turquoise water with a sky-blue backdrop that borders on cerulean. Long the playground of the rich and famous, Portofino's halcyon days came in the 1950s and 60s when the likes of Aristotle Onassis, Rex Harrison, Ingrid Bergman, Clark Gable, Elizabeth Taylor, and many more chose Portofino as their retreat of choice. Today, speak to any local, and they will all make the same comment, 'to many people!' And I tend to agree. In the summer, at least. But head to Portofino out of season ( I love the end of February), and you will find a quieter space that is perfect for nature lovers and a paradise for avid hikers.

When most people think of Portofino, they think of the town rather than the peninsula. But as well as the wonderful town of Portofino, there are numerous beautiful hubs worth your attention. In particular, I like Camogli and Santa Margherita Ligure.


While the town of Portofino is the gem in the crown of the peninsula, in summer, it is very crowded and excruciatingly overpriced. Apart from the deluxe hotels and a few brand-new apartments, most of the accommodation choices are relying on the town's name to overcharge for what are fairly basic accommodation options. If budget isn't an issue, then there are a few luxury hotels that are destinations in their own right. If not, there is much better value to be found in Camogli or Santa Margherita (the average hotel price in Camogli is $135 per night, compared to $576 per night in Portofino).
---
---
Article Contents
Check out where-to-stay guides for Sicily, Palermo, Cefalu & Taormina
---
The Best Hotels in Portofino
Our Favorite Hotels in Portofino
Splendido | Splendido Mare | Olive Bay Terrace | Full List of Portofino Hotels
---
The name Ortigia comes from the ancient word for quail because of its birdlike shape. Here, you'll find the best of Syracuse, from its beautiful 7th-Century Temple of Apollo to the spectacular Duomo, once the Doric temple of Athena. Inside you'll find a masterpiece of the enigmatic master Caravaggio, depicting the burial of the local patron saint, Saint Lucy.
You'll find narrow streets lined with restaurants, boutique shops, and breathtaking coastal views. It's the perfect Sicilian adventure for those who love history, culture, and a little bit of nature.
---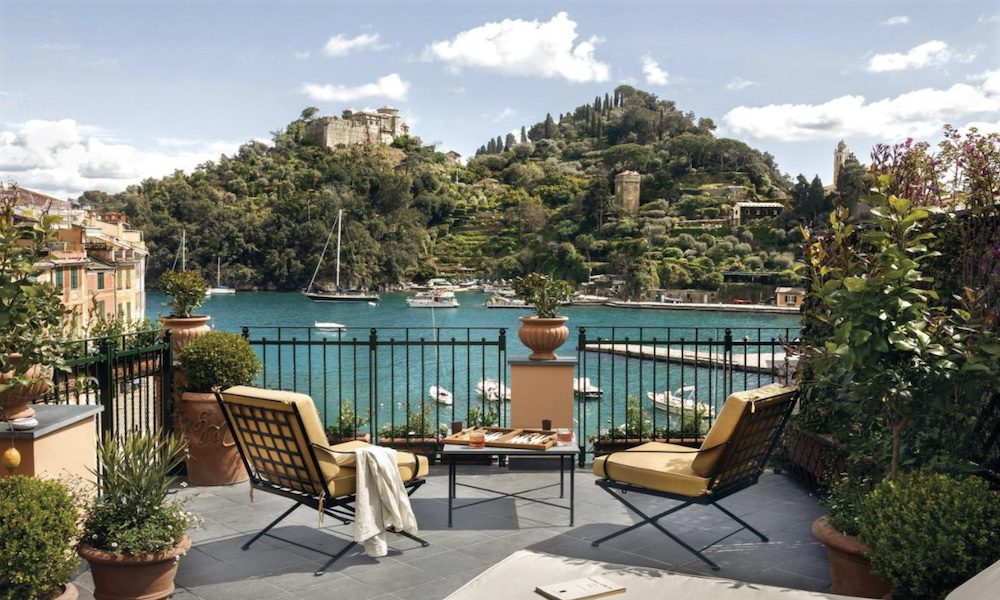 €€€€| 5 Star | Art Deco Style | Old-World Charm
---
Located in the main piazza of Portofino, Splendido Mare is at the center of all the action. While the prestigious location commands a striking fee, the Splendido is a destination in itself. Rita Hayworth, Clark Gable, Greta Garbo, and Humphrey Bogart all stayed at the Splendido Mare in its heyday during the 1950s when Portofino and the hotel were the very center of La Dolce Vita.

While I'm not one to normally dine in hotel restaurants, the onsite casual fine-dining restaurant Dav Mar is garnering rave reviews and is definitely on my list the next time I'm in town.
---
---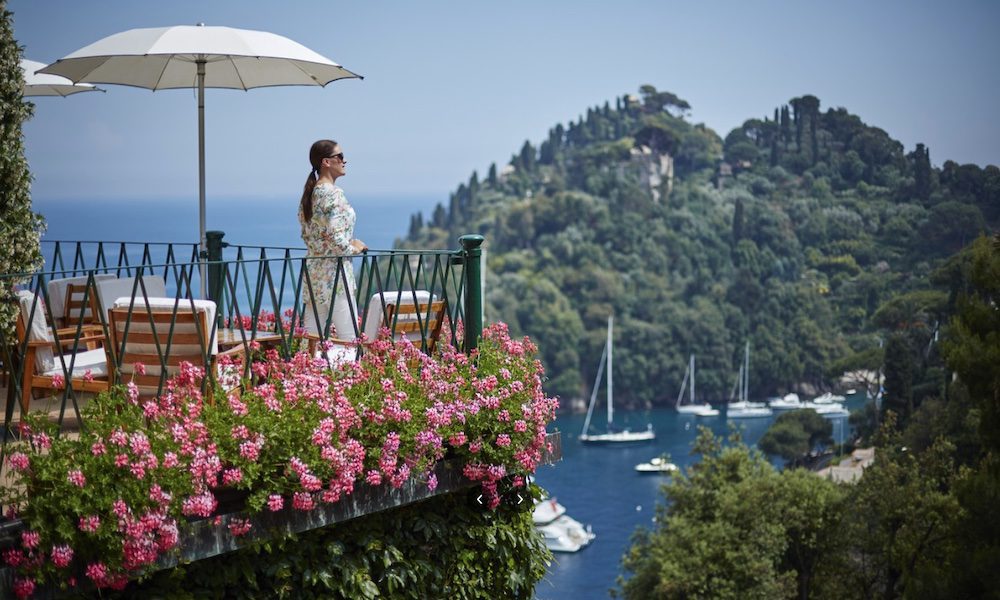 €€€€| 5 Star | La Dolce Vita | Old-World Charm
---
Located in a converted 16th-century monastery, this jewel of the Italian Riviera is another hotel that becomes a destination in itself. Richard Burton proposed to Elizabeth Taylore on the balcony of the Splendido. Royalty and glitterati have darkened their doorways for over a century. The sister hotel to the Splendido Mare, the Splendidio offers guests a little more privacy, being tucked away in the hills.

The rooms are all immaculately designed, and the facilities are second to none. For those who like to stay active, the hotel offers guided hikes, tennis lessons, two swimming pools, and wine tastings. A little bit of something for everyone, well, everyone with a lot of money, at least anyway.
---
---
Where to Stay in Camogli and Why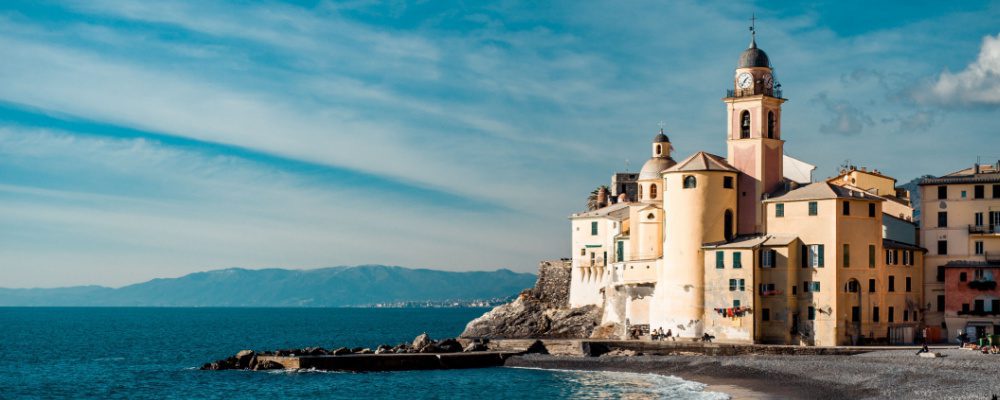 ---
Located on the western coast of the Portofino Peninsula (see map below for specifics), Camogli is a small little fishing port with a rocky shoreline and a prominent naval history. While still busy, it is cheaper and less crowded than Portofino and provides access to some of the best hiking trails in Liguria. I'm particularly fond of the hike up Monte di Portofino and then on to the hamlet of La Mortola.

---
The Best Hotels in Camogli, Portofino
Hotel Cenobio Dei Dogi | Sublimis Boutique Hotel | Carrick Hotel | Full List of Camogli Hotels
---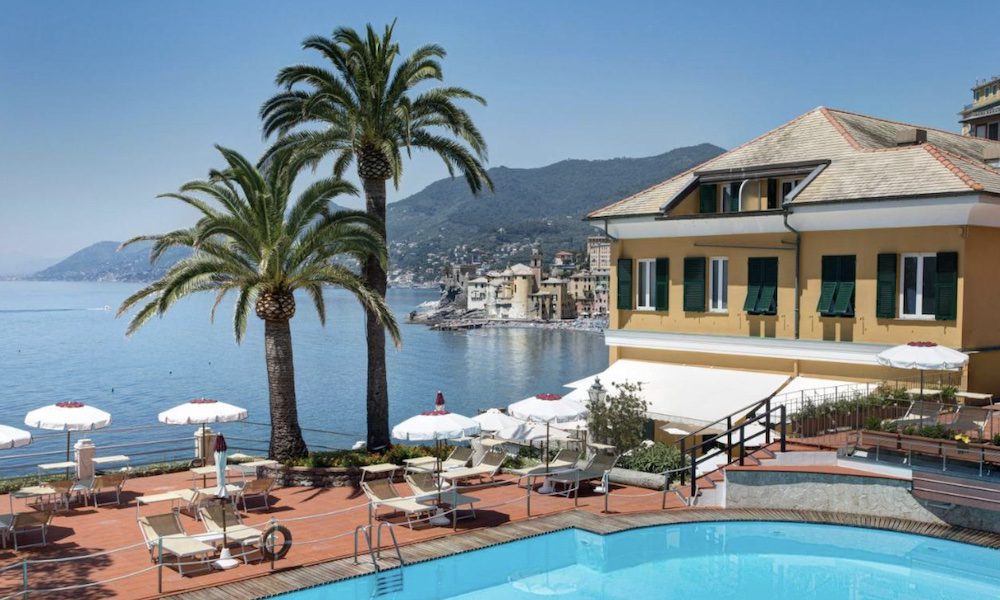 ---
€€€| 4 Star | Private Beach | Pool | Family Rooms
Set in the heart of Camogli and features a private beach, swimming pool, and breakfast room with wonderful sea views. Hiking paths start right outside the hotel and spread throughout the national park. The train station is a leisurely ten-minute walk and frequently connects to Cinque Terre, Pisa, and Genoa, making it a great place from which to explore the rest of the region.

The availability of family suites and the affordable price makes this one of the most family-friendly properties in the region.
---
---
Where to Stay in Santa Margherita Ligure and Why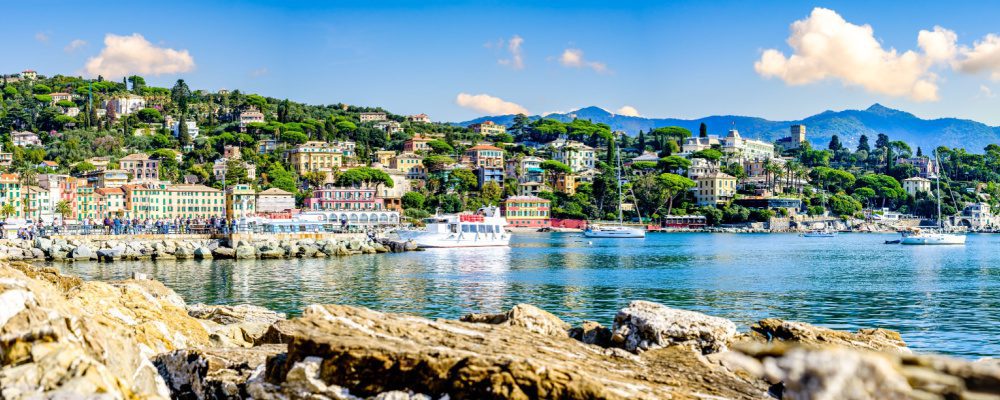 ---
Ok, just stay here! Look, it is really that simple. This is the best base to explore Portofino Peninsula, but it comes at a fraction of the price of staying in the town of Portofino. There is a better selection of hotels and apartments at all price points, it's less congested, and there's a larger selection of restaurants. For me, this former fishing village is where I always stay when passing through the area.
---
The Best Hotels in Santa Margherita Ligure, Portofino
Il Leccio | Hotel Helios | Via Gelsomino | Villa 1900 | Full List of Santa Margherita Hotels
---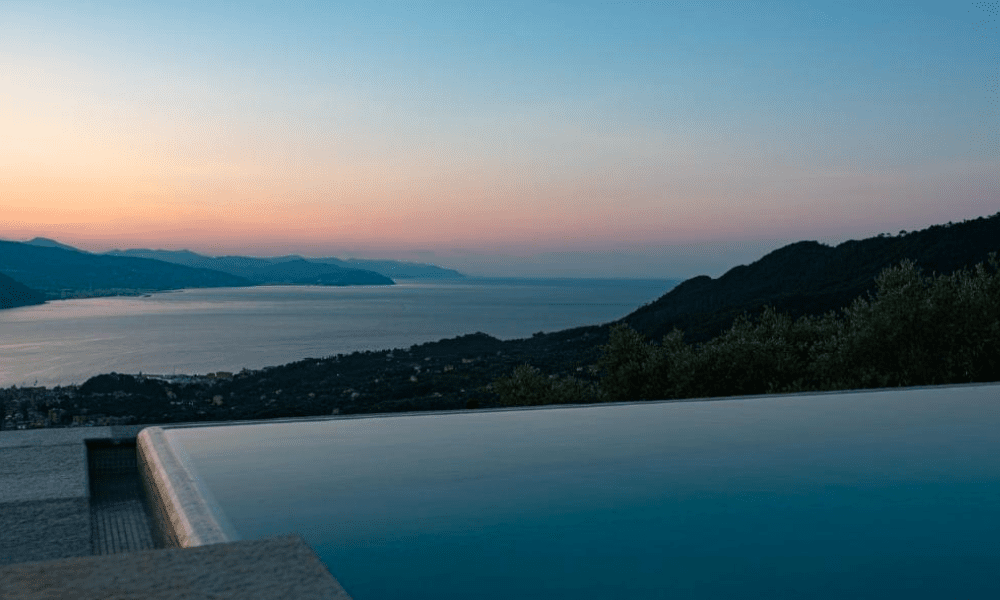 ---
€€€| 4 Star | Quiet Location | Heated Saltwater Pool | Family Rooms
If you are looking to get away from it all, maybe a little hiking, maybe a little sightseeing, but what you really want is to recharge your batteries. This is your choice then. Il Leccio is nestled in the hills of Portofino, with views of the surrounding Gulf of Tigullio. There are charging ports for electric cars and a shuttle service into town if you don't want to drive. There is an onsite restaurant, so you don't have to trek into town every time you want to eat. And the views? Wow. It's a perfect oasis and a great base if you are looking for a slightly more relaxing stay.
---
---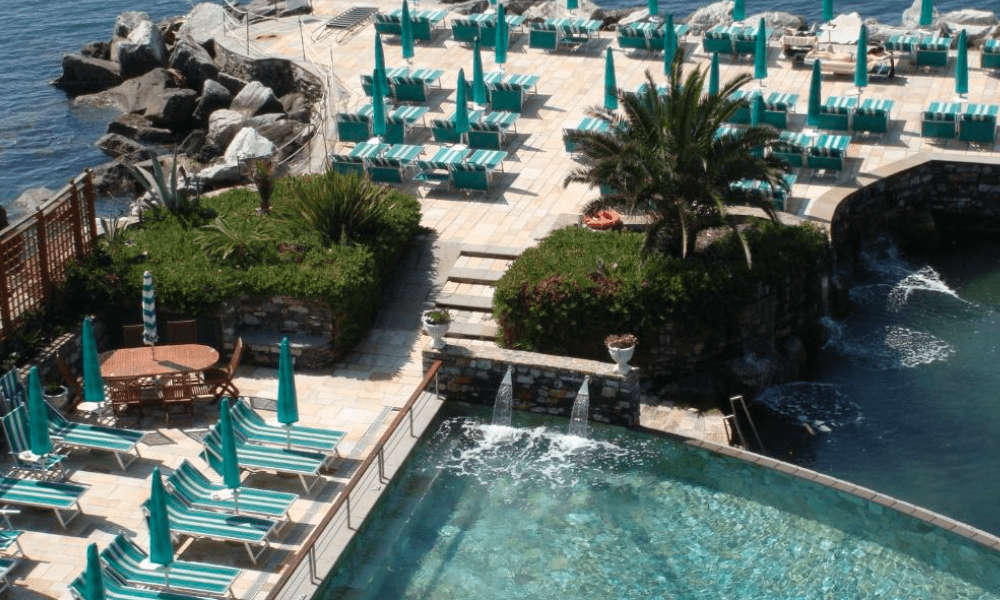 ---
€€€| 4 Star | Private Beach | Sea-Water Pool | Family Rooms
There is a slightly faded charm to the Hotel Helios, but this is more than made up for with both its location and fantastic beach club. The hotel features a wonderful stone pier, perfect for sunbathing, and a brilliantly refreshing sea-water pool. That, alongside the private beach, means that when you aren't out exploring, you'll have all the amenities you could possibly want

---
---
---
Where is Portofino, and How Do I Get There?

Portofino is located in the North-West of Italy in the province of Liguria. It s located between the port city of Geona and Cinque Terre. The nearest airport is in Genoa, which is 20 miles away. But it is more likely you will be flying into Milan if coming from the States. Milan airport is over 200 miles from Portofino, but a train connects through to Santa Margherita Ligure, where you can connect to ferries or regional buses to get to your final destination.

The town of Santa Margherita is the central transport hub of the area, with regular train connections to Pisa, Mila, Genoa, and the rest of Italy.
---
---
Recently on The Blog