Once a great maritime power, Pisa today is most famous for its tower's famous engineering defect. She is so much more than its famous leaning tower, and the best way to discover that is to wait for the day-trippers to leave and explore the vibrant piazzas, Romanesque architecture, and vibrant nightlife scene that come with being a great university city since 1343. Let me lead you beyond the leaning tower with our guide on where to stay in Pisa.
---
Pro Tip: Planning what to do on your trip to Tuscany? Bookmark this post in your browser so you can easily find it when you need it. Check out our Guide to Tuscany for more planning resources, our Best Florence and Tuscany Tours for a memorable trip, and How to Plan a Day of Wine Tasting in Tuscany.
---
Our Partnership with Booking.com If you like our content, please book by clicking on our Booking.com links. The price is the same for you, and we get a small commission that helps support our blog. We've partnered with Booking.com because they have the most options, great prices, and a solid loyalty program. Just about every hotel is on Booking, so our recommendations are not incentivized.
The Best Hotels in Pisa at a Glance
---
Why Stay in Pisa?

---
Straddling the river Arno on the Northeastern Tuscan coast, just over fifty miles West of Florence, Pisa was once the great maritime power of Tuscany. Its heyday began in the late 10th century and peaked in the 12th and 13th centuries. After defeat to the Genovese fleet in 1284, it fell into decline, and its port silted over.
The Florentine Republic rebuilt Pisa's reputation as a great university city, a distinction it still holds today. The university has produced some of the world's most extraordinary academics, including the astronomer Galileo Galilei and five different Popes. The university has 50,000 enrolled students, while Pisa has a population of just 90,000. Making Pisa a true university city.
Most tourists fly through Pisa, never stopping to explore further than the Leaning Tower in Piazza dei Miracoli. However, once the daytrippers have gone home, you will be in a completely different city. The university vibes mean if you can get away from the main tourist squares, you'll find that Pisa can be a little run down, but it still has plenty to offer.
A regular train connects to Florence in an hour, Lucca in under thirty minutes, and Rome in just under three hours. For those wanting to explore at their own pace, I"d suggest spending a night in Pisa, enjoying the tower, baptistery, and cathedral lit up at night, finding a piazza bustling with locals, and enjoying a relaxed evening without the huge day crowds.
---
Want to see the best of Pisa but not sure you want to stay the night? Stay in Florence and book one of our day-trips
---
The Best Historic Hotel in Pisa
---
Palazzo Feroci – Residenza d'epoca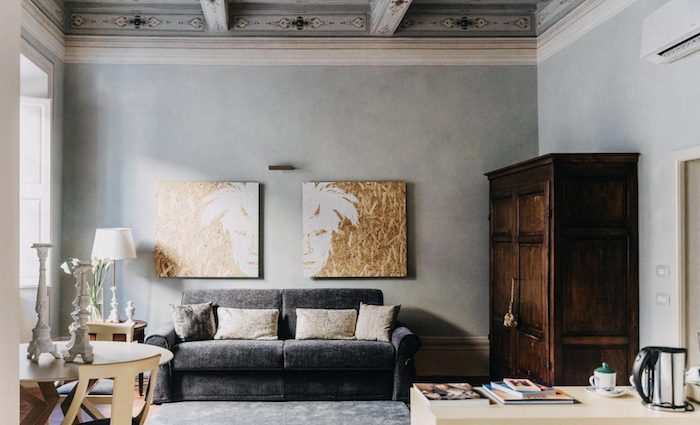 €€ | 4 -Star | Historic Palace | Recently Restored
---
Palazzo Ferocia has a long history. Cosimo I de Medici originally founded the structure as the headquarters for The Sacred Military Order of the Knights of St Stephen. It later passed into the hands of the Feorci family. The palace underwent a significant restoration in early 2021, and although it maintains many of the original features, a degree of modernity was brought to the luxurious rooms.
Each room has a sumptuous bathroom, air conditioning, and a flatscreen tv. Some suites come with balconies, and all have access to the interior courtyard and terrace. It is located just 500 yards from Piazza dei Mircoli, making it a perfect base for a short stay in Pisa.
---
Not sure if Pisa is for you? Check out our guide on where to stay in Florence
The Best Hotel for Couples in Pisa
---
Rinascimento Bed & Breakfast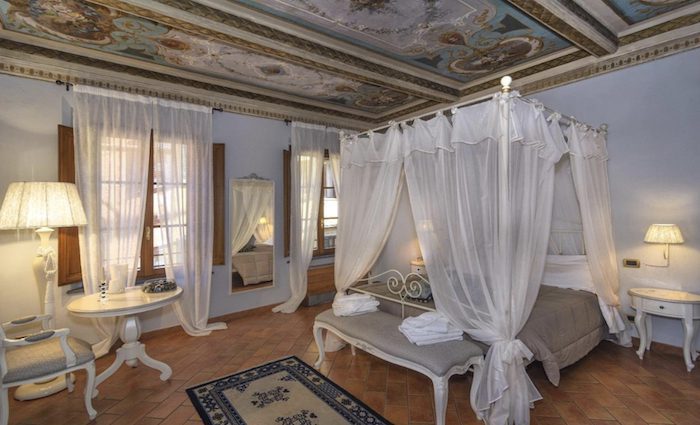 €€ | 3-Star | Historic Palace | Original features
Located in the heart of medieval Pisa, Rinascimento offers the perfect opportunity to explore beyond the tower. The location is surrounded by local trade, cafes, and restaurants, allowing visitors to experience the real Pisa.
With four-post beds, stunning frescoes, and painted ceilings, this apartment gives off a romantic vibe. This B&B is where I would book if I were traveling with my wife. The fact that some rooms also come with a kitchenette means I may even consider bringing our daughter.
---
Want to make your trip perfect? Check out our free Tuscany Travel Blog
---
The Best Hotel for Families in Pisa
---
Nella Torre del Poschi Penthouse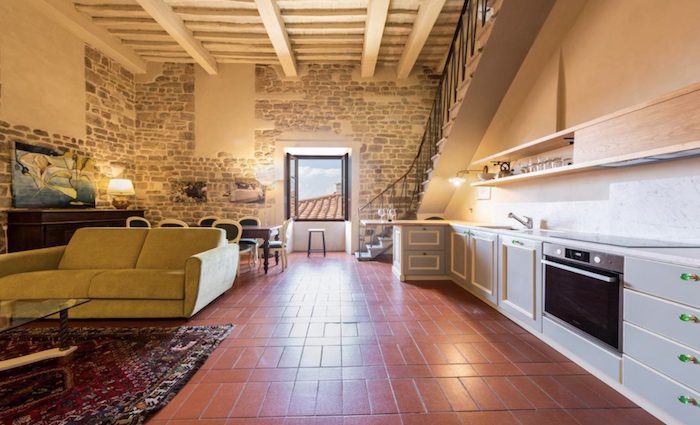 €€ | Apartment | Huge Property | Landmark Views | Private Terrace
It seems cliche to say pictures don't do this place justice, but honestly, they don't. I don't just want to stay here for a weekend, I want to pack up my entire family and move in for good. The delicately protected staircase, glass-encased frescoes, exposed stonework, and tiled floors. I want it all.

I've often argued that people should spend a night in Pisa and that a day trip isn't enough. Well, if this is my base to explore the rest of Tuscany, I could spend weeks.

Two bedrooms, plus sofa beds in the living room, a kitchen, a rooftop terrace, historical elements, and air conditioning for those summer months. What is not to love?
---
---
The Best Hotels Outside of Pisa
---
Villa Scorzi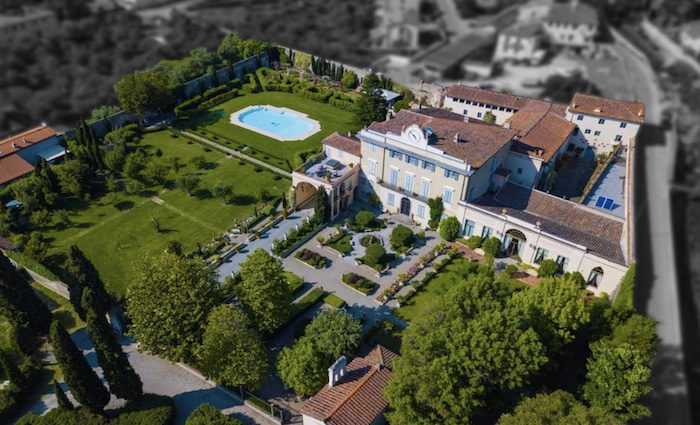 ---
Villa Scorzi | Boutique Hotel | Historics| Countryside | Idealic

Ok, close your eyes and picture Tuscany. Cypress trees, rolling hills with vineyards and olive groves, maybe through in a historic villa. Yeah, that's Villa Scorzi. Located just nine miles from Pisa, sitting at the foot of the Pisan mountains, the 14th Century villa is now a luxurious country retreat in the Pisan countryside.


Not exactly what you're looking for? Check out these dreamy vineyards with accommodation.s
---
How to Get to Pisa
---
Arriving by Air: The nearest international airport is the Pisa International Airport, located around 2km from Pisa. From the airport, you have numerous options, train, car, or taxi. The Pisa-Mover train is your easiest option. It runs every five minutes from 6 am till midnight daily, costs €5 per passenger, and takes five minutes to get to Pisa Centrale.

By Train: Pisa's central train line is well connected, with connections to Lucca, Florence, Livorno, and Rome leaving hourly.

By Car: If renting a car, be sure to check parking arrangements with your hotel and whether it is in the ZTL (limited traffic zone). Renting a car opens up so much of Tuscany for the visitor that it is worth it, but you'll need to find a parking lot on the edge of town if you are staying in the city.

By Taxi: You can jump a taxi right outside the arrivals. Taxis to Pisa will cost upwards of €12.
---
Top Things to See in Pisa
Best Restaurants in Pisa
---
Top Articles to Help You Plan Your Tuscan Adventure
---
Most Recent Blog Articles