Heading to Los Angeles for business or pleasure? There are dozens of incredible hotel options in the Los Angeles area. While the Greater Los Angeles area stretches for five counties to the east and southeast, we'll focus on where to stay in LA in popular areas like Beverly Hills and West Hollywood.
---
Where To Stay in Los Angeles, CA: Best Hotels and Neighborhoods
When you're heading to Los Angeles, the odds are good that you're not just looking to stay in downtown LA. There are so many attractions and places to stay beyond LA proper, such as Hollywood or Santa Monica. The laid-back vibes in Santa Monica are ideal for those who just need a few days at the beach, but Hollywood is the place to be if you're into celebrity sightings, fitness, and the latest wellness trends.
Traffic in LA is notoriously difficult, so you'll want to pick your hotel based on where you plan to spend the most time. Getting from the LAX airport to downtown LA at the wrong time of day can set you back at least an hour or so, even though it's barely 20 miles away. However, heading to the beach from downtown Los Angeles is worth the trek for a day.
We've divided our list of where to stay in LA by four of the most popular areas that will keep you close to all the best that Los Angeles has to offer.
Our Partnership with Booking.com. If you like our content, please book by clicking on our Booking.com links. The price is the same for you and we get a small commission that helps support our blog. We've partnered with Booking.com because they have the most options, great prices, and a solid loyalty program. Just about every hotel is on Booking so our recommendations are not incentivized.
West Hollywood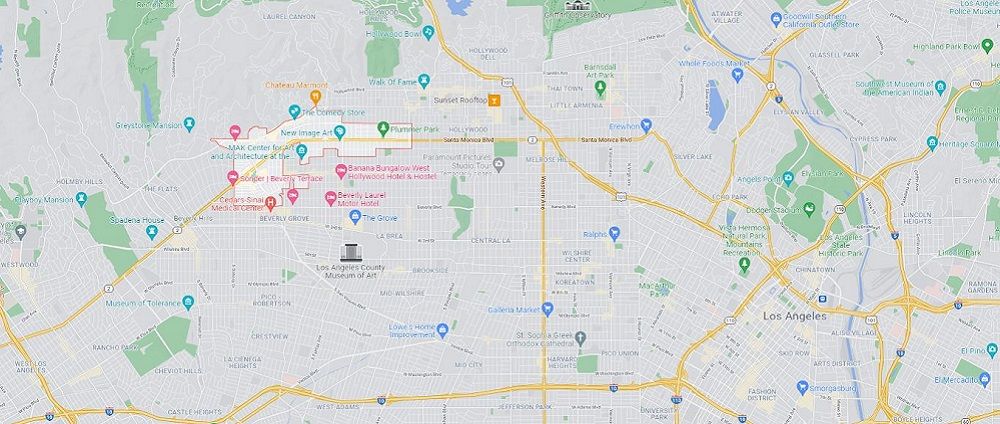 Nestled at the edge of the beautiful Hollywood Hills rests the infamous city of West Hollywood or WeHo. Here you'll find Sunset Strip, one of the most iconic streets in the LA area. Shopping, food, bars, hotels.
Everything is here, packed into just 1.9 miles of prime real estate. It's also a top destination to try out all the newest wellness trends. We love that WeHo is totally walkable and pet-friendly too. No matter what interests you, there's an experience waiting for you here. It's a no brainer to have West Hollywood on our list of where to stay in LA.
Why I Love West Hollywood
Sunset Strip has spas, high-end shopping, fine dining, and luxurious hotels everywhere
Celebrity sighting is easy here
Colorful life everywhere in the Design District
Wellness trends of all kinds are easy to indulge in
Attractions Near West Hollywood
Sunset Strip Rockwalk
Shape House urban sweat lodge
The Comedy Store or The Laugh Factory
Pacific Design Center
Troubadour shows
Roxy Theater shows
Book Soup shop
Best Restaurants In West Hollywood
Best Hotels In West Hollywood
Here are our top picks for where to stay in LA in the West Hollywood area.
Mondrian Los Angeles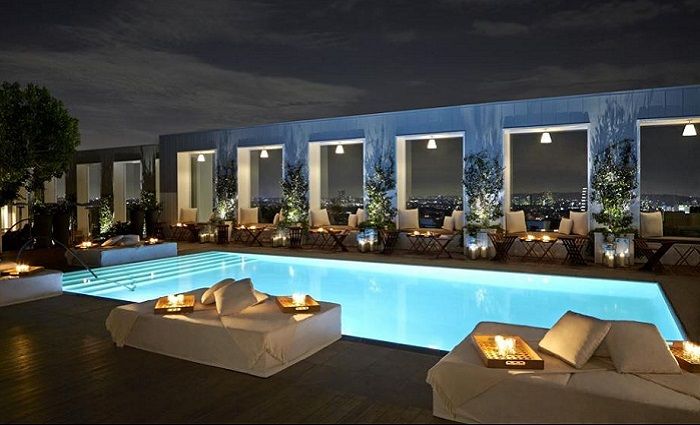 $$$ | 4 Star | Design Eye-Candy | Swoon-Worthy Rooftop Pool
Stay at this ultra-contemporary hotel that has touches of whimsy throughout. Located right on Sunset Strip, it exudes all the pomp and circumstance you'd expect but pays homage to the roots of Hollywood with tasteful design elements that subtly remind us of Alice in Wonderland. And the chic rooftop pool is totally Instagramable.
Petite Ermitage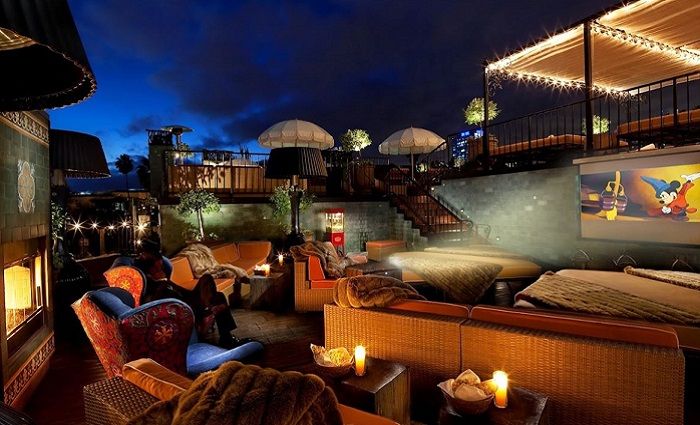 $$$ | 4 Star | Euro-Bohemian | Saltwater Pool
We can't get enough of how enchanting this whimsical yet chic hotel is. Every space is filled with perfectly coordinated decor that's totally inviting and impossible to resist. Take a walk through the gardens, enjoy a rooftop outdoor movie, or take a relaxing dip in the saltwater pool.
Kimpton La Peer Hotel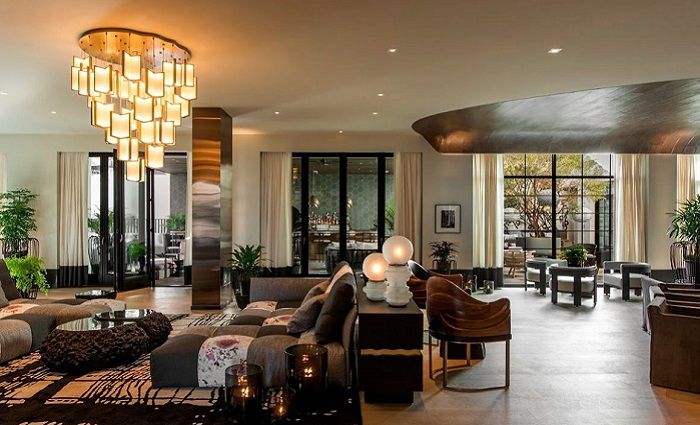 $$$ | 5 Star | Posh Yet Modern | Rooftop Pool | Complimentary Yoga
The Kimpton La Peer Hotel knows how to bring luxury up a notch. With upscale art and posh, modern designs, you'll feel like a million bucks during your stay here. And if you're into staying healthy even on vacation, you'll love the complimentary bikes, yoga, sound bath, and meditation for guests. It's everything WeHo is known for in one hotel.
Beverly Hills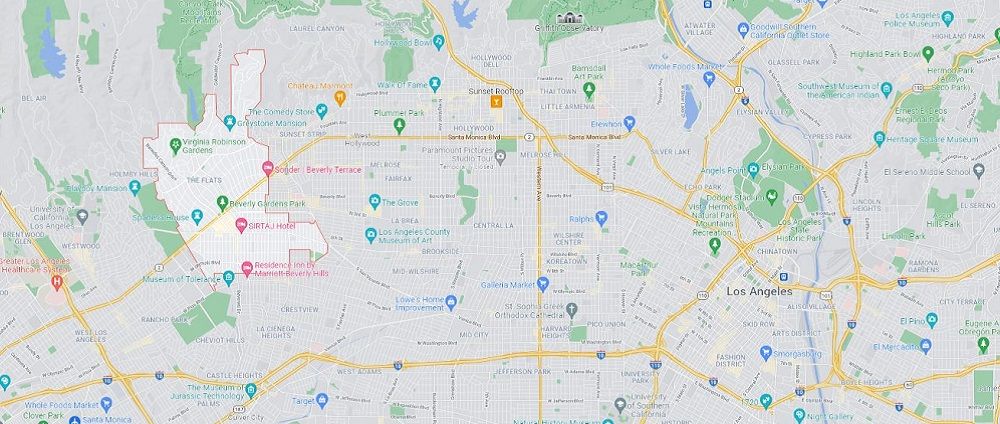 Beverly Hills continues to outshine the competition as the most exclusive yet friendly neighborhood destination for luxury vacations in California. It has small town feels with big city decadence. This tiny area boasts almost as many hotel rooms as New York City with one of the highest concentrations of AAA Five-Diamond and Forbes 5-Star properties in the U.S.
And it remains one of the top culinary destinations to experience. You can rub elbows with high level studio execs, famous artists, or fashion designers as you dine at a top-end restaurant or explore an antique shop or art gallery.
Why I Love Beverly Hills
It's a first-class experience in a casual California setting.
All the world's most famous brands are for sale at the shopping district on Rodeo Drive.
Galleries, antique stores, museums nearby, shopping, and fine dining
Perfectly located near West Hollywood, Santa Monica, and Malibu but not too far from downtown LA.
Attractions Near Beverly Hills
Rodeo Drive shopping
Walking tours of all kinds: history, food, art, wine, sweet treats, film
Greystone Mansion and Gardens
Spadena House
Mullholland Drive scenic vistas
La Brea tar pits
Best Restaurants In Beverly Hills
Best Hotels In Beverly Hills
Luxury is the name of the game when deciding where to say in Beverly Hills.
The Beverly Hills Hotel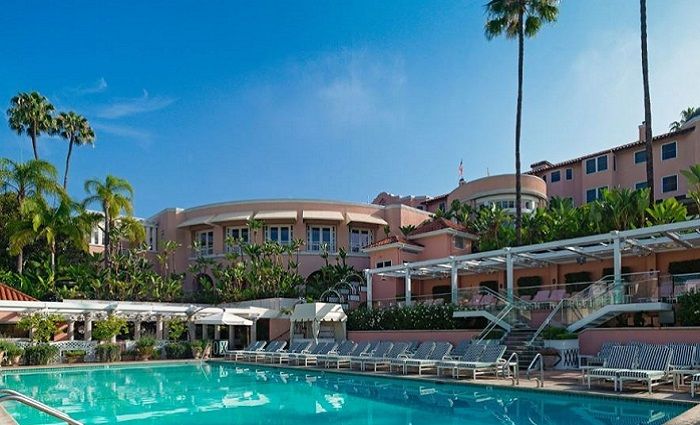 $$$$$ | 5 Star | Iconic and Glamorous | Exceeds Expectations
Swim, relax, spa, eat. This pristine hotel remains the top name for hotels in the LA area and for good reason. The decor is stunning, the staff is helpful and attentive, and cost is irrelevant to ensuring guests have the best experience. Beverly Hills city practically built itself around this iconic Pink Palace, and it's worth every penny.
Hotel Bel-Air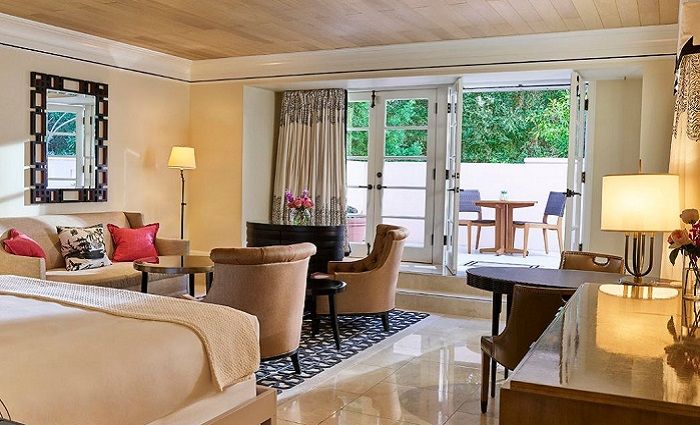 $$$$$ | 5 Star | Entrancing Opulence | Spanish Mission Style
The Fresh Prince is no match for the opulence at Hotel Bel-Air. From luxury suites to the spa, salon, and fitness center, or the Wolfgang Puck restaurant, every experience will lift you to knew levels of relaxation and enjoyment. You'll find the staff attentive to your every whim in this exclusively hidden hotel that's surrounded in peaceful greenery.
Waldorf Astoria Beverly Hills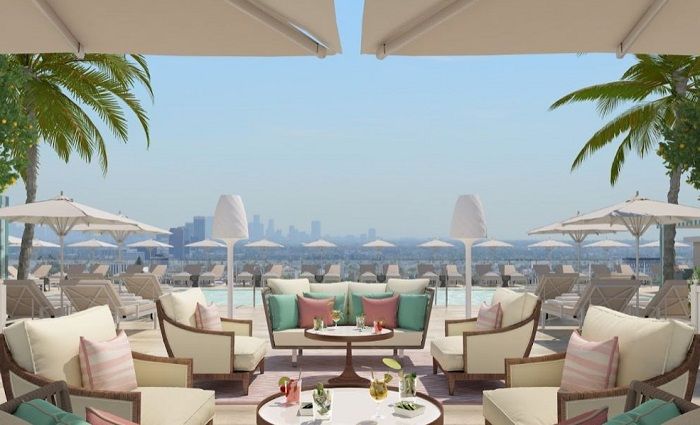 $$$$$ | 5 Star | Lavish Yet Serene | Rooftop Pool
As a recent Forbes 5-star winner, the Waldorf Astoria maintains its position as a top luxury hotel in Beverly Hills, perfectly located on the corner of Wilshire and Sunset. The three-story lobby wows as you enter, but so will the 360-view rooftop pool. Enjoy French-American cuisine after you indulge in a day at the spa.
L'Ermitage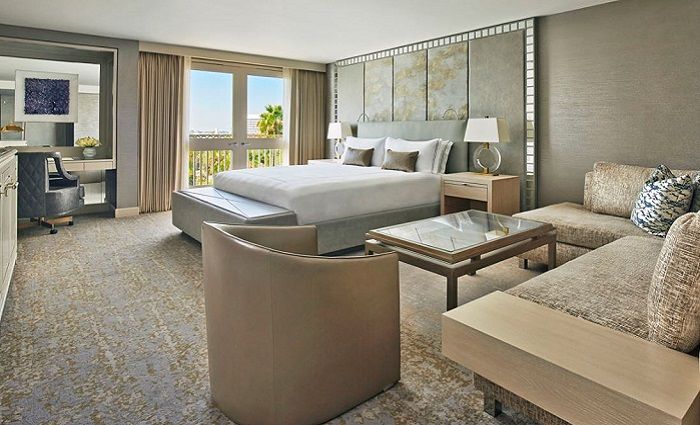 $$$$ | 5 Star | Stunning All-Suite Hotel | Rooftop Pool
Located just off Sunset Boulevard in a residential neighborhood, families, and couples will love this more private all-suite hotel that's just 5 minutes from Rodeo Drive. The lobby is filled with art pieces to capture your attention, and the rooms are tastefully modern but warm. The dressing rooms may be even better than your own at home.
BONUS: Mr. C Beverly Hills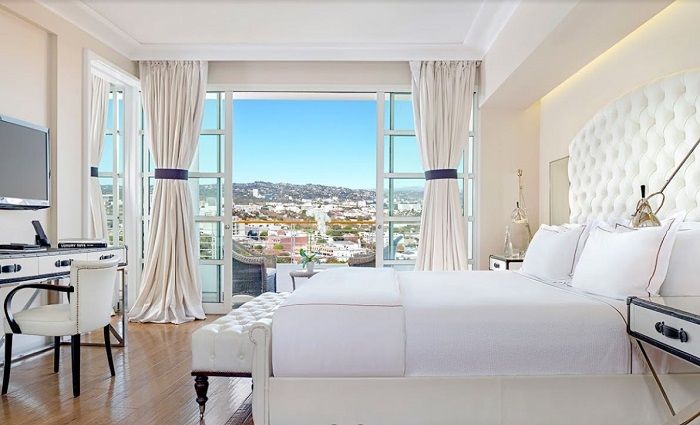 $$$ | 4 Star | Romantic Vibes | Boutique Style
To be fair, this hotel is just outside of Beverly Hills, but it's a great option for anyone looking to stay close by for a more affordable price. This charming, romantic, and elegant hotel is a perfect option for boutique hotel lovers. It's posh and trendy all in one. Rooms are decorated with vintage Hollywood photos, and the pool and bar keep the atmosphere light.
Downtown Los Angeles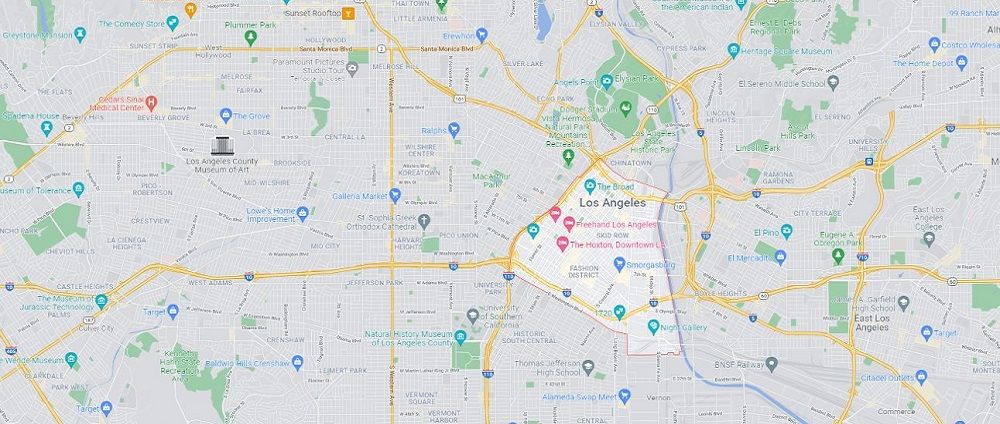 Staying in the living urban entity of the City of Angels may be your jam. Los Angeles, or DTLA, is a super social city where something is always going on, and trends are often shifting. Nightclubs, bars, and restaurants stay busy with crowds of friends and couples. All the biggest names in entertainment can be found at major event centers or dining at an exclusive restaurant.
LA is exceptionally friendly to picky eaters whether you're vegan, kosher, raw only, dairy-free, or gluten-free. And heading to the hills to reconnect with nature is almost as popular as heading down to the beach. Make sure to check out our list of the top fun and unusual things to do when visiting LA.
Why I Love Los Angeles
There's a literal endless amount of things to do, see, and eat.
Tons of culinary options for cuisines of all kinds.
It's centrally located to many top southern California destinations.
Attractions Near Los Angeles
Universal Studios
Griffith Park and Observatory
Hollywood Walk of Fame
Hollywood Bowl
The Getty Center
California Science Center
LA County Museum of Art
Best Restaurants In Los Angeles
Best Hotels In Los Angeles
Check out these amazing hotels in DTLA.
Hotel Figueroa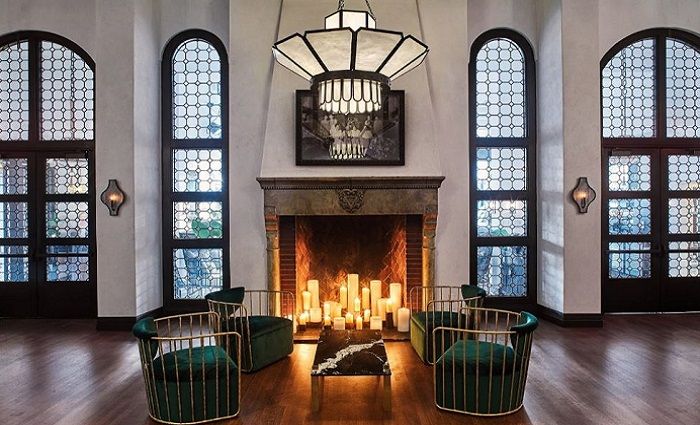 $$ | 4 Star | Spanish-Mediterranean | Rooftop Pool
Experience the ambiance and luxury of a high-end hotel that delights in sharing the wonders of art and architecture with its guests. The Spanish architecture is mixed tastefully with Mediterranean vibes for an exclusive feel you don't want to miss. It's fine dining and rooftop enjoyment located in the perfect downtown spot.
Freehand Los Angeles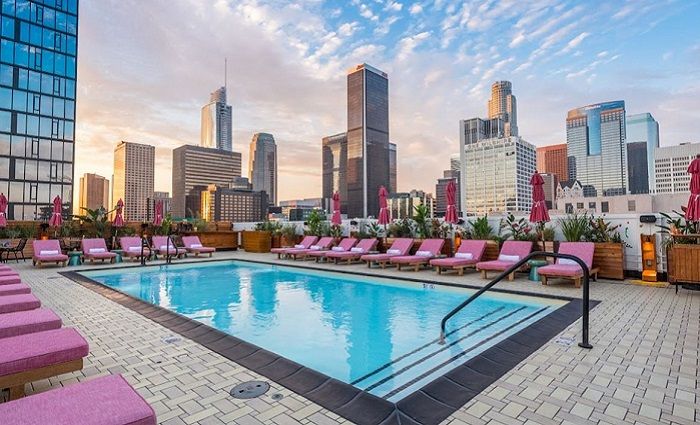 $$ | 4 Star | Affordably Chic | Rooftop Pool | Millennial Haven
All the social hipsters and millennials flock to the Freehand for good times and great vibes. The rooftop pool is chic and has weekend DJ sets, while the rooms are Art-Deco inspired. Onsite coffee and pastries in the communal workspace lobby keep you going all day.
The Hoxton, Downtown LA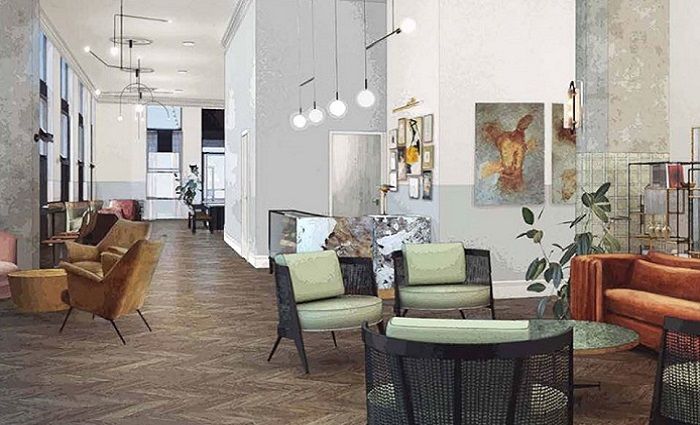 $$ | 4 Star | Artistically Contemporary | Social Scene
Stay at the Hoxton if you like updated 1920s-inspired decor and plenty of space for interacting with other like-minded guests. The lobby is incredibly inviting as is the neighborhood bistro that's casually classic. It should cost more than it does, which makes it quite a steal to stay at.
The LINE LA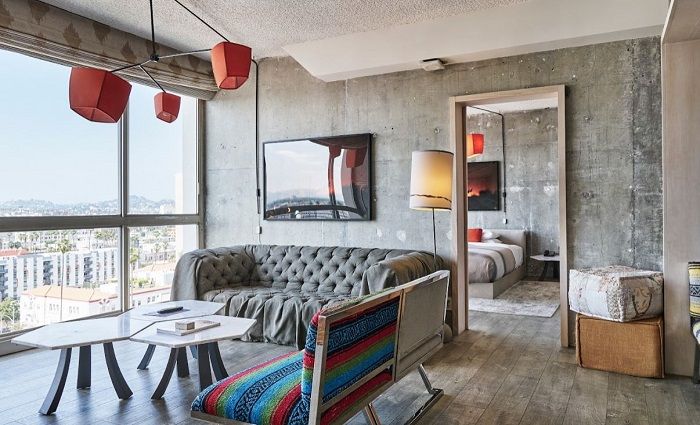 $$ | 4 Star | Industrial Modern | Hip Party Scene
Located in Koreatown, this hotel has made a splash for travelers looking for a hot, party hotel to stay at. It's boutique but modern all in one and has great views of the Hollywood sign from its central location. You'll have great food and a fun nightclub that locals enjoy too.
Santa Monica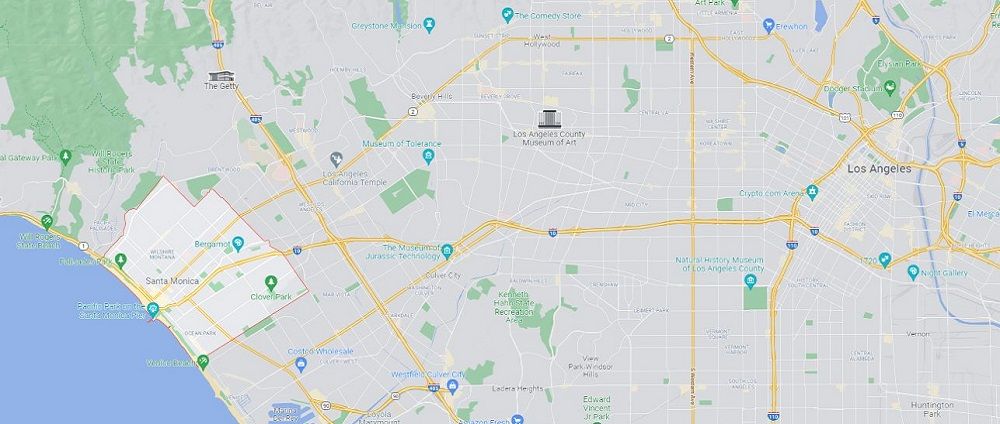 With 280 days of sunshine all year, Santa Monica has earned its place as one of the best beach destinations near LA. It's perfectly suited for walking or biking just about anywhere you want to go on the 22 miles of bike paths down here. There are miles of beach to relax on, or you can head to the infamous Santa Monica Pier for carnival attractions, shops, and food.
At night, you'll want to head over to the Third Street Promenade where you'll find bars, street performers, movie theaters (it's LA after all), and more. Santa Monica is a bustling yet chill place you have to check out, which is why it's easily on our list of where to stay in LA.
Why I Love Santa Monica
Beaches for miles with plenty of walking and biking paths.
Upscale vibes in Santa Monica next to casual neighborhood vibes in Venice Beach.
Great nightlife, shopping, and wellness options
Attractions Near Santa Monica
Santa Monica Beach and Pier
Third Street Promenade
Annenburg Community Beach House (great for families)
Santa Monica Mountains National Recreation Area
Route 66 end of the trail sign
Palisades Park
Bergamot Stations Art Center
Best Restaurants In Santa Monica
Best Hotels In Santa Monica
We've put together an awesome list for where to stay in Santa Monica.
Santa Monica Proper Hotel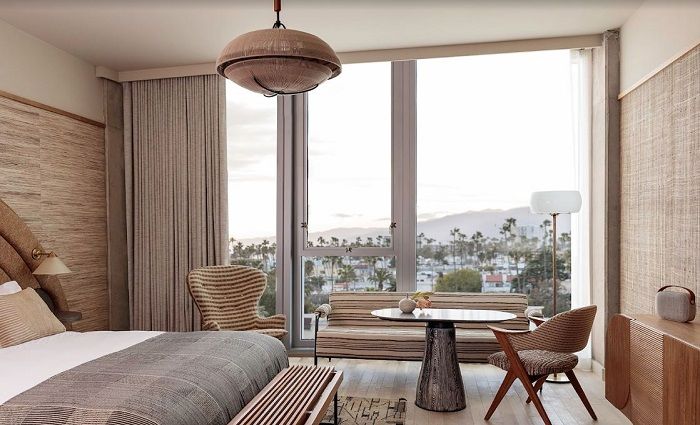 $$$ | 5 Star | Cool, Stylish Luxury | Rooftop bar and pool
The Santa Monica Proper exudes everything you'd expect from a coastal California luxury hotel. Cool, beachy neutrals are incredibly inviting in each room. You're minutes from the beach and the Third Street Promenade, but you have spectacular views from the rooftop pool.
Ritz-Carlton Marina del Ray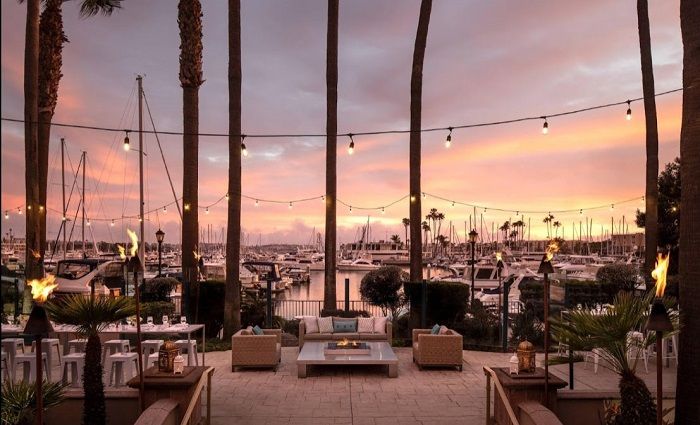 $$$ | 5 Star | Idyllic Marina Location | Exclusive Amenities
This Ritz Carlton goes above and beyond in terms of service and amenities. Almost every room faces the marina for stunning sunset views. You can indulge in a spa treatment, swim in the heated outdoor pool, play tennis or basketball, or rent a bicycle to head to town. They have activities for kids, too, if you're traveling as a family, otherwise we recommend booking a romantic couples package.
Shutters on the Beach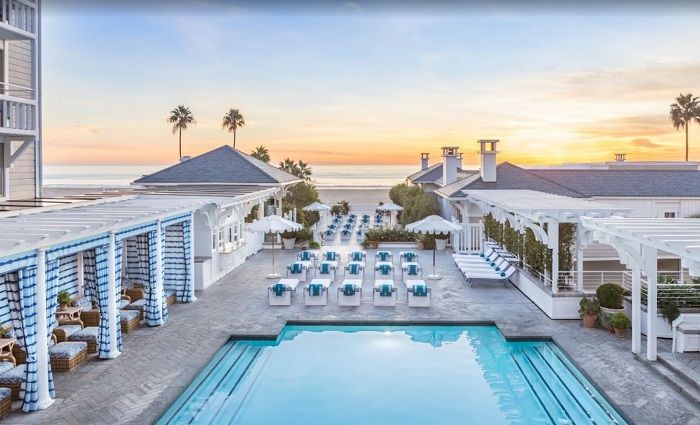 $$$$ | 5 Star | Trendy and Chic | Beachfront Luxury
For beachfront luxury, Shutters on the Beach is the best option—and for good reason. The lobby is inviting and has a fireplace and pianos, the pool is stunning, they have bikes available, the spa is wonderful, it's close to the pier, and the rooms are dreamy and luxurious.
Channel Road Inn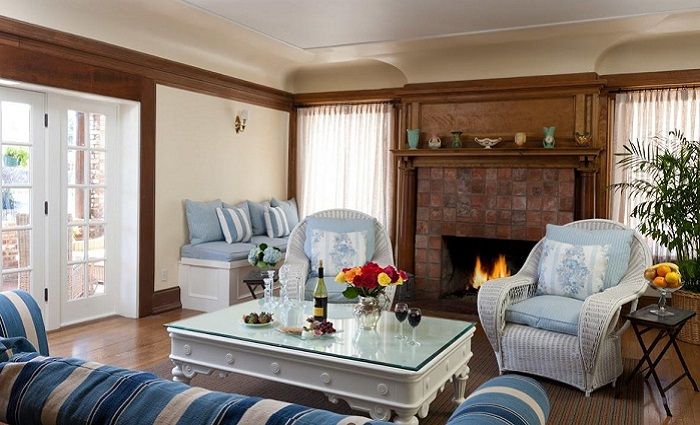 $$$ | 4 Star | Charming and Cozy B&B Vibe | Intimate Getaway
If you're up for a cozy experience at one of the best boutique hotels in Santa Monica, then stay at this charming property where you awaken to a home-cooked breakfast buffet each morning. The rooms are indulgently comfy and many come with partial-ocean-view balconies. Head to the beach in the morning and come back for free wine and hors d'oeuvres each afternoon.