Ibiza, Spain is an amazing destination with something for everyone, which is why I love the place so much. You can go there to party or go with your kids to enjoy the incredible coastlines. Yes, Ibiza doubles as a family destination! In this article, I'll explain where to stay in Ibiza for families and for the party people.
---
Where To Stay in Ibiza: Best Hotels and Areas
Ibiza is a beautiful island with diverse coastal beaches, amazing geography, fascinating culture, and lots to do. There are clubs (which I won't cover as I have only been there as a family destination) but also beachside lounges with great music. I will definitely cover the lounges as I LOVE taking my kids to them so they can dance on the beach!
so, while the island is known for parties, it doubles as a family destination. Whether you're looking for a party spot or a great family vacation by the beach, Ibiza is great for all travelers—it just depends on where you stay and when you go.
Keep in mind that Ibiza is a very popular destination and great hotels book out fast, so definitely plan well in advance. How long should you visit Ibiza for? I recommend a minimum of seven nights. When I stayed there the last time for seven days, we left feeling like we explored a lot but there was a lot more to do. I would likely plan my next trip for closer to 10 nights.
To make things more manageable, I've broken down the island into a few regions that I love. I've started with the bustling center of the island, Ibiza Town, followed by the other areas I recommend in order of my preference.
Our Partnership with Booking.com and Expedia.co.uk: If you like our content, please book by clicking on our links. The price is the same for you, and we get a small commission that helps support our helpful blog content. We've partnered with Booking.com and Expedia.co.uk because they have the most options, great prices, and a solid loyalty program.
Ibiza Town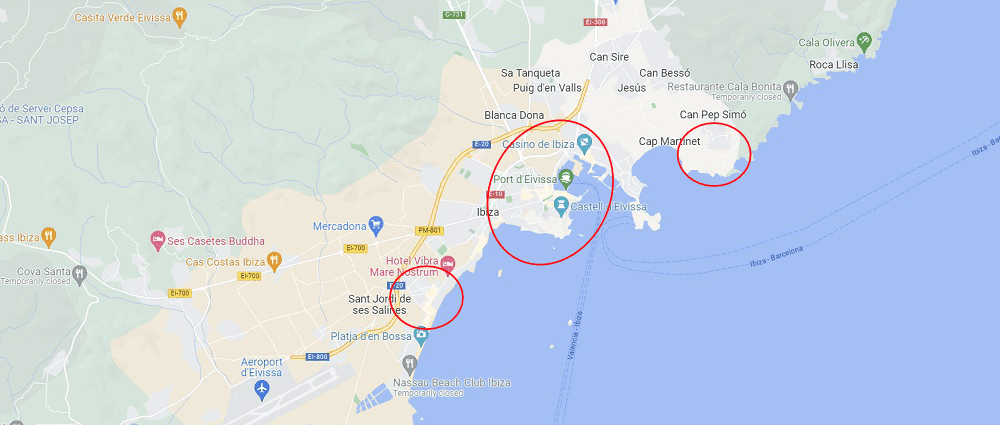 Ibiza town is by far my favorite place to visit in Ibiza, but I am probably not going to stay there. Why? To experience Ibiza you should rent a car and stay close to some great beaches, but that is one man's opinion. That said, I would likely spend two to three nights out in the area.
If you choose a hotel southwest of Ibiza Town know that the beaches are crowded and not as nice as other areas. We booked a hotel here on one visit and didn't spend more than a day on the nearby beaches. That said, we got a great hotel at a reasonable price with lots of takeout choices nearby. We rented a car which allowed us to explore and it was a great trip.
Montesol Experimental Ibiza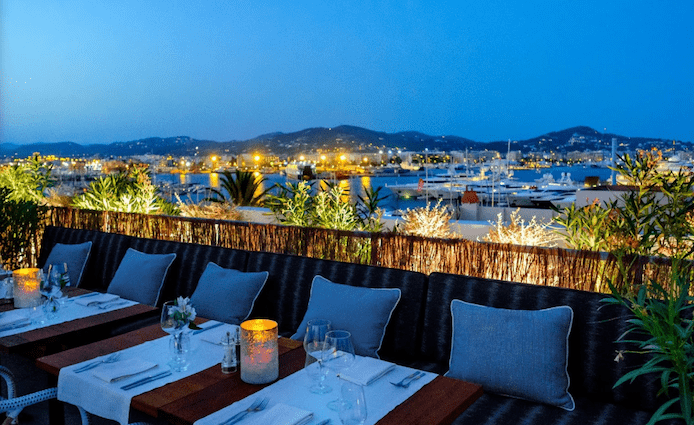 €€€ | 4 Star | Center of Ibiza Town | Pools
The Montesol is a nice hotel just a few blocks away from historic Ibiza, which gives it that old-world European feel. You'll be in the thick of things with plenty of options. There's a bar and terrace at the hotel and the rooms have a quirky but lovely local style.
Sir Joan Hotel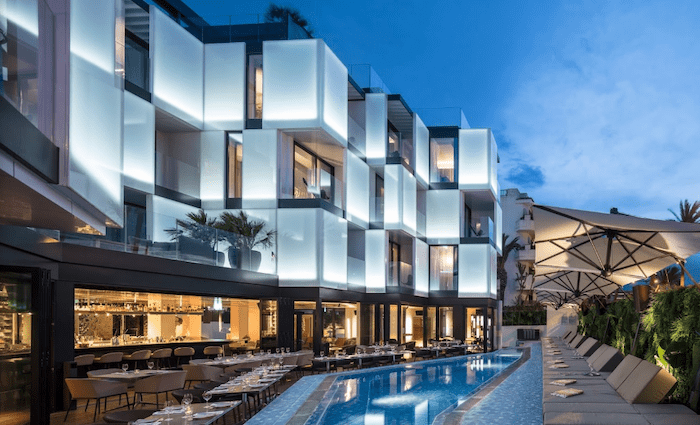 €€€€+ | 5 Star | Ibiza Town | Pools
This 5-star hotel is chic and beautiful. It's located in the port of Ibiza which means all of the town's main attractions and restaurants are an easy walk away. If you're up for partying, Pacha isn't far away.
Hotel La Torre del Canonigo
€€€ | 4 Star | Ibiza Town | Pools | Views
This is the only hotel that is physically in historic Ibiza town, which makes it special. Definitely for people who want to be in the thick of things. For history lovers, it's built near the Roman acropolis within a UNESCO world Heritage site.
Destino Pacha Ibiza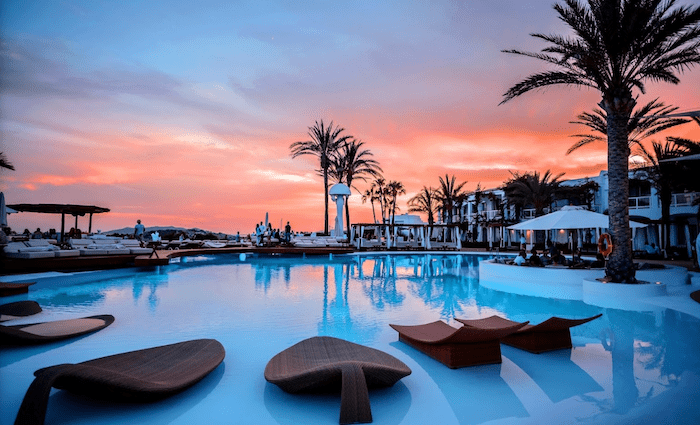 €€€ | 4 Star | Great Pool and Views!
This is a good party hotel near Ibiza town. You won't be able to walk into town but it's easily accessible by transport or taxi. You'll enjoy luxury resort vibes with killer views.
Apartamentos Vibra Tivoli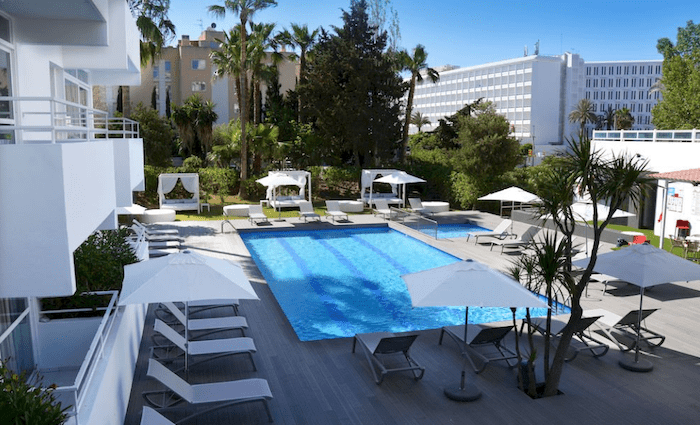 €€ | Apartments | Pool | Platja d'en Bossa Parties
This is an interesting choice for youth travelers looking to party. It's right on Platja d'en Bossa, which is known for parties. It's inexpensive and close to lots of bars, restaurants, and clubs. There's decent parking nearby if you rent a car.
Southeastern Coast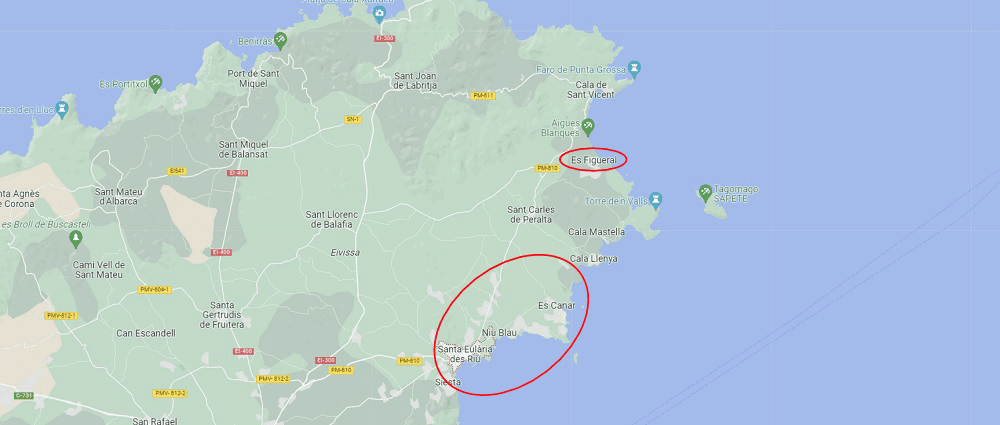 My friends who spend their summers in Ibiza all tell me the place to be for great beaches is the southeastern coast. On the map, it would be from Santa Eulària des Riu to Cala de Sant Vincent.
This is the place to be for the best beaches, luxury hotels, and amazing family vacations. Expect amazing beaches, waters, and lots of things to do. I'm definitely going to try this area out on my next visit and recommend it for anyone's first visit. Prices appear to be higher in this area for good reason.
Aguas de Ibiza Grand Luxe Hotel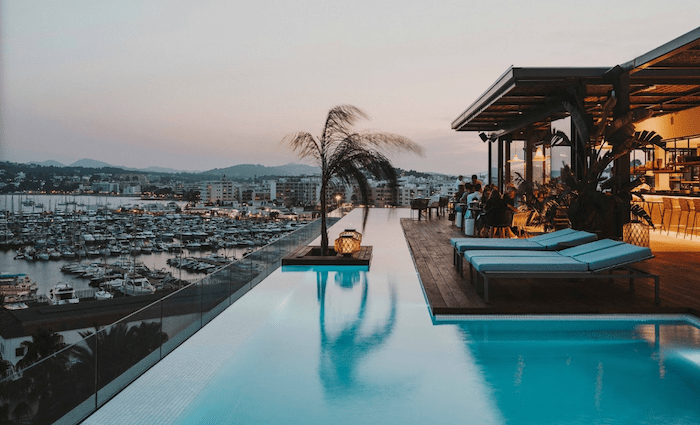 €€€€+ | 5 Star | Pools | Very Posh
Aguas de Ibiza is a mega-luxurious hotel on the outskirts of Santa Eulària des Riu, which is a small town on the southeastern shores of Ibiza. The hotel features three amazing pools, posh finishings, and contemporary bars and restaurants. It is a super-cool hotel that I would most definitely want to stay at with my wife.
Iberostar Selection Santa Eulalia Ibiza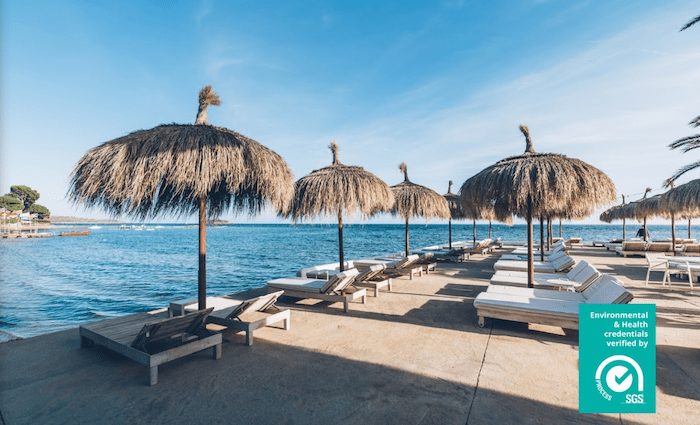 €€€ | 4 Star | Beach Access | Pools | Incredible Value
While I would love to stay at many hotels in Ibiza, I could actually afford the Iberostar and it's a very nice hotel. I can definitely imagine myself here with the wife and kids having a great time.
ME Ibiza
€€€€+ | 5 Star | Pools | Super Luxurious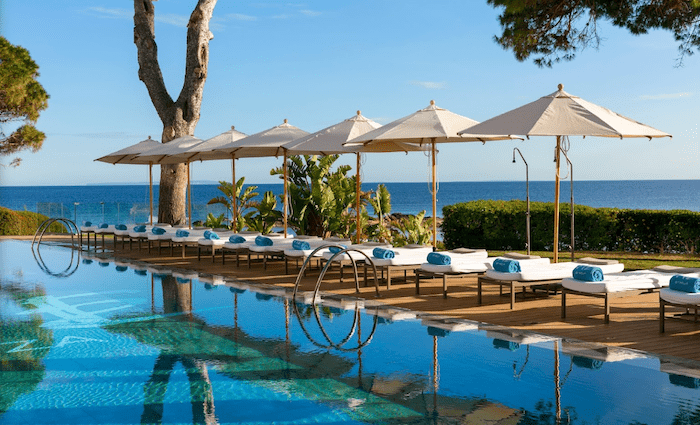 ME Ibiza is one of the most luxurious and exclusive hotels on the island. It's perfect for couples or groups with strong budgets looking for relaxation in paradise.
Bless Hotel Ibiza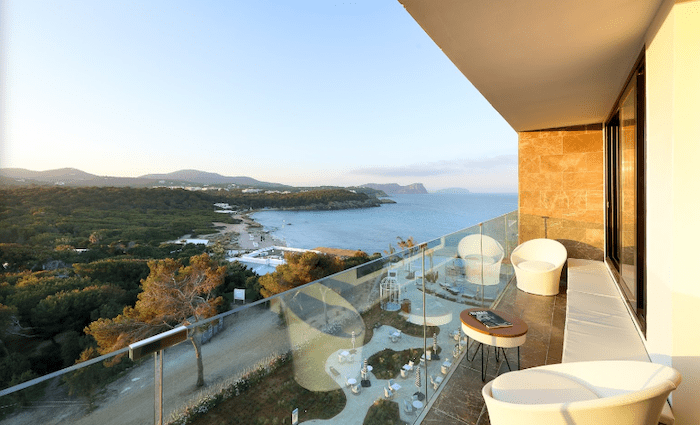 €€€€+ | 5 Star | Pools | Beach Access | Family Friendly
Bless is another super nice hotel in Ibiza, but unlike the other two listings, it has great beach access. You'll pay a pretty penny, but if you can part ways with $500+/night then maybe it's worth it! Coastal views here are amazing so try and get a high-level room.
Invisa Hotel Club Cala Blanca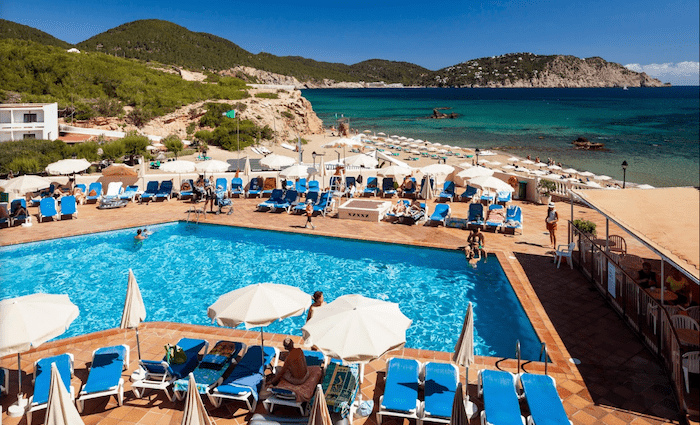 €€ | 3 Star | Pools | Family Friendly | Beach Access
Invisa is a great family-friendly choice for budget travelers. It probably offers the best bang for your buck on this side of the island. It has a luxurious and contemporary feel plus tons of activities to keep the kids busy.
Western Coast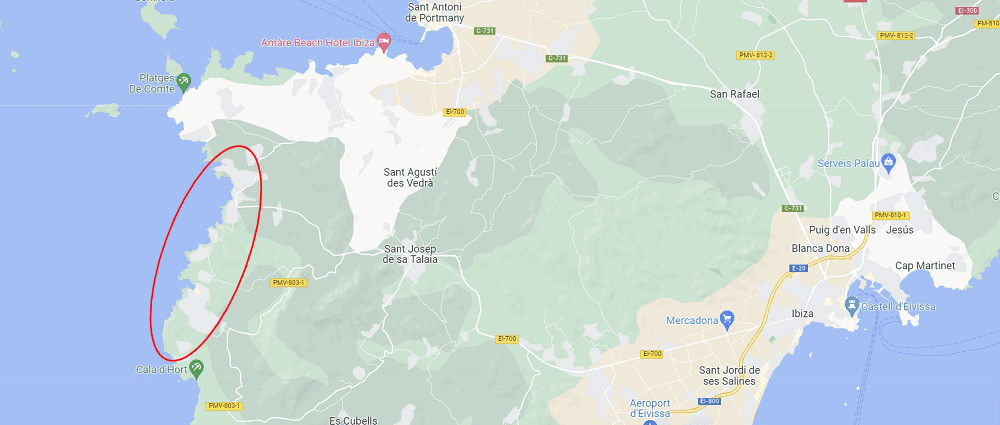 The western coast of Ibiza is one of my favorite areas for many reasons. Above all, I love the beaches and its proximity to Ibiza town. The beaches here are surrounded by cliffs and have beautiful blue waters.
You'll also enjoy a nice view of some of Ibiza's smaller coastal islands from beaches like Cala d'Hort and Platges de Comte. One of my happiest memories was from a day spent on Platges de Comte with my wife and first daughter.
The feeling on this end of the island is slightly more isolated, which I love. But you're a 30 to 40-minute drive from San Antonio and Ibiza Town, which makes it a great location. On my next trip, I will likely stay in this area or on the southwestern corner of the Island.
Petunia, a Beaumier hotel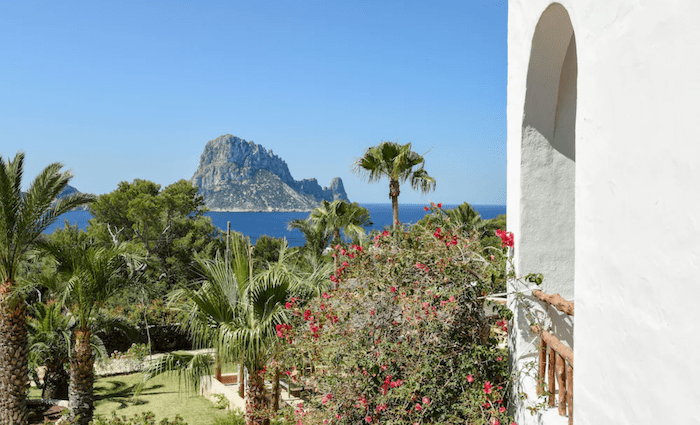 €€€ | 3 Star | Pool | Epic Views | Adults Only
Hotel Petunia is one of those calming places where you can sit near people and not talk for hours and remember it as one of the greatest experiences of your life. It's manicured, but wild, which gives it this amazing all-natural feeling which goes well with its view.
Hotel Vibra Cala Tarida-3SUP
€€ | 3 Star | Pools | Family Friendly
You'll get great value at this family-friendly resort with lots of pools, activities, and amenities. It's a fantastic place to relax and they even have pools for children and for adults, plus daily entertainment.
Aparthotel Puerto Cala Vadella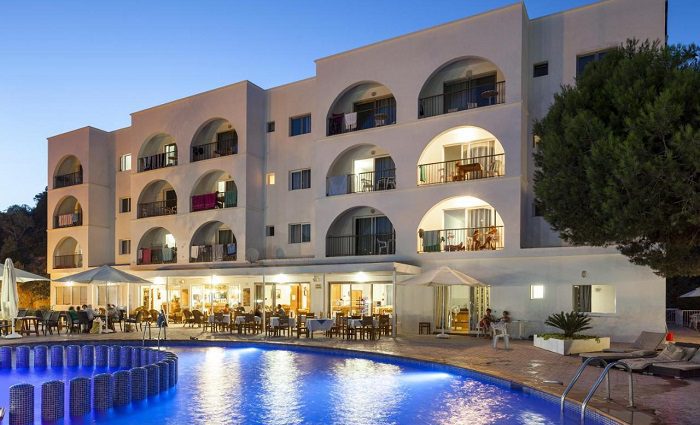 €—€€ | Self Catering Apartments | Pool | Onsite Restaurant | Family Friendly
If you're looking for the convenience of an apartment with the amenities of a hotel at an affordable price, this is a great choice. Guests have a lot of options with fully-equipped kitchens and a restaurant onsite. The beach is close by and there's a great pool. Great for a family vacation!
Can Costa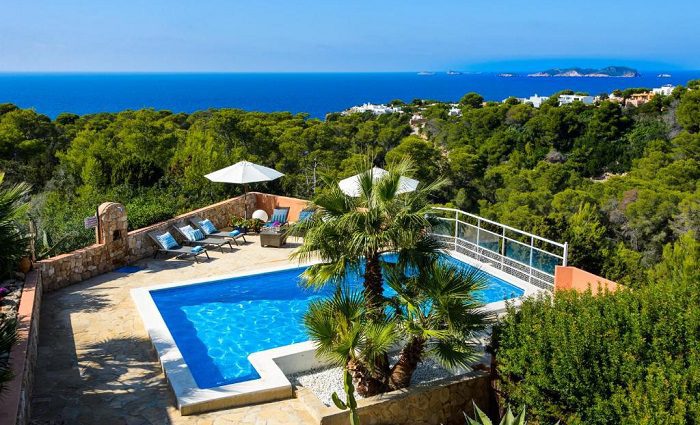 €€€€ | Private Villa | Self Catering | Pool | Family Friendly
Set higher up, Can Costa comes with fabulous sea views, a pool, terraces, a garden, and an outdoor kitchen area. It's the perfect place to enjoy a private vacation with the family in your own slice of paradise.
Sant Antoni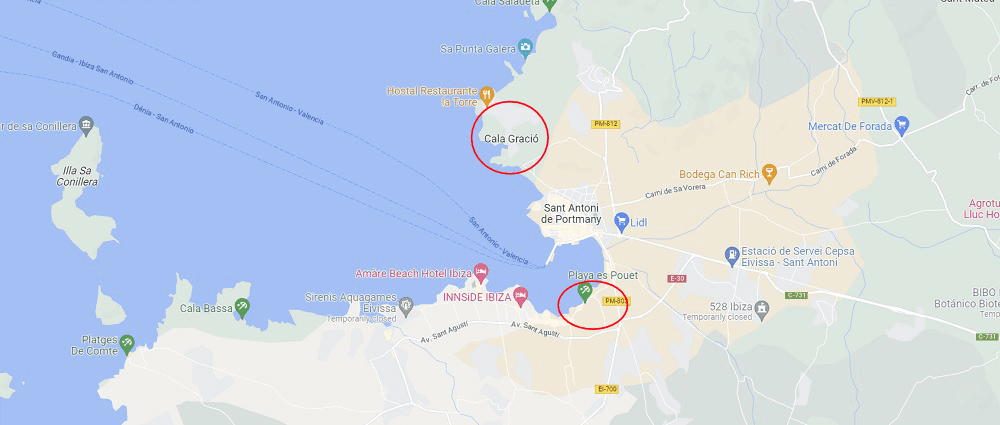 Sant Antoni is also a cool town with a great port. The vibe is more party animal, but you can get away from that. We rented a catamaran from Sant Antoni and it was the greatest day ever!
The area is also home to Cafe del Mar, which is just about the most famous lounge on Earth—don't miss it! They claim to have the most beautiful sunset on Earth. I personally wouldn't likely stay in the town of Sant Antoni, but I would definitely consider staying just west of the city near Cala Bassa or north near Cala Saladeta.
THB Ocean Beach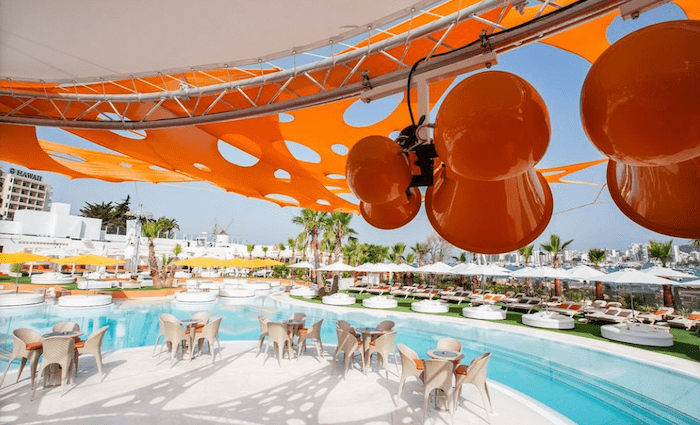 €€€ | 4 Star | Pools | Party Hotel
This is a cool hotel choice if you're looking to live at the party. During normal times they have some sort of pool event daily with lots of people. It's good fun, but I wouldn't recommend it for families.
OKU IBIZA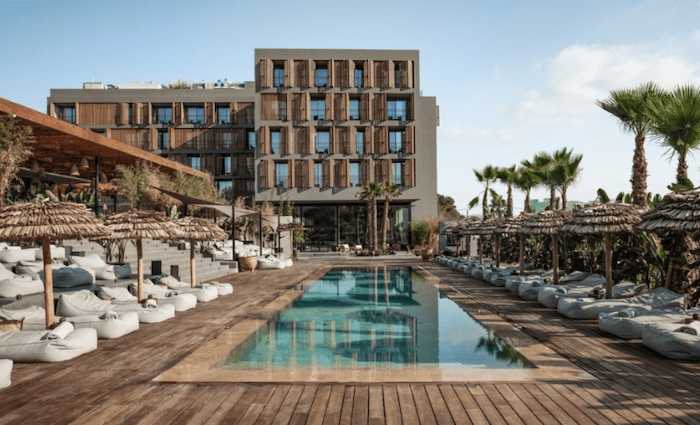 €€€€ | 5 Star | Eco Retreat
If I were to stay in Sant Antoni, this hotel would be an attractive option. Not just because it's a 5-star hotel, but because the decor gives you a feeling of deep relaxation. There would be low-key parties too though.
Bellamar Hotel Beach & Spa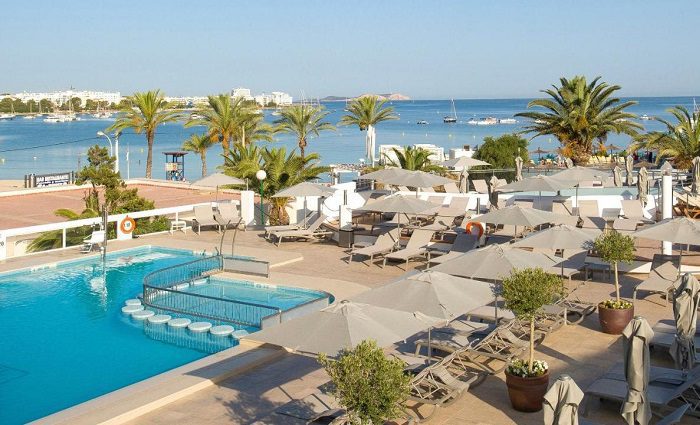 €€ | 4 Star | Pool | Beach Access (across street)
The Bellamar Hotel is a great option if you aren't looking to stay at a big party hotel but want to be close to all the parties. It's close to the beach and has pretty much everything you need.
Hostal La Torre Ibiza Cap Negret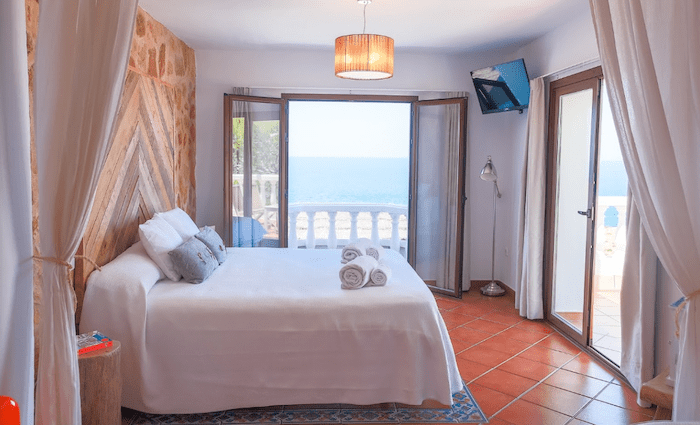 € | 1 Star | Great Vibe | Great Views
I'm a huge fan of isolated hotels because I like to stay in a peaceful place but near the action. This hotel has no pool and no beach but it has a lot of zen. Rent a car and drive to nearby beaches, but stay here and get amazing value.
Ibiza Facts and History
Ibiza was first (at least the earliest we know of) settled by Carthaginians in the 7th century B.C. who founded Ibiza Town which is the main town.
The island was also settled (by way of conquer) by the Romans, Barbarian Goths, Arabs, and finally by the Catalonians, but is now independent.
It is an island in the Balearic Sea nearby to Mallorca and practically touching Formentera
It is not part of Catalonia but was settled by Catalonians, which is why you'll see signs in Spanish and Catalan.
Ibiza is a UNESCO world heritage site for its biodiversity and culture.
Ibiza is a very environmentally conscious island. Be ready to recycle, compost, and ideally learn their ways and bring them home!