One of the jewels of Umbria, Assisi sits proudly on a rocky outcrop of the imposing Mount Subasio. A Medieval masterpiece, this small town packs a big punch. The Basilica of Saint Francis of Assisi is the town's biggest draw. However, once the pilgrims leave, there is much more to this corner of Umbria. Figuring out where to stay can be daunting, so let me guide you to the best places to stay in Assisi.
---
Pro Tip: Planning a trip to Assisi? Bookmark this post in your browser so you can easily find it later. Also, be sure to check out our guide to nearby Rome and Florence for more planning tips for Italy.
---
Our Partnership with Booking.com If you like our content, please book by clicking on our Booking.com links. The price is the same for you, and we get a small commission that helps support our blog. We've partnered with Booking.com because they have the widest options, great prices, and a solid loyalty program. Almost every hotel is on Booking, so our recommendations are genuine.
The Best Hotels in Assisi at a Glance
---
Why Stay in Assisi?

---
Assisi has been a shrine for pilgrims since the Middle Ages. Saint Francis of Assisi founded his order here in the 13th century. Then in 1228, just two years after his death, construction of a colossal religious complex in his honor began. Artistic masters like Ciambue, Giotto, and Lorenzetti contributed to a vast fresco cycle that still adorns the Basilica's walls. They stand today among some of Italy's most important works of art.
Today Assisi is a thriving UNESCO world heritage site and definitely worth a stop on your Italian itinerary. Many visitors pass through on a day trip simply to admire the Basilica. While undoubtedly impressive, most day-trippers miss out on the town's hidden Medieval treasures and never get to explore one of Italy's most lush and verdant landscapes.
Be savvy and spend a night or two in this Umbrian idyll. Regarding where to stay in Assisi, I suggest two different areas depending on your plans and transport.
Historic Assisi
If you're a culture vulture keen on exploring the town itself, with its myriad Medieval alleyways and stunning churches, you should stay within the walls of historic Assisi. The town is compact and walkable. Ideal for those without a car. Resist the temptation to stay close to the train station. It may seem like a convenient and better budget option; however, the area is a more modern, less attractive suburb. Apart from the Basilica of Santa Maria Degli Angeli (which you should visit), there are few sights here.
Countryside of Assisi
However, if you have a car, love wild rolling vistas, and want to explore the countryside, you should stay in one of the villas or farms that dot the surrounding area. Many accommodations organize activities like cooking classes, horse riding, wine tasting, and truffle hunting so that you can get the full rural Umbrian experience. Assisi is a short drive away. Park outside the walls and explore its treasures on foot.
---
The Best Luxury Hotel in Assisi
---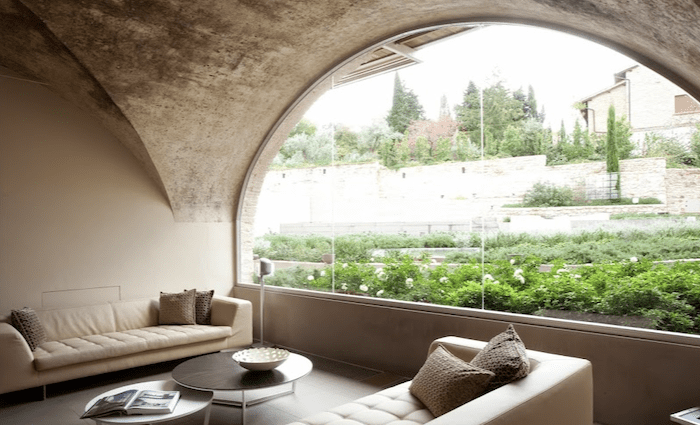 €€€€+ | 5 -Star | Luxury | Spa
---
For a slice of luxurious monastic chic, check yourself into Nun Relais. Perched upon one of Assisi's highest points but only a few minutes walk from its center, this refined hotel occupies a former 13th-century Benedictine convent.
Expertly restored, the hotel now boasts a fresh, minimalist interior while maintaining stunning original architectural details. Among the eighteen suites, you can choose from rooms with exposed original stonework or suite no.10, adorned with an enormous double-height 17th-century fresco. A once in a lifetime experience for history geeks.
The treasures don't stop there. Underneath the convent lies the remains of an amphitheater dating to the 1st Century AD. Today it's home to a luxurious modern spa. Inspired by the Romans, you can relax and indulge in Roman-style bathing rituals. Make your way through the Tepidarium, Caldarium, Sudatorium, and Frigidarium. Or, for something more 21st-century, treat yourself to the jacuzzi and massage pool. Or make like Cleopatra and treat yourself to a facial, complete with 24K gold leaf. Sure, why not?
---
Not sure if Pisa is for you? Check out our guide on where to stay in Florence
The Room With a View in Assisi
---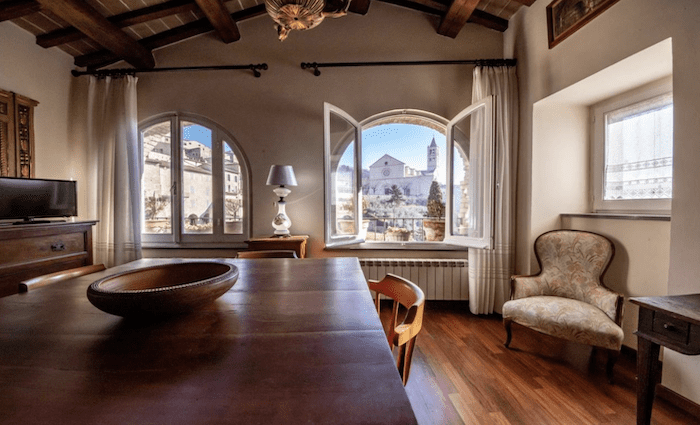 €€ |Apartment| Central Location| Views
Casa Spagnoli is an elegant family home with a personal touch that oozes vintage charm. The real star, however, is the spectacular view of the Basilica of Santa Chiara. This gem of an apartment is perfect for families or small groups. It even has parking – a rarity in Assisi. It's ideal for those who want to explore on foot.
---
Want to make your trip perfect? Check out our free Tuscany Travel Blog
---
The Most Unique in Assisi
---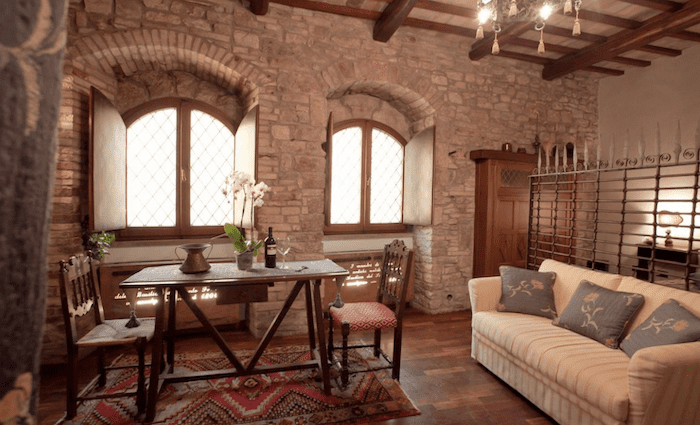 €€ | Apartment | Unique | Medieval | Great Location
Loggia dei Maestri Comacini is a petite apartment with a big personality. Located just steps from the Basilica di San Francesco, the building dates back to the 13th century. Inside you'll feel transported back in time to Medieval Assisi. It's an undeniably quirky and special place. Brimming with original details and decorated in Medieval style with antique furnishings.

---
---
The Best Family Option in Assisi
---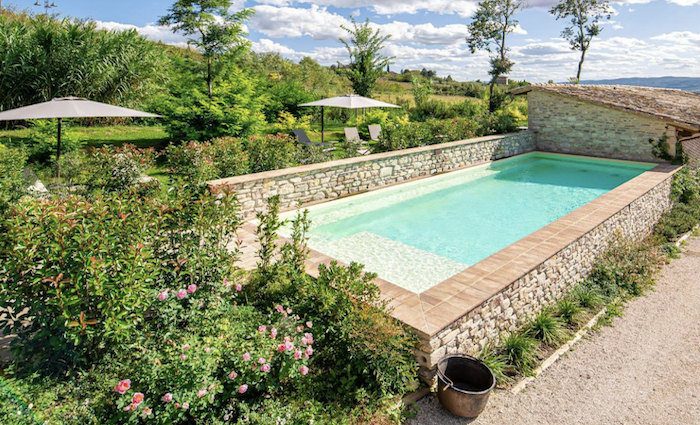 ---
€€ | Boutique Resort | Historic| Pool | Family-Friendly
Nestled on the slopes below Assisi, Borgo Antichi Orti is a perfect oasis a stone's throw from the historic center of town.
Once a 15th-century Benedictine hamlet outside the ancient walls, today it is a spacious retreat with just twelve rooms spread around the property. Sympathetically restored, the owners even revived the original vegetable garden.
Feel free to wander the grounds, take a dip in the pool or explore local flavors prepared with produce from the gardens. Even the littlest guests are well cared for here, with an outdoor play area and a dedicated kids' menu.
Borgo Antichi Orti is an ideal spot for those who want the feel of a rural getaway close to all the main sights.
Not exactly what you're looking for? Check out these dreamy vineyards with accommodation.
---
The Best For Couples in Assisi
---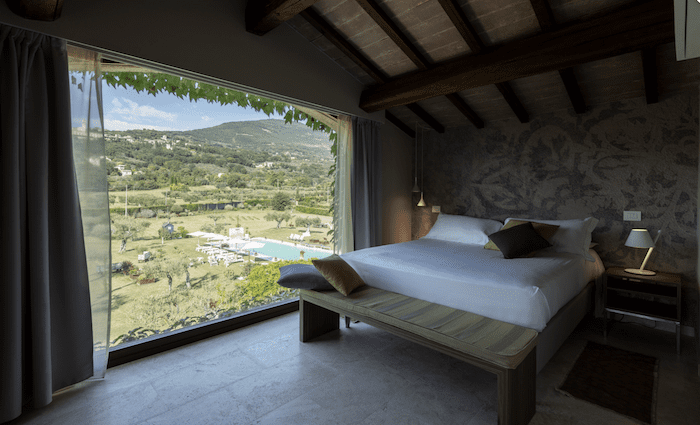 ---
€€€ | Pool & Spa | Couples| Pool |Views
Hidden away in a two-hectare estate less than a mile from Assisi is Tenuta San Masseo. This is an upscale take on the traditional Italian 'agriturismo'.
The farmhouse has just eight rooms, so staying here makes for a serene and intimate experience. Guests can indulge at the private spa, relax by the pool, and drink in those breathtaking views. For the best bedside vista, book the 'Cardinale Charme' room. It offers a floor-to-ceiling window with a staggering panorama. A stay here offers an ideal romantic bolthole close to the city.

Not exactly what you're looking for? Check out these dreamy vineyards with accommodation.
---
The Poolside View in Assisi
---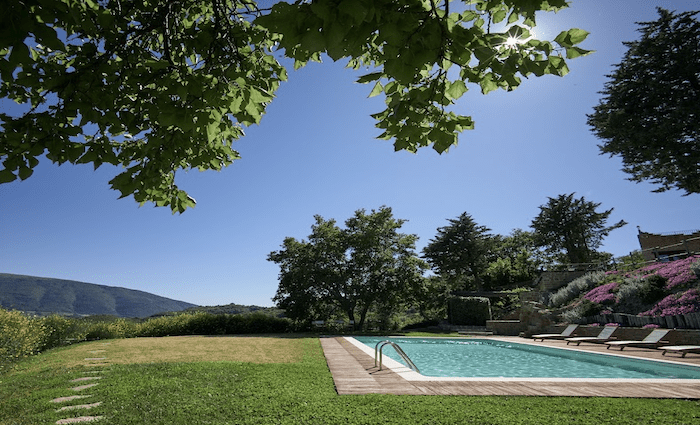 ---
€€€| Eco-Resort | Rural | Pool | Family-Friendly
For nature lovers who want to explore the wild beauty of the Umbrian hills, Incantico is the perfect refuge.
A twenty-minute drive from Assisi, the resort is set among 20 hectares of stunning parkland. Trek through olive groves and forests, meditate in the lavender fields or be brave and dive into the creek beside the waterfall. Alternatively, kick back at the pool and take in the sweeping views of Mount Subasio before heading to dine in the restaurant, which uses organic produce grown on the land.
Guests can choose from two types of accommodation. You can stay in the original ancient stone farmhouse or opt for one of the more modern chalets. Decorated with a charming rustic flair, local artisans craft all the furniture, and original art hangs on the walls.

Not exactly what you're looking for? Check out these dreamy vineyards with accommodation.
---
Where is Assisi, and How Do I Get There?

---
By Air: Assisi's nearest airport is Perugia (PEG), 10 km away. However, it's a regional airport with limited European services. You're more likely to fly to Rome Fiumicino (FCO), 145km away, or Florence (FLR), 141km away.
By Train: Trains from Rome to Assisi take approximately two hours, depending on the service. You can also arrive from Florence; however, it's a longer journey – usually over three hours. The station is located about 5 km from the historical center. You can take the local C bus, which departs every 30 minutes, taking about 15 minutes. Tickets can be bought at the local newsstand. Alternatively, grab a taxi. It will cost about €15-€20 but is just a 5-minute ride. For timetables and tickets, check out www.trenitalia.com
By Car: The easiest way to get to Assisi and explore the region is by car. From Rome, the journey is about 180km and takes less than 2.5 hours, depending on your route and traffic. Florence is similar. Parking within the ancient city is strictly regulated, so it's best to park outside town in one of the car parks (one is free) and then take a minibus to the center. While driving in Assisi can be a nightmare, having a car allows you to explore the magical wild countryside.
---
Top Things to See in Orvieto
Best Restaurants in Orvieto
---
---
Recently on the Blog