Hollywood. The iconic name evokes images of celebrities, luxury, and entertainment. Fortunately, Hollywood and West Hollywood live up to the hype. Along Sunset Strip and beyond, you can find tasty restaurants to refuel yourself after a long day of shopping or treating yourself at the spa. Don't miss these best restaurants in Hollywood on your next trip to Los Angeles.
---
Pro Tip: Bookmark this page to stay on top of the best restaurants in Hollywood! We update it often to make sure we've included all of the most popular restaurants from a variety of cuisines. Also, you can check out other restaurants in LA or the best places to stay near LA.
The Best Places To Eat In Hollywood
West Hollywood is barely 1.9 square miles, and it sits just west of Hollywood proper. This little space of California holds some of the most expensive real estate in a compact area on the entire West Coast. While Hollywood has made a name for itself as the home of movie making with all the nearby film studios, it's also become the breeding ground for top fitness and food trends.
That's why you'll find plenty of award-winning restaurants in this fabulous area. And no matter your dietary needs, there's a space for you here. The best restaurants in Hollywood range from high-end, fine dining to casual corner eats and cafes. Using locally sourced ingredients is almost a must here, so expect to enjoy all the flavors of California dining mixed with international cuisines.
Night + Market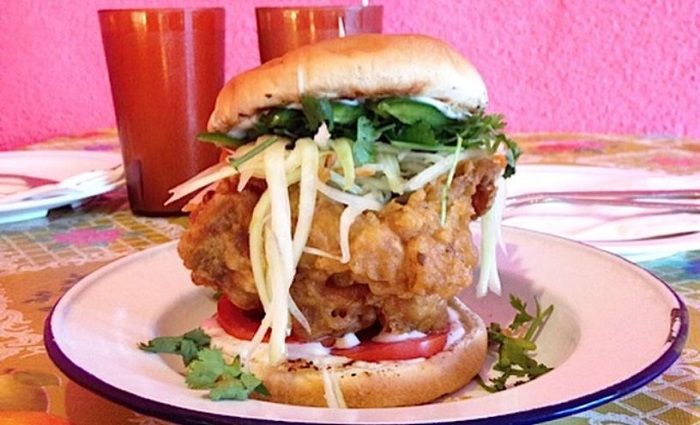 $$ | Thai food | Quick Bites | Bright, Social Vibes
Night + Market in West Hollywood is a bustling little Thai food joint that specializes in street food and ice cream sandwiches. The Panang curry has the rich, flavorful depth you'd expect of authentic Thai cuisine, and the naked salad with raw shrimp is a tasty choice if you dare.
For a challenge, try fitting the fried chicken sandwich into your mouth, then follow up with a spicy margarita that's actually spicy. But since Thai food has some heat to it anyway, you may just need an iced tea or one of their many wines from the wine bar.
Address: 9043 Sunset Blvd West, West Hollywood, CA
L'Antica Pizzeria de Michele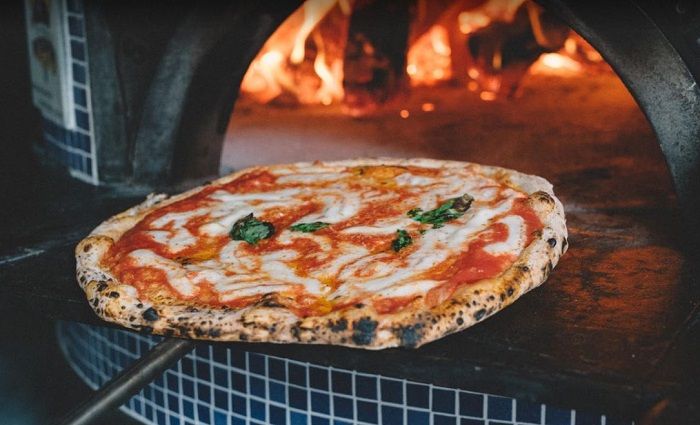 $$ | Italian Pizzeria | Indoor and Outdoor Dining | Romantic Ambiance
The ambiance makes up a significant part of the reason why we love L'Antica Pizzeria. An evening on the airy, cozy patio here will have you relaxed and full in no time. Ordering the traditional Margherita pizza is a no-brainer here, but you might try the truffle burger if you're extra hungry and looking for a new flavor.
For dessert: Sicilian blood orange sorbet or the tortino al cioccolato. You might recognize this delightful restaurant from Eat Pray Love, featuring Julia Roberts.
Address: 1534 N McCadden Pl, Los Angeles
Musso & Frank Grill
$$$ | American Dining | High-End Comfort Food | Big Portions
Musso & Frank Grill holds a historic place in Hollywood. It's been a staple of California dining since 1919, and the historic charm of this vintage restaurant hasn't faded one bit. You can dine under the same roof as Frank Sinatra, Marilyn Monroe, Greta Garbo, Marlon Brando and countless other Hollywood icons.
Oh, the food. The menu is a mile long and filled with dishes of all kinds, from comfort food to fine dining. The rib eye is stunningly huge and tasty, but the duck confit is not to be missed. A splurge at Musso & Frank Grill is worth every penny.
Address: 6667 Hollywood Blvd, Hollywood
A.O.C.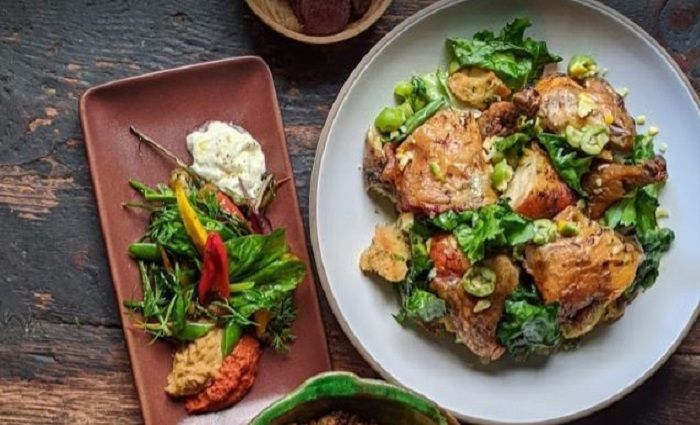 $$$ | California-French Cuisine | Elegant Wine Bar | Luxe Yet Casual
The owners of A.O.C. are three-time winners of the James Beard Award. They created A.O.C. as a top wine bar destination where you can pair impeccable wines with small plates that use local ingredients. It's the perfect place to go for a casual evening of drinks and light fare.
The tapas make for easy sharing of each dish that's perfectly prepared for flavor and eye-catching visuals. We love the salad made from local apricots, cherries, arugula, and pistachios, but you should also try the za'atar lamb chops paired with smoked eggplant, cucumber & preserved lemon labneh. Yum!
Address: 8700 W 3rd St, Los Angeles
Tiago Coffee Bar & Kitchen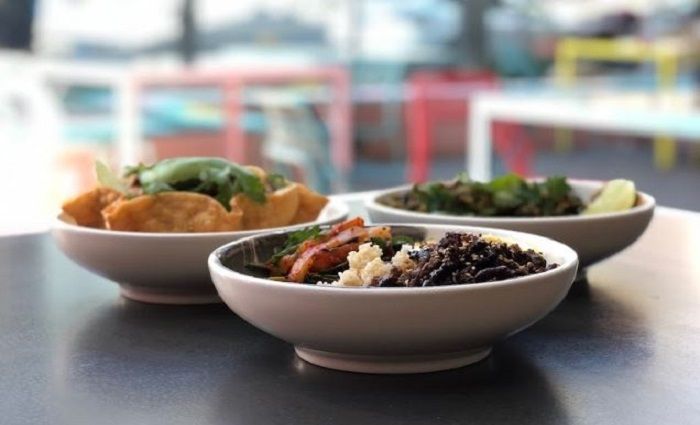 $$ | Top Brunch Stop | Spacious Seating Areas | Fresh and Flavorful
Need a coffee break? Or a yummy breakfast sandwich packed with veggies, meat, and melted cheese? Or perhaps a protein bowl or pile of scrumptious pancakes? Try Tiago Coffee Bar & Kitchen. It has all the fresh flavors you're looking for when you need a fresh pile of food to power through your day.
The stuffed french toast is a top favorite here, but their grilled breakfast sandwiches will also leave a lasting impression. And don't forget to take a pastry to go!
Address: 7080 Hollywood Blvd, Los Angeles
Gracias Madre West Hollywood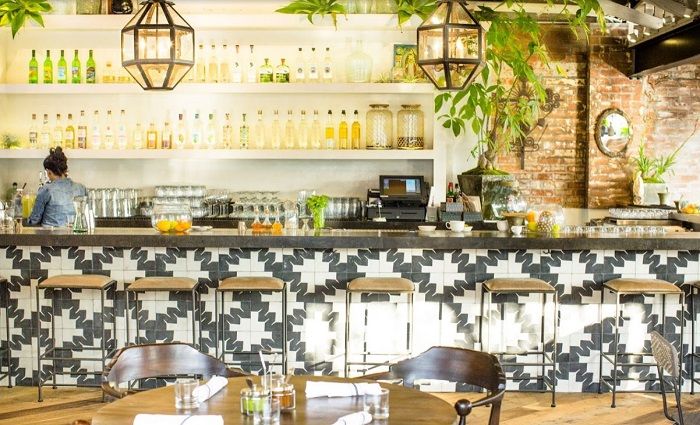 $$$ | Mexican Delights | Vegan & Organic | Bright and Airy
Catering to the environmentally conscious eater, Gracias Madre offers a surprisingly tasty vegan menu inspired by Mexican flavors. However, meat lovers are known to frequent this local spot often, so don't hesitate to try it out! Everyone loves the Wet Burrito that's made with a barbecued jackfruit that is unbelievably similar in flavor and texture to barbecued chicken.
The dairy-free nachos are another delicious option that will make you wonder how they taste so good without traditional ingredients. Reservations in the evening are a must since it gets busy.
Address: 8905 Melrose Ave, West Hollywood, CA
SUGARFISH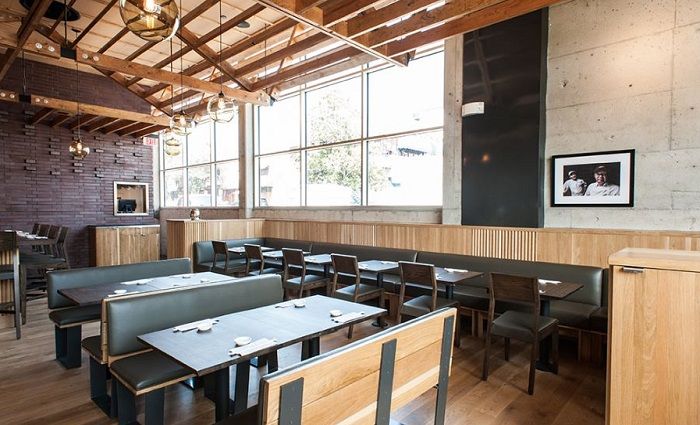 $$$ | Sushi Restaurant | Chic and Intimate | Renowned Chef
This Sugarfish is mere miles away from the original Sugarfish by award-winning Chef Nozawa. The decor is simple and minimal to allow the colorful and delicious dishes speak for themselves.
Meals are ordered Omakase style, so you might enjoy a variety of sushi, sashimi, and handrolls. Ruby red snapper, Japanese yellowtail, thin-sliced octopus, and large scallops will just about melt in your mouth.
Address: 6115 Sunset Blvd # 170, Los Angeles
Cecconi's West Hollywood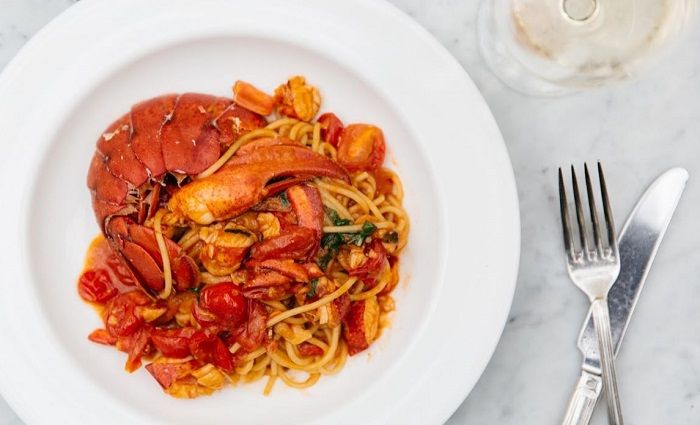 $$$ | Venetian-style Italian Dining | Delicious Truffles | Indoor and Outdoor
If you enjoy truffles, then you'll love the truffle pizza here at Cecconi's. The wood-fired pizza is made with squash blossom and goat cheese, then topped with delicious truffle shavings. The menu at Cecconi's includes a range of entrees from petite filet to Ahi tuna tartare and cavatelli lamb ragout. The staff can help you pair your meal with an impeccable wine choice and sumptuous dolci.
Address: 8764 Melrose Ave, West Hollywood
Joan's on Third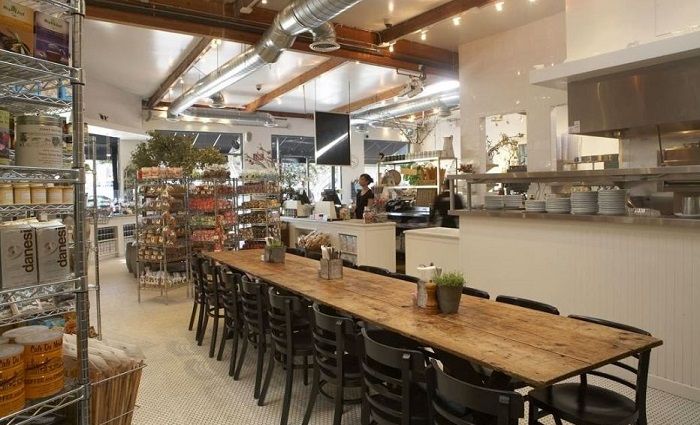 $$ | Cafe and Market | Bustling Vibes | All-Day Breakfast
Joan's should be on everyone's list for a hearty breakfast or delicious lunch even though it's just beyond the boundaries of West Hollywood. Their menu has a little of everything, so whether you're in the mood for a parfait, a breakfast sandwich, a salad, or just a sweet treat, you'll find something to enjoy.
The Chinese chicken salad is a favorite, but if you want a heartier meal, try the short rib sandwich. Seating can get crowded at the lunch rush, so plan ahead. It's also a great spot to purchase local cheeses, jams, pastries and sweets, and a few other delicacies to take home.
Address: 8350 W 3rd St, Los Angeles, CA
Connie and Ted's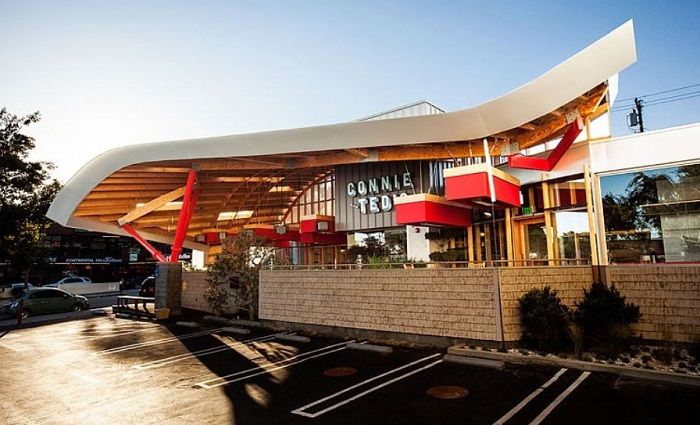 $$$ | New England Style Seafood | Raw Bar | Open Kitchen | Hip and Vibrant
For seafood lovers, Connie and Ted's is a top option to check out. You can choose from raw oysters, lobster, clam chowder, clams, fried cod, and more. The chefs try to prepare the dishes simply and tastefully to allow the seafood to speak for itself. The ambiance is fun and inviting with plenty of seating where you watch the action in the kitchen or enjoy the California air on the patio.
Address: 8171 Santa Monica Blvd, West Hollywood
Fresh on Sunset
$$ | Vegetarian and Vegan | Social Eatery | Delicious with Large Portions
Vegetarian food isn't just for vegetarians, and Fresh on Sunset proves that. Their massive pile of loaded nachos has made repeat customers from all flavors of life, as has the chipotle bacon burger. Every meal is flavorful, earthy, and hearty to makes sure you leave with a full belly and happy smile.
We also love the fun mid-century modern decor that's an unusual but perfect choice for this restaurant. As far as vegan restaurants go, this is one of the best restaurants in Hollywood.
Address: 8768 Sunset Blvd, Los Angeles
Cavatina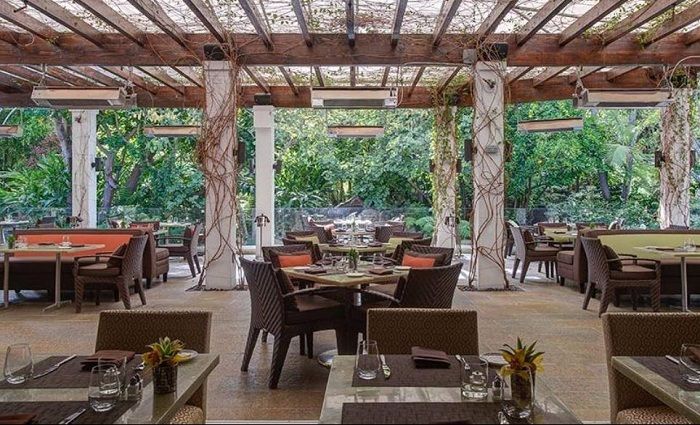 $$$ | California-Mediterranean Menu | Stunning Patio | Gorgeous Dishes
Located in the beautiful Sunset Marquis hotel, the Cavatina restaurant offers fine dining in a lush garden or in their cozy, elegant interior. It's still a bit of a hidden gem, so you'll likely enjoy a quiet evening with your partner, though reservations are still recommended.
You'll find a range of tasty dinner items to try here: tuna poke, tagliatelle pasta, Baja striped bass, prime rib fillet, plus the every-changing, delicious daily menu. Ask the waiter to recommend the best hand-crafted cocktail to go with your meal.
Address: 1200 Alta Loma Rd, West Hollywood
Elbow Room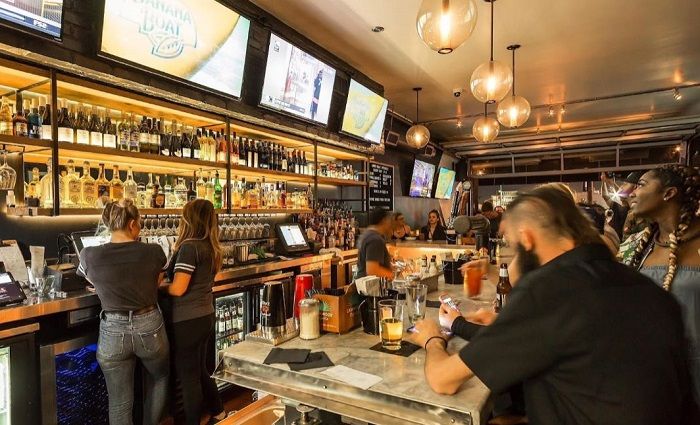 $$ | Busy Pizza Bar | Social Scene | Local Favorite
Sometimes you just need pizza and beer, right? Well, Elbow Room understands. That's why they've created a lively, social place for friends to gather over pizza, sandwiches, and beer. Oh, cocktails too. The drinks and food are reasonably priced, and happy hour is available every day.
What's fun is that you can enjoy NY-style pizza with West Coast vibes here. Build your own pizza, order wings, or try the burger with truffle aioli. You can't go wrong here, which is why it's on our list of the best restaurants in Hollywood.
Address: 1634 N Cahuenga Blvd, Los Angeles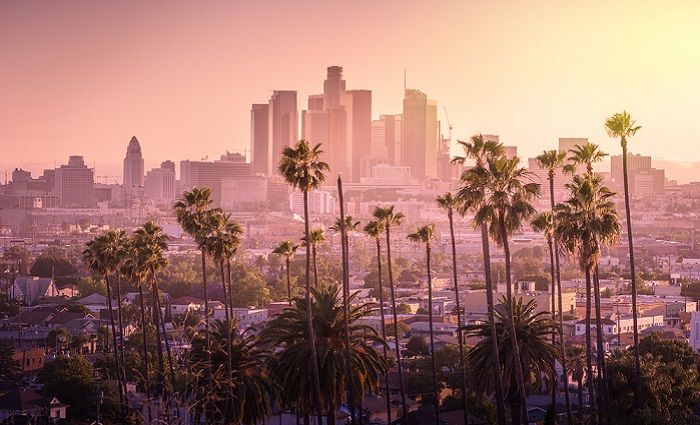 Find the best places to stay
Where to Stay in Los Angeles
With Hollywood, Beverly Hills, and Santa Monica nearby, there are no shortage of great places to stay in the Los Angeles area. Use our guide to help you decide which hotel to book on your trip to LA.