Did you know there are numerous small islands around Singapore that you can visit without needing a passport? Spend the full day exploring the many Southern Islands. Remember to carry your water bottle, sunscreen, bug repellent, and some food/snacks regardless of whichever island you visit.
---
Kusu Island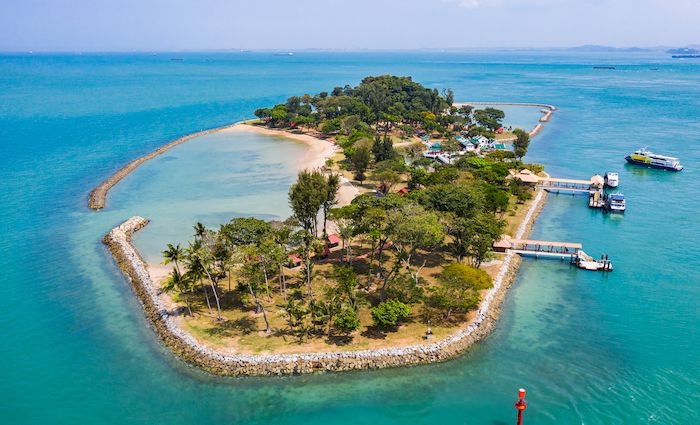 Kusu Island is the place to go if you're seeking an off-the-beaten-path local heritage with a healthy dose of nature.
Where is Kusu Island?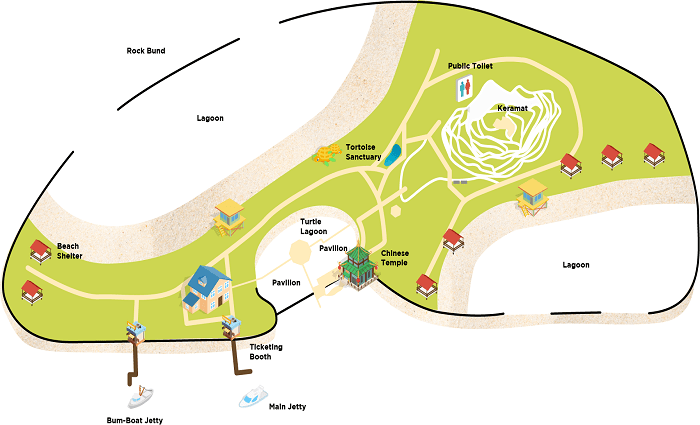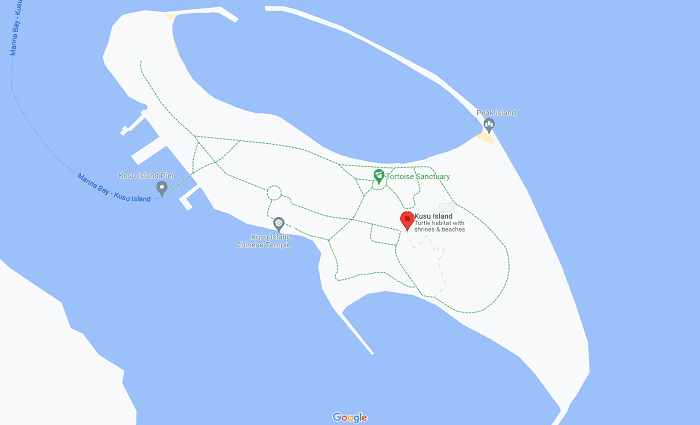 Kusu Island, also known as Tortoise Island, is located off the southern coasts of Singapore. Kusu is a Chinese word that means "Tortoise" or "Turtle". If you're curious how it acquired its name, legend has it that a mystical tortoise transformed itself into an island in order to save two shipwrecked sailors.
Aside from being a peaceful haven with sacred locations for prayer, the island is also ideal for swimming in the lagoons or simply enjoying a day at the beach! Read on to learn how to get to Kusu Island, what to do there, and much more.
How to get there?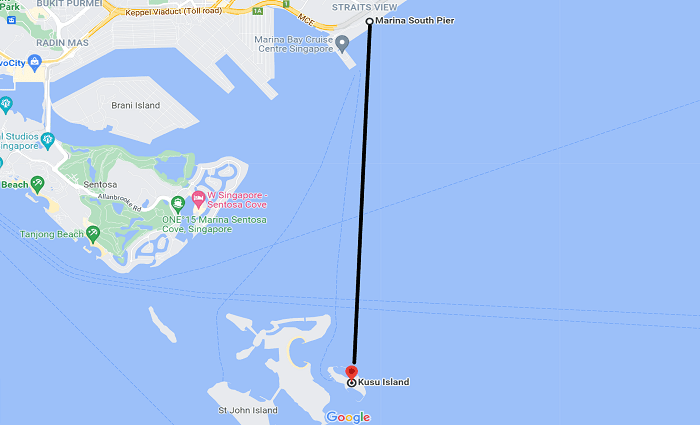 Kusu Island can only be reached by ferry from Marina South Pier MRT Station Exit B. While visiting the island, keep an eye on the boat schedule because camping is not permissible on the island, so you'll want to take the last ferry back to Singapore.
Kusu Island is serviced by two ferry companies:
Singapore Island Cruise Ferry: They stop by St. John's Island first before travelling to Kusu Island, then back to Marina South Pier.
Marina South Ferries: They run both routes, from Marina South Pier to St. John's Island and from Marina South Pier to Kusu Island, so ensure you catch the right ship!
I'm all about convenience and efficiency so, I certainly favour Marina South Ferries over the other because if you want to conquer both islands at once, you'll be happy to know that they also operate two-way ferries. Unlike the Singapore Island Cruise Ferry, they do not have the option of returning to and from the islands once they have passed St. John's Island to Kusu.
The ferry ride lasts around 45 minutes to an hour.
What to do?
Make wishes at Kusu Island Temple [POPULAR]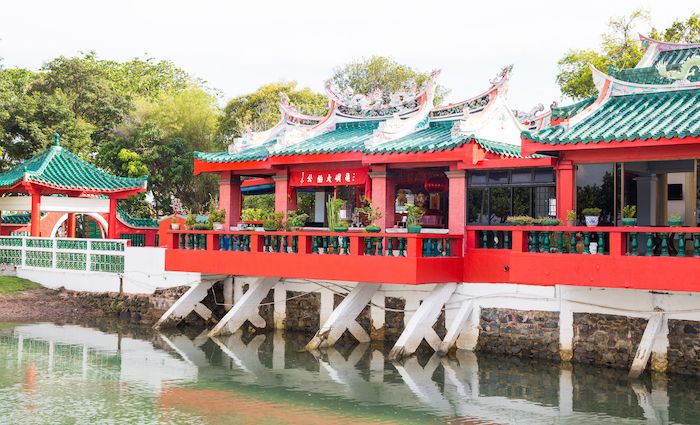 Da Bo Gong, or Tua Pek Kong in Hokkien, is a well-known Chinese temple on Kusu Island. A rich businessman established this temple in 1923, and it is home to two deities: Da Bo Gong (God of Prosperity) and Guan Yin (God of Mercy). Many people gather here to pray to Da Bo Gong for wealth and Guan Yin for fertility.
There is a Wishing Well where you can toss a coin to pray for success and good health! Within it, there are Three Bells; toss a coin and try to hit them. According to legend, if you hit all three, your wishes will be granted.
Some think that if your wish is granted, you must return to the island to express your gratitude.
Did you know that the yearly Kusu Pilgrimage takes place in the ninth month of the lunar calendar? Many worshipers visit the island to pray for good health, prosperity, happiness, harmony, and blessings.
Trek to Kusu Island Keramat on a hilltop
Keramat means 'Shrine' in Malay. Located at the far end of the island, three Keramats can be found on the hill's peak. There are two flights of steps, one for ascending and one for descending. Many worshippers ascend the 152 stairs to pray for wealth, good health, peace, and happy marriage.
Visit the Tortoise Sanctuary to see numerous tortoises
When visiting Kusu Island, the tortoise sanctuary is most likely the one thing you absolutely cannot miss!
It is located behind the temple, where you can see several different breeds of tortoises sunbathing and have simply nothing to care in the world. The tortoises have distinct shell patterns, and it can be quite relaxing to watch them take those small steps! Unfortunately, you won't be allowed to touch them.
Chill out and Relax by the beach
The beach on Kusu Island is unspoiled and pure, with white sand, clear water, and lush green vegetation. There are numerous coral reefs, fish, and other marine life in the seas thanks to the conservation efforts to protect marine biodiversity. As a result, this beach is great for swimming, snorkeling, or even taking an intertidal tour.
Enjoy a Breezy and Scenic Picnic
If you don't have a picnic mat, these charming pavilions are a fantastic substitute. On Kusu Island, there are many pavilions where you can indulge in a cool and shaded lunch, rain or shine.
On several tables, though, I noticed black ants. Additionally, some claim to have seen monkeys on Kusu island. So just be cautious with your eating. And keep tabs on your food so that monkeys or ants don't attack it.
Where to eat?
There is no food or drink stalls on Kusu Island on normal days, except during the Pilgrimage season. There are also no water coolers nearby, so you won't be able to re-fill your bottle. So, bring your own food/snacks and water.
St. John Island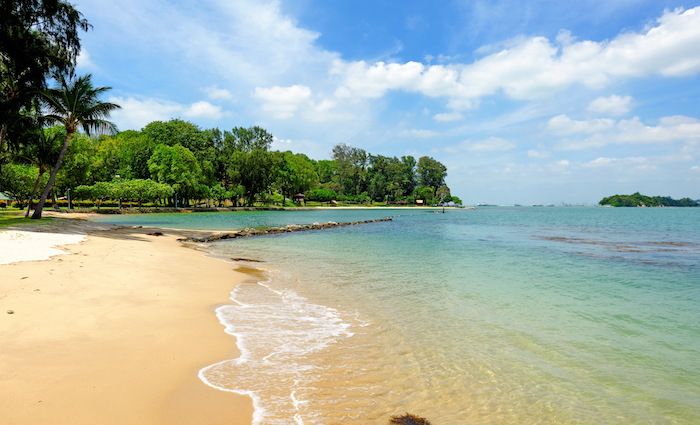 Most people choose Pulau Ubin's winding bicycle trails or Sentosa's plethora of attractions, such as the opulent Quayside Isle, for an island retreat. But did you know, St. John's Island is only a 45-minute boat trip away from our beaches — a beautiful hideaway for beachgoers and wildlife lovers alike.
Where is St. John Island?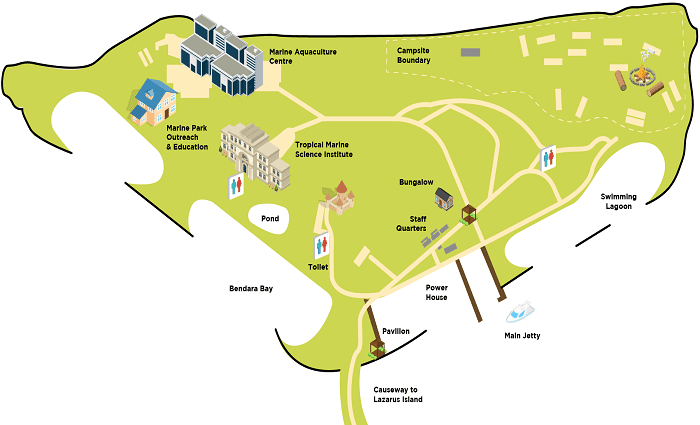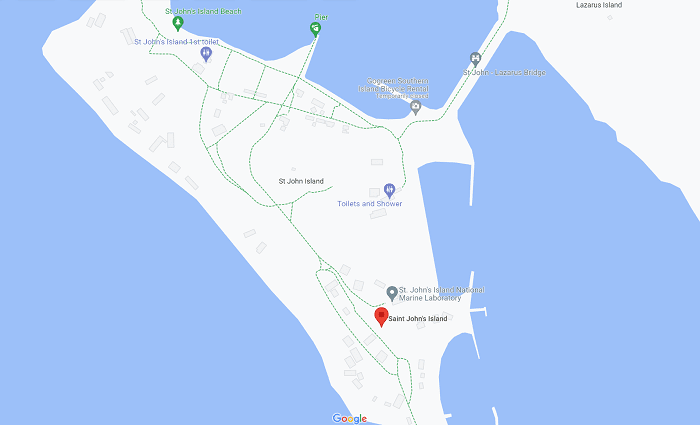 St. John's Island, along with Kusu Island, Lazarus Island, and the Sisters' Islands, form the Southern Islands. St. John's Island includes some of Singapore's most beautiful beaches, plus an astounding variety of fauna, and I doubt you can find them on the mainland.
How to get there?
Similarly, the same two ferry providers – Singapore Island Cruise Ferry and Marina South Ferries, shuttle between the Southern Islands.
What to do?
Re-ignite camping days
To camp on the island, you must first apply for a permit.
Spot marine creatures on your way to St. John's Island National Marine Laboratory
Given that we spend the majority of our time indoors, it may amaze you that the little red dot is home to one-third of the world's coral species. Many of them, can be seen at low tide on an intertidal stroll around the island's coastline.
Stay updated for intertidal walks led by marine biologists and researchers at the St. John's Island National Marine Laboratory, or check the tide forecast to determine the optimal time for a self-guided visit.
Where to eat?
On the island, there are no shops or convenience stores. Before your day begins on St. John's Island, ensure you have adequate food, drink (very important!), and supplies such as sunscreen and bug repellent. Covered shoes are also recommended for individuals who are thinking of hiking or exploring. On St. John's Island, there are around three toilets.
If you only have half a day and must pick between St. John and Kusu, I prefer Kusu. St. John's Island – the largest of Singapore's Southern islands – is fun-filled with nature, beaches, hiking routes, and more if you're just trekking without needing any form of entertainment.