Holbox Mexico is one of those beautiful destinations yet to be completely overrun with tourists and commercialized, making it perfect for travelers looking for value and peace. That said, your "peace" could vanish quickly if you're being eaten by mosquitos due to a bad location choice. Don't worry; I have been there and devoured by mosquitoes for you. From my experience, I've put together this article on where to stay in Holbox Mexico!
---
Pro Tip: If you are in the midst of planing a trip to Holbox (pron.: whole-bosh), bookmark this article in your browser so you can circle back to it when you're ready to book.
Our Partnership with Booking.com. If you like our content, please book by clicking our Booking.com links. The price is the same for you, and we get a small commission that helps support our blog. We've partnered with Booking.com because they have the most options, great prices, and a solid loyalty program. Almost every apartment on Airbnb can also be found on Booking.com but with fewer fees.
What Neighborhoods are Best on the Island of Holbox?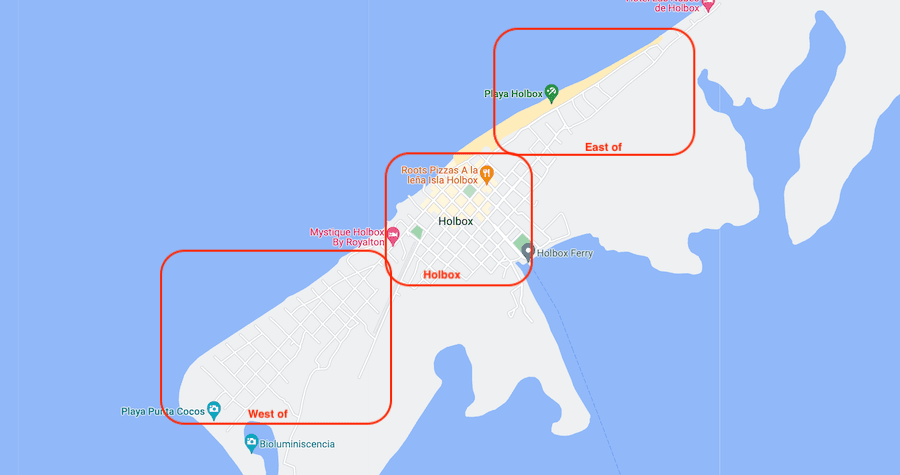 While none of these are official, I have split Holbox up into three neighborhoods.
West of Town
Holbox Town
East of Town
Each area has its distinct positives and negatives, but ultimately we found the best place to stay was west of town but close to town. East of town is also great, but again, close to town.
East of Town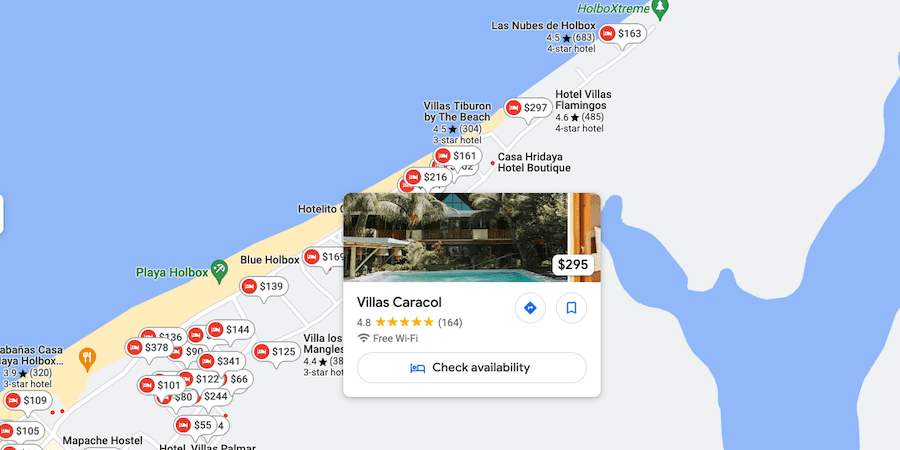 Resorts | Less Crowded | All Beachfront
The island's east side has a distinct feeling of being shipwrecked at a luxury destination with every amenity possible except paved roads. The combination gives you the feeling that you're somewhere "savage" but can still stay in a 5-star hotel with cabanas and drink service to the beach.
We stayed at Villas Caracol, which we loved
as a hotel (we did not receive free or discounted stays there). The rooms, food, service, and staff were great. We were there in November, and it rained almost every day, which was a challenge as the hotel did not have internal amenities, and mosquitos were worse on this side of the island. That said, the staff said this was unusual and that things are usually much more pleasant.
The walk to town took about 25 minutes and was very leisurely. We usually walked down the beach and enjoyed some incredible sunsets as the island faced northwest.
What I love about East of Town
Fewer people
Lots of beachfront hotels
Quiet
Nearby Attractions East of Town
Great Hotels in East of Town:
Villas Caracol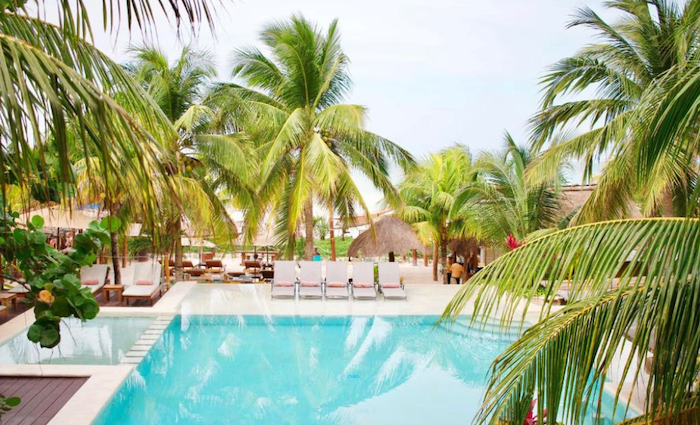 $$$ | Pool | Beachfront | Restaurant | Luxury
My family stayed here and it was a great hotel. Our only issue is that it rained daily and the mosquitos became a problem. The hotel is near punta mosquito and you get more mosquitos at this end of the island. If your season does not have a lot of rain this is a great choice.
Hotel Villas Tiburon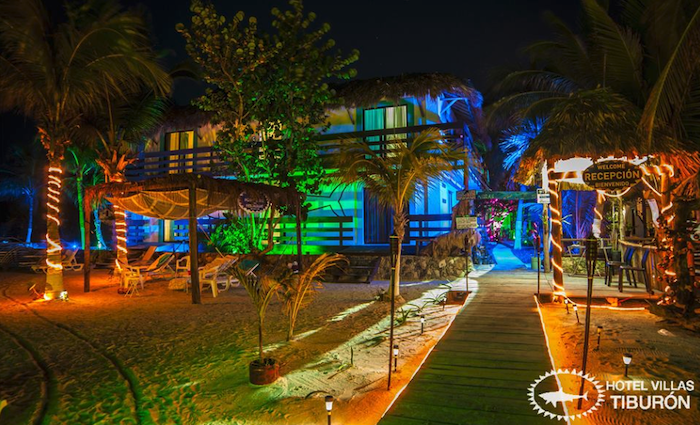 $$ | Youthful | Beachfront
Great hotel option for your travelers on a budget. It appeared to have a good party scene and lots fo young people. I would avoid this for families.
Aldea Kuka Boutique Hotel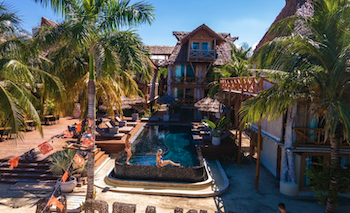 $$$$ | Luxury | Pool | Beachfront | Super Modern & Fancy
This hotel was a little bit closer to town than our hotel and we ended up having a few meals here during our stay. We thought it very nice and super chic. A great option for the money.
West of Town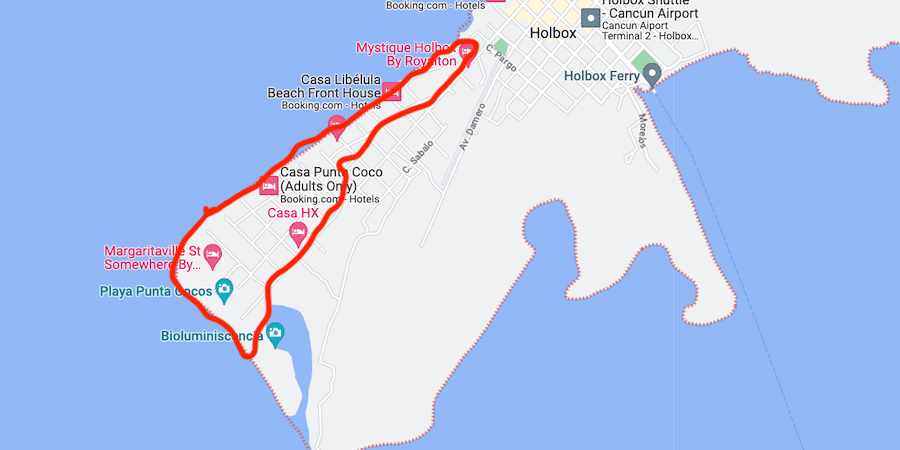 Resorts | Great beaches | Easy Access to Holbox Town
West of Town is southwest of Holbox town. It has excellent beaches and amazing sunsets and offers more restaurants & shops than East of Town.
What I love about West of Town
More restaurants than east of town
Attractions near West of Town
Great Hotels in West of Town:
Margaritaville St Somewhere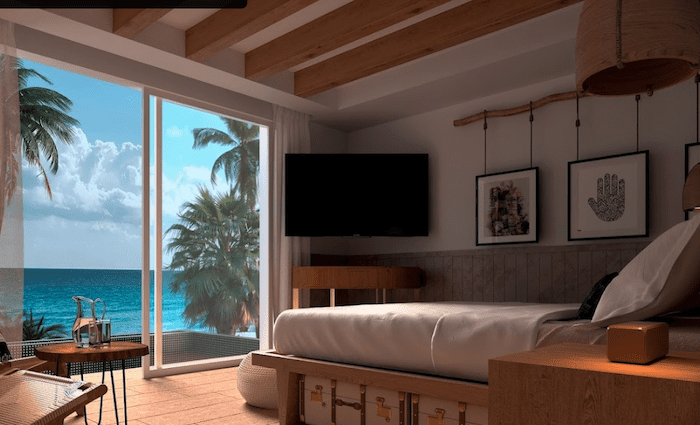 $$$$ | 5-star | Beachfront | Pool | Family Friendly
Located at the western tip of Holbox, don't be fooled by the corny name; this hotel is NICE. Great rooms, waterfront, excellent pool, and amenities. It's a bit far from town, but West Holbox has more amenities so you may rely less on Holbox Town for entertainment.
Nomade Holbox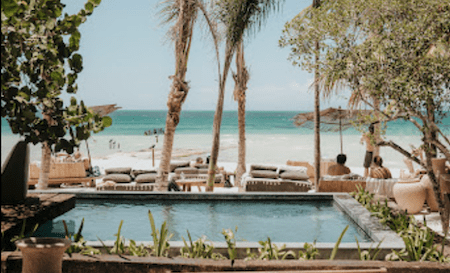 $$$$ | 5-star | Beachfront | Pool | Adults Only
Looking for a luxury retreat somewhere bespoke where you won't be bothered by the familiar cries and splashes of children? Leave your bratty kids with your parents and book Nomade Holbox.
Casa Astral Luxury Hotel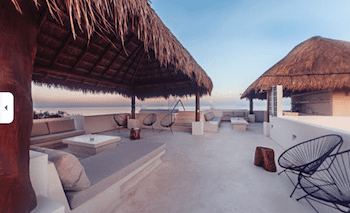 $$ | 4-star | Beachfront | Pool
Casa Astral probably isn't my first choice, but the location is great and its good value for money. It's a 4-star hotel at about 1/3 the price of the nearby 5-star hotels.
Mystique Holbox by Royalton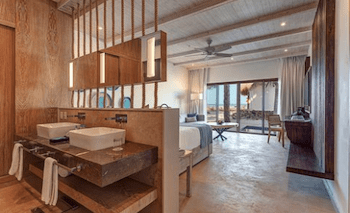 $$$$ | 5-star | Beachfront | Pool
Great luxury hotel with larger than normal rooms. You'll definitely pay a price, but if you love a nice hotel this one checks all the boxes.
Holbox Town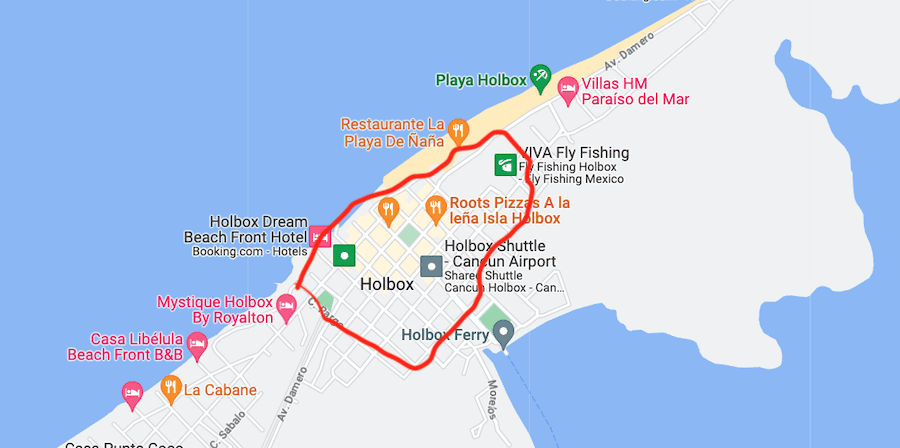 Restaurants | Bars | Cafes
Holbox town is a very colorful and cool town. It's full of restaurants, shops, boutiques, and cafes. Very quaint, and you'll likely visit it at least once every other day during your stay.
With all this said, I can't think of a single reason to stay in the town. It rained daily during our trip, and the dirt roads were not accommodating.
I am sure it is much nicer during dry seasons, and if I had those conditions, I would still recommend staying close enough to walk into town without being in town.
I do not have a specific recommendation for Holbox Town, but you can compare all hotels available on booking.com if this interests you.