So, you are planning a trip to Spain and can only spend one day in the capital? But maybe visiting Madrid in a day seems impossible. Have no fear! We take the guesswork off your plate! This guide will fit perfectly for a one-day stay, and it also includes some excellent guided tours that you can mix and match to get the most out of your visit.
---
Pro Tip: Planning what to do on your trip to Madrid? Bookmark this post in your browser so you can easily find it when you're in the city. Check out our Madrid guide for more planning resources, our best Madrid tours for a memorable trip, and the top things to do in Madrid.
The Perfect Madrid In a Day Itinerary
The capital of Spain is a fascinating city, full of history, art, and contagious vitality. Although we suggest spending more than just a day in Madrid, it can be hard to fit a longer stay into your schedule if you're traveling through the country.
The good news is that you can see Madrid in a day without missing out too much if you plan ahead. This guide lists the essential stops in the city center, and the itinerary will fit the bill if you want to explore the city on foot.
But you can also use public transportation to save time between each point of this itinerary. Better yet, book your trips with a guide to skip the line at key attractions and learn more about this beautiful city. Put your comfortable shoes in your luggage. Madrid in a day: that's our mission!
Not ready to book a tour yet? Check out our Madrid Guide for more info.
Getting To Madrid
If your flight arrives or departs from Madrid, use it to your advantage. Start your trip from the capital, or choose it as the sweet end of the vacation and save time on the journey.
From the airport, you can get to the city center by metro or using the Cercanias train which takes about 45-minutes. A taxi is also a good option and has a fixed price of €30. If you need a car for more days, international rental companies have offices in front of the airport (you can also book it in advance).
On the other hand, if you are in Spain already, the high-speed train (AVE) connects all the major cities to Madrid. All AVE trains stop at the Atocha station, a fantastic example of cast-iron architecture from the 19th century.
Enjoy a Morning Churro with Chocolate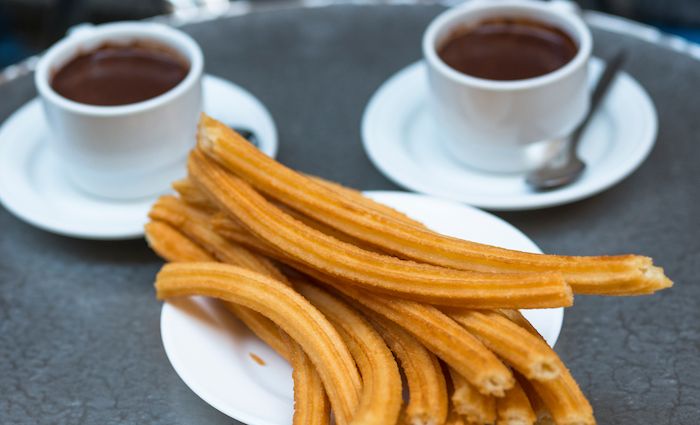 There is no trip to Madrid that doesn't involve churros. There are two traditional fried dough breakfasts: tiny churros sprinkled with sugar, or porras which are longer and can be filled with cream or chocolate.
Our favorite is churros because they are a little crunchy and not too heavy. Traditionally, you pair them with hot chocolate, but if chocolate is not your thing, no worries. Pairing it with coffee or a latte (café con leche) is perfectly acceptable.
Churros are everywhere in Madrid: churrerías, bars, and street trucks. But the most important thing is that you eat them while they are still hot and crunchy; otherwise, they will become soggy and unforgettable.
Chocolatería San Ginés is the best for hot chocolate and churros. The bar near Puerta del Sol recalls the cafés of the late 19th century, and their chocolate is so famous that they opened shops in Japan, China, Colombia, and Mexico in the last ten years.
So if you want to eat churros there, you can be sure to have the best ones, but you need to be patient because there is always a waiting line, especially during winter.
Alternative: Close to San Ginés, Chocolatería 1902 is also a good option, and they have gluten-free churros.
Not ready to book a tour yet? See our Madrid Guide for more info.
Prado Museum
15-minute walk from Atocha station to the Prado Museum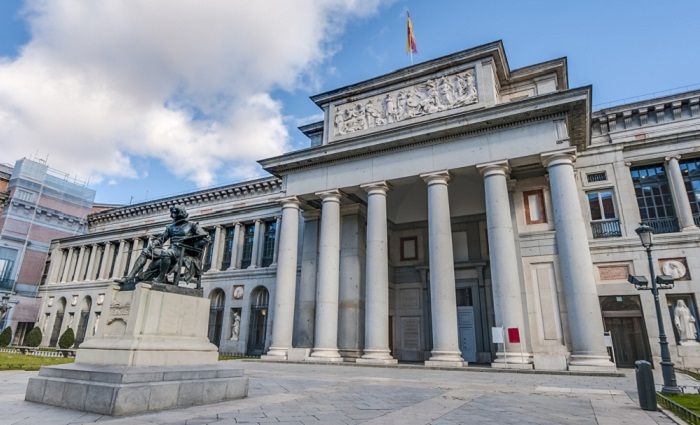 You can easily spend hours in a museum with over 3,000 artworks, so deciding what to see in advance is essential. Choosing the right time is also important. The museum opens at 10:00 am, and the busiest hours are the morning and the late afternoon (free entry hours).
Getting there before it opens or at lunchtime (around 2:00 pm) can help you beat the crowd. Booking a guided tour to the Prado Museum is also a wise choice: you will get to the best art pieces, learn about Spanish artists, and skip the line.
Pro Tip: The large pedestrian promenade that connects Atocha to the Prado Museum is a delightful walk among trees and fountains. Along the way, you will find the Botanic Garden and the lovely Cuesta de Moyano with its second-hand book shops.
Address: Calle de Ruiz de Alarcón, 23
Not ready to book a tour yet? Check out our Madrid Guide for more info.
Retiro Park and Puerta De Alcalá
5-minute walk from the Prado to the Retiro Park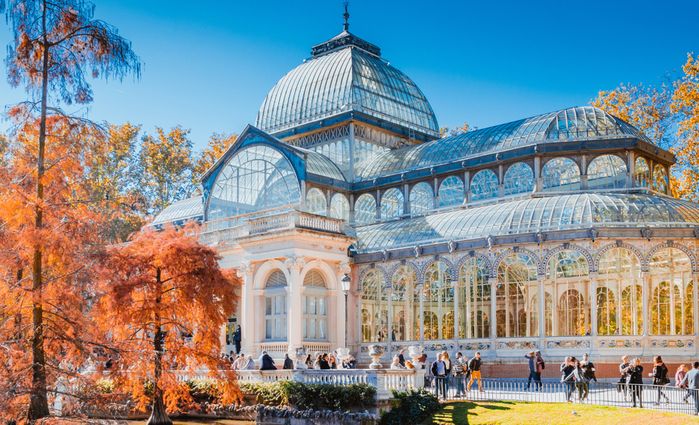 The National Museums and Retiro area have been part of the UNESCO World Heritage since 2021. The official website lists 89 buildings and statues of great importance and several unique trees that make the "Landscape of Lights" a place of historical, artistic, and natural value.
If you are an early bird, hit up Retiro Park before going to the Prado Museum. The park opens at 6:00 am, and it's located just behind the museum. It is a lovely park where you can admire fountains and where a Spanish Romanesque hermitage remains. There are also hidden gems like the Crystal Palace and a watertight with rental rowing boats.
Exit the park from the Puerta de Alcalá to Plaza de Independencia. Why here? Because you'll see one of the ancient royal city gates that's still standing.
Pro Tip: If you visit during the holiday season, head to the area around 6 pm to see the Christmas decorations light up.
Address: Puerta de Alcalá, Plaza de la Independencia
Not ready to book a tour yet? Check out our Madrid Guide for more info.
Puerta Del Sol and Lunch at Plaza Mayor
20-minute walk or direct metro line from Retiro Park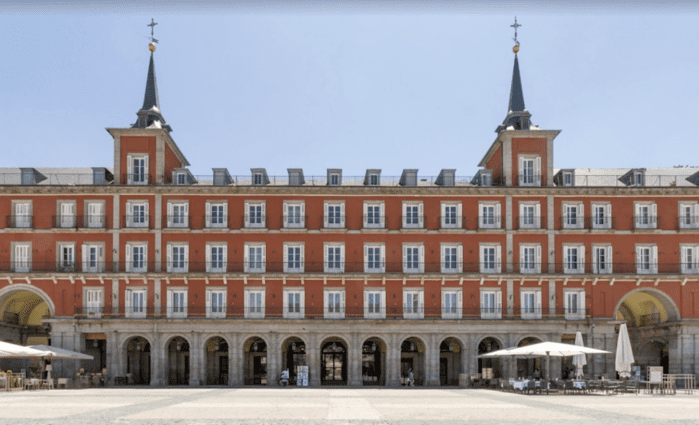 A direct metro (red line) connects the Retiro park to Puerta Del Sol, the bustling square where you will see the kilometer marker. The sign on the floor marks the center of the Iberic peninsula, where all the main roads start.
Plaza Mayor is just a few steps from Puerta del Sol. It is the door to the oldest part of the city. During the medieval era, the square sat just outside the city walls, and its look was far from the tidy appearance it has nowadays.
Instead, the Plaza del Arrabal—its original name—was a bustling site that hosted an open-air supply and goods market. Some of the arches still keep the name of the antique crafts.
Today, you can enjoy Plaza Mayor with coffee or drinks al fresco and stroll the beautiful medieval streets in the quarter. We highly recommend tasting the calamari sandwich, which is the famous Madrilenian street food here. It's the perfect food too fuel the rest of your day in Madrid.
Pro Tip: You can see a timeline of Madrid's development along the ages at the San Isidro Museum and learn more about Plaza Mayor. However, we suggest visiting it only if you stay longer than a day. There are a few other places we'd put first on your list.
Address: Puerta del Sol and Plaza Mayor
Royal Opera House and Royal Palace
5-minute walk from Plaza Mayor to the Royal Opera House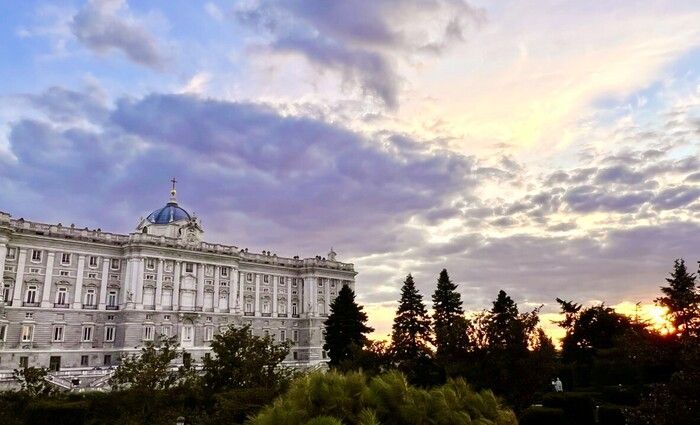 There is no better way to fill the afternoon of your day in Madrid than visiting the imperial area. Built during the Habsburg era, the Madrid de Los Austrias neighborhood encloses glorious buildings like the Royal Palace, the Opera Theater, and the Almudena Cathedral. There's a reason why this palace is sometimes compared to the Palace of Versailles—come see for yourself!
Get your ticket in advance to the Royal Palace to avoid waiting times and maximize your precious time here. Better yet, choose a guided tour with skip-the-line tickets and an evening dining at a tablao with a flamenco show. Olé!
Or you can really prioritize your day and book a guided tour of the Royal Palace, Retiro Park, and a stop for our favorite tapas in the city. What better way to learn about and experience Madrid's wonderful culture than with a guided tour of two top attractions here?
Pro Tip: The Royal Palace court is the best spot to admire the sunset. Cross the square between the Royal Palace and the Almudena Catedral, and you will find a terrace with an extensive view over the Campo del Moro garden and the Casa de Campo, the city's biggest park.
Address: Calle de Bailén, Royal Palace
Not ready to book a tour yet? Check out our Madrid Guide for more info.
Flamenco Show and Tapas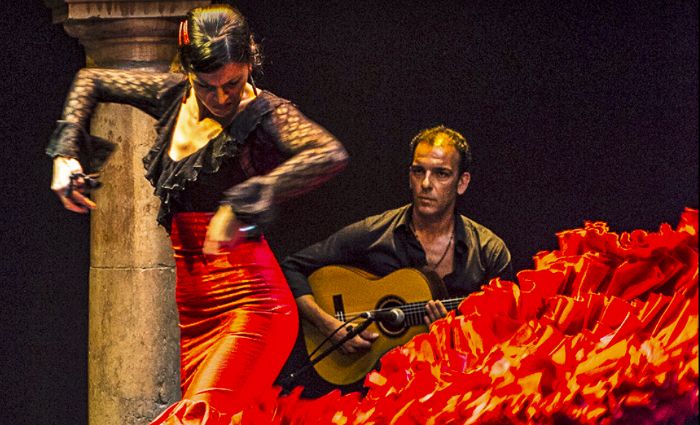 If you're in Madrid for just one day, you must save time for a flamenco show—ideally with dinner or tapas. These whirlwind, folkloric dances have a long heritage from southern Spain and are the highlights of many travelers' time in Spain.
There are flamenco shows throughout the city, but since you're only here for a day, it's worth reserving your spot ahead of time at a place you're sure to enjoy. You can book a flamenco show after visiting the Royal Palace, which is the perfect way to end your day in Madrid. An authentic meal with a flamenco show? Yes, please!
Not ready to book a tour yet? Check out our Madrid Guide for more info.
Madrid Nightlife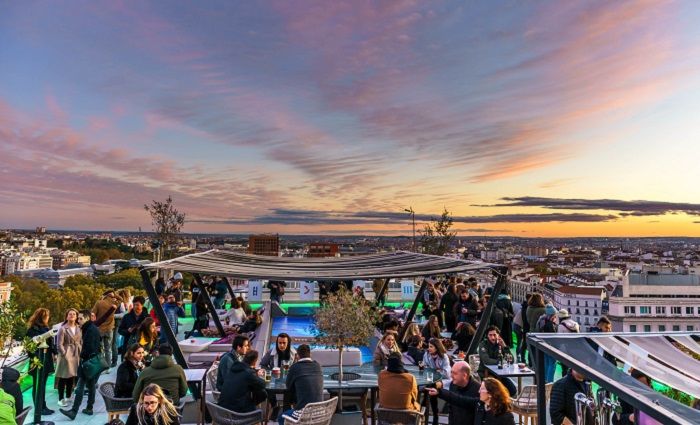 If you're spending the night in Madrid before moving on, then don't miss Madrid's night scene! Each area in the city has its own spirit, but you can find bars everywhere.
La Latina quarter, where the Mercado sits, is an excellent place to spend your sobremesa—that magical Spanish time at the table (mesa) after a meal, chatting and drinking coffee or a gin and tonic. However, if you love cocktails, try 47 Cocktail Bar. The place is informal and welcoming, with a long menu of cocktails and mocktails.
Malasaña is the place to be if you feel comfortable in bohemian environments. Here is where Movida bloomed in the 80s, and it is still a place to look for independent pubs and live music. We suggest exploring mythical places from that glorious decade, like La Vía Láctea, or dancing in clubs like Ochoymedio or Sala Maravillas.
Divided from Malasaña by the long Fuencarral street, you'll find the Chueca area. It is Madrid's gay neighborhood, and it can easily be the best fun you can have in the city, especially if you visit during Pride.
Last but not least: Huertas. The area is known for its nightlife and its many Irish pubs, so don't miss out on it if you head to Madrid on St. Patrick's day cause the party is massive. You can find every style here, from rock pubs to DJ sessions to taverns that close late at night.
Your day in Madrid just wouldn't be complete without stopping in at any of these fun bars and clubs that are a rich part of Madrid's nightlife. And if you're looking for hotel recommendations, check out our top vacation rentals and the best luxury hotels in Madrid too.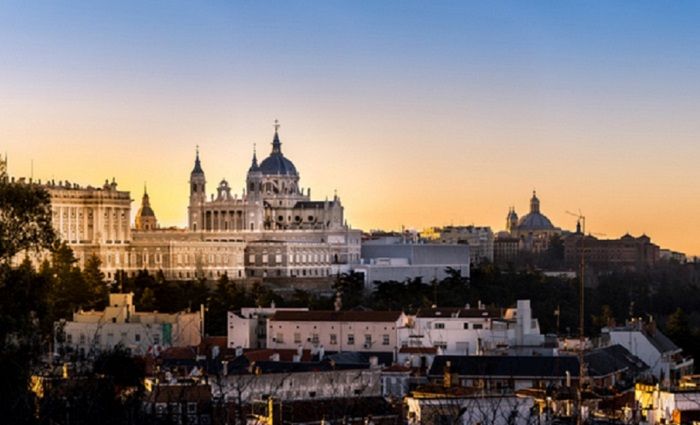 Find the best places to stay
Where To Stay in Madrid
Madrid is a vast city with many areas to stay in, including beyond the downtown area. Choose a hotel near the top things you want to see in this beautiful old city.