Italy is a new concept in the great scheme of things. Only fully unified in 1871, the country is a land of many differences, noticeable on traveling north to south. Down in Lecce, right at the heel of the boot, those differences are clear. Far from the great fashion houses of Milan is a region that possesses a charm and authenticity difficult to find on the tourist trail. Any traveler to Italy looking for sun, beautiful food, and genuine friendliness (and who isn't) can find it in the province of Lecce. I have put together this guide to help anyone looking for an authentically charming experience find out where to stay in Lecce and Otranto.
---
Pro Tip: If you're planning a trip to Bologna, bookmark this page in your browser to easily find it later. Check out our Florence and Venice pages for more planning tips.
---
Our Partnership with Booking.com. If you like our content, please book by clicking our Booking.com links. The price is the same for you, and we get a small commission that helps support our blog. We've partnered with Booking.com because they have the most options, great prices, and a solid loyalty program. Almost every hotel is on Booking, so our recommendations are genuine.
The Best Hotels in Lecce and Otranto at a Glance
---
Why Stay in Lecce and Otranto?

---
The heel of the boot. Most guidebooks repeat this trite observation about the region of Puglia. It is an observation about the geography but also one that has been used to dismiss the region in favor of Italy's more storied (and wealthier) regions of Tuscany, Lazio, and Lombardy. Puglia and the province of Lecce are often described as poor, backward, and remote. When I read those descriptions, however, I substitute the words humble, genuine, and tranquil. Those who make their way down into the heel will find a vitality and beauty that should be the envy of any of the more visited parts of this great country.
To go along with this, despite being a relatively (to the rest of Italy) remote part of the country, it has historically been a crossing point of empires and cultures. Ruled at various times by the great empires of Byzantium, Spain, and the Ottomans, the region has a variety of stunning castles and cultures to explore. None is more impressive than the beautiful coastal town of Otranto. A Greek city predating the Roman Empire by centuries, it was the traditional landing point of all those traveling from Greece to Italy and, as such, a place of great importance.
So if you are looking for history, genuine people, and great food, you need to look no further than the province of Lecce. There is a wealth of stay options, whether you wish to be near the beach or in one of the (slightly bigger) towns. No metropolis down here! Sun. Sea. Sand. Food. Hospitality. You could do much worse on your visit to Italy than exploring this wonderful region.
Where to stay in the region?
When it comes to choosing where to stay in the province of Lecce, there are a few options. Lecce is the largest town in the area, with about a hundred thousand inhabitants. The beautiful city of Otranto on the Adriatic Sea is another great option. Just below, I have listed the best options and what makes them a little special.
A Lecce Area Guide
City of Lecce: The largest city in the province. Known for its beautiful Baroque churches and streets.
Otranto: Originally the Ancient Greek city of Hydruntum. Now a really popular fishing and beach town with stunning views of the Adriatic.
Countryside Retreats: The countryside outside of both Lecce and Otranto offers idyllic retreats but also some fascinating sites. These include Neolithic and Celtic sites, which illustrate the depth of history in this region to explore.
---
Check out our free Guide to Italy
---
Why Stay in the City of Lecce?

Our Favorite Hotels in Lecce
Patria Palace Lecce | Palazzo Rollo | Reluxe Private Wellness | Masseria Vittoria
---
The eponymous capital of the province of Lecce is a great place to base yourself for further exploration of the region. I would, however, recommend having a couple of days in both Lecce and Otranto, as they both offer something a little bit different. Especially if you are taking the train from Central or Northern Italy into Puglia, Lecce is a very easy stopover and will reward a couple of days in the city.
The city has an ancient legacy and contains impressive Ancient Roman ruins, in particular the lovely amphitheater. However, it is in its Baroque facades that Lecce really stands out. Perhaps only eclipsed in Italy by Rome for its Baroque architecture, Lecce has some stunning examples of the style. While Baroque is not to everyone's taste (it is often ridiculously over the top, in this humble writer's opinion), it is still definitely worth checking out. Something that should be to people's taste is Lecce's growing craft brewery scene, to go along with its great food, offering a differing option for those non-wine drinkers amongst us.
A stay in Lecce is a good option for a visit to the wider region and also in itself has architecture, vitality, and great food. What's not to like?
---
The Best 5-Star Hotel in Lecce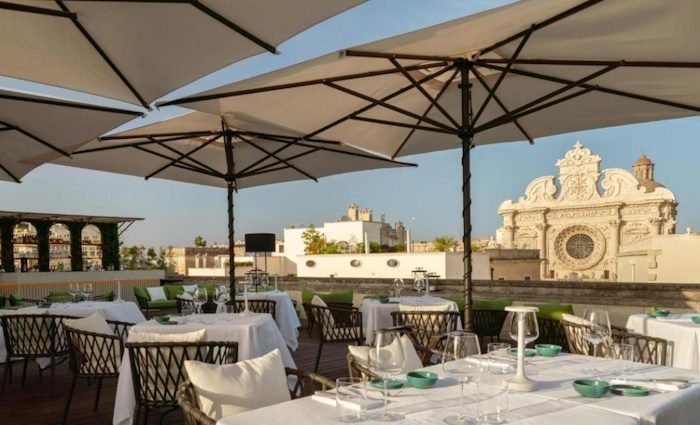 €€€€+ | 5 star | Historic | Brilliant Terrace
---
The Patria Palace is a 5-star hotel that has a view from its terrace to match any in Italy. It overlooks the Baroque jewel of Lecce in the shape of the Basilica di Santa Croce. It was originally built as the noble residence of the aristocratic D'Anna-Petrarolo family. Been through some changes, including at one point being used as an orphanage. However, since the 1850s, it has served as a hotel and inn. A strong legacy of welcome, combined with all you would expect from a 5-star hotel. Great view from the terrace; it would be hard to do better at the top end of the price range in Lecce.
---
Not sure if Bologna is for you? Check out our guide to Venice, Florence, or Rome instead
---
A quiet Oasis in the Heart of the Lecce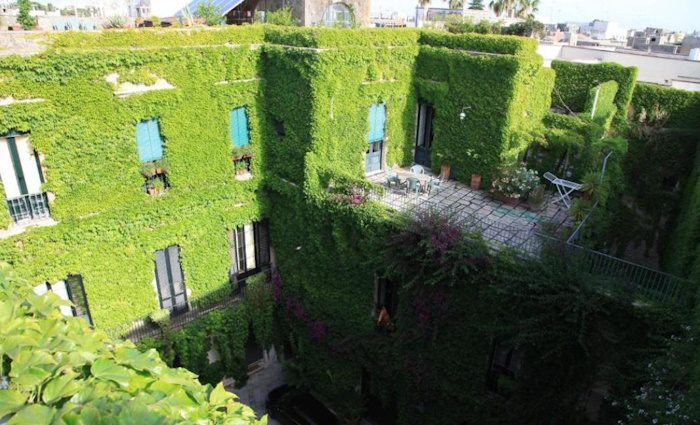 €€€ | Central | Historic | Beautiful Courtyard
There is something magical about the interior courtyards to be found in Italian cities. Disappear through a door, and suddenly you can be in a little oasis, calm, peaceful, and sun-bathed. Apart from being a charming and beautiful Palazzo in itself, this is what attracted me to Palazzo Rollo. Right in the heart of Lecce, it is a 4-star hotel in a historic building with antique furnishings. Great stuff.
---
Want to make your trip perfect? Check out our free Tuscany Travel Blog
---
Perfect stay with a Pool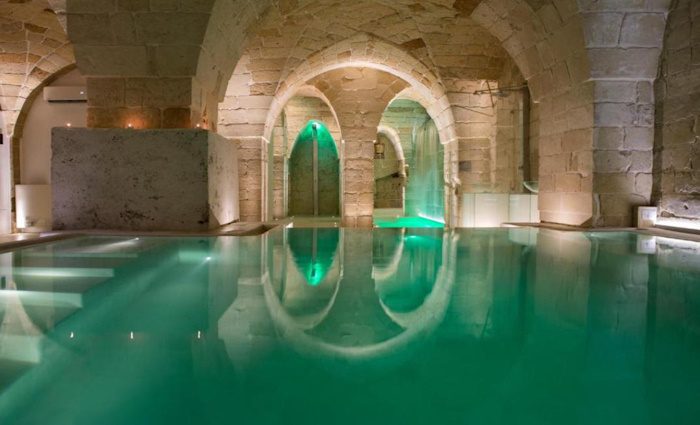 €€€€+ | Spa | Private Suite | Private Pool
This one is pretty cool, mainly if you were to book the private suite, which has its own pool. This is set into the limestone arches of the Renaissance Palazzo that it is housed in. Really special place if you were traveling to Lecce as part of a honeymoon or just a lovely place to go as a couple. It is not cheap, but for the atmosphere and setting, it is worth it.
---
Not sure if Bologna is for you? Check out our guide to Venice, Florence, or Rome instead
---
Countryside retreat outside of Lecce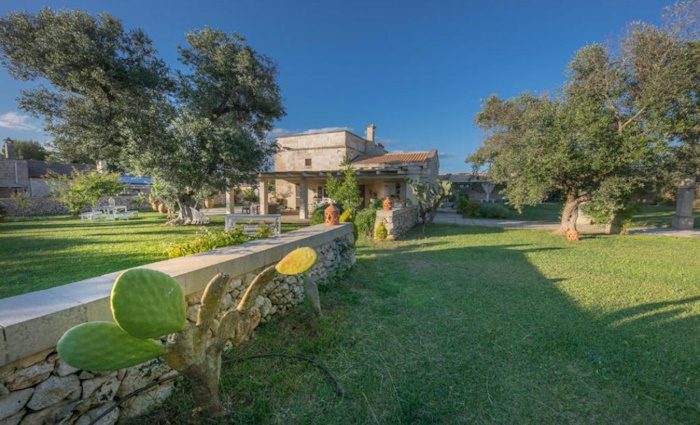 ---
€€ | Countryside | Seaside | Nature Reserve
The province of Lecce is blessed with some of the most beautiful beaches on the Italian Peninsula. These are a bike ride away from this lovely villa in the countryside. Also pretty close to a nature reserve where you can spot wild boar and even flamingos sometimes! The place itself is spotless and beautiful, with a great pool and really kind owners. This is a great option if you're looking for a bit more peace and quiet outside of the city of Lecce.
Not exactly what you're looking for? Check out these dreamy vineyards with accommodation.
---
Why Stay in Otranto

Our Favorite Hotels in Otranto
La Torretta | Baglioni Masseria Muzza | Guardiana del Castello | Agriturismo La Palascìa Masseria Agreste
---
Only separated from Albania and the Balkans by sixty miles by the eponymous Straits of Otranto, this port town is definitely at a crossing point between lands and cultures. It was ruled by the emperor of Constantinople all the way up until 1070 when the Norman conquest of southern Italy was finished under Robert "the Fox" Guiscard (he is an interesting character for any curious history buffs). Subsequently, it was the scene of a brutal attack by Ottoman forces in 1480, where 813 people were killed for their Christian faith. Canonized eventually by Benedict XVI, they serve as the town's patron saints. It was Spanish and then eventually unified with Italy in 1861.
As a result of all these crossings and goings, Otranto is intimately connected with its port. It surrounds it, and the impressive castle of Otranto dominates the port (now used mostly for pleasure yachts rather than transport). Horace Walpole set his novel "The Castle of Otranto," considered an early gothic novel, here. Apparently, he had never been to the town, but the name conjured gothic images for him. Remember also to check out its beautiful cathedral, and a trip up the coast to the Torre Sant'Andrea is spectacular.
Visitors to Otranto nowadays will, however, find sun, sea, beautiful beaches, and a buzzing little town. Great restaurants (especially if you like seafood) dot the harbor front. A visit to Otranto, especially combined with a few days in the countryside around it, is very rewarding. I have included a couple of accommodation options in the city below, as well as some spots a little further out.
---
The View of the Port in Otranto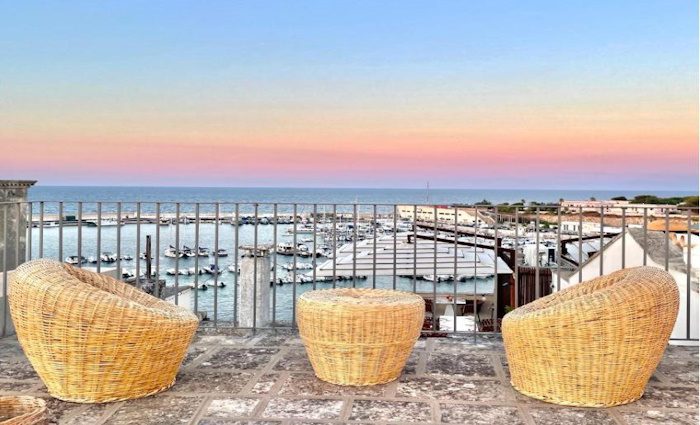 ---
€€€ | View of the Port | Super Central | Great Terrace
La Torretta is really blessed with its terrace that overlooks the historic port of Otranto. It is also situated right in the heart of the town with some really good restaurants close by (I have pointed some of these out at the end of this blog!). Be aware, though, if you are driving to Otranto, perhaps from Lecce or further afield, parking can be a little bit of a challenge here. So make sure you contact the hotel ahead of time, and they will be able to give you some advice as to how to find parking. Staying here, though, will reward you with views of the port on two sides of the hotel and the castle of Otranto on the other. A great choice.
---
Not exactly what you're looking for? Check out these dreamy vineyards with accommodation.
---
The Top (and only) 5 Star Hotel in Otranto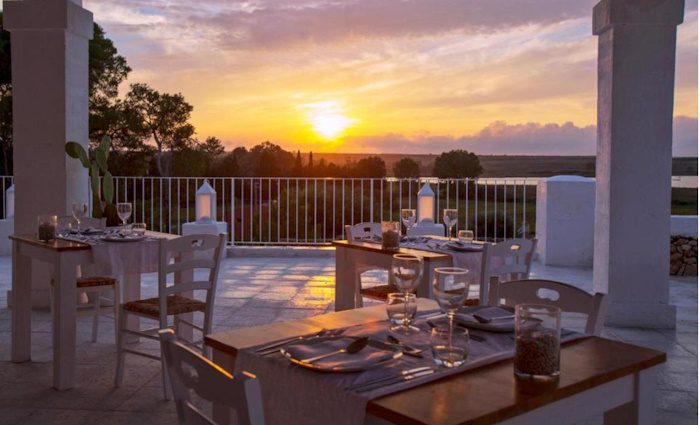 €€€€+ | 5 – Star | Pool | Kids
This one is actually located just about a ten-minute drive outside of Otranto. However, if you are looking for a top-of-the-range five-star hotel, then this is going to be your option. Situated close to the coastline, a short walk away. It is very close to the rather spectacular baia dei Turchi Spiaggia beach, which is well worth a little visit (you might have to organize a boat to get onto the beach itself, but it's highly recommended. This hotel also caters to kids with a kids club and pool, so that may be a good option for those traveling with their little ones!
---
Not sure where to stay yet? Check out our free guide on where to stay in Italy
---
The Best Central Option for a Family in Otranto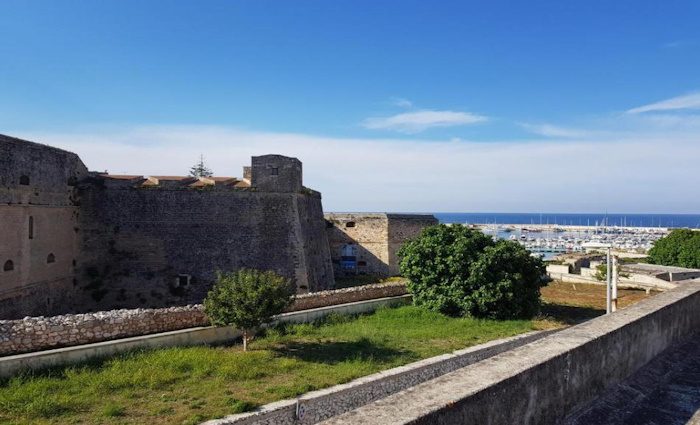 €€ | View of the Castle | Central | Reasonably Priced
Guardiana del Catello (even if you are not an Italian speaker, that should be an easy translation) is a self-contained apartment. This place would definitely suit a family of four or five or maybe two couples traveling together. It is super central and has a great restaurant just downstairs. As you can see from the photo, the view is great as you are more or less situated beside the moat of the castle of Otranto, also with a view of the harbor. A very good option, and not crazy expensive!
---
Not sure if Bologna is for you? Check out our guide to Venice, Florence, or Rome instead.
---
Perfect Sustainable Stay in Otranto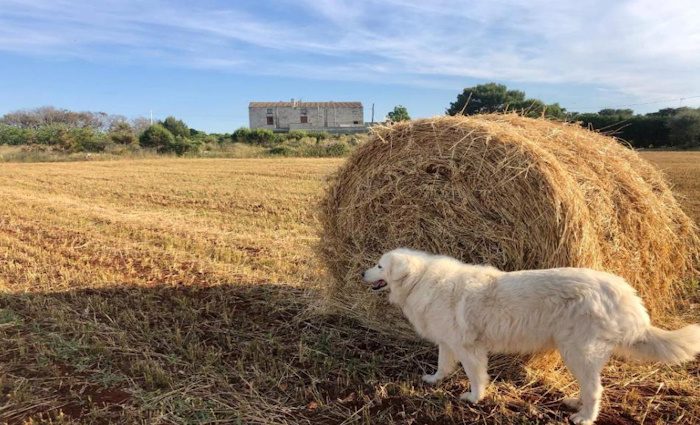 La Palascia Masseria Agreste is a sustainable property located in an old 18th-century farmhouse. In fact, it is a working farm, breeding cattle and producing olive oil. To go along with the place is just beautiful on the inside, with a really charming terrace where you can see the sea. It is a few kilometers outside of Otranto, but if you are looking for a rustic stay in a place with great food and peace, and quiet, you could do much worse.
As a plus, you also get to play with the dog, and if that is not a selling point, I do not know what is. This is my top choice for Otranto. Super close to the town while being far enough away for some real peace and quiet. Highly recommended!
---
Not sure if Bologna is for you? Check out our guide to Venice, Florence, or Rome instead.
---
Where are Lecce and Otranto, and How Do I Get There?
---
By Air: The best airport to fly into for Lecce (and then subsequently Otranto) is Brindisi. Brindisi Papolo Casale serves lots of European destinations, so if you are coming from within Europe, it is a good option. Most international flights will be arriving in Rome or Naples, and from there the train is always a good option in Italy to get down to Lecce.
By Car: Driving in the region is an awesome way to explore, as long as you are a confident driver, as the roads can sometimes be slightly small and winding. To explore the region it is possible to rent a car in Lecce or Brindisi, which is no more than a forty-minute drive from Otranto. A beautiful drive, which is a little longer, would bring you along the coast.
By train: Probably the best way to get to the region is the Frecciarossa, the fast train which can bring you from Rome or Naples quickly and efficiently. The time from Rome to Lecce on the train would be about 4 or 5 hours, depending on which line you take. A great option for getting to the region.
---
Top Things to Do in Lecce
Top Things to Do in Otranto
Where to Eat in Lecce
Where to Eat in Otranto
---
---
Recently on The Blog