Florence flourishes as the Renaissance capital of Italy, with its iconic art culture vivaciously dominating the city's tourist market. Due to the myriad of museums, galleries, and shops, many travelers forgo its beautiful greenery, which emanates from its countryside landscapes and stunning parks. Here's your guide to discovering the most admirable gardens and parks that Florence has to offer.
---
In this blog, we'll explain:
1. How to visit the main Florence attractions on a skip the line guided tour
2. The history of gardens and parks in Florence
3. The top 5 gardens and parks to visit during your visit to Florence
History of Gardens and Parks in Florence
Fifteenth-century Florence substantiated the establishment of central gardens and parks. This century defined the importance of meditation, philosophical theories, and one's inner spirit, which were further developed when recognizing the power of nature.
Therefore, the construction of parks and gardens aided in developing other techniques for combining nature into everyday thoughts. This thought extended into architecture; often, things found in nature were useful in developing multifaceted architectural designs.
Florence recognized the importance of landscape and balanced its industrialization with the preservation of natural greenery. Many gardens and manufactured parks in Florence, Italy became privately held entities under the wealthy, but many are open to the public today.
5 Best Florentine Gardens and Parks
Florence is home to a variety of public gardens and parks, allowing travelers and locals to enjoy their days in the sun. Here is a list of the 5 best gardens you won't want to miss:
Boboli Gardens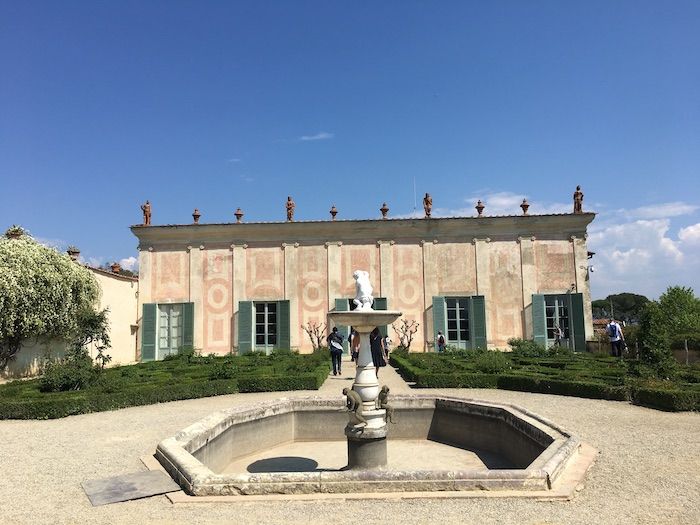 The Medici family, otherwise known as one of the most prominent political and economic influences, enriched the layout for this garden filled with history, architecture, sculptures, fountains, and landscape. The park was originally created for Duchess Eleonora of Toledo in 1549, and its inventive layout and important artifacts make it worthy of its title as the most renowned park in Florence.
The park is filled with trees and hedges, grottos constructed by Bountalenti, and the complex creations of mythological statues and sculptures. Amphitheaters, terraces, statues, reservoirs, and flowers are located in several areas of the park.
The combination of ideas and money from the Medici family in conjunction with the beauty of its original greenery contributes to the park's credibility and status. Today, thousands of travelers and locals stroll around and savor the extensive collection of art, nature, and history.
Hours: Every day from 8:15 AM to 4:30 PM – 6:30 PM (depends on the month)
Tickets: Children under 6 are free, €10 from March 1 to October 31, €6 from November 1 to February 28
Bardini Garden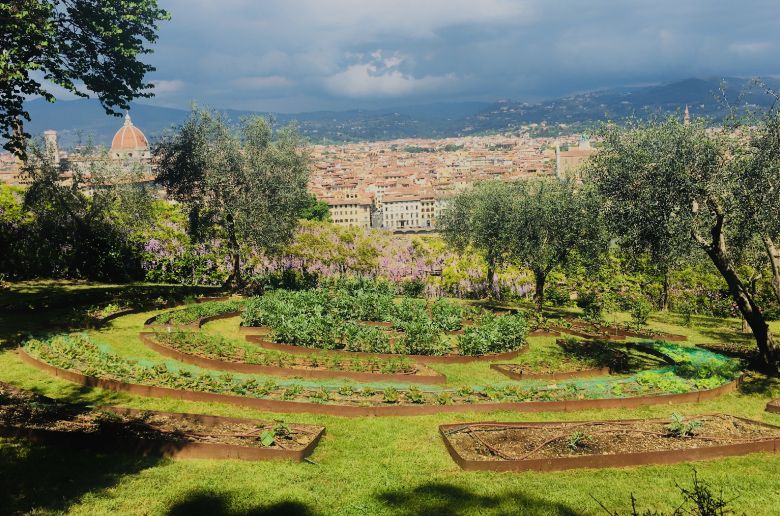 Located south of the Arno River, the Bardini Gardens are famous for its vantage points, flowers, chirping birds, and breathtaking greenery. For centuries, Boboli Gardens overshadowed Bardini, but many travelers have recently discovered the tranquility of the mini-gardens and picturesque nature that Bardini provides on its pathways.
From a Wisteria tunnel to garden gates to fruit orchards to over 60 types of hydrangea, Bardini offers a charming afternoon to travelers looking to find Florence's roots in nature while gazing upon the skyline of the city.
Originally, Bardini was a simple fruit orchard owned by the Mozzi family. The garden was in their possession for centuries, and they continuously redecorated the land, adding sculptures, Renaissance art and a variety of flowers to their collection. After the family's lineage came to a halt, Stefano Bardini modified the land into a captivating garden filled with the nature seen today.
For a relaxing, enchanting and enriching garden adventure, make sure to wander through Bardini Gardens.
Hours: Every day from 8:15 AM to 4:30 PM – 7:30 PM (depends on the month)
Tickets: €10 full price, €5 reduced price
Giardino delle Rose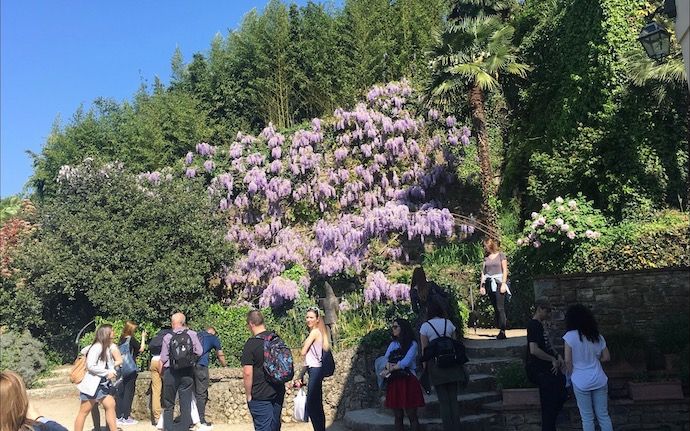 Because Piazzale Michelangelo is celebrated for its views of Florence, many travelers forgo the rose garden located directly below the square. This free park is the perfect romantic site for those whose hearts and minds are filled with the smell and luscious nature of roses.
In 1865, Giuseppe Poggi created the garden to accompany his construction of Piazzale Michelangelo. Over the years, the garden was renovated, and an addition of roses by Attiolio Pucci was added to enhance the character and originality of the garden.
With over 400 types of roses and a myriad of lemons and other plants, the park is situated in a quaint spot. Travelers are invited to walk around the garden in the morning, afternoon or around sunset.
Despite the uphill trek to reach the garden, this spot is still the perfect hub to view the entire city of Florence while smelling the stunning array of roses.
Hours: Every day from 9 AM to 7 PM
Tickets: Free
Cascine Park
Situated as the largest public park in the city, the land was originally deemed a farm for the Medici family to house their pigs and prepare to hunt. The Grand Duke established and flourished production on this land, ensuring the success of their family in yet another industry.
The Lorena Family came into possession of the land and hired Giuseppe Manetti to create a variety of structures such as the Palazzine, the Quercione drinking trough, and other Florentine monuments. Eventually, this land was opened to the public, and a variety of sports occupied its land. The upkeep of the park is continuous and everlasting; therefore, many travelers love using its land for many activities.
From walks to sports to picnics, this land offers travelers with a fun, chill vibe while overlooking the Arno River.
Hours: All day
Tickets: Free for most activities
Giardini dell'anconella
With 30 acres of land utilized for sports and vacation activities, Anconella Park is the second largest park in Florence. This park is dedicated more to activities and less to its greenery, but it is worth visiting, especially with a large family and friends. From volleyball, picnic tables, soccer fields, skating rinks, and climbing structures to boating and fountains, the park is the perfect place to spend a day in the sun.
Additionally, any locals or travelers with dogs are welcomed to bring their pets. There is an open dog park within Anconella created just for your feline friends.
For the perfect, all-inclusive vacation extravaganza, make sure to check out Anconella Park!
Hours: All day
Tickets: Free
---
I Want More Italy!
If you want us to arrange the entertainment in Florence (and beyond!), contact our Trip Planning Team to coordinate an unforgettable Italian experience.
Check out our YouTube video and step-by-step guide about how to do Florence in a Day. If you'd rather let us guide you, check out our Florence tours.