Explore the beautiful Gardens by the Bay natural park, located in the heart of Singapore, and home to over 1.5 million plants. In this guide, we'll take you through all you need to know about visiting the nature park, from opening hours to ticketing, where it's located, a little history, and what to see. This way, you'll be ready for a fruitful self-directed tour!
---
What We'll Cover
This article will explain everything you need to know about Gardens by the Bay, from opening hours to ticketing, a little history, some dining options, and what to see.
Pro Tip: To save time sifting through a wealth of information online, save useful guides like this one on your browser and return to it while you're in Singapore.
Opening Hours, Location, and Ticketing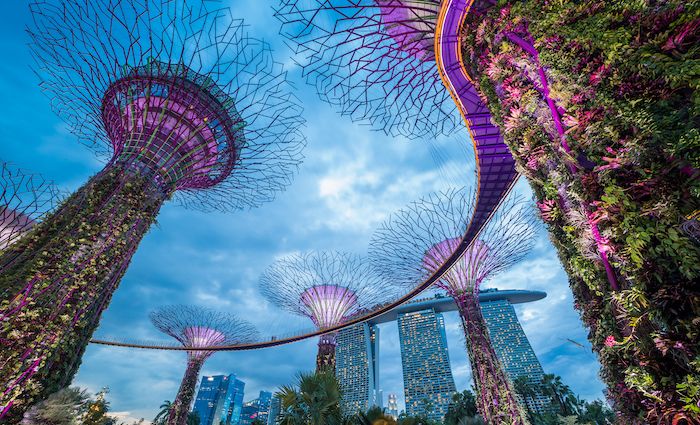 What time does Gardens by the Bay open? Most of the nature park, fortunately, is open to the public every day of the year from 5 am to 2 am, but some of its attractions are closed on certain dates. Every night at 7.45 pm and 8.45 pm, the nature park will host a night light and sound show called Garden Rhapsody at the Supertrees area.
A standard 1-day ticket for CloudForest + Flower Dome is SGD 28 (Adult) and SGD 15 (Child).
Pro Tip: Try to visit the Gardens by the Bay in the evening, if possible, for a more personal experience (like what you see in the photo). Certainly, it'll be more lively and colourful with Garden Rhapsody, providing you with the opportunity to enjoy a lot more.
Address: 18 Marina Gardens Dr, Singapore 018953
How Much Time To Budget For Gardens by the Bay
I'd recommend allowing at least half a day to explore the full attraction. Firstly, it's good exercise. Secondly, if you're there in the afternoon, why not stay until nighttime for the Garden Rhapsody? Gardens by the Bay has a variety of dining options, so that's settled.
But, that's just my opinion. Above all, you've come to the correct site if you're wondering how long you should stay within Gardens by the Bay. The nature park is enormous, with a rich collection of plant artworks and art sculptures. If you truly want to, you can also easily spend the whole day there.
Popular Hotspots You Can Expect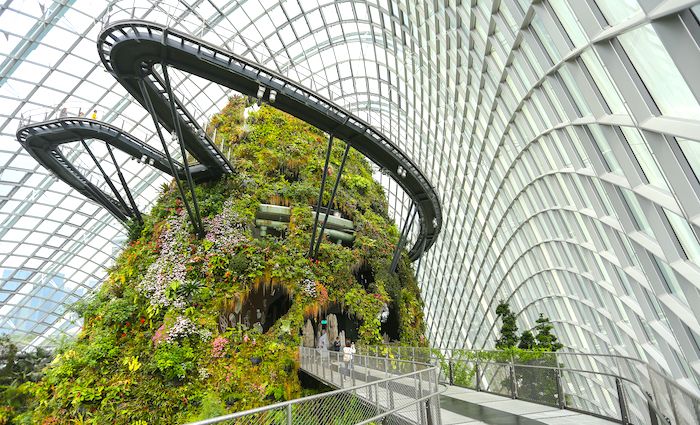 Paid:
Flower Dome
Cloud Dome
Floral Fantasy
OCBC Skyway
Supertree Observatory
Free:
Supertree Grove
Far East Organization Children's Garden*
Bay East Garden**
Sun Pavilion
The Canyon
Heritage Gardens
World of Plants
Dragonfly & Kingfisher Lakes
Serene Garden
Opening hours: Tuesday – Sunday (9am to 7pm)
** Opening hours: Daily (24 hours)
Personally, I enjoy the Flower Dome because the floral exhibits in the ticketed conservatory vary seasonally. However, if you'd like to see our complete list of things to see and do at Gardens by the Bay, including explanations, click the link.
Tour Options
Unless you are visiting Singapore on a small budget, you should strongly consider taking a guided tour of the Gardens by the Bay. Aside from the advantage any park could give – no queues except paid hotspots, the nature park is brimming with fantastic artworks and sweet spots for Instaworthy moments! With a plan, the experience can certainly be magical and unforgettable.
Places To Eat Inside and Nearby Gardens by the Bay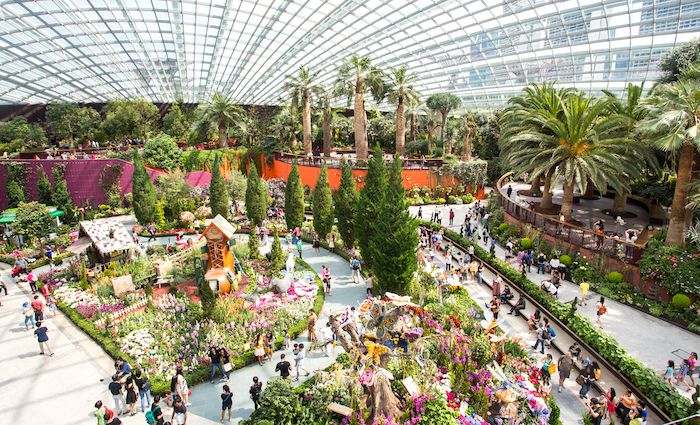 If you intend on visiting Gardens by the Bay around lunch or dinner, there are several restaurants and cafés. See our complete post on over 10 places to dine inside and nearby the nature park for a more comprehensive list.
Inside the Gardens by the Bay:
Starbucks – Missing the coffee? You've surely heard of Starbucks then.
Hortus – A casual Mediterranean experience next to Floral Fantasy!
McDonald's – We also have commonly known fast food if you're missing it!
Satay by the Bay – In a beautiful garden setting, a spacious open-air food court serving satay and more local delights.
The Social Kitchen – A social enterprise that creates tasty plant-based meals while helping people from disadvantaged communities.
Facts and History
Gardens by the Bay first opened its doors to the public in June 2012.
Plants, trees, and flowers from every continent, with the exception of Antarctica, can be found in the Gardens' over 1.5 million plants.
Gardens by the Bay rose from desolate reclaimed land to be one of the world's most discussed engineering and horticultural feats in just five years.
In the tropics, olive trees do not grow. They flourish in direct sunlight and need cooler temperatures to develop blooms and fruit. When an olive tree believed to be over 1000 years old successfully bloomed and fruited in 2015 in tropical Singapore, it was a tribute to the engineering and horticultural excellence at Gardens by the Bay.
Supertrees serve a variety of purposes, including planting, shade, and acting as environmental motors in gardens. 
The Flower Dome is the shorter but bigger of the two conservatories. It mimics a warm, dry environment and includes plants native to the Mediterranean and other semi-arid tropical areas, like parts of Australia, South America, South Africa.
The Cloud Forest is taller but significantly smaller than the Rainforest. It mimics the cold, wet conditions prevalent in tropical mountain regions in Southeast Asia, the Middle East, and South America. It also has a "Cloud Mountain" that can be accessed by elevator, that's where visitors start their mountain walk down the circular route.
---