What can I say, I'm a sucker for a romantic vacation with my wife! When I'm in charge of planning, I try to pick the most romantic hotel I can find to set the right mood and have a memorable trip. Here are some romantic hotels in London that I have on my radar!
---
Pro Tip: Planning your trip to London? Bookmark this post in your browser so you can easily find it when you're choosing your hotel. Check out our guide to London for more planning resources, our top London tours for a memorable trip, and the top things to do in London.
Top Romantic Hotels in London This Year
For me, a romantic hotel is a place with excellent design, creative room layouts, and great views. I always look to integrate a balcony and a spacious bathroom or soaker tub. Our first choice, The Ned, which is also in the featured image above, has a lot to offer.
Our Partnership with Booking.com. If you like our content, please book by clicking on our Booking.com links. The price is the same for you and we get a small commission that helps support our blog. We've partnered with Booking.com because they have the most options, great prices, and a solid loyalty program.
The Ned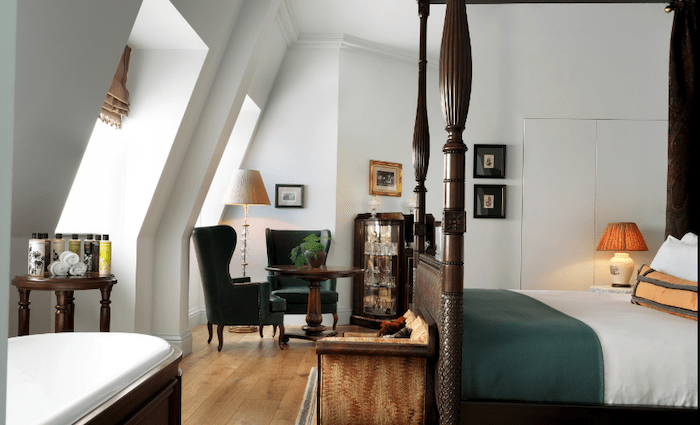 £££ | 5 Star | London Bridge | Indoor and Rooftop Pool
I love the Ned as one of London's most romantic hotels for a few reasons. First, the price is high but reasonably so. This means that reasonably successful people can afford a few nights here without taking out a second mortgage. Also, there are a lot of cool amenities that come with your room.
Romance is definitely about candle-lit dinners but it's also about having fun and planning ahead. With two gorgeous pools (one of which is on the roof), beautiful room designs, and great restaurants including a rooftop bistro, the Ned provides a lot of options.
Unfortunately, some of the most romantic and longed-after hotels on Earth are also the most expensive ones. At the Ned, you'll definitely run up a four-figure bill for a few nights, but the price isn't terrible for a mega-fancy hotel. It's an excellent choice for romantics seeking a wonderful hotel.
The Mandrake Hotel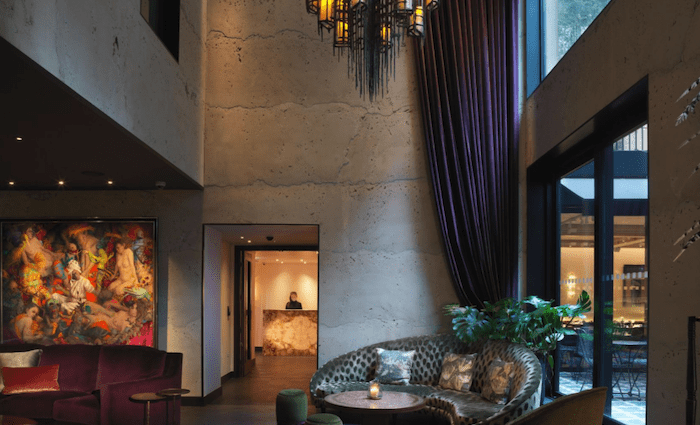 £££ | 5 Star | Central London | Contemporary
A contemporary, luxurious, and romantic hotel in central London makes this a top pick if I'm traveling with my wife. Prices are also very reasonable. The dark colors and ambiance combined with the contemporary design really make this hotel a treat.
It is definitely the sexiest and most seductive hotel on our list of romantic hotels in London. This hotel is perfect for anyone who wants to spice things up a bit and impress their partner!
Popular London Tours
Popular London Tours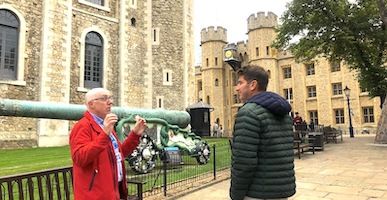 Best Selling Tour
Legends and Lore Tour of the Tower of London
How can you explore London's top attractions without getting overwhelmed? By joining this guided small group tour! With 1,000 years of history and acres of buildings, the Tower of London is easier to explore and understand with the help of your local guide. Best of all, you'll even see the famous crown jewels and have a boat ride down the River Thames.





See price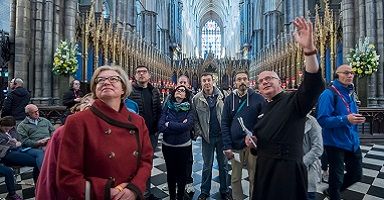 Top Selling Tour
London Walking Tour with Westminster Abbey and Changing of the Guard
This is the perfect tour for someone who wants to get to know the real Westminster Abbey. With skip-the-line entry, you get some quiet time in the nave of the abbey with your guide and small group before exploring the tombs of notable kings, queens, philosophers, and more. Depending on the day, you'll even get to see the Changing of the Guard ceremony at Buckingham Palace.





See price
Not ready to book a tour? Check out our article on the best London tours to take and why.
Shangri-La Hotel at The Shard London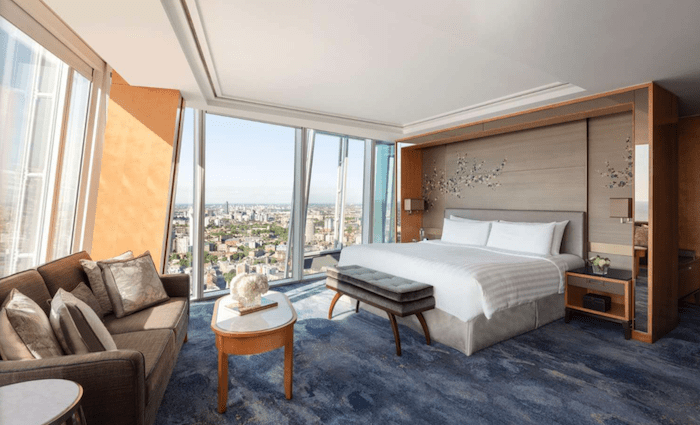 ££££+ | 5 Star | The Shard | Modern and Refined | Victorian Touches
Nothing says romance like unobstructed views of London from your hotel bed. At the Shangri-La Hotel inside the Shard, every room has floor-to-ceiling windows. So, you may want to close the blinds for privacy in the evening, but whatever you fancy. You're in London and the British are too polite to judge!
The Shangri-La hotel chain, like many of the other luxury staples, simply crushes it at the Shard property. If you're unfamiliar, the Shard or "Shard of Glass" is a massive glass skyscraper emerging from the London skyline and the Shangri-La is inside. It's sure to impress!
The building is contemporary in style along with all of its impressive rooms. Floor-to-ceiling windows are the general theme, which is a massive draw to the hotel and likely why they can charge $700 a night. Their most impressive suite is 232 square meters (2,021 square feet) and will cost you about $14k a night.
Mandarin Oriental Hyde Park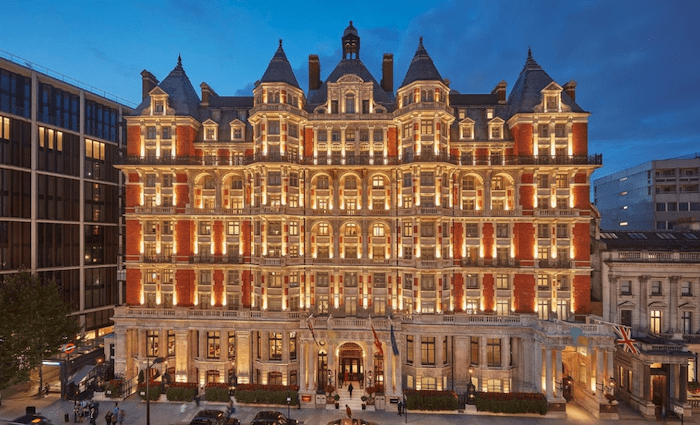 ££££+ | 5 Star | Hyde Park | Contemporary Design | Indoor Pool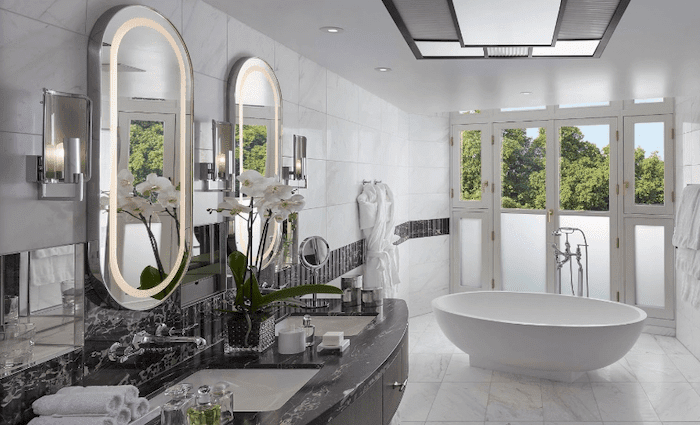 The Mandarin Oriental Hyde Park is one of the most beautiful man-made buildings on the face of the Earth, especially at night when it's lit up.
The building has a victorian design with bold colors that look amazing day or night, but especially night! It's located a block from Hyde Park, which is a wonderful green space to enjoy during your stay.
Inside, you'll find contemporary and updated finishes throughout the building, all in line with the Mandarin Oriental's international design theme. Rooms are spacious with unique and beautiful bathrooms that will definitely shock and amaze.
Treehouse Hotel London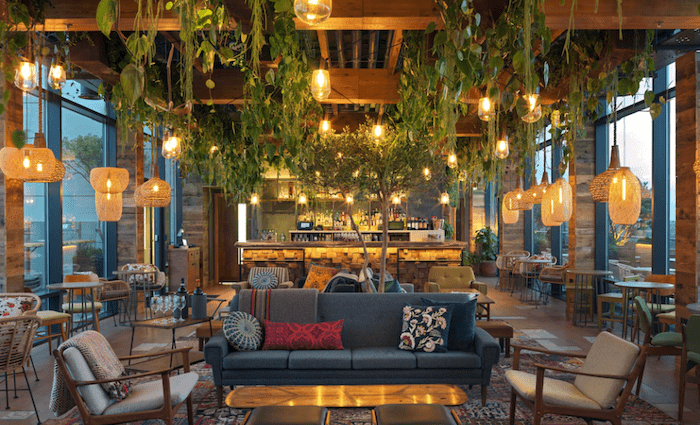 £££ | 4 Star | Industrial and Nature Vibes | Marylebone | Great Rooftop
The Treehouse Hotel is a very literal description for this Marylebone hotel. I would describe it as having "Industrial Nature Vibes," though I doubt the art world would accept my new design description.
The place looks like a contemporary Brooklyn apartment building that was overrun by a safari. The industrial vibe of the hotel combined with all the greenery and its cool restaurant is what earns it a spot on my list of romantic hotels in London.
The Hoxton Holborn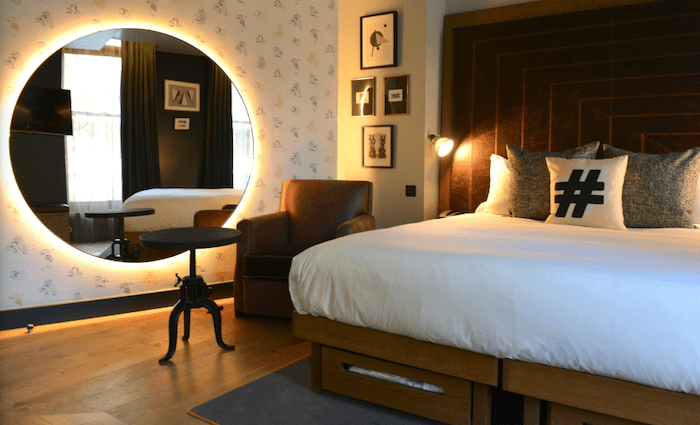 ££ | 4 Star | British Museum | Modern
The Hoxton Holborn is a visually appealing modern hotel in downtown London that'll work for anyone on a budget without sacrificing style. This is a great option for romantic couples who want a great ambiance without burning a hole in their pocket.
All-in-all, it's a great choice in central London! I recommend a typology upgrade to get some extra space. I've included links to both the Hoxton Holborn described here and the hotel by the same group in Shoreditch.
Holborn location, photos, and booking | Shoreditch location, photos, and booking
Leonardo Royal London St. Paul's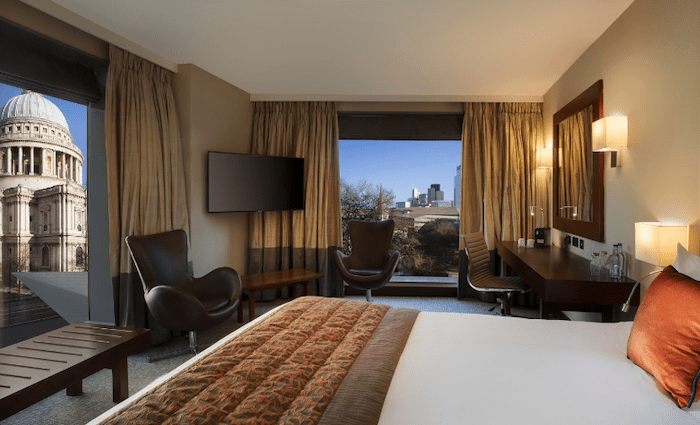 ££ | 4 Star | St. Paul's Cathedral | Indoor Pool | Great Amenities
The Leonardo Royal London Hotel at St. Paul's is an excellent choice for all types of travelers. The hotel is full of great amenities like an indoor pool, a few restaurants, and great views.
The rooms are updated and contemporary with large windows, which makes it pretty romantic. It's also priced well, so you can upgrade to a better room if you have kids with you or just to have some more space with your romantic partner. Excellent choice!
Park Plaza Westminster Bridge London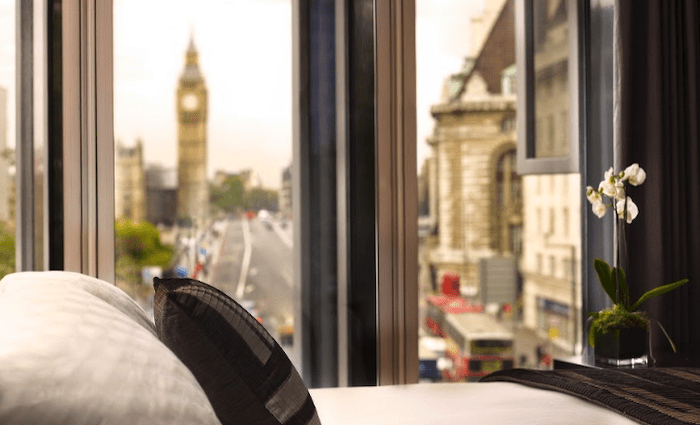 ££ | 4 Star | Westminster Bridge | Modern | Indoor Pool
The Park Plaza is an extraordinarily well-priced hotel close to all the main attractions in London, which is really quite nice. You'll enjoy modern finishes, clean and spacious rooms, and many amenities like an indoor pool.
Prices are so good that many people could upgrade their room if traveling with the kids or to get a more romantic view like the one featured in the image above. Here's to a romantic stay in London!
Not ready to book a tour? Check out our article on the best London tours to take and why.