Looking for plenty of skiing options and activities for a great time on and off the slopes? Check out Hemsedal! One of East Norway's larger skiing spots, it has groomers, off-piste areas, and cross-country trails to suit every style. With two ski resorts close to town and a range of hotels, your only difficulty will be choosing where to stay. And we've taken care of that in this guide to the best ski hotels in Hemsedal.
---
Top Places to Stay for Skiing in Hemsedal, Norway
Hemsedal is one of the bigger places to ski in East Norway. Here, they have two ski resorts close to town. It's a small mountain town with about 2600 people that live there all year round. But this does not mean it's an empty place, there are always lots of people visiting over Christmas and Easter break. With a lot of groomers and off-piste areas, Hemsedal offers skiers a variety of options—if you have the skills to go ski-touring in the backcountry, the possibilities are endless!
There is also a lot to do in Hemsedal besides skiing, so don't worry about being bored in the evenings or on your days off skiing. Try coffee tasting or attend a brewing workshop at the local coffee brewery, Scandinavian Alps Coffee Roasters.
For some relaxing downtime, head to the local cinema or the Fýri Hotel pool where you can buy a day pass even if you don't stay at that hotel. If an active evening is more your style, there are a lot of cross-country skiing trails and you can even go on a dog sledding trip.
The two ski resorts in Hemsedal are the Hemsedal Skisenter and the Solheisen. Hemsedal Skisenter is the larger of the two with a total of 21 ski lifts, 53 piste runs, and a vertical drop of 810 meters. The smaller Solheisen offers just as good skiing. They have three lifts and six piste runs varying from green to black.
Our Partnership with Booking.com. If you like our content, please book by clicking on our Booking.com links. The price is the same for you, and we get a small commission that helps support our helpful blog content. We've partnered with Booking.com because they have the most options, great prices, and a solid loyalty program.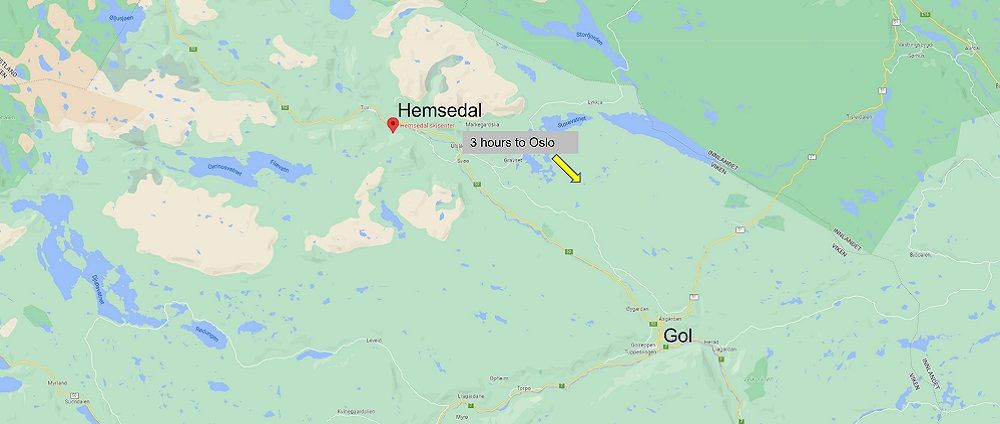 How to Get to Hemsedal, Norway
The easiest way to get to Hemsedal is to fly to Norway's capital, Oslo, and then either take a train or bus directly to Gol where you can choose to catch a bus to Hemsedal or rent a car. Another option is to rent a car in Oslo and drive the three and a half hours it takes to get there. If you drive, you would get on the E16 road to Hønefoss, then take the 7 road to Gol where you would head down the 52 road all the way to Hemsedal.
Skogstad Hotel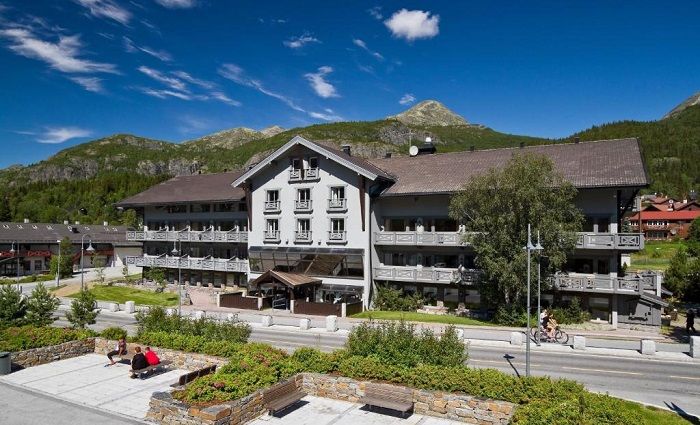 $$$ | Wi-Fi | Free Parking | Spa and Sauna | Family Friendly
This hotel is located in the middle of Hemsedal. It's a family-run hotel and they have been running it since 1905. They have in-house dining called the Tapas Club where they have some signature dishes but also try to change up the menu every week. They also have yoga and a spa at the hotel to help you relax after a day of skiing.
If you choose to stay here, I would recommend renting a car since it's three kilometers away from Hemsedal Skisenter and 10 kilometers from Solheisen. But it's not a necessity, because there is also a bus that goes to the ski resort from just outside the hotel.
Fýri Resort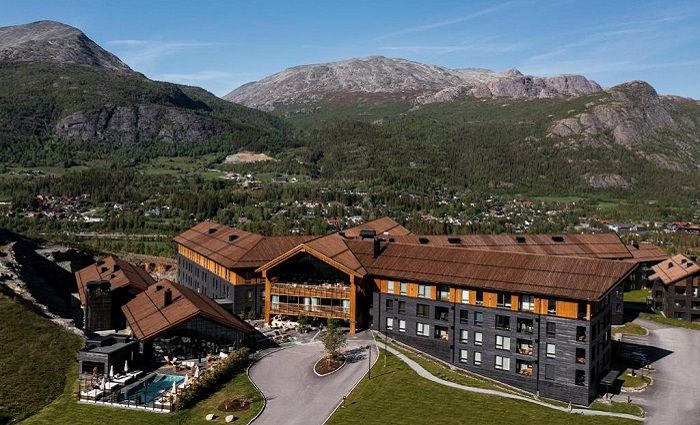 $$$$ | Pool | Ski-In / Ski-Out | Wi-Fi | Spa | Restaurant and Bar
If you want ski-in and ski-out access, this is the hotel to choose. It's located right at the bottom of Hemsedal Skisenter, so getting to the ski lifts should not be a problem. Here, they cater to all of your needs. They have a supermarket on the bottom floor, ski rental, and a restaurant and bar.
If you plan to take a day off from skiing, they have a climbing wall and a pool at the hotel. The pool is separate from the hotel, but if you stay here it's included. They have an outdoor pool and an indoor pool warmed to 35 degrees Celsius (95F). You can also order a snack or drink at the bar, or just chill out at the fireplace—perfect after a full day skiing or for a relaxing day off.
Hemsedal Café Skiers Lodge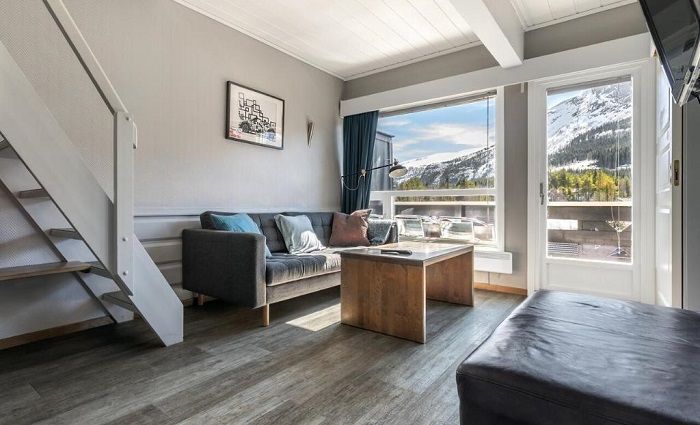 $$$ | Wi-Fi | Free Parking | Family Friendly | Central Location | Restaurant
The main objective of the people running this place is for you to feel at home. They have a restaurant on the first floor where you can enjoy breakfast, lunch, or dinner. They have a big focus on local food and drink, so most of the ingredients are from around Hemsedal. It is located in downtown Hemsedal and the bus stop to the ski resort is right next to the house.
Here they have different apartments you can rent. They are all equipped with everything you need including a kitchen, bathroom, living room, and free parking. One thing to remember is that you have to bring your own bedding or you rent it from the Lodge.
Skarsnuten Hotel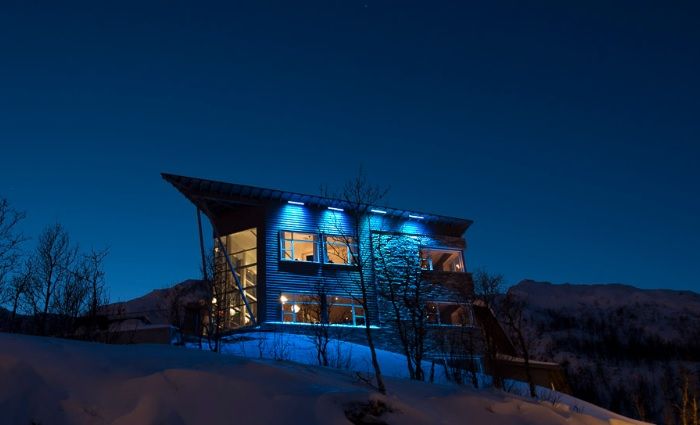 $$$ | Restaurant and Bar | Full Service | Gym | Wi-Fi | Panoramic Views
This hotel is located in the ski resort, so you can get the most out of your skiing days as possible. They have everything from single rooms to suites and 24-hour service from the staff. The rooms include the usual TV, Wi-Fi, and coffee machine.
There is a restaurant and bar on the first floor where you can have all your meals, and breakfast is included in your room. You can even make your own nistepakke, which is the usual lunch for Norwegians. In the bar, they offer wine from their own cellar, or you can try one of the local drinks after a long day of skiing.
SkiGaarden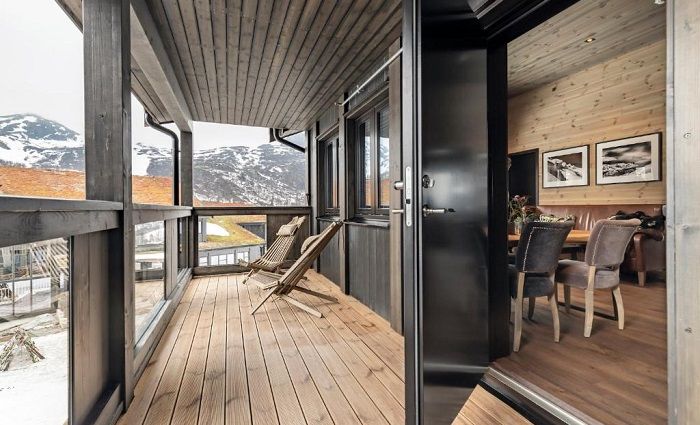 $$$$ | Free Parking | Wi-Fi | Pub | Three Restaurants | Panoramic Views
At this hotel, you rent different apartments in the middle of Hemsedal Skisenter. Located at 1000 meters above sea level, you are guaranteed to have a nice view of the entire Hemsedal area. It's a ski-in ski-out hotel, so it's perfect if you plan on spending your whole trip on the mountain skiing.
They have three restaurants to choose from for your dinner plans, or you can make your own meal at the apartment, which has its own kitchen, bathroom, and living room. If your group enjoys wine, this is the place to stay. They have the best wine cellar in Hemsedal and were nominated in 2018 for the best wine list in Norway. In 2021, they won the best Champagne list in Norway.
Dyrja Domes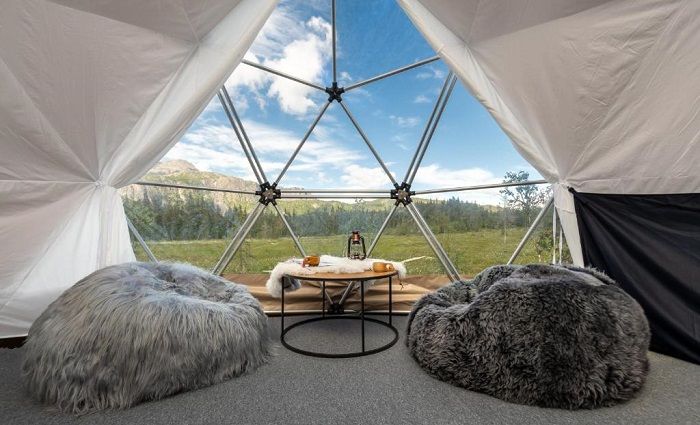 $$$ | Great Views | Forest Location | Family Friendly
This might be the coolest place to stay in Hemsedal. In the middle of the forest, you rent a dome! It is a type of exclusive tent, but with a bed, a wood-burning stove for heating, and a bathroom. It is a bit of a struggle to get there. You park your car a 15-minute walk from where the domes are located, but on the plus side, you follow a nice path through the forest.
If you choose to stay here, I would recommend renting a car since it's located six kilometers from Hemsedal Skisenter and 16 kilometers from Solheisen.
Storelia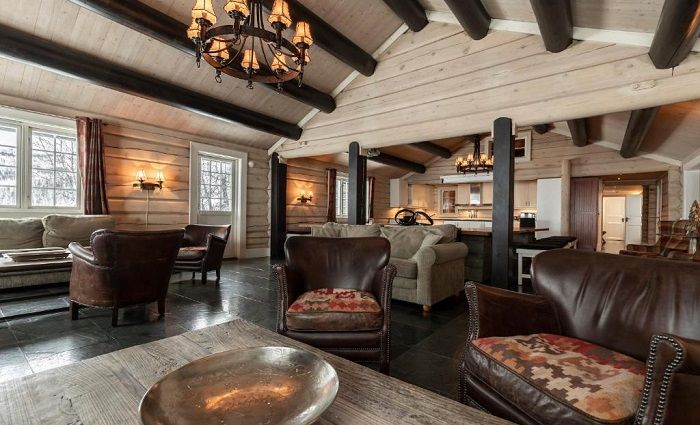 $$$$ | Full Service | Wi-Fi | Ski-In / Ski-Out | Large Groups
This is not a hotel but four different cabins that you can rent. They offer full hotel service, unlike most places that rent cabins. The only thing you have to worry about is carrying your bag to the cabin and packing it when you leave. You can order whatever you want and the staff will provide it to you. They can even make you a full five-course dinner.
This is a place to rent if you're traveling in a big group. Some of the cabins have up to 36 beds. It offers ski-in and ski-out access, so there's no need to rent a car.
Fanitullen Hotel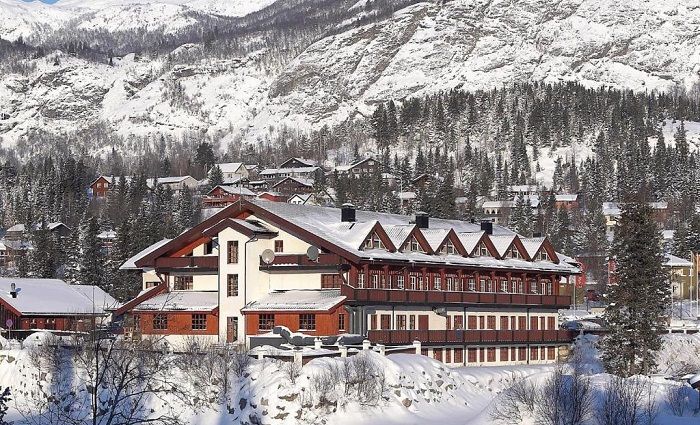 $$ | Wi-Fi | Steambath | Skibus | Cross Country Track | Central Location
This hotel is located in the middle of Hemsedal. It's one of the classic hotels in the area, and you won't want to pass by without stopping to take it in. They don't have any in-house dining, but there are several restaurants close by. The rooms have a TV, free Wi-Fi, a bed, and a bathroom—nothing fancy, but more than enough if you only need a place to sleep.
There are buses going to and from the hotel and the ski resort every day. If your group has a car, they offer free parking. There is also a cross-country track right behind the hotel if you want to go exploring. And to relax after a day of skiing, they have a solarium and a steam bath.