As the residence of the President of the United States, an untold amount of history has transpired in the hallowed halls of 1600 Pennsylvania Avenue. Whether you're lucky enough to get a tour, or are just in the area to enjoy the sights and sounds, this list of the best restaurants near the White House has everything you need to stave off hunger during your visit. Enjoy!
---
The Top 9 Places To Eat Near The White House in DC
Brown Bag
€ | Cafe | Open Early
We wanted to start our list of the best restaurants near the White House with something that's simple, easy, cheap and delicious. Open early and set inside a cozy café atmosphere, Brown Bag serves up a wide selection of delicious sandwiches, salads and pasta dishes in a casual setting. It may not be the fanciest place in town, but it certainly hits the spot.
If you arrive here early for breakfast, then you can't go wrong with what Brown Bag calls "The Classic." This is an egg, cheddar and smoked bacon sandwich on a croissant, and doesn't disappoint. For something really special, the Zorba Wrap includes egg whites, feta, spinach, onion on a whole wheat wrap. This Greek inspired breakfast can be eaten quickly, or savored over a cup of coffee. Either way, it's a great choice.
Address: 1625 I St NW
Hours: Monday-Friday: 7:30AM–2:30PM
Old Ebbitt Grill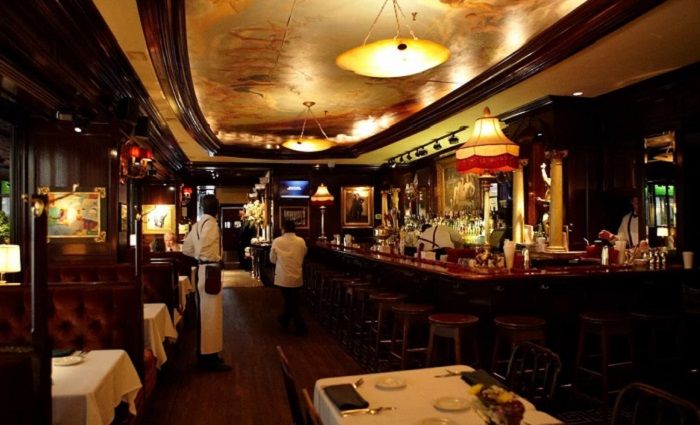 €€€ | American | Seafood Focus | Historical Treasure
Though fresh seafood is their specialty, Old Ebbitt Grill on 15th street serves up some of the best American fare in the city. And in a place like Washington D.C. that's really saying something! Inside of its elegant, velvet-lined interior, you'll be greeted by the delicious smells and excellent service that make you want to stay a while.
On the seafood side of things, Old Ebbitt keeps things fresh with a wide variety of options that change often. We recommend the Walrus Platters, which include a sampling of clams, oysters and shrimp. It's a great way to get a taste of the local seafood.
Most importantly, we have to mention the absolutely cool history of this place. There are beautiful murals throughout, plus you'll find priceless treasures from famous historical figures such as Theodore Roosevelt and Ulysses S. Grant who are believed to have stood at that very bar pictured above. It's a popular place so make sure to grab reservations early!
Address: 675 15th St NW
Hours: Monday-Sunday: 11AM–1AM
The Bombay Club
€€€ | Indian | Elegant Dining Room
Where live piano, elegant ambience and homestyle Indian food come together, The Bombay Club is an excellent choice for a filling lunch or a romantic dinner. Probably the best Indian restaurant near the White House, this place balances its fine dining atmosphere with a focus on friendly service and family-sized portions.
For starters, the lamb kebabs are served with the perfect amount of coriander, ginger and garlic and are an excellent introduction to a delicious meal. The Bombay Club offers House Thali platters, which are large plates heaped with curry, makhini, lamb, palak and dal. At about $25, it's an incredible value for the amount and variety of food you're getting here.
Address: 815 Connecticut Ave NW
Hours: Monday-Thursday: 11:30AM–2:30PM, 5:30–10:30PM, Friday: 11:30AM–2:30PM, 5–11PM, Saturday: 5–11PM
Blackfinn Ameripub
€€€ | American | Craft Beers and Wine
A low-key spot to grab a drink with friends after walking around DC all day, Blackfinn Ameripub takes the bar food concept to new heights on I Street. Whether you grab a seat at one of the many outdoor tables, or want to enjoy your drinks inside in the trendy-yet-traditional interior, it's a refreshing experience.
The pub snacks here might as well be meals in their own right. Crispy deviled eggs, flash-fried and panko crusted, as well as the soft garlic parmesan pretzels go very well with beer and wine. Speaking of, you'll definitely want to ask your waiter for a recommendation. We had the DC Brau IPA and it was simply perfect. If you're looking for something a bit more filling, then definitely get the BBQ Ribs. They're slow-cooked and served with cole slaw and mac & cheese, need we say more?
Hours: Monday-Sunday: 12–10PM
GCDC Grilled Cheese Bar
€€ | Grilled Cheese | Fun and Unique
Calling all grilled cheese lovers! GCDC may be one of the more casual restaurants near the White House, but sometimes that's exactly what you need. Serving comfort food in a cavernous and trendy space, it's a surprise that a place with so much ambience could be focusing on grilled cheese. Yet somehow it works!
Though you may be a little perturbed by the $16 price tag, the portions here are big enough to justify the price. The B&B Grilled Cheeseburger is the definition of a guilty pleasure. Melted swiss cheese, bacon, bacon jam, bleu cheese stuffed inside of a soft Texas brioche, it's really as good as it sounds. Looking for something more traditional? Their classic grilled cheese, made simply with white bread, cheese and tomatoes, takes this simple sandwich to new heights!
Address: 1730 Pennsylvania Avenue NW
Hours: Monday-Saturday: 11AM–7:30PM, Sunday: 11AM–4PM
The Dabney
€€€€ | Michelin Star | Mid-Atlantic
Vying to be among the finest Michelin Star restaurants near the White House, The Dabney is where you go when you want a dining experience to remember. Placed inside of one of D.C.'s classic brownstone row houses, The Dabney doesn't loose its rustic, low-key charm when it serves up its high-level cuisine. We definitely recommend grabbing a seat in the covered patio. The lush greenery is a wonderful getaway from the bustling city streets.
The Dabney sources all of its ingredients from the Mid-Atlantic region and takes notes from tradition when it comes to their preparation. That means dispensing with gas ovens in favor of wood-burning hearths. In the final execution, you can really taste how this attention to detail pays off. You'll want to get the Grilled Asparagus & Maryland Crab for an appetizer. For your main course, the Shenandoah Lamb is some of the most tender we've ever tried and balanced elegantly with mint and chermoula.
Address: 122 Blagden Alley NW
Hours: Wednesday-Thursday: 5–9:30PM, Friday-Saturday: 5–10PM, Sunday: 5-9:30PM
Iron Gate Restaurant
€€ | Mediterranean | Rustic
Just a few steps away from Dupont Circle, Iron Gate serves up Italian and Greek fare that has made it a local favorite for young gourmands and hardcore traditionalists alike. The interior is classic turn-of-the-century American with studded red velvet couches and low lights. The patio, however, would be where we would sit on a nice day. The incandescent bulbs and crisscrossed thatch roof above make for a trendy, cozy spot to enjoy a drink.
If you don't order the hand-pulled burrata as an appetizer, you will be missing out. We had it and could barely believe the rich body and luscious texture they were able to achieve with this dish. The Chef's Family Table is the best option for those looking for a show-stopping, full course meal to share. It includes an ever-changing menu of in-season dishes, inspired by the Greek and Italian countryside. The wine pairing is certainly worth the extra expense too!

Address: 1734 N St NW
Hours: Tuesday-Thursday: 5–9PM, Friday-Saturday: 3–10PM, Sunday: 11AM–2PM, 5–9PM
Sushi Nakazawa
€€€€ | Sushi
The intensive focus on preparation, simplicity and tradition on display at Sushi Nakazawa is incredibly difficult to put into words. If perfection is even possible in the world of sushi, then this elegant spot sure makes a run for it. Make your reservations early, take your seat at one of the refined dark wood tables, and you'll be treated to some of the best food you've had in your life.
Served in the Omakase style, the meals here are selected according to freshness and seasonality by the head chef. If you're the kind of person who can't live without a salmon avocado roll, then we suggest coming in with an open mind when you visit. Course after course of scallop, snapper, mackerel, fatty tuna and sea urchin are sure to make a believer out of anyone. As stated before, words fail to describe the melt-in-your-mouth quality of the sushi here. You'll just have to try it for yourself!
Address: 1100 Pennsylvania Avenue NW,
Hours: Monday-Thursday: 5:30–8:30PM, Friday: 5–9:30PM, Saturday: 11:45AM–1:45PM, 5–9:30PM
The Lafayette
€€€€ | Americana | Beautiful Views
If Washington D.C. is the capital of the US, then The Lafayette is the culinary capital of D.C., as far as we're concerned. Boasting breathtaking views of the White House and the Washington Monument, all within the chandeliered dining room of the Hay-Adams hotel, it's some of the finest the city has to offer. Decorated with portraiture depicting some of the icons of American history, The Lafayette is quintessentially American.
The chefs here keep the menu small, emphasizing fresh, locally sourced ingredients and the finest in preparation. We started with the chickpea & lentil soup and were surprised by how much flavor could be packed in such a simple dish. The Roasted Scottish Salmon would be our recommendation for an entrée, if only for the bacon & lime cream sauce which matches so perfectly with the fish. Vegetarian diners should opt for the Linguine Bolognese, a rich dish that's flavorful without being overloading. Regardless of what you order, you'll be treated to some of the best food in the city.
Address: 800 16th St NW
Hours: Monday-Friday: 6:30–11AM, 11:30AM–2PM, 5:30–10PM, Saturday-Sunday: 7–11AM, 11:30AM–2PM, 5:30–10PM


Hopefully this list helps you decide among the many great restaurants near the White House. This city is so full of culture and history, it's important to try the food too!