Milan's graceful Gothic marvel, the Duomo, draws thousands of visitors each year. This towering 14th-century wonder is a feast for the eyes but if you have a different feast in mind, this is an eclectic selection of some of the city's best spots. Check out the best Restaurants near the Milan Cathedral!
---
Pro Tip: Check out our articles on restaurants in Venice and Florence if Milan is part of a longer Italian trip! Not all our choices get 5-star review from the usual suspects, but we locals love them which is why they made the list!
The Top 10 Places To Eat Near Milan Cathedral
When you need a break from all the culture, art, and fashion around you these are some of our favorite places to recharge your batteries. Everything from gourmet cuisine to some of the city's favorite street food on the go. The area around the Duomo is the heart and soul of this work-hard, play-hard city, where the Milanese go to see and be seen, so let's join these elegant signori.
La Rinascente Rooftop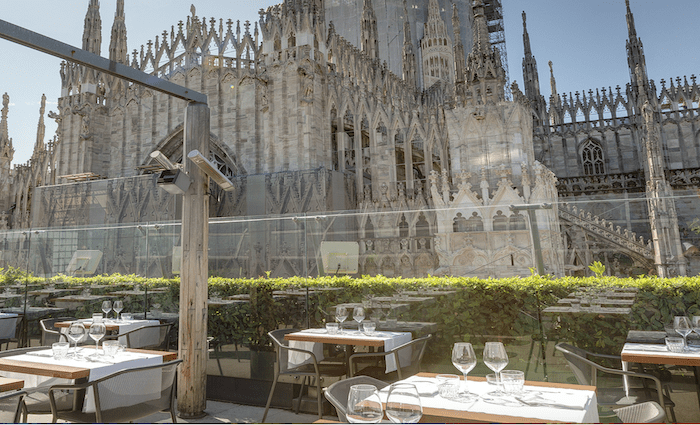 €€– €€ | Rooftop Terrace | Early to Late
A mall with a view? You can't get much closer to the Cathedral than the Rinascente department store directly opposite. The top floor of the store showcases Italy's culinary wealth, with select products and several eating spots that offer a welcome break from all that shopping. However, it's the rooftop terrace and its spectacular view of the cathedral's dreaming spires that's the real draw.
You can eat and drink throughout the day, but the best time to go is at sundown to enjoy Italy's favourite aperitif, an Aperol spritz, and snacks. You'll pay more than the norm at a regular Milanese bar, but the vista is priceless.
Address: Corso Vittorio Emanuele II
Hours: 10 am – around midnight
I Dodici Gatti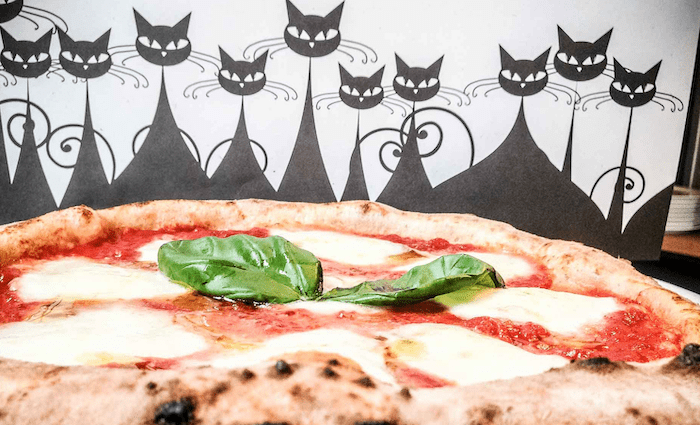 €€ | Pizzeria with a unique location | lunch and dinner
This is one for cat and pizza lovers! I Dodici Gatti (or 12 Cats) offers delicious Neapolitan-style pizzas baked in a wood-fired oven. The pizzeria has a wonderful setting in the spectacular Vittorio Emanuele arcade and a charming backstory. The original 12 cats were cared for by an old lady living on top of the arcade and the colonia felina (cat colony) is now looked after by the City of Milan (and the owners of course).
Classic pizzas like the margherita and marinara are joined by delicious seasonal specials (think gorgonzola and pumpkin in fall!)
Address: Galleria Vittorio Emanuele II (Entrance is on the corner with Piazza della Scala (same entrance as the Leonardo Museum). Follow the corridor and take the elevator to the 6th floor)
Hours: 12-3pm and 7-11 pm (closed on Mondays)
Luini
€ | Takeaway street-food | Morning to Evening
What is that enormous queue and should I join it? If you want to try a Milan street food institution then the answer is probably yes. Don't worry, it moves pretty quick! Luini is a bakery with a long history, dating back to 1888 no less. Signora Giuseppina left her native Puglia to settle in Milan, bringing with her a typical product that quickly captured Milanese hearts, the panzerotto.
There's a huge choice of these pastries – fried or baked, savoury or sweet. We recommend a classic spinach and ricotta or tomato and mozzarella. They also have daily special panzerotto and a wide range of other baked treats.
Address: Via Santa Radegonda 16 (just round the corner from Galleria Vittorio Emmanuele)
Hours: 10.30 am – 7.30 pm Monday-Saturday
Giacomo Arengario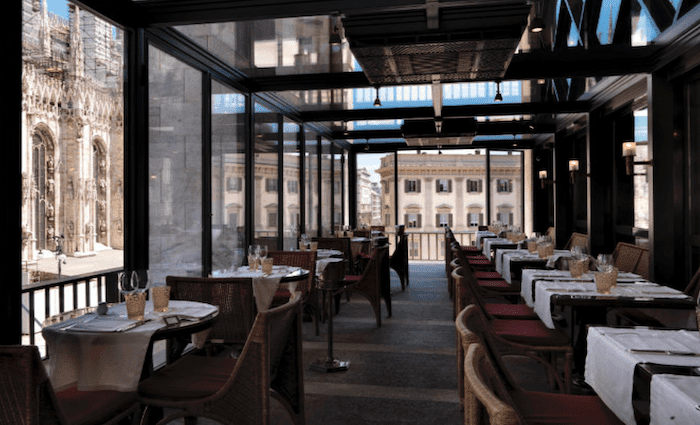 €€€ | Elegant restaurant and cathedral view | All day
Giacomo has several restaurants around the city, but the Arengario, housed in the building of the same name, which is also a museum of the 20th century, is right next next to the Duomo. Book on the terrace for a great view of the cathedral or enjoy the evocative and elegant 1930s interior.
From excellent seafood dishes to Milanese traditions like Risotto alla Milanese (saffron risotto) or Ossobuco (braised veal shin) and everything in between, including afternoon tea and cocktails, this restaurant has it all.
Address: Via Gugliemo Marconi 1
Hours: Every day from noon to midnight
Voce Aimo e Nadia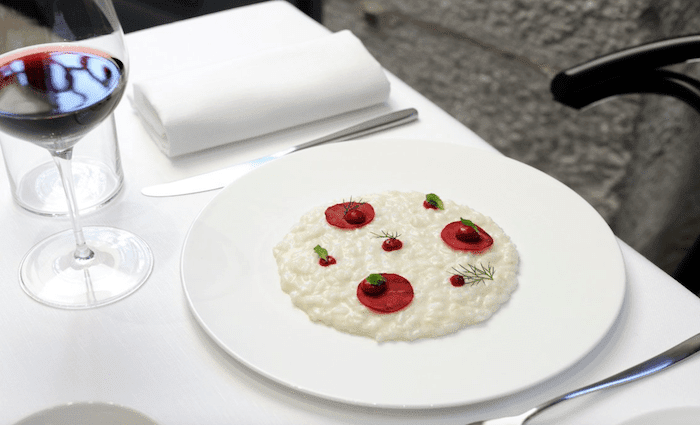 €€€€ | Restaurant, café and bookshop | Open from 12 noon to late
Aimo and Nadia began in the '60s with a homely trattoria offering traditional fare and built a Michelin-starred Milanese institution. They have now passed the baton on to younger chefs and their latest venture offers three unique spaces – a café, bookshop and gourmet restaurant.
Voce is another restaurant that combines art and gastronomy, as it is located inside the Gallerie d'Italia museum and exhibition space, right next to the renowned La Scala opera house. Elegant cuisine in a unique setting with a beautiful garden (Voce in Giardino) for al fresco dining on a warm summer's night.
Address: Piazza della Scala, 6
Hours: Open every day from 12-2.30 pm for lunch and 7-11 pm Mon-Sat for dinner
Panino Giusto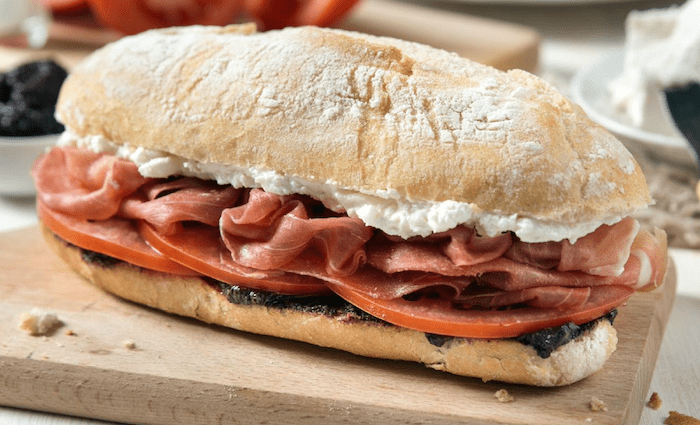 €-€€| Sandwiches and snacks| Open from morning to evening
Sometimes you just want a light bite for lunch and, as its name suggests, Il Panino Giusto, offers the perfect sandwich. For a sandwich store it has a surprisingly long history (over 40 years in Milan!) There are now several outlets dotted around the city. Panini, filled toast, cold cuts and a couple of simple, quick dishes to eat in or take away.
There's a focus on traditional Italian produce and sandwiches vary according to the location, but we're crazy about the air-dried beef and fried zucchini flowers.
Address: Via Agnello 6
Hours: Open every day from 11-10.45 pm
Bastianello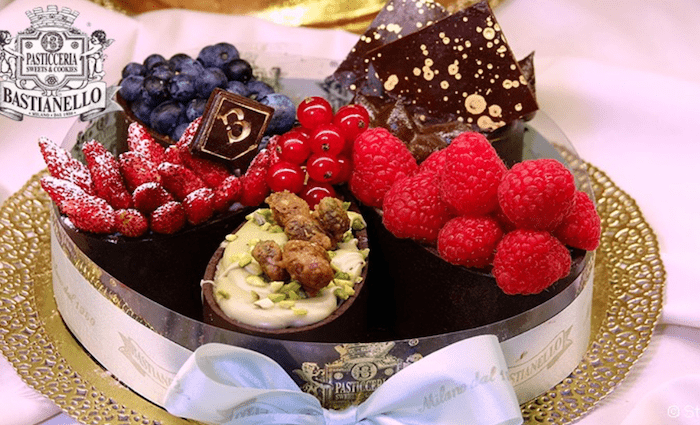 €€ |Traditional Milanese Pastry Store and more|Open all day
Bastianello has been serving up its incredible pastries since 1950, but this pasticceria and café offers so much more…wonderful gelato, great light lunches and excellent aperitifs. It's busy, buzzy and filled with locals enjoying an elegant break from the downtown bustle at all times of the day.
Drinks come with enough complementary snacks to make you want to skip your next meal. Cakes and chocolate creations are pure works of art and it's near Piazza San Babila, so you're perfectly placed to explore Milan's most fashionable streets.
Address: Via Borgogna 5
Hours: Every day from 8 am-9 pm
Al Cantinone
€€-€€€m | Traditional restaurant and Milanese cuisine | Lunch and dinner
Some things never go out of style and Al Cantinone is what we call 'una garanzia', a guarantee of great Milanese food and a comforting, traditional welcome with a relaxed Italian family atmosphere.
There are two locations offering hearty fare close to the Duomo, but we like the ambiance of the one in via agnello where you can try a breaded Milanese veal cutlet (another city staple) cooked to perfection.
Address: Via Agnello, 19
Hours:Every day 12-3 pm and 7-10.30 pm
Marchesi 1824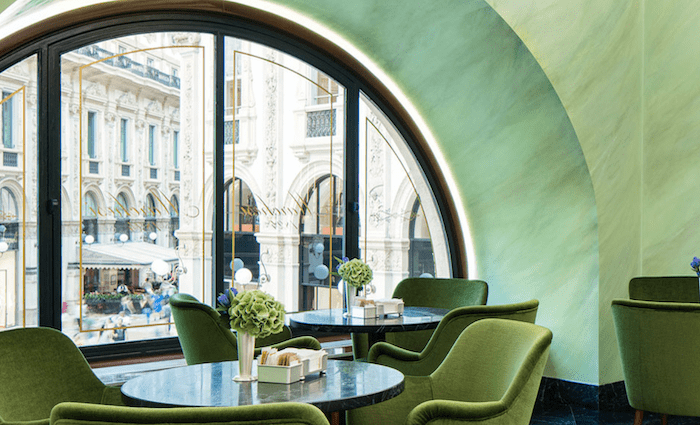 €€-€€€ | Pastries and coffee | Open every day from morning to evening
We don't really do breakfast in Italy, or at least not in the way other countries do. It's a stand-up affair with a quick pastry and an espresso or cappuccino at the bar. If you want to do it like a typical Milanese, then head up the stairs in the Galleria Umberto to discover one of the city's oldest and most venerated breakfast spots.
Nearly two hundred years' experience in crafting exquisite pastries don't lie. If you want to take it easy then ok, we'll even let you sit down and relax in one of the comfy chairs. You'll have a bird's-eye view of the shoppers in the stunning arcade below. There are two other Marchesi cafés in the city, including one in the heart of Milan's fashion district.
Address: Galleria Vittorio Emanuele II
Hours: Every day 7.30 am – 9 pm
Paper Moon Giardino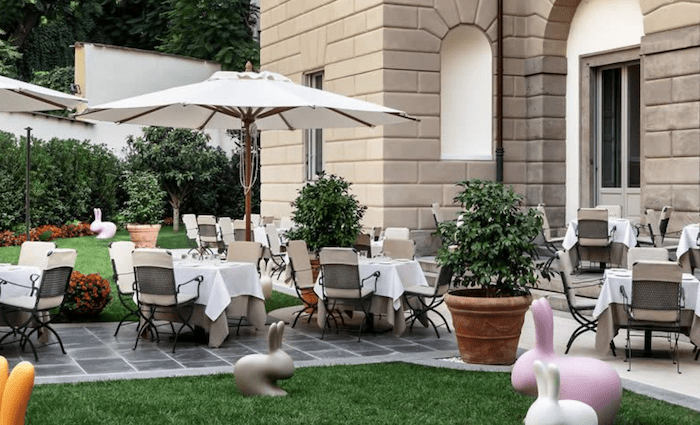 €€€ | Elegant cuisine and a garden | Lunch and dinner
Who doesn't love an unexpected discovery? So how does a secret garden in the heart of a busy city sound? This restaurant offers a haven of calm both indoors and out.
Elegant Italian cuisine with a contemporary twist and exquisite presentation. The steamed lobster with cherry tomatoes is to die for, as are the mussels and clams flavored with Vermouth. Take a deep breath, chill and leave the stress of the metropolis behind.
Address: Via Bagutta 12
Hours:Monday-Saturday 12.30–4 pm and 6.30-11 pm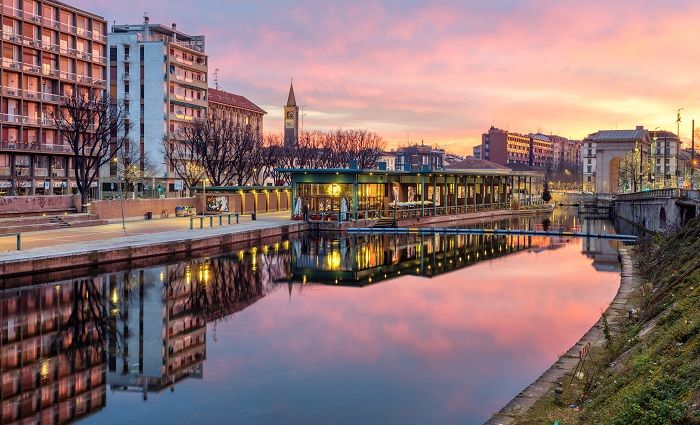 Find the best places to stay
Where To Stay in Milan
Milan is a small city with plenty to explore from iconic landmarks to a vibrant art and design scene and old-world charm. Plan where to stay in the best neighborhoods in this beautiful city.