In this ancient city of Toledo that sits above the plains of Castilla-La Mancha, you can enjoy everything from hearty country dishes to Michelin-starred food. But with so many choices, where to start? That's where I come in. I've eaten all over the city and can guide you to the best restaurants and places to eat in Toledo.
---
Pro Tip: It's easier to organize your trip when you have all your resources in one place. Bookmark this post along with our exciting Toledo tours from Madrid and the top things to see in Toledo.
The Top 10 Places To Eat in Toledo
Toledo is one of Spain's most impressive cities that you might never have even heard of! Its mix of architecture from Christian, Muslim, and Jewish cultures attracts tourists from around the globe. As a result, UNESCO awarded the city World Heritage status in 1986.
Despite its proximity to Madrid, Toledo's gastronomic scene stands on its own. That's why the Michelin Guide for Spain and Portugal chose the city for its 2023 gala presentation. The cuisine of the Castilla–La Mancha region has modest roots reflecting the limited resources of rural areas during ancient times. Today, the region is best known as a producer of Manchego cheese, wine, and saffron.
Notable dishes are pisto Manchego, gachas de almorta, and gazpacho Manchego. The latter is distinct from the cold Andalucian soup that shares a similar name. While traditional cuisine still thrives, Toledo is now a hotbed of gastronomic innovation. Without further ado, let's look at what this magical city has to offer. Here are my top picks for the best restaurants in Toledo.
Restaurante Iván Cerdeño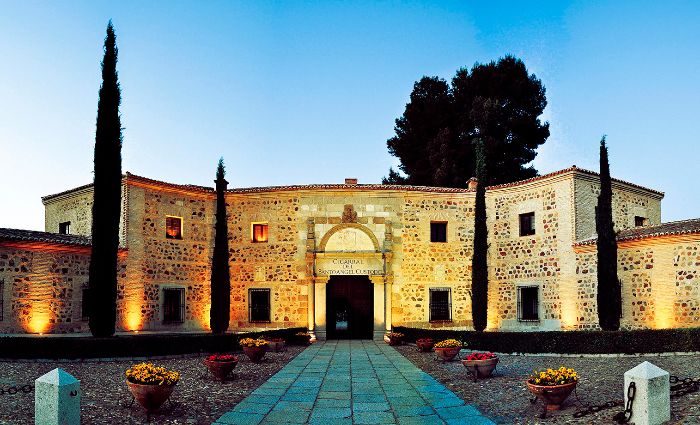 €€€ | Two Michelin Stars | Impressive Location | Good Value For High-End Cuisine
Restaurante Iván Cerdeño is Toledo's flagship eatery. It has two Michelin stars and sits in impressive surroundings that overlook the city and the Tagus River. They pride themselves on cooking from the garden to the riverside, and from the mountain to the sea—all inspired by the cultural imprints left on Toledo throughout the ages.
You can eat here from as little as €85 but the price can soar with upgrades and wine pairings. Yet, the food leaves a lasting memory and is good value for this level of cooking. This is the place to go for a special occasion or if you just want to treat yourself.
Address: Cigarral del Ángel, Carretera de la Puebla
Tobiko Restaurante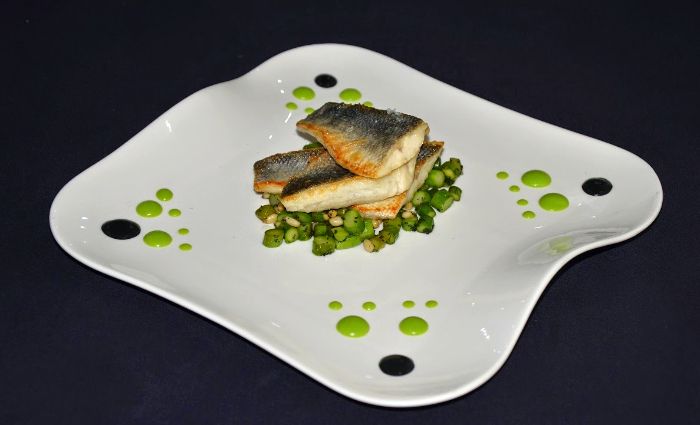 €€ | Modern Mediterranean | Attentive Service | Away From Tourist Areas
Toledo has plenty of hidden gems and Tobiko is one of them. This modern restaurant in an unassuming part of town and offers a dining experience that takes you by surprise. All becomes clear when you learn that the chef, Javier Ugidos, trained under Martìn Berasategui, one of Spain's most decorated cooks.
There's a choice of tasting menus that put you in the hands of the chef. And the menus are always evolving, so you'll never have the same experience twice. The core is traditional Spanish food but there are influences from as far afield as Asia. So, book in advance and be prepared to be surprised!
Address: Rda. Buenavista, 27
Restaurante El Albero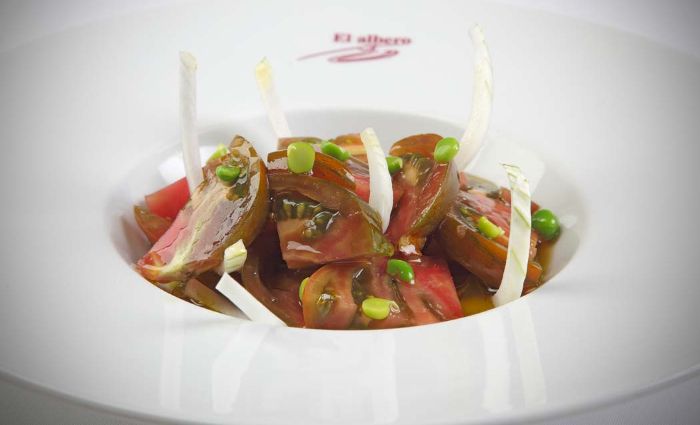 €€ | Local Favorite | Friendly Service | Traditional Dishes Upscaled
El Albero has three decades of history in Toledo but always moves with the times. Today, with an exciting young chef at the helm, it produces creative takes on local cuisine. Tucked away from the tourist trail, the restaurant has a loyal clientele. And it's no wonder—the delicious food, impeccable service, and cosy atmosphere all draw you back.
Menu highlights include the mellow rice with partridge and the brioche with smoked sardine, San Simon cheese, tomato, mustard, and honey. You can't go wrong with the Iberian pork cheek with glazed potato, garlic, and thyme butter.
Address: C. de la Diputación, 6
Taberna el Botero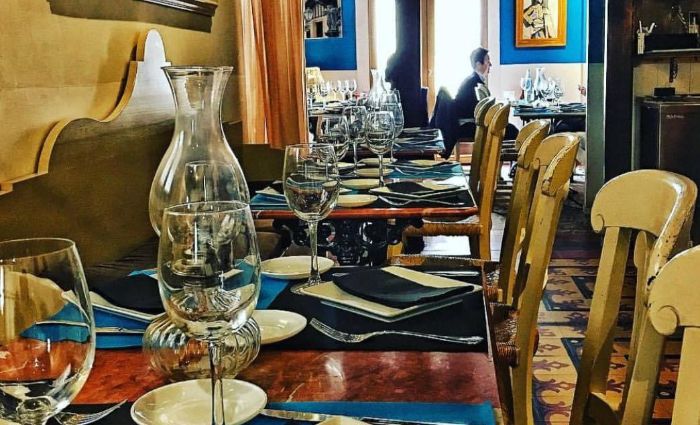 €€ | Casual Dining | Creative Food | Legendary Cocktails
As the name suggests, El Botero has the feel of a traditional tavern. There's a chilled vibe inside with cool artwork hanging on the walls. But this is more than just a trendy bar. El Botero serves some of the most creative food in Toledo.
In fact, it's our favourite place for casual dining. The croquette tasting menu has six different varieties including tomato kimchi, cod and red curry butter, and oxtail with sweet potato purée.
Beyond that, the menu features Asian, Peruvian, Cuban, and Mexican influences, as well as local fare. Oh, and did we mention the cocktails? They mix their own and it's worth a visit just to try them. We recommend the Caboblanco Rainbow and the Paraíso.
Address: Calle Ciudad, 5
Entre dos Fuegos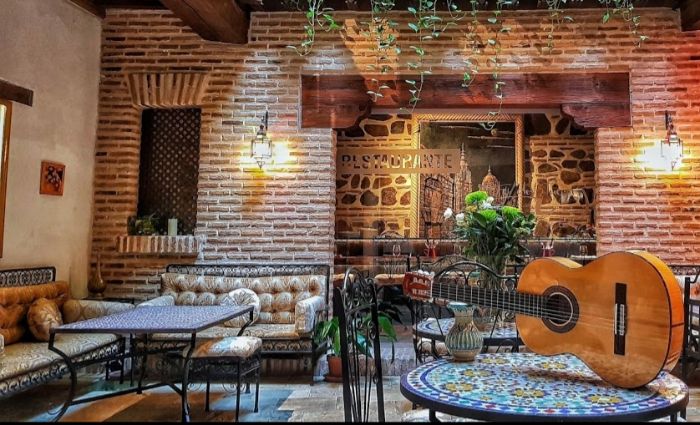 €€ | Beautiful Surroundings | Innovative Menu | Central Location | Rooftop Views
This restaurant is situated in a boutique hotel in the heart of the old town. It was once the home of legendary flamenco guitarist Paco de Lucia who recorded the classic album "Cositas Buenas" here in 2004. The guitar that he toured with for that recording now hangs on the wall of the patio.
It's a beautiful location and worth a visit just for the musical connections and the rooftop views. Luckily, the food is impressive too! There's an open kitchen, so you can see the dishes being prepared. The chef will even talk you through each one (in Spanish).
With limited numbers, it feels like you're eating with friends. Also, booking is highly recommended. The immaculately presented and eclectic tasting menu will take you on a journey of flavors. And at around €60 per person, it's great value too!
Address: Pl. Sto Domingo Antiguo, 2
El Bohío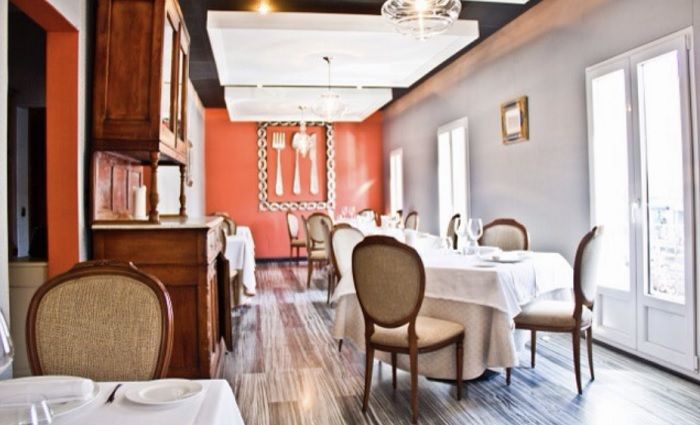 €€€€ | One Michelin Star| Foodie Destination | Celebrity Chef
Next, we're taking a slight detour for a special place. El Bohio is a 25-minute taxi ride northeast of Toledo in the small town of Illescas. Yet, it's the most famous restaurant in Toledo province.
El Bohio earned notoriety back in 2010 when it was featured in season 6, episode 25 of Anthony Bourdain's "No Reservations" TV show. And chef Pepe Rodríguez is one of the three judges on the Spanish version of the popular "Masterchef" TV series.
The menu and decor have changed a lot since Bourdain dropped by. But the restaurant remains a destination for discerning diners from around the globe. Rodriguez maintains the legacy of La Mancha cuisine in the most refined way possible.
Signature dishes include lentils with butifarra sausage and ham croquette. Pringá del cocido with cabbage and broth. And Mojete Manchego with pickled cucumber sorbet and herring. It's not cheap but this is a once-in-a-lifetime type of place.
Address: Av. Castilla La Mancha, 81
Restaurant El Peñon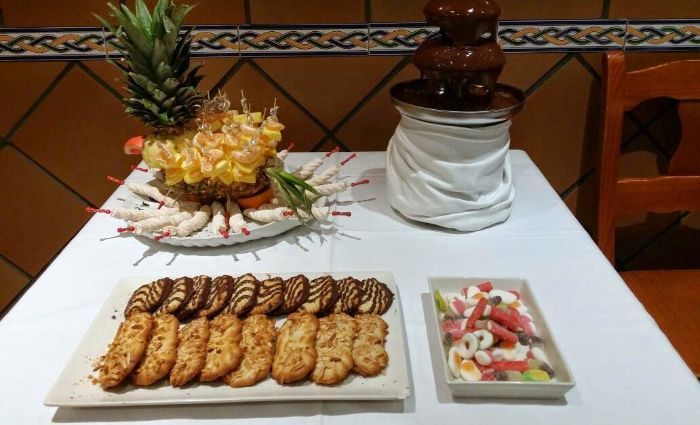 €€ | Traditional Dishes | Terrace | Family Friendly
For an old-fashioned dining experience featuring regional dishes, Restaurante El Peñón is the perfect choice. The restaurant is just outside the city walls and has a pleasant terrace for outdoor eating.
The menu is full of local dishes and daily specials, all cooked and presented to a high standard. And the wine list is spectacular featuring some of the best local varieties. To add to the appeal, the service is also fantastic. You may even get a surprise at the end of your meal! But you'll have to go there to find out for yourself.
Address: Cl. Carrera, 31
Taberna Skala
€ | Local Favorite | Hearty Food | Good Value
If you want to eat like the locals do on a daily basis, head to Taberna Skala. This is an old-school Spanish tavern with hearty food and warm service. That means a choice of tapas and portions that are always bigger than you expect.
Ask the staff to recommend a couple of dishes to share and enjoy! This is the kind of no-nonsense food that powers the locals through their day. Typical dishes include pisto Manchego (vegetable stew with a fried egg), carcamusas (tender pork stew with peas), and torreznos (fried pork belly strips). Be prepared to rub shoulders when it gets busy!
Address: Cuesta de la Sal, 5
Street & Soul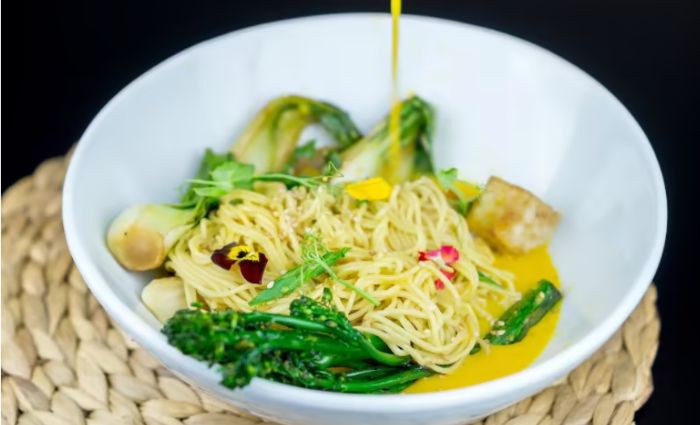 € | Vegan and Vegetarian | Street Food Style | Local Wines and Beers
Vegans and vegetarians, this place is for you! Head to Street & Soul, the only 100% vegan place in town. They offer amazing street food, plus interesting local wines, cocktails, and artisan beers.
Even if you're not vegan or vegetarian, you might want a break from the abundance of meat on Spanish menus and you won't be disappointed here. The menu is truly global and offers something for everyone from burgers and curries to pastas and salads.
All served in a cool interior setting of brick, wood, and glass, standout dishes are the roasted pear salad and Ferrero Rocher cake. All in all, it's just great food, regardless of your dietary preference.
Address: Cta. Mona, 1
Restaurante Marrakech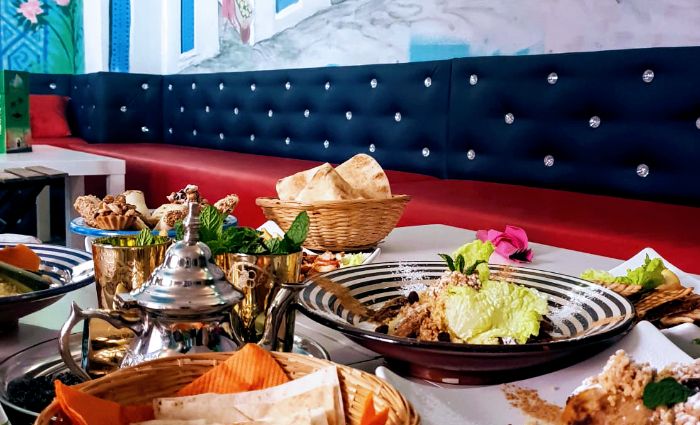 €€ | North African and Middle Eastern Cuisine | Takeaway Available | Vegan Options
Restaurante Marrakech serves traditional North African and Middle Eastern dishes in an ambient Moorish-style setting. There are tagines, couscous, falafel, and hummus, plus some fusion dishes including Arabian pizza that work really well.
This is the perfect place for when you want to sample the flavours of Spain's Arabic past. They also cater to vegans and vegetarians. Plus, the service is excellent and the price is reasonable. What more could you ask?
Address: Calle Cordonerias, 3
Not ready to book a tour? Discover the top things to do in Toledo.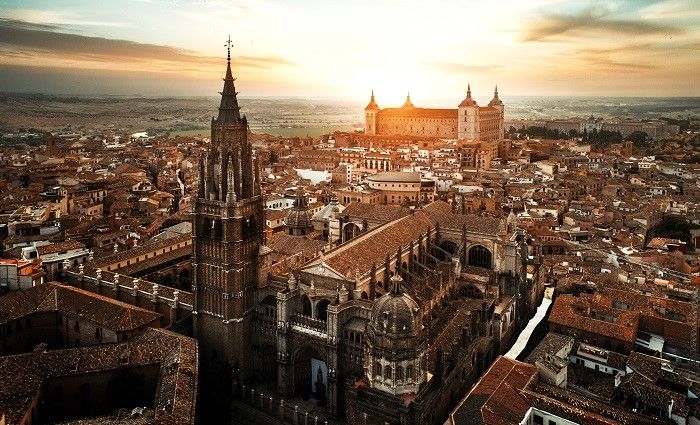 Find the best places to stay
Where To Stay in Toledo
Toledo is a must-visit city brimming with history just outside Spain's capital. With this guide, you'll easily find the best hotels and neighborhoods for your stay in Toledo.