Ireland has one-upped its rainy climate by creating a culture – and tourism sector – that completely revolves around being indoors (we're talking pubs). So, with that in mind, this guide is meant for the-day-after-the-night before. You're hungover. It's still raining. You need to swim it off. STAT! So, take your pick with the following hotels in Dublin with indoor pools!
---
The Top 10 Hotels with Indoor Pools in Dublin
Dublin is a coastal city with both rocky and sandy beaches, a c-shaped bayline, fishing ports, and two huge canals. Some hardy folk dive into these freezing Atlantic waters all year round, but in rough weather, an indoor pool is the only way to go. In fact, an occasional swim without jellyfish or seaweed wrapped around your ankles is always a bonus. So, here are ten Dublin hotels that give you indoor pools. Each one will appeal to different people. Feel free to also check out pools in countryside hotels near Dublin. These may come in handy if you're planning a trip around the whole country of Ireland.
Our Partnership with Booking.com. If you like our content, please book by clicking on our Booking.com links. The price is the same for you and we get a small commission that helps support our helpful blog content. We've partnered with Booking.com because they have the most options, great prices, and a solid loyalty program.
10. The Marker Hotel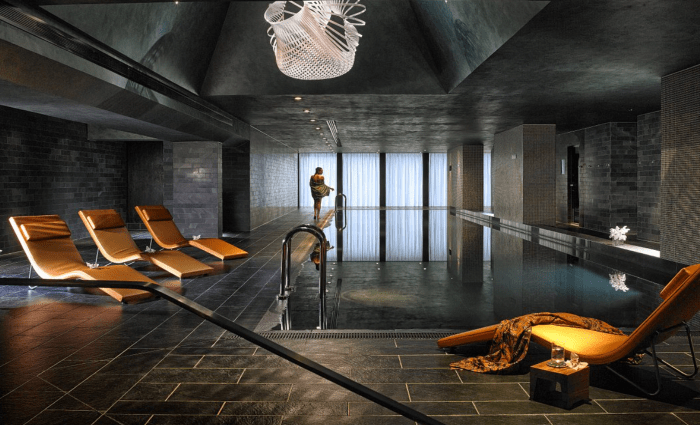 €€€ | 5 Star Hotel | Contemporary | 23 Meter Infinity Pool | Spa | Dublin Docklands
The Marker hotel is quite the artistic spectacle. Overall, I would describe it as the 'lair of a billionaire Bond villain' meets 'industrial space age'. As we're here for health amenities though, I want to focus on the 23 meter infinity pool available to patrons at the hotel. Not only that, but there's also a eucalyptus-infused steam room, gymnasium, sauna, and Jacuzzi onsite. Once you've done the rounds in the health center, you can opt for a range of spa treatments to include aroma massages, facials, and microneedling.
The Marker's swimming pool, in particular, benefits those who may feel a little body conscious. It's nice and dark, so you can strip down to your bathing suit and go for a dip without feeling too exposed. In talks of location, The Marker is situated in the heart of Dublin Docklands (otherwise known as Dublin's financial quarter). This, for one, makes it an ideal destination for business travelers. However, the hotel is also great for honeymooners, or concert goers to the nearby Bord Gáis theater.
9. The Spencer Hotel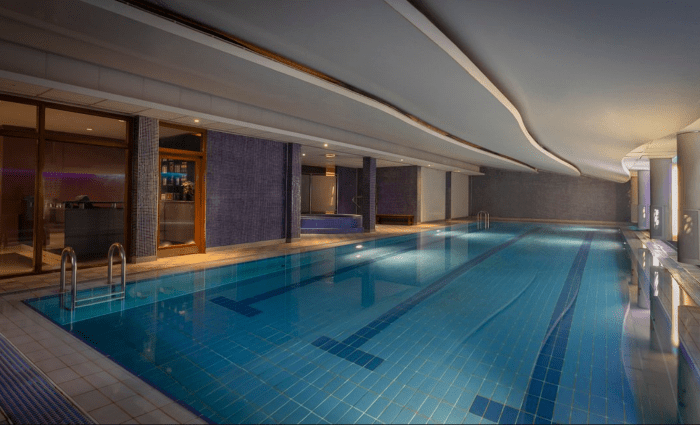 €€€ | 4 Star Hotel | Contemporary | 18 Meter Pool | Spa & Jacuzzi | Dublin Docklands
The Spencer is another modern hotel in Dublin Docklands, which has gorgeous views over the River Liffey. The health center is fully equipped with a gym, steam room, sauna, and Jacuzzi, as well as a heated indoor swimming pool. Regarding the pool's layout, it has been planned to avoid any swimming clashes, so, for example, kids can splash around in the family pool, while lap-swimmers can take their own dedicated lanes.
Regarding gym facilities, guests can do resistance training or cardio training, with the help of an onsite physiotherapist. This physio also offers massage therapy and acupuncture to clients. Those who prioritize their downtime can instead unwind at the spa and get treatments such as facials, body wraps, massages, manicures, and pedicures, along with beauty treatments like waxing and tanning. The Spencer is therefore highly recommend for couples, or families with young children who want no-hassle, child designated spaces.
8. The Shelbourne Hotel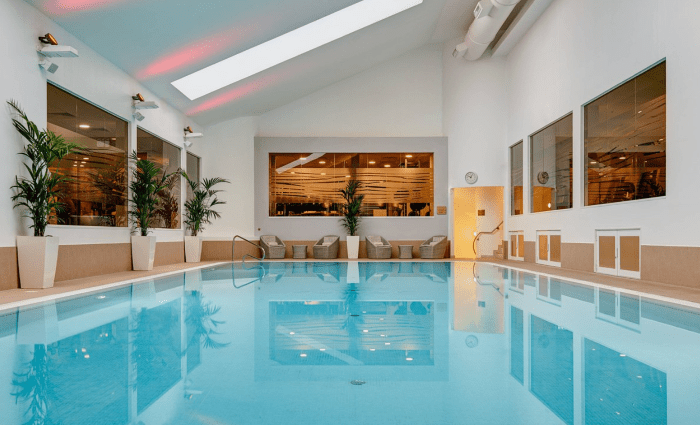 €€€€+ | 5 Star Hotel | Georgian Design | 18 Meter Pool | Spa | St. Stephen's Green
The Shelbourne is an institution for high-class living. The building has two centuries of history behind it. In fact, during the classic age of Hollywood, it was the first port of call for A-listers like Charlie Chaplin, Grace Kelly and Jacqueline Kennedy. Keeping that in mind, then it should come as no surprise that The Shelbourne holds a state-of-the-art swimming pool, fitness center, and spa.
Fitness buffs looking to expand their horizons can further avail of the well appointed gym. At your request, personal trainers will be available to aid in your workout. In addition, the hotel hosts fitness classes throughout the week, such as abs toning, kettlebells, spin classes, and mobility rehab. To soothe aching muscles afterwards, the sauna and steam room is, of course, awaiting you.
The Shelbourne basically has it all. Stylistically speaking, it's a fantastic choice for guests who like The Ritz or The Savoy Hotel in London. Swimming enthusiasts won't be disappointed either.
7. Camden Court Hotel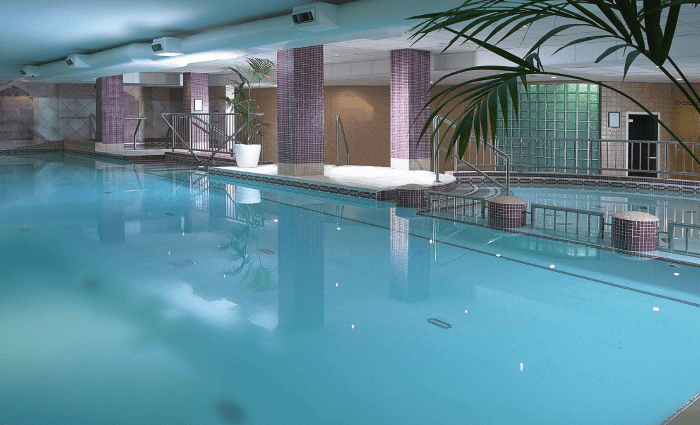 €€€ | 4 Star Hotel | 16 Meter Pool | Spa and Jacuzzi | Portobello
Camden Court is a basic but reliable hotel, with lots of facilities and an iconic pub next door. In terms of the hotel's leisure center, guests can dip their toes in the heated, 16-meter swimming pool. This is where you can also partake in aqua classes, or alternatively, opt for a more relaxed route in the Jacuzzi. Moreover, there's a sauna and steam room within close proximity to the pool.
Being only a five minute walk away from Camden Court Hotel, I have used their pool facilities on an ongoing basis (as a non-resident). Off-peak times are definitely between the hours of 9-5, as business travelers attend conferences here, before quite literally… debriefing in the pool's changing rooms. The pool itself is small, but cosy. I would say it's more laid back than most health clubs, and the same goes for the gym area. Camden Court is a solid choice for families with small kids. There is no pretentiousness in the hotel, nor any areas without childproofing – including the swimming pool.
6. The Merrion Hotel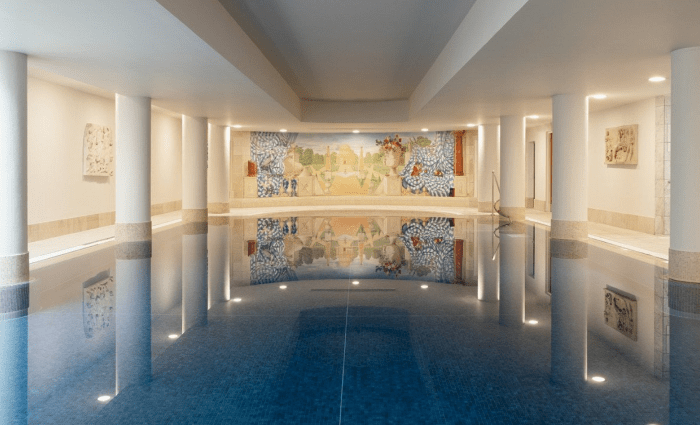 €€€€+ | 5 Star Hotel | Classic Style | 18 Meter Infinity Pool | Spa | Merrion Square
The Merrion Hotel is totally "extra." In a similar fashion, the swimming pool is the epitome of luxury. The design of the pool is classical, in that it's set in French limestone and has a trompe l'oeil mural at one end (which depicts a neoclassical landscape). This, I'm told, is to purposely create a feeling of space. The steam room is also unique because it's made entirely of Italian marble. Other areas of the spa have the same mix of Italian marble and French limestone, with the addition of mosaic tiles and heated, hardwood flooring.
Overall, I would consider The Merrion pool a fantastic choice for those who want to feel like royalty bathing in ancient Rome. The gym is also kitted out with high-tech machines, audiovisual equipment, weights, and a personal trainer. Location-wise, it's a five-minute walk from the South city, which is the safer side of Dublin city. You're also no distance from attractions like The National Gallery and National Museum.
5. Royal Marine Hotel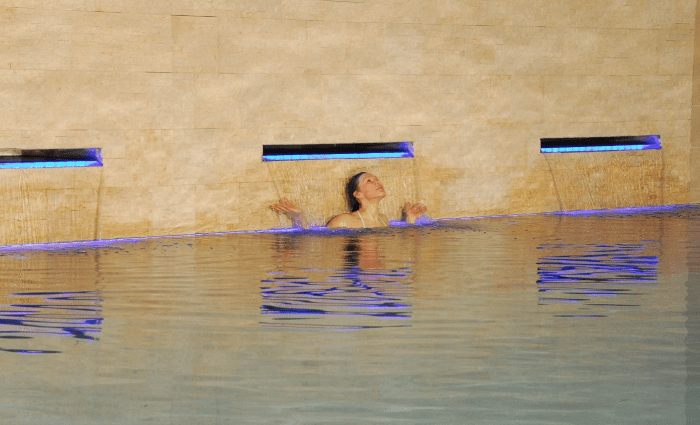 €€ | 4 Star Hotel | Classic & Homely | 18 Meter Pool | Dun Laoghaire
Guests who appreciate tranquility will adore the swimming pool at the Royal Marine Hotel. Firstly, the pool for private guest use only. Secondly, it looks and feels like an underground cave. As you walk down the cavernous steps onto the pool's surround, you'll be greeted by limestone walls and sensual blue lighting that shimmers over the water. There are also a number of waterfall features along the length of the pool, which are invigorating to tread under.
Instead of doing lengths, you can always grab a robe and relax on the sidelines. There's more options in the spa, as well, such as a steam room, sauna, hydro pool, and personal training services. During the week, you can book specialized swimming classes, including fitness classes in the gym. Moreover, water babies will be glad to know that the Royal Marine hotel is situated in a sailing town called Dun Laoghaire.
This town is 30 minutes by car to the city center, but guests will have plenty to do in the area, such as doing the pier walk, diving at The 40 Foot, and dining in various restaurants and bars.
4. Roganstown Hotel & Country Club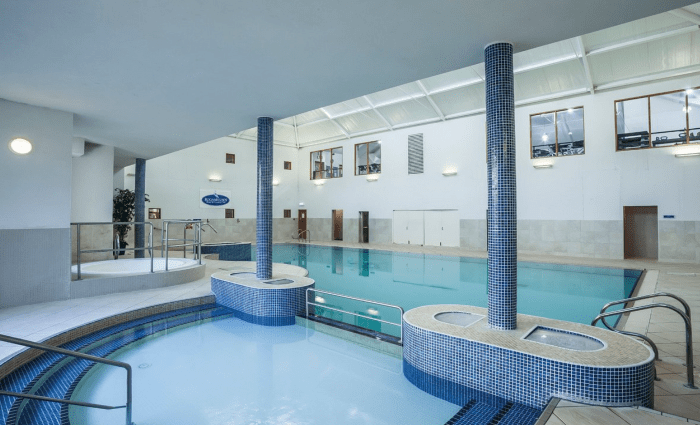 €€€ | 4 Star Hotel | Classic Country Style | Indoor Pool & Jacuzzi | Spa | Near Dublin Airport
The swimming pool at Roganstown is a no frills way of getting in your butterfly strokes. At the swimming hall, you'll have high ceilings with a decent sized pool, then a children's pool off to the left. On the topic of kids, the under 16's are allowed in the pool until 7.30 pm, with the last two hours for adults only. The obligatory steam room, sauna, and Jacuzzi are also at your disposal, should you tire from laps of the pool.
Roganstown Hotel & Country Club is a great destination for your first (or last) night in Dublin. The reason for that is because Dublin airport is only a 14 minute drive away. Aside from the pool, there's a golf course on the grounds, as well as nearby Tayto theme park. I'd ultimately recommend this hotel for older couples who enjoy classic interiors and an accessible health club.
3. Grand Hotel, Malahide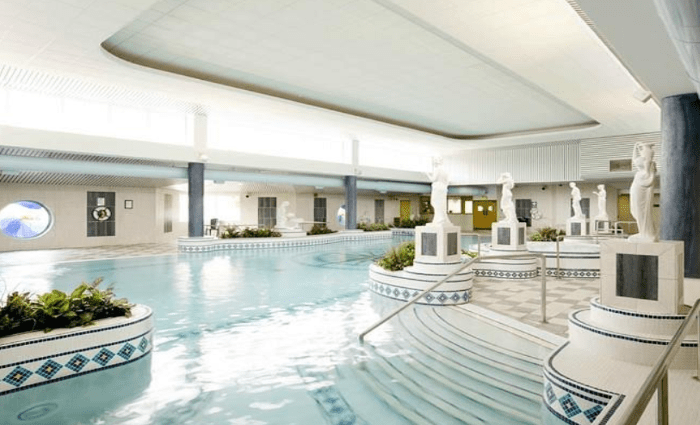 €€ | 4 Star Hotel | Classic & Homely | 21 Meter Pool | Gym & Spa | Near Howth
The Grand Hotel is a seaside-hotel that overlooks the sparkling blue waters of the Malahide Estuary. The hotel's 21-meter swimming pool is larger than most pools in Dublin. Design wise, its light and airy. There are Greek and Aztec influences by way of poolside Greek goddess sculptures, and mosaic tiling within the pool. Unlike other bathing spots in Dublin, this particular pool has a variety of bends and twists, making it perfect for the more adventurous swimmer.
In relation to other aspects of the fitness center, it's worth noting that there's a toddler pool, Jacuzzi, steam room, sauna, and gym with weights and aerobics. Furthermore, the Grand Hotel is just 30 minutes by car to Dublin city, while being only a stone's throw to attractions like Malahide Castle and Howth village. I would highly recommend this stay for families, as well as for boating folk who enjoy seaside towns.
2. The Mayson Hotel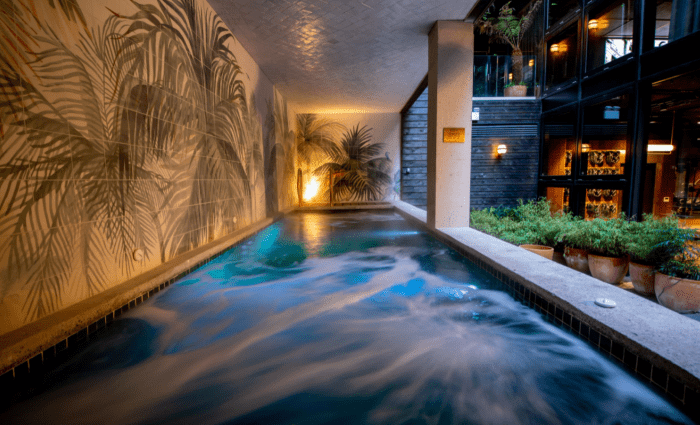 €€€ | 4 Star Boutique Hotel | Contemporary | Gym, Small Pool & Spa | Dublin Docklands
A testament to the quality of a hotel is when the locals go there to staycation. In essence, the Mayson has achieved this because of their Instagram worthy pool. It's technically an outdoor pool, but really, you can also describe it as a 'roof covered, courtyard pool'. Whatever the description, you'll never be chilly, as it's amply heated and enclosed in an area where the weather can't get to it. My favorite part of the pool is how romantic it is for couples to lounge in. The tropical look is also very en vogue. It just shows you how clever the hotel has been in putting their space together.
The Mayson is also unique in that it's situated at the neck of Dublin port – a sparsely populated area, which opens out onto the Irish sea. There are many things to do near the hotel, particularly for those with Irish ancestries, such as the EPIC Emigration Museum, famine memorial, and Jeanie Johnston famine ship. On top of that, it's just a 5-minute walk to O'Connell Street in the North city center. Overall, the magnetic pull of The Mayson is definitely the ultra-cool, polished interiors. It's a type of "new age" luxury that I think couples of all ages will love.
1. Powerscourt Townhouse Hotel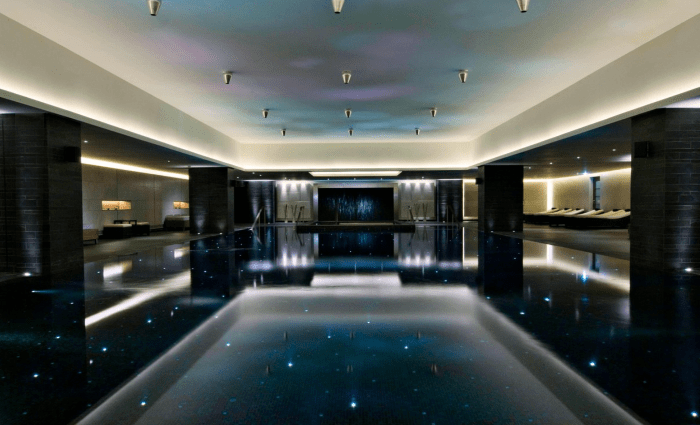 €€€€ | 5 Star Hotel | Palladian Estate | 20 Meter Swarovski Crystal-Lit Pool | Spa | Dublin Countryside
Powerscourt hotel is an estate in county Wicklow and is a 30-minute drive from Dublin city. The Palladian and baroque features are fit for royalty, and a stay in such quarters will grant you access to a Swarovski crystal-lit pool, rainforest showers, marble baths, and so on. Is this real life? Well, let me tell you more…
Children have separate allocated swimming times, which gives adults exclusive use of the pool during peak hours. There's also a quartz-crystal steam room, Hammam bathing suite, and sauna. I personally love the Powerscourt's swimming pool for its dark and moody aesthetic. It's an idyllic choice for couples of all ages who love slick glamour.