Are you stressing over the thought of organizing a vacation to Ireland with your kids? Well, sit back and pop on your slippers because we've just compiled a list of amazing family-friendly hotels in Dublin.
---
Pro Tip: It's easier to organize your trip when you have all your resources in one place. Bookmark this post along with our Dublin Guide with more planning resources, our exciting Dublin tours for a memorable trip, and the top things to do in Dublin.
The Top 10 Family-Friendly Hotels In Dublin 
As a European, I'll admit that it can be hard to vacation around the continent with kids. Most countries in the EU have their own languages, as well as having narrow "stroller-wrecking" streets, seasonal crowding, and cultural differences for catering to children. At the same time though, it doesn't mean you have to become a martyr for parenthood while abroad.
There are many ways to make family vacations as much about you, like the kids. Starting here. This guide gives ten well-researched hotels in Ireland that are faithful to the family market. As we're on the topic, feel free to further check out our top things to do in Dublin. Most of the activities on this list are child-focused. Now, let's crack on!
Our Partnership with Booking.com. If you like our content, please book by clicking on our Booking.com links. The price is the same for you and we get a small commission that helps support our helpful blog content. We've partnered with Booking.com because they have the most options, great prices, and a solid loyalty program.
10. The Westbury Hotel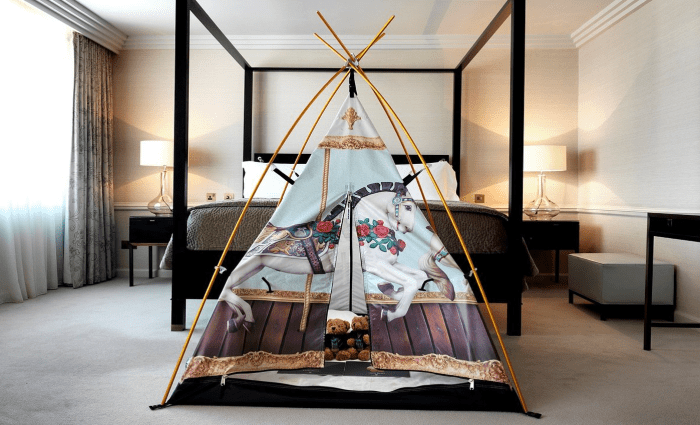 €€€ | 5 Star | Luxury Hotel | Classic Design | Tepees for Kids | Grafton Street
The Westbury is a glamorous and centrally located hotel. Typically, the hotel attracts business tycoons, luxury shoppers, and socialites, but it's also surprisingly child friendly. Elaborating on that, you have babysitting services, adjoining suites, complimentary baby cots, and extra rollaway beds for children up to the age of twelve. You can even request a child's tepee for your stay.
For the most part, the main draw for families is The Westbury's location. The hotel is nestled away on a quiet street off a famous shopping boulevard called 'Grafton Street'. In relation to walkways in the locale, all of them are wide (unheard of in Dublin) and newly pedestrianized. This means you can get around Dublin's inner city with kids and strollers, easily, in 15 minutes or less.
Another subtle perk is that the hotel is always bustling, therefore allowing you to blend in, rather than stand out. Trust me, this becomes a saving grace when your three year old has a meltdown in the lounge.
9. Camden Court Hotel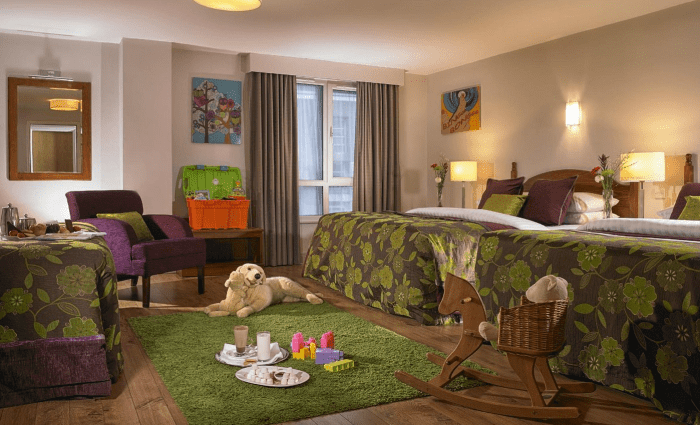 €€ | 4 Star Hotel | Old Reliable | Contemporary | Family Suites | Pool, Spa and Gym
Camden Court is a solid choice for families with small kids. The hotel markets itself as family-friendly, so there's no air of pretentiousness, nor any areas without childproofing. This includes the hotel's 18 meter swimming pool, which is complete with an onsite lifeguard.
Furthermore, there are nice touches to their hospitality, such as being able to pre-order hot chocolates for the kids on arrival. You also have access to complimentary cots, should you need them. Parents of young children can also rest easy knowing that the hotel's restaurant is kitted out with high chairs, kid's menus, and activity packs.
As a parent and regular to the hotel, I would recommend Camden Court mainly because of the staff. They are exceptional with children. The clientele who stay in this hotel are easy going as well, which makes for a welcoming and casual environment. The thought of potentially annoying other guests is my #1 stress trigger when traveling with kids, so there's no fear of that at Camden Court.
8. Castleknock Hotel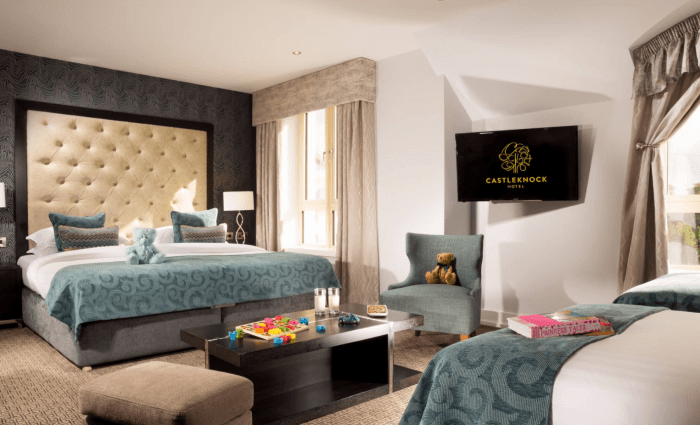 €€ | 4 Star Hotel | Classic | Golf Course & Spa | Family Suites
Castleknock Hotel is a keen promoter of the family-friendly experience though it's outside of Dublin proper. The hotel is currently running an all-inclusive Halloween package, which sees massive discounts and perks for families in the month of October. Regarding facilities, the hotel boasts an 18-metre swimming pool with a dedicated toddler and baby pool.
On the hotel grounds, kids have access to an enclosed playground with a heated pergola beside it. Moms and dads can order a glass of champagne here, while simultaneously overseeing the playground shenanigans. Castleknock hotel also has a large golf course, which is sure to keep golfer parents occupied, as the kids go to day camp.
A prominent reason for staying at Castleknock hotel would be for the location. The hotel is near to a number of child friendly attractions such as Dublin Zoo and Tayto Park (an Irish theme park with roller coasters and toddler friendly rides). The hotel even has a family mascot to welcome kids on arrival. His name is Phoenix the giraffe!
7. The Mespil Hotel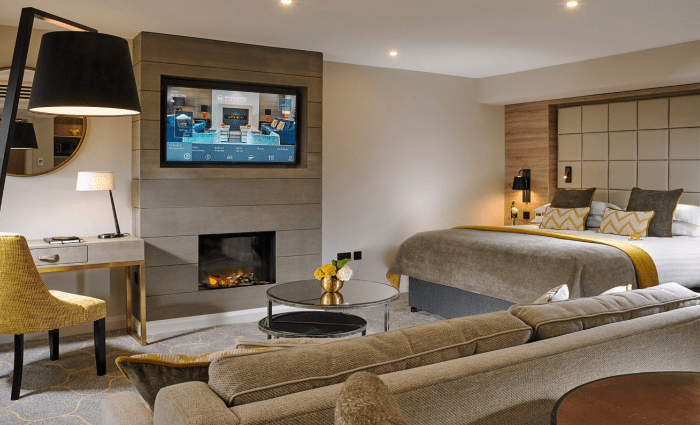 €€ | 4 Star Hotel | Contemporary | Hotel Restaurant | Canal Views
The major bonus of The Mespil Hotel is that children under the age of twelve can stay for free! Similarly, teenagers up to the age of 18 can book a second room for 50% off. Though, you must call directly to organizations that offer. Moreover, the family rooms in The Mespil hotel are reasonably sized.
To illustrate, these rooms equip two adults and two children with a king-sized bed, one single bed, and a pull-out sofa bed. On rainy days, families can then request a selection of board games and puzzles at reception. Alternatively, older kids can zone out and watch Netflix on their in-room flat-screen TV's.
Overall, a distinctive pull for families to stay at The Mespil Hotel is down to the central location. A mere 15-minute walk via The Grand Canal will bring you directly to the city center. My first waitressing job was with The Mespil Hotel, and I can tell you with all confidence that the place is genuinely child-friendly – both behind doors and in front of the house.
6. Zanzibar Locke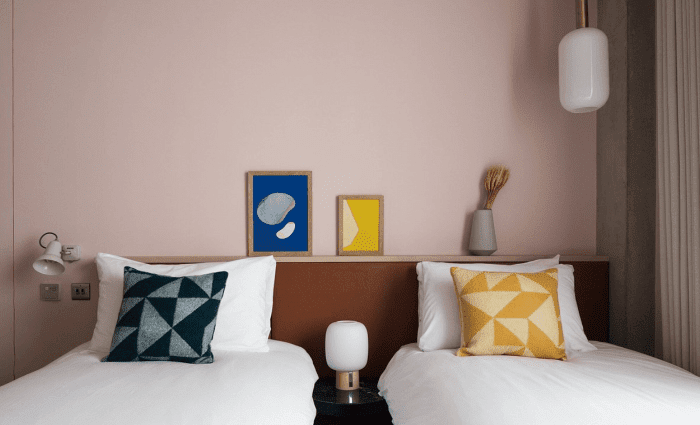 €€ | Stylish Self-Catering Hotel | Contemporary | Temple Bar | Oven & Kitchen
Zanzibar Locke is a newly opened, self catering "aparthotel." They don't outwardly position themselves as family friendly, but they do state on their website that "children of any age are welcome." In such a way, I feel Zanzibar Locke is a great choice for kids aged 10+.
Mainly because there are no cots or child's beds available. In relation to how it would appeal to parents, there is no sacrificing of style for family-functionality. You have both at this aparthotel.
A lot of people staying at Zanzibar Locke are in the millennial market, so there is a cocktail bar downstairs to accommodate that. There's also a 24 hour reception, smoke free rooms and air conditioning, in-rooms facilities such as hairdryers, refrigerators, irons, toiletries, microwaves, and flat-screen TVs. I highly recommend Zanzibar Locke for families who need a good base for cooking daily meals. The location is also great. Right beside Temple Bar, but on the quays (so, more quiet at night).
5. The Mont Hotel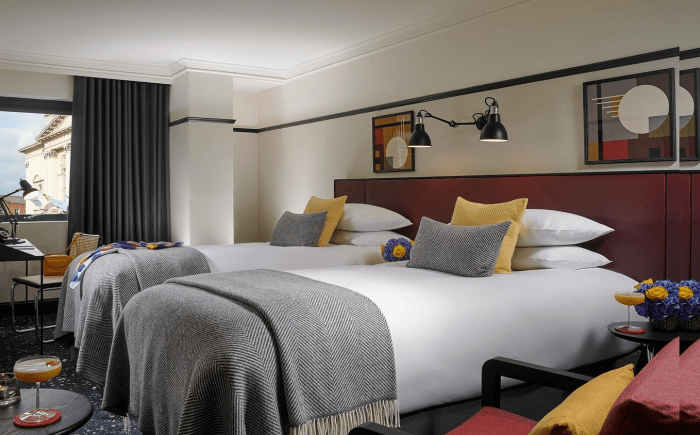 €€€ | 4 Star Hotel | Contemporary Design in Historic Building | Casual Setting | Merrion Square
There's one reason why I thought to include The Mont Hotel, and that's because it is named after a French bulldog who actually lives in the hotel. I figured that any hotel with a resident dog is bound to be receptive to the younger market. So, let Mont (both the hotel and dog) welcome your kids, et toi, before you check out their kid friendly buffet, kid menus, and welcome packs with treats and sweets.
The Mont is also excellently located near Merrion Square, which is beside all the brilliant, educational and cultural attractions, such as The National Gallery of Art and an archaeological "dead zoo" called the National Museum of Ireland.
4. The Schoolhouse Hotel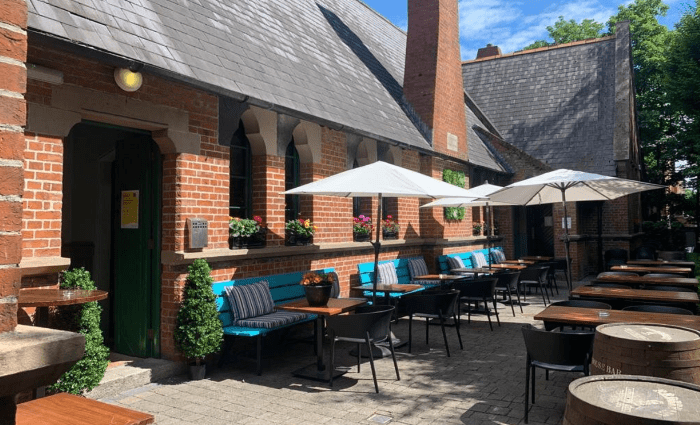 €€€ | Boutique Hotel | Restorated Schoolhouse | Cozy & Homely
Seeing as you are vacationing with children, why not stay in an actual school? This 1859 renovated schoolhouse is run by the Sweeney family, who know about all the ins and outs of family life. All ages love to socialize at this schoolhouse and for guests staying there overnight, its small and independent B&B status means you will get a more personified experience. Also to note, the cozy and homely decor is perfect for families.
I highly recommend this B&B for parents who are traveling with teens and preteens. If you also want to be in a foodie neighborhood (Ballsbridge), near the sporting "Aviva Stadium", and within a 25-minute walk from town – well, this is the prime destination for your family!
3. The Grafton Hotel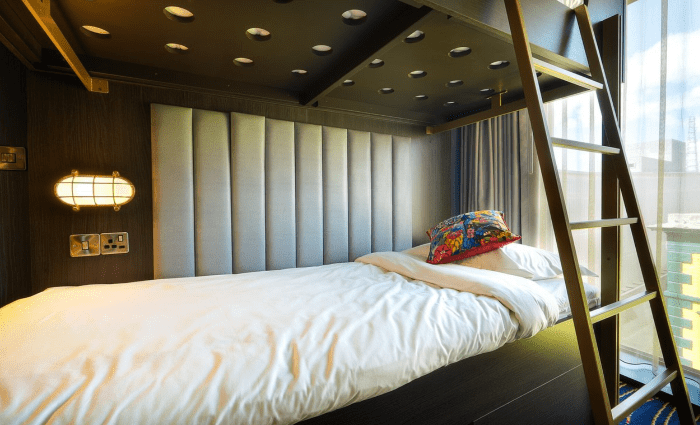 €€ | 4 Star Hotel | Quirky Carnival Design | Outdoor Seating
The main perk of The Grafton Hotel is that children under the age of twelve can stay for free. The hotel has a number of family rooms, which feature super king beds, as well as two sets of bunk beds in the corner. Parents with young children will also be relieved to know there are spacious walk-in showers with non-slip coating.
Overtired little ones can come back to the room after a day out in Dublin and stream any film or TV show from the in-room Chromecast. To boot, The Grafton Hotel is located in a very safe part of town off St. Stephen's Green (Ireland's version of NYC's Central Park). Overall, I think kids and parents will love the quirky carnival interiors and the electric, fun vibe around the hotel.
2. Staycity Aparthotels, Dublin Castle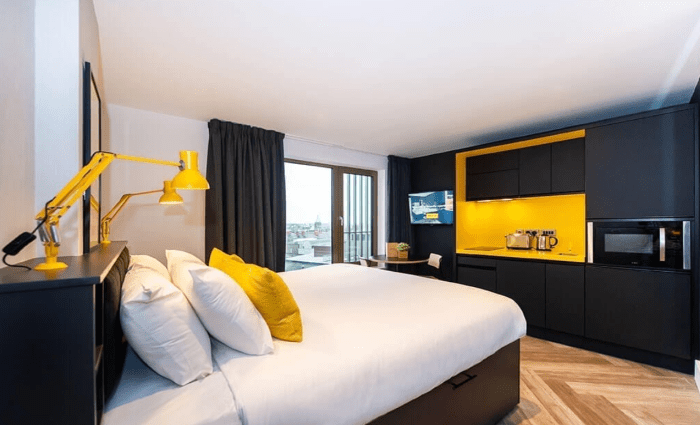 €€ | Trendy Self Catering | 24 Hour Reception | Near Temple Bar
There are a dozen Staycity Aparthotels around Dublin, but I suggest the "Dublin Castle" location as a top family-approved venue. Furthermore, the neighborhood is no distance from Temple Bar, as well as being near to iconic cultural attractions. As you're traveling with kids, you'll want the bonus of being near, but not staying in the drunken crowds of Temple Bar.
The Dublin Castle Aparthotel has a 24-hour reception and self-catering options in the suites. This includes amenities like private ovens, microwaves, minifridges, and such. Moreover, the family apartments can sleep up to six people. As far as I see it, "Staycity Dublin Castle" is a top pick for thrifty families who need the convenience of cooking for kids at the accommodation. On top of that, the clean and industrial vibe makes cleaning easy when it comes to any spills, stains, and other child-related boo boo's.
1. Sandymount Hotel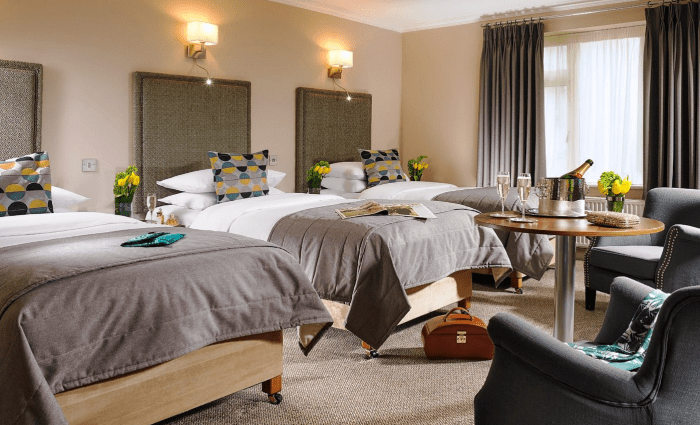 €€ | 5 Star Luxury Hotel | Georgian Hotel | Easy Going Vibe | Beside The Aviva Stadium
Sandymount Hotel is a family-run business that offers family rooms with one double and two single beds. The hotel has an "Irish rugby" theme, which seems a little random at first, but makes sense when you realize its close proximity to The Aviva Sporting Stadium. As far as family-friendliness goes, the Line Out Bar offers a kid's menu and regulars to the hotel are usually Irish families of all ages.
Another benefit to staying at the Sandymount Hotel is because of their free parking. If you are taking a rental car and trying to do street parking with kids in Dublin, it will more than likely cause you stress. Reason why? The ticket machines can be hard to locate, permits are expensive, the street signage isn't always clear, and the roads are super narrow with cars flying past. So, many things to consider! The car park at Sandymount hotel (which is also near the beach!) removes that worry.