Food from France is famous around the world, and the French are proud of their culinary heritage. But did you know that we sometimes wrongfully attribute some foods to the French? For example, many really do wonder, are French fries French? Take a look at the list below to discover if you know which of the following five foods are actually French!
---
Hey, we sell tours too!

While the information here is free, we also sell tours at reasonable prices. After exploring the city of Paris on one of our Paris tours, discover the exciting delicious world of French cuisine. Hop on our very tasty local Le Marais food tour, or even join us for a Day Trip from Paris to the Champagne Region. Discover the local Champagne curating process and taste some fresh bubbly for yourself.
French Fries
So, the age-old question. Are French fries French? French fries, chips, frites….whatever you call these simple yet tasty deep-fried potatoes, know that they don't come from France. While the origin of the French fry has been disputed in recent years, most agree that the first fries were cooked in Belgium. Legend has it that the people of Namur, a town in the French-speaking part of Belgium, were fond of eating fried fish in the late 1600's. One winter when the main river froze over, they decided to fry potatoes instead. To prove it is truly the birthplace of the fry, Belgium is currently petitioning UNESCO to endorse the fry as an official icon of Belgian cultural heritage.
French Onion Soup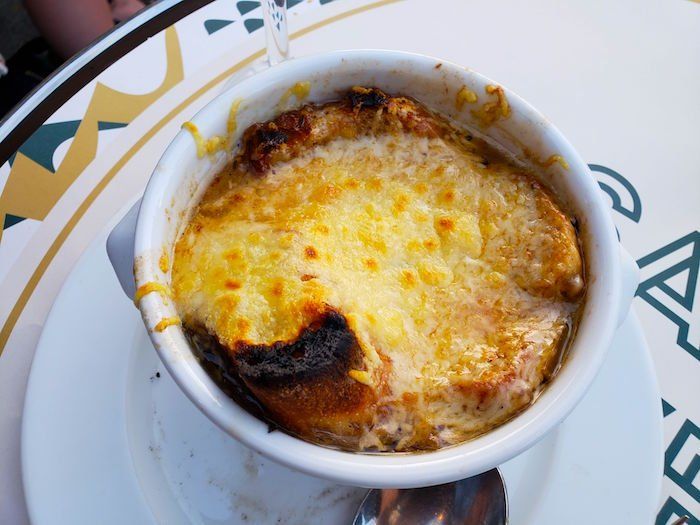 Here's a dish on our list that France can actually claim! While the French simply refer to it as onion soup (soupe à l'oignon), this is truly a menu item you can find frequently throughout France.
Most attribute the recipe to France's King Louis XV, who they say created French onion soup when he returned starving from a hunt and found only onions, butter and champagne in his cupboards. Today, champagne is (sadly) not included in modern French onion soup recipes.
While recipes for French onion soup vary, the basics remain the same. The onions should be slowly cooked until caramelized, combined with meat stock and topped with sliced bread and cheese. If you haven't tried it before, onion soup is a classic to try when visiting France!
French Toast
Considered a delicious breakfast dish by many around the world, you might be disappointed to learn that French toast is not at all French. French toast has actually been traced back to the Roman Empire in 5th-century A.D., when it was seemingly eaten as a sweet snack. In medieval times, French toast became a popular way to eat bread that was going bad, and hence eliminate staleness. As the years went on, French toast gained in popularity, and is probably most popular in the United States. Today, French toast is called pain perdu in France, which literally translates to 'lost bread'. While you can find pain perdu on some brunch menus in the country, it has not achieved the same level of popularity as in North America.
Crêpes
Another famous French food item that is indeed French. Crêpes undoubtedly originated in France's Brittany region, known as Bretagne in French. The actual recipes for crêpe batter don't vary much, other than the fact that some recipes call for buckwheat flour and others for white flour. What makes crêpes so unique are the foods you fill them with!
They can be served sweet (think chocolate, Nutella, honey or sugar) or savory with foods like ham, egg, chicken or cheese. In France they can be found at both sit-down restaurants as well as food stands. Try out some of Paris's best crêpes on our delicious Le Marais Food Tour.
Fondue
The French love cheese, so it seems only natural that they created fondue, right? After all, fondue is essentially melted cheese and wine set in a pot over an open flame. Well, not exactly. Modern cheese fondue recipes date back to the late 1800s, and do have roots in France's Rhône-Alpes region near the Geneva border. In fact, the word fondue comes from the French verb fondre, which means 'to melt'. However, fondue is most commonly attributed to the Swiss. In 1930, the Swiss Cheese Union even declared fondue Switzerland's national dish! Nowadays, there's more than just cheese fondue, though. You can eat meat with oil fondue, which is most commonly attributed to France. And for dessert, there's chocolate fondue, which many believe originated in New York!
---
I Want More Paris!
Not sure what to do in Paris? Check out our step-by-step guide about how to do Paris in a Day. If you'd rather let us guide you, check out our Paris tours.
Parlez-Vous Francais? Learn some of the most important French phrases before your trip to Paris.