It isn't often that entire cities vanish in a matter of hours, but Pompeii did. Destroyed by the eruption of Mt. Vesuvius in A.D. 79, the fate of this forgotten city changed with its discovery in 1748. If you're on the fence about whether you should visit Pompeii, our local expert shares the top reasons why it's a must-see.
---
Pro Tip: Planning a visit to Pompeii? It's easier to organize your trip when you have all your resources in one place. Bookmark this post along with our Pompeii Guide for more planning resources, our top-rated Pompeii tours for a memorable and easy day trip, plus how to visit Pompeii.
11 Reasons Why Pompeii Is a Must-See
There's no question—Pompeii is a very special place to visit. Nowhere else will you get such a complete picture of what daily life was like in an ancient Roman town. This UNESCO World Heritage site was discovered in 1748 and it continues to yield new discoveries to this day.
If you plan to visit the incredible Colosseum, Roman Forum, Palatine Hill, and other ancient sights of the Eternal City, seeing Pompeii on a day trip from Rome is a fantastic way to round out your exploration of the world of Ancient Rome in one trip.
Not ready to book a tour? Find out if a Pompeii day trip from Rome is worth it.
11. Step Into the Roman World's First Stone Amphitheater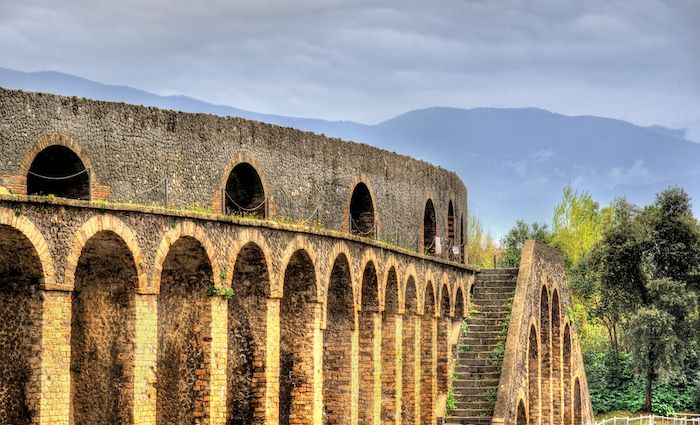 Pompeii's amphitheater is known to be the first one made of stone in the Roman world. It was built in 70 B.C. by C. Quinctius Valgus and Marcus Porcius, shortly after the city became a Roman colony.
This iconic oval building, with a facade composed of 62 arches, was one of the most crowded buildings in the city for its entertainment. Gladiatorial games, races, hunts, and other sorts of events attracted thousands of spectators who came to enjoy sports and socialize.
Also, one of these events ended in a fight between two factions, causing many deaths and damage in the city. Emperor Nero instructed the Senate to investigate and gladiatorial games were banned in the city for 10 years.
10. Stroll Through an Entire Roman City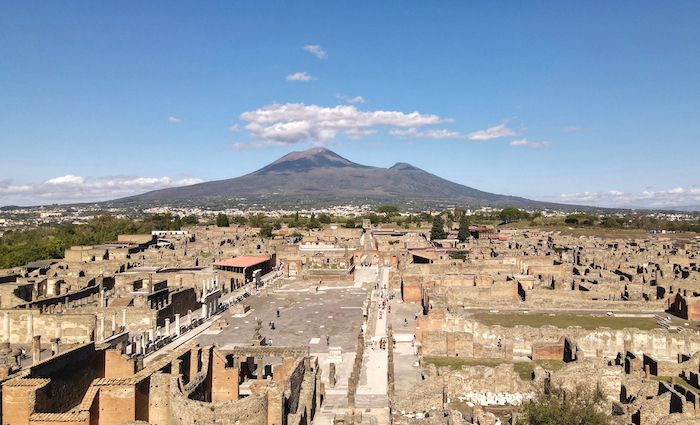 It isn't often that you can stroll an entire ancient city, but Pompeii is an exception. There's even an expression that became famous in the Age of the Enlightenment: "Rome is a vast museum, whilst Pompeii is an alive city." 
Since its discovery, archaeologists continue to unveil the urban planning of this city. Despite extensive archaeological works, about a third of the city remains unexplored.
At Pompeii, large endless avenues, balcony alleys, walkways, and squares with fountains and street altars await you. Walking through the streets, you'll learn about ancient architecture. Also, get a taste of ancient Roman life as you enter numerous Roman houses, markets, bars, bath complexes, temples, and public buildings.
9. Meet Pompeii's Victims Frozen in Time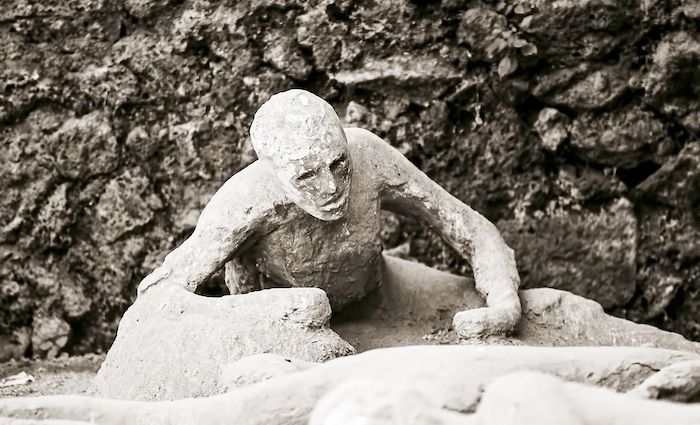 About 10% of the population around Mount Vesuvius died because of the eruption in A.D. 79. In Pompeii alone, archaeologists have found over 1,000 bodies in the ashes.
In 1863, Giuseppe Fiorelli, director of Pompeii, invented a casting technique that captured the last moments of the victims' lives. This procedure allowed the creation of plaster casts of the bodies of Pompeian men, women, and children, which show their final moments.
Filled with agony, you'll never forget the faces of these Pompeii residents in their last seconds of life. This is likely the most intimate experience of ancient Roman life you'll have and a stark reminder of our shared humanity little changed since A.D. 79.
8. See How Ancient Romans Honored the Dead in Necropoli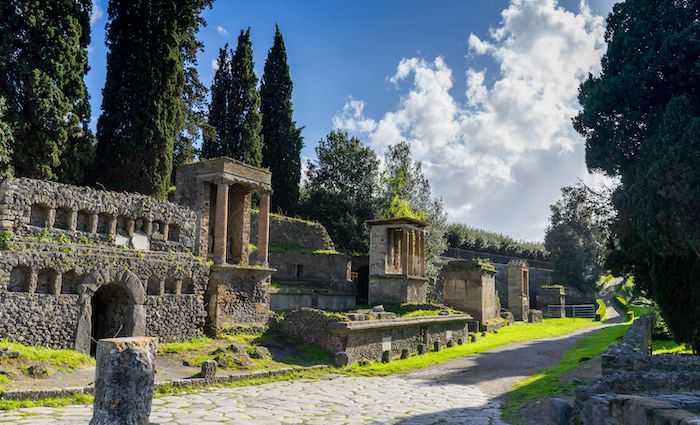 One of Pompeii's favorite attractions since its discovery has been its necropolis. Roman cemeteries were located just outside city walls and main gates, along roads leading to suburbs, the country, and other cities. And Pompeii has plenty of them, full of richly decorated tombs.
Being remembered after death was essential for the Romans. That's why tombs were located along roads and elaborately showcased. You can find the better-excavated ones outside the main roads existing in Pompeii, which led to cities such as Herculaneum, Stabiae, or Nocera.
A walk in Pompeii's necropolis will give you insight into how ancient Romans lived with death and how they buried their relatives. It's a cultural experience. My favorite is the Porta Ercolano necropolis because it has tombs, houses, and commercial buildings. Porta Nocera necropolis, on the other side of the city, offers a different route and is also worth a visit. 
7. Check Out an Ancient Fast Food Restaurant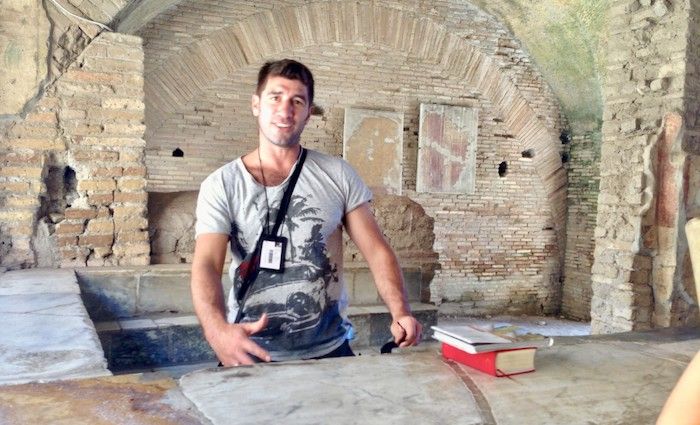 Pompeii had over 80 thermopolia, or, as we would know them today, bar-like fast food restaurants. These bars were richly decorated and served as a meeting point where people would stop to grab a quick meal. 
Usually located at road intersections and along main streets, they offered different types of dishes and drinks to passers-by. In 2019, the best-preserved fast-food bar ever found in Pompeii was discovered and excavated—and you can visit it!
A painted dog on the counter bar welcomes the visitor, who would be served some of the meals kept warm inside big containers. Did you know that when some of these containers were opened by archaeologists, they still smelled of wine?
6. Say Cheers in One of Ancient Rome's Finest Wine Regions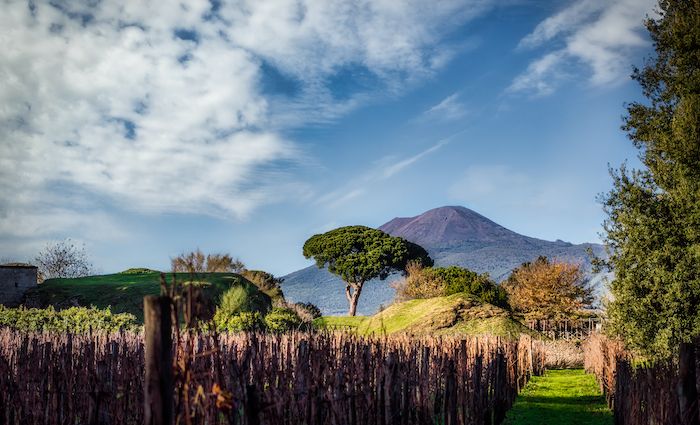 In ancient times, the region of Pompeii was famous for its wines because of the quality of the volcanic soil around Mount Vesuvius. Even Pliny the Elder wrote about the "vine-growing hills and noble wine of Campania". 
Archaeologists have found over 150 Roman farms around Pompeii specializing in the production of wine, which is an indicator of the drink's popularity. Excavations, however, have unveiled a more complete picture.
Pompeiians also planted vineyards in some of their large gardens and properties near the amphitheater because they saw a business opportunity. So, different wines were sold in Pompeii's streets and bars, from red to the famous white Falerian wines produced in the region. 
5. Visit a Roman Hotel for Ancient Travelers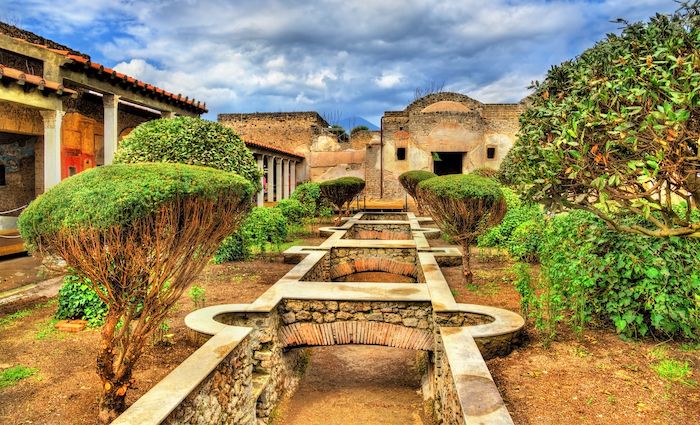 Did you know that hotel-like buildings existed in Ancient Rome? Pompeii was like any other city today. It received visitors who needed a place to stay and it offered them amenities we enjoy today.
When in Pompeii, visit the hotel created by Lulia Felix—you'll quickly realize how little society has changed. This businesswoman had a large property with a house in Via dell'Abbondanza, near the amphitheater.
After the earthquake of A.D. 62, she decided to convert her house into a letting business. Her hotel included rooms, an extensive garden, a dining area, a luxury bath, and some shops. It's not far off from current resorts!
Tours of Pompeii & Amalfi Coast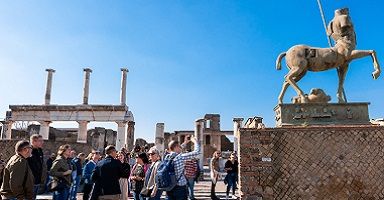 Best Selling Tour
Unforgettable Rome Day Trip to Pompeii and Sorrento
Join us on an adventure from Rome to Pompeii and stunning Sorrento with comfortable, round-trip transportation. Skip the line access with an expert guide and make the most of your time in Italy and leave all the details to us. All you have to do is enjoy yourself!





See Prices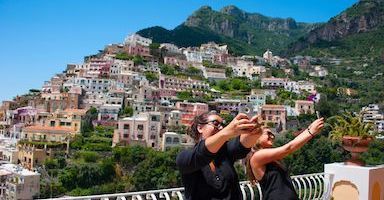 Amazing Experiences
Pompeii and Amalfi Coast Tours
There are many options for your trip to the Amalfi Coast, whether you're taking a full trip or just a day trip from Rome. You can even explore the most famous archaeological site in the world: Pompeii. The combination of plunging cliffs, history, and charm make the Amalfi Coast one of our favorite places in Italy.





See Prices
Not ready to book a tour? See if a Pompeii day trip from Rome is worth it.
4. Uncover Pompeii's Debauchery in an Ancient Brothel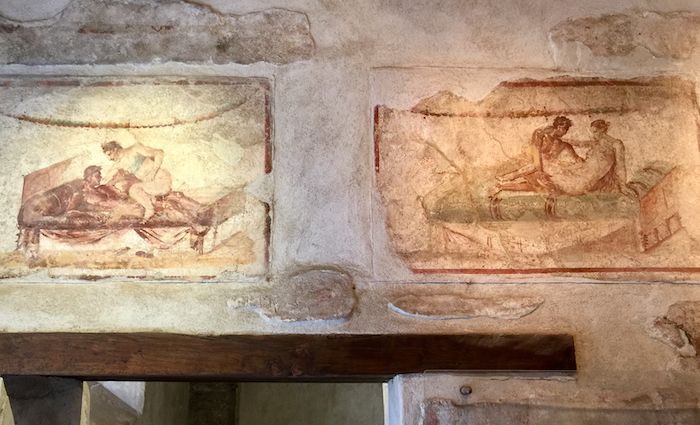 You may or may not have heard about Pompeii's famous chief export—sex! The streets have many phalluses, naked sculptures, sexual paintings, and of course brothels. You should know that Romans had a different understanding of sexuality, which makes sense when you see this many sexual allusions throughout the city. 
When visiting the Suburban Baths of Pompeii, you'll see how Romans conceived sex through the many explicit paintings. From same-sex lovers to threesomes, the brothel walls tell of ancient desires.
You'll also learn about the conditions of sex workers in the brothel and how little these spaces have changed over history. Many believe the paintings on the walls of brothels were a sort of menu of sexual positions that customers could choose from. Some were even on the ceiling in case you happened to be on your back while choosing!
3. Stay Up-To-Date With Pompeiis Most Recent Finds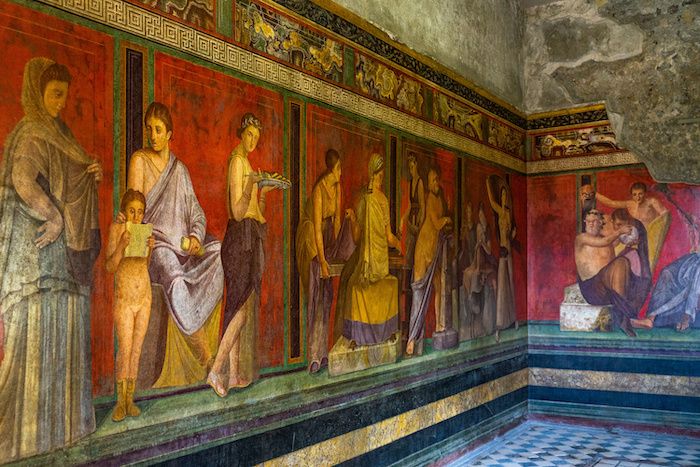 Pompeii is an open laboratory where archaeologists and restorers have been working for centuries. Even if you've already visited Pompeii years ago, it's worth coming again to see their latest findings.
Since 2018, archaeologists have excavated a new sector of the city in which they made astonishing discoveries. After months of restoration and consolidation, you can now visit it yourself.
Take a walk in a street, stop by a plaza, read political propaganda, and visit the two most recent houses excavated in Pompeii. This is a unique chance to experience Pompeii as it was in the moments before the eruption.
You'll be amazed by the incredible state of preservation. There's even charcoal graffiti which demonstrates that the eruption of A.D. 79 probably took place on October 24. Book in advance so you don't miss the vivid colors of walls, the ongoing repairs in houses, and the rich decorations.
2. Enjoy a Masterclass in Pompeiian History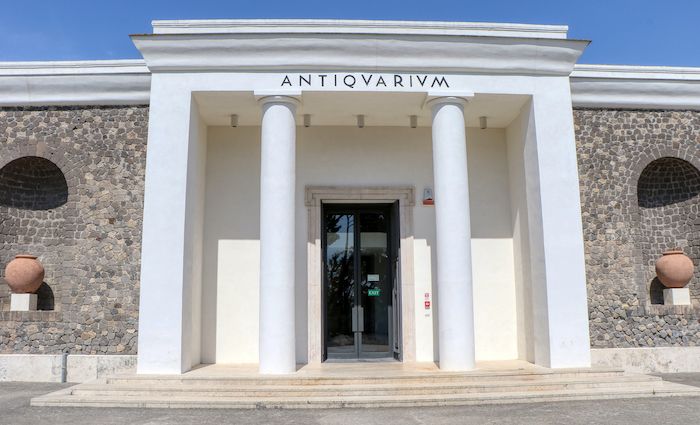 One of Pompeii's most recent attractions is its Antiquarium museum and the new display of objects it exhibits. This new permanent exhibition showcases the history of Pompeii in different spaces. It houses a selection of the most famous findings from the city and is a masterclass in Pompeiian history.
I recommend visiting the museum at the beginning of your visit to Pompeii, entering through the Porta Marina. It's an exceptional introduction to the beautiful treasures you'll discover in the city. Don't worry about buying souvenirs, you can always stop by the shop at the end of your visit. 
1. Visit the Other Cities Buried by the Ancient Eruption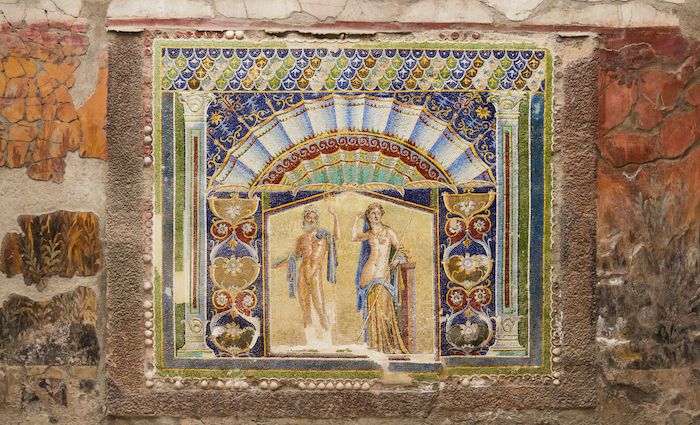 Did you know that Pompeii was not the only city destroyed by the eruption of Mount Vesuvius in A.D. 79? Many other cities and farms were also buried by volcanic material and now you can visit them too.
Archaeologists have excavated them and they are hidden gems in the Bay of Naples. If you want to visit them too, the "Pompeii Arte Bus" is a must. This bus will take you to the luxury villas of Stabiae, Oplontis, and the country villa of Boscoreale for free.
I highly recommend you use this service provided by Pompeii Sites. It's a unique opportunity to discover new sides of the Roman past. If you want to get a sense of what it was like to live in a city nearby, Herculaneum is a must. This partially excavated site has houses with different floors, a port, and a beach with hundreds of ancient victims.
Not ready to book a tour? Find out how to visit Pompeii.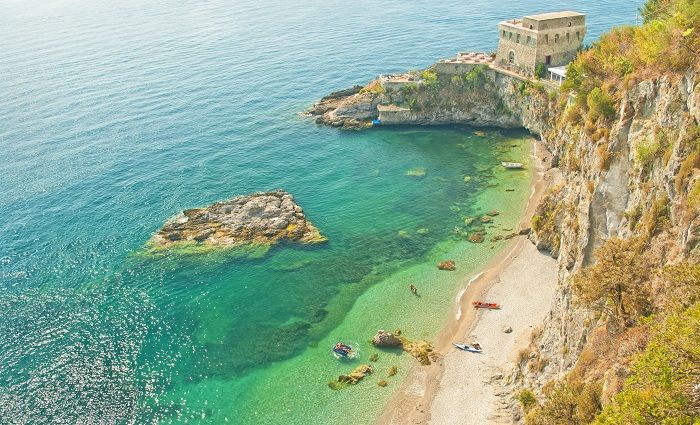 Find the best places to stay
Where To Stay 0n Amalfi Coast
The Amalfi Coast is an amazing cluster of cliffside towns with great beaches, food, and views! Plan where to stay in this magnificent area in the best towns.