Volterra is an ancient and enchanting hilltop village that never fails to take the breath away of anyone who visits. Not far from Pisa, Siena, Florence, and San Gimignano, Volterra retains its unique charm. It is relatively unknown considering its cultural and scenic value, but as someone originally from Tuscany, I can assure you that this small city is a little gem, an absolute must-visit on your itinerary in Tuscany. Here is my guide on what to do and where to stay in Volterra!
---
Pro Tip: Planning what to do on your trip to Tuscany? Bookmark this post in your browser so you can easily find it when you need it. Check out our Guide to Tuscany for more planning resources, our Best Florence and Tuscany Tours for a memorable trip, and How to Plan a Day of Wine Tasting in Tuscany.
---
The Best Hotels in Volterra at a Glance
---
---
Where To Stay In Volterra: Best Hotels And Areas

---
Situated near Florence, in the heart of Maremma Pisana, Volterra is a city brimming with history. It still proudly showcases its Etruscan and Roman past. This gem of a city makes a perfect day trip also from any of the great Tuscan cities. It's also a great spot romantic weekend getaway, surrounded by breathtaking landscapes and fine wine.
Volterra's captivating old town with its narrow streets and central square, dominated by the beauty of the thirteenth-century Palazzo dei Priori (the oldest in Tuscany!) and Palazzo Pretorio, is sure to make you fall in love.
High on any travel list should be the Guarnacci Etruscan Museum. The Guarnacci is one of the most significant of its kind in Italy and among the oldest public museums in Europe. It houses significant historical artifacts, including the renowned Urn of the Spouses. Don't miss the Etruscan acropolis, nestled atop a hill at the end of Parco Enrico Fiumi, near the Medici Fortress.
This imposing fortress seems to keep a watchful eye over Volterra and the surrounding countryside. If you're an art lover, you certainly can't miss a visit to the wonderful Pinacoteca and Civic Museum of Volterra. When considering where to stay as a visitor, there are two main areas to consider:
The Historic Center of Volterra:
Surrounded by majestic and unique buildings. Visitors will be close to Palazzo dei Priori, the Episcopal Palace, and the Praetorian Palace, along with various establishments with tables directly overlooking the square.

The Area of the Zoological Garden:
The Arco Gate is the oldest in Volterra. Boasting 5th-century details, such as three-headed decorations. The San Francesco Gate still shows traces of its original frescoes. While from the San Felice Gate, you can enjoy wonderful views of the surrounding countryside.
Volterra is a pretty quiet town. While summer hosts a variety of events, winter evenings tend to be calm. Even in the warmer months, the nightlife is usually low-key, centered primarily in the historical town center. Enjoy a few drinks with friends or visit one of the numerous wine bars for a more relaxed and intimate evening. I've got you covered for the best places to stay in Volterra:

---
Not sure Volterra is for you? Check out our full Guide to Tuscany
---
The Best 4-Star Hotel In Volterra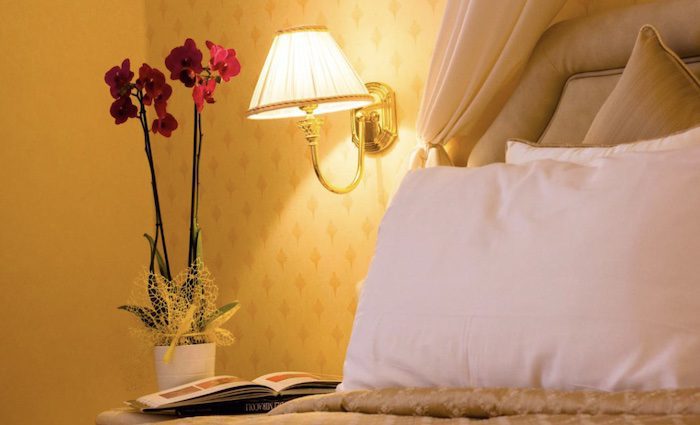 ---
Hotel La Locanda | 4 Star | €€€€ | Italian Design | Excellent staff
Tucked in the alleyways of Sant'Agnolo, Hotel La Locanda is a design marvel that breathes life into a 14th-century building, once a nunnery. It teems with vibrant colors, optical fantasies, and neoclassical design tributes. Its distinct, retro-decorated rooms cater to various vacation styles, radiating an eccentric yet comfortable atmosphere. The building, enriched by Etruscan urns on its façade, infuses history with modernity. The staff, ready to assist at every turn, makes organizing tours, reservations, or transfers a breeze, all while offering services beyond those of typical 4-star hotels. Wake up to the sounds of a bustling medieval town, enjoy a delicious breakfast, and embark on your journey to nearby historical sites. Ideal for international travelers and design enthusiasts looking for an extraordinary stay!
---
Not sure Volterra is for you? Check out our full Guide to Tuscany
---
The Best Historic Hotel In Volterra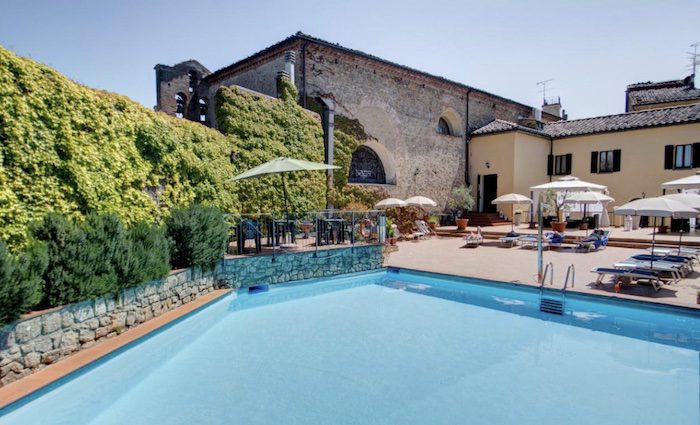 ---
Hotel San Lino | 4 Star | €€€ | Pool | Central Position
Enveloped within Volterra's medieval walls, Hotel San Lino breathes fresh life into a 1480 cloister, offering a unique blend of historical allure and modern comfort. Its tasteful renovations underline the mystical aura of the original structure, showcasing cultural character in every detail. With a tranquil pool nestled in the cloister, panoramic terrace views, a typical restaurant, and vaulted-ceiling event spaces, you'll be charmed yet pampered.
Its central location offers convenience. Rooms overlooking Via San Lino provide a glimpse into medieval parades and flag-waving performances, immersing you in the town's rhythm. Perfect for history buffs and travelers seeking Tuscan charm with a twist!
---
Not sure Volterra is for you? Check out our full Guide to Tuscany
---
The Best Hotel For Families In Volterra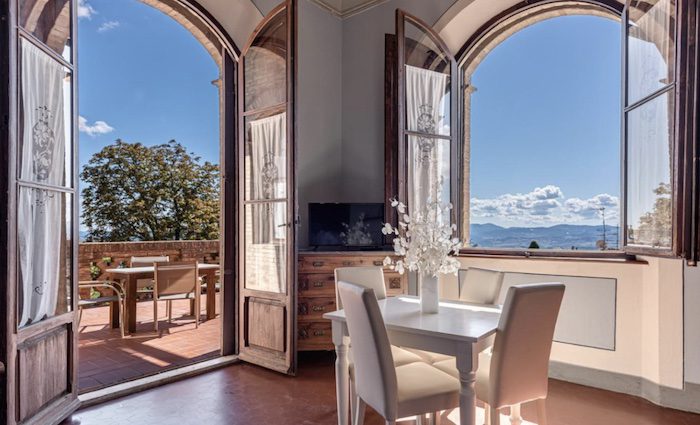 Villa Mascagni | €€ | Great for Families | Bike Rentals | Beautiful Gardens
Nestled just beyond the historic walls of Volterra, a leisurely walk along the Pisan provincial road leads you to the welcoming Villa Mascagni. It's an oasis of comfort, perfect for a well-earned rest after a day exploring the nearby wonders. Strategically located, the hotel is an ideal base for unrestricted adventures in pristine Tuscan landscapes.
At Villa Mascagni, it's not just about the stay but the experience! Ideal for families exploring Tuscany and couples seeking a romantic getaway. As they say in Italy, "La vita è bella," especially at Villa Mascagni!
---
Not sure Volterra is for you? Check out our full Guide to Tuscany
---
The Best Boutique Hotel In Volterra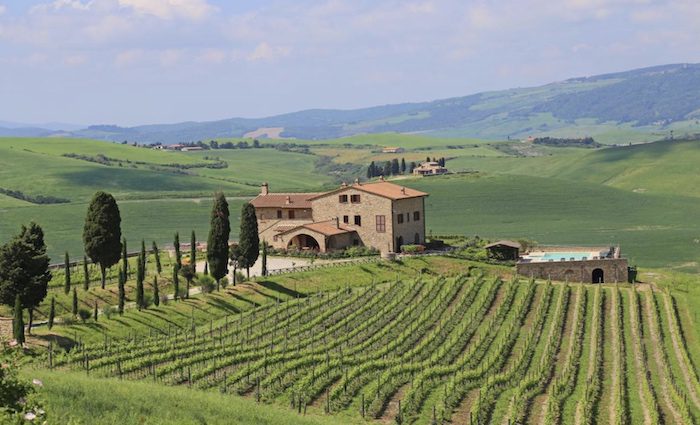 Agriturismo Marcampo| €€€ | Pool | Food and wine experiences
Nestled in the heart of the Parco Naturale delle Balze, Agriturismo Podere Marcampo is an oasis of tranquility and Tuscan charm. Dating back to the early 18th century, this gem offers three exquisite double rooms, two apartments, and a three-room suite, each tastefully furnished with comfort in mind. Greet the day with a homemade breakfast as you gaze out over the stunning landscape. The agriturismo boasts a sun-kissed pool and whirlpool, where you can indulge in absolute relaxation with panoramic views of the surrounding vineyards. But what truly sets Marcampo apart is the five-hectare vineyard, lovingly hand-tended by Genuino and Claudia, producing five high-quality IGT wines and select grappas.
Whether you're a culinary enthusiast seeking authentic cooking classes, a wine lover eager to sample unique vintages, or simply a traveler looking to absorb Italy's finest scenery, Marcampo promises an unforgettable Tuscan experience. So, "Veni, Vidi, Vino" – I came, I saw, I wined at Marcampo!
---
Not sure Volterra is for you? Check out our full Guide to Tuscany
---
Best Hotel with a View in Volterra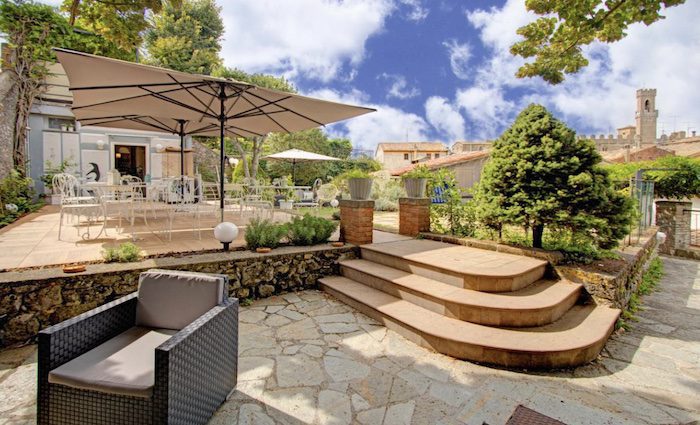 Albergo Etruria | 3 Star | €€€ | Rooftop garden | Family-run management
Nestled in the heart of Volterra's bustling shopping district, a mere 100 meters from the renowned Piazza dei Priori, lies the charming Albergo Etruria. This quaint bed & breakfast, lovingly managed by the Moretti family, promises a warm, hospitable experience and insightful tips for exploring Volterra and its enchanting surroundings. The highlight of Albergo Etruria is the rooftop garden – the only one in Volterra. Offering breathtaking views and home to the stylish Café Etruria, guests can savor an array of cocktails, wines, light bites, or gelato, all while soaking in the Tuscan sun or being lulled by the gentle breeze. Start your day with a delectable breakfast featuring locally sourced, organic treats and hot beverages.
Albergo Etruria is not just a stay but a cozy embrace into the Tuscan life – perfect for culture seekers, couples, or families. Remember, "When in Volterra, live as the Etruscans do!"
---
Not sure Volterra is for you? Check out our full Guide to Tuscany
---
The Best Hotel For Nature Lovers in Volterra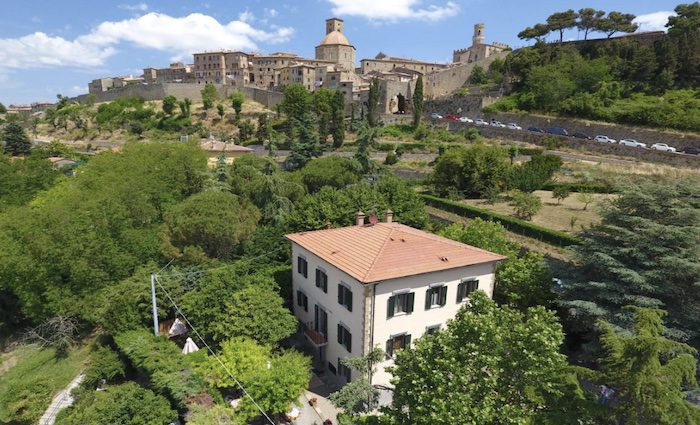 Villa Porta all'Arco | 3 Star | €€€ | Historic hotel | Natural and relaxing spaces
Tucked a short stroll from the historical heart of Volterra, Villa Porta all'Arco is a regal residence turned hotel that masterfully blends centuries of history with modern comfort. This early 20th-century villa exudes charm from its ten double-bed rooms, bar, and breakfast room, all enlivened with ambient music, to its terraces adorned with garden tables, sofas, and relaxing spaces.
With an awe-inspiring backdrop of sunsets over the sea, breakfast on the main terrace and the private parking court adds convenience to your stay. Step inside and you're greeted by a majestic ancient wall, part of the original Via Porta all'Arco that cuts across the hall. The villa's enchanting history reveals an Etruscan well and remnants of an ancient street underneath a crystal floor, offering a glimpse of 3000 years into the past.
Villa Porta all'Arco is perfect for history lovers, couples seeking a romantic getaway, and families looking for a blend of culture and comfort. As they say, "Stay where history sleeps and wakes up every morning."
---
Not sure Pistoia is for you? Check out our full Guide to Tuscany
---
The Most Romantic Hotel in Volterra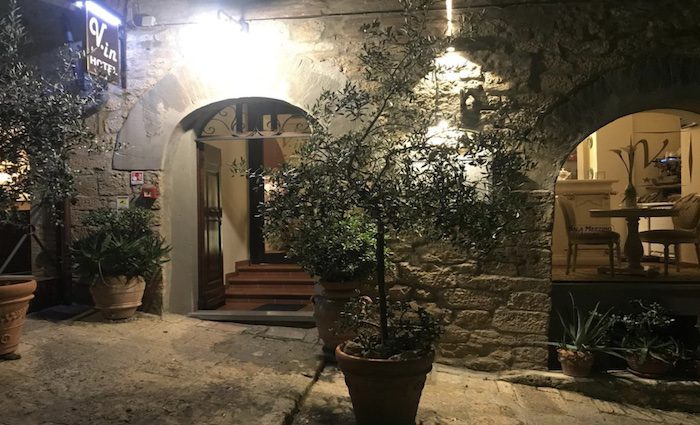 €€ | Intimate atmosphere | Nearby restaurants and shops
"Volterra In" Hotel, tucked away in the enchanting heart of historic Volterra, is a lover's dream. This intimate retreat perfectly marries ancient allure with modern comforts, making it an idyllic escape for couples seeking a unique romantic getaway. Imagine waking up in the charming rooms, some offering panoramic rooftop views, and stepping right onto a quaint, narrow cobblestone street, lined with inviting shops.

Spend your day exploring the stunning landscapes of Tuscany, soaking in the rich art and history of the area, or savoring the flavors at a variety of local restaurants. As the sun sets, unwind with a stroll through the atmospheric streets, meandering your way back to the Volterra In.
---
Not sure Pistoia is for you? Check out our full Guide to Tuscany
---
Where is Volterra, and How Do I Get There

---
By Train: Train travel in Italy is something else – it's convenient, efficient, and affordable, with views to boot. That said, direct trains from Pisa and Florence to Volterra don't exist, but don't fret! You can take a train from either Pisa Centrale or Firenze Santa Maria Novella (SMN) to Pontedera. This journey will cost you about €5-€9 and takes roughly an hour. Once in Pontedera, you can catch a CPT bus (Pontedera-Piaggio to Volterra) which will get you to Volterra in about an hour. The bus ticket costs around €3-€5. Always check the Trenitalia and CPT bus websites for the latest schedules.
By Car: Love the open road? Then driving might be the best option for you. From Pisa, Volterra is about 60km away. You can reach it in around one hour-fifteen minutes via the SR68. If you're coming from Florence, it's about 75km away. Make the journey via the Firenze-Pisa-Livorno (FI-PI-LI) freeway, and then the SR68 should take you around one hour and thirty minutes. The only costs you need to account for are fuel and possible parking fees in Volterra. The winding Tuscan roads and scenic views will make your journey memorable!
By Taxi: If you prefer a stress-free, comfortable ride, then a taxi is your best bet. It's the pricier option, with a one-way taxi ride from Pisa to Volterra costing around €100-€130, and from Florence, about €130-€160. However, the convenience, especially if you have a lot of luggage, might make it worth it. Plus, you can relax and enjoy the beautiful Tuscan scenery while someone else takes care of the driving! Don't forget to confirm the fare with the driver before starting your trip. You're not just getting from A to B, you're traveling in style.
---
Top Things to See in Volterra
Top Restaurants in Volterra
---
Not sure Volterra is for you? Check out our full Guide to Tuscany
---