Sintra has enchanted visitors for centuries and is enjoying a resurgence in popularity right now. There is an abundance of options when it comes to visiting Sintra, you can stay in the historic town, in a beach resort, in the middle of the forest, or travel in from Lisbon or Cascais. I've been leading tours in Sintra for almost a decade now, and along with my wife and daughter, frequently spend a night or two in Sintra when we want to escape the city. So I'm here to guide you through where to stay in Sintra this year.
---
Pro-Tip: You'll want to bookmark this page for future reference. Also, be sure to check out our Where to Stay in Lisbon, Top Things to Do in Sintra, and Top Things to Do in Lisbon to really get a feel for the area before you visit.
Top Hotels in Sintra at a Glance
---
Where To Stay in Sintra: Best Hotels and Areas
---
For centuries, Sintra was the playground of royalty, aristocrats, and even 19th Century Romantics and eccentrics. This picturesque town lies just 30 kilometers from Lisbon. The town, the park, and its coastline are chock full of spectacular sights ranging from stunning palaces to mythical forests and sweeping wild Atlantic coastlines. For the visitor, this leaves three areas to consider when choosing where to stay:
Sintra's Historic Town – Perfect for history and those who don't want the stress of driving.
Sintra National Park – Great for those looking to explore the wider region.
Sintra's Coastal Towns – For the surf bums and sunset watchers. A car is a necessity!
It's easily reachable on a day trip. You can get there in 30 minutes by car or in 45 minutes by train from Rossio Station in the center of Lisbon. Indeed this is what many of Portugal's visitors choose to do. However, there is so much to see and do here that Sintra deserves more than just a day trip, and it could be an excellent place for you to see the surrounding area.
If you decide to stay in Sintra, either as a base for exploring Lisbon or even for one night to escape the city's hustle and bustle, then you will experience one of Portugal's most magical places in a way that few do. As the day-trippers leave and dusk descends on the mountains and forests of this fairytale land, you'll discover you have Sintra almost entirely to yourself.
Sintra boasts some truly unique places to stay, whether you want to stay in a palace, an ancient chapel, or a family-friendly spot complete with a pool. We've got you covered for the best places to stay in Sintra.

---
The Best 5-Star Hotel in Sintra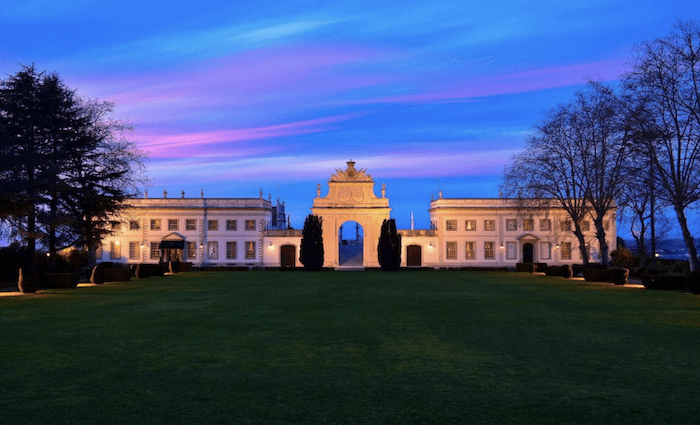 ---
Tivoli Palácio de Setais | 5 Star | €€€€ | Luxury | Pool
In a town that seems to have more palaces than people, it is only fitting to spend a night in one yourself. The Tivoli Palácio de Seteais is just that. Built in 1787 by a Dutch consul, he was gifted the land by the infamous Marquis de Pombal.
The Tivoli group prides itself on providing only the very best. At Palácio Seteais, they certainly deliver. This place is unashamedly opulent. Complete with frescoes, ballrooms, and even a triumphal arch, you'll feel like you're starring in your own special episode of Bridgerton.
Did I mention that the pool area and the views will make you feel like a member of Hollywood Royalty? Unsurprisingly, everyone from Agatha Christie and President Nixon to John Malkovich and Mick Jagger has passed through these hallowed halls. Tivoli Seteias is undoubtedly the last word in luxury in Sintra.

---
We love to keep our recommendations up to date. Love a hotel not on the list, or know of a new opening? Send us a message and let us know all about it.

---

The Best Historic Hotel in Sintra
---
The Lawrence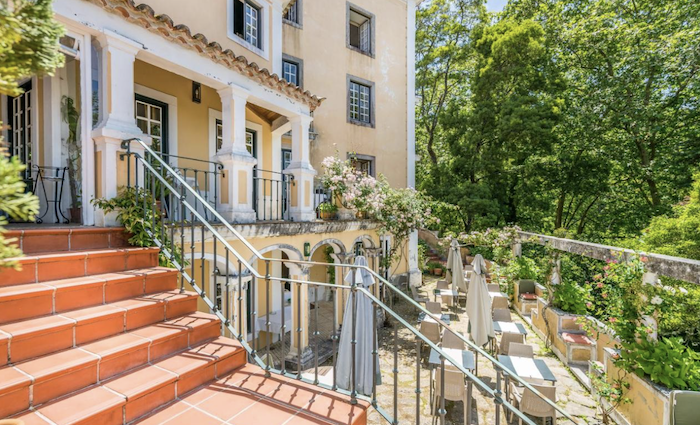 ---
The Lawrence | 5 Star | €€€€ | Oldest Guest House in Portugal
Lawrence claims to be the oldest on the Iberian peninsula. Whether or not this is strictly true, they have certainly welcomed guests since 1764. They even claim Lord Byron among their esteemed clients!
Needless to say, this hotel oozes old-world vintage charm. Antique furniture graces each of the individually decorated sixteen rooms. In the winter, cozy, up in front of the open fire in the library, or in the summer, dine on the stunning terrace and feel transported back to the Romantic Era.
---
Not ready to book a hotel? Check out Top Things to Do in Sintra to understand why it's a must-visit destination.
---
The Best Boutique Hotel in Sintra
---
A Capela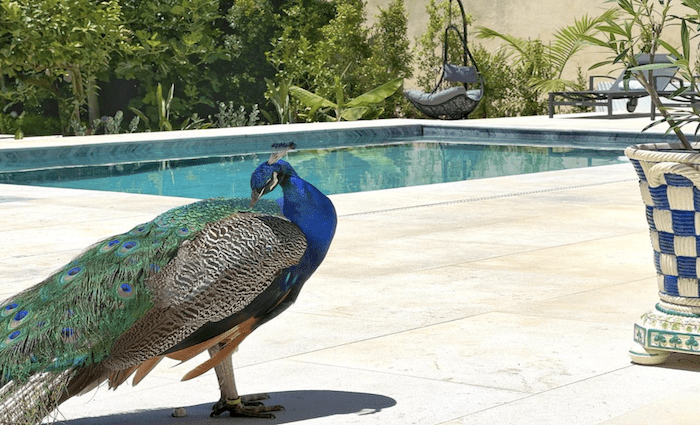 A Capela | 4-Star Boutique | €€€ | Converted Chapel | Cool Pool
---
If you've ever wanted to stay in a converted 18th Century chapel, then 'A Capela' should be at the top of your list.
Sympathetically restored, the owners spared no expense in renovating this unique space. They kept many of the beautiful original architectural details. Today, you'll find a modern, sophisticated hideaway with a secluded terrace. Perfect for enjoying those stunning sunset views.
There's also a larger sister villa on the property, which includes a pool if you're a larger group.
---
Thinking about Sintra for a day trip? Check out our Where to Stay in Lisbon instead.
---
The Best Hotel For Nature Lovers in Sintra
---
Eighteen 21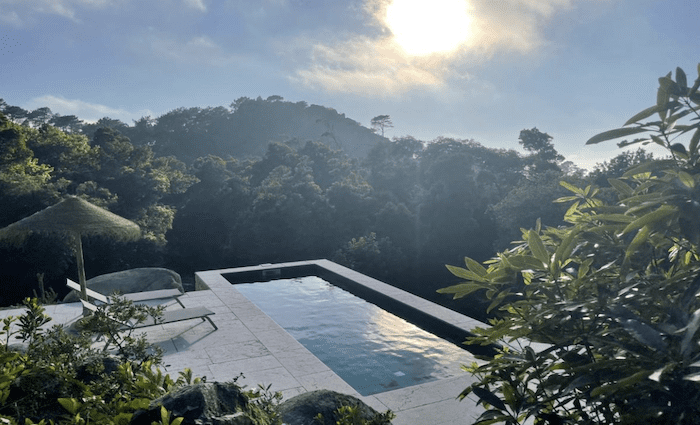 ---
Eighteen 21 | 4 Star Guest House | Surrounded by Nature | Family Friendly
Set among two hectares of stunning private forest, just 1.6 km from the center of town, Eighteen 21 is a special slice of Sintra magic. The property has just three small buildings; two cozy one-bedroom cottages and a larger six-bedroomed villa.
Thoughtfully decorated, the properties blend both the traditional and contemporary. In addition, their newly inaugurated, very secluded swimming pool has views to die for. If you want to feel immersed in nature and get away from it all, then the charming Eighteen 21 is for you.
---
---
The Best Hotel For Families in Sintra
---
Penha Longa Resort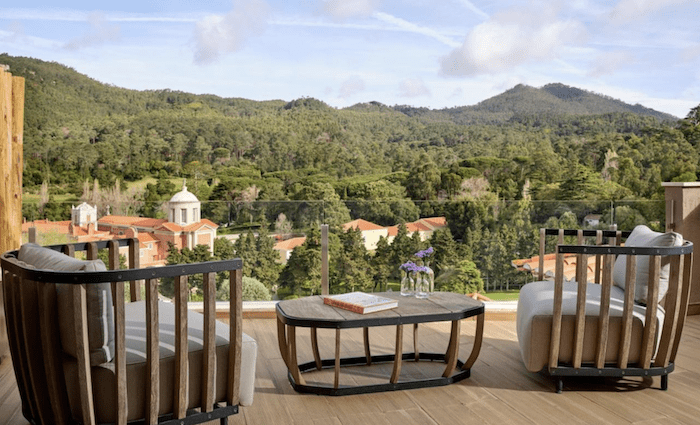 ---
Eighteen 21 | 4 Star Guest House | Surrounded by Nature | Family Friendly
Penha Longa is a fantastic option for families, situated just a short drive from the town center of Sintra. It's a 220-hectare resort, magnificently situated in beautiful protected parkland. The family amenities are second to none, including a VIK check-in experience, where your kids get to check in for you, Golf lessons for four to sixteen-year-olds, movie nights, kids clubs, extensive cycle paths, babysitting, and so much more.
The smart, spacious rooms have access to several swimming pools, a great restaurant, a spa (also a kid's spa), and a fantastic golf course. Honestly, what's not to love? It's an excellent base from which families can explore, with Sintra, Cascais, and Lisbon all within a quick shuttle ride.
---
---
The Best Beach Resort in Sintra
---
Hotel Arribas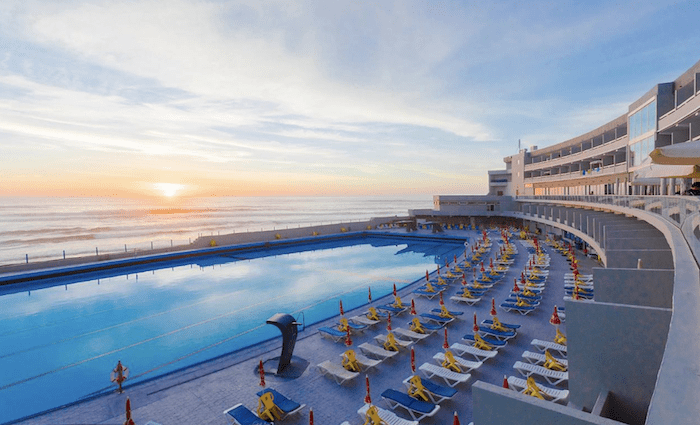 ---
Hotel Arribas | 4-Star | Every Room Has Ocean Views | Family Friendly | Most Westerly Hotel in Europe
The recently renovated Arribas Hotel is an excellent option for those wanting to pair an ocean view with their Sintra stay. Located only 7 kilometers from the old town of Sintra, every room boasts a balcony with ocean views.
The hotel also has a vast 100-meter saltwater swimming pool fed directly from the Atlantic. At 100m, it is one of the largest in Europe. Arribas is a great family option, with family suites and interconnecting rooms. There are plenty of great restaurants within walking distance, and Ubers can shuttle you into Cascais for around €10, or the hotel also runs a shuttle service to Sintra and Cascais.
---
Check out our Top Things to Do in Sintra
---
The Best New Hotel in Sintra
---
Sintra Marmòris Palace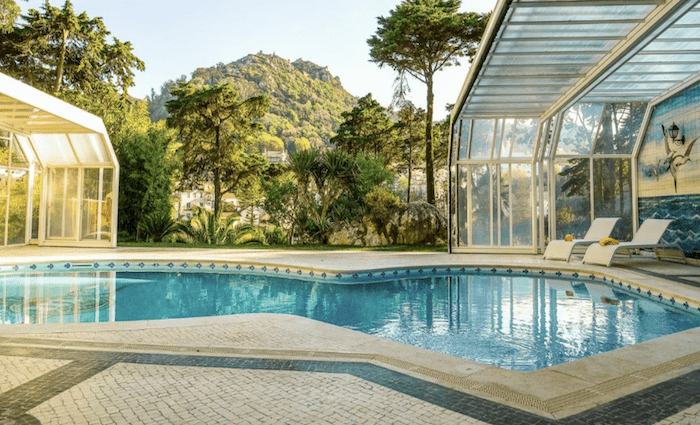 ---
Hotel Arribas | 4-Star | Every Room Has Ocean Views | Family Friendly | Most Westerly Hotel in Europe
OK, 'new' might be a stretch, having reopened in 2017, but the beautiful 19th Century Marmòis Palace is now a luxurious spot, hidden and tucked away in sprawling gardens. The rooms exude a fashionable, romantic, and Italian vibe with stunning views over Sintra's National Palace and the towards the Castle of the Moors.
There are just nine rooms here, tucked away between two buildings among sumptuous gardens with intimate corners and a relaxing pool. All this, just a few minutes walk from the historic center.
---
---
The Best Alternative-Eco Friendly Hotel in Sintra
---
Sintra Glamping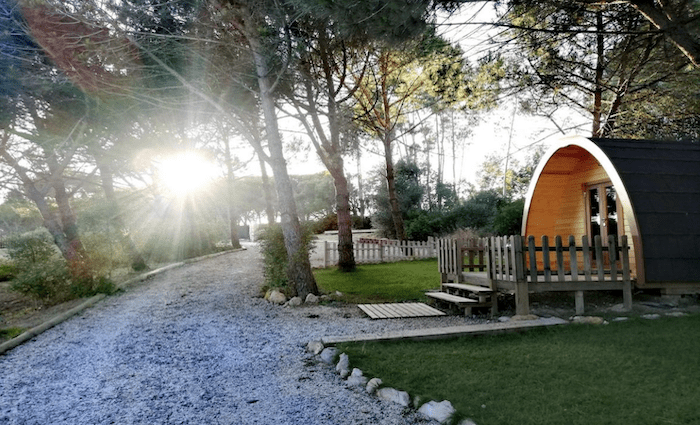 ---
Glamping Sintra | € | ECO-Alternative | Mountain Views
For something completely different, why not try glamping? If you want to get away from it all and return to nature, this little gem about seven kilometers from Sintra's center is for you.
This accommodation is not glamorous; however, what it lacks in modern luxuries, it makes up for in charm. These charming Tolkeian wooden cottages have their own bathrooms, comfortable bedrooms, and kitchens. Chill in the hammock, listen to the birdsong, and forget the modern world.
---
We love to keep our recommendations up to date. Love a hotel not on the list, or know of a new opening? Send us a message and let us know all about it.
---
How to Get to Sintra
---
Arriving by Air: The nearest international airport is the Humberto Delgado airport in Lisbon, located around 30km from Sintra. From the airport, you have numerous options, train, car, taxi, or Uber.

By Train: There is no direct train to Sintra from Lisbon airport, you will need to take the metro and then the regional train. On the metro, take the red line 3 stops to Oriente and then switch to the Sintra Regional line. The whole journey will cost around €6 per person.

By Car: If renting a car, be sure to check parking arrangements with your hotel. If you plan on driving, choosing a hotel with parking facilities is a must, as trying to find a space in Sintra is nearly impossible.

By Taxi: You can jump a taxi right outside the arrivals, but I don't suggest it. As the taxi is taking you out of Lisbon, they can add a surcharge and an additional surcharge per bag. Depending on traffic and time of day, a taxi will likely cost between €50 and €80.

By Uber: Uber is a solid option for getting to Sintra, it should cost between €20 and €35, depending on surcharges. Uber has become such a popular option out of Lisbon airport that they have been given their own pickup spot in Lisbon airport, just follow the signs as you come out of arrivals, and you will meet your driver easily.
---
What to See in Sintra and the Surrounding Area
---
Best Restaurants in Sintra
Top Things To See in Sintra
---
---