Did you watch White Lotus, and now you want to plan a trip to Sicily this year? You're not the only one! We have been overwhelmed with inbound requests, which is why we created this article on where to stay in Sicily!
---
Pro Tip: If you are in the midst of planning a trip to Sicily, bookmark this article in your browser so you can circle back to it when you're ready to book.
Our Partnership with Booking.com. If you like our content, please book by clicking our Booking.com links. The price is the same for you, and we get a small commission that helps support our blog. We've partnered with Booking.com because they have the most options, great prices, and a solid loyalty program. Almost every apartment on Airbnb can also be found on Booking.com but with fewer fees.
Who Should Visit Sicily and Where Should They Go?
Sicily is an incredible destination full of natural wonders, culture, and history. Sicily is best described as one of the world's greatest beach destinations, with some of the greatest historical sites and the greatest places to eat. It's the perfect summer destination for the adventurous and resourceful traveler.
I recommend renting a vehicle and spending a few nights in your chosen destination. There is a lot to see, and the high concentration of Roman archeological sites will give you ample diversity in your activities.
Taormina
Taormina is the most popular destination in Sicily among foreigners, without a doubt. It has a volcano as a backdrop, a massive cliff overlooking the sea, gorgeous "see-your-toes" water, and even Roman ruins.
Taormina is an excellent stop if you want to feel the warmth and culture of southern Italy but with the same luxuries as mainland Italy.
Taormina is already a busy destination in the summer and will get busier. HBO's White Lotus is drawing enormous attention to Sicily, and Taormina is the focal point. Read this article the entire way through to find more amazing beach destinations beyond Taormina!
The Best Things to Do in Taormina:

Head to Mt Etna
Drink at Churchill's favorite bar in Piazza IX Aprile
Step back in time at Teatro Antico di Taormina

Check out our full article on Top Things to Do in Taormina.
The Best Restaurants in Taormina

Check out our full guide to food in Sicily.
---
Not sure if Taormina is for you? Check out all of our tours of Sicily
Best Hotels in Taormina
---
San Domenico Palace
$$$$+ | 5-star | White Lotus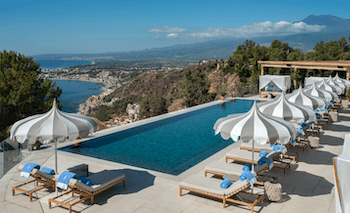 Have unlimited money, OR don't care to save the little money you have? Stay at the San Domenico Palace Four Seasons, where White Lotus was filmed. You'll enjoy luxuries that would tempt Dante Alighieri himself.


Mazzarò Sea Palace
$$$$ | 5-star | Personal Favorite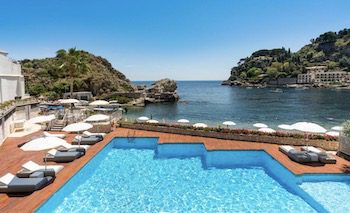 My wife tells me about her vacation here about once a month, It's safe to say the private beach, the white tuxedo-wearing staff, and the wonderful breakfast left a mark.



Atlantis Bay
$$$$+ | 5 Star | Pool | Sea View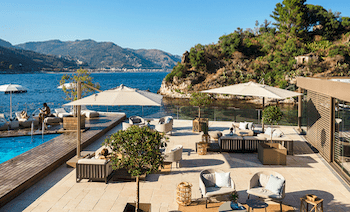 Atlantis Bay Hotel is super contemporary and luxurious. The views are stunning, and the property makes you feel like a better person.




Villa Fiorita Boutique Hotel
$$$ | 4 Star | Boutique | Sea View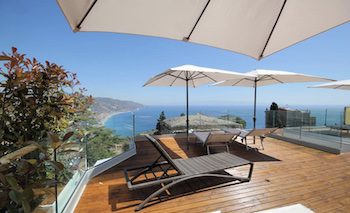 This beautiful boutique hotel sits about fifty yards from Taoraminas cable car, offering access to the popular beaches below. With a selection of beautiful terraces and a garden pool, a perfect spot.

Una Hotels Capotaormina
$$$$+ | 5 Star | Pool | Sea View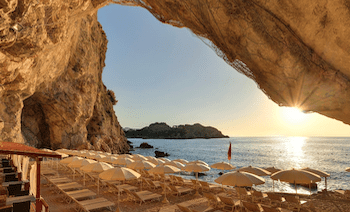 Una Hotel is in a great location right on the peninsula of Taormina. Tons of space, a private beach, and lots of amenities. With a private beach and a saltwater swimming pool, it's a great option for everyone.

Hotel Villa Taormina
$$$ | 4 Star | Historic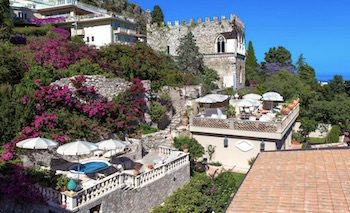 Built in the early 1900s, Hotel Villa Taormina may be a historic building, but it lacks no modern amenities. The beautiful floral gardens give way to a lounge deck with a small (but refreshing) plunge pool.

---
Trapani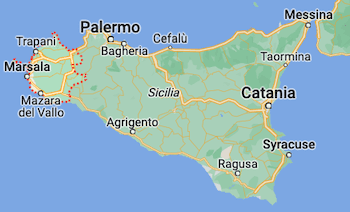 ---
Trapani is both a city and a municipality or subregion of Sicily. In this scenario, I am referring to the municipality. The municipality of Trapani occupies the entire western tip of Sicily, which also has five of the best beaches in Sicily.
Trapani is Sicily's greatest secret and a must-visit destination for any beachgoer. It is one of the closest places in mainland Sicily to Africa (Tunisia). You'll find endless breathtaking beaches in this area of Sicily, which makes it a must-visit zone.
The beaches in Trapani are not to be scoffed at. Riserva Naturale dello Zingaro is one of Italy's most savage and beautiful beaches. It takes quite a hike, but great efforts often pay off. Come prepared with water and snacks as there are no shops here.
Trapani is for adventurous and resourceful travelers. You won't get much English, and the area is not accustomed to the level of tourism on the Amalfi Coast. This is the real deal.
Attractions in Trapani Area:
Our Favorite Hotels in the Trapani Region:
---
Torre di Scopello
$$$$+ | Saracen Tower!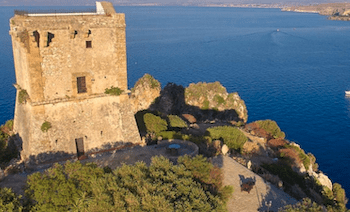 Yes, you can stay in a renovated Saracen watch tower! This is more of a house rental than a hotel, but very experiential and has incredible views/location.

Hotel Baglio
$ | 3-star | Quaint Borgo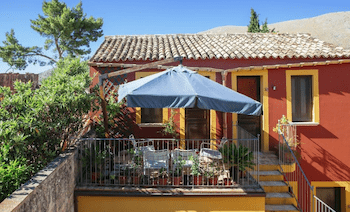 A great little spot for the money. I love the medieval feel, but this is no-frills accommodation.



Baglio Oneto
$$$$ | 5-star | Pool | Castle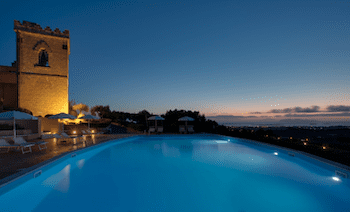 If I going Trapani, I am probably going to stay here. It's beautiful, located in a castle, with a great pool and breathtaking sea views.


Relais Antiche Saline
$ | 4-star | Incredible Views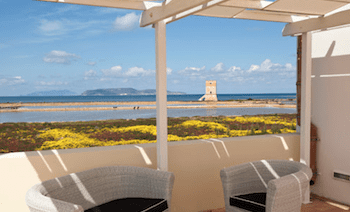 In Italian, there is the word "Salvaggio," which sort of means 'a bit wild'. This 4-star accommodation is very comfortable amidst a natural setting.

Almar Giardino di Costanza
$$$ | 5-star | Resort | Pool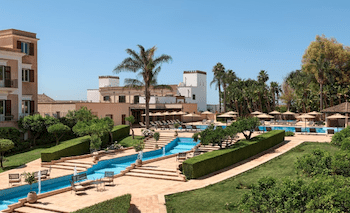 You can't ignore how close to Northern Africa you are in this part of Sicily! This is a resort-style hotel with very comfortable accommodations and amenities.

Hotel Antica del Golfo
$$ | 3-star | Infinity Pool | Epic Views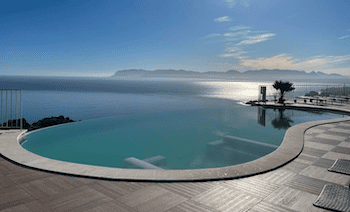 Nice and clean accommodation with unbeatable views and an infinity pool!




---
Palermo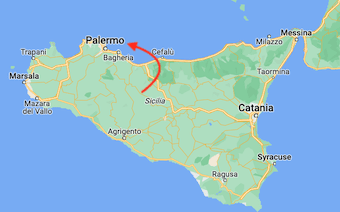 Palermo is a paradoxical city at times. The public transport system is next to useless, there are sporadic garbage collection issues, many streets in the historic center are poorly lit at night, and there is a supposed crime issue (at least if you listen to tourists who have never been). The truth is Palermo has some problems. Chief amongst them is that, at times, it is heartbreakingly beautiful.

Check out all of our Palermo, with our articles on Where to Stay in Palermo & Cefalù and our Top Things to Do In Palermo
Attractions near Palermo:
Restaurants in Palermo:
---
Not sure if Taormina is for you? Check out all of our tours of Sicily.
Our Favorite Hotels in Palermo:
Family Affair Palermo
$ | B&B| | Family Friendly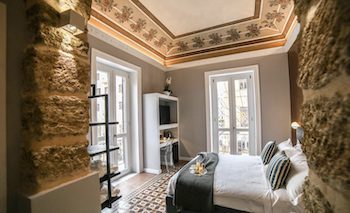 Beautifully designed, mixing old architectural elements with modern flair. Starting at just €70 a night, in terms of locations, standard, cleanliness, and facilities, it's easy to see why this scores over 9.5/10 with over 1500 reviews. An absolute gem.



Grand Hotel et Des Palmes
$$$$| 5-star | Modern Design |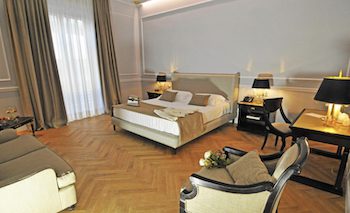 A luxurious 5-star hotel in a fantastic location. I'm obsessed with Aqua di Parma aftershave, candles, and anything I can get my hands on. So when I saw that all the hotel toiletries were produced by them, it sold me a little harder on this hotel than it should have.


Palazzo Sovrana
$$ | Godfather III Location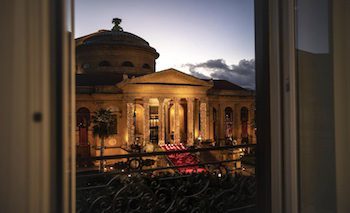 The apartments are beautifully modern and well-equipped. More importantly, you can lay in bed and look straight out your window at Teatro Massimo, where Michael Corleone was shot in Godfather pt III.
---
La Terrazza Sul Centro
$$$ | Suites | Amazing Terrace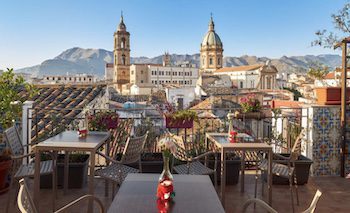 If you are going to call yourself the terrace, then it really has to be something special, and wow, this is. The rooms are modern, clean and airconditioned.



Bastione Spasimo Hotel
$ | Boutique Hotel | Pool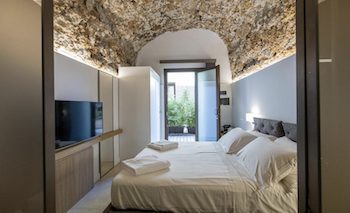 Built in the 1500s as part of the city's defensive structure. It is one of the few city bulwarks still in existence. The architecture is fantastic, and prices start from a ludicrously low €65 a night.


Cathedral View Apartments
$$$ | 2 Bedroom Apartment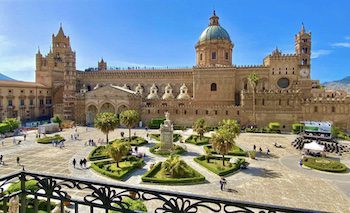 This beautiful and large apartment is perfect for families. Not only is it situated in a great location, right next door to the cathedral.




Cefalù
---
Located about 50 miles from the city of Palermo, Cefalú is the perfect choice for those arriving in Palermo but wanting a more relaxing stay than is possible in the hustle and bustle of the main city. Cefalù does sit within the province of Palermo, but in a country of picturesque towns, Cefalù still holds a special place. Founded by the Greeks in the 5th Century, its name derives from the Greek Kephalos (Head), referring to the head-shaped rock that looms over it. While the town is beautiful, the beaches heavenly, and the food divine, no trip to Cefalù is complete without a trip to the wonderful Duomo di Cefalù.


Our Favorite Hotels in Cefalù
Villa Totó Resort
$$$ | Perfect for Couples| Sea Views | Luxury Pool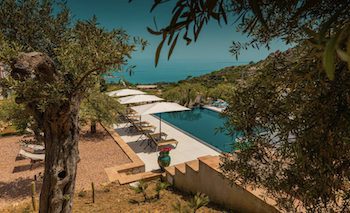 Located about a five-minute drive from Cefalù center, this beautiful desert oasis is a wonderful place to recharge. The infinity pool, bar, and restaurant are excellent spots; each room is individually designed.



Abelia Sea Suites
$$ | Perfect for families | Beachfront | Luxury Pool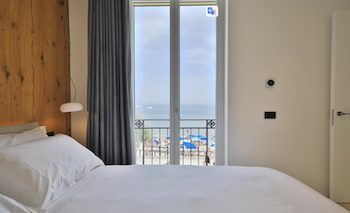 No pool here, but when you are fifty yards from the beach, who cares? The hotel is modern, clean, and spacious. While the rooms are fairly bland, the sea views more than make up for it. Family rooms are available.



Hotel Kalura
$$ | Perfect for families | Beachfront | Luxury Pool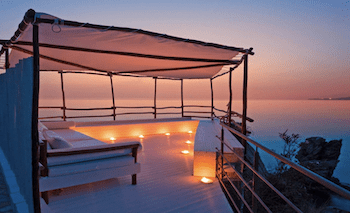 The beautiful location, private beach, and sunbathing deck make this perfect for rest and relaxation. With onsite yoga, cycle rental, art, and photography classes, there's something for everyone.



The Aeolian Islands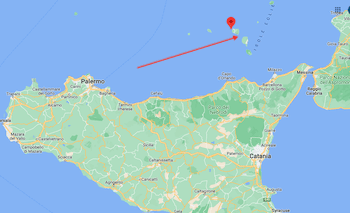 ---
Want to be surprised when you hear someone speaking English in Italy? It's not easy to achieve these days with mass tourism.
That said, there are still some hidden gems out there left over. The Isole Eolie, or the Aeolian Islands, are one of Italy's last remaining hidden treasures.
This unknown island chain is full of natural beauty and amazing sites. It's even home to an active volcano on the island of Stromboli. You can take a ferry from island to island or charter a boat which is the best way to visit them. Lipari and Stromboli are very popular.
Attractions in the Aeolian Islands:
Our Favorite Hotels in the Aeolian Islands:
Hotel Villa de Pasqule
$ | 4 star | Lipari Island | Pool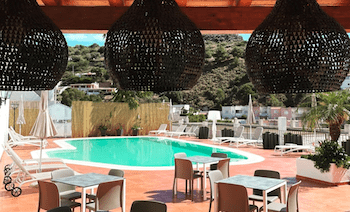 The town of Lipari on the island of Lipari has great Italian vibes, and this hotel is in the thick of things. Its Mediterranean island vibes are unmistakable.




Photos, location, and booking
Il Gabbiano Relais
$$ | 4-star | Stromboli Island | Pool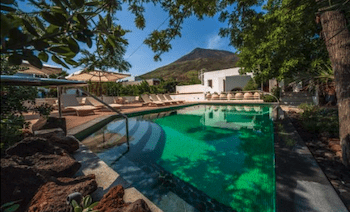 A contemporary retreat-style hotel that will bring you nothing but relaxation. Great pools and a combination of nature and luxury make this a great choice.




Capofaro Locanda & Malvasia
$$$$+ | 5-star | Lipari Island | Pool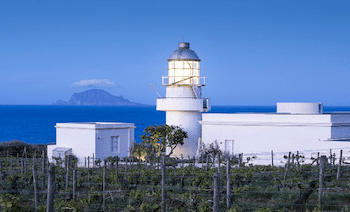 Wonderful retreat with absurdly luxurious amenities and iconic views. It may be on the pricier side, but it's worth it.




Photos, location, and booking


---