Palermo is a paradoxical city. Once one of the gems of Europe. It enchanted visitors like Goethe and Wilde. In the '90s, it was a war ground. Assassinations of politicians, judges, and informants saw it compared to a warzone. Mayor Leoluca Orlando has pulled Palermo out of the doldrums in the last two decades, and it is once again a desired destination. Let me lead you through this wonderful city with our guide on where to stay in Palermo.
---
Pro Tip: If you are in the midst of planning a trip to Sicily, bookmark this article in your browser so you can circle back to it when you're ready to book. You can also check out our Best Tours of Sicily.
Our Partnership with Booking.com. If you like our content, please book by clicking our Booking.com links. The price is the same for you, and we get a small commission that helps support our blog. We've partnered with Booking.com because they have the most options, great prices, and a solid loyalty program. Almost every apartment on Airbnb can also be found on Booking.com but with fewer fees.
---
Why Stay in Palermo?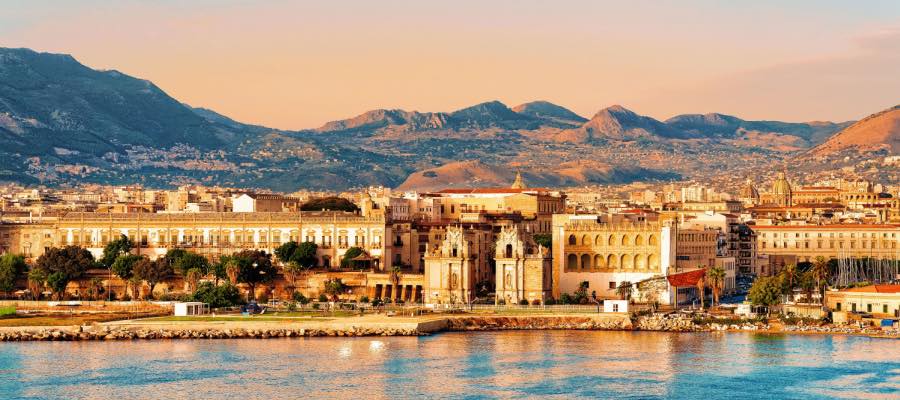 Palermo is a paradoxical city at times. The public transport system is next to useless, there are sporadic garbage collection issues, many streets in the historic center are poorly lit at night, and there is a supposed crime issue (at least if you listen to tourists who have never been). The truth is Palermo has some problems. Chief amongst them is that, at times, it is heartbreakingly beautiful.
When it comes to the crime aspect, this is nonsense. No mafioso boss will make you an offer you can't refuse. It's not to say the Mafia doesn't exist, but with the work of the anti-mafia group AddioPizzo and Mayor Leoluca Orlanda, they are definitely on the retreat. The worst that most tourists will ever see are pickpockets and bag snatchers. But if you are a sensible traveler, and know which areas to stay in and which to avoid, then Palermo can be a genuinely intoxicating city.
The city has gone through a resurrection in recent years. Mafia confiscated properties, and money have been redistributed to social projects. Helping the award-winning regeneration of the harbor get finished, the rebirth of the Kalsa neighborhood, and so much more.
When the Guardian newspaper pointed out Palermo still had some way to go and was in limbo, Mayor Orlando responded, 'Better between the heavens and the flames, every day this city is a much better place to live in.' And a better place to live is a better place to visit. Mark Palermo as a definite on any trip to Sicily,
Where to Stay in Palermo

There are around twenty-two districts in Palermo. Of those, there are two that I fully recommend to visitors. They are:
Politeama/Libertà – Great for families | Very safe district | Good connections
Centro Storico – Walkable to everywhere | Dimmly lit side streets


---
Best Hotels in Politeama:
Family Affair Palermo
$ | Boutique B&B| Beautiful Design | Family Friendly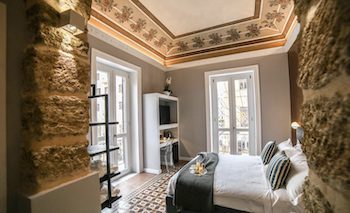 Beautifully designed, mixing old architectural elements with modern flair. Starting at just €70 a night, in terms of locations, standard, cleanliness, and facilities, it's easy to see why this scores over 9.5/10 with over 1500 reviews. An absolute gem.
---
Grand Hotel et Des Palmes
$$$$| 5-star | Modern Design | Spacious | Great Bar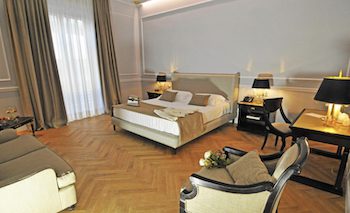 A luxurious 5-star hotel in a fantastic location. I'm obsessed with Aqua di Parma aftershave, candles, and anything I can get my hands on. So when I saw that all the hotel toiletries were produced by them, it sold me a little harder on this hotel than it should have. But hey, sometimes it is the small things that make a place special
---
Best Hotels in Centro Storico
---
Palazzo Sovrana
$$ | City View | Godfather III Location |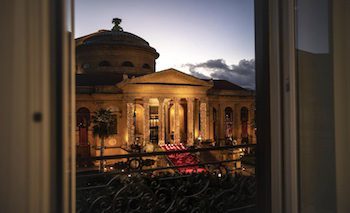 So we all know Godfather III is the weakest in the trilogy, but it's still part of one of cinema's classic trilogies. The apartments are beautifully modern and well-equipped. More importantly, you can lay in bed after a heavy day's sightseeing, load up the Godfather Part III and watch Don Michael Corleone be shot on the steps of Teatro Massimo while looking at the view from your room of Teatro Massimo. It might be one of the only reasons to really watch part III again.
La Terrazza Sul Centro
$$$ | Suites | Amazing Terrace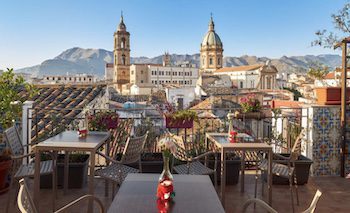 If you are going to call yourself the terrace, then it really has to be something special, and wow, this is. The rooms are modern, clean and airconditioned. But really, it's about that breakfast terrace and bar. Starting at just €80, it's a bargain in the city center.
Bastione Spasimo Boutique Hotel
$ | Boutique Hotel | Pool | Historic Building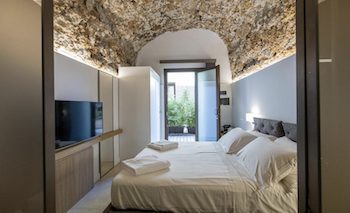 Built-in the 1500s as part of the city's defensive structure. It is one of the few city bulwarks still in existence. The architecture is fantastic, and prices start from a ludicrously low €65 a night. That's for the standard double shown here. Suppose that's not enough; how about a saltwater pool thrown in for good measure? Situated in Kasla ( a neighborhood I would never have recommended ten years ago), it is now the most up-and-coming section of the city.
---
Cathedral View Apartments
$$$ | 2 Bedroom Apartment | City Views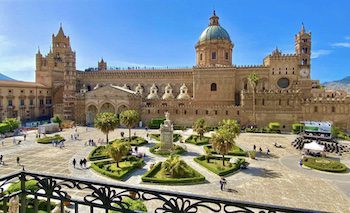 This beautiful and large apartment is perfect for families. Not only is it situated in a great location, right next door to the cathedral, but the views mean you won't feel upset if you need to take an easy night after exploring. With a kitchen and all the modern amenities you need, send someone on a cannoli run in the morning and wake up to your private terrace with stunning views.
---
---
Where to Stay in Cefalù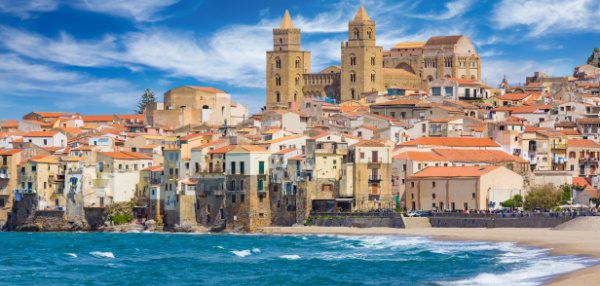 ---
Located about 50 miles from the city of Palermo, Cefalú is the perfect choice for those arriving in Palermo but wanting a more relaxing stay than is possible in the hustle and bustle of the main city. Cefalù does sit within the province of Palermo, but in a country of picturesque towns, Cefalù still holds a special place. Founded by the Greeks in the 5th Century, its name derives from the Greek Kephalos (Head), referring to the head-shaped rock that looms over it. While the town is beautiful, the beaches heavenly, and the food divine, no trip to Cefalù is complete without a trip to the wonderful Duomo di Cefalù.
---
Best Hotels in Cefalù
---
Villa Totó Resort
$$$ | Perfect for Couples| Sea Views | Luxury Pool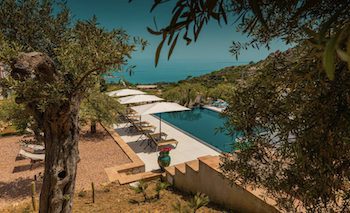 Located about a five-minute drive from Cefalù center, this beautiful desert oasis is a wonderful place to recharge. The infinity pool, bar, and restaurant are excellent spots; each room is individually designed. But be aware, although not explicitly stated, it's not great for families. They offer no triple rooms, so if traveling with kids, you'll need to book separate rooms. Probably a better option for couples.
---
Abelia Sea Suites
$$ | Perfect for families | Beachfront | Luxury Pool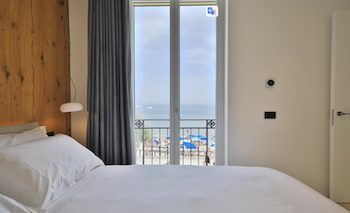 No pool here, but when you are fifty yards from the beach, who cares? The hotel is modern, bright, and spacious. While the rooms are fairly bland, the sea views more than make up for it, I mean, who is looking at the decor when you have views like that? Family rooms are available, making this a great spot for those traveling with kids and looking to be in the thick of it.
---
Not ready to book a tour? Check out our Best Things to Do in Sicily article.
---