Lisbon, Sintra, and Cascais form the three points referred to as Portugal's golden triangle. While Lisbon and Sintra were long-established haunts for the rich and famous, Cascais only started to boom in the late 1800s. Cascais quickly blossomed, becoming the Portuguese Riviera. I've lived and worked as a guide in Lisbon and Cascais for the last decade, and I'm here to guide you through where to stay in Cascais this year.
---
Pro-Tip: You'll want to bookmark this page for future reference. Also, be sure to check out our Where to Stay in Lisbon, Top Things to Do in Sintra, and Top Things to Do in Lisbon to really get a feel for the area before you visit.
Top Hotels in Cascais at a Glance
---
Where To Stay in Cascais and Why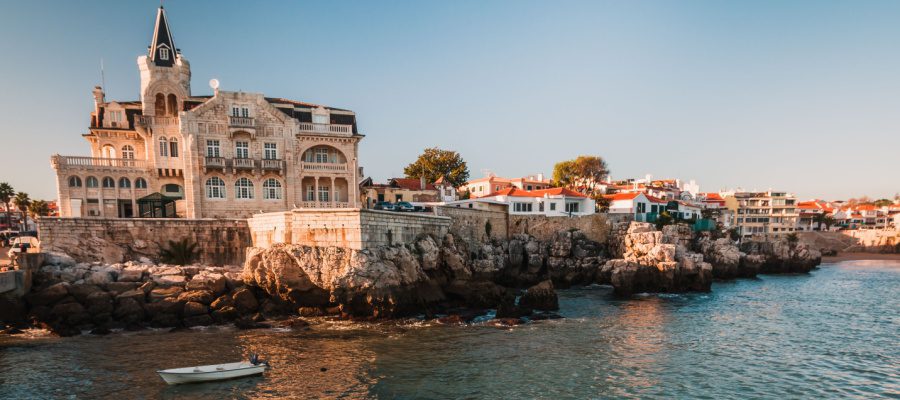 ---
Once a small fishing village located a five-hour dusty carriage ride from Lisbon, the advent of the modern railway and the sudden fashion for sea-bathing saw Cascais (pronounced cash-kaysh) blossom into Portugal's answer to the French Riviera.

The trend started when King Carlos of Portugal started summer vacationing by the sea rather than in the mountains of Sintra. Unsurprisingly, the nobility followed, and the architectural landscape of the town was changed forever. Today, fishermen's cottages stand shoulder to shoulder with stunning villas that twist and turn following the contours of the coast.
During WWII, when the lights went out across Europe, Cascais became a beacon of light. The town was full of royalty, nobility, and the wealthy elite looking to escape the horrors of war. King Carlos II of Romania, Umberto II of Italy, and The Duke and Duchess of Windsor all made Cascais and Estoril home at some point. Espionage flourished, with a host of spies, including Ian Fleming plying their trade in the infamous Casino Estoril. "In 1940 Cascais, happiness was staged so that God could believe it still existed," wrote the French writer Antoine de Saint-Exupéry.
Located thirty minutes from Lisbon, with golden sands, a fascinating museum quarter, and vibrant nightlife, it's easy to understand why Cascais is one of Portugal's hottest destinations.

The traveler has three options when it comes to staying in Cascais, they are;
Cascais Historic Town – Perfect for history and those who don't want the stress of driving.
Cascais National Park – Great for those happy to hire and car and explore
The Estoril Coast– For the surf bums and sunset watchers. There are regular buses from Cascais to the beaches.
---
The Best 5-Star Hotel in Cascais Center
---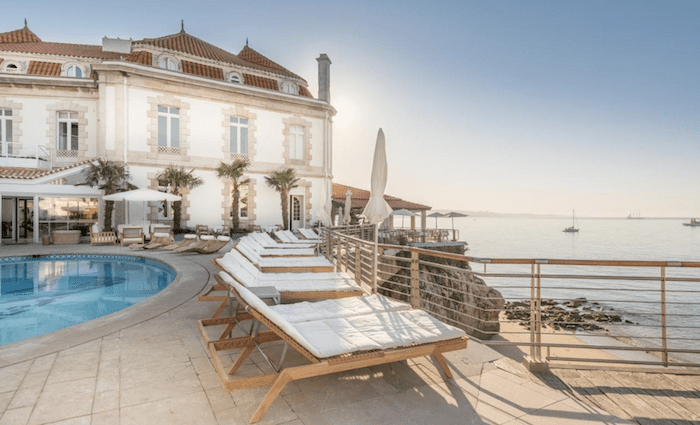 ---
5 Star | €€€ | Luxury | Pool | Personal Favorite
Rising out of the ocean, the Hotel Albatroz is a picturesque gem in the heart of historic Cascais. Located a couple of yards from the beach and a couple hundred more from the train station, this is a wonderful spot for anyone wanting to mix a city stay with a beach holiday.
Within seconds you can be bathing in the Atlantic Ocean or lounging in the private pool with wonderful views, or in just thirty minutes, you can be whisked into Lisbon and find yourself exploring one of Europe's most beautiful capital cities (NB. Trains from Lisbon to Cascais and from Cascais to Lisbon run every fifteen minutes from 5.30 am till 1.30 am).
All the rooms have been recently restored, and the pool terrace with ocean views is one of the finest in Cascais. With all the amenities you would expect from a 5-star hotel, the Albatroz is a perfect spot for couples and families.


---
We love to keep our recommendations up to date. Love a hotel not on the list, or know of a new opening? Send us a message and let us know all about it.

---

The Best Coastal 5-Star Hotel
---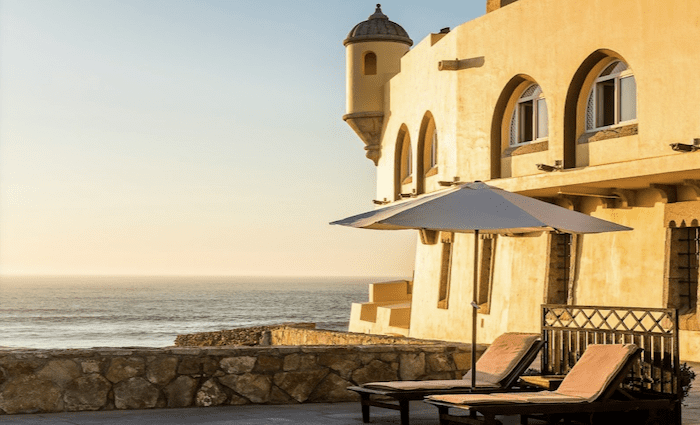 ---
5 Star | €€€ | Restored Sea Fortress | Sweeping Ocean Views
Situated between the golden sands of Guincho Beach and Cabo da Roca (mainland Europe's most Westerly point), The Fortress of Guincho was built in the 17th century to offer protection to the region from naval attacks. Today, after a series of tasteful renovations, the Fortaleza do Guincho is one of Portugal's most popular hotels.

The constant roar of the waves is countered by the calm serenity of the rooms and beautiful stone interior courtyards. The location is perfect for those wanting to hike the rugged Portuguese coast and also has a private car service for those wishing to head into Cascais, Lisbon, or Sintra. Then for the adventure seeker, surfing lessons and horseriding adventures can be arranged, as well as bike rentals for local exploration.

The location is somewhat isolated, but that doesn't mean you won't eat well. The Fortaleza restaurant received its first Michelin star in 2018. The dining room offers stunning panoramic views of the Atlantic Ocean, but questions must be asked about the horrendous blue carpet they chose to decorate the room with. A real head-scratcher!
---
Not ready to book a hotel? Check out Top Things to Do in Sintra to understand why this must-visit region.
---
The Best Boutique Hotel in Sintra
---
The Oitavos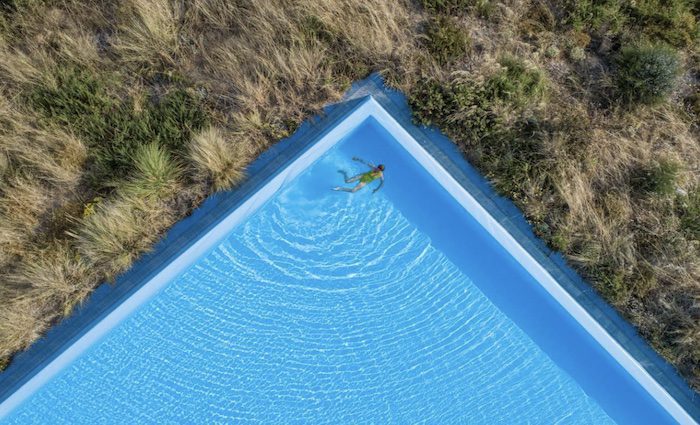 ---
5-Star | €€ | Nature Reserve | Golf Course
---
Located on the edges of the Sintra-Cascais national park, Portuguese architect José Amaral Anahory has created an uncompromisingly modern construction of steel and glass flooded with natural light. There are spa facilities for those wanting to relax, an infinity pool surrounded by thick sea grasses and Stone Pines, and an international standard 18-hole golf course.

For those wanting to stay local, there is plenty to do, with an equestrian center offering hikes, a 24-hour fitness center, cycling rentals for exploring the coastline, and a shuttle service to Cascais, Lisbon, or Sintra during the high season.

When it comes to cuisine, there are plenty of options in-house, with three different restaurants preparing modern twists on Portuguese classics,


---
Thinking about Cascais for a day trip? Check out our Where to Stay in Lisbon instead.
---
Perfect Apartment For Families in Cascais
---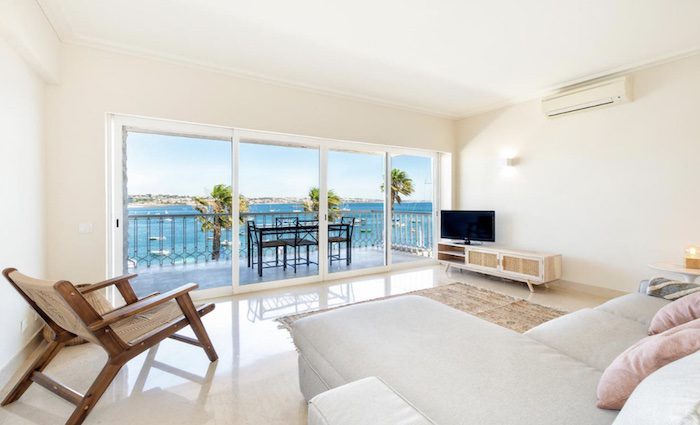 ---
2 Bedroom Apartment | €€€€+| Harbor Views | Family Friendly
This recently renovated apartment sleeps six but doesn't come cheap. But while the price is high, so too is the quality. The apartment is well furnished, air-conditioned, and has high-quality wifi, but the real winner is that terrace, with sweeping views across Praia (beach) da Ribeira and less than 500m to Praia da Rainha.
---
Fancy a city stay instead? Check out where to stay in Lisbon and the best things to do in Lisbon
---
The Best Family Hotel in the Cascais-Sintra National Park
---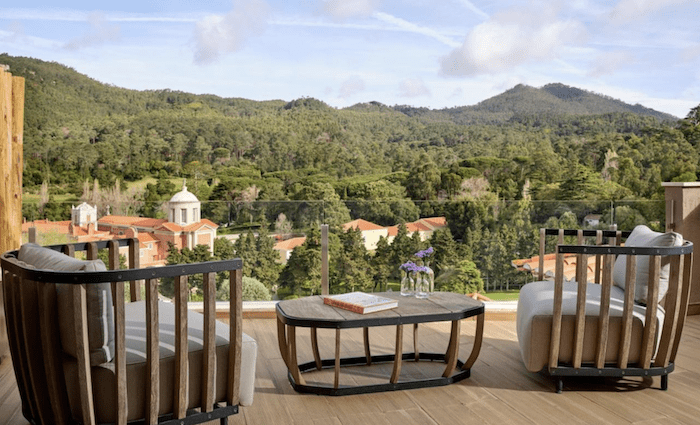 ---
5 Star | Surrounded by Nature | Family Friendly
Penha Longa is a fantastic option for families, situated just a short drive from the town center of Cascais. It's a 220-hectare resort, magnificently situated in beautiful protected parkland. The family amenities are second to none, including a VIK check-in experience, where your kids get to check in for you, Golf lessons for four to sixteen-year-olds, movie nights, kids clubs, extensive cycle paths, babysitting, and so much more.
The smart, spacious rooms have access to several swimming pools, a great restaurant, a spa (also a kid's spa), and a fantastic golf course. Honestly, what's not to love? It's an excellent base from which families can explore, with Sintra, Cascais, and Lisbon all within a quick shuttle ride.
---
Thinking about Cascais for a day trip? Check out our Where to Stay in Lisbon instead.
---
The Best Boutique Hotel in Sintra
---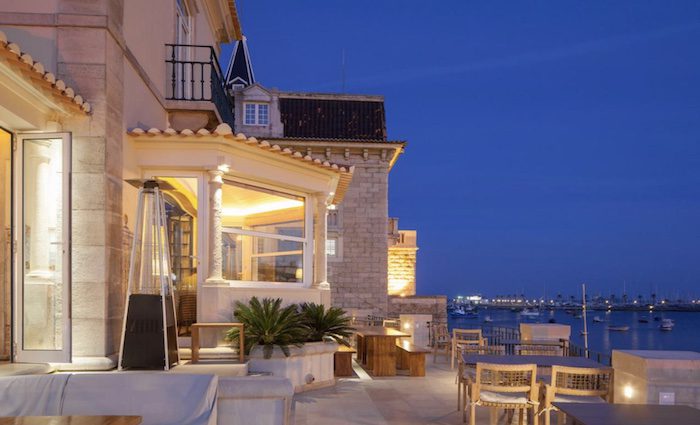 ---
4-Star Boutique | Ocean Views | Family Friendly
Set in a recently renovated 19th-century villa, the Villa Cascais went hard down the boutique route. Sensing a thematic chance to tie the glistening blue ocean outside with the lobby and communal areas, everything in this eleven-bedroom hotel is blue. The bar? Blue. The Ceiling? Blue. Pool table, seats, menus? That's right, blue. Sounds awful, but wow, it works. Talk about blue therapy!
The rooms are stunningly decorated, the terrace spectacular, and the location could not be more central. A great base if you want to mix a city stay with a beach holiday.
---
Check out our Top Things to Do in Sintra
---
Best Hotel for the James Bond Superfans
---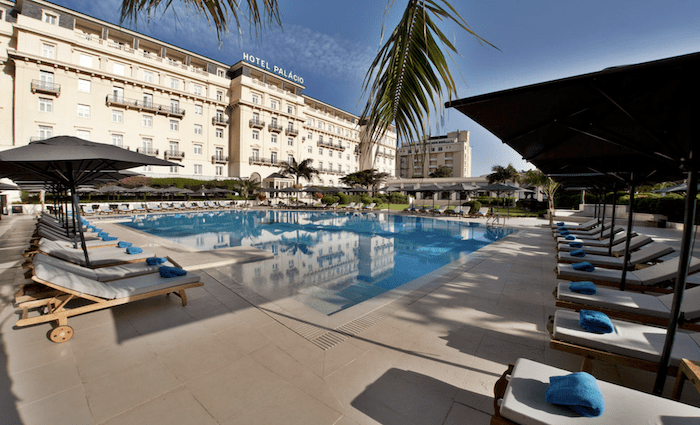 ---
5-Star | Old World Vibes | Historic
Opened in 1930, the Palácio Estoril is one of Cascais/Estoril's great historic hotels. Located next to Estoril's famous casino, a train link directly to Lisbon on its doorstep, the Palácio enjoyed its glory days while the rest of Europe plunged into darkness.

Palácio Estoril was home to exiled monarchs, film stars, and a whole host of Allied and Axis spies. Most famously, Ian Fleming spent time stationed here during the war, and it is here that he draw inspiration for many of the characters we see in his novels. In particular, James Bond.

Bond is so synonymous with the hotel that the sixth installment of Bond. 'On Her Majesties Secret Service' was filmed here. In fact, the young bellboy who hands Bond his keys is José Diogo, today, head of the concierge desk.
---
Thinking about Cascais for a day trip? Check out our Where to Stay in Lisbon instead.
---
Where is Cascais, and How Do I Get There?

---
Arriving by Air: The nearest international airport is the Humberto Delgado airport in Lisbon, located around 30km from Cascais. From the airport, you have numerous options, train, car, taxi, or Uber.

By Train: There is no direct train to Cascais from Lisbon airport, you will need to take the metro, and then the regional train from Cais do Sodre. The whole journey will cost around €6 per person.

By Car: Renting a car is a good option for Cascais as there are plenty of municipal car parks around the outside of the historic town. Perfect if you plan on exploring the greater region at your own pace.

By Taxi: You can jump a taxi right outside the arrivals, but I don't suggest it. As the taxi is taking you out of Lisbon, they can add a surcharge and an additional surcharge per bag. Depending on traffic and time of day, a taxi will likely cost between €50 and €80.

By Uber: Uber is a solid option for getting to Cascais it should cost between €20 and €35, depending on surcharges. Uber has become such a popular option out of Lisbon airport that they have been given their own pickup spot in Lisbon airport, separate from the taxi stand, just follow the signs as you come out of arrivals, and you will meet your driver easily.
---
What to See in Sintra and the Surrounding Area
---
Best Restaurants in Sintra
---