Capri is one of the world's most exclusive destinations which can make you wonder if anyone, including you, can afford it. The good news is that almost anyone can afford a visit to Capri but you may have to spend less in some areas, like hotels, so you can afford other areas like sea-side meals.
---
Is Capri too Expensive for you?
The answer ultimately must be answered by you, but we will do our best to map out some potential costs so you can make a great decision. In the end, Capri is expensive but there are ways to save money, accommodation, for example, so you can spend money doing memorable things such as visiting the blue grotto or dining over water.
In this article we will cover the following things:
Cost to get to and from Capri
Hotel & Accommodation Expenses
Food & Beverage Expenses
Activities Expenses
Cost of Getting to Capri
This is a pretty easy one and can be surprisingly inexpensive for a remote destination. For example, if you are already in Naples, you can expect to pay between 30€ and 50€ round trip for the ferry to Capri.
If you are coming down from Rome, which is home to Italy's largest airport (Rome Fiumicino FCO), you should plan to pay at least 50€ round trip for the fast train from Rome to Naples and another 20€ for a taxi from the train station to the port of Naples where the ferry leaves.
Potential Costs:
Ferry – 50€
Train to Naples – 50€
Taxi from Naples Train Station to Port – 20€
Total: 120€ round trip
Check out our article on getting to Capri for more detailed information.
Popular Tours of Pompeii and Capri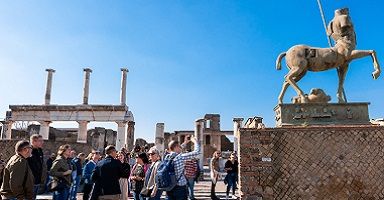 Best Selling Tour
Unforgettable Rome Day Trip to Pompeii and Sorrento
Join us on an adventure from Rome to Pompeii and stunning Sorrento with comfortable, round-trip transportation. Skip the line access with an expert guide and make the most of your time in Italy and leave all the details to us. All you have to do is enjoy yourself!





See Prices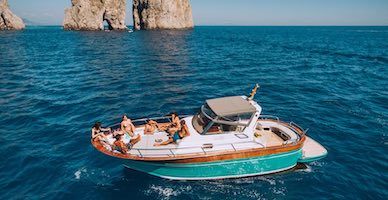 Amazing Experience
Capri Full Day Tour from Sorrento by Luxury Boat
A day in Capri can't be missed, so we make it easy! You'll sail in to azure blue waters for a swim before seeing the famous grottos of Capri. Then enjoy an afternoon eating, shopping, and exploring the island of Capri before returning to Sorrento.





See Prices
Hotel & Accommodation Expenses
A major challenge with traveling to Italy and many other seasonal destinations is that prices can vary by season. Those prices tend to be highest when the weather is at its best and your kids are out of school which is not a coincidence.
I checked prices on these three hotels for April, July, September and October. Below you can find nightly rates for hotels of different calibers.
June and July prices are comparable to August and September prices. You can compare the above charts with average air & sea temperatures during the periods.
| | | |
| --- | --- | --- |
| Period | High/Low Air Temp | Sea Temp |
| April | 69/56 F or 20/13 C | 60F or 16 C |
| June | 84/70 F or 29/21 C | 73.5F or 23 C |
| August | 90/75 F or 32/24 C | 78.8 F or 26 C |
| September | 83/69 F or 28/21 C | 77 F or 25 C |
| October | 75/63F or 24/17 C | 71.6 F or 22 C |
The sea temperatures are relatively high all year around but you won't see many Italians near the water in April. That said, traveling to Capri in late September or very early October can get you good value for the money you spend. Also, smaller crowds.
What should you expect to pay?
At least 120€ per night for reasonable accommodation to as much as you really want to pay. Staying at Ceasar Agustus or Jumeirah could cost more than a new car which is up to each traveler to decide. If you do want to book a B&B or lower rate, it will pay to reserve far in advance. As inventory books up prices go up.
Food & Beverage Expenses
The primary cuisine in Capri is seafood which is no different than Naples or the Amalfi Coast. While you can definitely find places to eat inexpensively in Capri, I recommend taking full advantage of their plentiful waters and eat as much fresh seafood as possible.
In Italy, it is customary to have two to three courses for lunch and 3 to 4 courses for dinner. Therefore, the fact that Capri is an island makes everything more expensive. That, coupled with it most dishes being seafood makes meals a bit more expensive than in mainland Italy.
Furthermore, plan on spending 20€ – 35€ per adult at lunch and 40€ – unlimited at dinner. Breakfast is a coffee and pastry which should only set you back a few euros if you get it standing up.
Tuck in another 5€ to 20€ on refreshments per day which could definitely go higher if you start drinking wine at lunch! Cold white wine goes down quick on a hot day in Capri!
All in, plan to spend at least 75€ per day per adult.
Check out the Best Restaurants in Capri for Every Budget.
Activities' Expenses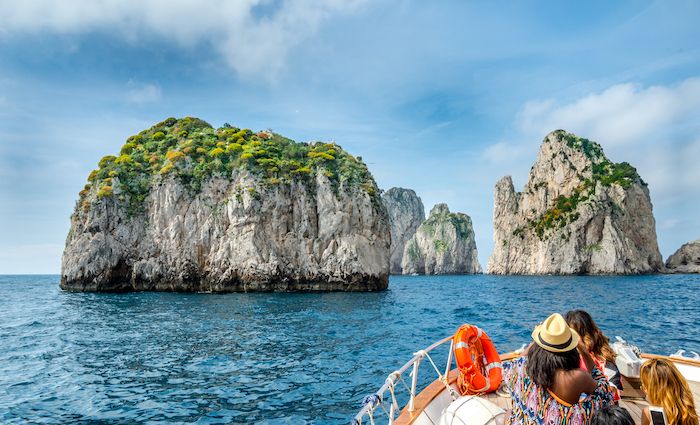 Other than walking around and beach-going, there are two main activities in Capri. You can charter a boat for the day to take you around which will undoubtedly lead to the different grottos of Capri and visit Villa Jovis.
Villa Jovis
Villa Jovis was built by Emperor Tiberius who was a bit of a recluse. He was a Roman Emperor but spent most of his time ruling from Capri and was known for throwing servants and un-welcomed guests off of a cliff nick-named Hadrian's Leap. The servants didn't have to do much of anything to meet this fate and the guests would start off welcomed until they were un-welcomed.
Cost of Admission: 4€
Boat Charters & Blue Grotto
Capri is famous for its blue grotto which is one of the most beautiful natural water phenomena on Earth. If you rent a charter you can get to the blue grotto but you have to hire another smaller boat to get in the grotto. The opening is very small and access depends on how the waters are behaving that day.
For example, chartering a boat around Capri is a great idea. There are no-frills group charters for 50€+ and high-end boats for much higher prices. You should consider putting aside 100€ – 150€ per person for a nice trip on a boat. It is a cool island to see from the water and there is cool snorkeling around.
However, if you are traveling with other couples, consider a private charter. For a few hundred euro extra you can have a truly memorable experience.
Charter Costs: 50€ – 150€+
Blue Grotto: 14€
So, Is Capri Too Expensive?
Based on the expenses outlined above, you should plan on spending at least 120€ to get to and from Capri, 195€ per day for room and board, and 68€ for activities.
Roundtrip Transport from Rome to Capri: 120€pp
Daily Room and Board: 120€ per room + 75€ per person
Activities: 68€pp
A four night trip to Capri would then cost you minimum 1456€ for a couple staying in modest accommodation.
Consider you may want to spend more for a charter and accommodation and you could easily be at 2000€ for four days. All in all, I would say that is not bad for a super exclusive destination.