Germany's capital city has a complex history and techno-centered nightlife. As you foray from the East Side Gallery to the Brandenburg Gate, or dance all night at Berghain, you're bound to work up an appetite. From international fare to Bavarian classics, here are the best restaurants in Berlin for your next trip.
---
Pro Tip: Planning your trip to Europe? Bookmark this post in your browser so you can easily find it when you're in the city. See our guide to Europe for more planning resources and our top-rated tours in Europe.
The 13 Top Places To Eat Out In Berlin
Berlin is a well-known creative hub, and its culinary creativity shines as one of the most compelling aspects of the city's culture. Nevertheless, between the ubiquitous döner kebab stands and numerous vaguely Asian-fusion eateries, it can still be hard to sift through the mediocre to uncover truly special dining experiences in Germany's Hauptstadt.
Our list contains handpicked recommendations beyond the city center to include restaurants near iconic locations throughout the city like Tempelhofer Feld, the East Side Gallery, and the Landwehr Canal. So, take it from this local, and visit the best tried-and-tested restaurants in Berlin.
Peter Schlemihl
€ | German | Neighborhood Vibe | Reservation Recommended | Bergmannkiez
Although Berlin is really known for its international cuisine, we highly recommend trying some German classics. Look no further than Peter Schlemihl in Kreuzberg's beloved Bergmannkiez. It's definitely one of the best restaurants in Berlin for German food.
The chefs manage to bring this beige cuisine to life as even the simple dishes are truly outstanding, drawing in droves of locals for a lively atmosphere. This place stands out for its cheesy Spätzle dishes, topped with fried onions or accented with chèvre.
That said, I'd also recommend the Himmel und Erde (Heaven and Earth) consisting of black pudding, mashed potatoes, and apple puree. Anything you get here also goes down well with an ice-cold Augustiner beer.
Address: Willibald-Alexis-Straße 25
Café Pilz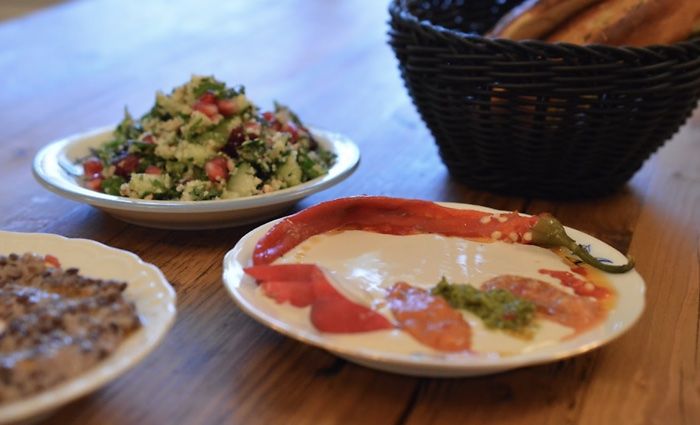 € | Mediterranean | Vegan/Vegetarian Friendly | Local Haunt | Near Tempelhofer Feld
For lighter fare than black pudding and spätzle, head to a current neighborhood favorite, Café Pilz. They specialize in vegan/vegetarian-friendly Levantine dishes like tahini drizzled with shug, whole roasted aubergine, and labneh.
The food here is cheap, so you're encouraged to order several dishes to share between friends. They also have excellent wine, and we enjoyed a bottle of their chilled house white on a particularly balmy summer evening before walking over to Tempelhofer Feld to watch the sunset—a quintessential Berlin evening!
Address: Weisestraße 58
Street Food Thursday at Markthalle 9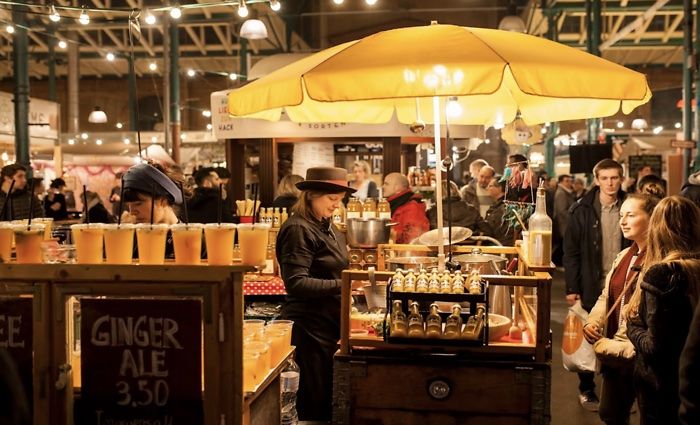 €€ | Top Attraction | International Cuisine | In the Heart of Kreuzberg
If you're on a time crunch and only have a few meals scheduled into your itinerary, Street Food Thursday at Markthalle 9 is a must. Markthalle 9 is a recovered market hall just a short walk from the East Side Gallery. Every Thursday you can try a whole swathe of Berlin's international food offers all under one roof.
From Mexican to Thai and Vietnamese, it's a great place to catch the foodie Zeitgeist. The offers are continually changing, but my current favorite is to grab a sandwich from Big Stuff Smoked BBQ—whatever they recommend that day—and then wash it down with an IPA from Heidenpeters Brewery.
Address: Eisenbahnstraße 42/43
Dashi Diner
€€ | Near the Reichstag District | Lunch Spot | Unique Eats
Dashi Diner is easily one of the most original and exciting eateries in Berlin right now. Their menu can't really be pigeonholed into a single genre of cuisine, but it takes much influence from Hong Kong-style brunches, China's Sichuan region, and Japan.
The menu is filled with interesting dishes like my personal favorite, the thyme-infused chicken katsu sandwich with carrot slaw. I have also had my eye on the coca-cola braised pork belly served with a side of kimchi vegetables.
If you want to mark the occasion, finish your meal with an aesthetic melon granita topped with a maraschino cherry—it's on the house if it's your birthday! This is a great pit stop for lunch and a short train ride away from the historic Reichstag District.
Address: Invalidenstraße 112
Osmans Töchter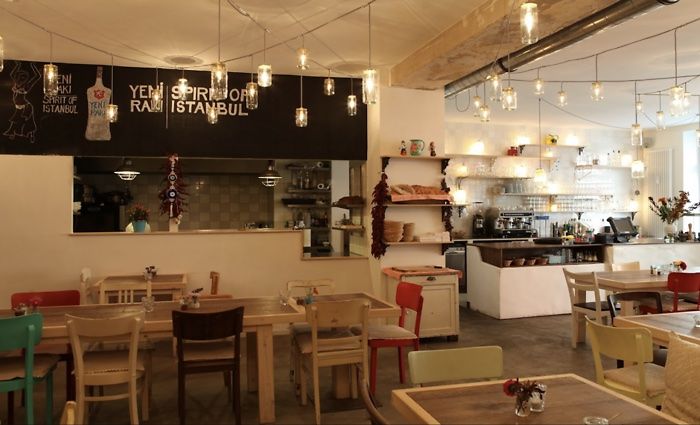 €€ | Turkish Cuisine | Plates To Share | Near Mauerpark
From the döner kebabs to pop-ups selling stuffed Medye mussels, Turkish food culture has a serious presence in Berlin. For a homey vibe, I'd definitely recommend Osmans Töchter (Osman's daughter), which offers a friendly and eclectic atmosphere.
I went with a friend and we shared hummus, a Turkish-style ceviche appetizer seasoned with sumac, and the roasted lamb special. Sometimes it's the simple things, however, that really stand out. In this case, Osmans Tochter's Turkish flatbread is a real star. It comes slightly crispy and with toasted cumin seeds.
Address: Pappelallee 15
3 Schwestern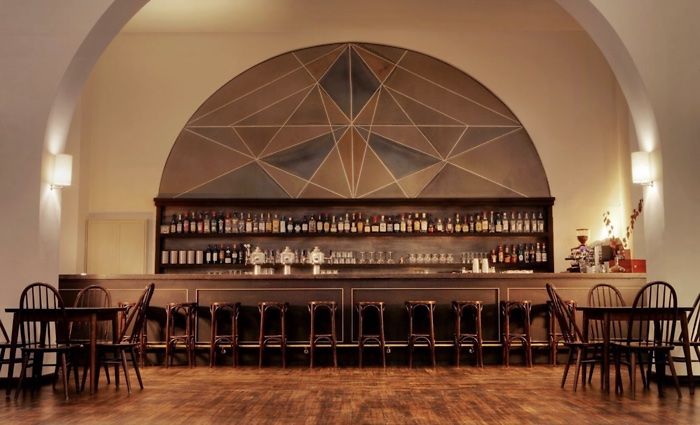 €€ | Traditional German Dishes | Architectural Gem | In Kreuzberg
3 Schwestern (3 sisters), is located in the refurbished Kunstraum Bethanien complex. The space itself is a welcome reprieve from the bustling and sometimes downright chaotic Kottbusser Tor nearby.
The restaurant's interior is striking with its vaulted ceilings and distinct art-deco design. I typically like to come here for a coffee and strüdel during an off-hour on the weekend after checking out the contemporary art gallery at the Kunstraum. It's best known, however, for its dinner service, which features elevated German cuisine like schnitzel and beef goulash.
Address: Mariannenpl. 2
Brunch at Hotel Adlon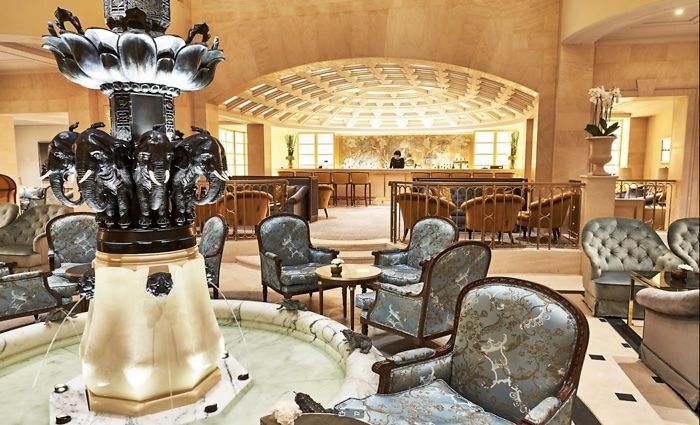 €€€ | Near Brandenburg Gate | Formal Affair | Iconic
Standing at the kitty-corner of the Brandenburg Gate, the lavish Hotel Adlon is the most expensive place to stay in Berlin. If it's out of your price range, you can still enjoy the stunning chandelier-clad interiors and culinary decadence by savoring its famous brunch offering. The dazzling array of options available in this gourmet spread makes for a memorable experience.
It ranges from rows of tropical fruit and displays of drizzling honeycombs to dark German breads, flakey croissants, and Pfannekuchen, lox, and omelettes to order. The breakfast here will make you feel like royalty, and will certainly keep you full as you explore all the nearby historic sights on Unter den Linden.
Address: Unter den Linden 77
Burgermeister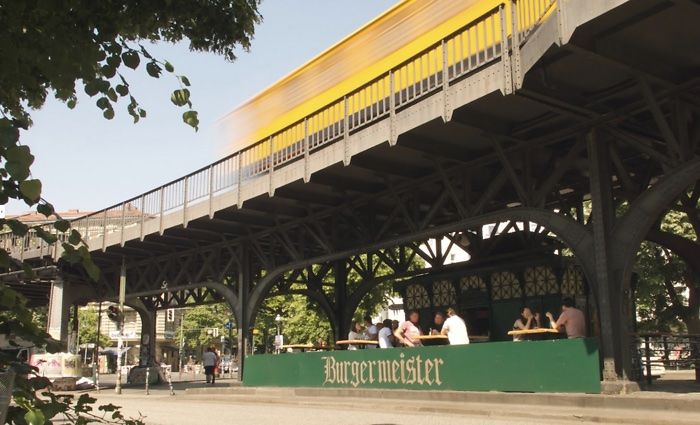 € | Casual | Berlin Staple | Near East Side Gallery | Open Late
Berlin is known for its no-frills, straight-to-the-point attitude. Nothing encapsulates this better than our beloved Burgermeister. This burger stand is a common pitstop for late-night revelers returning home after dancing the night away.
For the full experience, you must go to the original at Schlesisches Tor. This location is housed in what used to be a public bathroom directly underneath the U-bahn train tracks. You'll be right in the thick of the action in one of Berlin's most lively and eclectic Kreuzberg neighborhoods.
Pro tip: these burgers are incredibly juicy, so either nosh with caution, or grab some extra napkins.
Address: U1 Schlesisches Tor, Oberbaumstraße 8
Gazzo Pizza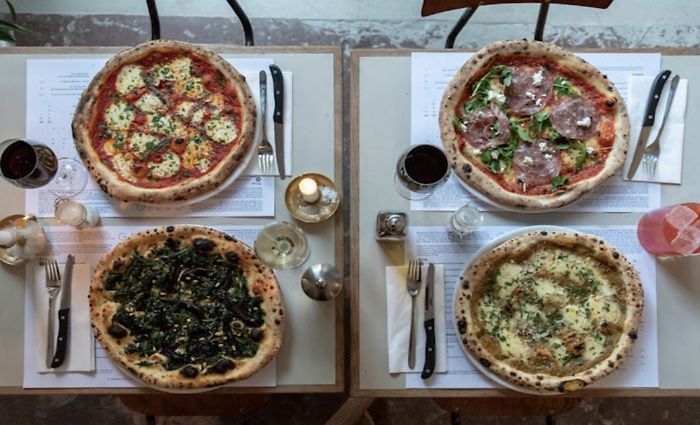 €€ | Pizza | Creative Menu | Farm To Table | Hip Surroundings
Demarcated by the neon glow of its street sign against white brick, the chic Gazzo Pizza in the Reuterkiez is one of the best restaurants in Berlin right now. Gazzo has partnered closely with farms in the surrounding region of Brandenburg to produce the finest ingredients.
Accordingly, they source fresh buffalo mozzarella and even have buffalo soft serve ice cream drizzled with olive oil—which is truly not to be missed! As a result of this attention to local ingredients, you'll find creative pizzas topped with seasonal variations like the autumnal white pizza with butternut squash and sausage. I honestly think about that one all year round!
Definitely pair your pie with an effervescent glass of natural wine, which is currently all the rage around the city. 
Address: Hobrechtstraße 57
Café Datscha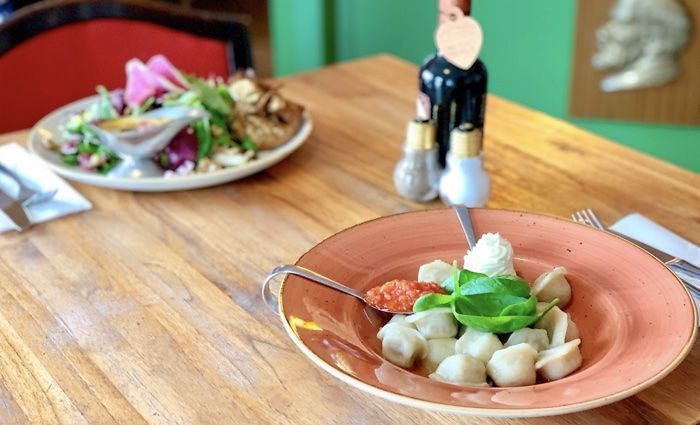 €€ | Russian Dishes | Nod To GDR Ostalgie | Berlin Classic | In Former East Berlin
No Berlin food guide would be complete without acknowledging its eastern half. Café Datscha offers a great spot to immerse yourself in the old GDR. For example, it's decorated with old family photos, kitschy knickknacks, and retro wallpaper, giving you the feeling of sitting in the living room of someone's East Berlin apartment.
Although they've made a bid to serve more health-food-style menu items like poke bowls and smoothies, I'd still recommend sticking to the classics. Try Eastern European specialties like pelmeni dumplings, borscht, and blinis. Moreover, my favorite dish in the wintertime is the rib-sticking stroganoff balanced with tart and crisp pickled veggies. 
Address: Gabriel-Max-Straße 1
La Maison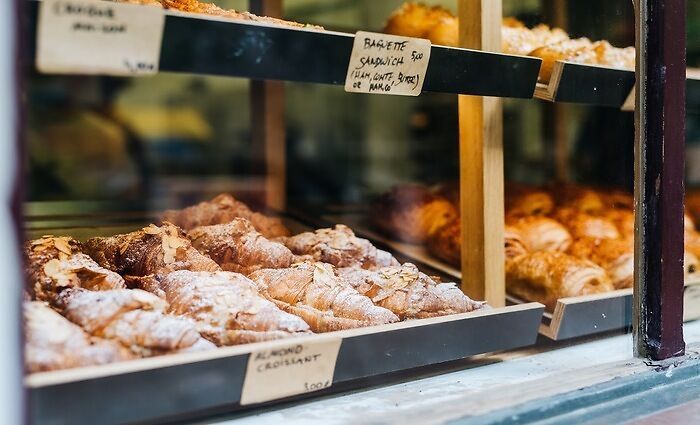 € | Sweet Treats | Easy Lunch Stop | Located on the Landwehr Canal | French
La Maison is a French boulangerie perched on the Landwehr Canal, which makes it a perfect spot for a snack or light lunch during the warmer months. For example, they serve simple sandwiches, quiche, and homemade soups as well as pastries like almond croissants and madeleines.
My personal favorite is the chocolate-covered caramel tart with a shortbread crust, best consumed alongside a frothy cappuccino. Although it gets pretty crowded in the summertime and on weekends, I've always managed to find a spot in the extensive outdoor seating.
Afterwards, I'd recommend wandering Görlitzer Park for a taste of local life. Extra euro points if you leave with a fresh baguette poking out of your bag!
Address: Paul-Lincke-Ufer 17
Gingi's Izakaya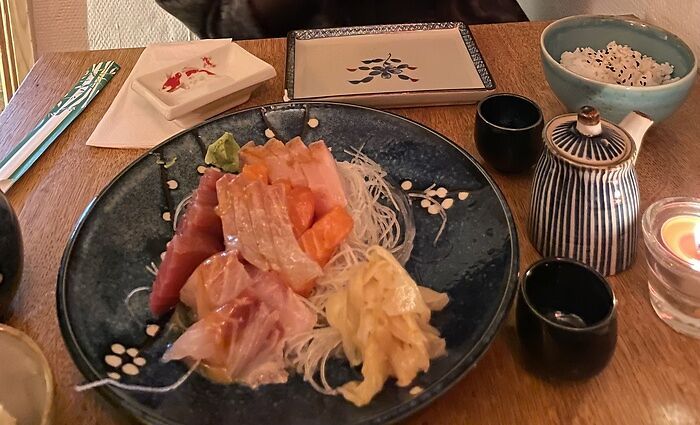 €€€ | Excellent Sushi | Friendly Owner | Made With Love | Top Pick
As soon as you walk into this small sake and sushi bar, you get the sense that Gingi—the Turkish owner who spent several years in Japan learning his craft—has put his whole heart and soul into this place. Clad in personal mementos like postcards and a Japanese parasol lampshade, he sources his sashimi fresh daily from Hamburg and makes everything himself.
When he's not bantering with his quirky right hand—a petit and endearingly forgetful old Japanese waitress—he's often chatting away with guests and sharing stories about life in the restaurant business. I like to come here for a romantic date night to share the set tapas menu, but the sashimi plate alone is worth it, as it's the best I've ever had anywhere in the world.
Address: Rykestraße 45
SOFI
€€ | Artisanal Bakery | Nordic Design | Near Museum Island
If you're interested in exploring Berlin's Innenstadt, SOFI is a great place to start your day. This cozy bakery specializes in artisanal sourdough breads and Nordic pastries like sugared cardamom buns and the occasional semla.
For the later risers, they also have a rotating lunch menu of soups and sandwiches, as well as excellent olive-studded focaccia. SOFI is also located in a beautiful ivy-covered courtyard, so you can sit and enjoy your treats or grab something to go.
It's a perfect pitstop for daytime exploring, and a 15-minute walk to both the Fernsehturm in Alexanderplatz and Museum Island. On your way to the latter, I recommend taking a small detour to pass by Monbijou Park, which overlooks the iconic Bode Museum.
Address: Sophienstraße 21