Croatia is well known for its beautiful coast and clear blue sea. But still, along the Adriatic, you can find many different beaches. When you have such a wide choice, sometimes it's hard to decide just where to go. So we are here to give you the list of the best beaches in Croatia.
---
Pro Tip: Bookmarks can really help you to organize a great trip. So why not create a "Croatia" folder in your browser and bookmark this post there along with other articles we publish about this country. That way, you'll have quick access to all the information you need for a great trip.
12 Top Beaches In Croatia
Croatia is a beautiful country and a great tourist destination. It's perfect for a vacation any time of the year. But if you're here, it means that you're thinking about a summer getaway trip. And who could blame you? The full beauty of Croatia is best enjoyed during the summer.
But that leaves you with the question of where to go and where to take a swim. With a coast as long as Croatia's, the choices are many. But whether you're looking for peace and quiet or a party, we have the perfect beaches for you!
12. Puntamika, Zadar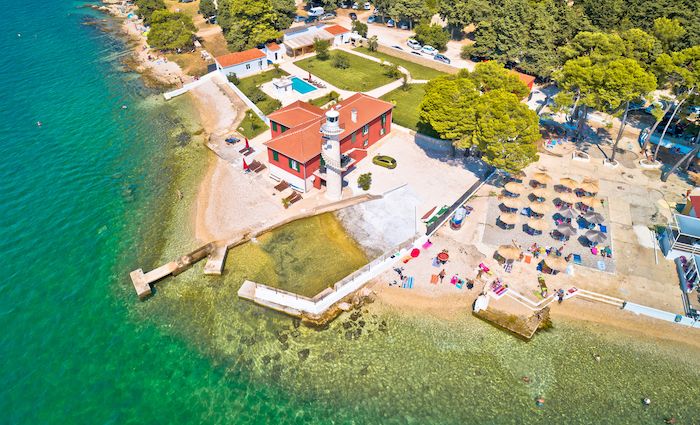 Zadar | Stone | Peaceful
Zadar has a world-famous sunset, but it offers nice beaches too. Among the best ones is Puntamika. It's a pebble beach and it is a great choice if you're looking for something more peaceful and quiet. There is also a café, so if you get thirsty or hungry, you don't have to go all the way back to your hotel.
Here, you can enjoy the beautiful view of "Lanterna" lighthouse. Besides that, you can also see the Zadar peninsula and the Ugljan island. The beach is four kilometers from the peninsula so you can take a taxi or rent a bike if you want to go there.
Address: 23000, Zadar
11. Copacabana, Dubrovnik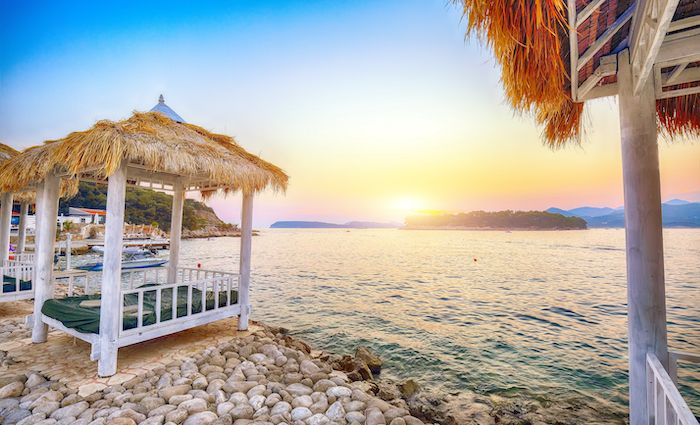 Zadar | Stone | Paid Activities
Copacabana is one of the most popular beaches in Dubrovnik, and it also shares its name with the world famous beach in Rio de Janeiro. It's a great choice for both families and younger people looking for activities on the beach. For example, you can rent a jet ski there. But you will find a few more options too.
Besides that, there is a water park perfect for children. You will also find an abundance of restaurants to go grab a quick bite. To reach the beach, you can take your car since there is a road leading right to it. But if you come too close, finding a parking place may become the number one problem for you.
Address: 20000, Dubrovnik
Looking for cool things to do in Dubrovnik? Check out these activities that will make your trip more memorable!
10. Angiolina, Opatija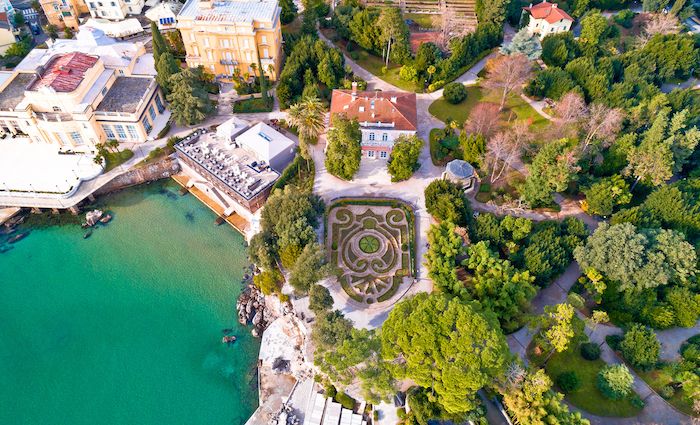 Opatija | Café | Night Club
Now, this beach is something special. First of all, it is located in the city of Opatija. For those of you that don't know already, that's the place where some of the European royalty used to come for vacation. No wonder it still has that retro look.
There, right next to the sea, you will find everything you need and many things you would not expect. In the complex built around the beach, there is a café and a night club. But there is also a barber shop and a tattoo studio! And last, but not least, a pop up store.
Address: Zertul. 8, 51410, Opatija
9. Havajsko, Pula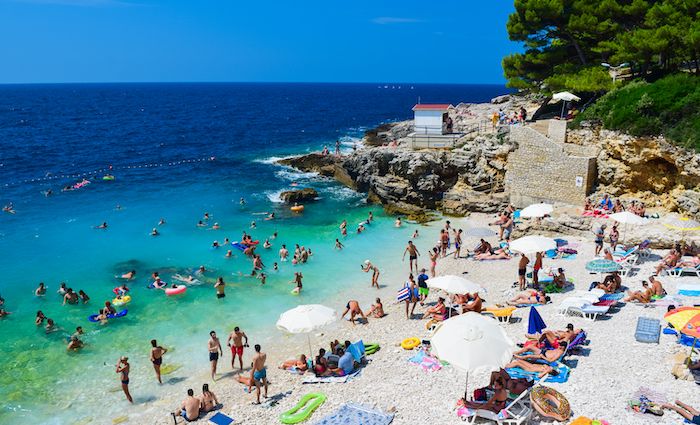 Pula – Verudela | Cliff Jumping
Havajsko is located near the tourist resort Verudela, close to Pula. If the name of this beach sounds familiar to you, it's for a reason. Its name "Havajsko" or "Havajska plaža" comes from the name Hawaii. It is unclear why exactly it got this name. But some think it's because of the high waves that form here and remind people of Hawaii.
If you enjoy sea jumping, or rather, cliff jumping, you just might like Havajsko. People usually climb the surrounding cliffs and use them exactly for that. But if you're a beginner at this, don't go for the highest cliff. Practice makes perfect so take it step by step.
Address: 52100, Pula
8. Rajska plaža, Rab Island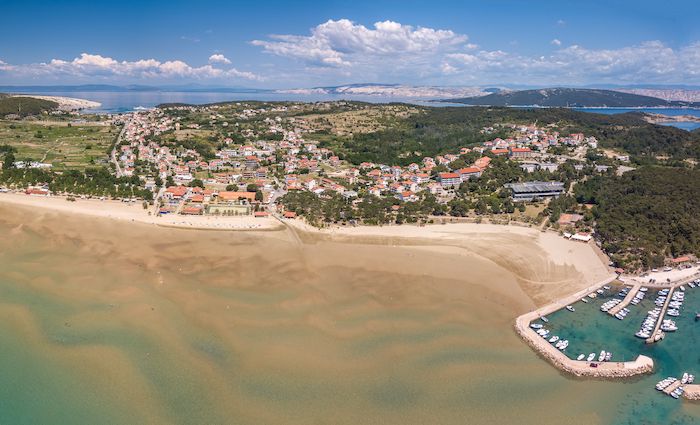 Lopar | Sand | Aqua Park | Sports Activities
Another island, another beautiful beach. Its name says enough about it. "Rajska plaža" means Heavenly Beach. It must be good then, right? It is located in Lopar on the Rab island and is around 15 kilometers long. Near the beach, there is a small island that you can swim to.
Around this sand beach, you will find a lot of additional activities. There are sport courts, cycling paths, aqua parks as well as restaurants and bars. In other words, anything you need, you will find it on this heavenly beach.
Address: San Marino, 51281, Rab
7. Bačvice, Split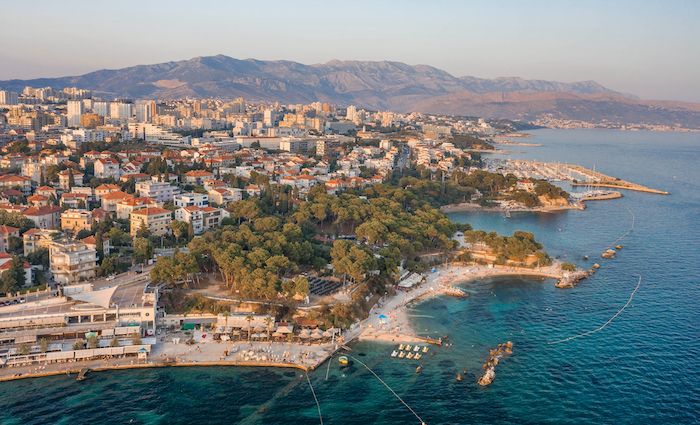 Split | Bars | Great For Children
This is one of the most famous beaches in Croatia. Trust me, everyone has heard of Bačvice! The reasons for that are many, and there was even a song about it! It is located in Split and has a view of the city harbor. It is very popular both among the locals and the tourists.
Very close to this sand beach, you will find a good gastronomic offering. Besides that, there are many activities, but one stands out. It's playing the game "picigin". It's played with a small ball and the goal is to not let it get into the water. For this, you can kick it with any part of your body. The sea at Bačvice is relatively shallow so it's very popular with picigin players. But because of that, it's also a great choice for parents with younger children.
Address: 21000, Split
6. Banje, Dubrovnik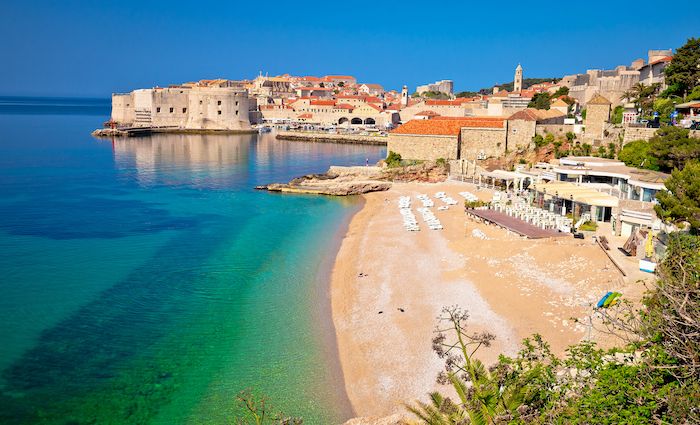 Dubrovnik | Beach Club | Great For Children | Paid Activities
Banje is a very popular beach in Dubrovnik. It has a gorgeous view of the Old Town. But not only that, you can also see Lokrum island from there. So if you're visiting Dubrovnik, one of the top things to do there, is to take a swim at this beach.
There, you will also find a beachfront club. So if you're looking for a nighttime adventure on the beach, this is it. Besides that, during the day, there are also some activities that you can enjoy, like parasailing or renting a boat. But there are many other activities that you will have to discover for yourself.
Address: 20000, Dubrovnik
Looking for cool things to do in Dubrovnik? Check out these activities that will make your trip more memorable!
5. Ušće, Neretva Valley
Opuzen – Ploče | Kitesurfing | Beach Bars | Great For Children
This is actually not one beach, but two. They are both located on the mouth of the river Neretva and are divided by two neighboring cities. So, this listing should have been called "Opuzensko Ušće and Kominsko Ušće", because that's what the locals call these beaches. And for the past few years, they have been going through a renaissance.
They were discovered by kite surfing enthusiasts who even opened a kite surfing school on Ušće. There are also a few beach bars and during the summer, there are often parties on Kominsko Ušće. If you're wondering how good these parties are, I'll just tell you that in 2020, Ušće was voted the best party destination in Croatia by the readers of one clubbing web portal.
Address: 20343, Komin & 20355, Opuzen
4. Prapratno, Pelješac Peninsula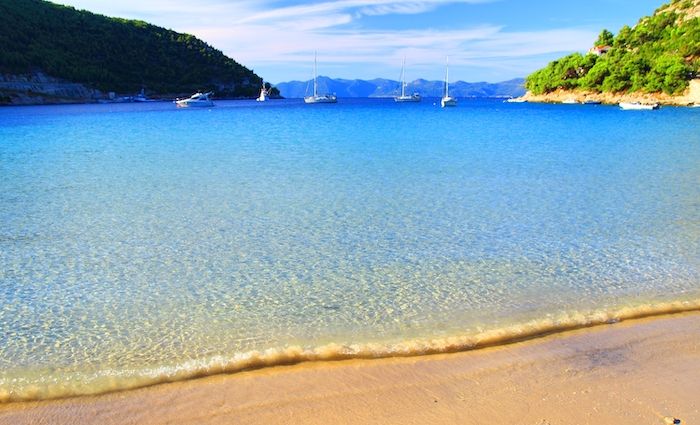 Ston – Prapratno | Sand | Great For Children | Natural Shade
The Beach Prapratno is located on the Pelješac peninsula, not that far away from the city of Ston. Yes, the world-famous Ston has some of the best oysters that you will ever try. The beach and the peninsula itself are easily accessible. You can go by ferry or by car. And now that the Pelješac Bridge is almost finished, you won't have to cross the border between Croatia and Bosnia and Herzegovina to get there.
This sandy bay is great for kids since the sea here is very shallow. The trees surrounding the bay make finding shade an easy job. Because let's face it, you don't want to sunbathe the whole time you're there. So hop in your car or on a ferry and explore Pelješac and Prapratno!
Address: 20230, Prapratno
3. Pasjača, Konavle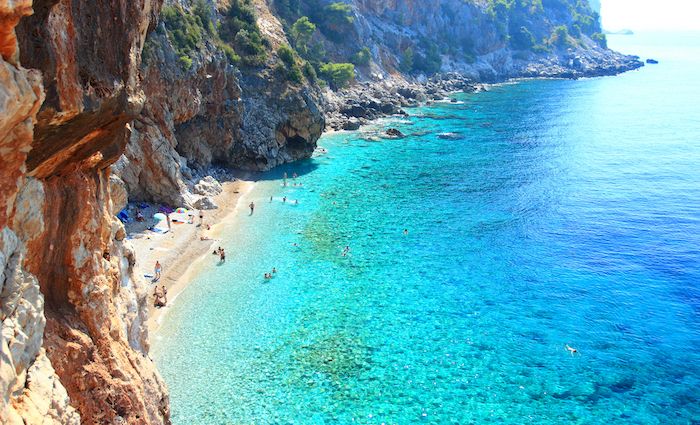 Konavle | Stone | Secluded
If you want to have a little adventure while going to the beach, I would recommend Pasjača. This gorgeous beach is located right next to steep cliffs. So, you can reach it only by walking down the said cliff. There are, of course, stairs, but they are also steep and cut into the rock! While you're on them, you could take a picture that will make all of your Instagram followers jealous.
Since the rock above the beach is 250 meters high, this may be a place for adventurers. After all, you do have to climb it up and down if you want to take a swim and then go back home. Pasjača is located in Konavle and is around 40 minutes away from Dubrovnik. Thus, it may be perfect for those staying in Dubrovnik and looking for something different.
Address: 20215, Popovići
Looking for cool things to do in Dubrovnik? Check out these activities that will make your trip more memorable!
2. Stiniva, Vis Island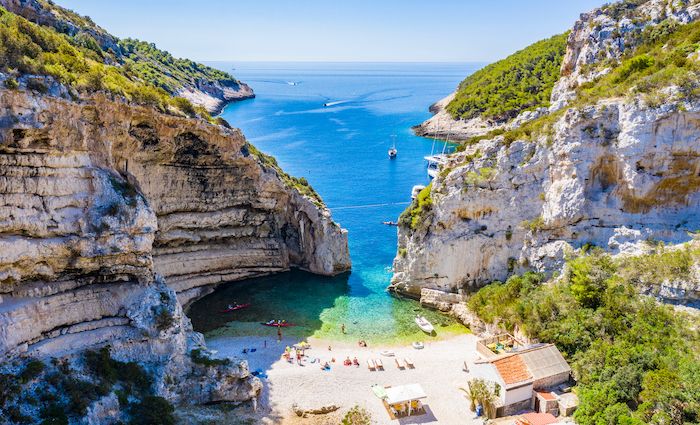 Vis | Stone | Secluded
Croatia is well known for its beautiful coast. And that coast is full of pearls – islands! One of those beautiful islands is definitely Vis. It is a part of the Split Archipelago which holds some of the most beautiful Croatian islands.
The island Vis is the home to one of the most secluded beaches – Stiniva. It is hidden from the rest of the world by cliffs that surround it. But that also means it's not that easy to get to it. You'll have to go hiking through narrow roads and over steep cliffs. Or maybe take the easy way and rent a boat taxi! It's one of the only boats small enough to go through the passage that is only a few meters wide.
Address: 21480, Marinje Zemlje
1. Zlatni rat, Brač Island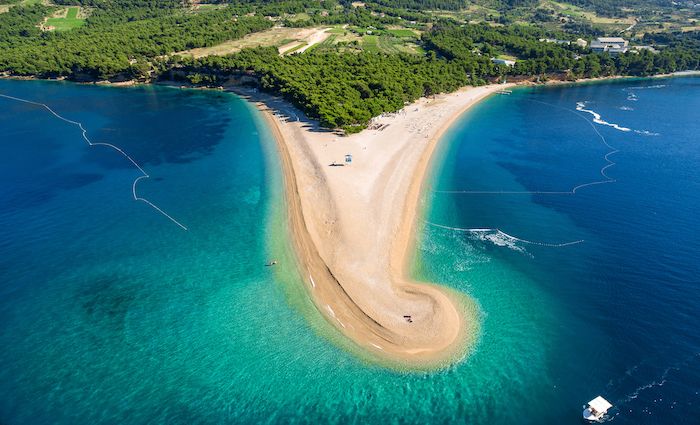 Bol | Bars | Restaurants | Free & Paid Activities
If we're talking about panoramic views, this could be the most beautiful beach in Croatia. It has a unique shape that actually constantly changes. The shape of the tip is under the constant influence of the sea and waves and that's why the beach often looks different in photos. But an interesting fact about it is that it is constantly becoming larger and longer. This is also the effect of the sea currents.
Zlatni rat is located on the island Brač, near the city Bol. The beach is two kilometers away from the city center. Also, the promenade to the beach is paved. But you don't have to walk there – why not take a boat ride? Brač is very close to Split so if you're staying there, you could take a ferry from Split to visit the island.
Address: Put Zlatnog Rata, 21420, Bol
Looking for cool things to do in Split? Check out these activities that will make your trip more memorable!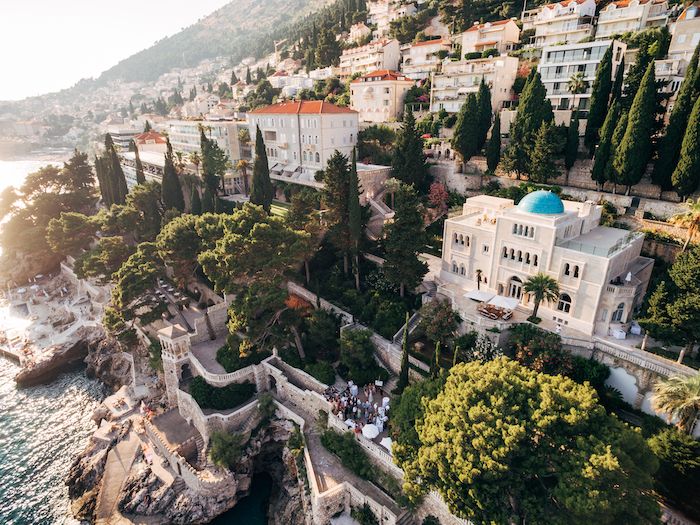 Find the best places to stay
Where to Stay in Dubrovnik
A great hotel at a great price has become the norm in this internet era. Our article explains what areas are the best in Dubrovnik so you can get a great deal on the perfect location!