If you've never been to Oslo, you might be wondering what on earth there is to do here. The answer is: lots! This list will highlight different areas of the city and activities for all kinds of travelers to get to know Oslo, Norway. Keep reading to learn all the best things to do in Oslo throughout the year.
---
16 Fun Things to Do and See in Oslo
Oslo is an incredibly eclectic city with something for everyone. A lot of people miss out by only going in the summer, but the truth is that city is charming any time of the year. Not to mention, you will get some great deals if you don't mind braving the Norwegian autumn/winter.
With a great mix of culture and nature activities to chose from, we have created a list that combines the best of both worlds! You'll find great areas to explore, key Viking attractions, museums, and much more on this list of cool things to do and see in Oslo.
16. See the Rose Castle Light Up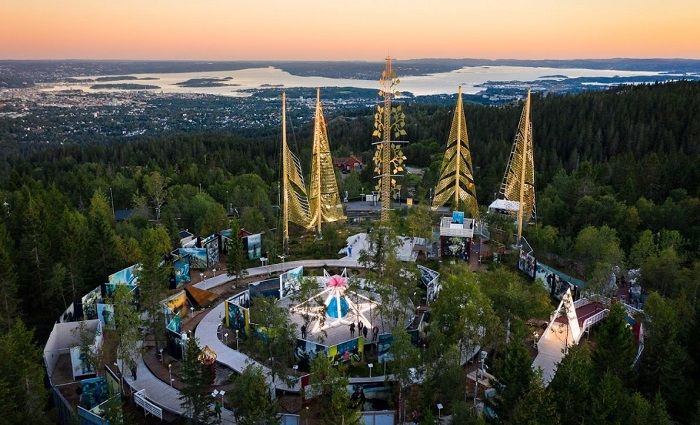 This is an outdoor installation in Holmenkollen (about 20 minutes north of Oslo) which commemorates the attack and liberation of Norway at the end of the Second World War. The Norwegian name is Stiftelsen Roseslottet. I recommend visiting the attraction as late in the day as possible. It lights up and gives an air of elegance and solemnity better appreciated at night.
Please note that you will need to purchase a ticket to see this beautiful memorial.
Address: 0791 Oslo
15. Walk to the Royal Palace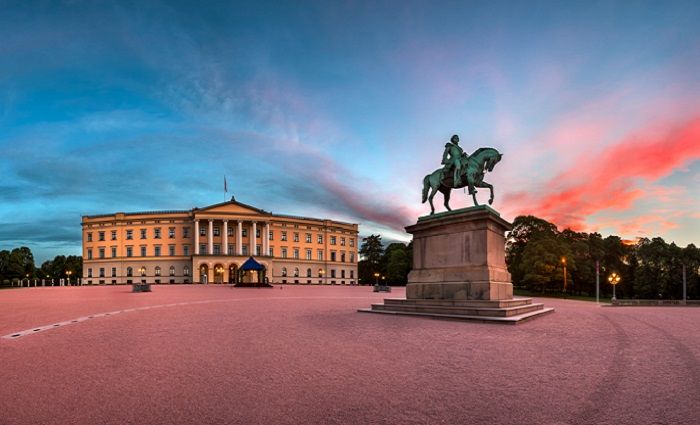 Head over to the west side of Oslo to see this lovely 19th-century royal palace. This is worth seeing even if you do not get to go inside. The luxurious apartments are rather lovely to see.
But if you are pushed for time or budget, the Neoclassical exterior of the palace and a walk around the royal grounds would still be a very enjoyable experience. I found it particularly charming in the snow. It's especially perfect for those who enjoy black and white photography.
Address: Slottsplassen 1, 0010 Oslo
14. Explore the Bjørvika Neighborhood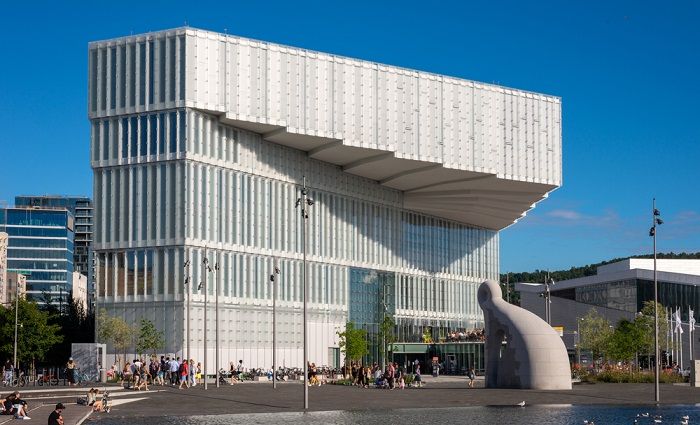 This is the newly redeveloped area of Oslo with some amazing-looking buildings right by the seafront. They are all made of interesting textures which create beautiful views any time of the day.
Moreover, as the majority of them are made of glass, they are the perfect scenery for a late evening or night walk creating a stark contrast with the old heritage of the city centre. This is also your chance to grab a fancy dinner in the many trendy restaurants in the area.
Address: Bjørvika, Oslo
13. Take a Cool Selfie at City Hall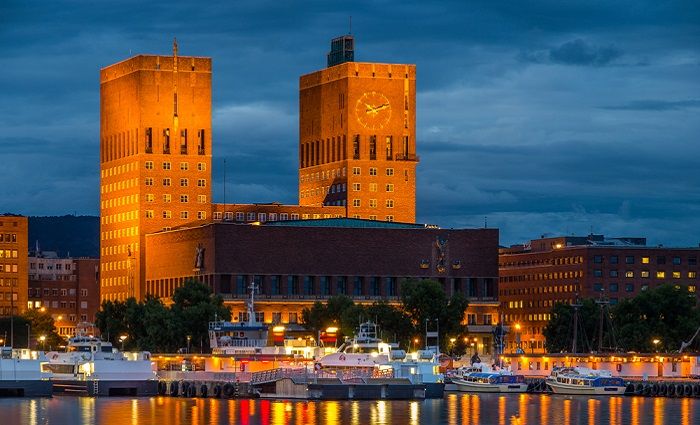 Right in the city center, this building will be one of the first things you see as you approach the seafront in Oslo. City Hall (Rådhus) is where the Nobel Peace Prize ceremony takes place every year, so it is an iconic location. In addition, it is an impressive brick building dating from the early 20th century.
On the outside, you can also see some amazing artwork depicting scenes from Norse mythology. Such a striking building and surroundings make it the perfect spot for selfies, and some nice views of the bay as well.
Address: 0160 Oslo
12. Experience Bygdøy Peninsula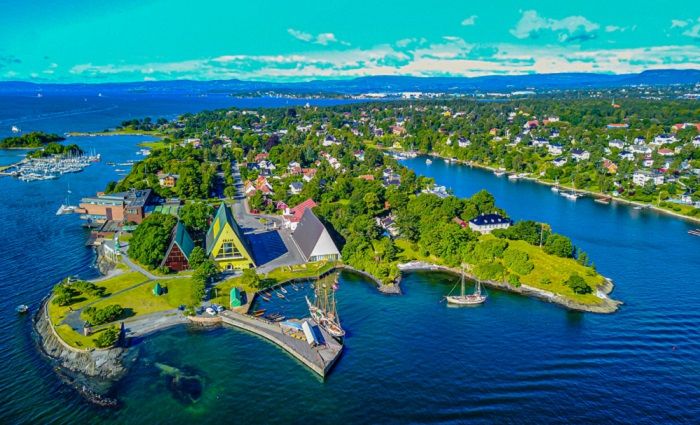 Do you know many cities that have a whole peninsula dedicated to museums? Well, this is Oslo, so if you come here for culture, you'll hit the jackpot! You can get to Bygdøy by tram or ferry as it is very well connected with the city centre and all transport is frequent and fast.
Once you are in Bygdøy, you could spend the whole day visiting museums. There are a total of eight museums as well as the beach and quaint cafés where you should stop for a drink and take in the view. Some of these museums have their own spot on this list, so keep on reading to know more about the Viking Ship Museum, the Fram Museum, and the Norsk Folkemuseum.
Address: 0287 Oslo
11. Embrace Norwegian Culture in an Open-Air Museum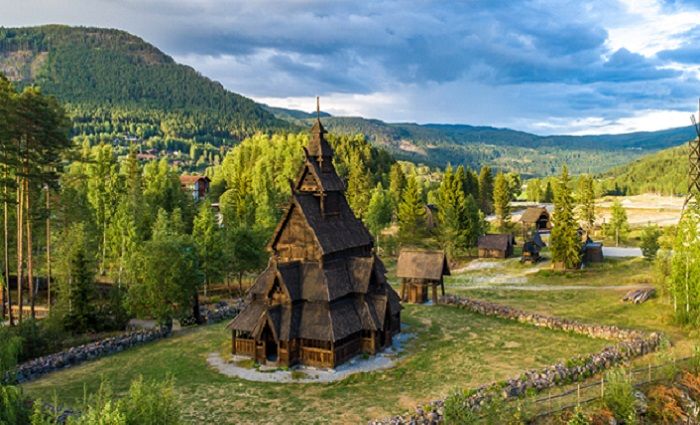 If you've never been to an open-air museum before, this is a great one to introduce you to the concept. The Norwegian Folk Museum (Norsk Folkemuseum) is an open-air space containing relocated historical buildings and reproduction from places all over Norway. You can understand the whole of Norwegian society without leaving Oslo!
I particularly want to highlight the Gol Stave Church. This is an amazing church unlike any other you have seen dating from the same time in medieval Europe. Although, you've probably seen it all over Pinterest and Instagram! Finally, I encourage you to spend some time learning about the Saami people, to whom the museum dedicates a whole section.
Address: Museumsveien 10, 0287 Oslo
10. Eat with Locals in the Trendy Food Court Called Mathallen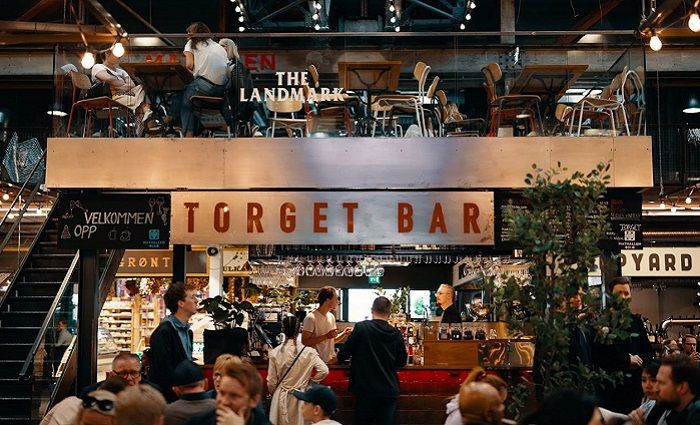 There's one spot you must head to if you're looking for a central place to meet locals, experience the best food, and even find some local products. It's Mathallen Oslo. It's been around for several years and is now the best place to go to try anything you want, including food beyond Norway's borders. Locally made chocolate? Yep! Jams and hand-made sausages? For sure!
Even better, there are pop-up food events that happen often to try new flavors from top chefs here in Oslo. And you might even check to see if you can sign up for a food class while you're here!
Address: Vulkan 5, 0178 Oslo
9. The View at Ekebergparken Park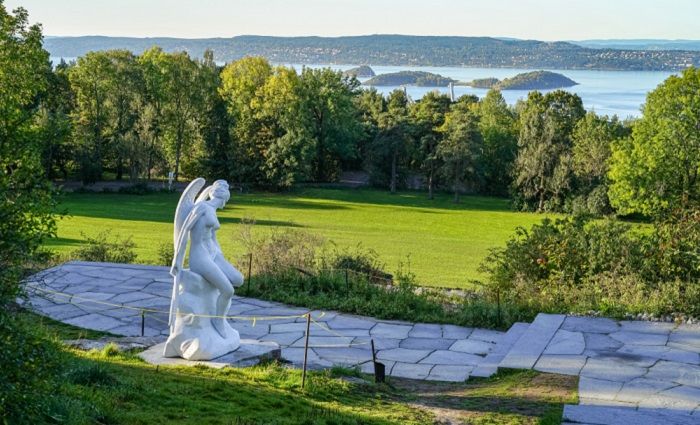 This is a sculpture park and national heritage park just off the city centre of Oslo. So, if you like art and nature, you should definitely have a look around. But the real reason you should come here is to see the panoramic view of Oslo and the fjord from above.
I would really encourage you to come here at sunset because the light makes this area a photographer's playground, and it is beautiful seeing the city light up and the sea with it.
Address: Kongsveien 23, 0193 Oslo
8. The Best Place for Skiing and All Things Winter-Sports Related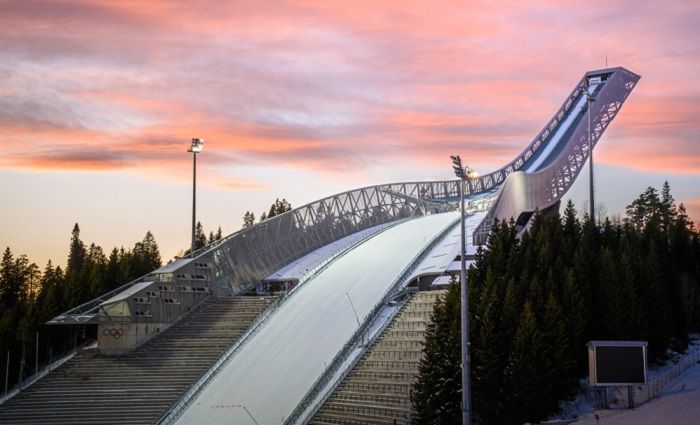 If you are into winter sports, this is the place for you. The building at Holmenkollen National Arena itself is just cool. These installations hosted the winter Olympics in 1952 and still feature in many ski championships regularly.
Moreover, during your visit here, even if you are not planning on practicing skiing, you can still visit the ski museum to learn about its history and the sport. Also, the view from the top of the jump tower is a great place to take in the panoramic views of Oslo and surrounding areas.
Address: Kongeveien 5, 0787 Oslo
7. See "The Scream"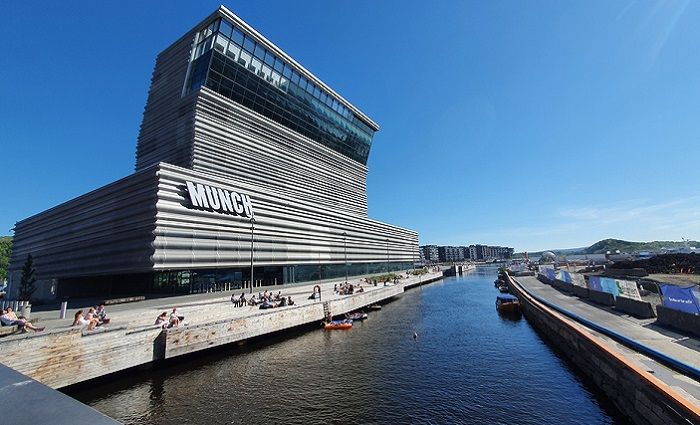 If you like art and you come to Oslo, you need to see the Munch Museum. Moreover, you will be ever so lucky because the new museum opened in 2021, so it's easily one of the newest and top things to do here in Oslo.
The building itself is a piece of defiant architecture, and the content is even more daring. Edvard Munch is arguably one of the most influential artists of the last 200 years. His most famous work "The Scream" is exhibited in this gallery—or rather one of the versions of this painting. The other one is in the National Gallery, which is also in Oslo.
Address: Edvard Munchs Plass 1, 0194 Oslo
6. Learn About the Polar Expeditions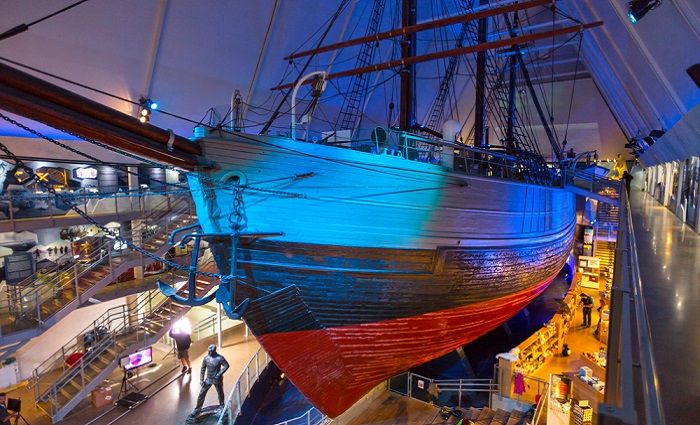 I fell in love unexpectedly with the Fram Museum in Oslo. This exhibition is so well done! So if you like museums, history, or ships, you will love this place too. It is located in the area of Bygdøy, and it tells the story of the polar exploration expeditions carried out by Norway.
Moreover, the topic of this museum is so unique you will not find a cultural experience like this anywhere else. Finally, and despite the historical topic, it is incredibly well adapted for younger visitors and very accessible. Do not miss the display of the northern lights!
Address: Bygdøynesveien 39, 0286 Oslo
5. Visit Akershus Castle and Fortress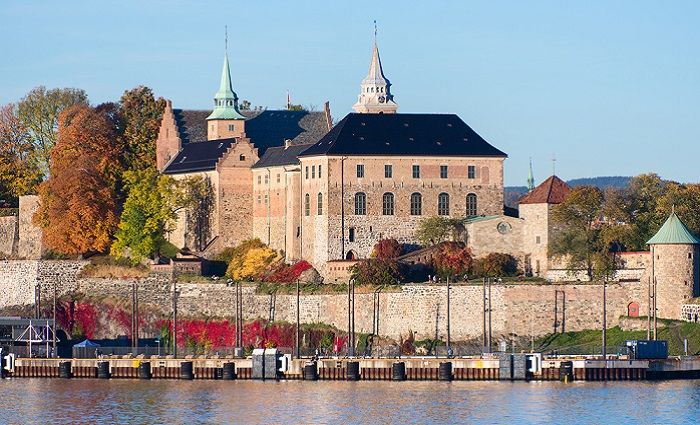 I'm of the personal opinion that any visit to any city is improved by a good castle, but I'm a medievalist, so what did you expect me to say? In any case, Akershus is a great place to visit, and not just because it is an old medieval fortress with amazing views of the Oslo fjord and the seaside of the city.
Besides, it contains several royal burials and two of the military museums in Oslo: The Norwegian Armed Forces and Norway's Resistance Museum. Once again, this is a very family-friendly visit, and a must-see for anyone interested in military history.
Address: 0150 Oslo
4. Enjoy Nature and Art at Vigeland Sculpture Park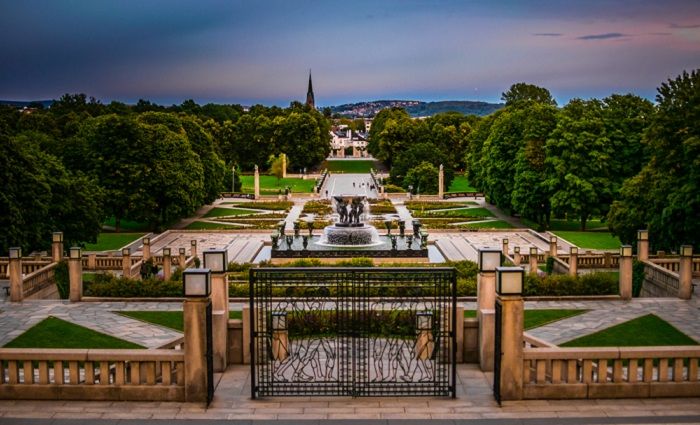 Whether you are walking back from the area of Bygdøy or grabbing the tram here, Vigeland Park is the place to go if you love green spaces and art. This was a monumental artistic project undertaken by Gustav Vigeland in the 20th century. All 200 sculptures in this park are his work.
These artworks will take you through a journey of the human body and our emotions as a species. The park itself is another wonderful green space to relax and enjoy the panorama. Great pictures guaranteed!
Address: Nobels gate 32, 0268 Oslo
3. Embrace Your Inner Viking at the Viking Ship Museum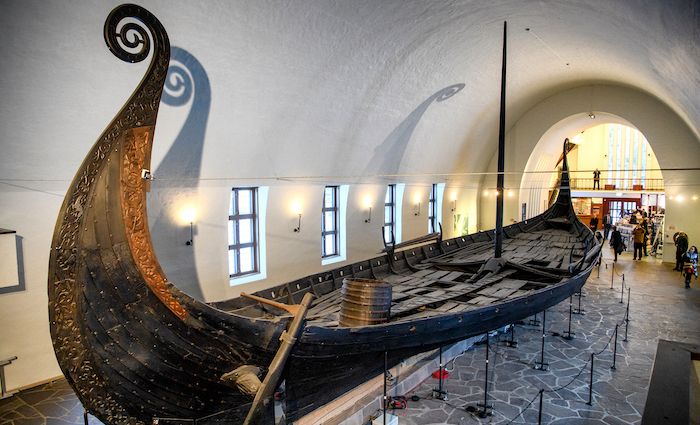 This is a must for anyone who comes to Oslo. It's your chance to see the best-preserved Viking ships in the world. Of course, as a Viking historian, I am biased, but they truly are absolutely beautiful. You will also get the chance to learn about the importance of Viking history in Norway and the developments these people brought to the nation.
The museum is being renovated so you will get to experience top-notch installations to make your visit even more enjoyable. Learn more about the Vikings in Oslo here.
Address: Huk Aveny 35, 0287 Oslo
2. Walk from the Opera House to the Art Gallery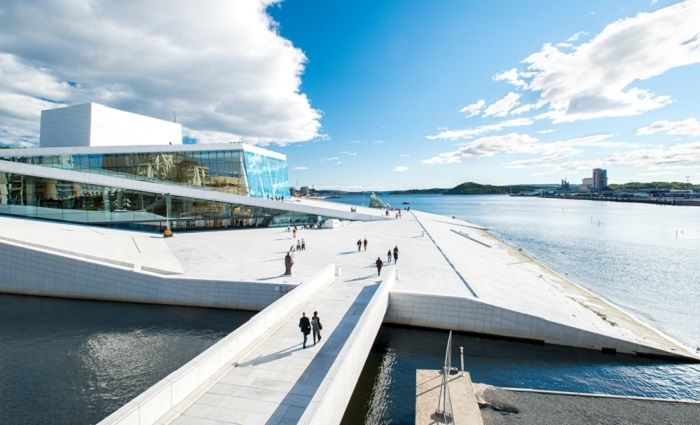 I believe that the best form of discovering a new place is by walking, and Oslo has many wonderful routes to do on foot. But if you are short on time, the most memorable one is the walk from the Oslo Opera House to the Astrup Fearnley Museum of Modern Art.
You can take the route by the sea, via Akershush, or through the city centre and see the cathedral. It takes about 30 minutes from one end to the other. Moreover, you will see two amazing modern buildings with great views into the sea and lots of shops and cafes to take a rest and dive into Norwegian trends.
Address: Opera house to Astrup Museum
1. Island Hopping in Oslo Fjord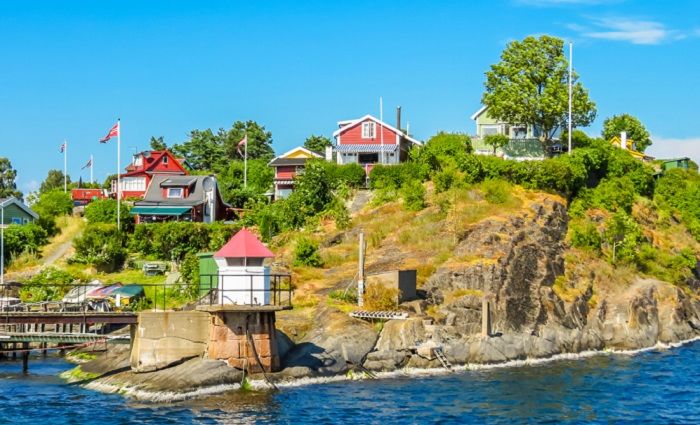 Island hopping is a great activity to do whether you are traveling alone, in a group, or even with children. Go to Rådhusbrygge 4 and grab any of the following ferries: B1, B2, B3, B4, B9. You can buy tickets for this on the day of if you get something like the Oslo Pass where all transport is included.
This is a wonderful activity where you get to see nature, as there are several spots in the islands that have natural reserves for local wildlife. You will also engage with the local culture, see traditional architecture, and even some history when you stop in Hovedøya island.
Finally, this activity is equally charming any time of the year, and you will get amazing photos no matter what. Pack some sandwiches and enjoy a picnic while you're out!
Address: Rådhusbrygge 4, 0160 Oslo