If you are considering an Amalfi Coast vacation this year but are unsure of your budget then Ischia may be the place for you. Ischia is an incredible island off the coast of Naples, Italy which offers crystal blue water, beautiful rock formations, inexpensive prices compared to the Amalfi Coast, and incredible food (it is Italy). Here are some of the top things to do in Ischia.
---
Heading to Ischia? Also check out where to stay in Ischia including curated hotel recommendations.
15 Things To Do in Ischia
If you head to the Caribbean your choice of things to do are likely snorkeling and beach-going. The Mediterranean has beautiful islands as well which are rich with geographic features and in my opinion, lots more to do.
Ischia is one of my favorite destinations if you like an active vacation for a few reasons. First, I love rock formations on any beach I visit. Second, I love crystal blue water. And finally, the food in Italy is incomparable with other destinations which is especially a factor near Naples. Here are the top things to do and the best beaches to visit in Ischia!
15. Spiaggia (Beach) di Cava Grado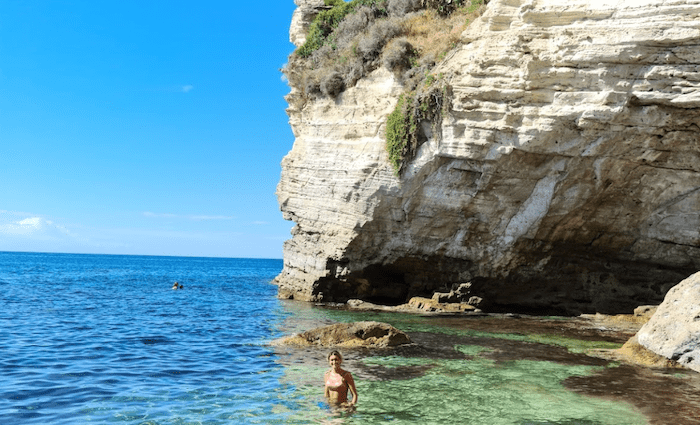 Ischia is all about its coves and rock features. Spiaggia di Cava Grado is a nice little beach but if you follow the rocky coastline from the water you'll find some amazing coves and water. Find a kayak or bring a float and you'll have yourself a great afternoon. You'll be right near Ristorante Deus Neptunus Ischia, our next bucket-list item, which is an incredible lunch or dinner choice.
14. Ristorante Deus Neptunus Ischia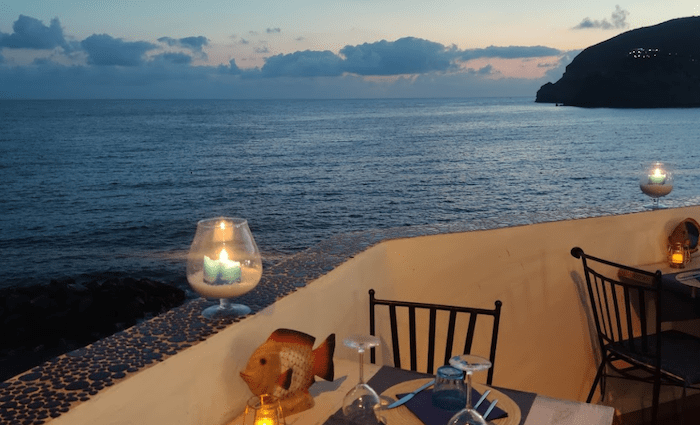 The name translates to the Restaurant of the God Neptune who is the god of the sea. The restaurants offers delicious seafood dishes and even better views on their expansive outdoor patio. This one is a MUST!
13. Le Fumarole di Maronti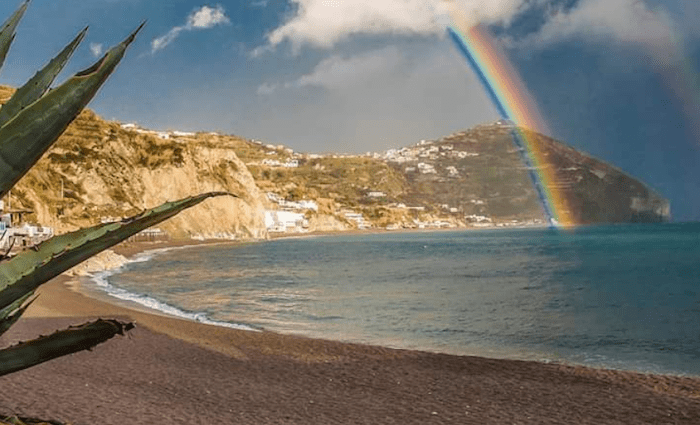 This is one of the coolest things you can do in Ischia if not the entire world. The island is volcanic and this beach sits on a volcanic basin. I won't pretend to know much about volcanology, but I do know that volcanos are hot and so is this beach. The sand can be up to 100 C on the hottest portions and locals insist there are medical healing properties. Ischians will recommend you dig a hole (not on the hottest parts of the beach) and let water from the sea fill it up. Then sit in it and you will feel better than you did when you woke up in the morning!
On the hottest parts of the beach, 100 C, locals will often cook food on the super-heated rocks!
12. Spiaggia di San Montano & Negombo Thermal Spa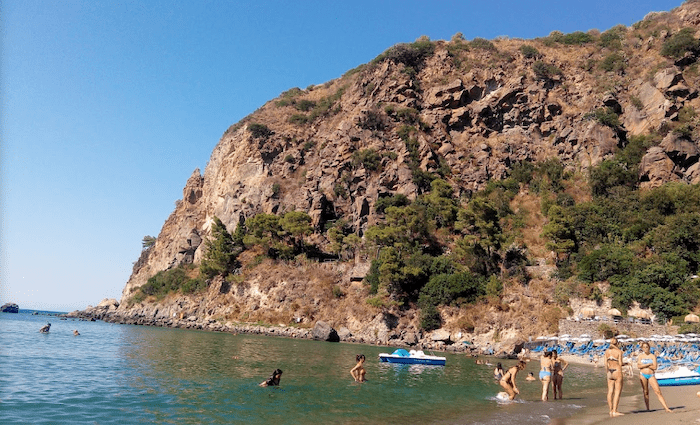 A beautiful beach on the northwestern corner of Ischia defined by massive cliffs on all sides. One of the highlights on this incredible beach is the thermal Negombo Thermal Spa. If you're like me, you cringe at the price list on most spas, but this one is a thermal spa. While they do have some pricey products, you can inexpensively use much of their facilities like thermal pools and fountains.
11. Giardini la Mortella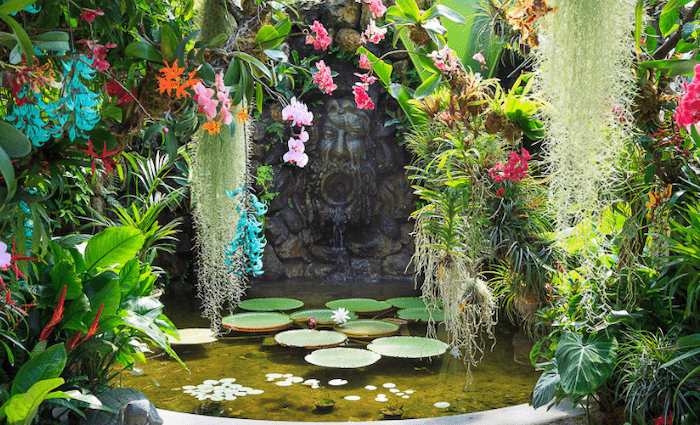 The Giardini la Mortella is a "splended garden" which was designed by Susana Walton who was the wife of composer Sir William Walton. The garden is so incredible beautiful and feels like you are in a magical land on another planet. It is full of exotic plants and flowers of powerfully bright colors which makes it great for adults and kids!
10. Aperitivo at Porto 51 (Ischia Port)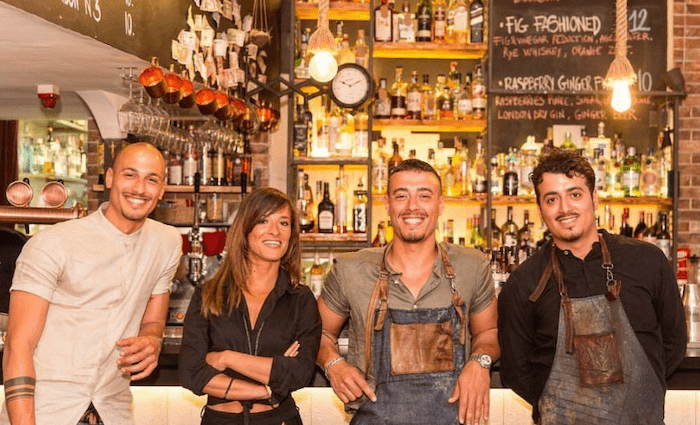 As I will mention in # 8, the port of Ischia is a great place to spend an evening. If you do check out, definitely plan on having a drink at Porto 51. Really cool cocktail bar with great drinks, food, and views!
9. Spend the Day at Centro Termale o'Vagnitiello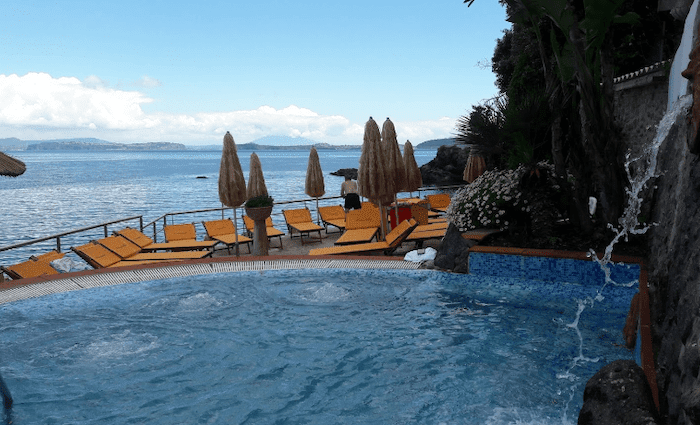 Centro Termale O'Vagnitiello is a great option if you are looking to enjoy Ischia's thermal heated waters. It is literally right on top of the sea and has great facilities. The photo here does not do it justice in any way which is why you should visit their website. You can also stay there as it is a hotel which I definitely recommend – check out booking.
8. Dinner at Ristorante L'Altra Mezzanotte (Ischia Port)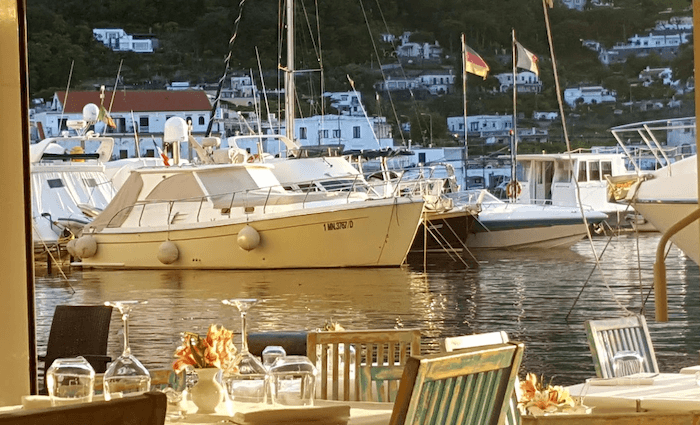 The Port of Ischia is a cool port surrounded by shops and restaurants which makes it perfect for an evening stroll, dinner, and drinks! The via Porto is a pedestrian way lined with outdoor seating and we highly recommend Ristorante L'Altra Mezzanotte. As is the theme of any good island, stick with seafood!
7. Spend the Day at Spiaggia dei Pescatori (Fisherman's Beach)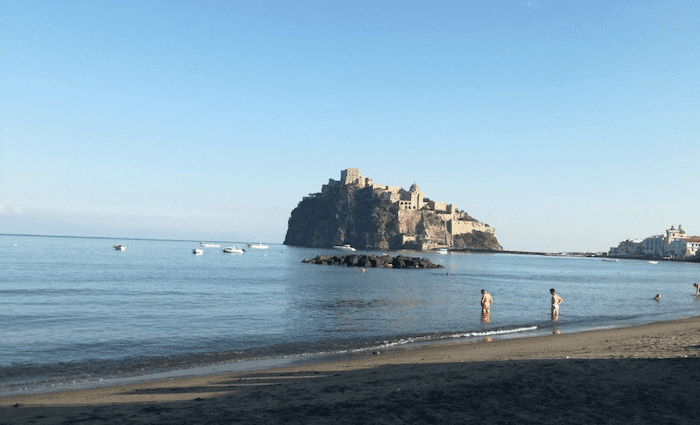 Beaches in Italy, and most of Europe, are done a bit differently than in the states. Many Italian beaches are occupied by beach clubs where you rent a bed (lounge chair) and you can also eat lunch there. Spiaggia dei Pescatori is no different. Find a beach club with a nice view and enjoy the day on one of Ischia's most popular beaches!
6. Rent a Boat to Spiaggia San Pancrazio and See the Grotta Verde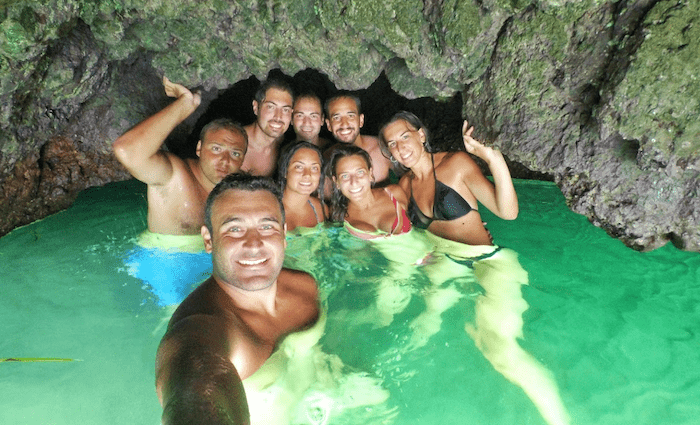 Italy is known for its Grotto's and Ischia has some amazing ones. The southeastern shores of Ischia are almost completely uninhabited which makes them a real treat. Renting a boat from the main town in Ischia will allow you to visit some of these amazing areas, including the Green Grottos, and have an extremely memorable day.
Renting a boat can be fun if you are experienced driving one so be careful or hire a boat with a captain! Don't pass up on this experience because it may be more difficult to arrange – life is an adventure!
If you do rent a boat you have to stop for lunch at Ristorante La Pace. The restaurant is only reachable by boat which makes it even cooler!
5. Castello Aragonese d'Ischia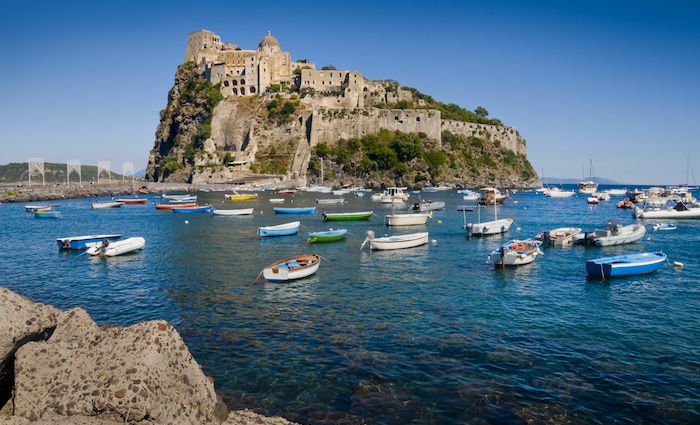 Castello Aragonese, or the Castel fo Aragon, is the most prominent attraction in Ischia which is visible from many points on the island. The medieval castle sits on a volcanic island which likely appears some 300k years in the past.
While the castle is not 300k old itself, its origins date back to the 5th century B.C. when Greek settlers first constructed a fortification. The structure you see today was built by the Aragonesi which were Spaniards from Barcelona. They were a powerful family for a large portion of the 2nd millennia after Christ.
Today, there are lots of areas on the island/castle to roam around and take pictures. It costs 12€ to enter and is open 7 days a week from 9 am to sunset. There is even a bar where you can have an "aperitivo" named Il Terrazzo! See below.
4. Aperitivo at "Il Terrazzo" a the Castello Aragonese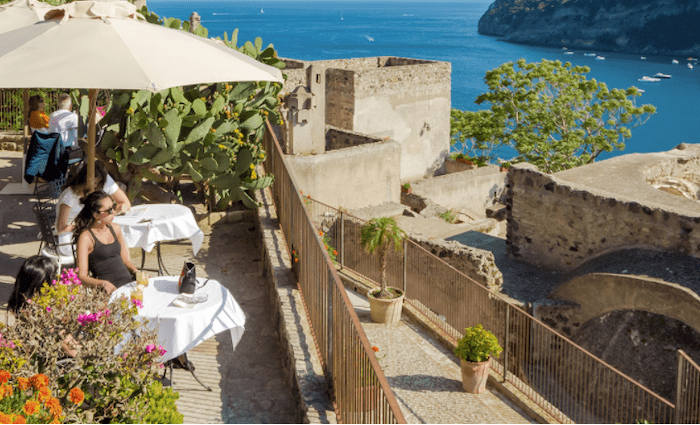 Castello Aragonese is full of cool things to do. One of them is getting a scenic cocktail, beer, or glass of wine with an amazing view which is something you are likely to remember. When you get to the Castle, described above, follow the signs for "Il Terrazzo" and enjoy the view!
3. Hike Bosco di Zaro to Punta Spaccarello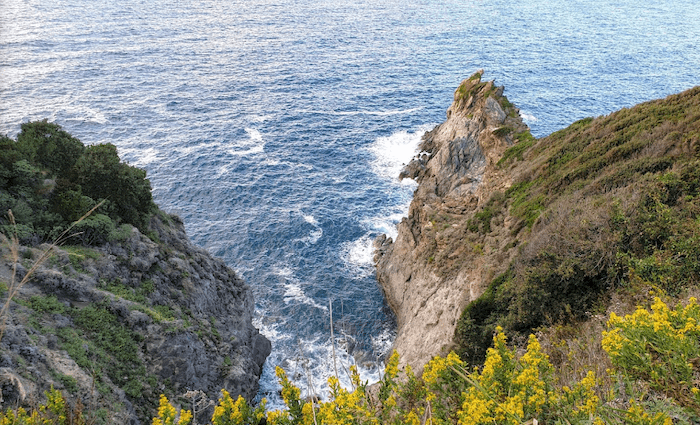 On the northwestern corner of Ischia there is an area known as Bosco di Zaro which translates to the Forest of Zaro. It is a series of establish trails in a beautifully wooded portion of Ischia. You can hike around but definitely head towards Punta Spacccarello or the other steep cliffs in the area. They are truly beautiful. Once finished, check out point number 2 below.
2. Spend the Afternoon at La Baia Ristorante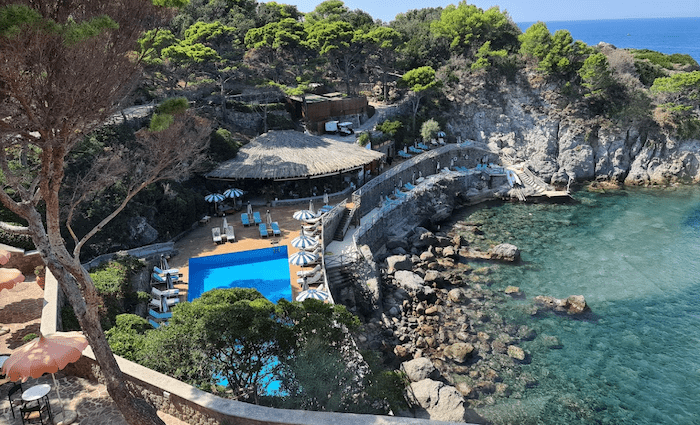 You should consider combining your hike of Bosco di Zaro with a lunch and afternoon at La Baia Ristorante. They are close to one another and a perfect day when combined. Many of us in the states are used to expansive beaches which are our main way to swim in the Ocean. In Italy, it is very often that your beaches are replaced by beautiful and interesting rock formations that can be very unique and memorable.
1. Lunch or Dinner at O Sole Mio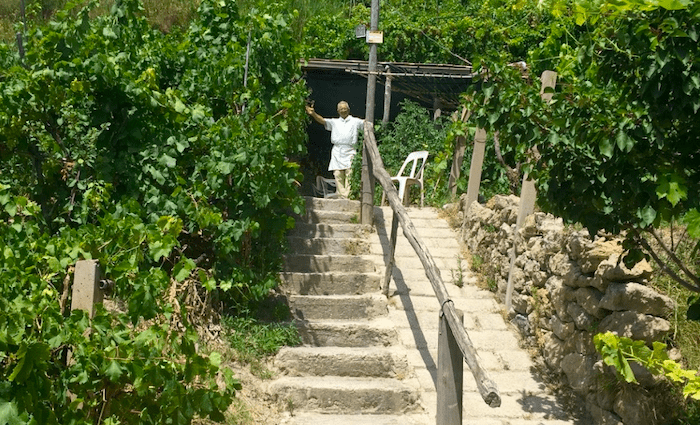 There are very few truly "authentic" restaurants left out there which is what makes O Sole Mio so special. Everyone these days is trying to run a business, I can't blame them, and Francesco del Neso is just trying to fill stomachs and make people happy.
O Sole Mio is technically an agriturismo which has a "no frils" but high quality restaurant. Simple dishes made with locally farmed ingredients by none other than Francesco himself. You'll sit on a homemade wooden bench and eat off plastic tables, but you'll eat well.
For me, one of the most important things when traveling is to get in touch with your destination. O Sole Mio may be your best opportunity to do exactly that!