If you're a fan of Vincent Van Gogh, you'll definitely want to visit the Van Gogh Museum in Amsterdam. With the largest collection of Van Gogh paintings in the world, it may be hard to navigate what to see on your visit. We've got you covered! Here are the must-see works of art at the Van Gogh Museum.
---
Pro Tip: Planning your trip to Amsterdam? Bookmark this post in your browser so you can easily find it when you're in the city. Check out our guide to Amsterdam for more planning resources, our best Amsterdam tours for a memorable trip, and the top things to do in Amsterdam.
What To See at the Van Gogh Museum in Amsterdam
Vincent Van Gogh is one of the most celebrated painters in European history. His work helped usher in the Modernist era of European art and remains some of the most powerful and popular in the world. Many of his works can be found in Amsterdam at the museum that bears his name.
Whether you're planning on visiting the Van Gogh Museum in Amsterdam or just want to learn more about the beautiful paintings there, this guide covers the top Van Gogh artworks to see at the Van Gogh Museum.
The best way to see a world-class museum like this is with an expert tour guide. With a life as intriguing as Van Gogh's, you're going to want to hear the stories behind the artwork and the artist himself. Explore two of Amsterdam's most important museums on our Van Gogh and Rijksmuseum Private Tour.
Not ready to book a tour? Check out our Amsterdam Guide for more resources.
5. Sunflowers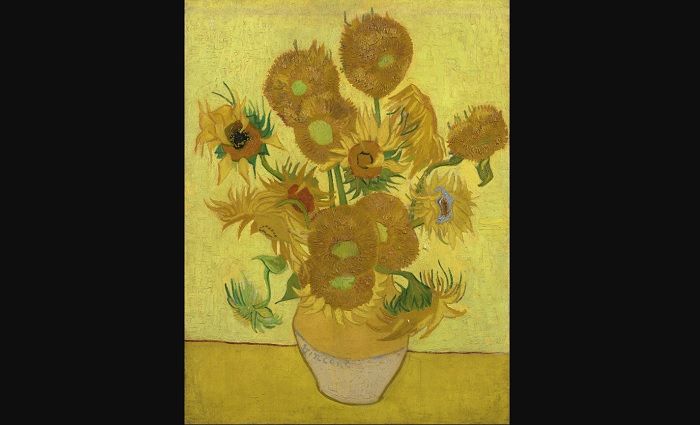 Painted in 1887, Van Gogh's Sunflowers series remains highly celebrated for its emotive use of color and composition. As opposed to the more elegantly staged still-lifes of past artists, Van Gogh decided to paint his subject in a more natural repose.
This meant an asymmetric entanglement of petals and stems going in all directions. Van Gogh's characteristically fluid style makes the flowers appear mixed together and hard to tell apart.
The lines spreading out in every direction suggest a natural unstaged quality, while also hinting at Van Gogh's deteriorating mental state. The differing shades of yellow capture the natural beauty of the flowers, while also lending the piece an undeniable sickliness. 
4. Head of a Skeleton with a Burning Cigarette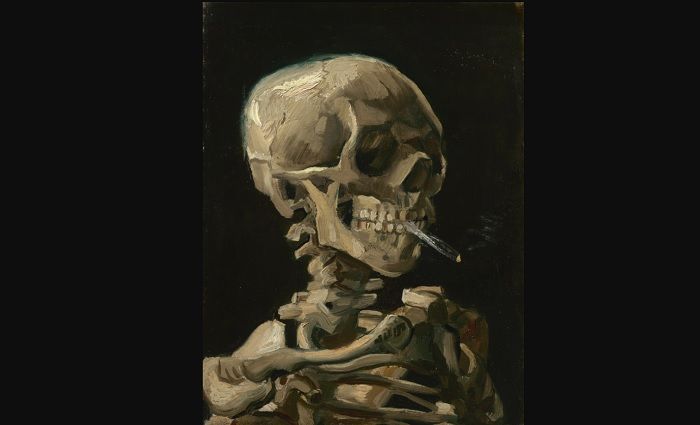 An excellent example of humor in art, Head of a Skeleton with a Burning Cigarette can be seen as a joke about death. It mocks how seriously we often approach the topic and contrasts its monumental significance in human life with the everydayness of a cigarette. 
Van Gogh painted this work while attending art classes in Belgium, where he was often forced to examine skeletons for hours on end as part of his anatomical education. 
3. Almond Blossoms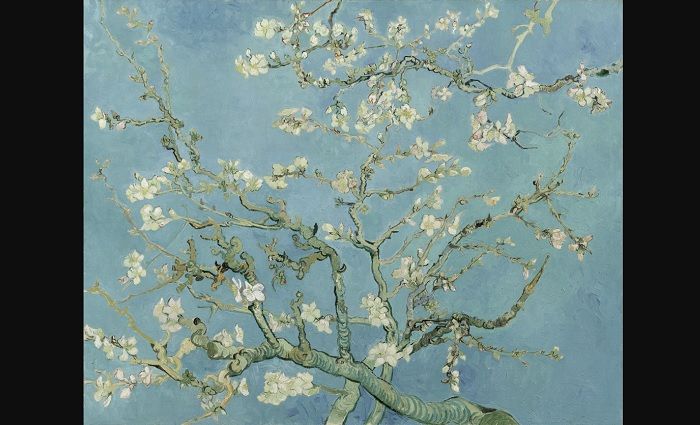 Van Gogh had a deep love and respect for Japanese art. He especially appreciated the woodblock printing technique that rose to prominence in the 17th century. Almond Blossoms, originally made in honor of the birth of his nephew, has an undeniable Eastern influence. 
The delicate contrasts between the light blue background and the greenish-blue branches bursting with white flowers reveal a Van Gogh rarely seen. Far from the mania and violence associated with many of his paintings, Almond Blossoms captures the repose and elegance of a branch waving gently in the breeze.
2. Self-Portrait with Grey Felt Hat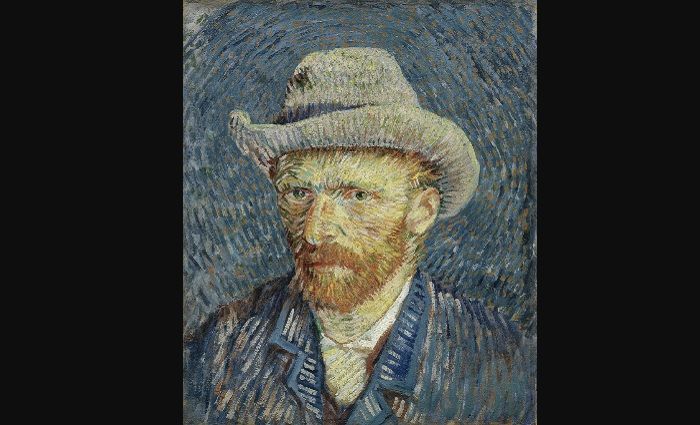 One of the most celebrated of Van Gogh's many, many self-portraits, this work displays a lot of the characteristics that would become the artist's trademark.
From the impressionistic use of lines to create a feeling of motion to the vibrant use of color and the artist's intense stare, this piece is the perfect encapsulation of Van Gogh. The intense blues, reds, and greens demonstrate an intensity rarely found in a self-portrait. 
1. Bedroom in Arles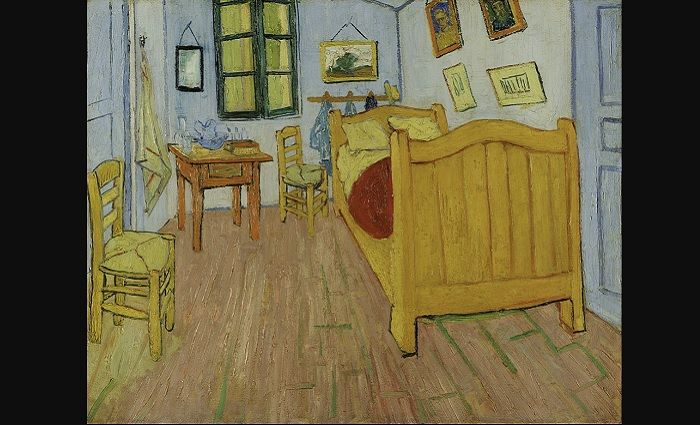 The first version of this iconic painting can be found at the Van Gogh Museum. It may be difficult to understand why this piece holds an esteemed place among his many works. The secret lies in the use of perspective and color.
He wanted to emphasize a feeling of peace and rest in this painting. He achieves it by using lines that warp the space to the center of the back wall. This gives the painting a dream-like quality while also forcing the spectator to lean in as they follow the lines leading to the bed.
The colors are a mix of the real and the dream-like. See an earthy-brown wooden bed up against a vibrant blue wall. Interested in hearing more about Van Gogh as you see the colors in person? Check out our Amsterdam museum tours.
Not ready to book a tour? Check out our Amsterdam Guide for more resources.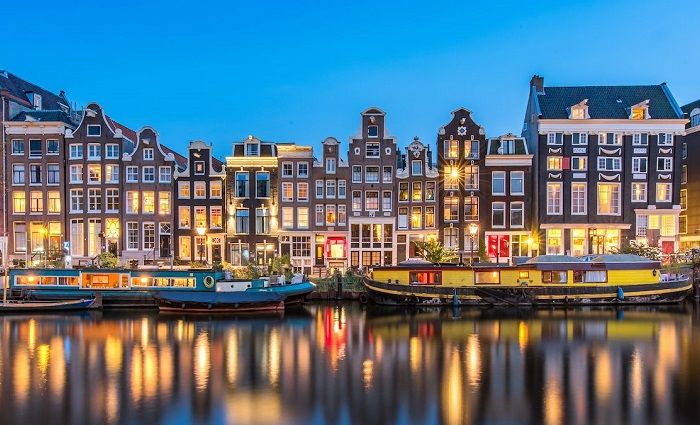 Find the best places to stay
Where To Stay in Amsterdam
Amsterdam is a vast city with many areas to stay in, including beyond the downtown area. Choose a hotel near the top things you want to see in this beautiful old city.