When you visit the Alcázar of Segovia, you'll want to go with a plan on where you'll stop for snacks and a substantial meal nearby. The Alcázar is large and it could definitely take up the time between meals to see this magnificent place. Well, there's no need to worry about where to find good food! Our local foodie has put together a list of the best restaurants near the Alcázar of Segovia to help you choose.
---
Pro Tip: It's easier to organize your trip when you have all your resources in one place. Bookmark this post along with our exciting Segovia tours from Madrid and the top things to see at the Alcázar of Segovia.
Top 10 Places To Eat near the Alcázar of Segovia
A visit to Segovia's Alcázar is a great opportunity to explore Spanish cuisine and enjoy local specialties. With a number of great restaurants nearby, you're sure to have a Segovian dining experience to remember.
Try traditional Segovian suckling pig, partake in the Spanish tradition of sharing tapas, or enjoy a fine dining Segovia style. No matter your budget or culinary preferences, there's something for everyone . In this guide, discover the best restaurants near the Alcázar of Segovia.
Restaurante La Concepcion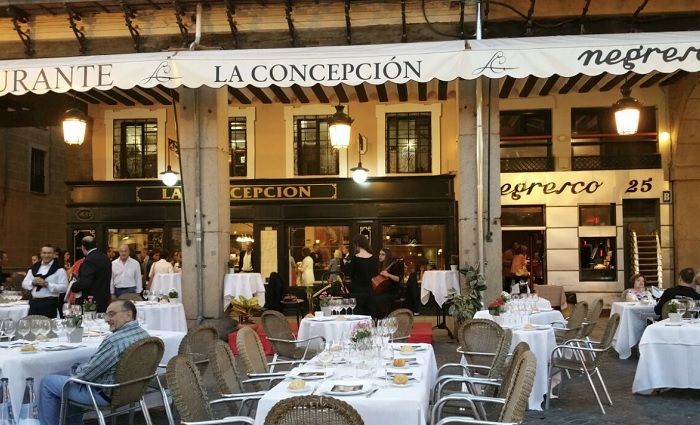 €-€€ | Classic Restaurant | Terrace on Plaza Mayor | Family Friendly | Lively Atmosphere
La Concepcion is a classic restaurant located in the heart of Segovia in the Plaza Mayor, a short walk from the Alcázar. This is a typical place, great for a coffee break as well as a very affordable and simple lunch or sit-down evening meal. If you enjoy people-watching, get a table on the terrace and take in the comings and goings of the plaza.
Because the menu options range from sandwiches to salads and more, this is a good place for people looking for simpler, less experimental food. It's a great spot for families traveling with kids.
If the weather is nice, try and get a spot on their terrace. Enjoy the typical Spanish way of sharing some nice food after a day of seeing the sights. This area of town is nice and lively, so the atmosphere will make for a great experience.
Address: Plaza Mayor, 15
El Ingenio Chico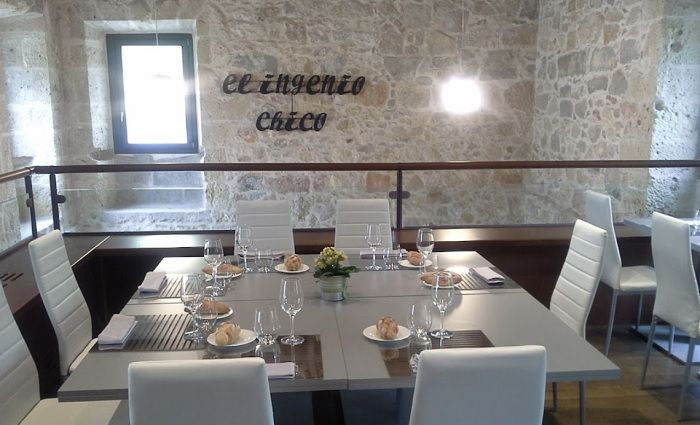 €€ | Restaurant and Coffee Shop | Historic Building
This restaurant is located in the royal mint, a wonderful monument of Segovia. So, you'll enjoy your meal in a building that dates back to the 16th century. The menu offers a good variety, but it will particularly appeal to those who like meat cooked with traditional Spanish flavours. However, you can still enjoy familiar things such as pasta.
This is a great, affordable place to have lunch. You can have a menu del dia, the typical daily menu deal you'll find in most Spanish restaurants, for around €20. This includes a starter, main meal, and dessert. El Ingenio Chico is also a cafeteria (coffee shop), so you can grab a light bite to eat or a coffee with one of their sweeter delights.
Address: C. la Moneda, 3
Meson Don Jimeno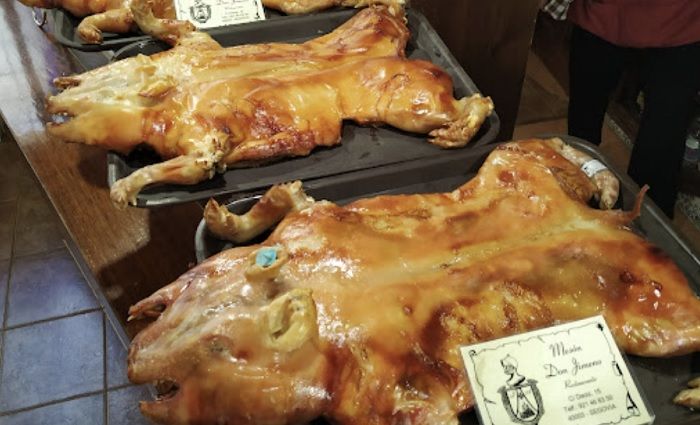 €€ | Steak House | Cozy Vibe
Wherever you go in Spain, there must be a good meson. These are restaurants that have a cozy feel and where the food is good and hearty. Here, at Don Jimeno, you will be delighted by their specialty, cochinillo. This is the typical way of preparing and eating Spanish roasted suckling pig.
The portions are well-sized and the prices are fair for the food and drinks. If you're not the biggest fan of suckling pig, you'll have plenty of other options on a menu similar to that of a steak house elsewhere. Warning: this isn't the most vegetarian or vegan-friendly eatery in the area.
Address: C. Daoiz, 15
La Almuzara
€€ | Family Run | Vegetarian Friendly
If you are a vegetarian, then this is the safest and best restaurant near the Alcázar in Segovia. They have a varied menu with traditional Mediterranean cuisine, which also includes good options for vegan diets.
If you think this is just a place to come and eat veggies, you'd be wrong. They serve dishes with meat substitutes, and if you happen to bring non-vegetarian company, a limited selection of meat dishes will be available. Just keep in mind this is not their specialty.
We recommend you call ahead of time to reserve a table and let them know about your party's dietary needs just to avoid disappointment. Otherwise, you can expect a rather friendly atmosphere typical of a family-run business.
Address: C. Marqués del Arco, 3
Villena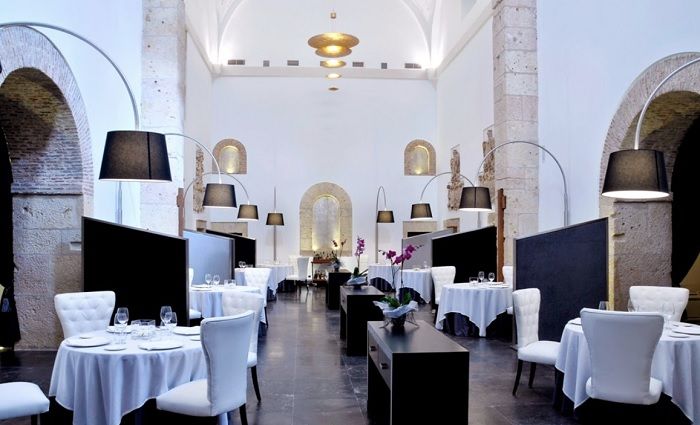 €€€ | Fine Dining | Intimate Atmosphere
Villena is a small restaurant offering set menus for fine dining. This is a great venue for people who want to have an extraordinary culinary experience. It is also a good option for special events and corporate events.
They have a base menu for about €70 and a great menu for €120. The difference in price lies in the number of things you'll get to try. At Villena, they pride themselves on offering local produce presented in a sleek, sophisticated manner. Also, the intimate atmosphere doesn't feel overwhelming, since the restaurant aesthetic is clean, luminous, and luxurious.
Address: Pl. Capuchinos, S/N
Not ready to book a tour yet? Discover the top things to see in Segovia.
La Taurina de Segovia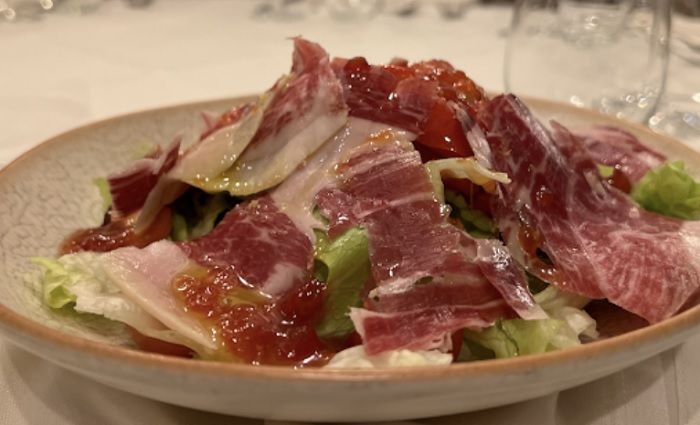 €€ | Restaurant | All Rounder | Rustic Vibes
There's nothing like a great restaurant where you can eat at any moment of the day. La Taurina is that place in Segovia. If you want a proper, sit-down breakfast, we really recommend coming here.
This is also a great place to come for tapas and dig into the Spanish tradition of sharing bites to eat rather than having a sit-down meal. The feel of the restaurant is typical of Castile, with a slight rustic touch. Expect good food that's affordable when you're on a budget.
Address: Plaza Mayor, 8
Trattoria Da Mario
€€-€€€ | Italian Restaurant | Off the Beaten Path | Good Portions
When you travel, sometimes you just want a nice, reliable Italian restaurant. That's why we've chosen Trattoria Da Mario. Whether you want a straight-up pizza, a calzone, a salad, or even pasta, your portion will come loaded with food! There's no way you'll leave this trattoria hungry!
This is a great place for people who want quick, easy, and filling meals. They also have a good selection of vegetarian and vegan dishes. And the best part is that it's a little bit off the beaten path, so you won't have to fight the masses of the busier eateries around the Alcázar for a table. That said, it's still a very comfortable walking distance from the Alcázar.
Address: Plaza Potro, 3
El Fogón Sefardí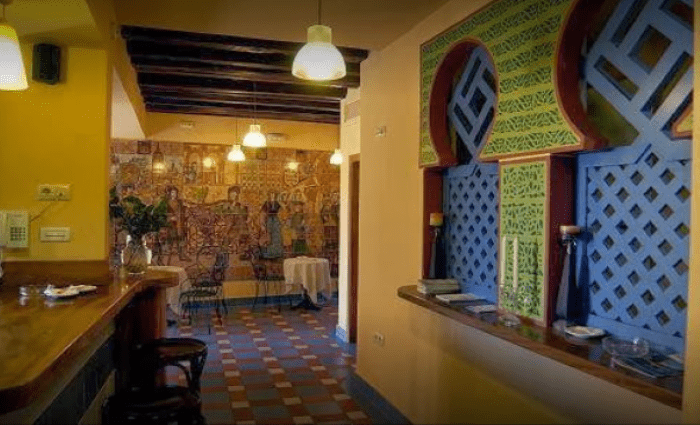 €-€€ | Sephardic Cuisine | Tapas | Award Winning
If you've come to Segovia because of its history and culture, we invite you to delve into the world of Sephardic cuisine. This is an idyllic place for tapas. In fact, they've won awards for the city and the region on more than 30 occasions with their tapas in the last 10 years.
Located in the Jewish quarter of Segovia, this restaurant offers you a great selection of modern takes on traditional Spanish Jewish Sephardic food. This is a very unique experience that will help you see the heritage of the city in a new light. Expect good size portions, different flavours, and a small Jewish quarter-appropriate establishment to finish off the vibe.
Address: C. Juderia Vieja, 17
Restaurante San Marcos
€€€ | Marisqueria | Spanish Cooking Tradition
If you want to have the best seafood in Segovia, this is for you. Near the Alcázar, Restaurante San Marcos is a traditional marisqueria (seafood restaurant) and quality is in their DNA. They've been welcoming guests since 1955 and offer one of the best menus in the city. The food is delicious and they get the ingredients fresh every day at the market.
If you're not really into seafood, however, they also have options from the Spanish grill and follow traditional asador recipes. Here, you can enjoy the best of both worlds. It is a little more expensive than some of the other places around, but the quality of the food is worth every penny. And it's less than a 5-minute walk from the Alcázar!
Address: C. de San Marcos, 30
YUM BAAAR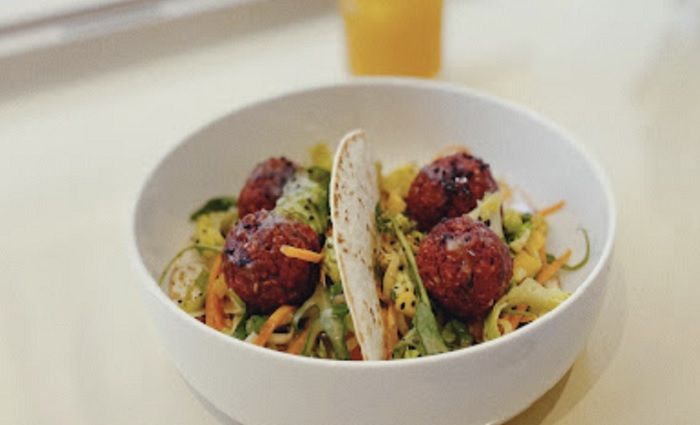 € | Bar | Quirky | Healthy
Not every meal you have when you go on vacation has to be sit-down and formal. Yum Baaar offers a good alternative in a quirky and cool new space off the beaten path. This bar serves both breakfast and brunch/light lunch.
Their healthy bowls will be perfect for anyone looking to satisfy rumbling bellies without succumbing to the heavy Spanish lunches. The bowls at Yum take inspiration from health bars and Asian cuisine.
This is also a great alternative for people with vegetarian, vegan, or other dietary requirements. Finally, the prices are very affordable and you can eat well for €10. Just be careful not to succumb to all their delicious sweet treats!
Address: Plaza de los Espejos, 3
Not ready to book a tour yet? Find out how to visit the Alcázar of Segovia.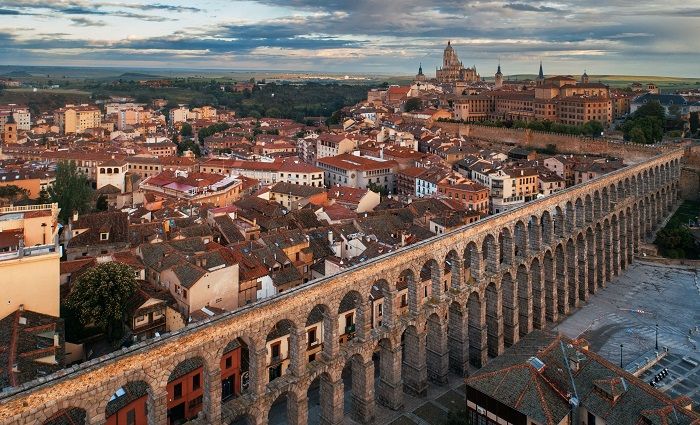 Find the best places to stay
Where To Stay in Segovia
Come to Segovia, Spain, to see the Roman Aqueduct, the Cathedral, and enchanting Alcázar. Find out where our local experts recommend staying in this ancient city. You'll find great hotel deals to make your stay memorable.