Amsterdam, the Dutch capital, is an all-inclusive city! The art, culture, grace, and beauty of the city will enchant you. If you're visiting Amsterdam, why not treat yourself to a stay at one of the city's many 5-star hotels? Here is our expertly curated list of Amsterdam's most luxurious hotels.
---
Our Partnership with Booking.com. If you like our content, please book by clicking on our Booking.com links. The price is the same for you and we get a small commission that helps support our helpful blog content. We've partnered with Booking.com because they have the most options, great prices, and a solid loyalty program.

Top Luxury Hotels in Amsterdam
This list will allow you to enjoy the highest level of luxury that Amsterdam has to offer. These 4 and 5-star hotels will undoubtedly exceed your expectations! When you decide to visit the Venice of the North, you should expect nothing less than exceptional service, sophisticated rooms, and beautiful designs.
Pulitzer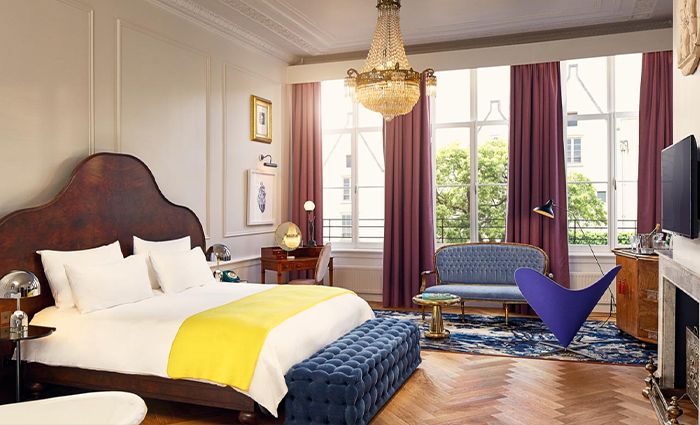 €€€€ | 5 Star | Elegant rooms | Inner Garden
Looking for a place to stay in the heart of the city? The Pulitzer allows you to relax in both a traditional and modern Dutch hotel. Furthermore, what distinguishes The Pulitzer is that it is set within 25 interconnected canal houses.
Its inner garden is ideal for recharging and enjoying a peaceful stay. The Pulitzer provides a chic and intimate experience with a variety of amenities!
Waldorf Astoria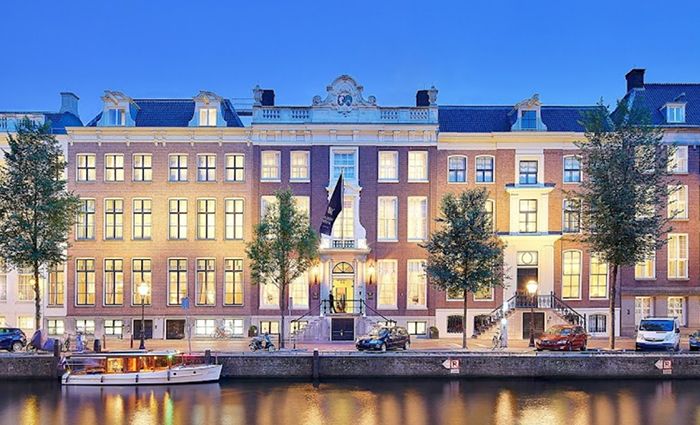 €€€€€ | 5 Star | Incredible Spa | Michelin-star Restaurant | Private Garden
The Waldorf Astoria hotel is located right in the heart of the Museum Quarter and exudes timeless elegance. Allow yourself to be spoiled by the truly personalized service on offer. The two-Michelin-starred restaurant's fine dining will take your breath away.
Above all, the hotel rooms feature authentic 18th-century wall paintings! You can truly pamper yourself by visiting a luxurious spa or the largest courtyard garden in Amsterdam!
Hyatt Regency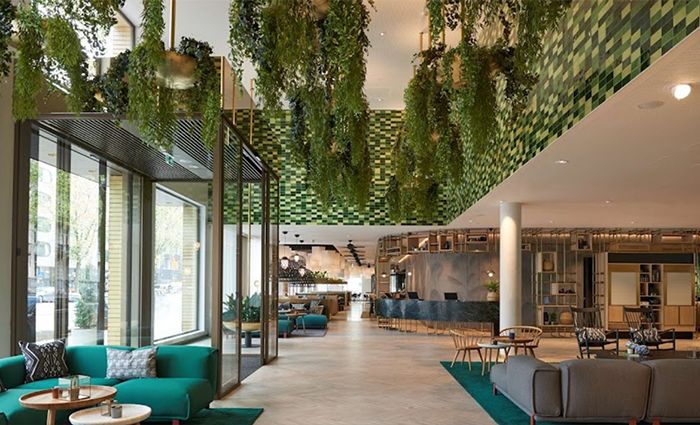 €€€€ | 5 Star | Botanical Inspired Rooms | Outdoor Terrace
You will feel as if you have walked right into a garden when you enter the hotel! The hotel designs feature a lot of green scenery and unique plants throughout the hotel. Its Mama Makan restaurant is well-known for serving authentic Indonesian cuisine.
Furthermore, you can truly unwind and enjoy yourself on the terrace or indulge in some botanical-inspired cocktails at the bar.
Conservatorium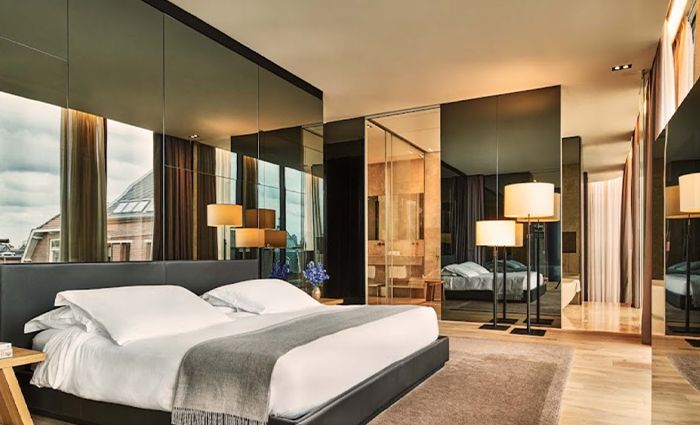 €€€€€ | 5 Star | Courtyard | Incredible Spa | Historical and Modern Design
Enjoy a luxurious and modern stay in the heart of Amsterdam's main attractions. Its historic architecture and modern design combine to create an elegant appearance. Above all, you'll have free access to Amsterdam's largest hotel spa. The Akasha Holistic Wellbeing Center is over 1000 square meters in size and features a swimming pool, sauna, jacuzzi, and treatment rooms.
Hilton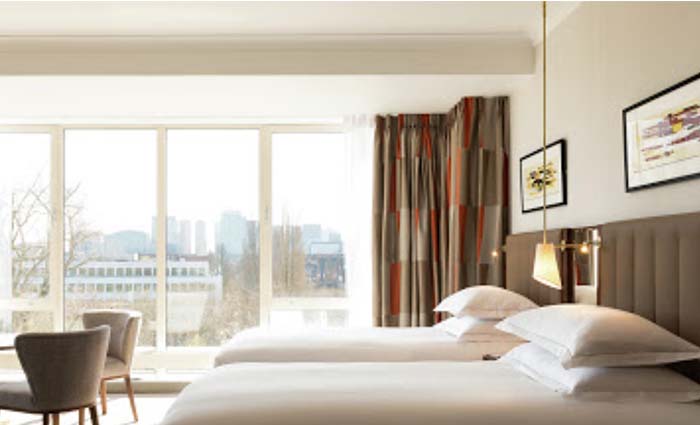 €€€ | 5 Star | Business Center | Garden
Hilton is easily accessible from the airport and is situated right next to breathtaking canal views. The hotel serves as a business center and has an executive lounge. Enjoy some lovely views of the Hilton Marina from the garden. Most importantly, you can truly enjoy a fine dining experience with authentic Italian dishes at Roberto's restaurant.
The Dylan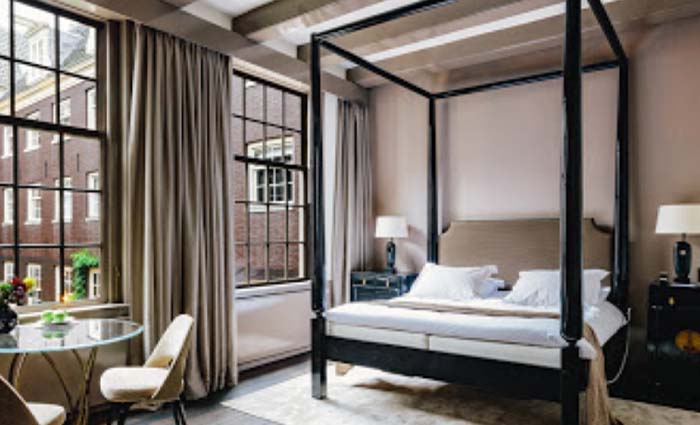 €€€€ | 5 Star | Michelin Star Restaurant | Garden
A boutique hotel that offers beautiful rooms designed by a well-known Dutch designer. You can certainly enjoy all offered amenities right in the heart of Amsterdam.
With its award-winning restaurant, you can experience sitting in an 18th-century bakery. What sounds better than enjoying French cuisine with wine from the cellar? Or you can just kick back and relax in the garden or terrace.
Check all we did in two days in Amsterdam!
Renaissance Amsterdam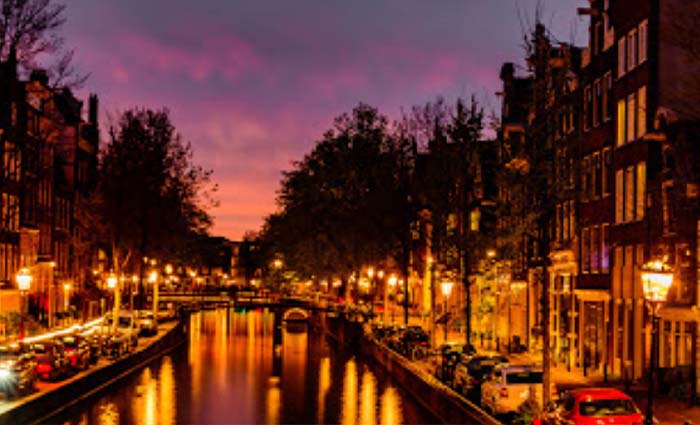 €€€€ | 5 Star | Ideal Location | Modern
Imagine waking up in the morning to this view. The Renaissance is a fantastic hotel where you can immerse yourself in the Amsterdam lifestyle. The beautiful and world-famous Amsterdam canals can truly be appreciated. Enjoy a plethora of amenities as well as a variety of culinary options. Relax on the sunny outdoor terrace or stay fit by using the 24-hour fitness center while on vacation!
Pestana
€€€ | 5 Star | Monumental building | Indoor pool
You can certainly take advantage of all of the amenities available at Pestana. You can spend your time in the sauna or swimming in the indoor pool. The hotel is housed in a historic 19th-century building on the Amstel River. Most importantly, the hotel is located in De Pijp. You can choose to relax and explore outside of the city, or you can choose to enjoy the peace and quiet.
NH Collection Krasnapolsky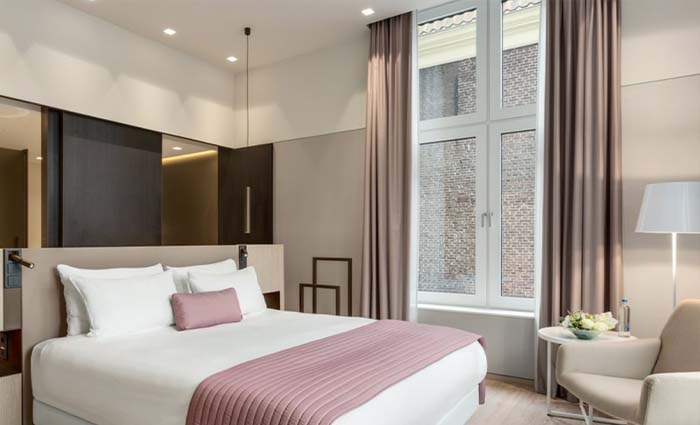 €€€ | 5 Star | Stylish | Perfect Location | Unique Garden
All of the luxury amenities that you seek can be found in Krasnapolsky. The stylish rooms are fully equipped with everything you need. This luxury hotel is located on Dam Square and is easily accessible by foot.
Most importantly, the hotel provides the opportunity to dine in the beautiful 19th-century Winter Garden, which features a unique glass ceiling. Fine dining is also available in the Michelin-starred exclusive restaurant.
Hotel TwentySeven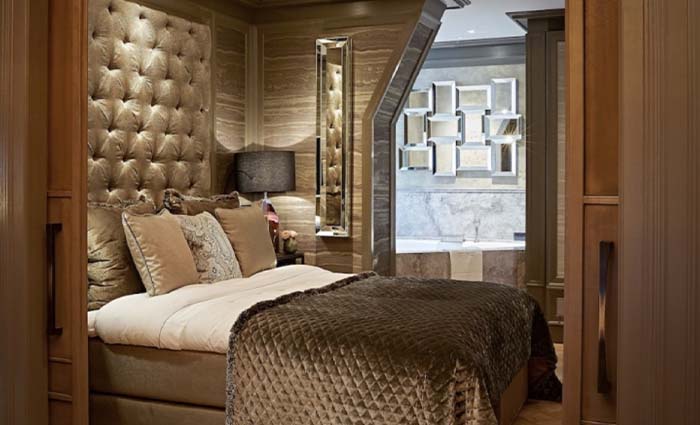 €€€€€ | 5 Star | Stylish | Perfect Location | Unique Views
The Hotel TwentySeven is in the heart of the city. Each of the 16 suites is uniquely decorated with unique details and handmade materials and fabrics. You can take advantage of a variety of personalized services and amenities. The suite bathrooms, for example, include a steam shower and a spa bath with mood lighting. Furthermore, each suite has a unique view. Most importantly, the hotel has its own restaurant, which has a Michelin star and serves excellent gastronomic dishes.