Thessaloniki is one of the most amazing destinations in Greece to visit in any season. In the summer, you'll be spoiled for choice of activities and attractions. Above all, you will have the opportunity to stay in a hotel with a lively pool scene. Jump in to read about my favorite hotels with pools in Thessaloniki.
---
Our Partnership with Booking.com. If you like our content, please book by clicking on our Booking.com links. The price is the same for you, and we get a small commission that helps support our helpful blog content. We've partnered with Booking.com because they have the most options, great prices, and a solid loyalty program.
10 Top Hotels With Pools in Thessaloniki
Summer is the best season to visit Thessaloniki due to its calm, sunny weather. Spending your holidays in a big city may not sound like not a good idea, but Thessaloniki is actually an amazing summer destination where you will enjoy beautiful scenery from a luxury hotel with a dreamy pools. Dip into the list below to discover some of the best hotels with pools in Thessaloniki.
10. Hotel Philippion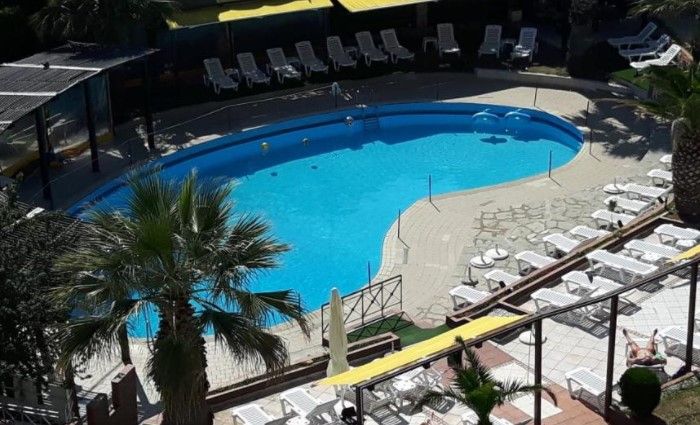 € | 4 Star | Comfortable Rooms | In Sheikh Su Forest
The Hotel Philippion is a solid option if you are looking for a hotel with pool in Thessaloniki. The best thing about this hotel is its exotic location in the Sheikh Su forest. Having the view of this forest while swimming in the pool here is a unique experience.
The pool, for adults and children, features a shallow area where children can play safely. The Philippion is a family-friendly hotel, and not only is the pool spacious, the rooms are, too.
9. Capsis Hotel
€€ | 4 Star | Family Rooms | Rooftop Garden With Pool | Pet Friendly
Capsis Hotel provides some very cool conveniences. Visitors staying here enjoy cozy and comfortable rooms for individuals, couples, and families. Pets are welcome, too!
Nighttime is for breezy cocktails at the poolside bar at the rooftop garden. In summertime especially, this is an amazing amenity. It gets hot in Thessaloniki, so you may find yourself spending your days and nights swimming in this pool.
8. Royal Hotel Thessaloniki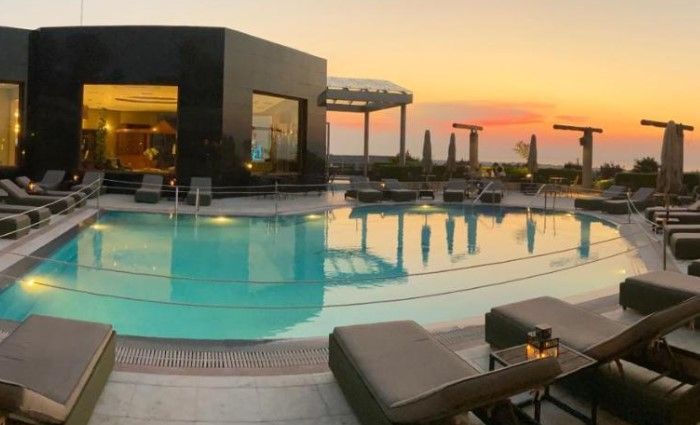 € | 4 Star | Pool | Tennis Court
Royal Hotel Thessaloniki is a fun option for a summer holiday. Tennis buffs play doubles on the tennis court, while hungry guests linger over tasty dishes prepared by an expert chef at the hotel's on-site restaurant. Just about everyone spends time at the pool, even admiring the sunset from it.
Technically, this hotel isn't right in the city center of Thessaloniki, so if you prefer a busier stay, this isn't for you. However, the location is only two kilometers (a little more than a mile) from the beach on the main road where you can go sunbathing or swimming in the sea.
7. Avalon Airport Hotel Thessaloniki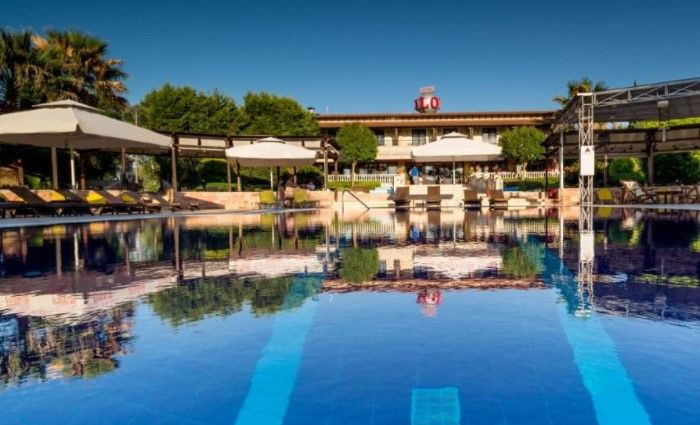 € | 4 Star | Greek and International Cuisine | Family Friendly
Avalon Airport Hotel Thessaloniki is a family-friendly hotel, and all its rooms are comfortable. Outside, there's a big garden where kids can run and play. The pool at the Avalon is also suitable for kids. You can even have a poolside lunch.
The hotel is located in a region called Thermi, which is about 12 kilometers (seven miles) away from Thessaloniki's city center, close to the airport. This may be convenient when arriving or leaving Thessaloniki. Just bear in mind that visiting the city itself takes some effort.
6. Grand Hotel Palace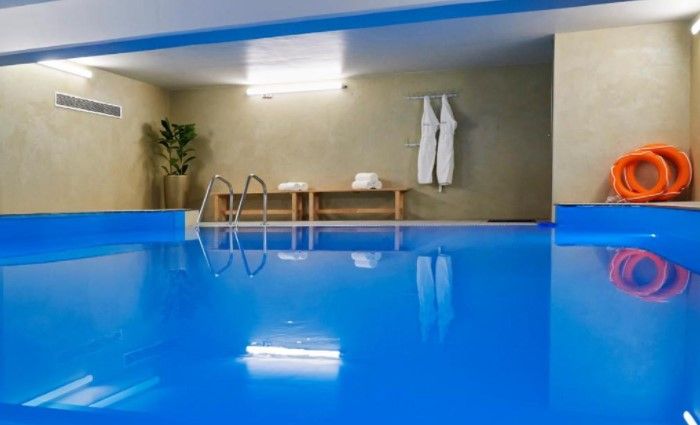 €€ | 5 Star | Family Rooms | Interior Pool
The neoclassical Grand Hotel Palace is one of the most luxurious hotels in Thessaloniki. Two of its greatest attractions are its interior heated pool and its deep soaking bathtubs (in some rooms) done in a contemporary gray color scheme. It may take you a while longer to get to bars and restaurants outside the hotel, but then again you could easily forget to leave it altogether.
While Grand Hotel Palace may not provide an outdoor pool, its indoor heated pool is frequented for a reason. If you visit Thessaloniki in the winter, remember this hotel; even if you come in the summer, you won't regret it.
Coming to Thessaloniki? Here are our recommendations for things to do here, plus where to stay around the city!
5. The Met Hotel
€€+ | 5 Star | Roof Garden With Pool | Free Shuttle to Central Square
The Met Hotel is without a doubt one of the coolest hotels in the city. You will love the breathtaking views from its rooftop garden. The pool is located there, so head on up and go for an unforgettable swim.
The rooms at The Met are modern and really comfortable. But the most amazing thing about this hotel is its restaurants. One offers an Asian menu; the other serves Greek-inspired dishes. When you're ready for a night on the town, the hotel's free shuttle will bring you to the popular Aristotle Central Square.
4. Electra Palace Thessaloniki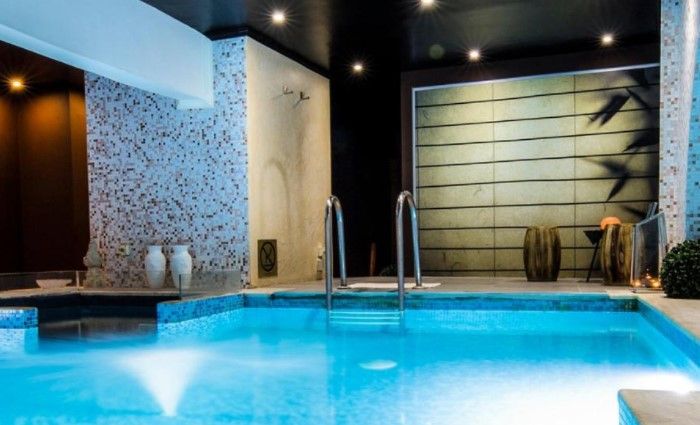 €€ | 5 Star | Family Rooms | Multiple Pools | Sea View
Electra Palace Thessaloniki is one of the greatest hotels in the city center. It offers comfortable and modern rooms with amazing views. There's a relaxing spa on the premises. And the hotel's top-floor restaurant provides breathtaking views of the Thermaic Gulf.
What you will really love about this hotel, however, is its indoor and outdoor pools. If it's cloudy or rainy, you're covered. Otherwise, try both!
3. Porto Palace Hotel Thessaloniki
€€€ | 5 Star | Family Rooms | Roof Garden With Pool
Porto Palace Hotel Thessaloniki is a luxury hotel combining top amenities with beautiful views of the sea. You can treat yourself to a relaxing spa day, then sample Mediterranean dishes at the hotel's restaurant. Its rooftop garden pool has beautiful views, especially at sunset.
What is great about this hotel is that it isn't in the very center of Thessaloniki. That means you'll have some distance from the city noise. On the other hand, the three-kilometer (two-mile) distance from the city center may become a bit tiring. Fortunately, it's easy to get a taxi in Thessaloniki.
2. ONOMA Hotel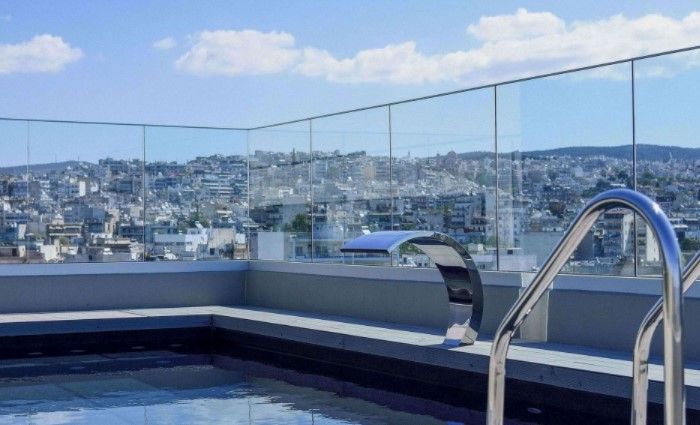 €€ | 5 Star | Family Rooms | Multiple Activities | Trendy
The newer ONOMA Hotel offers plenty of activities, from swimming in the pool to playing ping-pong. Children will love its playground. Above all, its spacious rooms are ideal for both adults and children.
It is really amazing when you can see different parts of a city from above. The ONOMA is located in the center of Thessaloniki, and its poolside views of the city are unforgettable.
1. Hotel Nikopolis Thessaloniki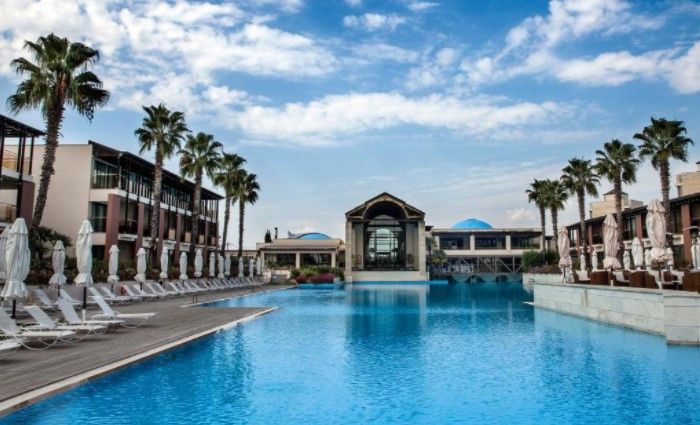 €€€ | 5 Star | Multiple Pools | Restaurant
At Hotel Nikopolis Thessaloniki you can taste gourmet dishes in the awarded hotel's restaurant. You can spend the day trying different services at its spa. Or you can jump into one of the hotel's two pools, swimming, sunbathing, and marveling at the Greek sky at sunset.
The hotel is located about 10 kilometers (six miles) from the city center. This may make it difficult to spend a lot of time around Thessaloniki city, but if being away from a city is what you prefer, you will likely love it here.